The Daily Agenda for Sunday, January 26
Jim Burroway
January 26th, 2014
TODAY'S AGENDA:
Events This Weekend: Midsumma, Melbourne, VIC; BeefDip, Puerto Vallarta, JAL; Winter Rendezvous Ski Week, Stowe, VT; GayWhistler Winter Pride, Whistler, BC.
TODAY'S AGENDA is brought to you by:
When this ad appeared in ONE's second issue in February, 1953, Long Beach's Rendezvous Club earned the distinction of being the first business to advertise in the first nationally distributed gay magazine.
TODAY IN HISTORY:
FBI Launches Investigation Against ONE Magazine: 1956. Since its debut in January of 1952 as North America's first nationally distributed gay publication, ONE magazine, had been testing the boundaries of acceptability simply by daring to publish something positive and supportive about homosexuality. In 1954, ONE ran afoul of the U.S. Post Office (ironically, with its October issue with the cover reading, "You Can't Print It!"), which confiscated much of that month's mailing and claimed it violated the 1873 Comstock Act, which prohibited sending "obscene, lewd, and/or lascivious" material through the mail. ONE sued and it would eventually lead to the first positive gay rights ruling from the U.S. Supreme Court when the court reversed lower court rulings declaring the magazine obscene (see Jan 13).
But that ruling was still two years away when ONE again caught the attention of federal authorities when an article in the November 1955 issue by "David L. Freeman" asked, "How Much Do We Know About the Homosexual Male?" The author sketched a broad outline of gay culture, which he said ranged from the "Revolutionaries" on the far left and the "Tories" on the right. "The Revolutionaries," he wrote, "can be found swishing down Hollywood Boulevard or Constitution Avenue. They have rejected society, because society has rejected them. …The Revolutionaries can also be found (if their orientation is intel1ectual) among the ranks of the social workers, the labor leaders, the left-wing political or religious organizations." As for the "Tories":
The Tories are the elegant ones who have decided to express their social hostility by being more correct than the foremost representatives of the dominant (and dominating) culture. They work for TIME magazine or the NEW YORKER. They are in the diplomatic service; they occupy key positions with oil companies or the FBI (it's true!).
That last charge — that there are gay people in "key positions" in the FBI hit a very raw nerve that reached all the way up to the director's office. A memo from the Los Angeles field office, dated January 26, 1956, described the article in the November issue and quoted the sentence about occupying "key positions" in the FBI. The memo incorrectly identified ONE as a publication of the Mattachine Society (it was independent), which the FBI had investigated in 1953. After concluding that there "was no internal security interest," the FBI closed that investigation at the end of that year. The memo concluded, "In view of the nature of this publication, it is believed 'One' should not be dignified by a reply to the completely baseless and unfounded writings as noted above."
Clyde Tolson, the FBI's Associate Director and J. Edgar Hoover's right hand man (and closeted lover), disagreed, writing on the bottom of the memo, "I think we should take this crowd on and make them 'put up or shut up'." Hoover added his agreement: "I concur." Clyde's line — to "put up or shut up" — would re-appear in documents throughout the rest of the FBI's investigation of ONE, beginning with Hoover's order issued to Los Angeles the very next day:
Bureau has received anonymously a copy of November 1956, issue of this magazine containing an article "how much do we know about the homosexual male?" by Freeman, Circulation Manager.

Article indicated that "The Tories" composed one of the three main groups of homosexual society, and the article continued, "They work for TIME magazine or the NEW YORKER. They work for TIME magazine or the NEW YORKER. They are in the diplomatic service; they occupy key positions with oil companies or the FBI (it's true!)."

On the basis information available, [redacted] not identifiable Bufiles. You are instructed to have two mature and experienced Agents contact [redacted] in the immediate future and tell him the Bureau will not countenance such baseless charges appearing in this magazine and for him to either "put hup or shut up." Suair-tel results of your contact to reach the Bureau by February 1956.

HOOVER
A week later, two FBI agents carried out Hoover's order and visited ONE's office on February 2. There, they found Dorr Legg (who went by "William Lambert", see Dec 15), and sent this report back to Washington along with their recommendation.
Los Angeles Airtel February 2, 1956, sets forth results of interview with William Lambert, Chairman of the Board of "One." This interview shows that Lambert is strictly no good, and he left the impression with interviewing Agents that he had either edited or written the article appearing in the November, 1955, issue of this magazine alleging that homosexuals occupied key positions in the FBI.

Lambert was advised in no uncertain terms that the Bureau would not tolerate such baseless statements appearing in this magazine and for him either to put up or shut up. Lambert one point said, "Our attorney ([redacted, but most certainly ONE's attorney Eric Julber] of Beverly Hills) had approved everything that goes into the magazine." Los Angeles files on [redacted] of Beverly Hills, California, reflects he has appeared on platform with Communist Party members, and he has written editorials for a college paper defending the American Youth for Democracy (AYD). The AYD has been designated by the Attorney General pursuant to Executive Order 104501. In addition [redacted] was in contact with [redacted] of the Soviet Vice-Consulate in Los Angeles in 1946, and he told him he should see [redacted] later and an automobile registered to [redacted] was observed parked in the vicinity of a CP meeting being held in Los Angeles in 1948.

In view of the unsavory nature of this entire crowd, it is believed we should not contact [redacted] as it is not beyond the realm of possibility that this outfit, through [redacted], would endeavor to embarrass the Bureau. In any interview with [redacted] we do not have the element of surprise, and, of course, we would necessarily be taking a chance of the interview being recorded. It is noted Lambert had apparently considered taping the interview had with him, however the Agents were circumspect and it is not believed the interview was recorded.
The memo recommended that "no further action be taken." But Tolson intervened again, in a handwritten note on the bottom of the memo: "I don't agree. I think we should open an investigation on [redacted] and get a line on Lambert."
For the next five months, the FBI set out investigating ONE and everyone associated with it. The first roadblock they ran into was untangling everyone's pseudonyms. Later memos revealed more details about the Agents' interview with Lambert, including the fact that Lambert refused to identify the article's stated author, "David Freemen." (His real name was Chuck Rowland, one of the Mattachine Foundation's founders, see Aug 24). By the end of February, Hoover grew impatient with the investigation's slow pace. In a memo to the head of the Los Angeles office dated March 2, Hoover complained:
Investigation conducted by your office this far as failed to develop the information desired by the bureau. You are instructed to immediately take necessary positive investigative steps to further identify William Lambert and especially [list of names redacted] as well as other persons connected with this publication as set forth in Bulet. to your office 2-15-56.

You are instructed to afford this matter your personal attention, coordinate all the investigations, and you should submit the results to the Bureau, Attention Crime Records Section, no later than March 22, 1956.

Hoover
ONE's FBI file grew to over 100 pages, in addition to every back issue of ONE the agents could get a hold of. Over time, agents were able to collect information on Lambert and Julber using "confidential techniques," including surreptitious photographs, riffling through insurance and voting records, and talking with neighbors. They were also finally able to identify Rowland as the article's author, while noting that he "is an expelled Communist Party member and still exhibits much CP thinking, which is reflected in his writings." They also noted that Rowland had resigned from ONE in February, and they couldn't find much damaging information that could be used against the others. Agents then considered whether they could get ONE shut down for mailing "pornographic materials" across state lines, but decided that they were restrained from doing so while ONE's case against the Post Office was still on appeal. With no further information available, the FBI finally agreed to place ONE on "pending inactive status" until ONE's appeals were exhausted.
[Sources: "David F. Freeman" (Chuck Rowland) "How much do we know about the homosexual male?" ONE 3, no 11 (November 1955): 4-6.
Declassified FBI files of ONE magazine and the Mattachine Society. Available online from the FBI's "Vault" page here (PDF: 5.2MB/97 pages) and here (PDF: 2.6MB/97 pages)] The main page for the Mattachine Society's files is here.]
Government Payments to Maggie Gallagher, Other Columnists Revealed: 2005. Howard Kurtz revealed in a Washington Post story that the Bush Administration had paid hundreds of thousands of dollars to two columnists in a "pay-to-sway" scandal to promote the administration's policies. In one case, it was revealed that the U.S. Department of Education paid columnist Armstrong Williams $241,000 to promote and talk up the No Child Left Behind Initiative and to encourage other journalists and columnists to write favorable articles on the law. It was also revealed that Maggie Gallagher had accepted $41,500 to promote the Bush Administration's marriage initiative, which called for abstinence education and premarital counseling. Gallagher responded in a rather creative way: first by defending her role in the contract ("I'm a marriage expert. I get paid to write, edit, research and educate on marriage. If a scholar or expert gets paid to do some work for the government, should he or she disclose that if he writes a paper, essay or op-ed on the same or similar subject? If this is the ethical standard, it is an entirely new standard."), then by acknowledging that she should have disclosed the contract when she later wrote about the Bush marriage initiative. "But the real truth is that it never occurred to me. … I would have, if I had remembered it. My apologies to my readers." Nice work if you can get it.
Armstrong was dropped by from syndication by the Tribune Company. Gallagher continued writing for Town Hall as though nothing had happened. She went on to found the National Organization for Marriage in 2007 and remained its president until 2010. She also founded Culture War Victory Fund in 2011. Last year, she announced the retirement of her syndicated column.
David Kato Murdered: 2011. It seems like yesterday, it seems like a lifetime ago. But it was three years ago today when Ugandan LGBT advocate David Kato was brutally murdered in his home. The murder took place almost four months after his photo appeared on the front page of a local tabloid as one of Uganda's "top homos" with the tag, "Hang Them!" And the murder took place less than a month after a Ugandan Court issued a permanent ruling baring that tabloid from outing gay people on its pages. The police, before they even had a suspect, were quick to deny that homophobia had anything to do with his murder, and they maintained that position after they settled on a suspect and obtained a "confession." To seal the deal, the alleged murderer was quickly found guilty and sentenced — in proceedings so rushed that his own lawyer didn't know he was appearing in court. But LGBT advocates in Uganda know the real score and aren't buying the government line. On this anniversary, it's important to pause and remember that there are martyrs for gay rights: Harvey Milk, David Kato, and many others, known and unknown.
In honor of Kato's memory, the David Kato Vision and Voice Award has been established to recognize those who demonstrate "courage and outstanding leadership in advocating for the sexual rights of lesbian, gay, bisexual, transgender and intersex (LGBTI) people, particularly in environments where these individuals face continued rejection, marginalization, isolation and persecution." It is awarded annually on December 10, Human Rights Day.
TODAY'S BIRTHDAY:
Ellen DeGeneres: 1958. She made her own bit of history in 1997 during the fourth season of her sitcom, Ellen, when she came out publicly as a lesbian on the Oprah Winfrey Show. Her character soon came out on her sitcom, and that coming out episode was one of the highest rated episodes of her series. That episode won her her first Emmy, but the show's popularity dropped soon afterward and was cancelled. Ellen withdrew from television and returned to her roots in stand-up comedy (and taking on a voice-acting stint for the 2003 film Finding Nemo) before re-establishing herself as a popular talk show host on Emmy-winning The Ellen DeGeneres Show, where she often talks about her wife, Portia de Rossi. Her show is very popular with housewives and not a few gay men, with her popularity undoubtedly helped along with segments like these: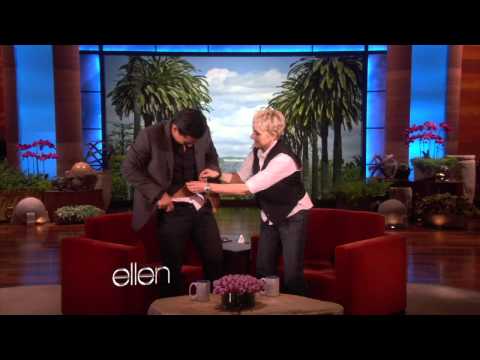 In 2008 at the age of fifty, Degeneres became the spokesperson for Cover Girl cosmetics. In 2012, she became the spokesperson for J.C. Penney, much to the consternation of the American Family Association, whose astroturf front organization One Million Moms is all kinds of upset because her mere presence is an affront to their manufactured moms. In 2012, Degeneres was honored with the Mark Twain Prize for American Humor by the by the John F. Kennedy Center for the Performing Arts.
If you know of something that belongs on the agenda, please send it here. Don't forget to include the basics: who, what, when, where, and URL (if available).
And feel free to consider this your open thread for the day. What's happening in your world?
Comments