VIDEO: Ssempa, Kyazze Celebrate Anti-Homosexuality Bill
Jim Burroway
February 25th, 2014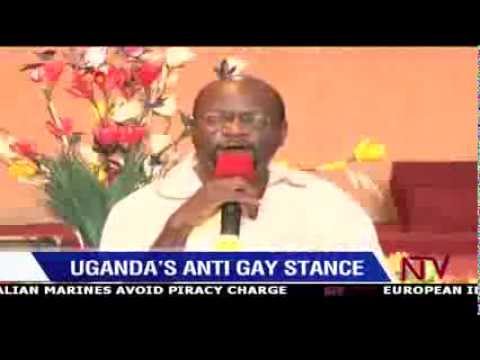 Pastor Michael Kyazze of the Omega Healing Center, a Kampala church, celebrates President Yoweri Museveni's signing of the Anti-Homosexuality Bill into law:
"A law of love, a law of order has been signed, and your future since will be better than what other perpetrators were trying to promote. There is no one who is going to kill homosexuals. No one is going to kill the homosexuals, the law doesn't say so, but the law says the habit itself is unnatural and the habit itself, if it is promoted by anyone, that person is liable for punishment.
Pastor Martin "Eat Da Poo-Poo" Ssempa also celebrates:
"The biggest problem here is confusion. Homosexuals are boys who think they are girls, and girls who think they are boys. So the issue is they want to confuse us, but Africa said, "No confusion!"
In October of 2012, Ssempa, Kyazze, and three others were convicted by a Uganda court of conspiring to tarnish a rival pastor's reputation by accusing him of homosexuality.
NTV also interviews other Ugandan officials and reviews reactions from retired South African Desmund TuTu and and the UN High Commissioner on Human Rights Navi Pillay.
Comments