EU Downplays Ugandan Sanctions Over Anti-Homosexuality Act
Jim Burroway
April 3rd, 2014
LGBT advocates in Uganda are split over the question of foreign aid cuts in response to the country's adoption of the draconian Anti-Homosexuality Act. Many have argued that any actions taken against Uganda should be aimed at addressing the much larger human rights problems in what is increasingly becoming a one-party kleptocracy. Sexual Minorities Uganda executive director Frank Mugisha and others have cautioned against aid cuts:
"We can't afford to create new victims," (Mugisha) said on Twitter this week. "We should go after the crazy politicians! Not innocent Ugandans."

…Edwin Sesange, director of the African LGBTI Out and Proud Diamond Group, said in a Gay Star News comment piece: 'Aid in various forms helps all ordinary Ugandans, including LGBTI people who we are campaigning for. "Therefore the consequences of not being able to access those services financed by foreign aid will directly impact gay, lesbian, trans and bi Ugandans wellbeing. Our parents, sisters, brothers, friends and other relatives will also become victims. By contrast, most proponents of homophobia in Uganda can afford luxurious lives without depending on some foreign aid funded projects."

He added: Politicians and the anti-gay vigilantes are using this threat from developed countries as a way of convincing people the west is using foreign aid and its influence to spread homosexuality to Uganda. We need to change this argument such people can understand the role of the western countries has is fighting homophobia, not making people gay. Western leaders need to assess the risks of their strategies before LGBTI people pay the consequences."
Meanwhile, Ugandan critics question why the West is ignoring the protracted government-sponsored violence against opposition leaders and their supporters and focusing all of their attention on the LGBT population.  This is the best way to understand the situation on the ground that the European Union Ambassador to Uganda Kristian Schmidt is trying to address in this interview with NTV Uganda yesterday.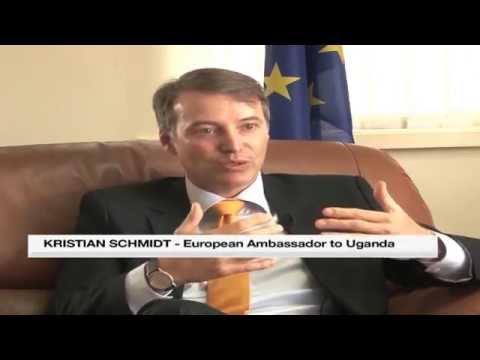 Europe is not here to exchange money for African values. This is not the nature of our partnership. Our partnership is one of equal partners where what we do in the area of development cooperation is discussed and agreed with our Ugandan partners.

The discussion that we have on human rights are not conditional, and that's why it's important to note that we are not threatening. We didn't threaten with aid cuts during the process of legislative adoption of the bill. This is not how Europe operates.
J. Lester Feder at Buzzfeed has more on the assurances Ambassador Schmidt says that he is seeking from the Uganda Government:
During an interview in his office in the Ugandan capital on Wednesday, Schmidt would not specify what assurances the E.U. sought from the five cabinet officials he met with behind closed doors last week. But, he said, he was "very" satisfied with the conversation and expected to resume the discussion after Ugandan officials returned from a summit between E.U. leaders and African leaders being held this week in Brussels.

"I am satisfied with the fact that … there were five ministers [in the meeting] … ready to give us assurances, that the law wouldn't mean violations of privacy, freedom of expression, freedom of assembly, [and] the way medical care will be extended in facilities that are already caring for men who have sex with men," Schmidt said. And while the E.U. believes the "law is discriminatory from A to Z and it has to be repealed," he said, "there are ways to limit the damage. I want to keep working on that [through dialogue]."

…"We do not try to buy African acceptance for European or universal values through our development cooperation," he said. "Because what happens when you try to do that, you get the [backlash] that we're seeing…. It's not productive to present it as a trade off."
It's hard to see what meaningful assurances government could offer when arrests like these are continuing across Uganda and suspects are being paraded before TV cameras: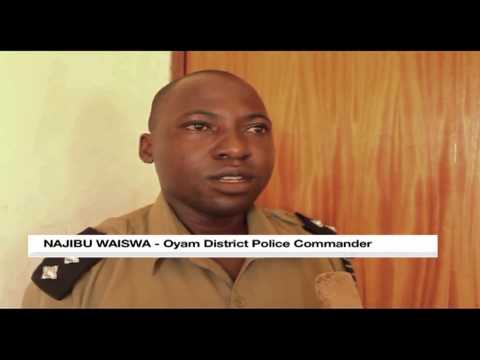 Two men suspected of engaging in homosexuality acts have been arrested in Oyam. Oyam District Police Commander, Najibu Waiswa says 22-year-old Maurice Okello and his alleged partner, 18-year-old Anthony Oluku were caught red handed. Police claims the two admitted to having been involved in acts of homosexuality.
Meanwhile, Frank Mugisha is tweeting this morning that police have raided an NGO at Makarere University which receives PEPFAR funds from the US over services it provides to LGBT people:
Comments