Obama Includes "Our Gay Brothers and Sisters" In Call For Recommitment to Unalienable Rights
Jim Burroway
January 21st, 2013
http://www.youtube.com/watch?feature=player_embedded&v=3ZI2GA9bhFs
The theme for President Barack Obama's second inaugural address is the never-ending task of bringing the Declaration of Independence's assertion of "certain unalienable rights, that among these are Life, Liberty, and the pursuit of Happiness." The journey to that promise, he said, is the history of our nation, and that journey is not complete:
We, the people, declare today that the most evident of truths – that all of us are created equal – is the star that guides us still; just as it guided our forebears through Seneca Falls, and Selma, and Stonewall; just as it guided all those men and women, sung and unsung, who left footprints along this great Mall, to hear a preacher say that we cannot walk alone; to hear a King proclaim that our individual freedom is inextricably bound to the freedom of every soul on Earth.

It is now our generation's task to carry on what those pioneers began.  For our journey is not complete until our wives, our mothers, and daughters can earn a living equal to their efforts.  Our journey is not complete until our gay brothers and sisters are treated like anyone else under the law – for if we are truly created equal, then surely the love we commit to one another must be equal as well.  Our journey is not complete until no citizen is forced to wait for hours to exercise the right to vote.  Our journey is not complete until we find a better way to welcome the striving, hopeful immigrants who still see America as a land of opportunity; until bright young students and engineers are enlisted in our workforce rather than expelled from our country.  Our journey is not complete until all our children, from the streets of Detroit to the hills of Appalachia to the quiet lanes of Newtown, know that they are cared for, and cherished, and always safe from harm.
This is the first inaugural speech to include gays and lesbians as an integral part of America. And it's more than just a name check. It's also a recognition that our struggle is part and parcel of the greater, never-ending quest for liberty for all Americans.  
Click here to read the entire speech
Obama Selects Pro-Gay Episcopal Priest For Inaugural Benediction
Jim Burroway
January 16th, 2013
From CNN:
The Rev. Luis León told CNN on Tuesday the White House and the Presidential Inaugural Committee invited him last week to deliver the closing prayer at the 57th Presidential Inauguration.

León pastors Saint John's Church, an Episcopal parish just across Lafayette Park from the White House, dubbed the "Church of the Presidents."

"I found out last week," he told CNN in an interview on Tuesday.

A source close to the inaugural committee confirmed León would be delivering the benediction and said a formal announcement would be coming later in the week.
The "Church of the Presidents" sets aside Pew 54  in case the President happens to drop by, which every President has done at least once since 1815. León delivered the invocation for President George W. Bush's second inauguration in 2005. Which means that pretty much everyone should be happy with this choice. Right?
León's invitation comes after evangelical pastor Louis Giglio removed himself from Obama's inaugural program after an anti-gay sermon from the mid-1990s came to light.
Giglio's Gone
Jim Burroway
January 10th, 2013
According to a series of Tweets posted by ABC news journalist Jonathan Karl, Rev. Louis Giglio has removed himself from President Barack Obama's inaugural program:
Rev. Gigilo[sic], who had been selected to give the inaugural invocation, has been removed from the program.
Rev. Gigilo[sic] had come under fire for his harshly anti-gay comments. He will no longer be giving the invocation at the inauguraiton.
In the 90s, Gigilo promoted "ex-gay therapy" and denounced the "homosexual lifestyle" and "aggressive agenda" of the gay rights movement.
Inaugural source: "Gigilo pulled himself out when he realized this was going to be a distraction.
Giglio had actually been chosen to give the benediction, not the invocation. Myrlie Evers-Williams, the widow of slain civil rights worker Medgar Evers who was shot in his driveway in 1963 by a white supremacist, will give the invocation. Moments ago, Karl posted the corrected story at ABC News.
The New York Times confirms Giglio's departure, citing " a source close to the inaugural committee."
Update: ThinkProgress, which broke the story yesterday of Giglio's anti-gay comments, obtained a statement from the pastor's spokesperson:
Due to a message of mine that has surfaced from 15-20 years ago, it is likely that my participation, and the prayer I would offer, will be dwarfed by those seeking to make their agenda the focal point of the inauguration. Clearly, speaking on this issue has not been in the range of my priorities in the past fifteen years. Instead, my aim has been to call people to ultimate significance as we make much of Jesus Christ.
ThinkProgress has also posted a statement from a spokesperson for the Presidential Inauguration Committee saying they were unaware of Giglio's comments from the mid-90s and will work to find a replacement whose beliefs "reflect this administration's vision of inclusion and acceptance for all Americans."
Obama Selects Anti-Gay Pastor for Inaugural Benediction
Jim Burroway
January 9th, 2013
President Obama has named two individuals to offer the benediction at his January 21 swearing-in ceremony. The first is Myrlie Evers-Williams, the widow of slain civil rights worker Medgar Evers, who was shot in his driveway in 1963 by a white supremacist. She is believed to be the first woman and non-clergy member to be invited to deliver the invocation at a presidential inauguration.
Thats sounds to me like an excellent choice. It's the second name which gives pause. The committee also announced that Pastor Louie Giglio, founder of the youth-oriented Passion Conferences, has been selected to offer the benediction. The Washington Post cites an unnamed inaugural official who said:
…Giglio was picked for the benediction in part because of his work raising awareness about modern-day slavery and human trafficking. Those were core issues at his most recent conference, Passion 2013, attended by more than 60,000 mostly young evangelicals in Atlanta.
But as ThinkProgress has discovered, Giglio has an anti-gay history:
In a mid-1990s sermon identified as Giglio's, available online on a Christian training website, he preached rabidly anti-LGBT views. The 54-minute sermon, entitled "In Search of a Standard – Christian Response to Homosexuality," advocates for dangerous "ex-gay" therapy for gay and lesbian people, references a biblical passage often interpreted to require gay people be executed, and impels Christians to "firmly respond to the aggressive agenda" and prevent the "homosexual lifestyle" from becoming accepted in society.
ThinkProgress has several choice excerpts from that sermon. This one is probably the worst:
[The homosexual] movement is not a benevolent movement, it is a movement to seize by any means necessary the feeling and the mood of the day, to the point where the homosexual lifestyle becomes accepted as a norm in our society and is given full standing as any other lifestyle, as it relates to family.
When I read that, I couldn't help but recall that Scott Lively delivered almost those exact words at his infamous anti-gay conference in Uganda in 2009.
Giglio also compared being gay to alcoholism and drug addiction and eating disorders:
I would refer you maybe just to the article "Born gay?" by Joe Dallas, who is the president of a ministry that helps with homosexuals in "recovery." … It really unfolds for us that the evidence that they say is there, that the media wants to tell us is there really isn't there at all. But I want to tell you this tonight. How do you respond to the news reports that we're hearing in the last few months that there is a genetic tendency to be an over-eater and it's been supposedly proved by the scientists? That there is a genetic tendency to addictive behavior. Alcoholics by and large have a genetic tendency to addictive behavior. I predict in our lifetimes and not a very long period of time from now, scientists and geneticists will have found a way to prove a gene theory for every malfunction in sinful society. And do you know why? We talked about it the very first week—because we do not want responsibility for our choices.
(Joe Dallas at that time was president of Exodus International. More recenlty he has become involved with a more hardline breakaway group, the Restored Hope Network.)
That sermon was delivered in the 1990s. ThinkProgress says, "A spokesman for Giglio was not immediately available to respond to questions about whether this sermon represents Giglio's current thinking." If it doesn't, then he really needs to speak up, loudly.
And if it does, then this is a reversion to the kinds actions which angered the LGBT community ahead of Obama's first inaugural ceremony, when Saddleback Church pastor Rick Warren was selected to deliver the invocation. The selection was announced just a day after comparing consensual, loving same-sex relationships to polygamy, incest and child rape. The inauguration committee tried to mollify the anger by asking openly gay Episcopal Bishop Eugene Robinson to give the invocation for a inauguration-eve concert at the Lincoln Memorial, only to have his prayers cut from the live broadcast.
Obama endorses Illinois marriage bill
Timothy Kincaid
January 2nd, 2013
This came out between Christmas and New Years, but it's well worth reporting, even if a bit late: (Sun-Tribune)
President Barack Obama is urging the Illinois General Assembly to legalize gay marriage in his home state as lawmakers are poised to take up the measure as early as this week in Springfield.

"While the president does not weigh in on every measure being considered by state legislatures, he believes in treating everyone fairly and equally, with dignity and respect," White House spokesman Shin Inouye told the Chicago Sun-Times on Saturday.
This sort of endorsement is powerful and effective.
Dodging a bullet
A Commentary
Timothy Kincaid
November 7th, 2012
This spring I had a conversation with a community activist who expressed concern that should the President not be elected, some might be able to spin the story to blame his loss on his support for marriage equality. I agreed that would be a real challenge to our ongoing efforts for equality, but I didn't see that as a likelihood.
I posed to him another challenge, one I saw as having greater possibility. My biggest fear for yesterday was that we would lose in Maryland and that it could be attributed to the black vote.
When proposition 8 passed in California and exit polls reported 70% support from black voters, a certain amount of racism and resentment resulted. Things were tense for a while and I feared that should there be an appearance that African-American voters had blocked equality that hostilities would escalate.
We have been fortunate recently that tension between the two communities have diminished to a great extent – and this has been due mostly to the leadership and integrity of those who are greatly respected in the African-American community. Perhaps the largest share of credit goes to President Obama, whose administration has stepped boldly and strongly on the side of equality and encouraged many African-Americans to join him.
And while exit polls showed that less than half of the black vote supported marriage equality, it is a significant improvement over the vote four years ago, and there is no reason to believe that our communities will not continue greater support and cooperation.
Election Liveblog
Jim Burroway
November 6th, 2012
2:00 EST: One more thing:
Iowa Supreme Court Justice Retention Vote:
David Wiggins:
Yes (retain): 54% √
No: 46%
83% reporting.
NOM is having a very bad night. A historically bad night. I'm going to bed now and I will sleep very, very soundly.
1:39 EST: President Obama is now giving his victory speech. And with that, I'm going to sign off for the night. I will provide an update with the latest results again tomorrow morning.
1:30 EST: Here is a rundown of all of the LGBT-related races I've been following:
BALLOT MEASURES:
Maine, Question 1: Allow same-sex marriage.
Yes: 54.2% √
No: 45.8%
58.1% reporting.
Maryland, Question 6: Allow same-sex marriage.
Yes: 51.2% √
No: 48.1%
96.8% reporting.
Minnesota, Amendment 1: Same-sex marriage ban.
No: 49.2.5%
Blanks: 1.5%
Yes: 49.2%
67.4% reporting.
Remember: The Amendment needs to pass by more than half of all ballots cast. Blanks will be added to the "no" vote for the final tally.
Washington, Referendum 74: Allow same-sex marriage.
Yes: 51.8.9%
No: 48.2%
49.9% reporting.
SENATE RACE:
Wisconsin:
Tammy Baldwin (D, openly lesbian): 51.2% √
Tommy Thompson (R): 46.2.%
86.8% reporting.
CONGRESSIONAL RACES:
Arizona:
Kyrsten Sinema (D, openly bi): 47.4%
Vernon Parker (R): 46.3%
86% reporting.
California:
Mark Takano (D, openly gay): 54.4%
John Tavaglione (R): 45.6%
13% reporting.
Colorado:
Jared Polis (D, openly gay): 54.6% √
Kevin Lundberg (R): 40.4%
45.3% reporting.
Massachusetts:
Richard Tisei (R, openly gay): 47.1%
John Tierney (D) 48.4% √
98.3% reporting.
New York:
Sean Patrick Maloney (D, openly gay): 51.7% √
Nan Hayworth (R): 48.3%
96.7% reporting.
Rhode Island:
David Cicilline (D, openly gay): 53.1% √
Brendan Dohert (R): 40.7%
97.0% reporting
Wisconsin:
Mark Pocan (D, openly gay): 67.4% √
Chad Lee (R): 32.6%
90.5% reporting.
12:55 EST: Gov. Mitt Romney is now giving a very classy consession speech, congratulating President Obama for his win.
12:50 EST: Here is a rundown of the ballot measures addressing same-sex marriage. Voters in two states have approved marriage equality. Voters in Washington are on their way to approving marriage equality, and Minnesota voters look poised to turn down a proposal to write a permanent ban on same-sex marriage in the state's constitution. After voters in 30 states have written marriage equality bans into their state constitutions, we now have a remarkable turnaround in 2012. Remember this day.
Maine, Question 1: Allow same-sex marriage.
Yes: 54% √
No: 46%
51% Reporting
Maryland, Question 6: Allow same-sex marriage.
Yes: 52% √
No: 48%
93% Reporting
Minnesota, Amendment 1: Same-sex marriage ban.
No: 48.5%
Blanks: 3.7%
Yes: 47.9%
53% reporting.
Remember: The Amendment needs to pass by more than half of all ballots cast. Blanks will be added to the "no" vote for the final tally.
Washington, Referendum 74: Allow same-sex marriage.
Yes: 52%
No: 48%
50% reporting.
12:40 EST: Tammy Baldwin has now given her victory speech. With 79% reporting, she has defeated Gov. Tommy Thompson 51-47%, making her the first openly gay Senator in American history.
12:38 EST: Now I'm ready to call Maryland's Question 6 a win for equality! With 92% reporting, Question 6 has passed 1,126,598 to 1,050,179 (52-48%) Maryland voters have joined those in Maine to approve marriage equality at the ballot box. I don't know about you, but this really feels like a truly historic turning point.
12:30 EST: Colorado has now gone to Obama, bringing his lead to 290-201. There's a lot of talk about whether Ohio was prematurely declared, but even if Ohio went red, this would still be Obama's victory. An ugly one, especially if he doesn't win the popular vote, but it is a win.
12:28 EST: Another gay congressman is headed to Washington. Sean Patrick Maloney (D) has defeated Rep. Nan Hayworth (R), 52%-48%.
12:15 EST: Believe it or not, Politico has had the results swapped between Question 6 and the "Illegal immigrant tuition" question all night long. For the love of god!!!  Question 6 is up, but only 52-48%, way too early to call.
12:00 EST: With 44.1% reporting in Maine, Question 1 is projected to win!
Maine, Question 1: Allow same-sex marriage.
Yes: 54.4%
No: 45.6%
44.1% Reporting
11:45 EST: With 81% reporting in Maryland, Question 6 is projected to win!
Maryland, Question 6: Allow same-sex marriage.
Yes: 58%
No: 42%
81% Reporting
11:31 EST: Remember James Hartline?
I took my Bible with me today and proudly honored God with my decisions. I refused to vote for the demonized Mormon Cultist Mitt Romney or Obama. Instead, like nearly two million other voters, I marked other and wrote in Jesus.
11:30 EST: Has Tammy Baldwin won her Senate race? Reuters called it, but right now with 53% reporting, she is only up 49-48%. She may yet win, but it looks like a lot of folks might have jumped the gun a bit.
11:23 EST: CNN has given Ohio to Obama. President Barack Obama, the most pro-gay president in American history, has been re-elected.
11:05 EST: A slew of new projections has put Obama on top 243-191. Ohio continues to lean toward Romney, but CNN is now mapping out multiple possibilities for Obama to win even without Ohio.
Here are the state marriage ballot measures. All of them are still looking good so far.
Maine, Question 1: Allow same-sex marriage.
Yes: 53%
No: 47%
30% Reporting
Maryland, Question 6: Allow same-sex marriage.
Yes: 58%
No: 42%
55% Reporting
Minnesota: Amendment 1: Same-sex marriage ban.
No: 52%
Blanks: 3.8%
Yes: 45%
19% Reporting
Remember: The Amendment needs to pass by more than half of all ballots cast. Blanks will be added to the "no" vote for the final tally.
10:55 EST: Obama is now tied with Romney, 172-172. Ohio is leaning toward Obama, and FLorida and Virginia are very nearly tied so far. It's going to be a long night.
10:35 EST: Great news so far in the three states with marriage on the ballot that are reporting:
Maine, Question 1: Allow same-sex marriage.
Yes: 55%
No: 45%
16% Reporting
Maryland, Question 6: Allow same-sex marriage.
Yes: 60%
No: 40%
41% Reporting
Minnesota: Amendment 1: Same-sex marriage ban.
No: 57%
Blanks: 1.5%
Yes: 42%
7% Reporting
Remember: The Amendment needs to pass by more than half of all ballots cast. Blanks will be added to the "no" vote for the final tally.
10:25 EST. In Rhode Island, it looks like openly gay Rep. David Cicilline has defeated Republican challenger Brendan Doherty. With 82% reporting, Cicilline is ahead 50-44%.
In Massachusetts, Richard Tisei is trailing in his question to become the first openly gay Republican congressman. Rep. John Tierney is leading 49-47% with 58% reporting.
10:15 EST: We can celebrate Tammy Baldwin's win now. Fox News is projecting that she will be the new fabulously openly lesbian Senator from Wisconsin. History is made!
Question 1 in Maine is now tightening. With 11% reporting, it is now up 53-47%.
10:00 EST: Mitt Romney has won his home state of Utah. But he lost New Hampshire
With 7% reporting, Question 1 is passing in Maine, 55-45%.
With 23% reporting, Question 6 is passing in Maryland, 61-39%.
With only 3% reporting, Amendment 1 is trailing in Minnesota. 61-38%, with about 1.5% of the ballots blank for the proposed amendment. Blank ballots are will be counted as no votes.
9:45 EST: CNN Projects Elizabeth Warren (D) has unseated Scott Brown (R) in Massachusetts, and JOe Donnelly (D) has defeated Richard Mourdock (R) in Indiana. God's will, you know. These are both pick-ups for Dems.
9:42 EST: NBC and Fox have given Wisconsin to Obama. CNN has finally given Pennsylvania to Obama also.
9:35 EST: The Associated Press has declared Rep. Tammy Baldwin (D) the winner in her Senate race against former Gov. Tommy Thompson (R), making Baldwin the first openly gay Senator in U.S. history. Oops, take that back. The AP has NOT called for Baldwin.
9:20 EST: Fox called Pennsylvania for Obama. I'll take it.
9:15 EST: Vote counts for Maryland's Question 6 and Maine's Question 1 are excruciatingly slow. With 3% counted in Maine, Question 1 is trailing 4,253-5,362. In Maryland, Question 6 is passing 192,860-157,767 with only 1% of the vote counted. Obviously with vote tallies this low, it's way to early to see any trends.
9:00 EST: Polls close in Arizona, Colorado, Louisiana, Minnesota, New Mexico, New York, Wisconsin, Wyoming. Last polls close in Kansas, Michigan, Nebraska, South Dakota, and Texas. And with it, a whole slew of new projecitons, mostly lining up with expectations. So far, it looks like the red states are going heavily red, while the blue states are slower to come in. Right now, Romney is up 152-123.
CNN says that the Republicans will hold on to the House. Obama is getting a lot of grief for not campaigning in key House races on behalf of Democratic candidates.
8:50 EST: Alabama is red. Romney is up 82-64.
People are still in line in Florida and Virginia, even as polls have officially closed. Those who are in line will get to vote. Twitter hashtag #stayinline is now trending upward. It sure would have been nice if someone had mentioned to Florida and Virginia election officials that they were supposed to be ready for an election today.
8:30 EST: Polls just closed in Arkansas, which CNN has called for Romney. CNN has also called Tennessee as well, putting Romney ahead 73-64.
So far, only about 1% of the results are in for Maryland's Question 6 and Maine's Question 1, which means that there aren't enough results to talk about yet.
8:25 EST: In the Senate races, it looks like the Angus King, the independent candidate for Maine's Senator to replace Sen. Olympia Snowe (R) is headed to Washington. He hasn't said which party he will caucus with, but most observers expect that he will caucus with the Dems. Another possible pickup for the Dems might be Joe Donnelly, who is leading Richard Mourdock by 50-44% with 30% of the votes counted. Mourdock, you may recall, got in trouble during the debate when he said that when a child is born as a result of rape, it's God's will.
8:16 EST: Georgia now goes to Romney, bringing the EC count to 64-56 for Obama.
8:00 EST: Polls have now closed in Alabama, Connecticut, Delaware, District of Columbia, Florida, Illinois, Maine, Maryland, Massachusetts, Michigan, Mississippi, Missouri, New Hampshire, New Jersey, Oklahoma, Pennsylvania, Rhode Island, and Tennessee.
CNN has called a Delaware, DC, Illinois, Maine, Maryland, Massachusetts and Rhode Island for Obama, and Oklahoma for Romney. This puts Obama up 64-40 in the Electoral College, with Maine splitting its vote 3-1 for Obama. (Nebraska is the only other state that is not winner-take-all in the Electoral College.)
Virginia officially closed but:
Polls closed in Virginia at 7 p.m. ET, but with long lines at polling places around the state — and those in line still able to vote — the state is delaying counting votes so as not to unduly influence those still waiting in line. Smart move.
7:43 EST: CNN has now called South Carolina and West Virginia for Romney. Not much of a surprise. It's now Romney, 33-3 in the electoral count.
Polls close in Maryland and Maine at 8:00. Hopefully we'll start to get an early look at the marriage ballot measures in those states soon after.
7:30 EST: Polls have now closed in North Carolina, Ohio, and West Virginia. CNN's exit poll has Obama up by 3 in Ohio and tied in North Carolina.
7:19 EST: CNN has called Kentucky for Romney, and Vermont for Obama, which means that Romney leads the electoral college count 8-3. And we're off!
7:00 EST: Polls have closed in Georgia, Indiana, Kentucky, South Carolina, Vermont, and Virginia. First results will probably begin within the half hour. Here are the races I'll be watching, in addition to the presidential election and any others you think I should keep an eye out for.
Consider the comments thread for this post an open thread, which I'll be watching for whatever tips you have. And jokes. We may need some jokes. Or videos of cute kittens. Whatever you got. You can also email them by hitting the Contact Us link on the sidebar.
Baptist Post on differences between Romney and Obama on equality
Timothy Kincaid
October 8th, 2012
The Baptist Post has identified what it considers to be substantial differences between the two candidates when it comes to equality. While I'm sure their audience has a different response to the article, I thank them for providing such a clear distinction.
When future historians write about the 21st-century debate over gay marriage, Mitt Romney and Barack Obama will be featured prominently.

Romney was governor of Massachusetts when the state's highest court issued its first-in-the-nation decision legalizing gay marriage, and he not only fought to have the ruling overturned but also supported an amendment to the U.S. Constitution that would define marriage as between a man and a woman.

Obama voted against that federal marriage amendment as a U.S. senator, and once he was president he became the first sitting U.S. president to oppose the Defense of Marriage Act and also to endorse gay marriage.
While I very much doubt that Mitt Romney will garner more than a footnote in future historians' discussion about equality, the article does list a number of differences and is worth reading as a reminder of how the two candidates view your citizenship, your rights, and your humanity.
Obama joins Romney in opposing Boy Scout gay ban
A Commentary
Timothy Kincaid
August 9th, 2012
In 1994, Mitt Romney took a position in opposition to the Boy Scouts of America's ban on gay scouts and said:
I feel that all people should be able to participate in the Boy Scouts regardless of their sexual orientation.
On Saturday, the Romney Campaign confirmed that "this remains Romney's position today."
Yesterday, President Obama joined his opponent in expressing his disagreement with the policy: (CSMonitor)
"The president believes the Boy Scouts is a valuable organization that has helped educate and build character in American boys for more than a century," the White House statement said. "He also opposes discrimination in all forms, and as such opposes this policy that discriminates on basis of sexual orientation."

The Boy Scouts responded with a brief statement from their national headquarters in Irving, Texas.

"The Boy Scouts of America respects the opinions of President Obama and appreciates his recognition that Scouting is a valuable organization," it said. "We believe that good people can personally disagree on this topic and still work together to accomplish the common good."
I feel disappointed. President Obama's position is weaker and more conciliatory than that of Mitt Romney. The President basically validated the "oh we can all disagree amiably" nonsense that the BSA has been throwing at the media. The existence of gay people, our validity as human, whether one's innate attractions makes them inherently immoral, that's all just a matter of opinion. Good people can disagree about that, you see.
No. They cannot.
This is not about a controversial issue, or even one for which counter arguments can be presented. This isn't about whether civil unions provide adequate protection. It isn't about military unit cohesion. It isn't even about adoption policy.
This is about whether gay people can be let in the door. It's just plain unvarnished discrimination: we won't let you in because we don't like you. That's it. And I'm sorry, Mr. President, but both sides of that opinion are not equally moral. This is not an agree to disagree situation.
Either it is immoral and wrong to exclude gay youth for no reason other than their orientation, or it is not. And if it is immoral and wrong – so immoral and wrong that a growing number of people with deep devotion to the Scouts are breaking a tie that means the world to them – then a moral person cannot dismiss this so cavalierly.
I respect and appreciate the President. He has taken steps that have greatly advanced our equality. But it frustrates me to no end that every effort, every step has been long after others in his party have advanced and – in some instances – after Republicans have already gotten there. It should embarrass the President to lag behind Dick Cheney or Ted Olson; it should shame him to lag behind Mitt Romney.
President Obama, like all US Presidents over the past century, is the token president of the Boy Scouts. We know – there is absolutely zero question about it – that if the Boy Scouts banned members based on race that the President would refuse to hold that title. He would step away from the organization and explain that as President of all Americans in the political life of the country that he cannot be president of only some Americans in the life of scouting.
How is this different?
UPDATE: Mitt Romney's full 1994 quote was:
"I believe that the Boy Scouts of America does a wonderful service for this country. I support the right of the Boy Scouts of America to decide what it wants to do on that issue. I feel that all people should be allowed to participate in the Boy Scouts regardless of their sexual orientation."
I was unaware of the "wonderful service" component of that quote which makes the two statements much more similar, though 18 year apart.
The miracle worker
Timothy Kincaid
May 24th, 2012
Anti-Obama activists like to sneeringly refer to the President as "the liberals' messiah". But maybe they are really on to something; maybe Barack Obama really can work miracles.
From Public Policy Polling (pdf):
-57% of Maryland voters say they're likely to vote for the new marriage law this fall, compared to only 37% who are opposed. That 20 point margin of passage represents a 12 point shift from an identical PPP survey in early March, which found it ahead by a closer 52/44 margin.

-The movement over the last two months can be explained almost entirely by a major shift in opinion about same-sex marriage among black voters. Previously 56% said they would vote against the new law with only 39% planning to uphold it. Those numbers have now almost completely flipped, with 55% of African Americans planning to vote for the law and only 36% now opposed.

-The big shift in attitudes toward same-sex marriage among black voters in Maryland is reflective of what's happening nationally right now. A new ABC/Washington Post poll finds 59% of African Americans across the country supportive of same-sex marriage. A PPP poll in the critical swing state of Pennsylvania last weekend found a shift of 19 points in favor of same-sex marriage among black voters.
What happened in between? The President evolved. And then NAACP board endorsed equality. And now it appears that there were a large number of black voters who have also completed their evolution process.
To be honest, I did not expect this in the slightest. And (like the polls last year that suddenly and unexpectedly showed a majority of Americans support marriage) it seems too good to be true. And I'm still going to wait for additional polling confirmation (and perhaps even the Maryland vote) before I am fully convinced.
But these are huge and very significant changes and if they are real then I'm delighted to give credit where due. I think that discovering that the National Organization for Marriage was condescendingly playing up racism played a part, but it was the President's announcement that I think really cued the change. (And I can't wait for NOM's response… I'm grinning already)
If Black Americans are supporting equality, then I'm ready to party. You bring Obama and I'll bring the wine… no, scratch that… I'll bring the water. Miracles are happening.
Obama Discusses Marriage on "The View"
Jim Burroway
May 15th, 2012
Obama's Big Gay Journey
Jim Burroway
May 14th, 2012
Andrew Sullivan's Newsweek cover story about President Barack Obama's historic announcement last week that he supports the right of same-sex couples to marry is now online.
The cover and Sullivan's op-ed bestows the title "The First Gay President" on Obama. This, of course, is in reference to the phrase coined by writer Toni Morrison who bestowed the title, "The First Black President" on President Bill Clinton during the impeachment proceedings in 1998. Despite Morrison being an African-American herself, I've always had qualms about the title. But now that Andrew Sullivan, gay himself, has bestowed the honor of "The First Gay President" on the real First Black President, I'm doubly pained. I'd rather wait until, you know, we actually get a real gay President. Someday.
But let's not allow us to be distracted from the truly historic occasion. For the first time in American history, a sitting President supports the rights of gay Americans to marry the person they love. As Sullivan put it, "To have the president of the United States affirm my humanity—and the humanity of all gay Americans—was, unexpectedly, a watershed. He shifted the mainstream in one interview." Sullivan then gets to the heart of why he thinks Obama deserves the title "The First Gay President" when he argues that Obama's own personal odyssey is familiar to everyone in the LGBT community:
Barack Obama had to come out of a different closet. He had to discover his black identity and then reconcile it with his white family, just as gays discover their homosexual identity and then have to reconcile it with their heterosexual family. The America he grew up in had no space for a boy like him: black yet enveloped by loving whiteness, estranged from a father he longed for (another common gay experience), hurtling between being a Barry and a Barack, needing an American racial identity as he grew older but chafing also against it and over-embracing it at times.

I have always sensed that he intuitively understands gays and our predicament—because it so mirrors his own. And he knows how the love and sacrifice of marriage can heal, integrate, and rebuild a soul. The point of the gay-rights movement, after all, is not about helping people be gay. It is about creating the space for people to be themselves. This has been Obama's life's work. And he just enlarged the space in this world for so many others, trapped in different cages of identity, yearning to be released and returned to the families they love and the dignity they deserve.

This is the gay experience: the discovery in adulthood of a community not like your own home and the struggle to belong in both places, without displacement, without alienation. It is easier today than ever. But it is never truly without emotional scar tissue. Obama learned to be black the way gays learn to be gay. And in Obama's marriage to a professional, determined, charismatic black woman, he created a kind of family he never had before, without ever leaving his real family behind. He did the hard work of integration and managed to create a space in America for people who did not have the space to be themselves before. And then as president, he constitutionally represented us all.
Another reason Obama's evolution matters
Timothy Kincaid
May 10th, 2012
Ten years ago, objection to same-sex marriage was – for most people – genuine. It may have generated from nothing other than unfamiliarity, mild prejudice, or just confusion, but for the most part it was not contrived or cynical or pandering.
Change is difficult and humans seem to have a blind instinct to defend "how things are supposed to be". Considering that friends can have red-in-the-face, top of your lungs "discussions" about whether landing on "Free Parking" is supposed to pay out the money collected from "Chance" cards in Monopoly, it should be no surprise that decent people objected to changing what marriage "is supposed to be".
But that was ten years ago. And despite the blustering of the professionally indignant defenders of (their own) religious freedom, the horizon is clear and the future is no mystery. Equality is coming, not on little cats feet like the fog, but galloping at breakneck speed. And there's a good reason why.
Gay marriage was new. And odd. And a contradiction to what the terms were understood to be. It was like chocolate cereal or raw fish or women wearing slacks or smart phones. It just took getting used to.
But once the "new" wares off, real objections have to be considered. I won't eat coco-puffs, but sushi isn't so bad and after years of dragging my feet, I finally discovered that I can't live without an iPhone.
And, as we all know, there aren't many valid objections to same-sex marriage. Either you believe that the instinctive fears about drastically changing society have merit (that we just haven't yet discovered) or you don't. And as more people came to know gay folks, these concerns seem less likely.
Which brings me to my point: Mitt Romney doesn't believe that letting gay people marry will harm society – or certainly not more than other things he puts up with. And he is fully aware that his views harm gay people and are unfair, unconstitutional, and a violation of the American ideal. He knows that. Other than a few truly insane people (Hello, Lew), they all do. They just don't think that hedonistic sinners who defy God and social convention should have any claim on fairness, constitutionality, and the American ideal.
And furthermore, they know that the American public has little tolerance right now for blatant homophobia (other than, perhaps, in North Carolina). While ten years ago it might have been acceptable to laugh at the homos playing house, now that doesn't fly. And the truth probably is that a huge chunk of politicians who vote against the American principles of equality couldn't care less if gay people marry. They are just selling a product and pandering to a (rapidly shrinking) base.
But until yesterday, those who oppose equality had the perfect out. They didn't have to look bad. They didn't have to seem unreasonable. They didn't have to appear to be motivated by less-than-admirable prejudices.
They could just say (and I know you all are as sick of hearing it as I am), "I don't think people should be stopped from visiting loved ones in the hospital, but I don't support gay marriage. My position is the same as President Obama's."
Not any more, it isn't, Bubba. Not any more.
Obama's Running On It
Jim Burroway
May 10th, 2012
It looks like it's not just a one-time interview.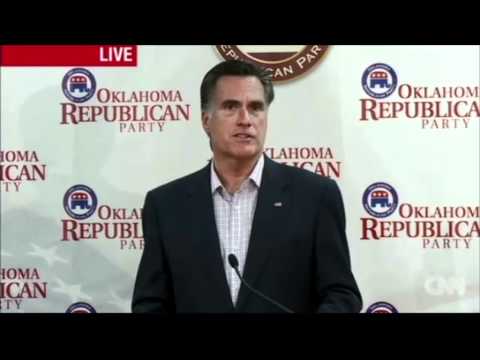 Evolved
Jim Burroway
May 9th, 2012
I have to tell you that over the course of several years as I have talked to friends and family and neighbors when I think about members of my own staff who are in incredibly committed monogamous relationships, same-sex relationships, who are raising kids together, when I think about those soldiers or airmen or marines or sailors who are out there fighting on my behalf and yet feel constrained, even now that Don't Ask Don't Tell is gone, because they are not able to commit themselves in a marriage, at a certain point I've just concluded that for me personally it is important for me to go ahead and affirm that I think same sex couples should be able to get married.
After four years of hedging on the question, President Barack Obama became the first sitting President in U.S. history to publicly support the rights of gay couples to marry. ABC News, which will air excerpts of the interview tonight on Nightline, also reports:
The president stressed that this is a personal position, and that he still supports the concept of states deciding the issue on their own. But he said he's confident that more Americans will grow comfortable with gays and lesbians getting married, citing his own daughters' comfort with the concept.

It's interesting, some of this is also generational," the president continued. "You know when I go to college campuses, sometimes I talk to college Republicans who think that I have terrible policies on the economy, on foreign policy, but are very clear that when it comes to same sex equality or, you know, sexual orientation that they believe in equality. They are much more comfortable with it. You know, Malia and Sasha, they have friends whose parents are same-sex couples. There have been times where Michelle and I have been sitting around the dinner table and we're talking about their friends and their parents and Malia and Sasha, it wouldn't dawn on them that somehow their friends' parents would be treated differently. It doesn't make sense to them and frankly, that's the kind of thing that prompts a change in perspective."
You can see video excerpts of that interview here.
Until today, Obama's official position had been that he wants to repeal of the Defense of Marriage Act, his Justice Department is declining to defend DOMA in federal courts, his Homeland Security office is granting green cards to foreign partners of married same-sex couples, and his administration had provided an array of domestic partner benefits to large numbers of federal employees. In addition, his campaign has released statements against North Carolina's Amendment 1 and a proposed anti-marriage amendment in Minnesota. But the last time anyone was able to ask Obama about his personal stance on same-sex marriage, he said that he supported equal rights for same-sex couples and he supported the rights of states to grant marriage equality, but that on the subject of marriage itself he was personally still "evolving" on the issue.
That evolution, for all practical purposes, was completed today.