Hawaii Senate overwhelmingly passes Civil Unions
Timothy Kincaid
January 28th, 2011
The Hawaiian Senate passed SB 232, a civil unions bill identical to the one vetoed by Gov. Lingle last year. (KITV)
The state Senate on Friday approved Senate Bill 232, relating to Civil Unions, at its regular daily session.

The bill says unmarried, unrelated couples may have a judge or clergy solemnize their civil union, which will provide the same responsibilities and benefits of marriage under state law.

The bill passed the full Senate 19-6.
The sole Republican in the Hawaiian Senate (Sam Slom) voted against civil unions, as did Democrats Donovan Dela Cruz, Will Espero, Mike Gabbard, Donna Mercado Kim, and Ron Kouchi.
The bill will now go to the House where it is expected to be approved without problem.
Hawaii civil unions advance
Timothy Kincaid
January 26th, 2011
Hawaii's Senate Bill 232, identical to last year's House Bill 444 which cleared the legislature but was vetoed by prior governor Lingle, has advanced. (Star Adviser)
Senate Bill 232 passed the Senate Judiciary and Labor Committee by a 3-2 vote, after a hearing that lasted just over two hours.

The bill now goes to the Senate floor for the second of three required votes by the full chamber.
Unlike last year, the hearing was just two hours instead of eighteen, and fewer of the public showed up to watch and listen.
Civil Unions process starts anew in Hawaii
Timothy Kincaid
January 25th, 2011
Last year the legislature in Hawaii passed a civil unions bill with large majorities. Governor Linda Lingle (R) vetoed that bill at the last possible moment because she felt it treated gay couples too close to equal with heterosexual couples.
And while opposition to civil unions was a part of the campaign of both his primary and general election opponents, newly elected Governor Neil Abercrombie has consistently supported the idea. In this new climate, it is expected that civil unions will soon become law in the Aloha State.
There are two versions of civil unions presented, SB 232 which is identical to last year's bill that Lingle vetoed (with an updated effective date) and SB 231 was crafted by the Governor's staff to address concerns that some had with last year's bill.
SB 232 grants partners in civil unions "all the same rights, venefits, protections, and responsibilities under law" as spouses. It requires a license and solemnization by a judge or clergy member, allowing either a religious or secular event. Those authorized to solemnize marriages are specifically protected from punishment if they decline to solemnize civil unions.
SB 231 is much wordier, clarifying wording about the minutia of the process (for example, each applicant for a civil union must be given a pamphlet about the "risks of infection with rubella during pregnancy") and the revision of various code. Much of this seems administrative and could more easily be accomplished by simply requiring that the procedures for marriage and civil unions be the same and avoid the duplicative wording and the risk of future complexity from changes to one that fails to address the other. But perhaps legal scholars may disagree.
It also contains a preamble which is more of a political treatise than a policy law, and makes much ado about its "protection of marriage." The message, which seems to be designed to assure heterosexuals that they would still be privileged in the eyes of the state, if offputting.
Also, amidst the wording, I noted an odd thing: agents for civil unions licenses are separately appointed from those for marriage licenses. No doubt this was to "protect" public employees who don't wish to serve all of the public, but it reinforces the "you aren't the same" message by having two separate lines at the courthouse. It is not entirely clear if this distinction is present in 232.
However, either bill is acceptable in that it accomplishes the goal of equal rights if not equal recognition and will grant much-needed protections and responsibilities for Hawaiian same-sex couples.
And today the process of enacting civil unions has begun. SB 232 will be heard today by the Senate Judiciary Committee (Star Adviser)
Less than three months after voters backed most candidates that support civil unions, lawmakers tomorrow begin the process of vetting another bill, with expectations high among those who hope to have the bill passed.

"We feel very optimistic, given how thorough civil unions has been debated in Hawaii the past few years and given that we already passed the bill," said Alan Specter, co-chairman of Equality Hawaii. [Today's] hearing before the Senate Judiciary Committee marks the third straight year in which lawmakers have taken up the issue that would grant same-sex and heterosexual couples the ability to enter into civil unions and receive the same rights, benefits and responsibilities as marriage under state law.

Senate Bill 232 is substantively the same as House Bill 444, Senate Draft 1, passed by the Legislature last year and vetoed by then-Gov. Linda Lingle. The bill only changes the effective date to Jan. 1, 2012.
Couple recognition, state by state
Timothy Kincaid
December 1st, 2010
Upon the governor's signature, Illinois will become the second state that is currently offering civil unions to same-sex couples. The status of the various recognition mechanisms is as follows:

Marriage on the same terms as heterosexual marriage – 5.1% of US Population:
Massachusetts
Connecticut
Iowa
Vermont
New Hampshire
District of Columbia

Civil Unions – a rights except the name – 7.1% of US Population:
New Jersey
Illinois
Domestic Partnerships will all the rights except the name – 16.3% of US Population
California
Oregon
Washington
Nevada
Limited recognition of same-sex couples – 6.2% of US Population
Hawaii – Reciprocal Benefits
Colorado – Reciprocal Benefits
Wisconsin – Domestic Partnerships
Maine – Domestic Partnerships
Maryland – Domestic Partnerships
In addition, the states of Maryland and New York (6.4% of US Population) will give full recognition to same-sex marriages conducted where legal. Rhode Island may possibly do so also (it's a bit uncertain) and offers unregistered Domestic Partnerships with a scant handful of rights.
Also, there are dozens of cities offer some form of recognition and protection for same-sex couples.
Marriage update – around the states
Timothy Kincaid
November 29th, 2010
The 2010 election has changed the dynamic in a few states and presents both opportunities and challenges for supporters of marriage equality. Here are how I see the current landscape:
Hawaii – Neil Abercrombie, the newly elected governor of Hawaii, is a strong advocate for civil unions. Earlier this year the legislature overwhelmingly approved a civil unions bill and such a bill is likely to be presented again.
Illinois – it is expected that the state legislature will vote this week on a civil unions bill during a lame-duck session. There is adequate support in the Senate, but the House vote is uncertain. Should it pass, Governor Pat Quinn, a strong supporter who was just reelected, will sign the bill. This bill seems to be taking on the impression of a Catholic v. Protestant fight, with NOM and the Catholic Bishop serving as the public face in opposition to civil unions, while a great many Protestants ministers have endorsed the bill.

Minnesota – Mark Dayton holds a lead in the governor's election over anti-gay Tom Emmer, but the election will not be determined until a recount is completed. Republicans took control of both houses of legislature, so no pro-equality bills are expected; but if Dayton is confirmed there also will be no anti-equality bills either.
The one concern might be that Republicans could try and put a constitutional amendment on the 2012 ballot that bans both marriage and civil unions. While that may seem like a great idea to anti-gay activists, Emmer ran a homophobic campaign designed to appeal to those who oppose marriage equality and it does not appear to have been successful. I think it likely that an anti-marriage amendment would pass, but anti-civil unions may be too much, and it is becoming increasingly more risky for anti-gays to make such assumptions. Additionally, attitudes can change dramatically in the next two years.
Meanwhile, three couples are suing the state claiming that laws restricting marriage to opposite-sex couples violate the state constitution. Today, a judge rejected the request of the Minnesota Family Counsel to intervene:
"The Council's alleged injuries would occur solely due to its sincerely-held belief that principles rooted in its interpretations of religious texts are best for the well-being of children and families, and that marriage only between one man and one woman accords with these principles," wrote Minnesota Fourth District Court Judge Mary S. DuFrense (PDF). "The Court certainly understands that the Council feels strongly about the social issue of same-sex marriage. Strong feelings, however, do not establish a legal interest in a lawsuit."
Iowa – after three Supreme Court Justices were denied confirmation, anti-gay activists were celebrating. But as the Senate majority leader has committed to blocking any changes to the Iowa constitution, it is unlikely that marriage will be reversed.
New Hampshire – NOM is crowing that anti-marriage activists have taken over both houses. However, my analysis suggests that any reversal of marriage equality is unlikely. While Republicans took a veto-proof majority, a significant number have already voted against any repeal of the law.
Maine – Republican Paul LePage was elected governor, effectively eliminating any forward movement on marriage equality. However LePage supports the current domestic partnership laws so things will remain status quo for a while.
New York – this one is a big question mark. Incoming Governor Cuomo has promised to get marriage legalized. And after the last vote, state legislators have discovered that "things as they are" may well be the most dangerous position to hold; gay activists refused to play the "any Democrat is better than a Republican" game and set their sites on defeating anti-marriage votes.
Going by last year's vote count, the current best case scenario is that we are three votes shy of what we need (there are still some undecided elections). However, this time our side is taking to the airwaves to drum up public support, and polls show that New Yorkers support marriage equality. What was a party-line vote last year may well be viewed this year in terms of tolerance and New York values and there may be an entirely different dynamic.
Rhode Island – Former-Republican Lincoln Chafee, who ran as an Independent, beat both the Democrat and the Republican candidates to take governor of the tiny state. And one of his first actions was to inform NOM that their opinion on marriage was not of any value to him. Rhode Islanders support marriage equality, and with Chafee's backing there is a good chance that RI will be the next marriage state.
Maryland – another contender for next marriage state, Maryland did not suffer party reversal. A plurality of voter support marriage equality, and gay State Sen. Richard Madaleno is guardedly optimistic that marriage will be voted in, perhaps as early as January.
His optimism stems from a number of developments on Election Day 2010, some of which ran absolutely counter to national trends. In the Maryland Senate, Democrats actually expanded their majority to a 35-12 advantage over Republicans. And some Democrats who lost their seats did so in primary fights with more progressive challengers, many of whom vowed to be even stronger champions for marriage equality.
And, of course, all of the above could be impacted by Perry v. Schwarzenegger should the courts find that marriage laws which restrict gay people from participation are contrary to the Due Process or Equal Protections clauses of the 14th Amendement.
Belated good news from Hawaii
Timothy Kincaid
October 12th, 2010
This is a few weeks old, but it's important. (AP)
Hawaii Democrats have chosen former U.S. Rep. Neil Abercrombie in their bid to take back the governor's office after eight years of Republican control.

Abercrombie defeated longtime political rival ex-Honolulu Mayor Mufi Hannemann in a bitterly contested campaign that focused on character and leadership experience.

Abercrombie will face Republican nominee Lt. Gov. James "Duke" Aiona in the November campaign to succeed GOP Gov. Linda Lingle in President Barack Obama's birth state.
Polls have shown Abercrombie as a likely winner in the very Democratic state. His biggest threat was Hannemann, a Mormon, who campaigned on an anti-gay platform.
Hannemann's supporters released an ad during the primary which criticized Abercrombie for supporting the civil unions bill which was vetoed by Republican Governor Linda Lingle, "In the battle of HB444, we learned the importance of electing people with our traditional Christian values."
I think that it is likely that should Abercrombie be elected in November will open the way for the Hawaii state legislature to revisit their support of gay couples. And I think that this time they may opt for full marriage equality.
Gay couples sue Hawaii for rights
Timothy Kincaid
July 31st, 2010
In 1993, the Supreme Court of Hawaii found that it was discriminatory to deny marriage licenses to same-sex couples. This set off a wave of "defense of marriage acts" which limited marriage to opposite sex couples in 60% of the states.
However, Hawaii was the first to amend its constitution in 1998, and their approach was different from those which would follow. It did not ban same-sex marriage or any benefits. Rather, it simply said
The legislature shall have the power to reserve marriage to opposite-sex couples.
And the state legislature promptly did so. But as a token effort to pretend that it was not discriminating, it created something called reciprocal beneficial registration.
This unique system would allow any two adults, be they a couple, a parent and child, bowling buddies, or anyone else, to mail a form to the Department of Health and thereby become a beneficiary of the other. Benefits are very limited and include rights, workers compensation, the right to sue for wrongful death, health insurance and pension benefits for state employees, hospital visitation, and healthcare decisionmaking.
These are not in any way equivalent to marriage. And, indeed, they seem to have been crafted specifically to deny state recognition to couples. While there are a few pass-through benefits, there are no mutual obligations of support or protection.
So this week six same-sex couples sued the state for equivalent rights. (AP)
Six gay couples in Hawaii are filing a lawsuit Thursday asking for the same rights as married couples, three weeks after Gov. Linda Lingle vetoed a same-sex civil unions measure.

The lawsuit doesn't seek the titles of "marriage" or "civil unions" for gay partners. Instead, it requests that the court system extend them the benefits and responsibilities of marriage based on the Hawaii Constitution's prohibition against sex discrimination.
Should Neil Abercrombie win the Democratic Primary for Hawaii Governor, he is expected to win the general election. Then the legislature will probably pass civil unions in 2011 and Abercrombie will sign such a bill. At that time the lawsuit would be dropped.
However, if Abercrombie does not win the primary, the case will probably continue to the state supreme court. His opponent Mufi Hannemann has said that he would veto such a bill, as would the Repulican nominees.
Two of the five Supreme Court Justices were part of the court when Baehr v. Lewin, the case that determined Hawaii to be in violation of its constition, was decided; both sided with equality. One justice was appointed by a Democrat, and two were appointed by Governor Lingle – who just vetoed civil unions – though only one of them is a Republican.
Lingle's veto justified by an argument based in a sense of entitlement and superiority
Timothy Kincaid
July 7th, 2010
I do not believe that Hawaii Governor Linda Lingle is a bigot. I have not witnessed overt hostility towards gay Hawaiians or a pattern of anti-gay activism on her part. I think that she perceives herself as respectful and that she genuinely did feel some measure of compassion for the gay men and women who met with her on this issue.
However, one need not personally be a bigot to be motivated by disreputable intentions. And the argument that eventually compelled Lingle to veto this legislation was based in a sense of entitlement and superiority, the same emotion that drives racism, sexism, and other forms of bigoted expression.
From the text of Lingle's veto speech:
I am vetoing this bill because I have become convinced that this issue is of such significant societal importance that it deserves to be decided directly by all the people of Hawaii.
…
After listening to those both for and against HB 444 I have gained a new appreciation for just how deeply people of all ages and backgrounds feel on this matter, and how significantly they believe the issue will affect their lives.

Few could be unmoved by the poignant story told to me in my office by a young, Big Island man who recounted the journey he had taken to bring himself to tell his very traditional parents that he was gay. I was similarly touched by the mother who in the same office expressed anguish at the prospect of the public schools teaching her children that a same gender marriage was equivalent to their mother and father's marriage.
…
But in the end, it wasn't the persuasiveness of public debates, the soundness of legal arguments, or the volume of letters and emails that convinced me to reach this decision. It was the depth of emotion felt by those on both sides of the issue that revealed to me how fundamental the institution of marriage is to our community.
Lingle's examples – those which best illustrated the "depth of emotion" which she observed – consisted of two individual stories.
In the first, Lingle ignored entirely the real concerns and needs of same-sex couples. She dismissed rights, obligations, and benefits to focus instead on a coming out story. We don't know if this man was denied hospital visitation or if he paid higher taxes or even if he was part of a couple; we only know that his parents were traditional (with the assumption that all traditional parents are, by default, homophobic).
That is how Lingle characterized the entire quest for couples equality: the emotional difficulty of coming out.
Her second example was more accurate; it correctly expressed the motivations of those who object to civil equality.
This woman wished for her children to believe in the superiority of heterosexuals. She wished them to believe that heterosexuals are due privileges and benefits solely for being heterosexual. And she opposed any public impressions that would suggest that all citizens of Hawaii are equal. The idea that a school might teach that those same-sex people in a civil union were equivalent to her and her husband brought her anguish.
And this is at the heart of Lingle's decision. This was the argument which she found compelling. Indeed, it wasn't even a matter of some religion or other owning the word "marriage" but because she found civil unions to be "essentially marriage by another name."
In her follow up comments, Lingle clarified that her objection was that HB 444 "has all the same rights, responsibilities, benefits and protections" as marriage. It just didn't leave heterosexual as adequately "better" than gays and lesbians.
Lingle begs her constituents to recognize that she gave the decision making process the dignity that it deserves. But I am not so generous as to assume dignity or a fair consideration.
Because Governor Linda Lingle, like the woman whose anguish justified Lingle's veto, wants to keep heterosexuals as privileged, superior, and entitled. And that is a most disreputable motivation.
More on the Hawaii Civil Unions Veto
Jim Burroway
July 6th, 2010
Gov. Linda Lingle (R) today announced that she would veto the civil unions bill that was passed overwhelmingly by the state legislature, calling the measure "marriage by another name." Of course, the bill isn't "marriage by another name" at all. As civil unions, they would not have been recognized by any other state that recognizes same-sex marriages from other states. Nor would they be recognized by the federal government if the Defense of Marriage Act were to be repealed.
The Senate passed the bill last January by a veto-proof majority of 18-7. The House passed the bill in April by a 31-20 vote, which was just three votes short of the two-thirds that would be needed for an override. Against that backdrop, Lingle's reasoning for vetoing the bill was downright nonsensical:
"The subject of this legislation has touched the hearts and minds of our citizens as no other social issue of our day," Lingle said. "It would be a mistake to allow a decision of this magnitude to be made by one individual or a small group of elected officials.
This year is a gubernatorial election year for Hawaii, and the subject of civil unions may become a campaign issue. Predictably, it has already put the two gubernatorial candidates seeking to replace Lingle on opposite sides of the issue. Republican candidate and current Lt. Gov. Duke Aiona commended Lingle "for making this difficult and courageous decision." He also called for a public referendum to put a minorities human rights up for a vote.
Meanwhile Democratic candidate and former U.S. Rep. Neil Abercrombie said:
"HB 444 was not a same-sex marriage bill. The State Legislature has already defined marriage as between a man and a woman. Civil unions respect our diversity, protect people's privacy and reinforce our core values of equality and aloha.

"Now, it will be up to the next governor and Legislature to ensure that all people of Hawaii receive equal treatment. Protecting people's civil rights cannot be compromised. I am committed to that most essential of constitutional imperatives."
Hawaii Civil Unions Vetoed
Timothy Kincaid
July 6th, 2010
Republican Governor Linda Lingle vetoed Civil Unions in Hawaii because "it deserves to be decided by all the people". In other words, minority rights should be put up to the whims of the majority.
Hawaii civil unions makes the first cut
Timothy Kincaid
July 2nd, 2010
Yesterday Hawaii Governor Linda Lingle vetoed two pieces of legislation. HB 444, the civil unions bill was not among them.
She has until Tuesday to veto bills before they become law with or without her signature. If she is going to veto this bill, it will most likely be late this afternoon when the news can be nearly invisible over a three day holiday weekend.
Hawaii Business Roundtable's opposition to civil unions falls apart
Timothy Kincaid
July 1st, 2010
A week or so ago, Greg Kai was sure that he had the support of the executive committee of the Hawaii Business Roundtable in his campaign of opposition to HB 444, Hawaii's civil unions legislation. So he sent the governor a letter recommending a veto.
Since then he has had to "clarify" the Roundtable's position. And suffer the indignity of seeing significant members of his organization renounce the letter.
Yet another one has decided that lobbying on the side of discrimination is bad for business. (Star Advertiser)
Outrigger Enterprises Group, a member of the Hawaii Business Roundtable, says it has not taken a position on civil unions.

In a letter Wednesday to the Democratic Party of Hawaii's gay, lesbian, bisexual and transgender caucus, Outrigger said the company "strongly supports diversity and opposes discrimination in any form."
And now his claims of support seem a bit overplayed.
Outrigger is one of five members of the Roundtable's 10-member executive committee to either announce no position on civil unions or to disagree with the veto request.

First Hawaiian Bank, another member of the executive committee, recently stated that the company has no position on civil unions. The other executive committee companies that have made statements are Bank of Hawaii, Hawaiian Electric Industries and Oceanic Cablevision.
A month ago there was little expectation that these businesses support the bill. And at that time "we have no position" might have been viewed neutrally.
But now the message has become "We oppose HB 444, the civil unions bill. Oh, but wait. It's just for technicalities. Hold on, we didn't authorize that letter. We didn't either. No, we don't discriminate. We don't oppose civil unions. Nope, us neither. Letter, what letter?"
The end result is one in which give the appearance of support for the bill from a number of businesses who probably would have preferred to stay out of it entirely.
Meanwhile, the governor has until Monday to veto this bill or it will become law.
Hawaii Business Roundtable may have inadvertently helped civil unions
Timothy Kincaid
June 24th, 2010
When Greg Kai sent a letter on Hawaii Business Roundtable letterhead asking Hawaii Governor Linda Lingle to veto the state's civil unions bill, he probably thought that he was giving the impression that he was speaking for the state's business community. But his letter did not go unchallenged. (Star Advertiser)
The Human Rights Campaign, the nation's largest gay civil rights group, which is based in Washington, D.C., sent two activists to the islands to help respond to the Roundtable's veto request.

Tony Wagner, the Human Rights Campaign's western regional field director, said the group had initially targeted contacts at national companies that are members of the Roundtable. Five national companies — including Starwood, Time Warner and Marriott — publicly broke with the Roundtable last Thursday.

"Once the snowball starting rolling, then we started hearing from a number of other companies that were represented on (the Roundtable)," Wagner said.
In all, more than 20 companies and executives responded. (Pacific Business News)
After that letter circulated, at least 20 HBR members distanced themselves from the HBR's veto recommendation, including Time Warner Cable and Starwood Hotels & Resorts Worldwide Inc.
Now Kai is trying to assert that the Roundtable "opposes any form of discrimination, including based on race, religion, political or sexual orientation" and has taken no position on civil unions. It's all about the "technical issues", he's still trying to claim, but the organization members aren't happy that Kai's technical concerns are giving them a PR nightmare.
I think it will be a long time before Mr. Kai again attempts to use his employment with the Hawaii Business Roundtable to engage in anti-gay activism.
And in the meanwhile the public perception is that, unlike Mr. Kai, the business community in Hawaii has no problem with HB444, the civil unions bill.
Campaigning for discrimination is bad for business
Timothy Kincaid
June 23rd, 2010
After the legislature passed House Bill 444 to allow for the creation and recognition of civil unions in the State of Hawaii, the executive director of the Hawaii Business Roundtable sent a letter recommending that Governor Lingle veto the bill.
Choosing not to express ways in which, if any, the Roundtable as impacted by the bill, the letter chose instead to justify their call for veto in terms of vague "questions" that have "implications" and "complexities" involving ERISA. Were Hawaii the first state to consider civil unions, their letter might have merit. But considering that several states have already resolved the ERISA "complexities", the letter signed by executive director Gary K. Kai takes on the overtones of bigotry cloaked in terms of reasonableness.
Kai claimed that the letter had "broad support among its membership" and was the consensus of the group. But after Honolulu Civil Beat posted a copy of the letter and the membership list of the organization, several prominent Hawaii businesses were quick to distance themselves from Kai's letter. (Star Advertiser)
Meanwhile, five more Hawaii Business Roundtable members have distanced themselves from the organization's call to Lingle to veto the civil unions bill. The companies are:

» Alexander & Baldwin Inc., which released a statement yesterday that it did not participate in any discussion regarding the bill.

» Foodland, which said to supporters that it had no part in asking for a veto of the bill.

» Hawaii Pacific Health, which in a letter to civil union supporters said it does not endorse the letter.

» Kaiser Foundation Health Plan and Hospitals Inc., which sent a letter to Lingle, citing the company's policies on nondiscrimination.

» Kyo-ya Company LLC, which said in a letter to supporters and Lingle that it was "disappointed" with the letter.
These were not alone. (Star Advertiser)
Hawaii Medical Service Association, the state's largest health insurer, and Hawaii National Bank were the latest Business Roundtable members to speak out, saying they were not informed of the letter until after it became public. Five Roundtable members issued statements Thursday disassociating themselves from the letter.

Robert P. Hiam, HMSA president and chief executive officer, said the insurer takes a strong stance on the issue.

"Our organization opposes discrimination on any basis, and in keeping with that philosophy, had we been consulted on this matter, we would not have supported the decision to call for a veto of HB (House Bill) 444," Hiam said in a letter to Carolyn Martinez Golojuch, president of the equal-rights group PFLAG-Oahu, who made the statement public.
But Kai – using a common ploy of anti-gay activists – claims that he doesn't oppose civil unions in general, just these civil unions.
"Unfortunately, the use of the word veto has become equivalent to some, as a position against civil unions," Kai wrote.
Funny, that. Further, Mr. Kai claims that he has the support of the executive committee of the Hawaii Business Roundtable. To date there are no news reports that the executive committee members disagree. They are:
David Carey
President & CEO
Outrigger Enterprises
H. Mitchell D'Olier
President & CEO
Kaneohe Ranch Company
Donald G. Horner
President & CEO
First Hawaiian Bank
Allan Landon
President & CEO
Bank of Hawaii
Constance Lau
President & CEO
HEI
Dee Jay Mailer
Chief Executive Officer
Kamehameha Schools
Nate Smith
President
Oceanic Cablevision Inc.
Arthur A. Ushijima
President & CEO
Queens Health Systems
Allen Uyeda
President & CEO
First Insurance Co of Hawaii
Harry Saunders
President
Castle & Cook Hawaii
Considering the nature of some of the businesses represented on the executive committee, I am not convinced that Mr. Kai's desire to oppose these civil unions is as supported as he supposes. Banks and hotels, for example, do not like it when customers think that they support discrimination and executives of corporations tend to look for ways to earn loyal employees, not harm their lives.
Further employers often take into consideration that corporate positions or actions on the part of executives that appear to be hostile to gay people can make a significant impact on a jury should any future discrimination claims be brought against the company. This can be seen as establishing a hostile work environment and condoning discrimination by supervisors.
If any of our readers work for or do business with these companies am certain that each and every one of these officers would love nothing more than to hear from you inquiring if they support Mr. Kai's letter and share his ojection to these civil unions. And if so, I am convinced that they would like to hear in detail exactly why it is that you have "questions" that have "implications" and "complexities" involving doing continued business with their companies.
Hawaii civil unions on potential veto list
Timothy Kincaid
June 21st, 2010
As expected, Hawaii Governor Linda Lingle has put the civil unions bill on the potential veto list. (KHON)
At a press conference where she announced the items on her veto list, Governor Lingle said the civil unions matter would possibly be the most difficult decision of her career.
If Lingle does not veto the bill by July 6, the bill will go into law without her signature. Let's hope that in the meantime, Lingle finds herself in a hospital near a lesbian that is desperately begging to see her partner or stuck on a plane next to a gay man who has just figured out how much more he pays in taxes than his straight coworker.
Or perhaps that she finds a moment to consider the responsibility that every governor is given to do what is right and best for all of her constituents without consideration to the lobbying efforts of those who seek preference, privilege, and advantage over others.
Hawaii civil unions bill may be on the 'possible veto' list
Timothy Kincaid
June 20th, 2010
Time magazine is reporting
On Monday, Hawaii Republican Gov. Linda Lingle is expected to include the civil unions bill on her list of bills she may veto. She has until July 6 to indicate her intentions. Otherwise, on that date, the measure will become law without her signature.
This is not a veto. This is, however, a way for the governor to buy another three weeks before she has to announce her decision.
In the meanwhile several businesses with a large presence in Hawaii have announced their support for the civil unions bill.
A week after issuing that statement, however, seven large businesses came out in support of the bill, the latest being the state's largest health insurer, Hawaii Medical Service Association, which joined Time Warner Cable Inc., Marriott International Inc., Starwood Hotels & Resorts Worldwide Inc. , Marsh & McLennan Companies Inc. and Aon Corp .
Hawaii civil unions watch
Timothy Kincaid
June 19th, 2010
Hawaii Governor Linda Lingle is returning from a trip to China and Japan today. She has stated that she will make her decision as to whether to sign or veto her state's civil unions bill after this trip.
If she is going to veto the bill, she needs to inform the legislature by June 22nd, just a few days from now.
Hawaii civil unions battle illustrates real motivation of gay foes
Timothy Kincaid
June 14th, 2010
Republican Governor Linda Lingle will decide within the next week whether to veto the civil unions bill passed by the Hawaii legislature. As part of her process, she has met with both supporters and opponents of the bill and an AP article gives a little insight into what they said.
Lingle is Jewish and, as such, is probably not much swayed by appeals to Christian orthodoxy. But the activism and approach by the two rabbis most influential with the Governor does reflect on what is behind most anti-gay activism.
Krasnjansky, who heads the Orthodox community group Chabad of Hawaii, said the Torah teaches that homosexuality, and by extension same-sex marriage, "is not something that should be condoned or should be legalized," he said.

But Schaktman, who leads the Reform Temple Emanu-El, insists Judaism teaches that all people regardless of sexual orientation are and should be treated as "children of God," and thus should not face discrimination.

"Civil unions are a legal arrangement," he said. "Therefore, anyone who uses religion to oppose civil unions is purely using religion to further homophobia."

Lingle is Jewish, but has rarely — if ever — publicly discussed her faith in considering an issue. Lingle's office did not respond to phone or e-mail questions about her religious affiliation.

The debate between Krasnjansky and Schaktman mirrors that of Hawaii's Christians. Catholic, evangelical and conservative pastors have waged a months-long effort to prod the Legislature and now Lingle to block the measure, HB 444. Mainline Protestant and more liberal preachers have worked to get the bill signed.
But I think the matter is bigger than just discrimination towards the gay and lesbian children of God. It's a battle over the establishment of religion.
There is a concerted attempt on the part of State Churchists (of various faiths) to legislate their doctrine and thus claim the mantle of "real Christians" and "real Jews". And, sadly, I don't think that the more liberal religious adherents have yet realized what is at risk.
You'll Never Guess Why Hawaii's New GOP Rep. Supports DADT Repeal
Jim Burroway
June 2nd, 2010
Hawaii's new Republican congressional representative Charles Djou was among the five House Republicans who voted to add the amendment paving the way for "Don't Ask, Don't Tell's" repeal to the Defense Authorization Bill last week. Djou, who is also a captain in the Army Reserves, earned the Log Cabin Republicans' endorsement partly because of his support for DADT's repeal.
While we welcome Djou's support for DADT repeal, his reason for supporting the repeal is more than puzzling: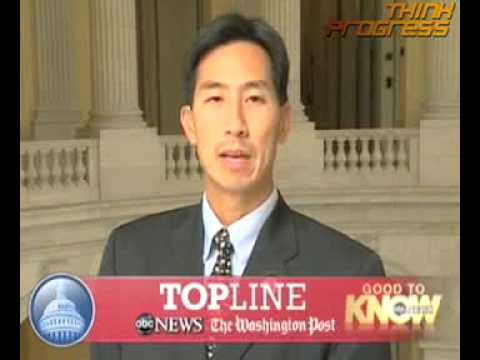 Q: So why did you go against your party's leadership on the "Don't Ask, Don't Tell" question?

Djou: You know, on that particular issue, it comes from personal experience. I have served for nearly 10 years now as an officer in the United States Army Reserve. What concerned me about the "Don't Ask, Don't Tell" policy is that it just simply doesn't work. And I saw too many instances as an army reservist, soldiers would sign up for a re-enlistment bonus, get this gigantic sum from the American taxpayer, and then as soon as the unit gets called up to mobilize to Iraq or Afghanistan, they suddenly claim they are gay with no prior indication at all of that whatsoever. Get the discharge and keep the bonus. That's wrong, that's unfair and that's why this policy should be changed, and I was very happy to cast that vote as I did last night.
Djou claims to support the Employment Non-Discrimination Act. I wonder what kind of backhanded justification he has for that.
Hawaii's new Republican representative
Timothy Kincaid
May 24th, 2010
It has been nearly 20 years since Hawaii sent a Republican to Congress. But, due to multiple Democrats running for a mid-term replacement, Charles Djou, a Republican Honolulu City Council member, will be representing the residents of President Obama's birthplace (His 40% was more than either of the two Democratic candidates).
Djou is a bit of a mixed bag for our community.
He has spoken against Hawaii's newly passed Civil Unions bill and supports DOMA. However, that appears to be tempered by some pro-gay positions which earned him an endorsement by Log Cabin Republicans.
"Log Cabin Republicans is proud to have endorsed the candidacy of Charles Djou for Congress. His commitment to repeal 'Don't Ask, Don't Tell', supporting the Employment Non-Discrimination Act, increased HIV/AIDS research initiatives and equality in domestic partnership benefits on the federal level show that a common-sense Republican can truly win the day, even in President Obama's hometown."
I am not certain exactly what Log Cabin means by "equality in domestic partnership benefits on the federal level", but that may relate to a bill by Sen. Lieberman which seeks to extend "fringe benefits" to the partners of gay federal employees. That vote is expected soon, perhaps this week.
Djou will have to run again in November, this time in a partisan race against whichever Democratic candidate wins the primary. But he may well have to take a stand on a number of issues that impact our community in the meanwhile.
As Djou is an Army Reserve captain and I hope that this will lend credibility among Republican legislators when he asserts that DADT is both unnecessary and ineffective.