Iowa justices get Republican support
Timothy Kincaid
November 1st, 2010
Failed gubernatorial candidate Bob Vander Plaats is leading a campaign to unseat three of Iowa's supreme court justices to punish them for finding that gay people have a claim on that state's constitutional protections. If they justices are not retained, it will be considered a mandate on the issue of marriage equality.
However, by positioning the vote in this manner, they have created some unlikely "pro-gay advocates": those who value an independent judiciary. Take, for example, Robert Ray, the Republican governor from 1969 to 1983:
Polls show the vote to be close.
It Gets Better: From Perry, IA
Jim Burroway
October 20th, 2010
If you've never seen the web site I'm From Driftwood, you really owe yourself a heart-warming visit. The site is made up of stories submitted by people from all over. Each story's title says where they come from — "I'm from Sheboygan Falls", "I'm From Lake Charles",  you get the picture — and they talk about what it was like growing up there, before they were out and as they were coming out. In many ways, it could be seen as a forerunner to Dan Savage's It Gets Better Project, which was begun in response to the rash of LGBT suicides we saw in September.
In a few of the I'm From Driftwood posts, you can see considerable overlap between the two projects. This one, "I'm From Perry, IA", begins with Samuel describing his harrowing experience with a brutal and punitive ex-gay conversion therapy experience. Watch it: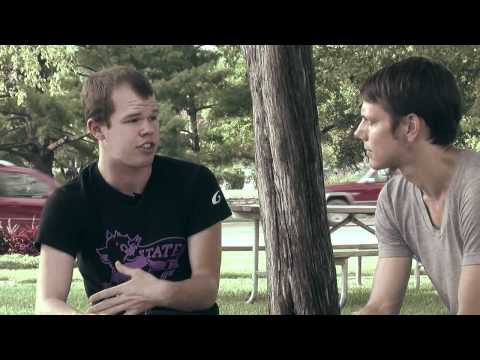 Samuel's experience is not altogether rare. If his story ended there — conditional love as long as he pretended to be straight — we would see the perfect setup for a life of torment. But there's another ingredient involved that, for now, is making the story's ending different from where it could have gone. That ingredient is Sam's fortitude. Things still aren't any better with his parents — they still insist that he "change" before they allow him back into the home. But now that he's in college at Kansas State, things have somehow started to get better for him. But in a very different way and on his terms: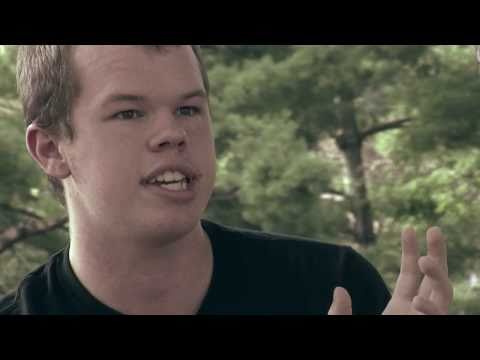 …But, I do recognize that I will give them that chance. What my parents did was part of what they believed. They thought they were losing their child and they wanted to help him, so I have to forgive them, I have to move forward. But I think the reason why I was so excited to be able tell the story was that if there's other people who have gone through conversion therapy, who are having those feelings of, "I'm the only one alone", you need to know that there are people who have made it through and, you can't change what I never chose.
The sad tragedy to all of this is that Sam's story is both unique and not uncommon. There's hardly a month that goes by that I don't get an email from someone asking for advice. Either they are trying to recover from an ex-gay experience or, more commonly, a friend or relative asks what they should do when someone they know enters some kind of "treatment" program. These are hard stories to deal with, but one good resource is Beyond Ex-Gay, a network of ex-gay survivors. It's not only for survivors themselves, but also their families and friends. I know that they have provided valuable support to those who are coming out of the ex-gay experience.
Justice O'Connor counters call for "representative" judges
Timothy Kincaid
September 8th, 2010
Following the unanimous decision by the Iowa Supreme Court to protect the equality of gay Iowans, anti-gay activists wailed about "activist" judges and called to replace them with judges who could be reflective of the whim of the majority. Former Supreme Court Justice Sandra Day O'Connor attended a forum to oppose that idea. (KETV)
Last month, Republican Bob Vander Plaats started a campaign to unseat three Iowa Supreme Court justices up for reelection.

The move started a debate over whether judges should be elected by popular vote.

O'Connor only spoke for about 10 minutes, but she was emphatic in her belief that appointing judges on a merit-based system as we do in Iowa is a much better option than voting for judges in a political election.
This effort by O'Connor may be seen by Iowans as an indictment of the effort to recall the three judges and a rejection of the current trend of calling every unpopular decision "judicial activism". Justice O'Connor is a centrist who continues to hold the respect of a broad swath of middle-Americans.
O'Connor to weigh in on judicial process in Iowa
Timothy Kincaid
September 1st, 2010
For 25 years Sandra Day O'Connor's opinion mattered more than just about anyone in the country. Appointed in 1981 to be the first woman to sit on the Supreme Court, O'Connor was positioned such that half the court was more conservative and half the court was less so. There were very few decisions in which O'Connor was on the losing side and a great many where her judicial thinking determined the course of the nation's laws.
Upon retiring, O'Connor was asked what she predicted for the court in the 21st Century. The jurist replied that just as matters of race had dominated the court during the 20th Century, the upcoming years would focus on matters of sexual orientation.*
Now, even though she has stepped down from the SCOTUS, O'Connor will be – at least tangentially – addressing same sex marriage.
After the Iowa Supreme Court unanimously found for marriage equality, anti-gay voices have been calling for their heads. Three are up for re-confirmation this year, and there is a campaign to vote them out.
Some argue that the current method of judicial selection – the governor selects from a list of potential jurists who have been vetted by a State Judicial Nominating Committee – leaves judges "unaccountable to the people". Some, such as conservative Alabama jurist Tom Parker, have gone so far as to argue that Iowa should adopt Alabama's practice of having their judges run for office and make decisions based on partisan maneuvering and campaign promises rather than on the protections in the state constitution.
That is why it is so important the people insist they be allowed to select those who sit on the bench over them. If judges want to be "super legislators," then they must stand before their constituents and tell them what they believe about the Constitution as it relates to current public policy debates.
Next week the Iowa State Bar Association will host a panel to discuss judicial appointment, and O'Connor will come to advocate for experience, temperament, and merit as qualifiers rather than populist appeal.
Sandra Day O'Connor will take part in a panel discussion Sept. 8 advocating judge retention based on merits rather than political whim.
…
O'Connor's visit next month will be held at Hotel Fort Des Moines. The specifics of the panel discussion, hosted by the Iowa State Bar Association, have not been finalized, said Steve Boeckman, a spokesman for the association, which is one of the hosts of the forum.

"It's on the merit selection of judges in the state," Boeckman said. "That's one of her issues. She's a proponent of using a merit selection system rather than an election system for judges."
I don't know if O'Connor will speak to the wisdom of the court's decision or even her opinion on the federal constitutionality of anti-gay state amendments. But I find it likely that she will address the campaign to remove the justices from the bench.
And I have to say that I agree with her that the people are best served by having one governmental branch that is not subject to the whim of the latest political trend or the most affluent contributor.
Let's not forget that "standing before their constituents" may well result in putting Sharron Angle in the US Senate.
* – I'm recalling this from memory, but I cannot, for the life of me, find the interview in which she said this. I would greatly appreciate anyone who has the source.
Some items of interest from a odd poll
Timothy Kincaid
June 7th, 2010
Last week a poll in Iowa conducted by a Des Moines television station reported that a majority of Iowans support marriage equality, a finding that appears difficult to believe. Now an oddly conducted poll from the Des Moines Register adds to the picture.
On the face of it, the polling data might seem negative. And, were this of the population as a whole, this might be quite troubling. But it's not a poll of Iowans, it's a polling of Republican Iowans who intend to vote in Tuesday's primary. I have no idea why the Register didn't get the opinions of Democrats or independents, but we're stuck with what they gave us.
Here's what they found:
More than three-quarters of Iowans planning to vote in Tuesday's Republican primary say Iowans should have a chance to vote on changing the constitution specifically to ban gay marriage.

But the same consensus does not exist for ousting Iowa Supreme Court judges who voted last year to invalidate Iowa's statutory ban on same-sex marriage.

And one-third of the poll respondents say that some Iowans have overreacted on the issue, and that gay marriage in the state is just not that big a deal.
Voter analysts will tell you that primary voters tend towards the more committed end of a party, those who feel most connected to the reasons for their registration selection. They also tend to be older, especially in a non-presidential election. So it is fair to say that "Republican primary voters" is among the more conservative polling demographics that could be selected.
And now that Iowans have lived with marriage equality for a year, 35% of Republican primary voters think that "having gay marriage in Iowa is just not that big a deal." And that's kind of a big deal.
Poll: majority of Iowans support same-sex marriage rights
Timothy Kincaid
June 4th, 2010
Des Moines television station KCCI has conducted a poll of Iowans asking the following question:

Now that more than a year has gone by since the Iowa Supreme Court legalized same-sex marriage, do you favor or oppose marriage rights for same-sex couples.
Favor – 53%
Oppose – 41%
Not Sure – 6%
I don't know the sampling, the methodology, or margin or error. And the wording likely led to skewing the results towards the positive.
But, nevertheless, this is very very good news. And as one of the few recent polls on the issue, it deflects much of the credibility of anti-gay activists who claim that "the people" oppose equality.
The hundreds of churches in Iowa that you should avoid
Timothy Kincaid
June 1st, 2010
The Iowa Family Policy Center and Purpose Ministries have collaborated on a list of about 500 clergy and ministry leaders who are petitioning the legislature to forcibly divorce same-sex married couples in Iowa. (Sioux City Journal)
Keith Ratliff, pastor of Maple Street Missionary Baptist Church in Des Moines, said the issue is not about hate or homophobia or lack of compassion.
"Just because you disagree with someone, it doesn't mean you hate them. It can just mean we disagree with their viewpoint, and in this case, their lifestyle," Ratliff said.
Well, no, Pastor Ratliff.
If I petitioned that you (or people like you) should be treated as inferior to me, I think you would find it difficult to locate the compassion in my efforts. And if I were to do so in the context of fighting the "People like Ratliff Lobby", you might even identify animus in my motivations. And if I disagreed with other "viewpoints" and "lifestyles" without seeking to make them legally disadvantaged, you would probably discount my protestations and see me as a bigot and hater.
I'm just saying.
Does that mean that everyone on the list hates gay folk? No, of course not.
But it does mean that every single signatory thinks that gay people are inferior and not worthy of equal treatment under the law. And it means that they have aligned themselves with some who do hate us and that they have pledged themselves to be enemies of equality.
And they have conveniently provided us with a listing of who they are.
So if you live in Iowa and worship at any of the churches listed on this petition, you may wish to question your attendance. And if you should feel that you cannot in good conscience go back, please do let the pastor know why.
Iowa's Rep. King wants to damage state's economy
Timothy Kincaid
May 20th, 2010
Congressman Steve King of Iowa is probably best known for his anti-gay activism. Which gives him a rather skewed perspective on the world.
Take, for example, the press release he's just issued:
"Just over one year ago, when the Iowa Supreme Court decided to ignore Iowa law and grant same sex couples the ability to get married in our state, I predicted that the decision, absent action by the state legislature to enact a marriage license residency requirement, would turn Iowa into the gay marriage Mecca." King said. "Now, the Iowa Department of Public Health is reporting that of the more than 2,000 same-sex couples who were married in Iowa between April 27, 2009, and March 31, 2010, sixty percent were from out of state," said King.
So there were over 1,200 people who came with family and friends into the state to spend money in this very depressed economy. They paid Iowa fees for marriage certificates, stayed in Iowa hotels, ate in Iowa restaurants, shopped in Iowa stores, tipped Iowa ministers, and came home to tell all their friends about what a great time they had in Iowa.
That should be cause for celebration. But not to King; no, he wants to stop all that Iowa commerce:
"This new report from the Department of Public Health reemphasizes the short-sightedness of the court's decision to enact a same-sex marriage law from the bench, and it provides even more evidence of the need for a residency requirement and a constitutional amendment to repeal it."
What an idiot.
The best thing a state can become is the Mecca for, well, just about anything that increases revenues without increasing crime, blight, or other social ills.
Nearly half of all Americans live where there is some recognition of same-sex couples
Timothy Kincaid
March 3rd, 2010
About 5.1% of Americans (15.5 million) live in areas in which same-sex marriages are legal and equal to opposite-sex marriages: Massachusetts, Connecticut, Iowa, Vermont, New Hampshire, and the District of Columbia.
Another 58.4 million (19.2%) live in states which have either civil unions or domestic partnerships that offer all the rights and protections of marriage without the name: California, New Jersey, Oregon, Nevada, and Washington. To that we can add two more states (New York and Maryland) in which the local state government will honor marriage occurring elsewhere and we have a total of 32.6% of Americans living with the rights and responsibilities of marriage available to their family.
There are also five states which recognize same-sex couples and offer them limited itemized rights. They are Hawaii, Colorado, Wisconsin, Maine, and Rhode Island and they add an additional 14.2 million Americans (4.7%).
But recognition does not stop there. There are dozens more counties and cities who provide what local recognition and benefits as they can, adding another 14.2 million local residents (4.7% of Americans) who can appreciate that their city officials see them as a couple. Local municipalities include the populations of Salt Lake City, UT; Phoeniz AZ; Tuscon AZ; Duluth, MN; Minneapolis, MN; St. Paul, MN; Lawrence, KS; Columbia, MO; Kansas City, MO; St. Lewis, MO; Ann Arbor, MI; Cook County, IL (Chicago); Urbana, IL; Cleveland, OH; Cleveland Heights, OH; Toledo, OH; Philadelphia, PA; Pittsburgh, PA; Harrisburg, PA; El Paso, TX; Travis County, TX (Austin); Eureka Springs, AK; New Orleans, LA; Carrboro, NC; Chapel Hill, NC; Clarke County, GA (Athens); Fulton County, GA (Atlanta); Broward County, FL (Fort Lauderdale); Key West, FL; Miami-Dade County, FL; and West Palm Beach, FL.
In total about 140 million Americans – about 46% of the nation's population – live where there is some form of official notice of same-sex couples. So NOM can proclaim "victory" when they have an election in California or Maine, but this ball is rolling and the momentum is in the direction of recognition.
Four Democrats join Iowa's House Republicans in pointless anti-gay gesture
Timothy Kincaid
February 15th, 2010
Last week the Republicans in the Iowa Senate went through the motions of pretending that they were going to pull an anti-gay marriage bill out of committee. Two Democrats joined them in their public demonstration of anti-gay activism.
Now the Republicans in the House have taken their stand. Four Democrats joined them: Dennis Black of Grinnell, Keith Kreiman of Bloomfield, Rich Olive of Story City and Joe Seng of Davenport all signed the petition.
Iowa's anti-gay marriage bill is dead for another year
Timothy Kincaid
February 9th, 2010
In a publicity stunt (send money) Republicans in the Iowa legislature tried to pull from committee legislation that would begin the process of changing the state constitution to ban gay marriage. As expected, the Democrat controlled House and Senate both said, "no thanks, dead in that committee is fine with me."
However, we should be appreciative of the Republicans. After all, this effort revealed two Democrats who hate equality so much that they were willing to defy party loyalty and vote to pull the bills from committee. They are Senator Tom Hancock and Representative Dolores Mertz.
Gay Iowans, and indeed all Iowans who believe that each citizen is entitled to equal treatment under the law, are invited to find and support primary opponents for these two legislators.
Iowans couldn't care less about gay marriage
Timothy Kincaid
February 8th, 2010
When the Iowa Supreme Court determined that denying state services based on sexual orientation was unconstitutional and that the State of Iowa must provide marriage equality, you could almost slice the glee of the Iowa Republican Party. Finally, there was an issue which they could use to perhaps increase their influence and maybe even win a few elections. So they because the "no gay marriage" party.
Last year they made several attempts at getting an anti-gay marriage constitutional amendment up for a legislative vote and were unsuccessful. They chortled that Democrats would be sorry come election time.
But as it has turned out, running opposed to gay marriage has not proven to be a winning strategy. To their surprise, Iowans couldn't care less about stopping gay folk from marrying. Literally.
The Des Moines Register conducted a poll of Iowans asking, "The state Legislature can address large and small issues during the course of the session. For the following issues, please tell me if you think the issue does or does not deserve the Legislature's limited time." Banning gay marriage did not make the cut; only 36% thought it was worth the time discussing.
Not only was it not deemed worthy of legislative time, of the six issues that Iowans were questioned about, addressing gay marriage concerned them the least. Iowans were more concerned about payday loans and puppy mills than they were about whether same-sex couples married.
This lack of interest appears to be reflected in a change in strategy in the campaigns of Republicans running for the party's nomination for governor. Just a brief while ago they were all running to see who could be more extreme and reactionary.
Bob Vander Plaats pledged to halt such weddings with an executive order (an authority the governor does not wield) while Chris Rants declared that he'd veto every bill that reached his desk until the legislature voted on a constitutional amendment to ban marriage equality. Most of them supported calling for a constitutional convention so they wouldn't have to wait for two sessions and a popular vote.
Only former governor Terry Branstad, also an opponent of gay marriage, chose not to run as a raving loon. Branstad took a more nuanced approach and expressed recognition of the difficulties that gay couples face when denied certain rights.
But that has changed. The race now appears to be between Branstad and Vander Plaats, and the latter has now discovered a different campaign strategy. (Register)
I\'ve talked to Vander Plaats from time to time, but hadn\'t really seen him out on the stump since last fall. His speeches used to give prime attention to conservative issues and gay marriage. This time, he focused entirely on job creation, state spending and education. Nobody even asked about the social issues.

I mentioned to him afterward that was a significant change from last summer, when he told me in an interview that he thought the election would hinge on two issues: gay marriage and the state smoking ban.

"Did I say that?" he asked. Yes, I told him.

"Campaigns always evolve, no doubt about it," he said. (He didn\'t mention the smoking ban at all today.)
Yes, there is no doubt that campaigns evolve, especially when the voters care less about your pet issue than they do about monitoring dog breeders.
Iowa legislature not to debate marriage in 2010
Timothy Kincaid
January 6th, 2010
Senate Majority Leader Michael Gronstal has ruled out debating marriage equality in 2010. (Sioux City Journal)
"I think our attitude is, if it doesn't help balance the budget, if it doesn't help create jobs, it can wait until another year," Gronstal said.
This delays any possibility of Iowa residents losing basic civil rights for another four years.
If he holds to it, Gronstal's decision delays the cumbersome process of amending the constitution, which requires the approval of two consecutive General Assemblies before going to voters. If lawmakers don't approve this year, the issue would have to be approved by lawmakers convening in 2011 and those convening in the assembly beginning in 2013.

The earliest the issue could reach voters would be the 2014 general election.
Anti-gay Iowans LUV you
Timothy Kincaid
December 28th, 2009
From the Des Moines Register
The Iowa Family Policy Center\'s action committee announced this morning a new campaign to oppose equal marriage rights for same-sex couples.

The legislative initiative is being called "Two Days For Marriage" and is in conjunction the Let Us Vote Iowa Campaign, also being called the "LUV" campaign. The goal of the group is to begin a process that would allow Iowans the opportunity to vote and end the marriage rights of same-sex couples.
Those wacky anti-gays. Only they could come up with an acronym that means the opposite of the word it most closely resembles.
Fox's foolish reporting of non-news
Timothy Kincaid
December 26th, 2009
I am not among those who dismiss Fox News as nothing but partisan propaganda. In today's news practice of activism masquerading as information, I find that they provide a balance to other news sources and between them all I get a better sense of what is true.
But sometimes the editorial slant of the entire network becomes laughable. Take, for example, this story, entitled "Gay Marriage Opponents Push to Let Voters Decide".
DES MOINES, Iowa — Opponents of Iowa's gay marriage law are promising to push hard during the 2010 legislative session for a vote on a constitutional amendment that would ban same-sex unions.
In equally exciting (and likely) news, opponents of the sun rising in the East are promising to push hard to reverse the Earth's rotation. Ugh.
What this breathless press-release pretending to be a news story fails to mention is that there is just about zero likelihood that their pressing – hard or otherwise – will result in a constitutional amendment any time soon.
Democrats hold a majority in both houses by sizable margins: 56-44 in the House and 32-18 in the Senate. While there are no doubt some in the Democratic delegation that would never affirmatively vote for equality – and might even vote in opposition if given the chance – no such votes will arise. Both House Speaker Pat Murphy and Senate Majority Leader Michael Gronstal have stated that they will not be entertaining such a debate.
Republicans will rally and protest and campaign on this issue. But unless they have other vastly more compelling arguments, this is unlikely to shift power in the legislature. A poll in September found that the state is about evenly divided on the idea of a constitutional amendment, but that 63% say that other issues are more important to them. A huge 92% say that same-sex marriage hasn't impacted their life at all.
Even supposing that the 2010 election could be argued to be a referendum of the people calling for discrimination, a constitutional amendment requires that two back to back legislatures vote affirmatively before presenting the issue to the voters (oh, wise Iowa). The soonest that voters could face a proposition to change their constitution would be November 2014.
I don't think it is unreasonable to believe that after five years of marriage equality, Iowans would be immune to warnings of impending doom – which is really all the anti-gay side has to offer.