Iowans Not Calling for Anti-Gay Amendment
Timothy Kincaid
September 21st, 2009
The Des Moines Register released their Iowa Poll. And while it suggests that the Supreme Court's decision to allow same-sex marriage isn't particularly popular, it really hasn't riled up the Iowans.
The poll shows that 26 percent of Iowans favor April's unanimous court ruling legalizing same-sex marriage, 43 percent oppose it and 31 percent don't care much or are not sure.
But even though a plurality opposes the decision, few others seem interested in changing the constitution to disallow marriage.
Iowans are almost evenly divided about whether they would vote for or against a constitutional amendment to end marriage for same-sex couples, according to The Des Moines Register's new Iowa Poll.

Forty-one percent say they would vote for a ban, and 40 percent say they would vote to continue gay marriage. The rest either would not vote or say they are not sure.
But the anti-gays activists have a cause to rally around. And we can fully expect that they will seek to make marriage a central focus in gubernatorial, representative, and court campaigns. This might not, however, be a wise decision.
Sixty-three percent say candidates' stands on other issues will be more important in making their decisions in the 2010 elections.
…
Few poll respondents who described themselves as Republicans say the court decision is the single most important issue in the 2010 elections. But more than a third of Republicans say it is among several important issues, while only about a quarter of Democrats put it in that category.

Former state Republican Chairman Mike Mahaffey said the poll shows that, as the party searches for a winning message, the economy trumps marriage among voters.

"I think all of the candidates are going to state that they believe the people ought to be given the right to vote on a constitutional amendment. That's a reasonable approach," Mahaffey said. "I also think when it comes down to it, the overriding issues are going to be what can we do to create jobs and put ourselves in a better position fiscally."
NOM Spent 86K To Defeat A Pro-NOM Candidate And Failed
Jim Burroway
September 2nd, 2009
This just doesn't make sense. As Timothy reported, the National Organization for Marriage threw $86,000 to Iowa State House candidate Stephen Burgmeier to give the pro-NOM candidate more than a 3:1 advantage over his opponent, Curt Hanson. Despite that huge financial advantage, Burgmeier lost. NOM spent that money because Burgmeier supports allowing a constitutional vote on whether Iowa should ban same-sex marriage.
But so does Hanson.
So that means that NOM spent a bucketfull of money to support a pro-NOM candidate in order to defeat another pro-NOM candidate. And lost. The mind reels…
NOM Loses Big in Iowa
Timothy Kincaid
September 2nd, 2009
Maggie Gallagher gambled big in Iowa. Her National Organization for Marriage spent over $86,000 to buy television ads for the Republican candidate, Stephen Burgmeier, who supports putting marriage equality up to a vote.
While $86,000 might not be a large sum in, say, the New York gubernatorial campaign, it towers in comparison to the $63 K Burgmeier raised on his own or the $43 K pulled in by his opponent. But this flood of cash did not accomplish what they had hoped. (Iowa Independent)
Democrat Curt Hanson has defeated Republican Stephen Burgmeier by 107 votes in Iowa House District 90, according to unofficial results released by the Iowa Secretary of State\'s office Tuesday night.

Hanson will replace former state Rep. John Whitaker (D-Hillsboro), who was appointed to a position with the USDA. The balance of power in Iowa\'s lower legislative chamber remains unchanged, with Democrats holding on to a somewhat volatile 56-44 majority.
But the bigger loss for Maggie and NOM may be procedural and in reputation. As in Maine, questions have arisen about whether NOM is flouting campaign law and illegally money-laundering contributions. (Los Angeles Times)
Last month, W. Charles Smithson, the director of the Ethics and Campaign Disclosure Board, wrote to NOM to "make sure everyone was on the same page" and that the group was familiar with Iowa election law. One point Smithson made was that NOM would need to register as a political action committee if donors are giving $750 or more for "express advocacy activities" – as well as disclose the identities of donors.
When NOM did not register as a PAC or disclose the source of the television ad funds, One Iowa and the Interfaith Alliance of Iowa Action Fund filed a complaint with the Iowa Ethics and Campaign Disclosure Board.
As these complaints continue to stack up, state by state, eventually Gallagher will find herself explaining to a judge a good deal more about the structure and funding of the National Organization for Marriage than she wishes. And if Fred Karger's accusation about NOM being a front-group for the Mormon Church has any basis whatsoever, such a disclosure could be devastating to her efforts.
I hardly see how gambling on a long-shot candidate in Iowa in flagrant violation of campaign laws could have been considered a wise bet.
An Unequal Flag For Unequal Citizens
Jim Burroway
July 6th, 2009
This six star "Flag of Equal Marriage" represents the six states which have marriage equality, by order of their entry into the Union. The stars are arranged according to the order in which each state was admitted to the union, skipping over the states that do not have marriage equality. The six stars represent:
Connecticut – #5.
Massachusetts – #6.
New Hampshire – #9 (Effective Jan 1, 2010)
Vermont – #14 (Effective Sep 1, 2009)
Maine – #23 (Effective of Sep 14, 2009)
Iowa – #29
If this flag had been around in 2008, we would have seen California' star (#31) go dark. There's a move on right now to darken Maine's star in November.
[Hat tip: David Schmader]
New Hampshire Would be the Sixth What, Exactly?
Timothy Kincaid
May 8th, 2009
New Hampshire could be the sixth gay marriage something-or-other, but finding the language to fit is not a straight-forward task. Considering the methods by which states have reached (and retreated from) marriage rights, putting them in order depends on what one is measuring.
The order in which states have granted recognition to same sex couples
1. District of Columbia 1992 (blocked by Congress until 2002)
2. Hawaii 1997
3. California 1999
4. Vermont 1999
5. Connecticut 2005
6. New Jersey 2004
7. Maine 2004
8. New Hampshire 2007
9. Washington 2007
10. Oregon 2007
11. Maryland 2008
12. Iowa 2009
13. Colorado 2009
The order in which courts have found that states must provide marriage and/or all its rights and benefits to same-sex couples:
1. Hawaii 1993/1997 (reversed by Constitutional amendment)
2. Vermont 1999
3. Massachusetts 2003
4. New Jersey 2006
5. California 2008 (perhaps reversed by Constitutional amendment)
6. Connecticut 2008
7. Iowa 2009
The order in which states provided virtually all of the same benefits as marriage
1. Vermont 1999
2. California 2003 (with subsequent minor adjustments to fix differences)
3. Massachusetts 2003
4. Connecticut 2005
5. District of Columbia 2006 (with adjustment in 2008)
6. New Jersey 2006
7. New Hampshire 2007
8. Oregon 2007
9. Washington 2009
10. Maine 2009
The order in which legal marriages were first performed
1. Massachusetts – 5/17/2004
2. Iowa – 8/31/2007 (only one)
3. California – 6/16/2008
4. Connecticut – 11/4/2008
5. Vermont – 9/1/2009 (Scheduled)
6. Maine – around 9/14/2009 (Scheduled)
The order in which continuous legal marriages began to be offered
1. Massachusetts – 5/17/2004
2. Connecticut – 11/4/2008
3. Iowa – 4/27/09
4. Vermont – 9/1/2009 (Scheduled)
5. Maine – around 9/14/2009 (Scheduled)
And should New Hampshire\'s bill be signed, it will be sixth.
Gay Iowans Get Marriage Licenses
Timothy Kincaid
April 27th, 2009
The Des Moines Register reports:
At least 261 same-sex couples have applied for marriage licenses in Iowa so far today, with the heaviest concentrations in Linn, Polk, Scott and Johnson counties, according to information collected by The Des Moines Register. The tally so far includes 20 out-of-state couples, according to a survey of county recorders.
Although state law requires a three day delay, judges have the authority to waive the delay and several couples married.
When "Protecting Marriage" Means Ignoring Marriage
Jim Burroway
April 15th, 2009
The Des Moines Register has a very small blurb about a new bill that a state Senator wants to introduce now that the Senate is winding down:
No Iowans should be forced to recognize a gay marriage if they\'re religiously opposed to it, a state senator said Tuesday.

Sen. David Hartsuch, R-Bettendorf, said he is proposing a bill that says "a person shall not be compelled to recognize a marriage solemnized in this state if such recognition conflicts with the person\'s religious beliefs or moral convictions."

It\'s too late for lawmakers to file new bills, but Senate Republican Leader Paul McKinley asked the Senate Democratic Leader Mike Gronstal Tuesday to sponsor the bill with him. Gronstal said he\'d consider it.
This would broaden the Iowa Supreme Court's decision, which held that no religion would beforced to recognize a marriage it didn't want to, to include virtually anyone. But this bill, it seems to me, would run afoul of the state Supreme Court decision, opening up same-sex couples to precisely the kind of discrimination that the Supreme Court sought to address.
State Marriage Equality Update
Timothy Kincaid
April 9th, 2009
There has been a lot of movement recently in various states on the issue of recognition for same-sex couples. Here is a brief synopsis (I apologize if I missed anything):
Arkansas – on March 27, a bill was killed that would have banned cities and counties from creating domestic partner registries.
California – the State Supreme Court is deliberating on whether Proposition 8 is constitutional and, if so, what impact it has on the 18,000 same-sex couples who married between June and November 2008.
Colorado – at least two initiative drives are underway to either change the constitution to allow for gay marriage or alternately to statutorily create civil unions. The legislature has just passed a Designated Beneficiary Agreement Act, which has been signed by the Governor.
Connecticut – last week codified – with bipartisan support – marriage equality in the state\'s laws to agree with the decision of the state Supreme Court.
Delaware – proposed constitutional amendment to ban same-sex marriage defeated in the Senate in the last week in March.
Hawaii – Civil Unions bill was tied up in committee. Although the bill has a strong majority of support in the Senate, they voted not to pull it from committee.
Illinois – a bill (HB 0178) has been introduced to legalize same-sex marriage along with a bill (HB 2234) to enact Civil Unions. The marriage bill is resting in the Rules Committee but the Civil Unions bill passed out of committee in March and now faces a House vote.
Iowa – last week the Supreme Court found that the state must recognize same-sex marriage. It will go into effect on April 27. The Governor, the Senate Majority Leader, and the Speaker of the House have all announced that they will oppose efforts to change the Constitution. Iowa has no initiative process so it would require a change in leadership and several years before it would be possible to revoke this right.
Maine – both a marriage bill and a civil unions bill are before the legislature. The Judiciary Committee has scheduled a hearing on April 24. Gov. John Baldacci is "keeping an open mind".
Maryland – on April 7, the State Senate upgraded benefits offered to same-sex couples in domestic partnership relationships but do not allow for official state recognition of those relationships.
Minnesota – there is a bill before the legislature to provide new marriage equality. It is unlikely to pass.
Nevada – a bill to provide Domestic Partnerships with all the rights and obligations of marriage has passed out of committee and is before the Senate.
New Hampshire – at the end of March the House passed a bill to allow for gay marriage. It will be considered by the Senate, where Democrats have a 14-9 advantage (a dozen Republicans in the House supported the bill). Governor John Lynch has not stated whether he will veto the legislation, should it pass.
New Jersey – a commission has found that civil unions are inadequate and polls have found that residents favor gay marriage but a bill before the legislature appears not to be moving.
New Mexico – in March the Senate defeated efforts to enact Domestic Partnerships.
New York – the Governor has announced that he will push for a vote in the Senate on gay marriage. Although marriage equality has passed in the House, without support from some Republicans, the votes do not appear to be there in the Senate.
Rhode Island – a gay marriage bill is unlikely to make it out of committee. A "reciprocal beneficiary agreements" bill, a darling of anti-gays who want to label gay couples as identical to roommates or cousins, has been proposed as a "compromise".
Vermont – this week the legislature overrode the governor\'s veto to pass marriage equality.
Washington – a bill to upgrade the state\'s Domestic Partnerships to provide all the rights and obligations of marriage has passed the Senate and will come before the House soon.
West Virginia – last week the House of Delegates defeated a proposed state constitutional amendment that would have banned same-sex marriage.
Wisconsin – the Supreme Court is being asked to review the constitutional ban on marriage. The Governor, in his budget, has proposed Domestic Partnership benefits.
Wyoming – in February the House defeated a constitutional amendment to ban same-sex marriage.
District of Columbia – the Council voted unanimously to recognize out of state marriages. Same-sex marriage bill expected later this year.
Wingers On Parade: Reactions To Vermont
Jim Burroway
April 8th, 2009
We did this following the Iowa Supreme Court decision. Now it's time to look at reactions to the Vermont legislature's decision to allow same-sex marriage. Wouldn't it be great if this could become a regular series?
Anti-gay activists pounced immediately with their talking points when the Iowa Supreme Court released their opinion, but Right Wing Watch noticed that it took quite a while for anti-gay activists to react to the Vermont vote. Probably because couldn't reflexively blame "activist judges."
But several hours later, reactions slowly began to trickle in. So guess what? It's not "activist judges," it's a breakdown in democracy. Focus On the Family detects a "mysterious" conspiracy afoot:
Thanks to several legislators who mysteriously changed their votes over the weekend, Vermont has become the first state to radically change the definition of marriage through the legislative process.
Sounds nefarious, doesn't it. Like it's some sort of threat to destroy democracy or something. The Liberty Counsel's Matt Staver is also reading from the same playbook, calling a vote by two legislative chambers made up of duly elected representatives of the people "tyranny":
By redefining marriage, the Vermont legislature removed the cornerstone of society and the foundation of government. The consequences will rest on their shoulders and upon those passive objectors who know what to do but lack the courage to stand against this form of tyranny.
The Catholic League's reaction defines the word "apoplectic." Vermont's exercise in democracy apparently doesn't count because it's Vermont:
Vermont is a lily-white state populated by left-wingers who are anti-traditional marriage and anti-family. Exactly what we would expect of a population where more people believe in nothing than anywhere else in the nation.
But not everyone was on the same page. Austin R. Nimocks, an attorney with the Alliance Defense Fund, took a different route.
The institution of marriage has predated the legislature and government and the United States, and it's not the prerogative of anybody to redefine it. It is the prerogative of every state and U.S. citizen to uphold the institution as it has always been defined, as one man and one woman."
As it was always defined? I think Nimocks needs to study up on his Bible, because just off the top of my head I know that King David, who unlike Nimocks was divinely appointment, had eight wives. Solomon had seven hundred.
Matt Barber isn't thinking representative democracy either. He labors under the mistaken impression that we're in a theocracy:
"How long can a nation founded on the laws of nature and nature's God expect to find favor in his eyes when we continue to mock God?"

…"I believe that the purveyors of evil around the country feel emboldened right now with the current political climate in Washington, DC," Barber states, what with both the Oval Office and Congress inhabited by "people who are bent on thumbing their nose at God."
But at least we can count on Peter LaBarbera to know exactly where to lay the blame. It's not activist judges or rogue legislators. It's the American people:
A northeastern state, Vermont, has voted in homosexual "marriage" — through an override of the governor\'s veto, no less.  This profane legislative act cannot be blamed on reckless judges or "unelected courts." No, this instead is reckless, godless liberalism in action…

Most Americans have gotten too comfortable with same-sex perversion (we at AFTAH reject the activist concept of innocuous, innate "sexual orientation") and extramarital sex. … It\'s asking too much of God to "bless America" when America is blessing the counter-Biblical idea of state-sanctioned, homosexually-redefined "marriage.
Iowa Gov. Culver Will Not Push Marriage Ban Amendment
Timothy Kincaid
April 7th, 2009
Finding no traction in the Iowa Senate or House in their desire to overturn marriage in Iowa, anti-gays were hoping that Governor Chet Culver, a Democrat that had indicated personal opposition to marriage equality, would call a special session to push through a marriage ban amendment. The Omaha World-Herald is reporting that their approaches have been rebuffed:
Iowa Gov. Chet Culver said Tuesday he will not support a constitutional amendment to ban same-sex marriage.
…
The Supreme Court found that denying gay and lesbian couples marriage is discrimination under the Iowa Constitution\'s equal protection clause. With that in mind, Culver said he is "reluctant" to add a provision to the constitution that was already found "unlawful and discriminatory."
With the Senate and House leadership unwilling to bring an amendment up for a vote and the Governor unwilling to support their efforts, anti-gays are finding few available options left. Until such time as they can use homophobia as a basis for their political campaigns, they are limited in their response to ranting, raving, hand wringing, denouncing, whining, and pouting.
All of which they will do.
Iowa Senate President Blocks Same-Sex Marriage Ban
Jim Burroway
April 6th, 2009
Iowa State Senate Majority Leader Mike Gronstal is already on record as saying that as long as he's Majority Leader, there will be no vote on a constitutional amendment to ban same-sex marriage. He reiterated that stance today, in no uncertain terms.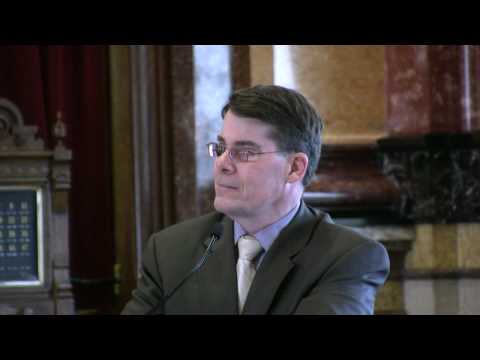 "'You guys don't understand. You've already lost.' … No, Senator McKinley, I will not co-sponsor a leadership bill with you."
Wingers On Parade: Reactions To Iowa
Jim Burroway
April 3rd, 2009
Today's Iowa Supreme Court ruling, which struck down the portion of that state's marriage law restricting marriage to heterosexuals, has provoked an entertaining assortment of reactions from the usual characters. Here are just a few examples.
First up, Matt Barber. He now has a title that is longer than the queen of England ("Matt Barber, Director of Cultural Affairs with both Liberty Counsel and Liberty Alliance Action, and Associate Dean with Liberty University School of Law"). I like his reaction because it fits perfectly with other ridiculous arguments which inspired the very name of this web site. Barber blathers:
U.S. Supreme Court long ago rejected the untenable notion that 'equal protection' requires two biologically incompatible persons to be permitted to 'marry.' Marriage, of course, by its very spiritual, historical and biological nature, requires binary compatibility. It is no more discriminatory to disallow two men from marrying each other, than it is to prohibit a man from marrying his house plant.
That's right. We now have the potted plant argument, which I guess is appropriate coming from him. Since the Box Turtle reference may be getting old, maybe we should rename this web site "Pansies for Pansies.com" in Barber's honor.
Next up, Randy Thomasson. He's demanding the most rigorous constitutional amendment ever devised by man or beast:
…Iowans should write a rock-solid marriage amendment, one that is much stronger than amendments in California, Oregon and Washington, which still allowed counterfeit marriages and immoral policies forcing insurance plans and private businesses to subsidize pseudo-marriages. Iowans should also take care to prevent the civil institution of marriage from being someday abolished, and must biologically define a man and a woman to ensure that the distinct, God-given genders of a husband and wife cannot be perverted.
owa Rep. Steve King (R-Kiron) wants more than just a constitutional amendment. He also wants to prevent Iowa from becoming a "gay marriage Mecca":
Along with a constitutional amendment, the legislature must also enact marriage license residency requirements so that Iowa does not become the gay marriage Mecca due to the Supreme Court's latest experiment in social engineering.
Concerned Women for America aren't interested in tinkering with laws or constitutions. Instead, they call for the establishment of a theocracy:
Until we rightly handle these issues in God's house, we will continue to fail in the court house, the state house and the school house. George Washington warned us it would be impossible to rightly govern without the Bible, until we repent and return to those same principles, we will fail to properly govern and succeed as a nation.
And finally, our favorite. Peter LaBarbera gets a two-fer. First, there's this post on his web site:
Today Iowa becomes the first state not on either of the nation's two liberal coasts to impose counterfeit, homosexual 'marriage' or its mischievous twin, 'civil unions' on its citizens through judicial tyranny. To call this decision bankrupt is to understate its perniciousness. The evil genius of the pro-sodomy movement is that it targets noble institutions like marriage and adoption in the name of 'rights,' and then perverts and uses them to normalize aberrant and destructible behaviors.
In LaBarbara's mass email which also included the above statement, he added:
If the people do not respond in righteous anger coupled with effective action, the downfall of our beloved nation is assured — because God (who invented marriage) is not mocked.
You know, there's a reason we have an award named for him. One excellent nominee for that award might be one Craig Overton, whose sign was so embarrassing to gay rights opponents that they urged him to put the sign down. It read "Same sex animals don't mate. God Bless. Culver man up." Overton refused to put the sign down.
Iowa Legislative Leaders: Iowa Has Always Led In Civil Rights
Jim Burroway
April 3rd, 2009
As a Midwesterner, some of the reactions to the Iowa Supreme Court decision to allow same-sex marriage has rankled me a bit. You know, the those condescending reactions that go, "Really? Iowa? A square state in the middle of the country?" As if Iowans — or any other Midwesterners — are any less capable of dealing with discrimination than anyone else.
Well, here's a joint statement from Iowa's Senate Majority Leader Mike Gronstal and House Speaker Pat Murphy on today's Supreme Court decision that puts the Iowa Supreme Court decision squarely in context with Iowa's long history of justice:
Thanks to today's decision, Iowa continues to be a leader in guaranteeing all of our citizens' equal rights.

The court has ruled today that when two Iowans promise to share their lives together, state law will respect that commitment, regardless of whether the couple is gay or straight.

When all is said and done, we believe the only lasting question about today's events will be why it took us so long.  It is a tough question to answer because treating everyone fairly is really a matter of Iowa common sense and Iowa common decency.

Today, the Iowa Supreme Court has reaffirmed those Iowa values by ruling that gay and lesbian Iowans have all the same rights and responsibilities of citizenship as any other Iowan.

Iowa has always been a leader in the area of civil rights.

In 1839, the Iowa Supreme Court rejected slavery in a decision that found that a slave named Ralph became free when he stepped on Iowa soil, 26 years before the end of the Civil War decided the issue.

In 1868, the Iowa Supreme Court ruled that racially segregated "separate but equal" schools had no place in Iowa, 85 years before the U.S. Supreme Court reached the same decision.

In 1873, the Iowa Supreme Court ruled against racial discrimination in public accommodations, 91 years before the U.S. Supreme Court reached the same decision.

In 1869, Iowa became the first state in the union to admit women to the practice of law.

In the case of recognizing loving relationships between two adults, the Iowa Supreme Court is once again taking a leadership position on civil rights.

Today, we congratulate the thousands of Iowans who now can express their love for each other and have it recognized by our laws.
This is the first time a state supreme court ruled unanimously on an issue like this.
So what next? It doesn't look like there's much of a threat to this ruling. To amend the Iowa Constitution, the proposed amendment has to be approved by the Iowa legislature in two successive sessions before it is put before the voters. Sen. Gronstal has already announced that "there will not be a vote as long as I am the majority leader." So this pushes the first vote in the Senate out until the 2011-2012 session, which means the earliest an amendment could come before the voters would be 2013. And that assumes that the Senate changes hands in 2010. If the Senate doesn't change hands (Democrats have a 32-18 advantage), then the date for a popular vote is pushed out even farther.
This decision seems to be very secure. Polk County Attorney John Sarcone, who represented the county where the complaint originated, announced that his office would not seek a rehearing, so the court's decision will take effect on April 24.
Iowa Supreme Court Upholds Same-Sex Marriage
Jim Burroway
April 3rd, 2009
The Iowa Supreme Court ruling on same-sex marriages was supposed to have been released twenty minutes ago, but the web site is down. But word is that the state Supreme Court has affirmed the lower court ruling. That lower court rulled that Iowa's marriage law's exclusion of same-sex couples was unconstitutional.  According to the Des Moines Register:
The Iowa Supreme Court this morning unanimously upheld gays' right to marry.

"The Iowa statute limiting civil marriage to a union between a man and a woman violates the equal protection clause of the Iowa Constitution," the justices said in a summary of their decision.

The court affirmed a Polk County District Court decision that would allow six gay couples to marry.

The ruling is viewed as a victory for the gay rights movement in Iowa and elsewhere, and a setback for social conservatives who wanted to protect traditional families.

The decision makes Iowa the first Midwestern state, and the fourth nationwide, to allow same-sex marriages. Lawyers for Lambda Legal, a gay rights group that financed the court battle and represented the couples, had hoped to use a court victory to demonstrate acceptance of same-sex marriage in heartland America.
To Iowa's constitution, it would require approval in two consecutive legislative sessions and a public vote. This means that a ban would could not be put in place until at least 2012 unless lawmakers take up the issue in the next few weeks.
Iowa Supreme Court To Rule On Same-Sex Marriage Friday
Jim Burroway
April 2nd, 2009
A statement appeared on the Iowa Supreme Court website announcing that a decision in Varnum v. Brien, will be posted on the web tomorrow by 8:30 a.m. CDT. The suit contends that Iowa's marriage law is unconstitutional because it violates the equal protection and due process clauses of the Iowa Constitution. Oral arguments in the case were presented last December.
In August 2007, a lower court judge ruled that Iowa's prohibition on same-sex marriage is unconstitutional. Although he put a stay on the decision four hours later pending a Supreme Court hearing, one couple, Tim McQuillan and Sean Fritz, managed to get married during that short window. They remain the only same-sex couple with a legal Iowa marriage license. They spoke to the impact that getting married has had on their relationship:
"When we got married, I realized that made me an adult," Sean said. "Abruptly. … And now I realize that probably has a strong influence upon what we call gay culture, the fact that it's comprised of people who don't consider themselves adults."

"You treat children like children," Tim interjects, "they're going to behave like children. If you treat them as adults and you expect things of them – it's totally an argument of what you expect out of someone. If they've never been expected to get married, they aren't going to. It's pretty harsh social conditioning."