Michigan GOP leadership rebuffs Agema
Timothy Kincaid
December 13th, 2013
Two years ago, Michigan Representative Dave Agema (R – Grandville) sponsored a bill called the Public Employee Domestic Partner Benefit Restriction Act (real name) which was designed to do exactly that: probit the government closest to the people (cities, counties, library commissions) from enacting protections for the people (firemen, assessors, librarians). Specifically, it provided that "a public employer shall not provide medical benefits or other fringe benefits for an individual currently residing in the same residence as an employee of the public employer" unless they were the opposite sex.
And being a pretty despicable bunch, the Michigan GOP representatives passed it with a party-line vote (plus one Democrat) and Governor Rick Snyder signed the bill into law.
As the bill was an obvious violation of the US Supreme Court decision in Romer v. Evans, this June a judge issued an injunction against its implementation. It is assumed that the bill is dead.
Well now Dave Agema is not longer in the state legislature. But at last year's GOP state convention, the party decided that he was an ideal representative to send to the Republican National Central Committee, ousting their former party chair who had been a national RNC candidate but, apparently, just wasn't batpoop nuts enough.
So now they have Dave Agema making news by trotting off to the Berrien County Republican Party Holiday Reception this week, and saying the following:
… I stand for traditional marriage, not homosexual ones. (audience applause) … the basic unit of government in society.

"When you tear the family apart, you tear the country apart. I worked with these individuals for almost 30 years with American (Airlines). I know what they do. I know what happened to American Airlines when San Francisco said we could not land in San Francisco and do business with American Airlines unless we paid same sex unmarried benefits.

"The pilots said, 'Bologna. Don't go there anymore.'

"Can't do it. Too big a market. Can't do it. Well, what happened? Say me and, what's your name again, first name? Martha. I'm a flight attendant. You have AIDS. You come to me and say, 'hey, tell them I'm your lover for the last six months.' You get on our health care. American Airlines spends $400,000 before you die of AIDS. And he goes on to the next, and the next, and that's what was happening.

"Folks, they want free medical because they're dying between 38 and 44 years old. It's a biggie. So, to me it's a moral issue. It's a Biblical issue. Traditional marriage is where it should be and that is in our platform, so people that are opposed on that issue within our party are wrong. It's in our platform. (audience applause)"
Well that there's a whole lot of crazy. Not a word of fact, but a great big serving of hot juicy crazy hate ladled over a holiday pastry. And the Berrien County GOP biddies just lapped it right up, burped, and asked for more.
But outside the context of hardcore party extremists in county committees, crazy hate just doesn't sell very well anymore. And as his statements started hitting the blogs, normal folk were a bit shocked.
And though the party joyfully voted for the bill generated by Agema's radical hatred, now the Michigan GOP politicians have began backpedaling. (MLive)
House Speaker Jase Bolger, R-Marshall, said Wednesday that he respects religious beliefs that may not make room for gay marriage. "But I do not respect, and frankly am disgusted by, anyone who demonizes someone because of their sexual orientation," he continued.

Senate Majority Leader Randy Richardville, R-Monroe, said he had not heard Agema's comments directly but had picked up on the basic tenor.

"He's not speaking on behalf of me, or I think most of the people who call themselves Republicans, when he says stuff like this," said Richardville. "It's not the first time. Hate isn't one of my values."
Naturally, Log Cabin called for his resignation. Jason Watts, secretary of Allegan County's Republican Party, has drafted a resolution that the state party (which meets this weekend) disavow those who "espouse demagogic rhetoric that is incendiary and unbecoming of civil discourse."
And the Governor, who signed the anti-gay bill two years ago, now rebuffs Agema's agenda. (MLive)
Snyder, the state's top ranking elected Republican, "feels comments like that are unfortunate, discriminatory and that we can and must do better and make sure everyone is treated with respect and dignity," spokesman Sara Wurfel told MLive.

Wurfel was even more direct with the MIRS subscription news service, calling Agema's remarks "extreme" and saying that there "shouldn't be room for that in any political party, period."
Just a week ago I discussed how the extra-special brand of crazy right-wing nutcases can be useful. And Agema is proving to be particularly so.
Michigan Republicans are seriously considering updating Michigan's Elliott-Larsen Civil Rights Act to include anti-discrimination protections for gays and lesbians. And Agema's outburst couldn't come at a better time.
This gives GOP members on the fence a clear choice, do they want to move along with the rest of the country in the direction of inclusion, respect, and equality, or do they want, like Dave Agema, to stay a pretty despicable bunch? Do they think that protecting gay employees in Michigan would result in Agema's bizarre pipe-dream or to they reject his blatant bigotry?
Thanks to Dave Agema, they know that their constituents will be paying close attention.
Federal Judge Sets February Trial Date for Michigan Marriage Ban Lawsuit
Jim Burroway
October 16th, 2013
Federal District Court Judge Bernard A. Friedman turned down requests to issue a summary judgment either for or against the constitutionality of Michigan's ban on marriage and adoption by same-sex couples. A lesbian couple who, between them, have adopted three special needs children, had asked the court to declare the state's constitutional ban, which was approved  by Michigan voters in 2004, unconstitutional under the Federal constitution. There had been widespread expectation that Judge Friedman would rule on the ban's constitutionality. A trial date has been set for February 25.
ACLU Announces Three Marriage Lawsuits
Jim Burroway
July 9th, 2013
Fresh off its victory in Windsor v. U.S. which struck down Section 3 of the Defense of Marriage Act as unconstitutional, the ACLU's is filing three more lawsuits, in Pennsylvania, North Carolina and Virginia. In Whitewood v. Corbett, the ACLU is challenging Pennsylvania's statute which bans same-sex marriage. In Fisher-Borne v. Smith, the ACLU will amend its lawsuit seeking adoption rights to include the right to marriage. In the Virginia case, the ACLU and Lambda Legal are still in the planning stages, with plaintiffs and precise details of the case still being worked out. They expect to file that lawsuit later this summer.
Meanwhile, the ACLU and the National Center for Lesbian Rights have filed a motion with the New Mexico Supreme Court, asking it to order state officials to allow same-sex couples to marry. State law is currently silent on the question. Other lawsuits are working their way through Arkansas, Hawaii, Illinois, Nevada, New Jersey and Michigan.
Michigan has its first same-sex marriage
Timothy Kincaid
March 15th, 2013
NBC
The head of an American Indian tribe in Michigan signed a law approving same-sex marriage on Friday, joining at least two other tribes nationwide in doing so, then immediately wed a gay couple who had been together for 30 years but never thought they would see this day come.

Dexter McNamara, chairman of the 4,600-member Little Traverse Bay Bands of Odawa Indians in northern Michigan, wed Tim LaCroix, 53, and Gene Barfield, 60, of Boyne City. After McNamara read the couple's vows and led the ceremony in English, a member of the tribe followed and conducted a traditional tribal ceremony in their language before dozens of wellwishers.
While the Little Traverse Bay Bands comes third in the list of Indian Nations, it is an important addition.
The impact of the Little Traverse Bay decision was unclear, though Fletcher said he thought it would carry weight with other tribes. Little Traverse Bay Bands was an influential, average-sized tribe that has been, along with some other Michigan tribes, "very much in the forefront of some good progressive tribal governance measures in the last couple decades."
…
"We've been a role model, I think, for the federally recognized tribes of Michigan and it seems like we're out in front — and not taking anything away from the other federally recognized tribes — but, you know, it seems like we kind of opened the door for other tribes and I think other tribes will follow," he said.
Michigan judge delays marriage ruling
Timothy Kincaid
March 7th, 2013
Today U.S. District Judge Bernard Friedman heard arguments from the couple who want to adopt each other's children as to how the Michigan marriage laws unfairly discriminate against them. But while Judge Friedman noted that their argument was compelling, he's delaying his decision.
Friedman said he would benefit from seeing how the U.S. Supreme Court handles cases involving a gay marriage ban in California as well as the federal Defense of Marriage Act. Arguments are scheduled later this month in Washington.

An immediate ruling in Michigan "would not be fair to either side," Friedman said while holding court in front of students at Wayne State University law school.

"They're going to give us something to hang our hat on," he said of the Supreme Court.
Which, disappointing as it is, may be the most logical decision.
Same sex marriage passes vote in Michigan and could soon be legal
Timothy Kincaid
March 6th, 2013
… but only if you are Odawa. (Petoskynews)
The Little Traverse Bay Bands of Odawa Indians inched closer to becoming the third tribe in the nation to legally recognize gay marriage Sunday.

A 5-4 tribal council vote Sunday passed an amended statute allowing same-sex couples to wed and be recognized by the tribal government, according to draft tribal minutes released Tuesday afternoon.

The statute now goes to the tribal chairman, who can either sign the statute into law, or veto the proposed changes.
Two other native tribes recognize same sex marriages, the Coquille in Oregon and the Suquamish in Washington.
Michigan enters the race for 10
Timothy Kincaid
March 6th, 2013
All year it's been up in the air which state would be the tenth state to achieve marriage equality. The most likely have been Illinois and Minnesota, but Hawaii and Rhode Island have teased us. Even Wyoming briefly toyed with the idea. But now a dark horse is making strides.
You may recall back in August 2012 when two lesbians seeking to adopt each other's children were told they had the wrong complaint. The judge in the case told them that their problem wasn't adoption law, but marriage law. It is perfectly reasonable (from a legal perspective) for a state to decide to restrict joint adoption to those people who were sufficiently committed to each other to get married. The discrimination in this case wasn't in adoption, it was in that they couldn't marry.
So the ladies refiled their challenge as a marriage discrimination complaint. They had to; they have kids they need to look out for.
And now the judge is ready to rule. (ABC)
U.S. District Judge Bernard Friedman will hear arguments in the case Thursday at a Detroit law school, although he hasn't indicated when he'll make a ruling. If he concludes the amendment violates the U.S. Constitution, gay-marriage supporters say same-sex couples would immediately be allowed to wed and adopt children.
Friedman was appointed by President Reagan.
"queers can…", part 2
Timothy Kincaid
November 7th, 2012
Remember Janice Daniels, Mayor of Troy, Michigan? The one who was elected last year. And then was discovered to have posted "I think I am going to throw away my I Love New York carrying bag now that queers can get married there" on Facebook. Yeah, that Janice Daniels.
Remember her? Well you can forget her now.
Because the lovely Ms. Daniels is mayor no more. She lost last night in a recall election. (Daily Tribune)
It was a tight race throughout, but the effort to recall Troy Mayor Janice Daniels officially passed early Wednesday morning.

With all 31 precincts reporting, the yes vote won 20,763 to 18,993.
I hope she didn't get around to throwing out her I Love New York bag cuz she may need it to pack up her mementos of her days of public service. And I'm sure there is still a spot for her in the world of real estate.

[Update: to get a real sense of the lovely Janice – and the moment in which her fate was probably sealed – check out this video]
Michigan marriage challenge update
Timothy Kincaid
September 7th, 2012
A lesbian couple, April DeBoer and Jayne Rowse, sued the state of Michigan over its adoption laws. Their lawyer explains: (Detroit Free Press)
One of their lawyers, Dana Nessel, pointed out that the state of Michigan certified DeBoer and Rowse to become foster parents together but won't allow them to both adopt. Michigan law only allows singles or married couples to adopt.
…
"The state gave them children who had been abandoned and surrendered at birth to raise," Nessel said. "And they are raising them with all the love, nurturing, care and affection that any parent would give to any child. But the state then rewards these women by telling them while they are good enough to foster as a couple, they aren't good enough to adopt as a couple. We submit that this is pure and utter insanity."
Yep. Insanity.
But the judge in the case surprised them by noting that they were fighting the wrong battle. Their issues would be over if they married and it's really the marriage ban that is causing them to be subjected to discrimination.
Personally, I get that. I can see how a state could argue that if a couple was unwilling to make the legal commitments binding themselves together that they were not ideal to jointly adopt children. But it can't then turn around and refuse to let the couple make such legal commitments.
So April and Jayne have updated their petition.
DeBoer and partner Jayne Rowse decided to take the battle they're already fighting in U.S. District Court in Detroit one step further today. They amended their complaint in front of Judge Bernard A. Friedman that asks for the right to adopt as a same-sex couple, instead challenging Michigan Gov. Rick Snyder, Attorney General Bill Schuette and Oakland County Clerk Bill Bullard Jr. to declare Michigan's ban on same-sex marriage and partnerships unconstitutional.

"This is totally not what we expected by any means," Rowse said today, away from the podium during an announcement in the Penobscot Building. "We wanted to keep the kids' rights at the forefront, the rights that any other child has."
Lesbian couple suing for adoption rights are told that they have the wrong issue
Timothy Kincaid
August 29th, 2012
April DeBoer and Jayne Rowse, both nurses, have three children: (Detroit News)
DeBoer adopted a girl, born in February 2010 to a 19-year-old mother.

Rowse, meanwhile, adopted two boys, ages 3 and 2. One was surrendered by his biological mother and the other was abandoned by his mother, a drug-addicted prostitute
But Michigan state law will not allow them to adopt the children jointly, thus giving the children the extra rights and security that come from two-parent adoption (which are considerable). They asked U.S. District Court Judge Bernard A. Friedman, a 68 year-old Reagan appointee, to overturn the state's law as unconstitutional.
He said, "no". Or, at least, "not yet". Because they really were focusing on the wrong issue:
Friedman said Wednesday he'd consider arguments from both sides before rendering his decision, but will first allow the plaintiffs ten days to consider amending their complaint to include a challenge to the state's ban on same-sex marriages.

"That's the underlying issue," Friedman told attorneys, noting that he's "not suggesting they do it."

"Both arguments are about marriage and how broad or narrow it should be. That's the bottom line."
Oh. Well, come to think of it, that would be the real issue, wouldn't it?
Of course, just because Judge Friedman correctly noted the real discrimination issue doesn't mean that he will find the ban unconstitutional. But it does suggest that he correctly understands DeBoer and Rowse's underlying problem. So I think it is at least likely that he's sympathetic to giving the marriage issue a fair hearing. And we seldom need more than a fair hearing to point out the obvious.
How very fascinating it would be for DeBoer and Rowse to sue for adoption rights only to find that they've overturned the state's marriage ban.
Shirvell's unhappy day
Timothy Kincaid
August 16th, 2012
Andrew Shirvell certainly can't be very happy about the results of his trial. (Detroit News)
A federal court jury Thursday awarded $4.5 million to a gay former University of Michigan student body president who accused a former state attorney of stalking him, according to the lawyer.

Deborah Gordon said the jury came back with the verdict late Thursday afternoon. The civil case involved Andrew Shirvell, the former assistant attorney general fired in 2010 after he criticized Christopher Armstrong, an openly gay former University of Michigan student.
But I guess the upside is that unless Shirvell's a trust fund baby, he has an excuse to keep in contact with Armstrong for the rest of his life. I have no idea as to Shirvell's employment status, but I suspect that it would take him approximately 1,875 years to pay off that award.
Shirvell's lawyer had a fool for a client
Timothy Kincaid
August 15th, 2012
Do you remember Andrew Shirvell? He was the Michigan assistant attorney general who became obsessed with Chris Armstrong, the University of Michigan's student body president, and starting stalking him and ranting on a blog about him. Here's a reminder from September 2010: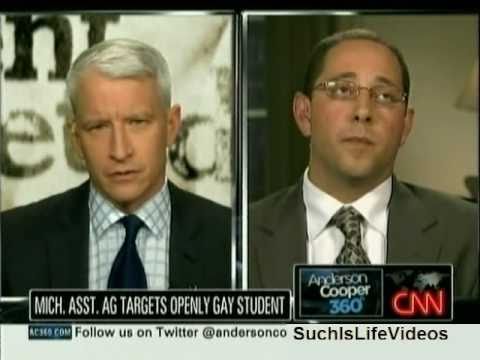 Of course eventually the Attorney General fired him and he was sued by Armstrong for inflicting intentional emotional harm.
Well finally Shirvell had his day in court.
And do you recall the old phrase about the lawyer who represents himself having a fool for a client? It turns out that it's true.
Shirvell, who is representing himself, questioned himself on the witness stand for more than an hour this morning, trying to convince the jury he was upset by Armstrong's push for gender-neutral housing at the school. Shirvell graduated from U-M in 2002.

"My blog was political speech," Shirvell testified. "I viewed my blog as a movement to get Mr. Armstrong to resign. I personally felt Mr. Armstrong was too radical for the position."
And though he rambled about Armstrong's "radical homosexual agenda", Mr. Armstrong's attorney got Shirvell to admit that he hadn't written about any of the others involved in pro-gay policies. Or lurked in their bushes. Or even complained to the school's administration.
I think we all can surmise why it is that Shirvell focused his attentions on the rather handsome Armstrong. In fact, I think the only person who Shirvell has fooled is himself.
Big Centralized Government is a Michigan Republican Value
Timothy Kincaid
December 27th, 2011
The Michigan Republican Party claims the usual litany of principles that most state Republican Party organizations claim. Their listing of beliefs speak a great deal about equality and nearly every point uses the word "individual". The two beliefs that stand out as defining characteristics of Republicans, those that really differentiate from Democrats, are probably the following:
I BELIEVE the proper role of government is to provide for the people only those critical functions that cannot be performed by individuals or private organizations, and that the best government is that which governs least.

I BELIEVE the most effective, responsible and responsive government is government closest to the people.
Reading the full eight statements of belief, one might believe that Michigan Republicans believe in small government, individual self-determination, and equality under the law. Nothing could be further from the truth.
In reality, Michigan Republicans believe in utilization of state power to coerce compliance by counties and local governments, dictated values, and a class system based on religious dogma. And nothing illustrates that truth more effectively than House Bills 4770 and 4771.
The synopsis of HB 4770 pretty much says everything that needs to be known about its intent or the mentality of those who passed it:
A bill to prohibit public employers from providing certain benefits to public employees.
This bill prohibits local governmental employers – county, state, fire departments, etc. – from providing local governmental employees – librarians, firemen, teachers, lifeguards, etc. – with benefits under certain conditions. It removes from the 'government closest to the people' the ability to make decisions that reflect the values and needs of the people and puts the state in the position of dictating the terms and conditions of local employment contracts.
Specifically, the Public Employee Domestic Partner Benefit Restriction Act (yes, this really is it's name), dictates that "a public employer shall not provide medical benefits or other fringe benefits for an individual currently
residing in the same residence as an employee of the public employer" unless they are an opposite-sex spouse or a dependent (or an intestate successor). Those gay employees of villages or towns who receive the same compensation package as their heterosexual office-mates will now be stripped of a portion of their pay.
The sole purpose is to impose the beliefs of the state legislators onto those municipalities that do not share their beliefs. Unable to convince local communities to engage in anti-gay discrimination, Republican legislators will now use the power of the state to force them to do so.
Companion bill HB 4771 adds the following language into the collective bargaining law: "(11) Health insurance or other fringe benefits for any coresident of an employee of a public employer on terms that conflict with the Public Employee Domestic Partner Benefit Restriction Act."
I will give them this much: they are not pretending that this bill is anything other than what it is. As the bill puts it, "that group of employees" is it's target. And while the bill would strip unmarried heterosexual couples eligible for domestic partner benefits (should any municipality provide such coverage), there's no pretense that this is not a blatant attempt to strip gay people of equal pay.
Earlier this month, the Republican majorities in the House and Senate passed HB 4770 and 4771 on a party line vote (with the support of one Democrat) and on Thursday, Governor Rick Snyder (R) signed the bills into law.
[L]ead sponsor Rep. David Agema, R-Grandville, praised the governor's decision, saying, "Time and again, Michigan residents have said 'no' to paying for the health benefits of the roommates and unmarried partners of public employees, and the governor's signature today gives the people's voice the rule of law."
I don't know of any municipalities that provide domestic partnership benefits to roommates and I don't think Agema does either. Rather, I suspect that is just his way of demeaning gay people by pretending to think that long-term committed same-sex relationship are just "roommates". Having imposed his religious views on those who do have different beliefs, he now is blaring his contempt for you.
And Agema is quite clear that it is truly his intention to impose his religion on the land, regardless of the beliefs or desires of others. Describing himself as a servant of "God, family, and country" (in that order) Agema runs Saboath House Ministries, a dominionist organization.
In today's language, Sabaoth means "Taking Back God's Property". That is what Sabaoth Ministries is all about…going into the city and taking back God's property.
Looking back over the past few years, it is clear that Michigan Republicans have become increasingly known for their anti-gay activism (and bizarre antics). Which is fine, I suppose. If the Michigan Republican Party truly wishes to be the political vehicle for extremist dominionists who seek to impose a talibanish form of theocracy, then they should have the right to present those views. If they want to be the party of strong centralized government and dictated social policy, that's their right.
But I do object to them claiming to be the opposite. It's time they give up the pretense of favoring the rights of the individual or the principle of smaller, local, less intrusive government.
Lewd or immoral acts in Michigan
A Commentary
Timothy Kincaid
December 14th, 2011
Laws are funny things. Generally created out of some panicky necessity (usually the necessity of a politician to appear to be statesmanlike), they linger on long after the need has passed and often to the point of absurdity.
But sometimes rather than amusing and fairly harmless laws that reflect a cultural reality that has long passed, they become tools for abuse by police or other authorities who seek to achieve their own personal goals based in their own prejudices or ill intent. And that appears to be happening in Kent County, Michigan. Sheriff Larry Stelma is using a law written to address prostitution to "clean up" county parks.
750.448 Soliciting, accosting, or inviting to commit prostitution or immoral act; crime.

Sec. 448.

A person 16 years of age or older who accosts, solicits, or invites another person in a public place or in or from a building or vehicle, by word, gesture, or any other means, to commit prostitution or to do any other lewd or immoral act, is guilty of a crime punishable as provided in section 451.

Sec. 451.

(1) Except as otherwise provided in this section, a person convicted of violating section 448, 449, 449a, 450, or 462 is guilty of a misdemeanor punishable by imprisonment for not more than 93 days or a fine of not more than $500.00, or both.
Stelma has decided that this is his justification for ridding the parks of gay men. And he's taking a very broad interpretation of the code to do so.
He has decided that "accosts, solicits, or invites another person" includes responding to solicitation by an undercover police officer. And "commit prostitution or to do any other lewd or immoral act" includes flirting, holding hands, or inviting another person home or to another private location to pursue sexual activities. Or rather, it does if the target is a gay man.
And Stelma acknowledges that his officers are not interested in following the letter of the law, and especially not the spirit of the law, but in harassing targets that he knows full well are not committing a crime: (Mlive.com)
"There is a range of discernment there, but whatever that act or suggestion was has to be considered by a judge or jury as being lewd or immoral," Stelma said. "Our community has invested heavily in the parks and they expect us to keep them safe, family-friendly places and that's what we're going to continue to do."
So Sheriff Stelma will arrest those whom he deems not to be "family-friendly" and parade them in front of the community for public shaming and condemnation. Oh, and if it was unwarranted, well then a judge can let them off the $500 penalty.
At Box Turtle Bulletin we do not endorse or defend sex in public or suggest that such acts should not be discouraged or punished when they occur. Half of the arrests reviewed by the ACLU were for activities that were criminal and that is appropriate.
But we also do not accept the assumption that being gay is a crime or that there is anything "family-friendly" about targeting gay people. And if an officer or police force is arresting gay people for things for which one would never arrest a heterosexual, they are engaging in criminal behavior themselves and are violating the civil rights of citizens.
Such tactics are not uncommon and the reason is clear. There is very little disincentive for police to engage in this form of selective and creative enforcement. Seldom are police chiefs reprimanded, much less fired. And there is little social cost resulting from their abuse of power.
Those who are hateful or fearful are happy that "that element" is remove from a "family park" and those who object are smirked at as being soft on crime and a seedy element themselves. And, of course, there is the internal reward of harming people whom the officer or leader considers inferior or less human. Truly, bigots love a good "round up the homos" police sting.
But the cost to their victims can be huge.
Often those who resort to meeting in a park are men who are closeted and afraid to go to a bar or look online. They will do anything, say anything, to avoid having their secrets become public. And it is on just such a fear that corrupt officers and police forces rely; the sheriff can hold the threat of being listed as a sex offender over their head to keep them from any public objection.
I'm really sick of this.
It has reached the point now that when I hear of any dispute between an officer and a civilian, I assume that the officer is simply engaging in police brutality. And sadly, I'm very seldom wrong.
And even more frustrating is the mindset that is universally shared by the police community: protection of their own before protection of the community. Even in the most extreme of cases. (OC Register)
Earlier this month, six Fullerton cops surrounded and savagely attacked an unarmed, 37-year-old Kelly Thomas until he was dead. By the time the cops were done, Thomas' face looked like it had been put through a meat grinder.

Multiple witness say the cops repeatedly beat the 135-pound homeless man with their weapons, fired multiple Taser shots into his body, kicked his face and head with their boots and then, long after the man was subdued and on the ground, slammed their knees into his throat, apparently crushing it.
Thomas had committed no crime and it appears that the murder was for sport. Not one officer in the police force objected. The six were not put on suspension or reprimanded or even frowned at as a consequence of their action. In fact, it was not until the man's father went to the internet and got the support of local radio hosts John and Ken that anyone knew about it or the department took up an investigation. And when John and Ken began reporting, the families of other police officers actually called up and tried to make excuses.
This was a murder committed on police time, in uniform, with police recorders running, and people watching. The victim was threatened and taunted and then beaten to death. And they didn't care that they would be turning in "reports" or that their department would have access to the recordings. They already knew that they were protected from any consequence to any action – even murder – because they were police officers.
And when the Fullerton community erupted in anger and a few officers were finally arrested, guess who bailed out the primary murderer? Yep, his fellow officers.
This infuriates me.
The thing is that my instinct runs to 'law and order'. I like having a police force to protect me. I like knowing that if someone breaks into my home or threatens me on the street or otherwise harms or endangers me, that there is someone to look out for me. And when people like Kent County Sheriff Larry Stelma abuse their office and bring shame to the process, it hurts those honest officers who try to do their job and protect the citizens.
But honest officers seem to be in short supply. And their honesty seems to come secondary to their loyalty to power and corruption. The "thin blue line" appears to have become an impenetrable boundary that breaks the world into two classes: "good guys" who murder citizens, and "perps" like you and me and homeless schizophrenics and closeted men in Michigan.
And I know that I'll be told that "there are a lot of good officers". Bull. Being a good officer means not only avoiding abuse yourself, but stopping it when others do it. And that simply doesn't occur.
But this only happens because we allow it. We are afraid that if we stop police abuse that it will empower criminals and crooks. Unfortunately, we now are seeing that our fear has already empowered criminals and crooks – the ones wearing the uniform.
It needs to stop. We need to make it stop.
Perhaps it is time to implement a tool that police bullies use against the citizens. Perhaps it's time to create a Police Brutality Offenders Registry and when an officer has been accused of abusing his power he goes on the registry. If you are surly or arrogant or dismissive of a citizen, it goes into the Registry. If someone dies at your hands, it goes into the Registry. If you are on a police board that excuses an officer or finds "justifiable" something that would result in jail time for anyone else, then your name goes into the Registry.
And people seeking to move into a new city or precinct can look up the Police Brutality Offenders Registry, just like they can the Sex Offenders Registry, to see just how safe their new community might be. "Great schools and few sex offenders, but the police are corrupt so we'll not buy here."
And perhaps it is time for society to withhold the respect afforded police until they have proven themselves worthy. They need to decide if they are peace officers or a police force, if they answer to the community first or to their loyalty to the uniform first. It isn't enough, any more, to be honest officers themselves, it's now time for them to insist that others in their ranks be honest or get out. And if their sergeant doesn't like it, go the newspapers.
Until officers and police forces identify themselves as protectors of the citizenry, we must assume that they are not good people. If they cannot condemn the horrific acts in Fullerton in clear and unequivocal terms, if they cannot demonstrate that your civil rights are more important than 'rousting the objectionables', if they think that they are an exception and exempt from laws that prohibit murder, then we must assume that they are the enemies of law and order no different from a street gang.
I hate to assume guilt and corruption… but it seems that few police are willing or able to show otherwise.
"queers can…"
Timothy Kincaid
December 6th, 2011
Janice Daniels is the newly elected mayor of Troy, Michigan. She's also not exactly the sharpest tool in the shed. Even if the only other tool is a mallet. In fact, Janice is so dense that she thinks she's "a good person."
Daniels – who ran with a motto that surely sent her sixth grade grammar teacher into tears – sought to bring her private industry experience as an associate realtor to Troy so as to protect its limited, constitutional government and the interests of its leaders, We The People. And lest you doubt her "high standard of achievement in communications", she has had her "Guest Opinions" published in the local paper. So there.
And the good people of Troy elected her with 52% of the vote. (I dunno, I don't live there. But was the other smiley white female Republican realtor really a worse choice?)
But Janice has discovered that politicians are held to a higher standard than realtors. Higher, even, than guest opinionizeres. And comments made on Facebook are fair game.
Back in June, before Janice's rise to power, she made a little comment in response to New York's vote for marriage equality.
"I think I am going to throw away my I Love New York carrying bag now that queers can get married there."
And when it was made public this week, the wheels fell off her wagon.
Folks are up in arms that Mayor Janice referred to gay people as "queers". And Janice herself was quick to apologize.
"I may have said something like that," she said. "I probably shouldn't have used that kind of language, but I do believe marriage should be between one man and one woman."
And when local students protested she demanded they "forgive" her.
"I'm a good person, I really am. I said one word that you don't like. One word."
But that particular word selection isn't the issue. Yes it is undoubtedly true that Janice meant the word to be a slur. But calling gay people "queers" isn't the problem.
Had Janice said "Oh my cousin is going to New York to marry her girlfriend. I can't wait to go to my first queer wedding." we'd all be so pleased. And her statement wouldn't have been much better with any other word choice.
And it isn't that Mayor Janice doesn't support equality. She is entitled to "believe marriage should be between one man and one woman." That, in and of itself, is not any indication of hatred or bigotry. Many good people with caring hearts and compassionate spirits have not yet evolved to the point where they see marriage laws in terms of equality.
But words are telling, and this sentence tells us a lot. Janice Daniels didn't post on Facebook that she disagreed with New York's law. Or that she was disappointed. Or that marriage should be defined on her terms. Janice didn't mention the legislature or the law at all.
To Janice the issue isn't over the state's definitions. It's about a certain group of people being allowed to do something. And, let's be real, it's not the "get married" part that has her in a tizzy. It's hard to invest much emotion into weddings which we find objectionable, be it a drunken Vegas stunt, an octogenarian-golddigger match, or a reality show finale.
No, Janice's real objection was that "queers can…"
In fact, Janice so objects to the fact that "queers can.." that she threatened to throw away her carry bag. She so objects to "queers can…" that, for a moment anyway, she no longer loved New York. The state had betrayed her. Not because it now allowed yet another class of marriages of which she didn't approve, but because they voted and now "queers can…"
Janice can declare that she "loves everyone" all day long. But when it comes to discerning poor word selection from heart-felt animus, queers can.