Romney Talks Marriage at Liberty U, With a Shout-Out to Rick Santorum
Jim Burroway
May 12th, 2012
Gov. Mitt Romney gave a shout-out to Sen. Rick Santorum during today's commencement address at the late Jerry Falwell's Liberty University in Lynchburg, VA:
The power of these values is evidenced by a Brookings Institution study that Senator Rick Santorum brought to my attention.  For those who graduate from high school, get a full-time job, and marry before they have their first child, the probability that they will be poor is 2%.  But, if those things are absent, 76% will be poor.  Culture matters.

As fundamental as these principles are, they may become topics of democratic debate.  So it is today with the enduring institution of marriage.  Marriage is a relationship between one man and one woman.
Those were just two of Romney's applause lines today, the second one earning him an standing-O. By the way, when I typed that last sentence, I miss-typed "applause" and my spellcheck suggested changing it to "appease." My iMac may be trying to insert its own commentary into this post, but I think it's not as smart as it thinks it is. Not if the AFA's Bryan Fischer is any indication:
GOP Pollster: Time To Evolve
Jim Burroway
May 12th, 2012
Jan van Lohuizen is a Republican pollster who worked on President George W. Bush's 2004 campaign. He is also the GOP's Daniel reading the writing on the wall when he sent memo out yesterday to Republican operatives with an overview of poll numbers on marriage equality and suggestions on how the GOP should address same-sex marriage if it wants to stay relevant. You can read the entire memo here.
Van Lohuizan notes that through 2009, the uptick in support for same-sex marriage was at a rate of about 1% per year. Beginning in 2010, there was a noticeable elbow in the curve, with support for marriage equality increasing by approximately 5% per year on average. And while that support is greater among Democrats and Independents than Republicans, support is growing in GOP ranks as well, with a majority of registered Republicans supporting a growing list of protections for gays and lesbians.
Van Lohuizan has a come up with a list of talking points which he thinks that Republican candidates ought to adopt if they want to stay relevant, beginning with:
"People who believe in equality under the law as a fundamental principle, as I do, will agree that this principle extends to gay and lesbian couples; gay and lesbian couples should not face discrimination and their relationship should be protected under the law. People who disagree on the fundamental nature of marriage can agree, at the same time, that gays and lesbians should receive essential rights and protections such as hospital visitation, adoption rights, and health and death benefits."
This is somewhat similar to Gov. Mitt Romney's talking points following President Barack Obama's announcement that he supports full marriage equality. The main difference is that Romney reiterates his opposition both to marriage equality and to civil unions which would approximate marriage equality. Van Loguizan's suggested talking points addresses neither. But he does explain to the GOP under the guise of another talking point why the party is going to have to change it's approach to gay people sooner rather than later:
"As more people have become aware of friends and family members who are gay, attitudes have begun to shift at an accelerated pace. This is not about a generational shift in attitudes, this is about people changing their thinking as they recognize their friends and family members who are gay or lesbian."
Meanwhile, Sen. Rick Santorum has some very different advice for Romney. Santorum told an Arknsas television station that Romney needed to "tep up and take advantage of a president who is very much out of touch with the values of America.":
"Hopefully Governor Romney will continue to stand tall for his position on this issue and understand how detrimental it would be for society for it to have this changed," Santorum also told the Arkansas station.

"Governor Romney has to talk about his values," he added. "That's the most important thing."
AFA's Bryan Fischer expands on that advice here.
The Daily Agenda for Saturday, May 12
Jim Burroway
May 12th, 2012
Well, There Were Those Rumors About Perry…
Jim Burroway
May 11th, 2012
An adviser to Mitt Romney's presidential campaign defended the candidate's "kind impulses" on Friday, pointing to his treatment of Texas Gov. Rick Perry during recent GOP debates as proof.
I really hate to use an overworked cliché of saying they just don't get it, but it looks to me that they don't even care what the issue is all about. Except that it somehow looks bad. The problem is they're making it worse:
"The real question here is is Mitt Romney a bully? And the answer is no," (Romney advisor Kerry Healy) said. "Mitt Romney is absolutely, as his other friend from high school said, he doesn't have a vicious bone in his body."
Friend, singular. As opposed to seven who have come forward to talk about the assault.
A "Pack of Dogs"
Jim Burroway
May 10th, 2012
Another eyewitness to Gov. Mitt Romney's scissors assault has come forward:
"It's a haunting memory.  I think it was for everybody that spoke up about it…  because when you see somebody who is simply different taken down that way and is terrified and you see that look in their eye you never forget it.  And that was what we all walked away with," said Phillip Maxwell, who is now an attorney and still considers Romney an old friend.

"I saw it with my own eyes," said Maxwell, of the anecdote first reported by the Washington Post.  Maxwell said Romney held the scissors helping to cut the hair of a student, John Lauber, who was presumed to be gay and who had long hair. "It was a hack job… clumps of hair taken off."

Maxwell said he held the boy's arm and leg, describing he and his friends as a "pack of dogs."

…"When I saw the look on his (Lauber's) face,  it was a look I'll never forget," said Maxwell. "When you see a victim, the sense of trust betrayed in this boy who was perfectly innocent for being different."

"This was bullying supreme," he said.
I gotta say, Romney must have been a real douchebag in high school for so many of his fellow classmates to be so willing to come forward to describe what happened nearly five decades later. These memories are indelible to them, and yet we're supposed to believe that Romney doesn't remember?
As for whether Lauber was assaulted because he was gay:
Maxwell said, "We didn't know that word in  those days… but there were other words that were used. We weren't ignorant, we just didn't use the current names for things."
The shame is not so much that an eighteen-year-old kid in 1965 organized a "pack of dogs" to go after Lauber. There is shame in that, even then, but the shame now is that a 65 year old grown man running for president would laugh it off — and yes, he laughed when he claimed he didn't remember pinning a student down and cutting his hair with scissors.
Former Classmate Says Romney is Lying About Bullying Incident
Jim Burroway
May 10th, 2012
One of Gov. Mitt Romney's closest friend and high school classmate — and who threw the party where Romney met his future wife, Ann — says that Romney's campaign is trying to round up former classmates to defend him against accusations that he bullied a gay student. He's still mulling it over, although he says he wasn't present when the assault took place. Another former classmate and old friend of Romney's throws cold water on Romney's claim he doesn't remember the assault:
One former classmate and old friend of Romney's – who refused to be identified by name – said there are "a lot of guys" who went to Cranbrook who have "really negative memories" of Romney's behavior in the dorms, behavior this classmate describes as "like Lord of the Flies."

The classmate believes Romney is lying when he claims to not remember it.

"It makes these fellows [who have owned up to it] very remorseful.  For [Romney] not to remember it? It doesn't ring true.  How could the fellow with the scissors forget it?" the former classmate said.
The Apology of an Eighteen-Year-Old
A commentary
Jim Burroway
May 10th, 2012
The Washington Post's lengthy profile of Gov. Mitt Romney's years at an exclusive boarding school opened with this explosive revelation:
Mitt Romney returned from a three-week spring break in 1965 to resume his studies as a high school senior at the prestigious Cranbrook School. Back on the handsome campus, studded with Tudor brick buildings and manicured fields, he spotted something he thought did not belong at a school where the boys wore ties and carried briefcases. John Lauber, a soft-spoken new student one year behind Romney, was perpetually teased for his nonconformity and presumed homosexuality. Now he was walking around the all-boys school with bleached-blond hair that draped over one eye, and Romney wasn't having it.

"He can't look like that. That's wrong. Just look at him!" an incensed Romney told Matthew Friedemann, his close friend in the Stevens Hall dorm, according to Friedemann's recollection. Mitt, the teenaged son of Michigan Gov. George Romney, kept complaining about Lauber's look, Friedemann recalled.

A few days later, Friedemann entered Stevens Hall off the school's collegiate quad to find Romney marching out of his own room ahead of a prep school posse shouting about their plan to cut Lauber's hair. Friedemann followed them to a nearby room where they came upon Lauber, tackled him and pinned him to the ground. As Lauber, his eyes filling with tears, screamed for help, Romney repeatedly clipped his hair with a pair of scissors.
Laubner himself was deeply affected. One of the five witnesses to that assault ran into him several years later:
"Hey, you're John Lauber," (David) Seed recalled saying at the start of a brief conversation. Seed, also among those who witnessed the Romney-led incident, had gone on to a career as a teacher and principal. Now he had something to get off his chest.

"I'm sorry that I didn't do more to help in the situation," he said.

Lauber paused, then responded, "It was horrible." He went on to explain how frightened he was during the incident, and acknowledged to Seed, "It's something I have thought about a lot since then."
Lauber died in 2004 of liver cancer.
This revelation opened a huge can of emotional worms for me. But I also had to ask myself how much bearing the actions of someone who was just turning eighteen year old had on a man who today is now sixty-five and running for President? People — a lot of people — do really stupid things when they are in high sch0ol. I don't know about you, but I've done things that I still need to apologize for.
I think we can all understand that. Romney was a first-class douchebag in high school. So are half the boys in high school. It's serious, but what does it say about him now?  His apology today to Fox News' Brian Kilmeade  answered that for me:
Back in high school, I did some dumb things, and if anybody was hurt by that or offended, obviously I apologize for that," Romney said in a live radio interview with Fox News Channel personality Brian Kilmeade. Romney added: "I participated in a lot of hijinks and pranks during high school, and some might have gone too far, and for that I apologize."
Hijinks are what happened on The Patty Duke Show and pranks were the staple of Bewitched. This wasn't just a "dumb thing," unless by "dumb thing" he means assault.  This tells me that he hasn't the slightest clue as to the seriousness of what he did. But what really stuck in my crawl was this:
 "I don't remember that incident," Romney said…
I'm afraid I'm going to have to call bullshit on this. The others clearly remembered it and were haunted by it. And let's be honest. Who wouldn't remember pinning down another kid with bleached blond hair and taking scissors to his hair while the kid cried and screamed for help?  You're going to try to tell me he doesn't remember that?
Of course he does:
"I certainly don't believe that I thought the fellow was homosexual," Romney told Kilmeade. "That was the furthest thing from our minds back in the 1960s."
If he didn't remember the incident, how would he "not believe he thought" — and how's that for densely-packed weasel words? — that Lauber was a homo?
This makes his whole "to whom it may concern" apology not only weak, but embarrassing to the rest of us who have to hear it. This apology doesn't sound like it came from a responsible adult who committed an assault and reflected on it for almost five decades afterward. It sound more like an apology from an eighteen year old kid who was dragged to the headmaster's office after having just been caught leading a sight-impaired teacher into a closed door. And like most apologies from eighteen-year-old kids caught red-handed, it's weaselly and pathetic.
Obama's Running On It
Jim Burroway
May 10th, 2012
It looks like it's not just a one-time interview.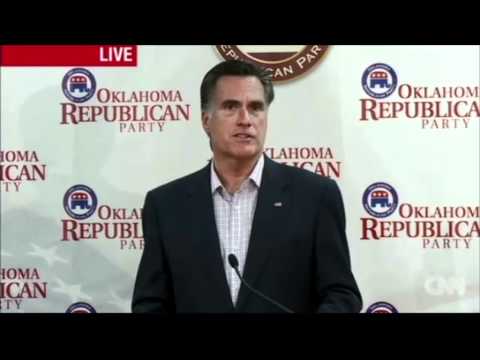 Not Evolved
Jim Burroway
May 9th, 2012
Presumptive Republican presidential nominee Gov. Mitt Romney, during a campaign stop in Colorado, reaffirmed his stance on same-sex marriage:
"Well, when these issues were raised in my state of Massachusetts, I indicated my view, which is I do not favor marriage between people of the same gender, and I do not favor civil unions if they are identical to marriage other than by name," Romney said during a visit to Fort Lupton. "My view is the domestic partnership benefits, hospital visitation rights, and the like are appropriate but that the others are not."
Colorado Republican leaders yesterday tanked more than thirty bills in the House of Representatives in their otherwise successful effort in preventing a civil unions bill from coming to a straight up-or-down vote.
Romney Defends Gay Former Staffer, Barely
Jim Burroway
May 4th, 2012
Gov. Mitt Romney, presumptive Republican presidential nominee, appeared on Fox News this morning to defend Richard Grenell — days after Grenell resigned from Romney's campaign because Romney declined to defend him when he was still part of the campaign. Romney told Fox News:
We select people not based upon their ethnicity or their sexual preference or their gender. But upon their capability. He was a capable individual. We're sorry to have him go and actually a whole series of the senior people on my team and my supporters called him and encouraged him to stay. But he expressed a desire to move on and I wish him the very best.
Romney now is trying to have it both ways: He plays the nice guy who's sorry to see a gay staffer leave, but he also lets himself off the hook over the reasons why that gay staffer left. And of course, Fox News wouldn't dare press him on that. This leaves Bryan Fischer still effectively in charge of Romney's personnel decisions. Romney's done nothing to change that dynamic.
Did Grenell Jump or Was He Pushed?
This post has been updated with more information from the New York Times and Talking Points Memo
Jim Burroway
May 3rd, 2012
Or did he just simply let go?
On April 19 when Gov. Mitt Romney named Richard Grenell, a longtime GOP communications strategist as his national security and foreign policy spokesman, conservative blogger Andrew Sullivan hailed the announcement as "a real outreach to gay Republicans" while Karen Ocamb said is marks "the day Romney pivots to appeal to mainstream voters for the general election."
But if that was a pivot, it ended Tuesday when Grenell resigned from the campaign. His very brief announcement hinted at why he left such a high-profile post in a national presidential campaign: "My ability to speak clearly and forcefully on the issues has been greatly diminished by the hyper-partisan discussion of personal issues that sometimes comes from a presidential campaign."
What "hyper-partisan" discussions was he referring to? At first, some speculated that it may have been related to the initial criticisms from pundits and bloggers over provocative Twitter posts that he made about Rachel Maddow's appearance, Newt Gingrich's wife Calista's appearance, Hillary Clinton's appearance, Michele Obama's accent, and other snarky tweets. But it quickly seemed unlikely that those criticisms led to Grenell's sudden departure. Most of them came from left-of-center and beyond, which Republicans tend to wear as a badge of honor (as many Democrats do with criticism from the right). And besides, by April 22 when Grenell deleted some 800 tweets and took his personal web site offline, those criticisms were already loosing traction. The world quickly moved on to the next outrage.
Well, most of the world anyway. One key component of the restive GOP base didn't. SPLC-certified hate-artist Bryan Fischer of American Family Association called Grenell's appointment "a deliberate poke in the eye" to Christian conservatives, and mounted a campaign for Grenell's removal with a six-point list of demands for Gov. Romney. Family "Research" Council warned that Grenell's support for same-sex marriage would have him lobbying "for foreign policy more in line with the current administration than the last Republican one." National Review's Matthew Franck wrote that Grenell supported marriage equality "with a kind of unhinged devotion that suggests a man with questionable judgment." He even suggested that Grenell's gayness would cause him to turn traitor to the Republican cause and switch teams if Obama were to come out for same-sex marriage.
Those criticisms apparently spooked and paralyzed the Romney campaign. Andrew Sullivan did some "actual reporting from yours truly" and got to the bottom of Grenell's resignation:
It seems clear from sources close to Grenell and reporters on the foreign policy beat that his turning point came last week. He'd been part of organizing a conference call to respond to Vice President Biden's foreign policy speech, now known best for the "big stick" remark. So some reporters were puzzled as to why Grenell, a week into his job as Romney's national security spokesman, was not introduced by name as part of the Romney team at the beginning of the call, and his voice completely absent from the conversation. Some even called and questioned him afterwards as to why he was absent. He wasn't absent. He was simply muzzled. For a job where you are supposed to maintain good relations with reporters, being silenced on a key conference call on your area of expertise is pretty damaging. Especially when you helped set it up.

Sources close to Grenell say that he was specifically told by those high up in the Romney campaign to stay silent on the call, even while he was on it. And this was not the only time he had been instructed to shut up. Their response to the far right fooferaw was simply to go silent, to keep Grenell off-stage and mute, and to wait till the storm passed. But the storm was not likely to pass if no one in the Romney camp was prepared to back Grenell up. Hence his dilemma. The obvious solution was simply to get Grenell out there doling out the neocon red meat — which would have immediately changed the subject and helped dispel base skepticism. Instead the terrified Romneyites shut him up without any actual plan for when he might subsequently be able to do his job. To my mind, it's a mark of his integrity that he decided to quit rather than be put in this absurd situation. And it's a mark of Romney's fundamental weakness within his own party that he could not back his spokesman against the Bryan Fischers and Matthew Francks.
This confirms what the Washington Post learned shortly after Grenell's resignation, when Jennifer Rubin wrote: "The ongoing pressure from social conservatives over his appointment and the reluctance of the Romney campaign to send Grenell out as a spokesman while controversy swirled left Grenell essentially with no job." She later reported that many members of the campaign privately reached out to Grenell over the weekend to try to persuade him from resigning, but they were unsuccessful. She then reiterated the root of the problem: "Despite the controversy in new media and in conservative circles, there was no public statement of support for Grenell by the campaign and no supportive social conservatives were enlisted to calm the waters."
[Update: The New York Times this morning has more. During that foreign policy conference call:
It turned out he was at home in Los Angeles, listening in, but stone silent and seething. A few minutes earlier, a senior Romney aide had delivered an unexpected directive, according to several people involved in the call.

"Ric," said Alex Wong, a policy aide, "the campaign has requested that you not speak on this call." Mr. Wong added, "It's best to lay low for now."

For Mr. Grenell, the message was clear: he had become radioactive.
After interviewing more than a dozen aids and advisers, The Times describes the episode as "halting attempts by the campaign to manage its relationship with the most conservative quarter of the Republican Party."
"It's not that the campaign cared whether Ric Grenell was gay," one Republican adviser said. "They believed this was a nonissue. But they didn't want to confront the religious right."]
This leaves many wondering if there is any room for gay Republicans in visible positions. GOPRoud's Jimmy LaSilva said, "This was an opportunity to send an important message that Mitt Romney wants everybody to get behind him and to support his campaign. They let that opportunity pass." [Update: Go Proud's Christopher Barron added, "It doesn't bode well for the Romney campaign going forward if they couldn't stand up to the most outrageous attacks about him being gay." Fred Karger, who ran against Romney as an openly gay candidate told TPM,
"It's going to be difficult for Romney to take other steps like this. And that's what's really frightening to me. It's just too tough to stand up to these groups because they have a lot of money and power. You've got to be able to do that, that's leadership."]
Sullivan was more direct:
So if all gay Republicans who support marriage equality are banned even from speaking on other topics entirely (like Iran or Afghanistan, where Grenell is a fire-breather), who's left? The answer, I'm afraid, is no one. Grenell was prepared to stay silent on gay issues entirely and do his job. But that wasn't enough. Romney's anti-gay agenda is therefore deeper and more extreme than Bush's.
Meanwhile, AFA's Bryan Fischer is declaring Grenell's resignation a huge win. With continued silence from the Romney camp, this leaves likes of Fischer to operate as the de-facto gatekeepers of acceptable members of the Romney campaign — and perhaps even of a Romney administration.
Grenell quits
Timothy Kincaid
May 1st, 2012
Richard Grenell has resigned from the Romney team, reportedly despite the campaign's efforts to talk him into staying. This undoubtedly pleases those who very much prefer that there be no gay voices in Republican politics.
How to recognize a homophobe
Timothy Kincaid
April 27th, 2012
Here at Box Turtle Bulletin we don't throw around the term "homophobe". People may have positions that differ with mine without holding personal animus and labeling them with a pejorative term pretty much precludes any future efforts to reach them with reason.
For example, many libertarian minded people may oppose non-discrimination policies not out of any personal desire to discriminate, but out of the desire to be free to do so without their government coming in and telling them that some hiring decisions are unacceptable. They might laugh at those who eliminate a qualified candidate due to race or orientation and figure that such decisions will hurt their business.
Others may seriously believe that marriage equality is a detriment to society, or are – at least presently – not yet ready to go as far as marriage. Yes, sometimes those objections are based in undue deference to tradition or to fear or even to prejudice, but that does not make them homophobes. For example, New Jersey Governor Christie opposes marriage equality, but still publicly advocates for civil unions and has no hesitation about socializing with gay people or appointing them to the supreme court. And I doubt anyone would describe President Obama as a homophobe.
But homophobes do exist. (And for the fools who say "homophobe means afraid of homosexuals and I'm not afraid of no pansies", no, that isn't what 'homophobe' means, you homophobe). And sometimes a situation arises that allows you to identify those who base their policies on principle and those who act out of animus.
Such a situation has arisen.
Republican presidential candidate Mitt Romney has selected Richard Grenell as his foreign policy spokesman. Grenell is gay and, as seems to be the case with virtually every gay person from the most liberal to what some call "sell-out quislings" (i.e. all gay people registered Republican), Grenell believes that gay citizens are entitled to the same rights and recognitions to marriage as heterosexual citizens.
To most Americans – hell, to most Republicans – this is not exactly worth noting. Republicans claim to support meritocracy and hire those who are best qualified without regard to race, religion, and sexual orientation – and most probably do (or, at least, have convinced themselves that they do). So for Romney to select Grenell, who served as Director of Communications and Public Diplomacy for the United States Permanent Representative to the United Nations under George W. Bush, is hardly an eyebrow raiser.
(And to be honest – okay, to be cynical – Romney's opposition to marriage equality is probably as firmly committed as his opposition to mandated health care or any other position he happens to be espousing today. He seems to share with our current president – and most of our past ones – a strong devotion to whichever way the wind is blowing.)
But for some, hiring a gay man is unacceptable. Those folks are called homophobes.
Now 20 years ago homophobes would have railed about the homoSEEEXshulls infiltrating positions of power and proudly announced that they would have nothing to do with no perverts. Today that doesn't sell well. So instead they come up with criteria that precludes hiring gay people and rant about that instead. It's not their orientation that we object to, it's their liberal anti-american position on fill in the blank.
For example, Matthew J. Franck – Director of the William E. and Carol G. Simon Center on Religion and the Constitution at the Witherspoon Institute – ranted in National Review.
Grenell has made a particular crusade of the marriage issue, with a kind of unhinged devotion that suggests a man with questionable judgment. And when the Obama State Department is already moving to elevate the gay-rights agenda to a higher plane than religious freedom in the foreign policy of the United States, it is reasonable to wonder whether Grenell, after taking such a prominent place in the Romney campaign's foreign-policy shop, would be in line for an influential State posting where he could pursue his passion for that same agenda.
You see, it's not him being gay or even supporting equality, it's his unhinged devotion.
(To his credit, National Review columnist Kevin D. Williamson snarked all over Franck's head: "…surely to preemptively attack an aide to Mitt Romney because he disagrees with you on a single issue — an issue that is not a very large part of the foreign-policy portfolio, one that ought to be about No. 13,479 on our national to-worry-about list — might to the uncharitable eye appear to be something like "unhinged devotion," and in any case those of us who work at think tanks or journals of opinion might want to be a bit circumspect when arguing that a man should be distrusted because his devotion to a cause is too zealous.")
Such a nice easy example: Matthew J. Franck is a homophobe.
He's not alone, of course. Plenty of others, like American Family Association's Bryan Fischer (who I really do believe is mentally ill) joined the fray. And, of course, there are haters of the other brand (Republiphobes?) who hate (yes, that is the accurate term) Grenell for his party affiliation (I suppose they absurdly believe that we are better served by having no gay people advise or have positions of power in Republican administrations – but we'll save that for another time.)
For today, we'll just note that Franck stands out as an excellent illustration on how to recognize a homophobe.
Are We There Yet?
Jim Burroway
April 3rd, 2012
I think this tweet from Andy Borowitz sums it up nicely:
Gov. Mitt Romney handily won all three Republican primaries this evening, including in Wisconsin, where Sen. Rick Santorum stood the best chance of pulling out a victory. The exit polls tell a familiar story: Santorum generally does better with the blue collar workers, rural voters, evangelicals, and those who believe that the most important quality in a candidate is being a "true conservative" and having a "strong moral character." Everyone else, including those who just want the whole damn thing to be over already, went for Romney. One interesting item for pundits to ponder: in the Wisconsin exit poll, Santorum took the lion's share of the vote among those who disapprove of Scott Walker as governor, who faces a recall election. Unfortunately for Santorum, they only made up 21% of the GOP primary voters.
| | DC | MD | WI |
| --- | --- | --- | --- |
| Romney | 70% | 49% | 42% |
| Santorum | — | 29% | 38% |
| Paul | 12% | 10% | 12% |
| Gingrich | 11% | 11% | 6% |
Santorum was not on the D.C. ballot.
Meanwhile, a New York Times editorial today deplored the National Organization for Marriage's "divide and discriminate" strategy, noting the document dump which revealed NOM's secret strategy to drive wedges between African-Americans and gays, and between Latinos and gays. The Times went on:
Mitt Romney, Rick Santorum and Newt Gingrich have publicly aligned themselves with the group and signed its pledge to work aggressively from the White House against same-sex marriage.

Now that the group's poisonous political approach is out in the open, Mr. Romney and the others should be racing to make clear their disapproval.

We detect no stampede.
Mitt Romney's $10,000 Bet With NOM
Jim Burroway
April 2nd, 2012
Last week, we were astonished to read the document dump that revealed the National Organization for Marriage's race-baiting strategy to drive a wedge between African-Americans and Latinos against fellow members of their respective communities which happen to be LGBT, as well as their strategy to drive wedges within LGBT families. Of course, we're not astonished at the existence of the strategies themselves, but the casual ease with which they could be set to paper with nary a qualm.
It's ironic that the only reason those documents were made public is because NOM decided to flout Maine's campaign finance laws. NOM has refused to disclose their donors as required under Maine law. But it has now surfaced that in 2008 during the height of California's Prop 8 campaign, former Massachusetts governor and current GOP presidential frontrunner Mitt Romney donated $10,000 to NOM. And more recently, Romney signed NOM's five-point pledge at the start of the GOP race for the presidential nomination. Now that Romney looks like he is in the best position to take that nomination in August, it's time he clarified whether he agrees with NOM's race-baiting and family-dividing strategy.  And he needs to do it now, because there's no way that stain will disappear just by shaking an Etch-A-Sketch come summertime.