Former Classmate Says Romney is Lying About Bullying Incident
Jim Burroway
May 10th, 2012
One of Gov. Mitt Romney's closest friend and high school classmate — and who threw the party where Romney met his future wife, Ann — says that Romney's campaign is trying to round up former classmates to defend him against accusations that he bullied a gay student. He's still mulling it over, although he says he wasn't present when the assault took place. Another former classmate and old friend of Romney's throws cold water on Romney's claim he doesn't remember the assault:
One former classmate and old friend of Romney's – who refused to be identified by name – said there are "a lot of guys" who went to Cranbrook who have "really negative memories" of Romney's behavior in the dorms, behavior this classmate describes as "like Lord of the Flies."

The classmate believes Romney is lying when he claims to not remember it.

"It makes these fellows [who have owned up to it] very remorseful.  For [Romney] not to remember it? It doesn't ring true.  How could the fellow with the scissors forget it?" the former classmate said.
The Apology of an Eighteen-Year-Old
A commentary
Jim Burroway
May 10th, 2012
The Washington Post's lengthy profile of Gov. Mitt Romney's years at an exclusive boarding school opened with this explosive revelation:
Mitt Romney returned from a three-week spring break in 1965 to resume his studies as a high school senior at the prestigious Cranbrook School. Back on the handsome campus, studded with Tudor brick buildings and manicured fields, he spotted something he thought did not belong at a school where the boys wore ties and carried briefcases. John Lauber, a soft-spoken new student one year behind Romney, was perpetually teased for his nonconformity and presumed homosexuality. Now he was walking around the all-boys school with bleached-blond hair that draped over one eye, and Romney wasn't having it.

"He can't look like that. That's wrong. Just look at him!" an incensed Romney told Matthew Friedemann, his close friend in the Stevens Hall dorm, according to Friedemann's recollection. Mitt, the teenaged son of Michigan Gov. George Romney, kept complaining about Lauber's look, Friedemann recalled.

A few days later, Friedemann entered Stevens Hall off the school's collegiate quad to find Romney marching out of his own room ahead of a prep school posse shouting about their plan to cut Lauber's hair. Friedemann followed them to a nearby room where they came upon Lauber, tackled him and pinned him to the ground. As Lauber, his eyes filling with tears, screamed for help, Romney repeatedly clipped his hair with a pair of scissors.
Laubner himself was deeply affected. One of the five witnesses to that assault ran into him several years later:
"Hey, you're John Lauber," (David) Seed recalled saying at the start of a brief conversation. Seed, also among those who witnessed the Romney-led incident, had gone on to a career as a teacher and principal. Now he had something to get off his chest.

"I'm sorry that I didn't do more to help in the situation," he said.

Lauber paused, then responded, "It was horrible." He went on to explain how frightened he was during the incident, and acknowledged to Seed, "It's something I have thought about a lot since then."
Lauber died in 2004 of liver cancer.
This revelation opened a huge can of emotional worms for me. But I also had to ask myself how much bearing the actions of someone who was just turning eighteen year old had on a man who today is now sixty-five and running for President? People — a lot of people – do really stupid things when they are in high sch0ol. I don't know about you, but I've done things that I still need to apologize for.
I think we can all understand that. Romney was a first-class douchebag in high school. So are half the boys in high school. It's serious, but what does it say about him now?  His apology today to Fox News' Brian Kilmeade  answered that for me:
Back in high school, I did some dumb things, and if anybody was hurt by that or offended, obviously I apologize for that," Romney said in a live radio interview with Fox News Channel personality Brian Kilmeade. Romney added: "I participated in a lot of hijinks and pranks during high school, and some might have gone too far, and for that I apologize."
Hijinks are what happened on The Patty Duke Show and pranks were the staple of Bewitched. This wasn't just a "dumb thing," unless by "dumb thing" he means assault.  This tells me that he hasn't the slightest clue as to the seriousness of what he did. But what really stuck in my crawl was this:
 "I don't remember that incident," Romney said…
I'm afraid I'm going to have to call bullshit on this. The others clearly remembered it and were haunted by it. And let's be honest. Who wouldn't remember pinning down another kid with bleached blond hair and taking scissors to his hair while the kid cried and screamed for help?  You're going to try to tell me he doesn't remember that?
Of course he does:
"I certainly don't believe that I thought the fellow was homosexual," Romney told Kilmeade. "That was the furthest thing from our minds back in the 1960s."
If he didn't remember the incident, how would he "not believe he thought" — and how's that for densely-packed weasel words? — that Lauber was a homo?
This makes his whole "to whom it may concern" apology not only weak, but embarrassing to the rest of us who have to hear it. This apology doesn't sound like it came from a responsible adult who committed an assault and reflected on it for almost five decades afterward. It sound more like an apology from an eighteen year old kid who was dragged to the headmaster's office after having just been caught leading a sight-impaired teacher into a closed door. And like most apologies from eighteen-year-old kids caught red-handed, it's weaselly and pathetic.
Obama's Running On It
Jim Burroway
May 10th, 2012
It looks like it's not just a one-time interview.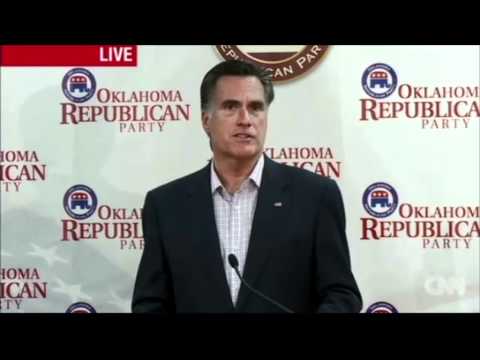 Not Evolved
Jim Burroway
May 9th, 2012
Presumptive Republican presidential nominee Gov. Mitt Romney, during a campaign stop in Colorado, reaffirmed his stance on same-sex marriage:
"Well, when these issues were raised in my state of Massachusetts, I indicated my view, which is I do not favor marriage between people of the same gender, and I do not favor civil unions if they are identical to marriage other than by name," Romney said during a visit to Fort Lupton. "My view is the domestic partnership benefits, hospital visitation rights, and the like are appropriate but that the others are not."
Colorado Republican leaders yesterday tanked more than thirty bills in the House of Representatives in their otherwise successful effort in preventing a civil unions bill from coming to a straight up-or-down vote.
Romney Defends Gay Former Staffer, Barely
Jim Burroway
May 4th, 2012
Gov. Mitt Romney, presumptive Republican presidential nominee, appeared on Fox News this morning to defend Richard Grenell — days after Grenell resigned from Romney's campaign because Romney declined to defend him when he was still part of the campaign. Romney told Fox News:
We select people not based upon their ethnicity or their sexual preference or their gender. But upon their capability. He was a capable individual. We're sorry to have him go and actually a whole series of the senior people on my team and my supporters called him and encouraged him to stay. But he expressed a desire to move on and I wish him the very best.
Romney now is trying to have it both ways: He plays the nice guy who's sorry to see a gay staffer leave, but he also lets himself off the hook over the reasons why that gay staffer left. And of course, Fox News wouldn't dare press him on that. This leaves Bryan Fischer still effectively in charge of Romney's personnel decisions. Romney's done nothing to change that dynamic.
Did Grenell Jump or Was He Pushed?
This post has been updated with more information from the New York Times and Talking Points Memo
Jim Burroway
May 3rd, 2012
Or did he just simply let go?
On April 19 when Gov. Mitt Romney named Richard Grenell, a longtime GOP communications strategist as his national security and foreign policy spokesman, conservative blogger Andrew Sullivan hailed the announcement as "a real outreach to gay Republicans" while Karen Ocamb said is marks "the day Romney pivots to appeal to mainstream voters for the general election."
But if that was a pivot, it ended Tuesday when Grenell resigned from the campaign. His very brief announcement hinted at why he left such a high-profile post in a national presidential campaign: "My ability to speak clearly and forcefully on the issues has been greatly diminished by the hyper-partisan discussion of personal issues that sometimes comes from a presidential campaign."
What "hyper-partisan" discussions was he referring to? At first, some speculated that it may have been related to the initial criticisms from pundits and bloggers over provocative Twitter posts that he made about Rachel Maddow's appearance, Newt Gingrich's wife Calista's appearance, Hillary Clinton's appearance, Michele Obama's accent, and other snarky tweets. But it quickly seemed unlikely that those criticisms led to Grenell's sudden departure. Most of them came from left-of-center and beyond, which Republicans tend to wear as a badge of honor (as many Democrats do with criticism from the right). And besides, by April 22 when Grenell deleted some 800 tweets and took his personal web site offline, those criticisms were already loosing traction. The world quickly moved on to the next outrage.
Well, most of the world anyway. One key component of the restive GOP base didn't. SPLC-certified hate-artist Bryan Fischer of American Family Association called Grenell's appointment "a deliberate poke in the eye" to Christian conservatives, and mounted a campaign for Grenell's removal with a six-point list of demands for Gov. Romney. Family "Research" Council warned that Grenell's support for same-sex marriage would have him lobbying "for foreign policy more in line with the current administration than the last Republican one." National Review's Matthew Franck wrote that Grenell supported marriage equality "with a kind of unhinged devotion that suggests a man with questionable judgment." He even suggested that Grenell's gayness would cause him to turn traitor to the Republican cause and switch teams if Obama were to come out for same-sex marriage.
Those criticisms apparently spooked and paralyzed the Romney campaign. Andrew Sullivan did some "actual reporting from yours truly" and got to the bottom of Grenell's resignation:
It seems clear from sources close to Grenell and reporters on the foreign policy beat that his turning point came last week. He'd been part of organizing a conference call to respond to Vice President Biden's foreign policy speech, now known best for the "big stick" remark. So some reporters were puzzled as to why Grenell, a week into his job as Romney's national security spokesman, was not introduced by name as part of the Romney team at the beginning of the call, and his voice completely absent from the conversation. Some even called and questioned him afterwards as to why he was absent. He wasn't absent. He was simply muzzled. For a job where you are supposed to maintain good relations with reporters, being silenced on a key conference call on your area of expertise is pretty damaging. Especially when you helped set it up.

Sources close to Grenell say that he was specifically told by those high up in the Romney campaign to stay silent on the call, even while he was on it. And this was not the only time he had been instructed to shut up. Their response to the far right fooferaw was simply to go silent, to keep Grenell off-stage and mute, and to wait till the storm passed. But the storm was not likely to pass if no one in the Romney camp was prepared to back Grenell up. Hence his dilemma. The obvious solution was simply to get Grenell out there doling out the neocon red meat — which would have immediately changed the subject and helped dispel base skepticism. Instead the terrified Romneyites shut him up without any actual plan for when he might subsequently be able to do his job. To my mind, it's a mark of his integrity that he decided to quit rather than be put in this absurd situation. And it's a mark of Romney's fundamental weakness within his own party that he could not back his spokesman against the Bryan Fischers and Matthew Francks.
This confirms what the Washington Post learned shortly after Grenell's resignation, when Jennifer Rubin wrote: "The ongoing pressure from social conservatives over his appointment and the reluctance of the Romney campaign to send Grenell out as a spokesman while controversy swirled left Grenell essentially with no job." She later reported that many members of the campaign privately reached out to Grenell over the weekend to try to persuade him from resigning, but they were unsuccessful. She then reiterated the root of the problem: "Despite the controversy in new media and in conservative circles, there was no public statement of support for Grenell by the campaign and no supportive social conservatives were enlisted to calm the waters."
[Update: The New York Times this morning has more. During that foreign policy conference call:
It turned out he was at home in Los Angeles, listening in, but stone silent and seething. A few minutes earlier, a senior Romney aide had delivered an unexpected directive, according to several people involved in the call.

"Ric," said Alex Wong, a policy aide, "the campaign has requested that you not speak on this call." Mr. Wong added, "It's best to lay low for now."

For Mr. Grenell, the message was clear: he had become radioactive.
After interviewing more than a dozen aids and advisers, The Times describes the episode as "halting attempts by the campaign to manage its relationship with the most conservative quarter of the Republican Party."
"It's not that the campaign cared whether Ric Grenell was gay," one Republican adviser said. "They believed this was a nonissue. But they didn't want to confront the religious right."]
This leaves many wondering if there is any room for gay Republicans in visible positions. GOPRoud's Jimmy LaSilva said, "This was an opportunity to send an important message that Mitt Romney wants everybody to get behind him and to support his campaign. They let that opportunity pass." [Update: Go Proud's Christopher Barron added, "It doesn't bode well for the Romney campaign going forward if they couldn't stand up to the most outrageous attacks about him being gay." Fred Karger, who ran against Romney as an openly gay candidate told TPM,
"It's going to be difficult for Romney to take other steps like this. And that's what's really frightening to me. It's just too tough to stand up to these groups because they have a lot of money and power. You've got to be able to do that, that's leadership."]
Sullivan was more direct:
So if all gay Republicans who support marriage equality are banned even from speaking on other topics entirely (like Iran or Afghanistan, where Grenell is a fire-breather), who's left? The answer, I'm afraid, is no one. Grenell was prepared to stay silent on gay issues entirely and do his job. But that wasn't enough. Romney's anti-gay agenda is therefore deeper and more extreme than Bush's.
Meanwhile, AFA's Bryan Fischer is declaring Grenell's resignation a huge win. With continued silence from the Romney camp, this leaves likes of Fischer to operate as the de-facto gatekeepers of acceptable members of the Romney campaign — and perhaps even of a Romney administration.
Grenell quits
Timothy Kincaid
May 1st, 2012
Richard Grenell has resigned from the Romney team, reportedly despite the campaign's efforts to talk him into staying. This undoubtedly pleases those who very much prefer that there be no gay voices in Republican politics.
How to recognize a homophobe
Timothy Kincaid
April 27th, 2012
Here at Box Turtle Bulletin we don't throw around the term "homophobe". People may have positions that differ with mine without holding personal animus and labeling them with a pejorative term pretty much precludes any future efforts to reach them with reason.
For example, many libertarian minded people may oppose non-discrimination policies not out of any personal desire to discriminate, but out of the desire to be free to do so without their government coming in and telling them that some hiring decisions are unacceptable. They might laugh at those who eliminate a qualified candidate due to race or orientation and figure that such decisions will hurt their business.
Others may seriously believe that marriage equality is a detriment to society, or are – at least presently – not yet ready to go as far as marriage. Yes, sometimes those objections are based in undue deference to tradition or to fear or even to prejudice, but that does not make them homophobes. For example, New Jersey Governor Christie opposes marriage equality, but still publicly advocates for civil unions and has no hesitation about socializing with gay people or appointing them to the supreme court. And I doubt anyone would describe President Obama as a homophobe.
But homophobes do exist. (And for the fools who say "homophobe means afraid of homosexuals and I'm not afraid of no pansies", no, that isn't what 'homophobe' means, you homophobe). And sometimes a situation arises that allows you to identify those who base their policies on principle and those who act out of animus.
Such a situation has arisen.
Republican presidential candidate Mitt Romney has selected Richard Grenell as his foreign policy spokesman. Grenell is gay and, as seems to be the case with virtually every gay person from the most liberal to what some call "sell-out quislings" (i.e. all gay people registered Republican), Grenell believes that gay citizens are entitled to the same rights and recognitions to marriage as heterosexual citizens.
To most Americans – hell, to most Republicans – this is not exactly worth noting. Republicans claim to support meritocracy and hire those who are best qualified without regard to race, religion, and sexual orientation – and most probably do (or, at least, have convinced themselves that they do). So for Romney to select Grenell, who served as Director of Communications and Public Diplomacy for the United States Permanent Representative to the United Nations under George W. Bush, is hardly an eyebrow raiser.
(And to be honest – okay, to be cynical – Romney's opposition to marriage equality is probably as firmly committed as his opposition to mandated health care or any other position he happens to be espousing today. He seems to share with our current president – and most of our past ones – a strong devotion to whichever way the wind is blowing.)
But for some, hiring a gay man is unacceptable. Those folks are called homophobes.
Now 20 years ago homophobes would have railed about the homoSEEEXshulls infiltrating positions of power and proudly announced that they would have nothing to do with no perverts. Today that doesn't sell well. So instead they come up with criteria that precludes hiring gay people and rant about that instead. It's not their orientation that we object to, it's their liberal anti-american position on fill in the blank.
For example, Matthew J. Franck – Director of the William E. and Carol G. Simon Center on Religion and the Constitution at the Witherspoon Institute – ranted in National Review.
Grenell has made a particular crusade of the marriage issue, with a kind of unhinged devotion that suggests a man with questionable judgment. And when the Obama State Department is already moving to elevate the gay-rights agenda to a higher plane than religious freedom in the foreign policy of the United States, it is reasonable to wonder whether Grenell, after taking such a prominent place in the Romney campaign's foreign-policy shop, would be in line for an influential State posting where he could pursue his passion for that same agenda.
You see, it's not him being gay or even supporting equality, it's his unhinged devotion.
(To his credit, National Review columnist Kevin D. Williamson snarked all over Franck's head: "…surely to preemptively attack an aide to Mitt Romney because he disagrees with you on a single issue — an issue that is not a very large part of the foreign-policy portfolio, one that ought to be about No. 13,479 on our national to-worry-about list — might to the uncharitable eye appear to be something like "unhinged devotion," and in any case those of us who work at think tanks or journals of opinion might want to be a bit circumspect when arguing that a man should be distrusted because his devotion to a cause is too zealous.")
Such a nice easy example: Matthew J. Franck is a homophobe.
He's not alone, of course. Plenty of others, like American Family Association's Bryan Fischer (who I really do believe is mentally ill) joined the fray. And, of course, there are haters of the other brand (Republiphobes?) who hate (yes, that is the accurate term) Grenell for his party affiliation (I suppose they absurdly believe that we are better served by having no gay people advise or have positions of power in Republican administrations – but we'll save that for another time.)
For today, we'll just note that Franck stands out as an excellent illustration on how to recognize a homophobe.
Are We There Yet?
Jim Burroway
April 3rd, 2012
I think this tweet from Andy Borowitz sums it up nicely:
Gov. Mitt Romney handily won all three Republican primaries this evening, including in Wisconsin, where Sen. Rick Santorum stood the best chance of pulling out a victory. The exit polls tell a familiar story: Santorum generally does better with the blue collar workers, rural voters, evangelicals, and those who believe that the most important quality in a candidate is being a "true conservative" and having a "strong moral character." Everyone else, including those who just want the whole damn thing to be over already, went for Romney. One interesting item for pundits to ponder: in the Wisconsin exit poll, Santorum took the lion's share of the vote among those who disapprove of Scott Walker as governor, who faces a recall election. Unfortunately for Santorum, they only made up 21% of the GOP primary voters.
| | DC | MD | WI |
| --- | --- | --- | --- |
| Romney | 70% | 49% | 42% |
| Santorum | – | 29% | 38% |
| Paul | 12% | 10% | 12% |
| Gingrich | 11% | 11% | 6% |
Santorum was not on the D.C. ballot.
Meanwhile, a New York Times editorial today deplored the National Organization for Marriage's "divide and discriminate" strategy, noting the document dump which revealed NOM's secret strategy to drive wedges between African-Americans and gays, and between Latinos and gays. The Times went on:
Mitt Romney, Rick Santorum and Newt Gingrich have publicly aligned themselves with the group and signed its pledge to work aggressively from the White House against same-sex marriage.

Now that the group's poisonous political approach is out in the open, Mr. Romney and the others should be racing to make clear their disapproval.

We detect no stampede.
Mitt Romney's $10,000 Bet With NOM
Jim Burroway
April 2nd, 2012
Last week, we were astonished to read the document dump that revealed the National Organization for Marriage's race-baiting strategy to drive a wedge between African-Americans and Latinos against fellow members of their respective communities which happen to be LGBT, as well as their strategy to drive wedges within LGBT families. Of course, we're not astonished at the existence of the strategies themselves, but the casual ease with which they could be set to paper with nary a qualm.
It's ironic that the only reason those documents were made public is because NOM decided to flout Maine's campaign finance laws. NOM has refused to disclose their donors as required under Maine law. But it has now surfaced that in 2008 during the height of California's Prop 8 campaign, former Massachusetts governor and current GOP presidential frontrunner Mitt Romney donated $10,000 to NOM. And more recently, Romney signed NOM's five-point pledge at the start of the GOP race for the presidential nomination. Now that Romney looks like he is in the best position to take that nomination in August, it's time he clarified whether he agrees with NOM's race-baiting and family-dividing strategy.  And he needs to do it now, because there's no way that stain will disappear just by shaking an Etch-A-Sketch come summertime.
Romney Wins It, Chicago Style
Jim Burroway
March 21st, 2012
One of the most consistent trends in the GOP primaries has been Romney's strength in urban areas. That matters in Illinois, where Chicago and its greater suburbs (the Illinois portion, at least) make up almost 9 million of Illinois' 12.8 million statewide. This wasn't an Illinois primary so much as it was a Chicago primary. In addition, there are another 1.5 million urban-and-suburbanites in Peoria, Champaign-Urbana, Springfield, and the the eastern metro area of St. Louis. With those kind of demographics, should come as no surprise that Romney did very well. Santorum dominated the rural areas, but when that is less than a fifth of the state's population, that's not much to draw on. This chart and map from CNN tells the story:
| | IL |
| --- | --- |
| Romney | 47% |
| Santorum | 35% |
| Gingrich | 9% |
| Paul | 8% |
The exit polls also tell a story. First of all, 98% of the GOP electorate is white?
Okay. Delving deeper, Santorum continues to hold the blue-collar vote, winning among those who have no college education. Unfortunately for hom, they were only 16% of the GOP electorate. He also pulled in the votes from those earning less than $30,000 (only 10% of the GOP electorate). And he wins among those who are "very conservative" and who identify as white born-again Evangelicals, and again he lost among Catholics, including those who attend Mass weekly. And in heavily urban Illinois, all of those factors add up to a convincing win for Romney.
So it's Romney's night to celebrate, right? Well, okay, but he still needs to worry that his support is weak. Of the 42% of GOP voters who "have reservations" about their candidate, 54% of them ended up supporting Romney anyway. Another dark cloud: Voters in this exit poll were asked whether they prefer their candidate ultimately wins or the primary ends soon. Of the 66% who want their candidate to win no matter how long it takes, it was very nearly an easy split between Romney and Santorum, with a slight tilt to Romney. But of the 31% who just want it over now, 54% were Romney voters. In other words, those who want this over aren't getting their wish.
Third, Y'all
Jim Burroway
March 14th, 2012
My favorite headline of the day came from the Associated Press yesterday morning: "Voting in Alabama, Mississippi could clarify race." As if. If anything's clear, it's that Republican voters don't want anybody to win the nomination, and it looks like they just might get their way.
| | AL | MS | HI |
| --- | --- | --- | --- |
| Santorum | 35% | 33% | 25% |
| Gingrich | 29% | 31% | 11% |
| Romney | 29% | 30% | 45% |
| Paul | 5% | 4% | 18% |
The man with the money, the candidate with not only every issued covered but every position for each issue, the establishment's favorite who who came in second in the race for the 2008 nomination and is therefore "next" — that's who came in third in Alabama and Mississippi. Third! That's, you know, after second. Ronmey managed to pull in a first place showing in the Hawaii caucuses, and he also captured all nine delegates in the American Samoan caucuses.
In this race, every delegate counts. The delegate count, which is always an approximation, looks like this according to CNN.
| | Delegates |
| --- | --- |
| Romney | 489 |
| Santorum | 234 |
| Gingrich | 139 |
| Paul | 66 |
A total of 1,144 delegates are needed to win the nomination. It's hard to see Romney getting there before the convention. According to the CNN count, there are still 1,356 delegates, including superdelegates, up for grabs. Romney needs to win 48% of all the remaining delegates to capture the nomination. The next big prize is Illinois, which if Michigan and Ohio are any indication, means that Romney will probably split that state. Whether its enough to make up for the loss he's likely to receive in Louisiana and the Missouri caucuses, it's hard to say. April will be kinder to Romney, with Deleware, Maryland, D.C., New York, Connecticut, and Rhode Island coming up, but Santorum is likely to win Pennsylvania. Wisconsin may end up a tie like Ohio. But the primaries go south, literally, in May, with contests in Nebraska, Arkansas, Kentucky, West Virginia, North Carolina, and Texas. That will be rough territory for Romney.
The only way he can win is for the superdelegates to step in and throw their weight behind Romney. That is a very real possibility. Romney's picked up some powerful endorsements in the party, but those endorsement's haven't meant much when it comes to votes. Santorum  or Gingrich won despite major establishment endorsements for Romney in Tennessee (Gov. Bill Haslam), Oklahoma (Sen. Tom Coburn), South Carolina (Gov. Nikki Haley), Minnesota (former Gov. Tim Pawlenty) and Kansas (former Sen. Bob Dole)
But as hard is it will be for Romney to wrap up the nomination, it'll be even harder for anyone else to catch up and surpass him. If Gingrich's ego were to somehow deflate like a popped balloon and all of his delegates went to Santorum, he'd only increase his haul to 373. (And there's no way Paul's giving up his delegates.) In the unlikely event that happens, Santorum would still have to pick up 57% of the delegates outstanding. Without it, he needs to win 67% of those remaining. Gingrich needs to pick up 74% and Paul needs 79%. So it means that when the Republicans hit Tampa this summer, there will still probably be a lot of horse trading going on.
Battered and Bruised
Jim Burroway
March 7th, 2012
Romney hangs in there again like a punch-drunk fighter staggering toward the finish of the sixth round (ooh look at me, I'm using a sports metaphor), picking up wins in six of the states up for grabs yesterday including a very hotly contested Ohio, where Santorum very nearly pulled off an upset. Romney did best in his home state of Massachusetts, and he did well in neighboring Vermont. He also did very well in the Idaho caucuses, where 23% of spudsters are fellow Mormons. There were no exit polls in Idaho, but in Arizona where Mormons made up 14% of the vote, they broke 96-4 for Romney on Feb 28.
Romney also did very well where he had very little actual competitors (Virginia, where Santorum and Gingrich weren't on the ballot). Which is to say that he has done very well where he had the home field advantage (as did Gingrich) or where his most potent opponent was missing. Or Alaska.
| | AK | GA | ID | MA | ND |
| --- | --- | --- | --- | --- | --- |
| Romney | 32% | 26% | 62% | 72% | 24% |
| Santorum | 29% | 20% | 18% | 12% | 40% |
| Gingrich | 24% | 47% | 2% | 5% | 8% |
| Paul | 14% | 6% | 18% | 10% | 28% |
| | OH | OK | TN | VT | VA |
| --- | --- | --- | --- | --- | --- |
| Romney | 38% | 28% | 28% | 40% | 60% |
| Santorum | 37% | 34% | 37% | 24% | – |
| Gingrich | 15% | 27% | 24% | 8% | – |
| Paul | 9% | 10% | 9% | 25% | 40% |
Which goes to day that Romney is still having trouble closing the deal with Santorum racking up rack up wins in the more conservative middle bits of the continent. In Oklahoma, Santorum's first place finish came in spite of Sen. Tom Coburn's endorsement of Romney, while Romney actually came in third in North Dakota and just barely avoided that same fate in Oklahoma. And in Ohio, where Romney poured massive amounts of dollars into the race, he only managed to pull out a 1% win over Santorum in the bellwether state. But even there, he he lost among Evangelical, blue collar and rural voters, but won among those who were 50 and older.
But here's the stat I find most telling: When Ohio voters were asked whether they'd support Romney in the general election regardless of who they voted for in the primary, 36% said they would not be satisfied with a Romney candidacy, versus 33% who said they'd reject a Santorum candidacy. In other words, Ohio Republicans are less willing to settle for Romney than Santorum.
| | Delegates |
| --- | --- |
| Romney | 404 |
| Santorum | 165 |
| Gingrich | 106 |
| Paul | 66 |
But this is a race for delegates, not popular votes. And whatever weaknesses that exist in Romney's popular support within the GOP, he's still by far the frontrunner in the delegate race according to CNN's count, with more delegates than his opponents combined. But at only about half way through the primaries, Romney's still a long way from the 1,144 needed to secure the nomination. Kansas, US Virgin Islands and Guam hold caucuses next week, followed by primaries in Alabama, Mississippi and Hawaii the week after that. Which means that for Romney, the long slog continues. But for the other candidates in the field, the slog is even longer.
The idea behind Super Tuesday was to bring the nomination process into clearer focus. The only thing made clear yesterday is that GOP voters would still prefer another candidates. But that's not the choice available to them. Which means that Romney will almost certainly be the nominee when all is said and done, but what is said and done before then will continue to be the story. As Ezra Klein at the Washington Post put it, "For three guys who profess to not like the media very much, Mitt Romney, Rick Santorum, and Newt Gingrich are really making all our dreams of a long, unpredictable primary come true."
Rick Rolls Romney
Jim Burroway
February 8th, 2012
It was a huge night for Sen. Rick Santorum, whose triple-play win last night seems to show that Republican primary voters and caucus voters are still looking for that anybody-but-Mitt candidate. And it was that dissatisfaction with the presumptive nominee that allowed Santorum to dominate the field like a man on a dog.
In Missouri's primary, Santorum captured his biggest win with 55% of the vote, more than twice as much as Gov. Mitt Romney's 25% showing. Rep. Ron Paul came in at 12%, and 4% selected "uncommitted," which can be read either as a Newt Gingrich vote (Gingrich failed to qualify for Missouri's ballot) or as "none of the above." Santorum scored a total shutout in Missouri, winning every single county in the state.
Missouri's primary election is an oddity. There are no delegates up for grabs. In fact, the voting there is largely meaningless because the delegates won't be selected until the state party convention on April 21, and there is no relationship between last nights votes and how the party's state delegates are ultimately chosen. Missouri GOP leaders are free to heed or ignore last night's vote altogether. So how well last night's results will translate into delegates remains an open question.
But in the Minnesota and Colorado caucuses, the fight for delegates was real, and Santorum had a similarly spectacular night there as well. In Minnesota, Santorum pulled in 45% of the vote and six delegates. Paul came in second with 27% of the vote (3 delegates), followed by Romney at 17% (2 delegates) and Gingrich at 11% (1 delegate). Yes, you read that right: Paul beat Romney in Minnesota. And like in Missouri, Romney didn't win a single county in Minnesota either.
But the real surprise was Colorado, where Romney was expected to do well. Instead, Santorum took the state with 40% of caucus voters (earning 5 delegates) against Romney's 35% (4 delegates), followed by Gingrich's 13% (2 delegates) and Paul's 12% (1 delegate).
The worst loser of the night would have to be Gingrich. He had a terrible showing, which is bound to have an impact to his already troubled fundraising. Santorum, on the other hand, may be able to use these wins to convince Republican voters to give him another look — and GOP anybody-but-Mitt donors somewhere else to put their money.
But speaking of money, Romney's drubbing shows that there are limits to how far nearly-unlimited financial resources can go. Romney's win last week in Florida had pundits believing that it was now his election to lose. It now looks like Midwesterners are thinking maybe he should. Lose, that is.
Presidential Candidates React
Jim Burroway
February 7th, 2012
Mitt Romney does it old school, via a press relase:
"Today, unelected judges cast aside the will of the people of California who voted to protect traditional marriage. This decision does not end this fight, and I expect it to go to the Supreme Court. That prospect underscores the vital importance of this election and the movement to preserve our values. I believe marriage is between a man and a woman and, as president, I will protect traditional marriage and appoint judges who interpret the Constitution as it is written and not according to their own politics and prejudices."
Newt Gingrich, via Twitter:
"Court of Appeals overturning CA's Prop 8 another example of an out of control judiciary. Let's end judicial supremacy"
Rick Santorum, also via Twitter:
"7M Californians had their rights stripped away today by activist 9th Circuit judges. As president I will work to protect marriage."
Ron Paul:
"…"
Press Secretary Jay Carney on behalf of President Obama:
"I'm not going to comment on litigation particularly as here where we are not party to it, but the president's positions on these issues writ large are well known, and he's long opposed divisive and discriminatory efforts to deny right and benefits to same-sex couples."
On the flip side, former GOP Presidentical candidate, current Libertarian Party Presidentical candidate and former New Mexico Gov. Gary Johnson tweeted:
"Prop 8 – Sometimes a Court gets it right"
Gingrich Defeats Romney!
Jim Burroway
February 1st, 2012
That's Gingrich's takeaway anyway, vowing to keep on campaigning in the 46 remaining states (even though he failed to make Virginia's ballot). And he did trounce Romney among those who identified as Tea Party supporters, Evangelicals, and the "very conservative." Gingrich's geographical strength also was revealing. Romney carried central and southern Florida, home to a lot of people who moved there from the north, while Gingrich carried northern Florida and the panhandle, which is more representative of the type of voters found in the rest of the South.
But after trouncing Romney in South Carolina, Gingrich couldn't hold up against Romney's improved debate performance and overwhelming financial advantages.Romney won with 46%, taking all 50 delegates up for grabs, while Gingrich came in a very second with 32%. The real story in the next few weeks will be how that affects Gingrish's ability to raise money between now and Super Tuesday. As for the rest of the lineup, Santorum trailed the Box of Rocks with 13% of the vote, and Paul pulled up the rear with 7%. It should be noted however that Paul wasn't really contesting Florida. While the other three are campaigning for votes and momentum, Paul is in it for the delegates. With Florida's winner-take-all contest and the impossibility that Paul could come in first, the ability to rack up any delegates in this contest was nill. So he wisely decided not to spend much time and money campaigning there. And if there's one thing we know about Paul, it's that he may not be rich, but he certainly knows how to deal with money.
Santorum wins in Iowa!! (kinda)
Timothy Kincaid
January 19th, 2012
"Wasn't that weeks ago?" you may be wondering. "And didn't Romney win by 8 votes?"
Mitt Romney 30,015
Rick Santorum 30,007
Well, that was with 100% of the precincts counted. But now that the Iowa Republican Party leadership has officially "lost" eight precincts, the official winner is Rick Santorum:
Rick Santorum 29,839
Mitt Romney 29,805
No, I'm not making this up. In a scenario that could only be dreamed up by Dodgson, the leadership of the Republican Party in the great state of Iowa have "officially" declared Santorum to have received more votes than Romney in their (meaningless) caucus tally. (WaPo)
"It's done," said a party spokesman, who asked that his name not be used. About the missing votes, he said: "We never got 'em. We tried to track 'em down, and for whatever reason, we don't have them."
Romney graciously chose not to debate the validity of a tally based on "lost" ballots, saying, "The results from Iowa caucus night revealed a virtual tie . . .We once again recognize Rick Santorum for his strong performance in the state."
But in characteristic manner, Rick Santorum gloated.
This latest defeat of Governor Romney in Iowa is just the beginning, and Rick Santorum is committed to continuing the fight as the clear, consistent conservative voice in this race.
I'm guessing that Rick Santorum actually believes that when they lose your opponents votes, it means that you've "defeated" him. The Box of Rocks, which has been enjoying some quiet time with its family, said through a spokesman, "I really pity that man. He is dumber than… well… it's hard to come up with a comparison."
What New Hampshire Means
Jim Burroway
January 11th, 2012
As with Iowa, not much in national terms, but for different reasons. It remains to be seen whether New Hampshire or Iowa will stand out as an anomaly. But it may mean something in state politics where there are murmurings that the state legislature may take up a bill repealing that state's marriage equality law. If state lawmakers looked to these results as an indication of their own electoral futures, they may notice that two of the three top finishers have kept the National Organization for Marriage at arm's length. Yes, Romney signed and won the primary, but 40% of the the GOP's own voters backed candidates who didn't. What's more, audiences openly booed Santorum's making Teh Gays a central talking point of his campaign, making that the most visible indication of how Granite Staters feel about anti-gay politics.
Whether that matters in the state legislature or not however isn't a given. State Sen. Kelly Ayotte (R) seems to understand the temperature of the state electorate, and warned the GOP candidates to avoid discussing the state's effort to repeal its 2009 marriage equality law, declaring such talk "off message" even though she herself is a staunch opponent of marriage and adoption rights for same-sex couples, having resigned as Attorney General in protest after Governor John Lynch signed the marriage equality bill into law. But social conservatives have an amazing capacity for self-delusions of power and grandeur. Gingrich's victory speech last night, which didn't mention Romney's inconvenient existence, had Gingrich crowning himself the winner of "the conservative primary" as he all but measured the White House's drapes. And in a related late-breaking development, a box of rocks moved ahead to edge him out of his third place finish. Meanwhile Perry has already saddled up for South Carolina after pulling out an upset victory over the write-in candidates. Santorum is already there as well, where he hopes his Iowa streak will leave a mark.
Romney Again
Jim Burroway
January 10th, 2012
The results are in for last night's New Hampshire GOP Primary. There weren't too many surprises with the final results: Romney, as expected, came in with a strong first place showing. Given that he was governor of neighboring Massachusetts, he was practically a native son in political terms, making his strong showing unsurprising. Also, as expected, Ron Paul came in second. Huntsman was expected to do well in the state, having put all of his eggs in the Granite State basket. He came in third, and it's not clear where his campaign goes from here.
Gingrich came up short, pulling on only 10% of the vote, as further evidence of his rapidly dropping popularity. A Box of Rocks came on surprisingly strong, ahead of Santorum and Perry. Cowboy Perry barely outpaced the write-ins to finish at the rear, with Santorum settling in just a short distance up it.
And that's a wrap at BTB Elections Central for New Hampshire. Now it's on to South Carolina where the fun really begins.
Out Of Many, Fewer
Jim Burroway
January 4th, 2012
One aspect of the GOP race which greatly benefited former Massachusetts Gov. Mitt Romney was the splintered tea-party/Evangelical vote across five other candidates: Sen. Rick Santorum, Rep. Ron Paul, former House Speaker Newt Gingrich, Texas Gov. Rick Perry and Rep. Michele Bachmann. It's worth noting that while Romney is the front-runner by virtue of his narrow Iowa win, his massive war chest and a well-established national organization, three out of four Iowa Republican caucus-goers nevertheless voted against him.
Today, with Bachmann dropping out and Perry going back to Texas to ask God if he still wants him to run, we may begin to see a consolidation of the tea party/Evangelical vote around Santorum. That could be significant.  If the Iowa votes cast for those three "Not Mitt" candidates — Santorum, Bachmann and Perry — all went to Santorum, it would have brought his total up to 40% against Romney's 25%. Sure, not all of those votes would have consolidated to Santorum; some would have likely drifted over to Romney or Paul, but take a quick glance at the polling data (as all of the campaigns are doing right now) and you can quickly see how the Iowa race would have been very different without that split.
Ron Paul, who came in a solid third in Iowa, probably won't benefit much from such a consolidation, especially in closed primary states where non-Republicans can't easily cross over to vote in the GOP primary. Whether a smaller field will help Santorum overcome his huge deficit in money and organization is still an open question. I doubt it.  But social conservative extremists are beginning to see this consolidation as the only way to stay in the game. Bob Vander Plaats, head of Iowa's anti-gay Family Leader, endorsed Santorum just two weeks ago, not long after Santorum's campaign admitted that Vander Plaats indirectly solicited money from Santorum's campaign. (The asking price for an endorsement was reportedly as high as one million dollars.) Today, Vander Plaats is calling on Bachmann, Perry and Gingrich to step out of the race:
"The worst thing that can happen to Mitt Romney is to run head to head against Rick Santorum," he told reporters at Santorum's campaign headquarters here tonight. "He wants to have a multiple candidate field, so I think some of these candidates — they need to reassess where they are at tonight."

…"We did this drill four years ago. Had Fred Thompson not stayed in the race in South Carolina and takes nine percentage points, Huckabee wins South Carolina," he said.

"If Huckabee wins South Carolina, McCain is out of the race and it's Huckabee-Romney going into Florida. So what I'm saying is that we have to be smart about getting a pro-family conservative to go up against Mitt Romney."
Perry is re-assessing and Bachmann has announced that she is "suspending" her campaign. And now we have this shot from Newt Gingrich, which should cause the Romney camp a few headaches this morning:
Laura Ingraham: Can you see a scenario under which the two of you would align together to try to defeat the establishment candidate, Mitt Romney?

Newt Gingrich:Absolutely. Of course. I mean Rick and I have a 20-year friendship, we are both rebels, we both came into this business as reformers, we both dislike deeply the degree to which the establishment sells out the American people. We both think Washington has to be changed in very fundamental ways, and we have lots of things that fit together. And the thing that's interesting is if you take the votes, you add to that Perry and Bachmann, you begin to see the size of the conservative vote compared to Romney…if you take, you know, Santorum and Perry and Bachmann and Gingrich you get some sense of what a small minority Romney really represents.
Update: Mother Jones's David Corn says that Newt is ready to settle scores in the time-honored tradition he established as the bomb-throwing House Speaker. Meanwhile, it looks like Perry still thinks he's in the race despite his fifth place showing in Iowa.