Ugandan State-Owned TV's Cautious Coverage of Museveni's Remarks
Jim Burroway
January 13th, 2010
Uganda's state-owned UBC television this morning featured Ugandan President Yoweri Museveni's comments made yesterday during an Executive Council meeting of the ruling National Resistance Movement (NRM) party meeting at State House, Entebbe about the Anti-Homosexuality Bill. In these videos, provided by an anonymous BTB reader in Uganda, we see a report on Museveni's remarks.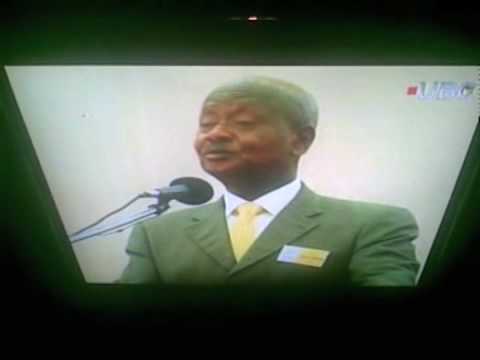 As you can see, the report on state-owned TV, which is followed by remarks by Deputy Attorney General Fred Ruhindi, is extremely cautious and does not speculate on the implications of Museveni's remarks. Early coverage by the state-owned newspaper New Vision gave Museveni's remarks extraordinarily large and thorough coverage, but offered no analysis of the bill's future either. However, New Vision printed another article quoting Executive Director of the Foundation for Human Rights Initiative, Livingston Sewanyana, as backing Museveni's remarks, saying that the bill infringes on human rights. This is, I believe, the first time this opinion has been reported in the state-owned paper.
Independent media has been less cautious. The earlier report by NTV speculated that Museveni's remarks might be a "nail in the coffin" for the draconian anti-gay bill. Uganda's independent Monitor newspaper, which is owned by the same media group as NTV, this morning said:
He also left Ndorwa West MP David Bahati holding the can, when he, for the first time publicly, disowned the legislator\'s Anti-Homosexuality Bill 2009, saying it does not represent the party or government position.
As for Bahati himself, he was reportedly on WBS television last night, still determined to push the bill through Parliament.
Click here to see BTB\'s complete coverage of the past year\'s anti-gay developments in Uganda.
…the possibility of government to withdraw the anti-homosexual bill from parliament has come to light as president yoweri museveni distanced himself from the bill.
Museveni, "…that this position is not… this issue was not brought by the government… it was not even brought by the party… it was brought by a private member."
President Museveni was addressing the 5th National Executive Council meeting for the NRM party at State House, Entebbe.
Museveni, "There is supposed to be a big meeting here. International meeting… of the members of the ICC… International Criminal Court. Now, those who have… always looking for how to weaken Africa, they are de-campaigning it…. say(ing), 'dont take this meeting to Uganda, because Uganda is violating human rights… of homosexuals. Huh?"
Speaking for the first time on the Bahati bill, the president said the anti-homosexuality bill will soon be refered to (a/the?) cabinet sub-committee, that will reach a consensus with David Bahati.
Museveni, "Those who are saying we should not discuss with him, I would advise them to trust my judgment… that our foreign policy… is not managed… just by some individuals, we must all be involved."
President Yoweri Museveni's remarks come a few days after the Minister for Investment Aston Kajara said that government was looking at the bill with the possibility of withdrawing it. However the president said, the foreign policy should not compromise our values and principles.
Museveni, "Of course we cannot sell our principles for… for anything, as you know."
The Bahati bill has received mounting opposition from donor countries as they claim it infringes the principle of human rights. The bill proposes heavy punishments for acts of death penality and life imprisonment.
Muruta Hannington, UBC News.
—–
…also, the Deputy Attorney General, Fred Ruhindi is adamant that acts of homosexuality undermine the moral fabric of Uganda.
…but, the issue of homosexuality remains largely unacceptable. The State Minister for Justice and Constitutional Affairs, who is also the Deputy Attorney General, Fred Ruhindi, pin points out(sic) various provisions in Uganda's law books that are against the practice of homosexuality.
Ruhindi, "If any person, has sexual intercourse unnaturally… if for instance, a man goes with a man… a woman goes with a woman… or a person goes with an animal… sexually… that is an offence, and that offence is punishable with life imprisonment. We have always actually said that 'Uganda, Ugandan society, is solidly against homosexuality."
Ruhindi's views come hot on the heels of the controversial Bahati bill, pushing for more punitive measures against homosexuality. The bill has caused outrage with donors, threatening to cut all aid, citing the bill as inhuman.
Jane Anyango and Moses Ategeka, UBC News.
Comments