Uganda's President on Gays: "First Talk About Railroads"
Jim Burroway
December 19th, 2011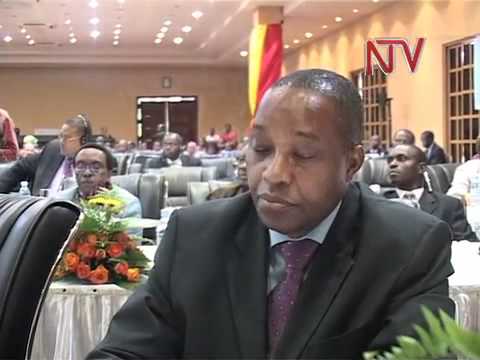 (At 0:45) The crucial elements that we need in this region, apart from peace and democracy, is infrastructure development. … This is the policy you should concentrate on. Yes, I know homosexuals are important [laughter and scattered applause], but homosexuals also need electricity. [laughter] So before anybody gives me a lecture about homosexuals and their rights, please first talk about the railroads.
Uganda's President Yoweri Museveni lashed out at international donors at the International Conference on the Great Lakes Region. (African Great Lakes refers generally to the areas of D.R . Congo, Uganda, Kenya, Rwanda, Burundi, and Tanzania.) His remarks, for whatever reason, don't seem to have gotten much play in the major Uganda media online. The above report is from Kenya's NTV, and here is the take from Kenya' The Nation. Warren Throckmorton reacted:
Hard to use all of those modern conveniences if you are in jail, Yoweri. Although maybe Museveni is right. If the [Anti-Homosexuality Bill] passes, gays will need electricity in jails, and roads and railways to take them there.
Warren's right to poke at the myopia with which African leaders are reacting to recent policy statements by the U.S. and U.K. which either implicitly or explicitly link foreign aid to how nations treat LGBT populations. But there is a legitimate concern, shared by LGBT advocates on the ground, over a backlash should the idea that human rights abuses against LGBT people are more important than human rights abuses generally take hold and become part of popular wisdom. Remember, Museveni has held power for 25 years — an achievement itself which is hardly the mark of a democratic leader — and he has done it by manipulating the constitution and media, by installing a compliant electoral commission, and clamping down hard on political opponents. The West's failure to address those problems with similar vigor will only feed growing cynicism over western motives.
Again, I raise this point not to say that protection against LGBT abuses should not be a priority. After all, it is gay people who are being targeted for murder by the state, not members of the opposition Forum for Democratic Change. But if Ugandans are violently denied the right to peaceful assembly and redress of grievances in the political sphere, it should come as no surprise when authorities also see no need to guarantee the rights of LGBT people to those same things. Yes, gays need electricity and railroads, and so does everyone else. But everyone, gays included, also need the freedom to use them.
Comments