Last winter, Exodus International began the process of erasins all references to NARTH and Reparative from its web site with the removal of RT books from its online book store. In June, Exodus issued a formal statement saying, "As an organization, we do not subscribe to therapies that make changing sexual orientation a main focus or goal." Since then, Exodus president Alan Chambers has explained that he was moving Exodus away from RT because, as he briefly explained during the opening night plenary sessions, "I feel like so often in that line of work or in that field of work, we have said, this is what causes homosexuality, this is how you deal with it, and this is what your outcome will be if you do everything right. And I don't think that's fair."
This is his main objection to RT, but it's not the only one. During a Q&A session at the 2012 conference in St. Paul, Chambers disclosed, briefly, that Nicolosi, who had been a regular speaker at previous Exodus conferences, wanted to present a workshop in which he would discuss the use of pornographic materials to lessen same-sex attraction through a controversial therapy known as Eye Movement Desensitization and Reprocessing (EMDR). As Chambers explained, recommending the use of porn was a line that Exodus, an explicitly Evangelical Christian organization, would not cross. Exodus refused to accept Nicolosi's workshop proposal for 2010. Warren Throckmorton obtained a copy of that proposal:
Gay Pornography as a Therapeutic Tool
Reparative Therapists have recently developed a therapeutic technique utilizing gay pornographic images to expose deeper emotional needs beneath mere sexual arousal. While many clients have been told that their homosexuality is a defense against emotional needs, this technique offers "experiential knowing" resulting from personal experience. The result is a diminishment of pornographic appeal and movement toward resolving deeper conflicts.

For men and leaders.
Despite Exodus refusal of that proposed workshop, Nicolosi conducted two other workshops at the 2010 conference, "Preceding Scenario to Homosexual Enactment," and "Identifying your Shame Based Self Statement." Throckmorton obtained audio from one of those workshops (he doesn't say which one), in which Nicolosi, despite Exodus's ban, recommends using gay porn as part of EMDR therapy: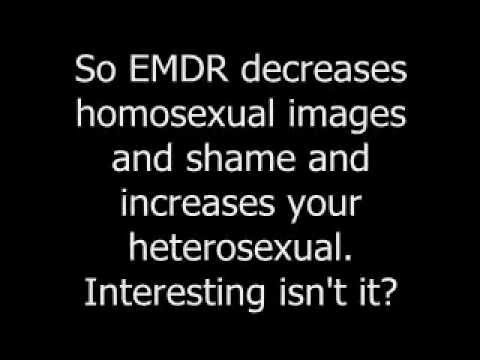 Chambers briefly mentioned this during a recent interview on MSNBC's Hardball, but the guest host failed to pick up and follow through on it. Nicolosi had written a letter to Chambers (it's now posted on Facebook) denying that he recommended using porn, but this audio supports Chambers's version of events. Nicolosi did not appear at the 2011 or 2012 conference, and I noticed that his books were not available at the conference bookstore in 2012.