Christian Groups Defend Abusive Ex-Gay "Exorcism"
Jim Burroway
June 26th, 2009
This video documents severe abuse, pure and simple:
It shows church members standing the youth on his feet by holding him under his arms, and people shouting as organ music plays. "Come out of his belly," someone commands. "It's in the belly — push." Later, the teenager is back on the floor, breathing heavily. Then he's coughing and apparently vomiting into a bag. "Get another bag," a participant says. "Make sure you have your gloves."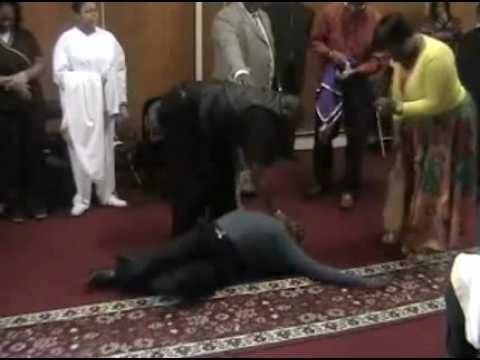 Manifested Glory Ministries in Bridgeport, Connecticut, posted a twenty-minute video on YouTube, but took it down amid mounting criticism of its abuse of the sixteen-year-old boy. (Other copies of that video are now available on YouTube.) This sort of abuse is not that uncommon:
It's nearly impossible to say how often similar exercises occur in churches nationwide. But Kamora Herrington, who runs a mentoring program at True Colors and has worked with the youth, said she believes it's fairly common. "This happens all the time," she said. "This is not isolated."

Robin McHaelin, executive director of True Colors, an advocacy group for gay youths, said her organization is aware of five cases in recent years in which youths in her program were threatened with exorcism.
At least one Christian dominionist group, Gary Cass' Christian Anti-Defamation Commission pulls the religious exemption card — along with the race card — on this abuse, saying  that no church should be "maligned" for abusing teens. Exodus International gave its classic non-condemning response:
Exodus International, a Christian group that believes gays can become straight through prayer and counseling, does not advocate the church's approach, said Jeff Buchanan, director of church equipping.
There are a lot of things I don't "advocate" either, but that's a very far cry from condemning that which is clearly in the wrong. This really shouldn't be difficult, but then I thought that about Exodus' refusal to address their board member's active association with a known Holocaust revisionist and hate-group leader Scott Lively. There was a time, believe it or not, when Exodus was able to provide a measure of responsibility on those areas which were obviously dangerous and abusive, but those times appear to be long gone.
Update: According to Rod 2.0: "A minister and trusted source of Rod 2.0 reports the 16-year-old boy no longer attends the church and has found an LGBT 'inclusive and affirming' church."