Surviving an Exorcism To Cast Out the Gay
Jim Burroway
June 6th, 2010
In this month's issue of Details magazine, Matt McAllester delved into the practice among some pentecostal and evangelical churches to perform exorcisms on gay people to drive out their gay demons. Peterson Toscano, a co-founder of Beyond Ex-gay, survived three separate exorcisms:
One took place in the Greenpoint section of Brooklyn, another in an apartment on the West Side of Manhattan owned by Joanne Highley, who runs L.I.F.E. Ministry. During the latter exorcism, Highley had him lie down on her bed, then she sat beside him and began to press on his body, commanding the demons to exit through his mouth and rectum. Before the rite was complete, Toscano, who says he felt increasingly violated by Highley's actions, stopped the ritual and left her apartment. Highley did not respond to requests to be interviewed, but she has previously stated that her process is to "cleanse and bind demonic powers . . . out of genitals, of course out of anal canals, out of intestines, out of throats and mouths if there's been ungodly deposit of semen in those areas—we cleanse with the blood of Jesus, and we cast out the demonic powers."
Highley was one of the activists featured in the 2004 ex-gay promotional video "I Do Exist," which was released as a counter to National Coming Out Day. [Update: For more on this, see the end of this post] Toscano's recalls his experience as abusive:
"For a young person, being told that you house evil, that you're basically a mobile home for evil spirits—that is a very, very damaging concept," says Toscano. "It's one of the most extreme manifestations of the anti-gay rhetoric within the church."
Particularly concerning is the story of 20-year-old Kevin Robinson, who has undergone three exorcisms (one by his mother, another by an uncle who was the pastor at his church), bouts of severe depression, was kicked out of his home by his parents, suffered a severe nervous breakdown, and underwent six month's treatment at a juvenile psychiatry hospital. He's out now, living on his own in an apartment and going to college. He is also a bit more comfortable with his sexuality. But not entirely. He's also back at his same church:
He's back in the choir, attending practice every Thursday. He hasn't undergone another deliverance, but the dogma is the same, he says. "They want you to change. It's just a lot of stuff you can't do. You can't do this, you can't do that. I'm getting overwhelmed—again. It just feels like it's too much, like today I just felt so overwhelmed. There's no possible way I can be Mr. Perfect Man."

I ask Kevin whether he would make himself straight if he could. "Yeah, I would," he says without hesitation. "I'm not going to lie—I would love to just fit in and be accepted."

But that doesn't seem likely. Not long ago, after choir practice ended, another singer—a young man Kevin's age—took exception to the look of Kevin's slicked-back hair and effeminate manner and accused him of being "the Devil's child."

"I said, 'I'm not the Devil's child, I'm one of God's,'" Kevin says. "He was like, 'Yeah, right.'"
Update: Grove City College professor Warren Throckmorton, who produced I Do Exist, wrote me to explain that when he included Highley in his video, he didn't know about Highley's beliefs in exorcisms:
I want to make it crystal clear that the I Do Exist video never took the perspective that homosexuality is related in any way to demon possession. Ms. Highly did not mention these views when we interviewed her. No one associated with I Do Exist had any knowledge of Highly's views when we filmed or edited the video.
Christian Groups Defend Abusive Ex-Gay "Exorcism"
Jim Burroway
June 26th, 2009
This video documents severe abuse, pure and simple:
It shows church members standing the youth on his feet by holding him under his arms, and people shouting as organ music plays. "Come out of his belly," someone commands. "It's in the belly — push." Later, the teenager is back on the floor, breathing heavily. Then he's coughing and apparently vomiting into a bag. "Get another bag," a participant says. "Make sure you have your gloves."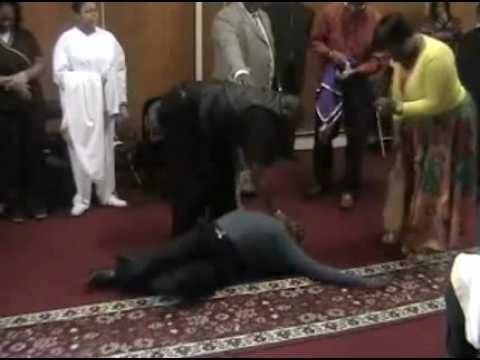 Manifested Glory Ministries in Bridgeport, Connecticut, posted a twenty-minute video on YouTube, but took it down amid mounting criticism of its abuse of the sixteen-year-old boy. (Other copies of that video are now available on YouTube.) This sort of abuse is not that uncommon:
It's nearly impossible to say how often similar exercises occur in churches nationwide. But Kamora Herrington, who runs a mentoring program at True Colors and has worked with the youth, said she believes it's fairly common. "This happens all the time," she said. "This is not isolated."

Robin McHaelin, executive director of True Colors, an advocacy group for gay youths, said her organization is aware of five cases in recent years in which youths in her program were threatened with exorcism.
At least one Christian dominionist group, Gary Cass' Christian Anti-Defamation Commission pulls the religious exemption card — along with the race card — on this abuse, saying  that no church should be "maligned" for abusing teens. Exodus International gave its classic non-condemning response:
Exodus International, a Christian group that believes gays can become straight through prayer and counseling, does not advocate the church's approach, said Jeff Buchanan, director of church equipping.
There are a lot of things I don't "advocate" either, but that's a very far cry from condemning that which is clearly in the wrong. This really shouldn't be difficult, but then I thought that about Exodus' refusal to address their board member's active association with a known Holocaust revisionist and hate-group leader Scott Lively. There was a time, believe it or not, when Exodus was able to provide a measure of responsibility on those areas which were obviously dangerous and abusive, but those times appear to be long gone.
Update: According to Rod 2.0: "A minister and trusted source of Rod 2.0 reports the 16-year-old boy no longer attends the church and has found an LGBT 'inclusive and affirming' church."
Living Waters Ex-Gay Ministry In Montreal
Jim Burroway
September 28th, 2007
Peterson Toscano has learned that the Living Waters ex-gay ministry will be giving a twenty-five week "healing program" at a conservative Anglican church in Montreal, Canada. Headed by Andrew Comiskey, a former president of Exodus International, Living Waters has been expanding aggressively, with a presence in Canada and Europe. Former ex-gay leader Vonnie Pits issued an apology for her role in a Living Waters-based program she set up in New South Wales, Australia.  Peterson observes:
Often Living Waters uses extreme methods that involve forms of exorcism (deliverance/healing prayer) and rely on teachings that believe that people become gay through demonic influences and the sins of ancestors. This is a simple explanation of what they believe, but you get the idea. This is a group that is far far off the radar and not based in science or reality. They also charge for their services.

Read the stories of Christine, Eric, Euguene and Tom (a former Living Waters leader) to find out a little about their times at Living Waters programs.