Christian Groups Defend Abusive Ex-Gay "Exorcism"
Jim Burroway
June 26th, 2009
This video documents severe abuse, pure and simple:
It shows church members standing the youth on his feet by holding him under his arms, and people shouting as organ music plays. "Come out of his belly," someone commands. "It's in the belly — push." Later, the teenager is back on the floor, breathing heavily. Then he's coughing and apparently vomiting into a bag. "Get another bag," a participant says. "Make sure you have your gloves."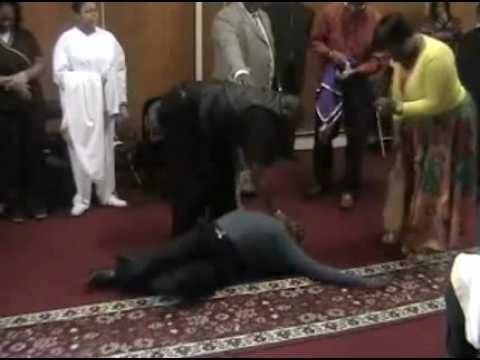 Manifested Glory Ministries in Bridgeport, Connecticut, posted a twenty-minute video on YouTube, but took it down amid mounting criticism of its abuse of the sixteen-year-old boy. (Other copies of that video are now available on YouTube.) This sort of abuse is not that uncommon:
It's nearly impossible to say how often similar exercises occur in churches nationwide. But Kamora Herrington, who runs a mentoring program at True Colors and has worked with the youth, said she believes it's fairly common. "This happens all the time," she said. "This is not isolated."

Robin McHaelin, executive director of True Colors, an advocacy group for gay youths, said her organization is aware of five cases in recent years in which youths in her program were threatened with exorcism.
At least one Christian dominionist group, Gary Cass' Christian Anti-Defamation Commission pulls the religious exemption card — along with the race card — on this abuse, saying  that no church should be "maligned" for abusing teens. Exodus International gave its classic non-condemning response:
Exodus International, a Christian group that believes gays can become straight through prayer and counseling, does not advocate the church's approach, said Jeff Buchanan, director of church equipping.
There are a lot of things I don't "advocate" either, but that's a very far cry from condemning that which is clearly in the wrong. This really shouldn't be difficult, but then I thought that about Exodus' refusal to address their board member's active association with a known Holocaust revisionist and hate-group leader Scott Lively. There was a time, believe it or not, when Exodus was able to provide a measure of responsibility on those areas which were obviously dangerous and abusive, but those times appear to be long gone.
Update: According to Rod 2.0: "A minister and trusted source of Rod 2.0 reports the 16-year-old boy no longer attends the church and has found an LGBT 'inclusive and affirming' church."
LaBarbera Award: Gary Cass
Jim Burroway
January 17th, 2009
We've talked about Gary Cass before. He's the Christian Reconstructionist who has a computer keyboard he calls the Christian Anti-Defamation Commission. He's put out another doozy of a press release, warning parents that — gasp! — President-elect Barack Obama's Inauguration will be among the "most perverted in history":
Barack Obama's inauguration will have the dubious distinction of being the most perverted in our nation's history. Obama is not being subtle about either. One of America's most radical and destructive homosexual activists, "Bishop" Vickie Eugene Robinson of New Hampshire, in official inaugural activities will be offering the invocation at the Lincoln Memorial.
Oh dear, and the "perversion" doesn't end there. There's the parade:
To ensure no one misses the perversion, the Inaugural parade will include a homosexual marching band with their rainbow flags flying proud with millions of our nation's children watching. This is the same band that proudly advertises that it will march in the homosexual Southern Decadence parade, known for its vulgarity and lewd acts in public.
This is where His Pornstachiness lets his fantasies get the better of him:
"In order to be consistent in using this kind of reasoning, Obama ought to have a stripper lead off the inaugural parade followed by the Hell's Angel's Motorcycle Drill Team followed by the Crips Precision Handgun Corp. and the Transvestite Fashion Police. Just because something exists in society does not mean it is good and is to be paraded in front of everyone, especially children," said Dr. Cass.
Christian Reconstructionist Decries "Christian Bashing"
Jim Burroway
January 5th, 2009
Speaking of crying "persecution!", the Christian Anti-Defamation Commission, a.k.a. Christian Reconstructionist Gary Cass, has released a press statement outlining what they call the top ten examples of "Christian bashing" for 2008. Here are Cass's and his porn-stache's top ten:
10: Jack Black Musical Video
9: Bill Maher Gratuitously Attacks Pope
8: ESPN Anchor Dana Jacobson's "F— Jesus" Remark
7: Minnesota University Professor Desecrates Communion
6: "Religulous" the movie
5: Chaplains Fired for Praying in Jesus' Name
4: Colorado Law Criminalizes the Bible
3: Barack Obama Defames Christianity
2: Vice Presidential Candidate Sarah Palin Is Attacked
Okay, it's mostly jokes, legitimate political commentary, distortions of legal moves and comments — that is what he calls "Christian bashing." But you see, under Cass's Reconstructionist America, none of this would be allowed. And what comes in at number one?
#1: Radical Homosexuals Assault Prop 8 Marriage Supporters in California

During and after the November campaign stories flooded in of pro-Prop 8 signs being taken, people verbally and physically assaulted, church property and private automobiles vandalized, and person's jobs and pastor's lives threatened simply for exercising their right to campaign and vote in support of traditional marriage.
While all acts of violence and vandalism are deplorable, Cass is taking the time-honored tactic of taking small, isolated incidents and treating them as if they are a part of a nationwide orgy of violence. Official statistics, however, paint a very different picture. According to the FBI, hate crimes against gays and lesbians continued to increase in 2007, contradicting the overall trend of fewer hate crimes since 2006. Crimes based on sexual orientation very nearly tied those based on religion for second place:
Hate Crime Offenses, 2006
Hate Crime Offenses, 2007
Race
4,737
52%
4,724
52%
Religion
1,597
18%
1,477
16%
Sexual Orientation
1,415
16%
1,460
16%
Ethnicity
1,233
14%
1,256
14%
Disability
94
1%
82
<1%
TOTAL
9,080
100%*
9,006
100%*
Totals don't add up due to additional
multi-category hate crime offenses.
Percentages don't add to 100%
due to rounding errors.
But as we noted earlier, hate crimes based on sexual orientation continue to be the most violent by far. Attacks based on sexual orientation are much more likely to be physically violent than in any other category:
Total Hate Crime Offenses, 2007
Violent Crimes, percentage of total
Race
4,724
1,471
31%
Religion
1,477
126
9%
Sexual Orientation
1,460
695
48%
Ethnicity
1,256
497
40%
Disability
82
21
26%
TOTAL
9,006
2,810
31%
Violent crimes include:
Murder and non-negligent manslaughter,
forcible rape, aggravated assault
and simple assault.
As so-called "Christians" continue to shed their crocodile tears over minor albeit deplorable incidents, real people are dying. But so far, so-called "Christian" leaders have still remained silent. It has been nearly a year since Lawrence King's brutal shooting, and nobody from Focus On the Family, as just one example, has yet to offer a single comment on his death. Even though they know they ought to.
If Christian leaders want to be taken seriously, they should lead by example, and decry the real bashing taking place in America, not the phoney hysteria Cass is trying to whip up. He claims that "Every day in America serious Christians face increasing hostility at work, school, and in the culture because they stand for their faith and values." And gays aren't? When's the last time you heard of a Christian in America being gang raped because of a sticker on her car?