Report: Former VP Dick Cheney Lobbying for Same-Sex Marriage
Jim Burroway
February 17th, 2012
John Aravosis found this burried in a Baltimore Sun article:
He (Republican Del. Wade Kach) also became the target of a last-minute lobby effort, and said his voice mail was full of messages from important people, including ( former Republican National Committee Chairman Ken) Mehlman, (New York Mayor Michael) Bloomberg and an offer to talk with former Vice President Dick Cheney, whom Kach regards as a "great man." All three are recognized for their support of gay rights issues. (Emphasis mine.)
Yesterday, Del. Kach announced that he will cast his vote in support of a bill to provide marriage equality in Maryland. The bill is now before the Maryland House of Delegates. A vote may come as early as today.
Linda Harvey takes purer-than-pure to a whole new level
Timothy Kincaid
March 8th, 2010
Most social conservatives are not wild eyed hate-filled bigots who would like nothing more than to see gay folks burnt at the stake. Most folks who don't support civil equality for their gay fellow-citizens really don't know much about gay folk and don't actually wish us individual harm. It's more of a "them liberals" kind of thing.
And over the past decade Americans – including many folks who think of themselves as conservative – have began the process of seeing gay folk as human. We are neighbors, friends, coworkers, and family. We no longer are "confirmed bachelors" and "maiden aunts" living with "lifelong friends" who are a shameful secret, but instead are respected and acknowledged parts of our community.
And, as such, it is no longer socially acceptable to just oppose anything and everything to do with our lives. Yes, polls suggest that the nation isn't quite ready to joyously celebrate marriage equality, but blatant discrimination is frowned on, even in right-wing circles. Especially if it sounds too hateful.
Ah, but not everyone is on board with the "treat 'em like human" idea. As we saw with the recent brouhaha at CPAC, some folks can't even be in the same room with gay folk – even those who agree with most of their agenda. The uber-conservative CPAC crowd got a taste of excitement when the purer-than-pure conservatives attacked their brethren for not being adequately anti-gay.
But no one has ever accused Linda Harvey of noting being adequately anti-gay. In fact, few can live up to her standard. And now Linda is letting conservatives know just how pure she is, in the offensive over-the-top inflammatory language she's know for.
Linda has decided that some people aren't really conservative because they "support homosexuality". And by "support homosexuality", Linda means pretty much anything other than venom-spewing declarations of disgust and intolerance. Anything short of piling up the firewood and calling for the torches is seen by Linda as selling out.
And the list of "Conservatives who aren't" is pretty impressive. Folks who just aren't as pure as Lina include:
CPAC, for allowing GOPride to be there
"Bill O'Reilly and his feebly-informed culture warrior, Margaret Hoover" because they " endorse repealing the ban on homosexuality in the military"
Charles Krauthammer, who thinks that Don't Ask, Don't Tell is discriminatory
Dick Cheney, for "listening to a self-declared 'born-that-way' homosexual relative"
"Cindy McCain and her silly daughter" for backing same-sex unions
Mitt Romney, because " in 2004, ordered reluctant clerks to issue marriage licenses to Party A and Party B. A genuine conservative might have held off until forced."
Ted Olson, for the obvious
Stand for Marriage Maine, for saying "we want to be tolerant of gays"
Maggie Gallagher, because she can't be depended on to "always articulate clear objections to homosexual behavior. Sometimes, she bows the knee to the vaunted 'identity'"
The Catholic Church, because it says that it "respects and accepts gays"
Oh yes, when it comes to being a real conservative, Linda is purer-than-purer-than-pure.
It's behavior, it can be changed and it's always wrong.

Teach kids to "respect" this behavior? No! Respect for others, yes, but people are born with the anatomy for heterosexuality, not homosexuality. Genuine respect involves telling the truth, and citing the risks, limitations and sinfulness of this perversion.
Ah, but lovely Linda has an extra-special place in her contempt for one fellow who is worse than anyone: Warren Throckmorton. Ya see, Warren actually thinks that you should treat gay people the way you want to be treated. Such heresy!!
And Warren has gone so far as to suggest that instead of storming out of school on the Day of Silence, conservative Christian kids should observe the Golden Rule and hand out the following message.
This is what I'm doing:

I pledge to treat others the way I want to be treated.

Will you join me in this pledge?

"Do to others as you would have them do to you." (Luke 6:31).
But not Linda. She's having none of that.
If I were a parent who discovered my minor child had been counseled in this way, I'd bring the largest and most aggressive medical malpractice suit I could launch against this counselor at Grove City.

Golden Rule? Not on your life.
And so now Warren is the pet project for Linda and her buddy Peter LaBarbera. LaBarbera has run a series of denunciations of "heretical" Dr. Throckmorton and has asked his readers to
TAKE ACTION: Contact Grove City College (President Richard Jewell: 724-458-2500; rgjewell@gcc.edu) and ask them if GCC professor Warren Throckmorton's unorthodox views on homosexuality represent "authentically Christian" teachings on this issue. (GCC advertises itself as a solid, "authentically Christian" institution.) Request a written response as to whether Throckmorton's writings on and approach toward homosexuality honor Grove City's Christian charter "rejecting relativism and secularism."
Yes, it looks like Warren should be fired; he just can't be counted on to be a hater. Nor Bill O'Reilly. Nor even the Catholic Church. Or at least not up to Linda's and Pete's standards. It's a sad sad world.
But at least Linda and Pete have each other. And Pete's porn collection.
What do past Military leaders say about Don't Ask, Don't Tell?
Timothy Kincaid
February 16th, 2010
Those who are desperately looking for an excuse to continue supporting Don't Ask, Don't Tell, the anti-gay military policy, are trying to downplay the efforts of the Chairman of the Joint Chiefs of Staff and the Secretary of Defense as being an anomaly. They remind the public that the call for the repeal of a ban on open gay service men and women is their "individual opinion" and act as though it is non-representative.
But Admiral Mullen is not the only person to serve as Chairman of the Joint Chiefs of Staff, and Robert Gates is not our first Secretary of Defense. Nor are they the first to weigh in on this issue.
Not all such military leaders have public statements. And some have positions that can only be deduced from indirect statements. But here is what I've found:
Chairmen of the Joint Chiefs of Staff
Secretaries of Defense
It would appear that Mullen and Gates are closer to the rule than to the exception.
Cheney supports Mullen's DADT repeal efforts
Timothy Kincaid
February 15th, 2010
In an interview the ABC's This Week, Dick Cheney said that it is time to repeal Don't Ask, Don't Tell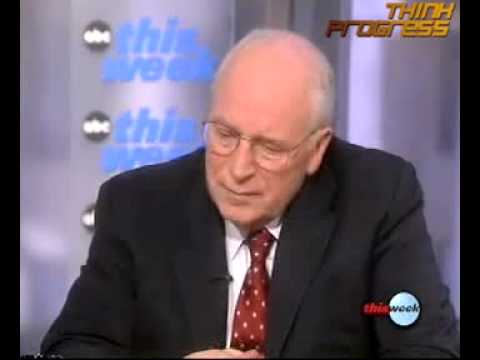 KARL: OK, "don't ask/don't tell" — you're a former defense secretary — should this policy be repealed?

CHENEY: Twenty years ago, the military were strong advocates of "don't ask/don't tell," when I was secretary of defense. I think things have changed significantly since then. I see that Don Mullen — or Mike Mullen, the chairman of the Joint Chiefs of Staff, has indicated his belief that we ought to support a change in the policy. So I think — my guess is the policy will be changed.

KARL: And do you think that's a good thing? I mean, is it time to allow gays and lesbians to serve openly in the military?

CHENEY: I think the society has moved on. I think it's partly a generational question. I say, I'm reluctant to second-guess the military in this regard, because they're the ones that have got to make the judgment about how these policies affect the military capability of our — of our units, and that first requirement that you have to look at all the time is whether or not they're still capable of achieving their mission, and does the policy change, i.e., putting gays in the force, affect their ability to perform their mission?

When the chiefs come forward and say, "We think we can do it," then it strikes me that it's — it's time to reconsider the policy. And I think Admiral Mullen said that.
This is not the first time that Cheney has indicated skepticism for anti-gay attitudes in the military. As early as 1991, Cheney (then Secretary of Defense under George H.W. Bush) called the military policy that considers gay servicepersons a security risk is "a bit of an old chestnut."
Andrew Sullivan Talks about Dick Cheney and Barack Obama
Jim Burroway
June 2nd, 2009
Sullivan is particularly irritated (rightfully so) with the Obama administration's foot-dragging on removing the HIV travel ban, which Congress approved last fall and former Pres. Bush signed into law. But Obama continues to enforce the last legacy of Jesse Helms.
Federalism and Cheney's gay marriage identity crisis
Gabriel Arana
June 1st, 2009
Speaking at the National Press Club, former Vice President Dick Cheney reiterated his support for gay marriage at a journalism awards ceremony.
Despite expressing support for gay marriage, Dick Cheney said he opposes federal recognition of gay marriage. It is an issue that he believes should be "regulated … at the state level."
This is essentially a federalist argument—and a seeming compromise.
But there is an inherent contraction in Cheney's gay rights position: he supports [CORRECTED: does not openly oppose] the "Defense of Marriage Act," which precludes the federal government from recognizing same-sex marriages performed in individual states. Before DoMA, federal recognition of marriages relied almost exclusively on the states, but this power was wrested from the states by the federal government in 1996, an inherently anti-federalist usurpation of state power.
(In fact, this is the central issue in a recent GLAD suit, filed in Boston, that challenges DoMA. GLAD is arguing that DoMA infringes on Constitutionally protected state sovereignty.)
For one to support gay marriage on a state-by-state basis—based on an appeal to federalism—and also support DoMA is unprincipled. Cheney's silence on DoMA might be a pragmatic decision, a way of avoiding a national confrontation over gay rights. Maybe some of the inconsistency is a natural product of trying to reconcile his membership in one of the most virulently anti-gay administrations in recent memory while at the same time wanting, as parents do, for his children to be happy.
This commentary is the opinion of the author and may not necessarily reflect those of other authors at Box Turtle Bulletin.
Cheney Reiterates Marriage Support
Timothy Kincaid
June 1st, 2009
Former Vice President Dick Cheney said Monday he supports gays being able to marry but believes states, not the federal government, should make the decision.

"I think, you know, freedom means freedom for everyone," Cheney said in a speech at the National Press Club. "I think people ought to be free to enter into any kind of union they wish, any kind of arrangement they wish."
Update: Here's the video: