Blankenhorn speaks out against Minnesota marriage ban
Timothy Kincaid
October 19th, 2012
In 2010, David Blankenhorn was the chief (virtually only) witness for Proposition 8. This proved to be an unwise choice for two reasons: Blankenhorn was not qualified to testify on much of the matter to which he was the assigned witness, and Blankenhorn is a decent man who isn't anti-gay and thus was susceptible to reasoned and well-articulated argument in favor of equality. So much so, in fact, that he now supports including gay and lesbian couples fully into the fabric of society.
Here he is on Minnesota's proposed constitutional ban on equality:
Anoka continues its war against gay teens
Timothy Kincaid
October 9th, 2012
Once again, Anoka Minnnesota is in the news. And once again it's due to absurdly anti-gay behavior.
You may recall that until 2009 the Anoka-Hennepin School District had a policy which banned teachers from referring to homosexuality "as a normal, valid lifestyle." And you may know that in 2009 the policy was changed to require that teachers "remain neutral" (actually an improvement). The result of the ban was that teachers were afraid to protect gay kids from bullying, lest any defense be deemed un-neutral. In 2010 Justin Aaberg, a 15 year old student, was tormented daily to the point where he finally took his own life. He was one of nine such students that year.
In response, the school board denied that there was a problem with bullying and refused to change the policy. They said that parents who complained that their kids were being bullied were liars.
After teachers began abusing gay students in class, the Minnesota State Department of Human Rights rebuked the school and the U.S. Department of Justice and the U.S. Department of Education's Office of Civil Rights held an investigation. Rolling Stone magazine wrote about "One Town's War on Gay Teens", and Justin Aaberg's mother Tammy plead for her representative, Republican Michelle Bachmann, to take action.
But it seems that Anoka has no problems with dead gay teens. The Parents Action League, one of only 26 certified anti-gay hate groups in the US, fought to keep anti-gay animus present on the campus. At one point they demanded that rather than be free from bullying, gay kids should be offered ex-gay therapy. Rep. Bachmann, who shares the views of the hate group and whose flamboyantly effeminate husband runs an ex-gay counseling center, refused to assist the kids who were being bullied.
It wasn't until the Southern Poverty Law Center sued that things changed. In March of this year, the school board settled the lawsuit and agreed to establish anti-bullying programs specifically addressed to meet the needs of gay youth.
But that was the school, not the community. And anti-gay hostility in Anoka rages on.
In response, some in the community stepped up and tried to provide a safe space for LGBT youth. Supported by First Congregational UCC, last August Tammy Aaberg took her pain and turned it into power by creating a non-profit called Justin's Gift to "help fill the following needs: belonging, self-esteem, self-respect, and ultimately a realization of their importance in the world."
It seems inconceivable that a group which was created for no other purpose than to help kids in crisis would have opponents. Who wants to dismiss, harm, or cause grief to a kid in crisis?
But as inhumane as that may seem to us, Anoka Minnesota is home to just that mindset. (Minnesota Public Radio)
Organizers of an annual Halloween parade in Anoka denied a request from a gay youth group to walk in this year's parade.

Justin's Gift, a nonprofit group created to support gay youth after several suicides in the Anoka-Hennepin School District, received a letter dated Sept. 25 denying their request to walk in the Oct. 27 parade. The letter is signed by the parade chair, who included only her first name, Liz.

"At this time we are unable to accept your application for the parade," the letter said. "We have reached our maximum for walking units."
No, they weren't "pushing the HomoSEXshull Agenda". As far as I can tell, they had no plans to advocate for opposition to Minnesota's propose anti-gay marriage ban. They just wanted to march down the street as their favorite fairy tale character. And this is a big deal in Anoka, which imagines itself to be the Halloween Capital of the World. (Conveniently ignoring that half a million people – gay and straight – pack the streets for West Hollywood's Halloween Carnival.)
Although there is room for "units from all over the midwest", there's no place in Anoka for 30 gay kids.
"The kids are pretty upset," Fietek said. "We're trying to show these kids that they're part of the community and unfortunately it backfired and sent a completely different message."
I have no problem calling this one like I see it. Anoka has yet again shown itself to be a haven for bigots and the enemy of their own LGBT children. If you agree, there is a petition on Change.org
No, Anoka will not change its mind. They will continue to bar the gay kids. But at least they will do so knowing that they do so with the contempt of decent people across the country and the world.
Marriage, just like christening
Timothy Kincaid
October 2nd, 2012
Marriage is a institution in the United States that has both a religious and a civil component. But it is not the only one.
Another institution that is religious in nature that also has had a civil component is christening. Though this is less evident and a less common practice, christening or baptismal documents can in many instances be presented as evidence of citizenship. Take, for example, the Florida requirements for obtaining a driver's license. Each citizen must produce a primary document (birth certificate, naturalization papers, etc.) and a secondary document, one of which can be "Baptism certificate, which shows date of birth and the place of baptism."
Baptismal documents are no longer a frequent proof of birth. The social security system, use of hospitals for birth, and the adoption of state birth certificates has pretty much diminished the need. But as genealogists well know, for a significant time in this country they were the primary evidence of birth and even after the incorporation of birth records, frequently fires, lost records, racial discrimination, reconfigured county lines and inconsistent record keeping would result in church records being far more thorough and reliable than municipal records. For much of our nation's history it was these religious documents that provided evidence of citizenship. And though it is rare, some very elderly people still rely on these records as proof of birth.
Which is an interesting parallel.
Because, just like marriage, different faiths had strongly divergent baptismal beliefs and practices. Some, like Catholics and Lutherans, practice water baptism (generally a sprinkling or dripping of water) while other protestants strenuously object to baptism before the age of consent and instead will bless or dedicate a child. But in either case, the parent will receive a document recognizing the event and listing the relevant details.
Which raises the point, what if some religious advocates sought an amendment in Florida declaring that baptismal documents would be "defined" by the state to include only for such ceremonies as conformed with Catholic doctrine? And suppose their campaign was sold to the public solely in terms of "what God designed".
I think that there is little question that a number of denominations would immediately sue to have such an initiative stricken from the ballot as being a violation of the separation of church and state. And they would win, and rightly so.
Which makes me wonder, why doesn't the Evangelical Lutheran Church in America or the Episcopal Church or Reformed Judaism sue to have Minnesota's discriminatory amendment stricken from the ballot? It discriminates along doctrinal lines, declaring that such marriages as are sanctioned by one church are recognized by the state while the theological practice of another church is declared to be void. And the campaign is presented purely along theological lines; their ads defend anti-gay marriage law because "it was made by God" which declares in no uncertain terms that the state of Minnesota will vote whether the beliefs about what "God made" will include the teachings of Lutherans and other liberal Christians and Jews or be excluded to just what Catholics, Mormons and other conservatives believe.
It is time for those churches who believe that the call for justice and mercy as an integral doctrine of faith compels them to defend the marriage rights of gay citizens put their faith in action. They are victims of these amendments, just as we are. They need to stand up and be strong and demand that the anti-mainline-Christianity bigotry and anti-Jewish bigotry that is all over the face of these laws cease and hold no legal standing.
Otherwise it seems to me that their beliefs about baptismal documents are more important to them than their belief in equality.
The real "religious freedom" argument
Timothy Kincaid
September 21st, 2012
Anti-gays love to scream about "religious freedom" when they really are working for the opposite. But here is a portion of a letter to the editor of Detroit Lakes Online by Rev. Mark Kuether, pastor of the Congregational United Church of Christ:
I have come to this view through my faith, along with thousands of other Minnesotans who are voting NO because of their faith. I am opposed to this amendment because if passed it would mix religion and politics in our constitution. This amendment would tell clergy who they can and cannot marry in their congregations. Some churches and religious organizations want to recognize the relationships of committed gay and lesbian couples. Some don't. It should be their choice. However, this amendment does the opposite. It tells religious leaders they are not allowed to marry same-sex couples. Many faiths want to decide for themselves. This amendment represents a one-size fits all government mandate on our state's churches. The best thing is to allow religious leaders and churches to decide for themselves.
Anti-Marriage Equality Group Accidentally Creates Pro-Equality Video
Rob Tisinai
August 26th, 2012
This video is from a group opposing same-sex marriage, but how on earth can it be interpreted as anything but an argument for letting same-sex parents marry?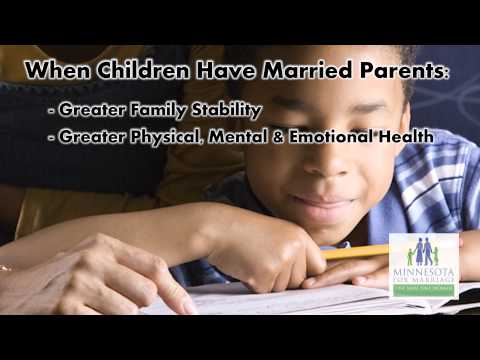 The fact that they can't see they're destroying their own argument is another sign that they can't win this thing in the long haul. Something is blinding them to their own truth. Call it bigotry, hate, homophobia, or silliness. Eventually, truth will out — especially when they're the ones promoting it.
And the Catholics go to the Minnesota State Fair to create "the most ideal society for children"
Timothy Kincaid
August 24th, 2012
Yesterday we heard about Lutherans, Jews and Evangelicals who are out opposing Minnesota's proposed anti-gay marriage ban. Today we hear about the Catholics who are supporting it. (Albert Lea Tribune)
Tim and Pat Dusbabek, a married couple from Ramsey volunteering at the Minnesota for Marriage booth, said their strong views are motivated not by hate or fear of gay people but rather hope of creating what they called the most ideal society for children.

"If the amendment would not pass and our marriage laws got overturned, the focus of marriage wouldn't be on children but rather on adults and their needs," said Tim Dusbabek, a retired research scientist at Medtronic.

The Dusbabeks, who are Catholic, said they got involved in the campaign after the church they attend in Elk River put out calls for volunteers. Pat Dusbabek said in most cases when she spoke to married couples at the fair, one had a strong view on the issue and the other was more apprehensive.

"We certainly have good friends ourselves who are very much on the other side of the issue," Tim Dusbabek said. "We just agree to talk about something else."
Oh, my. Of course we can't predict anything based on one booth at the fair, but it sounds as though it's not all happy smiles and sunflowers at the Catholics' Minnesota for (Only Our) Marriage booth.
Religious pressure to do the right thing at Minnesota State Fair
Timothy Kincaid
August 23rd, 2012
On Thursday, the new bishop of the Evangelical Lutheran Church in America's Minneapolis synod, Ann Svennungsen, joined a Conservative rabbi and an evangelical Christian pastor near the main entrance to encourage voters to defeat the measure set for vote Nov. 6.

The amendment would change the state Constitution to define marriage as between a man and woman, effectively banning gay marriage.
There are roughly 800,000 ELCA members in Minnesota and the synod is officially opposed to the anti-gay amendment. About 2.8 million voters participated in the 2008 elections.
We really need a "no" vote on this here amendment, don't ya know. So it is real exciting to see Svennungsen this committed to the issue. You betcha.
Minnesota for Marriage is Lying Again
Rob Tisinai
July 11th, 2012
Anti-gay activists revel in irrelevance. We see it when they condemn same-sex parenting with studies that have nothing to do with same-sex parenting. And now Minnesota for Marriage (M4M) is doing it again as they try to scare us with the dangers of marriage equality. They've posted yet another dishonest video. This one says:
What kind of issues would professionals face if marriage is redefined?

Well, doctors, psychologists, social workers, counselors and other professionals who conscientiously object to same-sex marriage could face a range of potential consequences, including license revocation and lawsuits leading to the potential loss of their ability to make a living.

For example, in California, a Christian physician specializing in fertility services who believed that children need a mother and a father refused to provide fertility services to a lesbian couple. Now even though the physician did offer to refer the couple to other physicians who would willingly serve them, the couple still sued the physician and her employer, and won in court. If the marriage protection amendment passes, the moral convictions of professionals in Minnesota will be protected.
They've chosen an odd example to make their point. You know why? Because the California case had nothing to do with same-sex marriage.
They're referring to Guadalupe Benitez and her dispute with North Coast Women's Care Medical Group, Inc. Ms. Benitez first filed suit in 2001, long before California opened a brief window for same-sex marriage, and the state Supreme Court based its 2008 decision on the Unruh Act, which forbids sexual orientation discrimination in California. Yep — it was about discrimination, not marriage.
Think about that. M4M created (one would assume) the most convincing case possible. It chose (one might expect) the most compelling example available. And yet it failed (one can be certain) to present any relevant facts to back up its claim.
This is common among those who clang the danger bell at the prospect of marriage equality. They cite the Ocean Grove Camp ministry, even though it occurred in a state without same-sex marriage (and ultimately affirmed the right of churches to discriminate!). They cite the New Mexico photographer who was fined for refusing to photograph a same-sex commitment ceremony, even though New Mexico doesn't allow same-sex marriage.
All these cases turned on discrimination law, not same-sex marriage. Our opponents don't like to admit that. They lose voter support when the issue's framed that way; lots of folk who aren't sure about marriage equality are dead-set against discrimination. But mainly, I think, they cloud this issue to keep it from highlighting the dishonesty in their approach — and why make a dishonest case when an honest one is available? I think that question answers itself.
Speaking of dishonesty, let's look at that last sentence in the M4M quote:
If the marriage protection amendment passes, the moral convictions of professionals in Minnesota will be protected.
Sorry. Even if you ignore their loaded and dubious language, the fact remains that Minnesota has a law prohibiting orientation-based health care discrimination. The proposed marriage amendment changes that not one bit. But why would M4M make such a blatantly dishonest claim if —
Never mind. We just covered that.
Minnesota church ladies get active about the marriage ban amendment
Timothy Kincaid
July 11th, 2012
The nice polite church ladies in well manicured and politically conservative suburban Minnesota neighborhood have become inspired by the proposed amendment to prohibit gay marriage. So fired up, in fact, that they've decided to see if they can make the difference in the election.
They want it to fail. (Atlantic)
It started with Gwin Pratt, a senior pastor at St. Luke Presbyterian Church, which has a long history of advocating for gay rights. After the Minnesota State Legislature voted to include the amendment on the ballot, the congregation began an outreach plan to to oppose it. Cindy Eyden, a member of St. Luke, suggested buying rainbow flags in bulk and distributing them to anyone in the community who was interested. What she didn't know was that her idea would go viral.

Maureen Henderson, a fellow St. Luke congregant, was quick to follow Eyden's lead. "They were selling these rainbow flags, only $2.50 for this full size, beautiful flag, and I looked at it, and bought a whole bunch of flags." Henderson told herself "I'm going to go home to my neighborhood, and see, in our community, if one by one we can hand them out and then together start to address this issue."

So off Henderson went to her home in Eden Prairie, a suburb of 60,000 filled with white-collar professionals, 94 percent of whom are Caucasian. That afternoon, she started going door to door with flags in hand. She was quickly joined by her neighbor Wendy Ivins. They took the picture-perfect neighborhood by storm, engaging their neighbors in respectful conversations. Soon, more and more rainbow flags began to appear in the sleepy cul de sacs, planted on large lots and hanging from wood porches.
Yep, I teared up.
Moderate Christians begin to speak up
Timothy Kincaid
June 8th, 2012
There is a fairly new but growing trend in Christianity: moderate Christians who have finally decided that far right conservatives will not be the only face of the faith. I've been saying for a while that if moderates don't speak up that they have only themselves to blame if the unchurched think that all Christians are extremists and homophobes. But now they are speaking up.
In Minnesota, ministers from different denominations have joined together to oppose the proposed marriage ban. (Necn.com)
Among the latter was the Rev. Kelly Chatman, lead pastor of Redeemer Lutheran Church in Minneapolis. He took take a public stand against the amendment, he said Friday, "because I don't want that other voice to be the only voice, I don't want same-sex people to see all churches that way.

"I'm doing this because it's important people see a pastor who believes that God is loving to everybody."
…
Plenty of prominent Minnesota denominations have come out squarely against the amendment. Five Minnesota synods of the Evangelical Lutheran Church in America have approved formal resolutions in opposition to the marriage amendment. Earlier this month, the general assembly of Minnesota's United Methodists overwhelmingly approved a resolution against the amendment.
This is so important for us for two reasons: first, it is essential that people not believe that the position of all people of faith is to support discrimination or that this is what God wants (many who never darken a church door will do "what God wants" on an issue they are not real clear on).
But as important is that when ministers begin to see this as a matter of justice and what they believe to be consistent with the call of Christ, they can get pretty worked up about it. And they can inspire their congregations to become allies for equality. And little old Methodist church ladies can reach people we have no access to with the message of "well, I just believe God wants us to treat gay people the way we want to be treated". And that is a very powerful message indeed.
And I think that when compared to the other voices, those who call for equality, justice, and mercy have a natural advantage. They don't sound like this:
The Rev. Bryan Pedersen of Sacred Heart Catholic Church in Robbinsdale, said he's been approached by parishioners at odds with his own public stand for the amendment.

"Every one of them will be accountable to God for how they're informed by their conscience," Pedersen said. "The definition of marriage is non-negotiable."
For the Record, I Believe Men Should Be Able to Marry Women. Now Can We Move On?
Rob Tisinai
May 31st, 2012
Yesterday I slammed a Minnesota for Marriage video. It promised to give us a rational basis for banning same-sex marriage, but in fact it just made a cause for allowing the bio-parents of a child to marry. Somehow, M4M just took for granted that this means same-sex couples shouldn't have marriage rights without bother to make a rational case for this leap.
Apparently that's a common failing.
When the 1st Circuit Court struck down DOMA today, it addressed some of the arguments Congress had used to justify the law. Here's what it says about House of Representatives stated goal of "defending and nurturing the institution of traditional, heterosexual marriage."
Although the House Report is filled with encomia to heterosexual marriage, DOMA does not increase benefits to opposite-sex couples–whose marriages may in any event be childless, unstable or both–or explain how denying benefits to same-sex couples will reinforce heterosexual marriage.  Certainly, the denial will not affect the gender choices of those seeking marriage.  This is not merely a matter of poor fit of remedy to perceived problem…but a lack of any demonstrated connection between DOMA's treatment of same-sex couples and its asserted goal of strengthening the bonds and benefits to society of heterosexual marriage.
Exactly. No one is working to eliminate opposite-sex marriage, and legalizing same-sex marriage won't keep one mother from marrying the father of her child. Our opponents can fill the air with praise for hetero-coupling until there's no air left to fill. But that still won't explain why I shouldn't be allowed to marry my partner Will.
I Do Not Think Rational Means What They Think It Means
Rob Tisinai
May 30th, 2012
Minnesota for Marriage (M4M) is pushing for a state marriage amendment with a series of short videos. They've used a number of tactics, including deceit, but their latest effort is like an arrow that doesn't even try to find the target.
The video claims to deal with this question:
Is it true that Minnesota's marriage law has no rational basis and only exists because of moral animosity toward gays and lesbians?
The clip starts off with a nice, logic-free ad hominem attack on Judge Vaughn Walker, who struck down California's Prop 8. Then it continues:
Minnesota's marriage law defining marriage as the union of one man and one woman, just as the law in 44 other states, is not only rational, but is profoundly in the common good. It is motivated by a sincere and well-placed interest in ensuring that children born of the sexual union of men and women are known by and cared for by their own parents. Children need a mother and a father. Marriage is society's way of channeling potentially procreative relationships between men and women into intact families that are the ideal environment for children. So this is not about animosity toward gays and lesbians; it's about promoting healthy families.
Did you see what isn't there? Look again — it still isn't there. Nowhere in this statement does M4M explain why same-sex couples shouldn't be allowed to marry.
This video makes a case for allowing a man and woman to marry, especially for allowing a child's mother and father to marry. That's all. It establishes why some couples should be able to marry — without addressing why other couples should not.
But Minnesota's proposed marriage amendment doesn't affect the right of opposite-sex couples to marry — and further, nobody I know is threatening that right — so the video's argument is irrelevant. This amendment is all about keeping same-sex couples (and, I suppose, groups of more than two) from marrying, but the video offers no justification for that at all. Perhaps you can extend its reasoning and come up with something, but the people who spent time and money taping this didn't bother.
The video stumbles its way into perfect irony. If you claim you're going to prove a rational basis for your policy, and then offer an argument that ignores the policy altogether, you might as well shout to world, "We have no rational basis for what we do!"
* Meanwhile, M4M could use this video's rationale to promote marriage between a sexually-involved brother and sister/mother and  son/ father and daughter. And they still haven't explained why marriage has to be just one man and just one woman. Really, M4M needs to work harder on its irrationales before committing them to video.
The Daily Agenda for Tuesday, April 24
Jim Burroway
April 24th, 2012
TODAY'S AGENDA:
College Republicans Host Bradlee Dean to Speak: St. Cloud, MN. Bradlee Dean, whose You Can Run But You Cannot Hide Ministry is a one-man SPLC certified hate group, was invited by the College Republicans chapter at St. Cloud State College to speak today. The firebrand self-styled hard rock pastor once said that Muslims were more moral than Christians because Muslims don't shy away from calling for the execution of gay people. The invite from St. Cloud's College Republicans have drawn fire from the state GOP, with state party executive director Ben Zierke warning that if they go through with the event, they better not plan on any future jobs with the state GOP in the future:
"Sometimes young people need to have better judgment in who they invite to things under the Republican banner," said Minnesota Republican Party chair Pat Shortridge. "If you are going to do dumb things, and not take the advice of the state college Republicans and the state chairman of the Republican party, it might have some consequences."
But Abbey Gooch, chair of the St. Cloud College Republicans, is not backing down because, she said, Dean has been "so nice to us":
"I have been praying and praying and praying and just saying lord I don't know what to do any more," she said. But she said they are going to go forward.  "I am sticking with my guns and going through with it."
So it looks like it's game on, beginning at 7:00 p.m. at Richie Auditorium.
TODAY IN HISTORY:
University of South Florida President Denies Hiring Homosexuals: 1963. Dr. John Allen, president of the University of South Florida, strongly denied charges that the school "harbored homosexuals" on its faculty. He also denied that the school was "soft on communism," was anti-religious or that controversial writings by "'beatnik' authors was typical of literature found in the school's reading program.
All of those charges were levied against USF and other Florida state colleges and institutions by the Johns Committee, Florida's version of the McCarthy Red and Lavender Scares in Washington. Named for its first chairman, state Senator and former Governor Charley Johns, the Johns committee was established in 1956 to investigate so-called communist links to the NAACP and the Southern Christian Leadership Conference. In 1957, the Florida legislature broadened the committee's mandate to investigate gays in the state's colleges and universities, and reiterated that mandate again in 1961. Florida's leaders of higher education proved eager to demonstrate that Florida's sons and daughters were safe in their institutions, with many throwing their campuses open to heavy-handed investigators calling individual students and teachers out of class for interrogations. The results of those investigations were made public in a report in 1963, in which Johns claimed credit for "flush(ing) 71 homosexual public school teachers and 30 homosexual deans and professors of universities." Dr. Allen responded, quite forcefully, that his school was certainly not infested with homosexuals. The committee, he pointed out, established only one clear case of a gay teacher among the entire 500 person-staff, which was only "one-fifth of one per cent," as he put it. That person resigned immediately. Charges had been levied against two others which could not be supported, and reports indicated that they "later left the university for other reasons."
New Orleans Police Institutes Massive Gay Roundup: 1981. In a 1982 article published in the Columbia Journalism Review, Randsell Pierson wrote a very informative piece wondering aloud, "Can the Straight Press get the gay story right?" Pierson had interviewed several closeted gay reporters at the New Orleans Times-Picayune who all said that they feared pitching gay-related stories to their editors for fear of being identified as gay. It was that silence, Pierson said, which helped to explain why homosexuality was still illegal in 25 states and the District of Columbia. Lapses in coverage of gay issues was surprising, and among the many examples that Pierson offered up was this one:
Over a period of three days on the weekend of April 24, 1981, New Orleans police rounded up and jailed more than 100 gay men and women in a series of raids in the French Quarter. Those arrested were charged with "obstructing sidewalks" in front of gay bars. The arrests prompted a vigorous political response from the local gay community, which charged that the police were trying to drive gays out of the French Quarter. A protest meeting attended by 700 gays helped to persuade Mayor Ernest Morial and Police Chief Henry Morris to promise to investigate charges of police harassment. All charges against the arrested gays were subsequently dropped.

Two of the city's three television stations — WDSU (NBC) and WVUE )ABC) — followed the breaking story and sent film crews to the protest meeting held on the Tuesday following the weekend arrests. The Times-Picayine/States-Item waited five days after the first arrests to report on the story. The account, buried in section 5, said nothing about the protest meeting, which would seem to have been the logical peg, and failed to include in its tally the arrests a group of thirty-nine gay men picked up the previous Sunday. Reporter Allan Katz, who wrote the story, says: "They wanted somebody to do something in a hurry. You would think that because the story was four days old before they assigned it to a reporter they didn't consider it a major story. About the only time in my experience we really try to relate to gay news is when something really controversial comes up." Apparently, the arrest of more than 100 men and women in a city not under martial law was not considered "really controversial."
[From Randsell Pierson's "Uptight on Gay News: Can the Straight Press Get the Gay Story Straight? Is Anyone Even Trying?" Chapter 59 in Larry Gross & James D. Woods (eds.) The Columbia Reader on Lesbians & Gay Men in Media, Society, & Politics (New York: Columbia University Press, 1999): 368-376]
If you know of something that belongs on the agenda, please send it here. Don't forget to include the basics: who, what, when, where, and URL (if available).
And feel free to consider this your open thread for the day. What's happening in your world?
Anoka-Hennepin School District Agrees To Anti-Bullying Settlement
Jim Burroway
March 6th, 2012
A school district outside of Minneapolis agreed last night to a settlement in which the district will implement specific anti-bullying measures to address a rash of suicides at the school district over the past few year. In a 5-1 vote, the Anoka-Hennepin School District agreed to settle a Justice Department civil rights investigation and a lawsuit filed by six former and current students.
The settlement creates a five year partnership between the school district, the Justice Department and the Department of Education to establish new policies and programs to address school bullying generally and anti-LGBT bullying in particular. According to the Minneapolis Star-Tribune, the settlement will:
Retain a consultant on sex-based harassment to review its policies and procedures.
Develop and implement a plan for preventing and addressing sex-based harassment of students in middle and high school.
Enhance training of staff and students on the issue.
Retain a mental health consultant to address needs of students victimized by harassment.

"This partnership will strengthen the support that the district provides to all students, including students who are gay or perceived to be gay," said school board Chairman Tom Heidemann. He added that the consent decree builds upon the work the district already has done to step up its anti-bullying efforts, including staff training.
The settlement comes after more than a year of controversy in which the school board initially denied there was a problem despite nine suicides taking place over the previous two years. Not only that, but the board also instituted a policy backed by Focus On the Family and a local conservative parents group requiring teachers to remain "neutral" in any discussions on sexual orientation, a policy which effectively prevented teachers from adequately addressing anti-gay bullying in particular. At one point, the Parents Action League demanded that ex-gay therapy be presented to students as a means of making what they thought the real problem was — the existence of gay kids — go away.
The lone dissenter in last night's vote, school board member Kathy Tingelstad, resigned after casting her no vote.
Rick Rolls Romney
Jim Burroway
February 8th, 2012
It was a huge night for Sen. Rick Santorum, whose triple-play win last night seems to show that Republican primary voters and caucus voters are still looking for that anybody-but-Mitt candidate. And it was that dissatisfaction with the presumptive nominee that allowed Santorum to dominate the field like a man on a dog.
In Missouri's primary, Santorum captured his biggest win with 55% of the vote, more than twice as much as Gov. Mitt Romney's 25% showing. Rep. Ron Paul came in at 12%, and 4% selected "uncommitted," which can be read either as a Newt Gingrich vote (Gingrich failed to qualify for Missouri's ballot) or as "none of the above." Santorum scored a total shutout in Missouri, winning every single county in the state.
Missouri's primary election is an oddity. There are no delegates up for grabs. In fact, the voting there is largely meaningless because the delegates won't be selected until the state party convention on April 21, and there is no relationship between last nights votes and how the party's state delegates are ultimately chosen. Missouri GOP leaders are free to heed or ignore last night's vote altogether. So how well last night's results will translate into delegates remains an open question.
But in the Minnesota and Colorado caucuses, the fight for delegates was real, and Santorum had a similarly spectacular night there as well. In Minnesota, Santorum pulled in 45% of the vote and six delegates. Paul came in second with 27% of the vote (3 delegates), followed by Romney at 17% (2 delegates) and Gingrich at 11% (1 delegate). Yes, you read that right: Paul beat Romney in Minnesota. And like in Missouri, Romney didn't win a single county in Minnesota either.
But the real surprise was Colorado, where Romney was expected to do well. Instead, Santorum took the state with 40% of caucus voters (earning 5 delegates) against Romney's 35% (4 delegates), followed by Gingrich's 13% (2 delegates) and Paul's 12% (1 delegate).
The worst loser of the night would have to be Gingrich. He had a terrible showing, which is bound to have an impact to his already troubled fundraising. Santorum, on the other hand, may be able to use these wins to convince Republican voters to give him another look — and GOP anybody-but-Mitt donors somewhere else to put their money.
But speaking of money, Romney's drubbing shows that there are limits to how far nearly-unlimited financial resources can go. Romney's win last week in Florida had pundits believing that it was now his election to lose. It now looks like Midwesterners are thinking maybe he should. Lose, that is.