Is Minnesota Next?
Jim Burroway
January 15th, 2013
Equality Minnesota has announced via Facebook that a marriage equality bill will be introduced into the state legislature this week:
In 2008, Marriage Equality Minnesota's marriage equality bill, "The Marriage and Family Protection Act", was introduced in both houses of the legislature. This was the first such introduction in the State's history. This week, "The Marriage and Family Protection Act" will be introduced for the fourth time. Senator, John Marty and Representative, Alice Hausman are carrying the bill.

Please contact your senators and representatives and urge them to support the early passage of "The Marriage and Family Protection Act" so we can finally have marriage equality in Minnesota. The Governor has already stated that he will sign a marriage equality bill. – Doug
Minnesota Pastor/Ex-Gay Leader Charged with Sexual Misconduct
Jim Burroway
November 9th, 2012
Last Sunday night, police arrested Ryan Jay Muehlhauser, pastor of Lakeside Christina Church in Cambridge, Minnesota about 45 miles north of Minneapolis/St. Paul, and charged him with eight felony counts of criminal misconduct over allegations that he sexually assaulted two men at least eight times while counseling them to change their sexual orientation. KSDK television describes the allegations:
Victim ABC said in counseling sessions Muehlhauser "blessed" him by cupping his genitals outside of his clothing several times and that Muehlhauser asked the victim to arouse himself in front of him and called it, the victim said, "spiritual strength."

The victim also reported that Muehlhauser would have him strip naked for more "spiritual guidance" and have him masturbate while Muehlhauser prayed over him.
According to Isanti County News, Muehlhauser appeared before a judge on Tuesday, where he was released on $50,000 bail with restrictions on his movements and conduct. The paper reported that the specific charges relate to incidents which took place on several days in 2012. One victim said that he had met Muehlhauser through another victim at Muehlhauser's home in March, where he was conducting a retreat with six young men from the Minneapolis-based ex-gay organization Outpost Ministries:
At this time, the victim noticed that Muehlhauser was extremely physical with both him and the other victim. He said Muehlhauser would constantly put his hand on his shoulder, thigh and give hugs to the victims.

On at least one occasion, Muehlhauser said he didn't want people to see them because they wouldn't understand. Muehlhauser also said he would "lose everything" if anyone found out what they were doing together.

The victim said he went along with the acts because Muehlhauser was his minister and spiritual advisor.
Both victims are unnamed. The other victim who came forward said that he met Muehlhouser two years ago at an event held by Outpost Ministries. According to their web site, "Outpost Ministries exists to help the sexually and relationally broken find healing and restoration through relationship with Jesus Christ." Outpost claims membership in the Restored Hope Network, which formed earlier this year when ex-gay ministries began defecting from Exodus International over changes in Exodus's messaging. Outpost says it left Exodus due to "due to theological differences, specifically regarding salvation and sanctification," a statement that appears to refer to Alan Chamber's recent comments that he believes that gay people who are saved, are saved no matter what, and that God places no greater burden on gay people than he does on any other "sinners."
Not only does Outpost claim membership in Restored Hope Network, but Restored Hope also returns the favor. In a September 7 post on Restored Hope's Facebook page, they wrote:
Another invaluable ministry available in Minneapolis is Outpost Ministries, headed up by Nate Oyloe. Outpost is one of the long standing ministries in the US in assisting individuals, families and churches in dealing with issues of sexual and relational brokenness. They also have a thriving prayer ministry and youth ministry. To find out more click the picture or link below.

www.outpostministries.org
This arrest is the first public scandal involving a ministry associated with Restored Hope.
Minnesota Was NOT the First State To Defeat A Constitutional Ban on Same Sex Marriage
Jim Burroway
November 7th, 2012
That distinction goes to Arizona, which became the first state to defeat a proposed constitutional amendment banning same sex marriage in 2006 when voters rejected Prop 107 by a margin of 48.2% to 51.8%. Prop 107 would have been a comprehensive ban, prohibiting same-sex marriages as well as any "legal status for unmarried persons… that is similar to that of marriage." That was the sticking point for Arizona's large number of co-habiting seniors who remain unmarried in order to protect their pension benefits. Once that clause was removed, Prop 102 passed in 2008.
A lot of people are celebrating Minnesota's defeat of Amendment 1. I, too, am overjoyed to see Minnesota — as Midwestern a state as they come — declaring that discrimination stops here. But it is really bugging the hell out of me to see so many media outlets proclaiming Minnesota as the "first state in the nation" to reject a constitutional amendment to ban same-sex marriage. That is not correct. I live in one of the most god-awful, backward and angry states in the union, but for two lovely years from 2006 to 2008, my adopted home held the distinction for being the only state to turn down a marriage amendment, and it will always remain the first to do so.
So that truly wonderful feeling that Minnesotans are feeling right now? That feeling that the world has changed in a most woderful way? That feeling that you get when you look at your neighbors with the confidence of knowing that they also see you as their neighbor in a way you perhaps hadn't felt before? I know that feeling very well, and I'm thrilled that others are feeling it again today. And I'm not giving that memory up. It's one of the very few proud memories around here to hold on to.
NOM Reacts
Jim Burroway
November 7th, 2012
Nope. Nothing historic to see here:
Brian Brown, president of the National Organization for Marriage (NOM), released the following statement today:

"Obviously we are very disappointed in losing four tough election battles by narrow margins. We knew long ago that we faced a difficult political landscape with the four marriage battles occurring in four of the deepest-blue states in America. As our opponents built a huge financial advantage, the odds became even steeper. We ran strong campaigns and nearly prevailed in a very difficult environment, significantly out-performing the GOP ticket in every state.

Despite the fact that NOM was able to contribute a record amount to the campaigns (over $5.5 million), we were still heavily outspent, by a margin of at least four-to-one. We were fighting the entirety of the political establishment in most of the states, including sitting governors in three of the states who campaigned heavily for gay marriage. Our opponents and some in the media will attempt to portray the election results as a changing point in how Americans view gay marriage, but that is not the case. Americans remain strongly in favor of marriage as the union of one man and one woman. The election results reflect the political and funding advantages our opponents enjoyed in these very liberal states.

Though we are disappointed over these losses, we remain faithful to our mission and committed to the cause of preserving marriage as God designed it. Marriage is a true and just cause, and we will never abandon the field of battle just because we experienced a setback. There is much work to do, and we begin that process now."
From 1961 to 2012: Today's Victories Were A Long Time Coming
Jim Burroway
November 7th, 2012
Fifty-one years ago today, José Sarria, a drag performer at San Francisco's famed Black Cat bar, lost his bid for election to the San Francisco Board of Supervisors. Desite the loss, his election was historic as an openly gay candidate stood for election for the first time. Sarria earned nearly 6,000 votes, putting him in nineth place city-wide in a contest for five at-large seats. Ninth out of thirty-four, which mean that, as Sarria later recalled, "From that day on, nobody ran for anything in San Francisco without knocking on the door of the gay community."
Fifty-one years later, the long-unimaginable happened. A president ended a ban on gays in the military, ordered his Justice Department to stop defending the DOMA, and announced his full support for the rights of everyone to marry. He was re-elected, against a candidate who was against all of those things. Five openly gay candidates for Congress won their races, and for the first time, a lesbian will sit in the Senate. In none of those races were the candidates' sexual orientation a major issue.
And after voters in 31 states voted to add bans on same-sex marriage to their state constitutions, Minnesota voters stopped the tide and refused to write discrimination into their organizing document. But that's not all. Voters in three states (assuming the victory in Washington holds) have gone much further than ever before. Citizens in Maine, Maryland and Washington have given their approval to allow their gay and leasbian neighbors to actually begin marrying in the next couple of months. They didn't just say no to a permanent ban while existing laws continued to prevent gay people from marrying. They changed existing law so that those marriages can take place.
And they did that at the ballot box. Remember how our opponents always said that every time voters weighted in on marriage , they always voted to deny marriage equality? No more. I would love to be sitting in the offices at the Family "Research" Council and National Organization for Marriage right now. They have seen their era end right before their eyes. But make no mistake: they will also steadfastly refuse to acknowledge its importance.
Right now, Connecticut, Iowa, Massachusetts, New Hampshire, New York, Vermont and the District of Columbia allow same-sex couples to marry. By the end of January, two and probably three more states will join them. But in the best case, less than 16% of Americans will live in states with marriage equality. Yes, that's nearly a third higher now, but it just goes to show how far we still have to go.
It will be generations, I think, before we can win marriage equality throughout the U.S. at the ballot box. In fact, there are some states where that will never happen; it will also take some key court victories before all Americans are created equal. We will undoubtedly experience more losses and setbacks in the years ahead. But every great movement moves forward one step at a time. This was a big step, but it is only the latest one in a long line of just putting one foot in front of the other. We've been doing that for more than half a century. But right now it feels pretty good, now that we're starting to get the hang of it.
Marriage Equality Wins In All Four States!
Jim Burroway
November 7th, 2012
In the very early morning hours, vote tallies in Minnesota and Washington meant that those two states have joined Maryland and Maine in rejecting attempts by anti-gay activists to deny marriage equality to LGBT couples.
Voters in Minnesota rejected a proposed constitutional amendment to ban same-sex marriage, making Minnesota the first state to do so since 2006, when Arizona voters rejected a similar ban. (Arizona voters later approved a narrower ban on marriage only in 2008.) With 99% of the ballots counted, 1,504,189 (51.3%) voted against the Amendment 1 while 1,396,879 (47.6%) who voted for it. In addition, there were 31,886 (1.1%) blank ballots cast for Amendment 1. Those were ballots in which voters marked their choices for other races but left the ballot blank for Amendment 1. Because the Minnesota constitution requires that a proposed amendment pass with a majority of all ballots cast, the blank ballots are effectively count as "no" ballots.
In Washington state,the vote counting continues in the all mail-in state, but the news was also good. Referendum 74 was ahead by 985,308 (51.8%) to 917,197 (48.2%). Because a ballot must be postmarked by November 7, the vote count is likely to continue for several more days, but observers are optimistic that Washington will join Maine and Maryland in choosing marriage equality at the ballot box:
The holdup was King County, which still had tons of ballots to count. Still, with 65 percent of King County voters approving R-74 in the initial count, and that trend likely to continue through the full count, seasoned political watchers were predicting victory. "Fifty-two percent, with King County what it is—it's still time to call Washington State for marriage equality," said Governor Chris Gregoire.

Similarly, Matt Barreto, who runs the Washington Poll, projected that R-74 would be approved and added that he expected Jay Inslee to be the next governor. "King County delivered both," Barreto said.

Gregoire, who had a late-career conversion on marriage equality, called her daughters up to the podium at the Westin and thanked them for changing her mind. "They told me, 'This is the civil rights issue of this generation,'" Gregoire said. "They're right."
In related news, voters in Iowa rejected an attempted recall of Iowa Supreme Court Justice David Wiggins, who joined in the unanimous 2009 decision which found denying marriage to same-sex couples unconstitutional. Social conservatives had mounted a fierce retention vote campaign to remove Wiggins from the bench. With 83% of the vote counted, Wiggins was retained with 54% of the vote.
These results represent a colossal, historic loss for National Organization for Marriage, anti-marriage strategist Frank Schubert, and anti-gay activists generally. Even if the decision in Washington should be reversed, this day represents a historic turning point in the fight for equality. Not only did voters defeat an attempt to permanently and constitutionally bar same-sex couples from marrying, but for the first time in history voters gave their approval for the right of their LGBT neighbors to protect their families with the rights and duties of legal marriage. There will be wins and loses to come, but future generations will today as the day in which the politics of division and demonization broke down and failed to do what they had reliably been counted on to accomplish before.  We have just seen history being made before our very eyes.
By the way, NOM has been silent so far. No press releases, no blog post. Just this plaintive tweet from about 11:00 p.m. EST last night:
Here is the latest rundown for all four states:
Maine, Question 1: Allow same-sex marriage.
Yes: 300,336 (53.3%) √
No: 262,820 (46.7%)
75.5% reporting.
Maine's Secretary of State has up to 20 days to verify election results, and the governor has 10 days to do the same. After that, there is a 30 day delay before the law to goes into effect. Marriage equality will go into effect sometime between December 7, 2012 (30 days after the election) and January 6, 2013 (60 days after the election).
Maryland, Question 6: Allow same-sex marriage.
Yes: 1,208,068 (52.0%) √
No: 1,112,998 (48.0%)
97.5% reporting.
Marriage equality will go into effect on January 1, 2013.
Minnesota, Amendment 1: Same-sex marriage ban.
No: 1,504,189 (51.3)%  √
Blanks: 31,892 (1.1%)
Yes: 1,396,879 (47.6%)
99.0% reporting.
There will be no change to Minnesota's marriage law, which currently prohibits marriage between same-sex couples.
Washington, Referendum 74: Allow same-sex marriage.
Yes: 985,308 (51.8)%  √
No: 917,197 (48.2%)
51.3% reporting.
Ballot counting will continue during regular working hours, with updated totals being posted throughout the afternoon for the next several days. If the current lead holds for Ref 74, marriage equality will go into effect on December 6, 2012.
Election Liveblog
Jim Burroway
November 6th, 2012
2:00 EST: One more thing:
Iowa Supreme Court Justice Retention Vote:
David Wiggins:
Yes (retain): 54% √
No: 46%
83% reporting.
NOM is having a very bad night. A historically bad night. I'm going to bed now and I will sleep very, very soundly.
1:39 EST: President Obama is now giving his victory speech. And with that, I'm going to sign off for the night. I will provide an update with the latest results again tomorrow morning.
1:30 EST: Here is a rundown of all of the LGBT-related races I've been following:
BALLOT MEASURES:
Maine, Question 1: Allow same-sex marriage.
Yes: 54.2% √
No: 45.8%
58.1% reporting.
Maryland, Question 6: Allow same-sex marriage.
Yes: 51.2% √
No: 48.1%
96.8% reporting.
Minnesota, Amendment 1: Same-sex marriage ban.
No: 49.2.5%
Blanks: 1.5%
Yes: 49.2%
67.4% reporting.
Remember: The Amendment needs to pass by more than half of all ballots cast. Blanks will be added to the "no" vote for the final tally.
Washington, Referendum 74: Allow same-sex marriage.
Yes: 51.8.9%
No: 48.2%
49.9% reporting.
SENATE RACE:
Wisconsin:
Tammy Baldwin (D, openly lesbian): 51.2% √
Tommy Thompson (R): 46.2.%
86.8% reporting.
CONGRESSIONAL RACES:
Arizona:
Kyrsten Sinema (D, openly bi): 47.4%
Vernon Parker (R): 46.3%
86% reporting.
California:
Mark Takano (D, openly gay): 54.4%
John Tavaglione (R): 45.6%
13% reporting.
Colorado:
Jared Polis (D, openly gay): 54.6% √
Kevin Lundberg (R): 40.4%
45.3% reporting.
Massachusetts:
Richard Tisei (R, openly gay): 47.1%
John Tierney (D) 48.4% √
98.3% reporting.
New York:
Sean Patrick Maloney (D, openly gay): 51.7% √
Nan Hayworth (R): 48.3%
96.7% reporting.
Rhode Island:
David Cicilline (D, openly gay): 53.1% √
Brendan Dohert (R): 40.7%
97.0% reporting
Wisconsin:
Mark Pocan (D, openly gay): 67.4% √
Chad Lee (R): 32.6%
90.5% reporting.
12:55 EST: Gov. Mitt Romney is now giving a very classy consession speech, congratulating President Obama for his win.
12:50 EST: Here is a rundown of the ballot measures addressing same-sex marriage. Voters in two states have approved marriage equality. Voters in Washington are on their way to approving marriage equality, and Minnesota voters look poised to turn down a proposal to write a permanent ban on same-sex marriage in the state's constitution. After voters in 30 states have written marriage equality bans into their state constitutions, we now have a remarkable turnaround in 2012. Remember this day.
Maine, Question 1: Allow same-sex marriage.
Yes: 54% √
No: 46%
51% Reporting
Maryland, Question 6: Allow same-sex marriage.
Yes: 52% √
No: 48%
93% Reporting
Minnesota, Amendment 1: Same-sex marriage ban.
No: 48.5%
Blanks: 3.7%
Yes: 47.9%
53% reporting.
Remember: The Amendment needs to pass by more than half of all ballots cast. Blanks will be added to the "no" vote for the final tally.
Washington, Referendum 74: Allow same-sex marriage.
Yes: 52%
No: 48%
50% reporting.
12:40 EST: Tammy Baldwin has now given her victory speech. With 79% reporting, she has defeated Gov. Tommy Thompson 51-47%, making her the first openly gay Senator in American history.
12:38 EST: Now I'm ready to call Maryland's Question 6 a win for equality! With 92% reporting, Question 6 has passed 1,126,598 to 1,050,179 (52-48%) Maryland voters have joined those in Maine to approve marriage equality at the ballot box. I don't know about you, but this really feels like a truly historic turning point.
12:30 EST: Colorado has now gone to Obama, bringing his lead to 290-201. There's a lot of talk about whether Ohio was prematurely declared, but even if Ohio went red, this would still be Obama's victory. An ugly one, especially if he doesn't win the popular vote, but it is a win.
12:28 EST: Another gay congressman is headed to Washington. Sean Patrick Maloney (D) has defeated Rep. Nan Hayworth (R), 52%-48%.
12:15 EST: Believe it or not, Politico has had the results swapped between Question 6 and the "Illegal immigrant tuition" question all night long. For the love of god!!!  Question 6 is up, but only 52-48%, way too early to call.
12:00 EST: With 44.1% reporting in Maine, Question 1 is projected to win!
Maine, Question 1: Allow same-sex marriage.
Yes: 54.4%
No: 45.6%
44.1% Reporting
11:45 EST: With 81% reporting in Maryland, Question 6 is projected to win!
Maryland, Question 6: Allow same-sex marriage.
Yes: 58%
No: 42%
81% Reporting
11:31 EST: Remember James Hartline?
I took my Bible with me today and proudly honored God with my decisions. I refused to vote for the demonized Mormon Cultist Mitt Romney or Obama. Instead, like nearly two million other voters, I marked other and wrote in Jesus.
11:30 EST: Has Tammy Baldwin won her Senate race? Reuters called it, but right now with 53% reporting, she is only up 49-48%. She may yet win, but it looks like a lot of folks might have jumped the gun a bit.
11:23 EST: CNN has given Ohio to Obama. President Barack Obama, the most pro-gay president in American history, has been re-elected.
11:05 EST: A slew of new projections has put Obama on top 243-191. Ohio continues to lean toward Romney, but CNN is now mapping out multiple possibilities for Obama to win even without Ohio.
Here are the state marriage ballot measures. All of them are still looking good so far.
Maine, Question 1: Allow same-sex marriage.
Yes: 53%
No: 47%
30% Reporting
Maryland, Question 6: Allow same-sex marriage.
Yes: 58%
No: 42%
55% Reporting
Minnesota: Amendment 1: Same-sex marriage ban.
No: 52%
Blanks: 3.8%
Yes: 45%
19% Reporting
Remember: The Amendment needs to pass by more than half of all ballots cast. Blanks will be added to the "no" vote for the final tally.
10:55 EST: Obama is now tied with Romney, 172-172. Ohio is leaning toward Obama, and FLorida and Virginia are very nearly tied so far. It's going to be a long night.
10:35 EST: Great news so far in the three states with marriage on the ballot that are reporting:
Maine, Question 1: Allow same-sex marriage.
Yes: 55%
No: 45%
16% Reporting
Maryland, Question 6: Allow same-sex marriage.
Yes: 60%
No: 40%
41% Reporting
Minnesota: Amendment 1: Same-sex marriage ban.
No: 57%
Blanks: 1.5%
Yes: 42%
7% Reporting
Remember: The Amendment needs to pass by more than half of all ballots cast. Blanks will be added to the "no" vote for the final tally.
10:25 EST. In Rhode Island, it looks like openly gay Rep. David Cicilline has defeated Republican challenger Brendan Doherty. With 82% reporting, Cicilline is ahead 50-44%.
In Massachusetts, Richard Tisei is trailing in his question to become the first openly gay Republican congressman. Rep. John Tierney is leading 49-47% with 58% reporting.
10:15 EST: We can celebrate Tammy Baldwin's win now. Fox News is projecting that she will be the new fabulously openly lesbian Senator from Wisconsin. History is made!
Question 1 in Maine is now tightening. With 11% reporting, it is now up 53-47%.
10:00 EST: Mitt Romney has won his home state of Utah. But he lost New Hampshire
With 7% reporting, Question 1 is passing in Maine, 55-45%.
With 23% reporting, Question 6 is passing in Maryland, 61-39%.
With only 3% reporting, Amendment 1 is trailing in Minnesota. 61-38%, with about 1.5% of the ballots blank for the proposed amendment. Blank ballots are will be counted as no votes.
9:45 EST: CNN Projects Elizabeth Warren (D) has unseated Scott Brown (R) in Massachusetts, and JOe Donnelly (D) has defeated Richard Mourdock (R) in Indiana. God's will, you know. These are both pick-ups for Dems.
9:42 EST: NBC and Fox have given Wisconsin to Obama. CNN has finally given Pennsylvania to Obama also.
9:35 EST: The Associated Press has declared Rep. Tammy Baldwin (D) the winner in her Senate race against former Gov. Tommy Thompson (R), making Baldwin the first openly gay Senator in U.S. history. Oops, take that back. The AP has NOT called for Baldwin.
9:20 EST: Fox called Pennsylvania for Obama. I'll take it.
9:15 EST: Vote counts for Maryland's Question 6 and Maine's Question 1 are excruciatingly slow. With 3% counted in Maine, Question 1 is trailing 4,253-5,362. In Maryland, Question 6 is passing 192,860-157,767 with only 1% of the vote counted. Obviously with vote tallies this low, it's way to early to see any trends.
9:00 EST: Polls close in Arizona, Colorado, Louisiana, Minnesota, New Mexico, New York, Wisconsin, Wyoming. Last polls close in Kansas, Michigan, Nebraska, South Dakota, and Texas. And with it, a whole slew of new projecitons, mostly lining up with expectations. So far, it looks like the red states are going heavily red, while the blue states are slower to come in. Right now, Romney is up 152-123.
CNN says that the Republicans will hold on to the House. Obama is getting a lot of grief for not campaigning in key House races on behalf of Democratic candidates.
8:50 EST: Alabama is red. Romney is up 82-64.
People are still in line in Florida and Virginia, even as polls have officially closed. Those who are in line will get to vote. Twitter hashtag #stayinline is now trending upward. It sure would have been nice if someone had mentioned to Florida and Virginia election officials that they were supposed to be ready for an election today.
8:30 EST: Polls just closed in Arkansas, which CNN has called for Romney. CNN has also called Tennessee as well, putting Romney ahead 73-64.
So far, only about 1% of the results are in for Maryland's Question 6 and Maine's Question 1, which means that there aren't enough results to talk about yet.
8:25 EST: In the Senate races, it looks like the Angus King, the independent candidate for Maine's Senator to replace Sen. Olympia Snowe (R) is headed to Washington. He hasn't said which party he will caucus with, but most observers expect that he will caucus with the Dems. Another possible pickup for the Dems might be Joe Donnelly, who is leading Richard Mourdock by 50-44% with 30% of the votes counted. Mourdock, you may recall, got in trouble during the debate when he said that when a child is born as a result of rape, it's God's will.
8:16 EST: Georgia now goes to Romney, bringing the EC count to 64-56 for Obama.
8:00 EST: Polls have now closed in Alabama, Connecticut, Delaware, District of Columbia, Florida, Illinois, Maine, Maryland, Massachusetts, Michigan, Mississippi, Missouri, New Hampshire, New Jersey, Oklahoma, Pennsylvania, Rhode Island, and Tennessee.
CNN has called a Delaware, DC, Illinois, Maine, Maryland, Massachusetts and Rhode Island for Obama, and Oklahoma for Romney. This puts Obama up 64-40 in the Electoral College, with Maine splitting its vote 3-1 for Obama. (Nebraska is the only other state that is not winner-take-all in the Electoral College.)
Virginia officially closed but:
Polls closed in Virginia at 7 p.m. ET, but with long lines at polling places around the state — and those in line still able to vote — the state is delaying counting votes so as not to unduly influence those still waiting in line. Smart move.
7:43 EST: CNN has now called South Carolina and West Virginia for Romney. Not much of a surprise. It's now Romney, 33-3 in the electoral count.
Polls close in Maryland and Maine at 8:00. Hopefully we'll start to get an early look at the marriage ballot measures in those states soon after.
7:30 EST: Polls have now closed in North Carolina, Ohio, and West Virginia. CNN's exit poll has Obama up by 3 in Ohio and tied in North Carolina.
7:19 EST: CNN has called Kentucky for Romney, and Vermont for Obama, which means that Romney leads the electoral college count 8-3. And we're off!
7:00 EST: Polls have closed in Georgia, Indiana, Kentucky, South Carolina, Vermont, and Virginia. First results will probably begin within the half hour. Here are the races I'll be watching, in addition to the presidential election and any others you think I should keep an eye out for.
Consider the comments thread for this post an open thread, which I'll be watching for whatever tips you have. And jokes. We may need some jokes. Or videos of cute kittens. Whatever you got. You can also email them by hitting the Contact Us link on the sidebar.
A testament to love
Timothy Kincaid
October 30th, 2012
You will need tissues. You will.
A year ago, my Uncle Tom died of cancer in the arms of his partner of 33 years.

We knew he would pass quickly after we brought him home from the hospital. But his partner wanted his last hours to be in their home. Not knowing whether he would hang on for days or hours, I offered to stay overnight so Scott could rest. I had the privilege of being there for their last 24 hours together. My self-assigned role was to remain awake so Scott could sleep.
Go read the rest at the Duluth News Tribune.
But be sure you have tissues. You have been warned.
Minnesota for Marriage: They're Coming After Our Children
Jim Burroway
October 25th, 2012
Minnesota for Marriage, the group fighting to deface that state's constitution with the stain of discrimination, has released this ad today predicting that if Amendment 1 fails — which, if it did, nothing in Minnesota would change — but if Amendment 1 fails, next thing you know they will be teaching homosexuality in schools. Massachusetts' David Parker is the face of this ad. He's the guy who failed in his demands that he be given advance notice each and every time his son might be exposed to anything related to marriage and gay families — even if it was just a classmate reading an essay about her two mommies for Mother's Day.
Minnesota for Marriage are running this ad because this message has proven to be very effect in past campaigns, particularly in Maine and California. This has become an essential campaign tactic for our opponents. They know two things: 1) they know that most voters are more motivated to on something according to how it affects them personally over how it affects other people abstractly (and anyone who is someone else is always an abstraction), and 2)  very few voters actually care personally about same-sex marriage, but they do care much more personally about what is happening in their schools. Those two reasons taken together are why these ads are so effective. It changes the topic from something very few people personally care about to another topic that they do personally care about.
I argued last year that because we knew this was coming — we did know it was coming, right? –  we needed to either come up with a response or go home. So I don't know about you, but I'm on the edge of my seat to see what marriage equality proponents have come up with to blunt this. They've had four years to prepare, so I'm sure it'll be good.
Kluwe's radio ad for equality
Timothy Kincaid
October 24th, 2012
Minnesota for Marriage Equality has a new ad, one sure to make you grin. They've decided to reach out to the audience of Rock, Classic Rock and Sports radio hoping to appeal to independent men.
The ad features Minnesota Viking punter Chris Kluwe and plays off his clever retort to New York congressman Emmett Burns, when Burns tried to get him in trouble with the Vikings over Kluwe's Baltimore Raven Brendon Ayanbadejo's public support for equality.
…I can assure you that gay people getting married will have zero effect on your life. They won't come into your house and steal your children. They won't magically turn you into a lustful cockmonster. They won't even overthrow the government in an orgy of hedonistic debauchery because all of a sudden they have the same legal rights as the other 90 percent of our population—rights like Social Security benefits, child care tax credits, Family and Medical Leave to take care of loved ones, and COBRA healthcare for spouses and children…
Audio clip: Adobe Flash Player (version 9 or above) is required to play this audio clip. Download the latest version here. You also need to have JavaScript enabled in your browser.
[Oh, hell, I screwed this one up. Listen to it anyway.]
Blankenhorn speaks out against Minnesota marriage ban
Timothy Kincaid
October 19th, 2012
In 2010, David Blankenhorn was the chief (virtually only) witness for Proposition 8. This proved to be an unwise choice for two reasons: Blankenhorn was not qualified to testify on much of the matter to which he was the assigned witness, and Blankenhorn is a decent man who isn't anti-gay and thus was susceptible to reasoned and well-articulated argument in favor of equality. So much so, in fact, that he now supports including gay and lesbian couples fully into the fabric of society.
Here he is on Minnesota's proposed constitutional ban on equality:
Anoka continues its war against gay teens
Timothy Kincaid
October 9th, 2012
Once again, Anoka Minnnesota is in the news. And once again it's due to absurdly anti-gay behavior.
You may recall that until 2009 the Anoka-Hennepin School District had a policy which banned teachers from referring to homosexuality "as a normal, valid lifestyle." And you may know that in 2009 the policy was changed to require that teachers "remain neutral" (actually an improvement). The result of the ban was that teachers were afraid to protect gay kids from bullying, lest any defense be deemed un-neutral. In 2010 Justin Aaberg, a 15 year old student, was tormented daily to the point where he finally took his own life. He was one of nine such students that year.
In response, the school board denied that there was a problem with bullying and refused to change the policy. They said that parents who complained that their kids were being bullied were liars.
After teachers began abusing gay students in class, the Minnesota State Department of Human Rights rebuked the school and the U.S. Department of Justice and the U.S. Department of Education's Office of Civil Rights held an investigation. Rolling Stone magazine wrote about "One Town's War on Gay Teens", and Justin Aaberg's mother Tammy plead for her representative, Republican Michelle Bachmann, to take action.
But it seems that Anoka has no problems with dead gay teens. The Parents Action League, one of only 26 certified anti-gay hate groups in the US, fought to keep anti-gay animus present on the campus. At one point they demanded that rather than be free from bullying, gay kids should be offered ex-gay therapy. Rep. Bachmann, who shares the views of the hate group and whose flamboyantly effeminate husband runs an ex-gay counseling center, refused to assist the kids who were being bullied.
It wasn't until the Southern Poverty Law Center sued that things changed. In March of this year, the school board settled the lawsuit and agreed to establish anti-bullying programs specifically addressed to meet the needs of gay youth.
But that was the school, not the community. And anti-gay hostility in Anoka rages on.
In response, some in the community stepped up and tried to provide a safe space for LGBT youth. Supported by First Congregational UCC, last August Tammy Aaberg took her pain and turned it into power by creating a non-profit called Justin's Gift to "help fill the following needs: belonging, self-esteem, self-respect, and ultimately a realization of their importance in the world."
It seems inconceivable that a group which was created for no other purpose than to help kids in crisis would have opponents. Who wants to dismiss, harm, or cause grief to a kid in crisis?
But as inhumane as that may seem to us, Anoka Minnesota is home to just that mindset. (Minnesota Public Radio)
Organizers of an annual Halloween parade in Anoka denied a request from a gay youth group to walk in this year's parade.

Justin's Gift, a nonprofit group created to support gay youth after several suicides in the Anoka-Hennepin School District, received a letter dated Sept. 25 denying their request to walk in the Oct. 27 parade. The letter is signed by the parade chair, who included only her first name, Liz.

"At this time we are unable to accept your application for the parade," the letter said. "We have reached our maximum for walking units."
No, they weren't "pushing the HomoSEXshull Agenda". As far as I can tell, they had no plans to advocate for opposition to Minnesota's propose anti-gay marriage ban. They just wanted to march down the street as their favorite fairy tale character. And this is a big deal in Anoka, which imagines itself to be the Halloween Capital of the World. (Conveniently ignoring that half a million people – gay and straight – pack the streets for West Hollywood's Halloween Carnival.)
Although there is room for "units from all over the midwest", there's no place in Anoka for 30 gay kids.
"The kids are pretty upset," Fietek said. "We're trying to show these kids that they're part of the community and unfortunately it backfired and sent a completely different message."
I have no problem calling this one like I see it. Anoka has yet again shown itself to be a haven for bigots and the enemy of their own LGBT children. If you agree, there is a petition on Change.org
No, Anoka will not change its mind. They will continue to bar the gay kids. But at least they will do so knowing that they do so with the contempt of decent people across the country and the world.
Marriage, just like christening
Timothy Kincaid
October 2nd, 2012
Marriage is a institution in the United States that has both a religious and a civil component. But it is not the only one.
Another institution that is religious in nature that also has had a civil component is christening. Though this is less evident and a less common practice, christening or baptismal documents can in many instances be presented as evidence of citizenship. Take, for example, the Florida requirements for obtaining a driver's license. Each citizen must produce a primary document (birth certificate, naturalization papers, etc.) and a secondary document, one of which can be "Baptism certificate, which shows date of birth and the place of baptism."
Baptismal documents are no longer a frequent proof of birth. The social security system, use of hospitals for birth, and the adoption of state birth certificates has pretty much diminished the need. But as genealogists well know, for a significant time in this country they were the primary evidence of birth and even after the incorporation of birth records, frequently fires, lost records, racial discrimination, reconfigured county lines and inconsistent record keeping would result in church records being far more thorough and reliable than municipal records. For much of our nation's history it was these religious documents that provided evidence of citizenship. And though it is rare, some very elderly people still rely on these records as proof of birth.
Which is an interesting parallel.
Because, just like marriage, different faiths had strongly divergent baptismal beliefs and practices. Some, like Catholics and Lutherans, practice water baptism (generally a sprinkling or dripping of water) while other protestants strenuously object to baptism before the age of consent and instead will bless or dedicate a child. But in either case, the parent will receive a document recognizing the event and listing the relevant details.
Which raises the point, what if some religious advocates sought an amendment in Florida declaring that baptismal documents would be "defined" by the state to include only for such ceremonies as conformed with Catholic doctrine? And suppose their campaign was sold to the public solely in terms of "what God designed".
I think that there is little question that a number of denominations would immediately sue to have such an initiative stricken from the ballot as being a violation of the separation of church and state. And they would win, and rightly so.
Which makes me wonder, why doesn't the Evangelical Lutheran Church in America or the Episcopal Church or Reformed Judaism sue to have Minnesota's discriminatory amendment stricken from the ballot? It discriminates along doctrinal lines, declaring that such marriages as are sanctioned by one church are recognized by the state while the theological practice of another church is declared to be void. And the campaign is presented purely along theological lines; their ads defend anti-gay marriage law because "it was made by God" which declares in no uncertain terms that the state of Minnesota will vote whether the beliefs about what "God made" will include the teachings of Lutherans and other liberal Christians and Jews or be excluded to just what Catholics, Mormons and other conservatives believe.
It is time for those churches who believe that the call for justice and mercy as an integral doctrine of faith compels them to defend the marriage rights of gay citizens put their faith in action. They are victims of these amendments, just as we are. They need to stand up and be strong and demand that the anti-mainline-Christianity bigotry and anti-Jewish bigotry that is all over the face of these laws cease and hold no legal standing.
Otherwise it seems to me that their beliefs about baptismal documents are more important to them than their belief in equality.
The real "religious freedom" argument
Timothy Kincaid
September 21st, 2012
Anti-gays love to scream about "religious freedom" when they really are working for the opposite. But here is a portion of a letter to the editor of Detroit Lakes Online by Rev. Mark Kuether, pastor of the Congregational United Church of Christ:
I have come to this view through my faith, along with thousands of other Minnesotans who are voting NO because of their faith. I am opposed to this amendment because if passed it would mix religion and politics in our constitution. This amendment would tell clergy who they can and cannot marry in their congregations. Some churches and religious organizations want to recognize the relationships of committed gay and lesbian couples. Some don't. It should be their choice. However, this amendment does the opposite. It tells religious leaders they are not allowed to marry same-sex couples. Many faiths want to decide for themselves. This amendment represents a one-size fits all government mandate on our state's churches. The best thing is to allow religious leaders and churches to decide for themselves.
Anti-Marriage Equality Group Accidentally Creates Pro-Equality Video
Rob Tisinai
August 26th, 2012
This video is from a group opposing same-sex marriage, but how on earth can it be interpreted as anything but an argument for letting same-sex parents marry?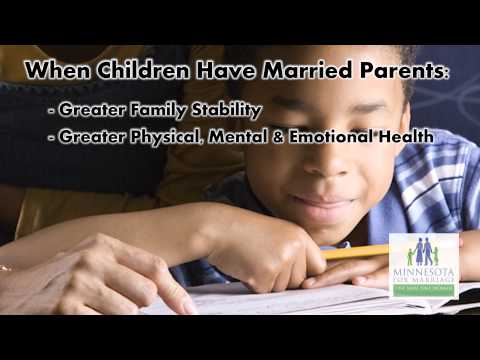 The fact that they can't see they're destroying their own argument is another sign that they can't win this thing in the long haul. Something is blinding them to their own truth. Call it bigotry, hate, homophobia, or silliness. Eventually, truth will out — especially when they're the ones promoting it.
And the Catholics go to the Minnesota State Fair to create "the most ideal society for children"
Timothy Kincaid
August 24th, 2012
Yesterday we heard about Lutherans, Jews and Evangelicals who are out opposing Minnesota's proposed anti-gay marriage ban. Today we hear about the Catholics who are supporting it. (Albert Lea Tribune)
Tim and Pat Dusbabek, a married couple from Ramsey volunteering at the Minnesota for Marriage booth, said their strong views are motivated not by hate or fear of gay people but rather hope of creating what they called the most ideal society for children.

"If the amendment would not pass and our marriage laws got overturned, the focus of marriage wouldn't be on children but rather on adults and their needs," said Tim Dusbabek, a retired research scientist at Medtronic.

The Dusbabeks, who are Catholic, said they got involved in the campaign after the church they attend in Elk River put out calls for volunteers. Pat Dusbabek said in most cases when she spoke to married couples at the fair, one had a strong view on the issue and the other was more apprehensive.

"We certainly have good friends ourselves who are very much on the other side of the issue," Tim Dusbabek said. "We just agree to talk about something else."
Oh, my. Of course we can't predict anything based on one booth at the fair, but it sounds as though it's not all happy smiles and sunflowers at the Catholics' Minnesota for (Only Our) Marriage booth.
Religious pressure to do the right thing at Minnesota State Fair
Timothy Kincaid
August 23rd, 2012
On Thursday, the new bishop of the Evangelical Lutheran Church in America's Minneapolis synod, Ann Svennungsen, joined a Conservative rabbi and an evangelical Christian pastor near the main entrance to encourage voters to defeat the measure set for vote Nov. 6.

The amendment would change the state Constitution to define marriage as between a man and woman, effectively banning gay marriage.
There are roughly 800,000 ELCA members in Minnesota and the synod is officially opposed to the anti-gay amendment. About 2.8 million voters participated in the 2008 elections.
We really need a "no" vote on this here amendment, don't ya know. So it is real exciting to see Svennungsen this committed to the issue. You betcha.
Minnesota for Marriage is Lying Again
Rob Tisinai
July 11th, 2012
Anti-gay activists revel in irrelevance. We see it when they condemn same-sex parenting with studies that have nothing to do with same-sex parenting. And now Minnesota for Marriage (M4M) is doing it again as they try to scare us with the dangers of marriage equality. They've posted yet another dishonest video. This one says:
What kind of issues would professionals face if marriage is redefined?

Well, doctors, psychologists, social workers, counselors and other professionals who conscientiously object to same-sex marriage could face a range of potential consequences, including license revocation and lawsuits leading to the potential loss of their ability to make a living.

For example, in California, a Christian physician specializing in fertility services who believed that children need a mother and a father refused to provide fertility services to a lesbian couple. Now even though the physician did offer to refer the couple to other physicians who would willingly serve them, the couple still sued the physician and her employer, and won in court. If the marriage protection amendment passes, the moral convictions of professionals in Minnesota will be protected.
They've chosen an odd example to make their point. You know why? Because the California case had nothing to do with same-sex marriage.
They're referring to Guadalupe Benitez and her dispute with North Coast Women's Care Medical Group, Inc. Ms. Benitez first filed suit in 2001, long before California opened a brief window for same-sex marriage, and the state Supreme Court based its 2008 decision on the Unruh Act, which forbids sexual orientation discrimination in California. Yep — it was about discrimination, not marriage.
Think about that. M4M created (one would assume) the most convincing case possible. It chose (one might expect) the most compelling example available. And yet it failed (one can be certain) to present any relevant facts to back up its claim.
This is common among those who clang the danger bell at the prospect of marriage equality. They cite the Ocean Grove Camp ministry, even though it occurred in a state without same-sex marriage (and ultimately affirmed the right of churches to discriminate!). They cite the New Mexico photographer who was fined for refusing to photograph a same-sex commitment ceremony, even though New Mexico doesn't allow same-sex marriage.
All these cases turned on discrimination law, not same-sex marriage. Our opponents don't like to admit that. They lose voter support when the issue's framed that way; lots of folk who aren't sure about marriage equality are dead-set against discrimination. But mainly, I think, they cloud this issue to keep it from highlighting the dishonesty in their approach — and why make a dishonest case when an honest one is available? I think that question answers itself.
Speaking of dishonesty, let's look at that last sentence in the M4M quote:
If the marriage protection amendment passes, the moral convictions of professionals in Minnesota will be protected.
Sorry. Even if you ignore their loaded and dubious language, the fact remains that Minnesota has a law prohibiting orientation-based health care discrimination. The proposed marriage amendment changes that not one bit. But why would M4M make such a blatantly dishonest claim if –
Never mind. We just covered that.
Minnesota church ladies get active about the marriage ban amendment
Timothy Kincaid
July 11th, 2012
The nice polite church ladies in well manicured and politically conservative suburban Minnesota neighborhood have become inspired by the proposed amendment to prohibit gay marriage. So fired up, in fact, that they've decided to see if they can make the difference in the election.
They want it to fail. (Atlantic)
It started with Gwin Pratt, a senior pastor at St. Luke Presbyterian Church, which has a long history of advocating for gay rights. After the Minnesota State Legislature voted to include the amendment on the ballot, the congregation began an outreach plan to to oppose it. Cindy Eyden, a member of St. Luke, suggested buying rainbow flags in bulk and distributing them to anyone in the community who was interested. What she didn't know was that her idea would go viral.

Maureen Henderson, a fellow St. Luke congregant, was quick to follow Eyden's lead. "They were selling these rainbow flags, only $2.50 for this full size, beautiful flag, and I looked at it, and bought a whole bunch of flags." Henderson told herself "I'm going to go home to my neighborhood, and see, in our community, if one by one we can hand them out and then together start to address this issue."

So off Henderson went to her home in Eden Prairie, a suburb of 60,000 filled with white-collar professionals, 94 percent of whom are Caucasian. That afternoon, she started going door to door with flags in hand. She was quickly joined by her neighbor Wendy Ivins. They took the picture-perfect neighborhood by storm, engaging their neighbors in respectful conversations. Soon, more and more rainbow flags began to appear in the sleepy cul de sacs, planted on large lots and hanging from wood porches.
Yep, I teared up.
Moderate Christians begin to speak up
Timothy Kincaid
June 8th, 2012
There is a fairly new but growing trend in Christianity: moderate Christians who have finally decided that far right conservatives will not be the only face of the faith. I've been saying for a while that if moderates don't speak up that they have only themselves to blame if the unchurched think that all Christians are extremists and homophobes. But now they are speaking up.
In Minnesota, ministers from different denominations have joined together to oppose the proposed marriage ban. (Necn.com)
Among the latter was the Rev. Kelly Chatman, lead pastor of Redeemer Lutheran Church in Minneapolis. He took take a public stand against the amendment, he said Friday, "because I don't want that other voice to be the only voice, I don't want same-sex people to see all churches that way.

"I'm doing this because it's important people see a pastor who believes that God is loving to everybody."
…
Plenty of prominent Minnesota denominations have come out squarely against the amendment. Five Minnesota synods of the Evangelical Lutheran Church in America have approved formal resolutions in opposition to the marriage amendment. Earlier this month, the general assembly of Minnesota's United Methodists overwhelmingly approved a resolution against the amendment.
This is so important for us for two reasons: first, it is essential that people not believe that the position of all people of faith is to support discrimination or that this is what God wants (many who never darken a church door will do "what God wants" on an issue they are not real clear on).
But as important is that when ministers begin to see this as a matter of justice and what they believe to be consistent with the call of Christ, they can get pretty worked up about it. And they can inspire their congregations to become allies for equality. And little old Methodist church ladies can reach people we have no access to with the message of "well, I just believe God wants us to treat gay people the way we want to be treated". And that is a very powerful message indeed.
And I think that when compared to the other voices, those who call for equality, justice, and mercy have a natural advantage. They don't sound like this:
The Rev. Bryan Pedersen of Sacred Heart Catholic Church in Robbinsdale, said he's been approached by parishioners at odds with his own public stand for the amendment.

"Every one of them will be accountable to God for how they're informed by their conscience," Pedersen said. "The definition of marriage is non-negotiable."