Santorum Finally Gets Around to Condemning the Booing of an American Soldier, But He Totally Has A Good Excuse For Not Speaking Up Sooner
Jim Burroway
September 23rd, 2011
An entire news cycle has passed since the American people witnessed the spectacle of nine GOP presidential candidates remaining silent while audience members booed an American soldier during last night's debate. Instead of speaking up against the outburst or even thanking Stephen Hill, who is currently stationed in Iraq, for his service, they stood in stone silence while Sen. Rick Santorum railed against the repeal of "Don't Ask, Don't Tell" as "playing social experimentation with our military." Their silence was all the more remarkable considering their willingness to interrupt each other on other topics throughout the debate.
After nearly a full day of mounting criticisms from the left, the right, and everywhere in between, Santorum finally got around to condemning the booing and, very belatedly, to thank him for his service. But only after he was asked directly about it. Furthermore, there was no hint of an apology for last night's debacle:
Megyn Kelly: Now online this is getting a lot of attention, this video question from a gay soldier. I want to ask you not so much about your answer because you and I did that back and forth last night, but I want to ask you about people are now criticizing the audience last night for their reaction when they heard this video question. Let's play just the video question:

Stephen Hill: … Iraq, I had to lie about who I was because I'm a gay soldier and I didn't want to lose my job. My question is, under one of your presidencies do you intend to circumvent the progress that's been made for gay and lesbian soldiers in the military? [Scattered booing]

Kelly: So there were a couple of boos in the audience. I mean there were five thousand people there. And now some people are criticizing you for not responding to it and Republicans for, you know, booing a gay soldier. Your response?

Santorum: Yeah. Well, I condemn the people who booed that gay soldier. That soldier is serving our country. I thank him for his service to our country. I'm sure he's doing an excellent job. I hope he's safe and I hope he returns safely and does his mission well. I have to admit, I seriously did not hear those boos. Had I heard them, I certainly would have commented on them, but, as you know, when you're in that sort of environment, you're sort of focused on the question and formulating your answer. I just didn't hear those couple of boos that were out there, but certainly had I, I would have said that that was… I would have said don't do that. This man is serving our country and we are to thank him for his service."
I find his excuse that he didn't hear the boos incredulous. The videotape shows the loudest booing clearly reverberating throughout the hall. It's also telling that he was more focused on condemning gay people because of all of the sex, sex, and more frothy sex, that he imagines them having all the time in the barracks, in the showers, and on the parade grounds — and you know how much gay people love a good parade — than he was in undertaking the simple decency of thanking the soldier for his service.
Former Utah Gov. John Hunstman called the booing "unfortunate" last night following the debate, adding, "You know, we're all Americans, and the fact that he is an American who put on the uniform says something good about him." It would have been good if he had the courage to say that while still on the dais with the cameras rolling. Meanwhile, seven other GOP presidential candidates have continued their radio silence, both on the booing and their own neglect for thanking an American soldier.
Mark this day as a historic first: for the first time in the history of the Republic, not a single Republican freedom-loving, flag-saluting, allegiance-pledging, birth-certificate-waving patriotic presidential candidate tried to step over everyone else to be the first to thank an American soldier for his service to the country.
Santorum Doubles Down on DADT, With No Apology Or Thanks To American Soldier
Jim Burroway
September 23rd, 2011
GOP presidential candidate Sen. Rick Santorum followed up his criticism last night of gays serving openly in the military. In last night's GOP presidential debate, in which an American soldier currently stationed in Iraq was booed by members of the audience, Santorum called the repeal of "Don't Ask, Don't Tell" an exercise in "social experimentation." Today, he appeared on Fox News'  morning program Fox and Friends, in which he falsely claimed that other nations' militaries which allow gay people to serve openly are mostly non-volunteer forces.
Q: I don't know if he had the same idea with you about "Don't Ask, Don't Tell," but I do know that you disagree with President Obama, which by the way got rid of "Don't Ask, Don't Tell" just a couple of days ago. Let's listen to what you said last night:

Santorum, during the debate: …Any type of sexual activity has absolutely no place in the military and the fact that they are making a point to include it as a provision within the military that we are going to recognize a group of people and give them a special privilege in removing "Don't Ask, Don't Tell,"  I think tries to inject social policy into the military and the military's job is to do one thing and that is to defend our country. [Applause] … What we're doing is playing social experimentation with our military right now, and that's tragic. …

Q: So you would go back to "Don't Ask, Don't Tell" if you become President?

Santorum: Absolutely. We haven't even begun to see what the consequences of going to 'DADT' are going to be. The men and women who sign up for the military are now going to be placed in very difficult and uncomfortable personal situations, in very close quarter situations. Look, this is a volunteer military. In the other militaries where this has been tried by and large, have not been voluntary militaries. You've been required to serve. This is not, and so we've got to recruit people who would want to do this and now you're going to put them in a very odd and uncomfortable environment. A lot of people, I believe are going to leave. I think a lot of folks aren't going to join who otherwise would have joined, and that's going to hurt our ratings, it's going to hurt our ability to defend this country, and we shouldn't be playing social experimentation. As I said last night, there is no role for playing sexual experimentation games in the United States military. This is about securing our country.
In fact, most of the militaries around the world which allow gays to serve openly are all volunteer forces, including Australia, Bahamas, Belgium, Britain, Canada, Czech Republic, France, Germany, Ireland, Italy, Lithuania, Luxembourg, Netherlands, New Zealand, Slovenia, South Africa, Spain, Sweden and Uruguay.
No mention was made about the booing of an active-duty American soldier by the debate audience. It is also the only time I can recall when an active-duty American servicemember appeared in a GOP debate who was not thanked for his service to our country. Andrew Sullivan reacts:
But somehow the fact that these indignities were heaped on a man risking his life to serve this country, a man ballsy enough to make that video, a man in the uniform of the United States … well, it tells me a couple of things. It tells me that these Republicans don't actually deep down care for the troops, if that means gay troops. Their constant posturing military patriotism has its limits.

The shocking silence on the stage – the fact that no one challenged this outrage – also tells me that this kind of slur is not regarded as a big deal. When it came to it, even Santorum couldn't sanction firing all those servicemembers who are now proudly out. But that's because he was forced to focus not on his own Thomist abstractions, but on an actual person. Throughout Republican debates, gays are discussed as if we are never in the audience, never actually part of the society, never fully part of families, never worthy of even a scintilla of respect. When you boo a servicemember solely because he's gay, you are saying he is beneath contempt, that nothing he does or has done can counterweigh the vileness of his sexual orientation.
Can you even begin to imagine the hissy fit we would be hearing right now if any American active-duty soldier currently stationed in Iraq had been booed at a Democratic debate?
Petition Circulates Demanding Santorum Apologize To Gay Soldiers
Jim Burroway
September 23rd, 2011
At last night's GOP debate, after the only American Soldier to ask a question the entire night was booed by audience members, GOP presidential candidate Sen. Rick Santorum said that gay soldiers like him should be barred from serving the country. Santorum neither thanked the soldier, identified as Stephen Hill, for his service, nor did he admonish the audience members who booed him. Instead, he denounced the repeal of "Don't Ask, Don't Tell" as "playing social experimentation" and promised to reinstitute the ban.
Change.org now has a petition up calling on Santorum to "apologize to Hill and all soldiers that he insulted by insisting they had no place in our armed services."
American Soldier Booed At GOP Debate
Jim Burroway
September 23rd, 2011
Frankly, I never thought I'd see the day.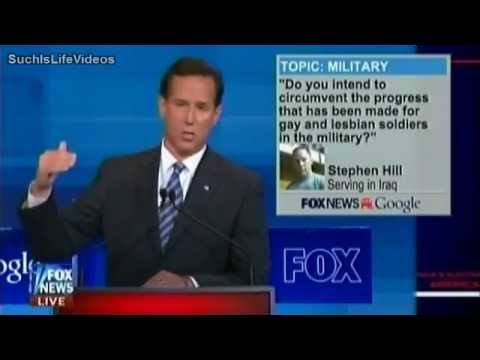 Megyn Kelly: Senator Santorum, this question stirred up a whole lot of controversy online and comes from Stephen Hill, who is a soldier serving in Iraq.

Stephen Hill: In 2010 when I was deployed to Iraq, I had to lie about who I was because I'm a gay soldier and I didn't want to lose my job. My question is, under one of your presidencies do you intend to circumvent progress that's been made for gay and lesbian soldiers in the military? [Scattered booing]

Sen. Rick Santorum. Yeah, I would say any type of sexual activity has absolutely no place in the military and the fact that they are making a point to include it as a provision within the military that we are going to recognize a group of people and give them a special privilege in removing "Don't Ask, Don't Tell,"  I think tries to inject social policy into the military and the military's job is to do one thing and that is to defend our country. [Applause] We need to give the military, which is all volunteer, the ability to do so in a way [cheering and applause] that is most efficient and protective of our men and women in uniform and I believe this undermines that ability. [more cheers and applause]

Kelly: So what would you do with soldiers like Stephen Hill? I mean now he's out. You know, you saw his face on camera. When he first submitted his video to us, it was without his face on camera. Now he's out. So what would you do as president?

Santorum: I think, it's… it's… Look, what we're doing is playing social experimentation with our military right now, and that's tragic. I would just say that going forward we would reinstitute that policy if Rick Santorum was President. Period. That policy would be reinstituted, and as far as people who are in it, I would not throw them out, because that would be unfair to them because of the policy of this administration. But we would move forward in conformity to what was happening in the past which was sex is not an issue. It should not be an issue. [applause] Leave it alone. Keep it to yourself [applause and cheers] whether you are a heterosexual or a homosexual.
GOP candidates and their spinners in the spin room afterwards were scrambling to characterize the booing as "unfortunate." But none of the candidates found it necessary to denounce it on stage.
UPDATE: GOProud was perhaps the first out of the gate to demand an apology:
Tonight, Rick Santorum disrespected our brave men and women in uniform, and he owes Stephen Hill, the gay soldier who asked him the question about Don't Ask, Don't Tell repeal, an immediate apology.

"That brave gay soldier is doing something Rick Santorum has never done – put his life on the line to defend our freedoms and our way of life.  It is telling that Rick Santorum is so blinded by his anti-gay bigotry that he couldn't even bring himself to thank that gay soldier for his service.

"Stephen Hill is serving our country in Iraq, fighting a war Senator Santorum says he supports.  How can Senator Santorum claim to support this war if he doesn't support the brave men and women who are fighting it?"
Santorum Wants Google To Clean Up His Frothy Mix
Jim Burroway
September 21st, 2011
GOP presidential candidate Sen. Rick Santorum is upset that he has a Google problem. And he thinks Google should clean up his mess:
"I suspect if something was up there like that about Joe Biden, they'd get rid of it," Santorum said. "If you're a responsible business, you don't let things like that happen in your business that have an impact on the country."

He continued: "To have a business allow that type of filth to be purveyed through their website or through their system is something that they say they can't handle but I suspect that's not true."
Santorum's solution is for Google to go into the business of manipulating search results, something the Google refuses to do:
A Google spokesperson responded to Santorum by advising that users who want "content removed from the Internet should contact the webmaster of the page directly."

"Google's search results are a reflection of the content and information that is available on the web. Users who want content removed from the Internet should contact the webmaster of the page directly," the spokesperson said. "Once the webmaster takes the page down from the web, it will be removed from Google's search results through our usual crawling process."
Google's page ranking systems is a closely guarded secret in an attempt to prevent web sites from gaming the system, but one of the important elements is the number of links that a page about, say, Santorum, receives from other web sites. But the problem with Santorum's complaints about Google is that his page-rank problem is bigger than Santorum. His web site comes in seventh, below even his own Wikipedia page. Which make's Santorum's complaints about his Google problem so incredibly counterproductive. Because the more people talk about Santorum's Google problem, the more likely they are to link to Santorum's neologism. And when they do that, it only gets worse for poor Rick Santorum.
Penn State Student Schools Santorum on Homosexuality
Jim Burroway
September 1st, 2011
Sen. Rick Santorum held a Q&A at Penn State on Tuesday, where he entered into this exchange with a Penn State student about the social science showing that kids in families headed by gay parents have just as good outcomes as children in families headed by heterosexual parents.
Santorum: The interview was yesterday, but it's going to be shown tomorrow night on CNN. I had Piers Morgan call me a bigot. Because I believe what the Catholic Church teaches with respect to homosexuality, I'm a bigot. So, now I'm a bigot because I believe what the Bible teaches. Now, 2000 years of teaching and moral theology is now bigoted. And, of course, we don't elect bigots to office, we don't give them professional licenses, we don't give them preferential tax treatment! If you're a preacher and you preach bigoted things, you think you're going to be allow to have a 501(c)3 as a church? Of course not.

This has profound consequence to the entire moral ecology of America. It will undermine the family. It will destroy faith in America. And does anybody go out there and make the argument as to why this is a good thing because it will happen. Make the argument why this is right. I don't hear those arguments. I don't hear them making….

Student: There is plenty of social science…

Santorum. What's the social science?

Student: I'm not going to attempt to say that there is this one and this one and this one. But it is extremely unfair for you to say that there are no social science reports that suggest that children are okay in a same-sex relationship. There are plenty of statistical studies that they are just as happy and successful and everything else as long as they have two parents supporting them.

Santorum: I see. And so you…

Student: The American Psychological Association…

Santorum: But wait! But isn't … I mean you're a lawyer. [unintelligible]…

Student: The American Psychological Association has enumerated – in 1974, that gay marriage does not prohibit [unintelligible]…

Santorum: I understand that, but the American Psychological Association is made up of people who agree with the American Psychological Association, just like the AMA… A lot of psychologists don't belong to the American Psychological Association. A lot of doctors don't belong to the American Medical Association. All these associations prove is that they have a point of view and the people who join them agree with that point of view

Student: You just asked for evidence and you got evidence…

Santorum: That's not evidence! An organization supporting a position is not evidence of a benefit to society.

Student: Are you a psychiatrist? Are you a medical doctor?

Santorum: My dad was. I'm not but that's not the point, lawyer! Okay? Let's be a lawyer here.

Student: Well wait, if we're going to be a lawyer here…

Santorum: Time out! Time out. Time out. [Crosstalk] Time out, I've given you a chance … Time out! Time out! Time out. The American Psychological Association is not proof of anything. Okay? It's proof that a group of people agree with you. That's all it's proof of. Okay?
That's the way they use science these days, isn't it. They're only looking for proof among people who agree with you. Unfortunately, the only way to come up with that proof is the misrepresent the science that's already out there.
Santorum's Metaphors About Marriage Are Starting to Sound Pretty Gay
Jim Burroway
August 26th, 2011
First, it  was napkins and not paper towels, then it was water and not beer, then it was tea and not basketball. Now GOP presidential candidate Sen. Rick Santorum says that marriage is a tree and not a car:
Burns: You've been pretty strong in your opposition to gay marriage. Iowa, of course, does have legalized gay marriage. How does the fact that there are a handful of gay couples married in Carroll affect my heterosexual life and your heterosexual life? How does it hurt other people in Carroll, Iowa, that there are folks among us we may not even know who happen to be gay and happen to be married? How does that hurt my life?

Santorum: Because it changes the definition of an intrinsic element of society in a way that minimizes what that bond means to society.

Marriage is what marriage is. Marriage was around before government said what it was.

It's like going out and saying, 'That tree is a car.' Well, the tree's not a car. A tree's a tree. Marriage is marriage.

You can say that tree is something other than it is. It can redefine it. But it doesn't change the essential nature of what marriage is.
He talks a lot about what he thinks marriage is not. But when he gets around to talking about what marriage is, he goes into napkins, water, tea and trees. Santorum is making marriage sound like an al fresco waterside supper with riparian entertainments. Which if you ask me sounds about as gay as gay could be.
Santorum Supports Tenth Amendment Except When He Doesn't
Jim Burroway
August 12th, 2011
And in last night's GOP debate in Iowa, he carved out a HUGE exception for the Tenth Amendment when it comes to marriage equality: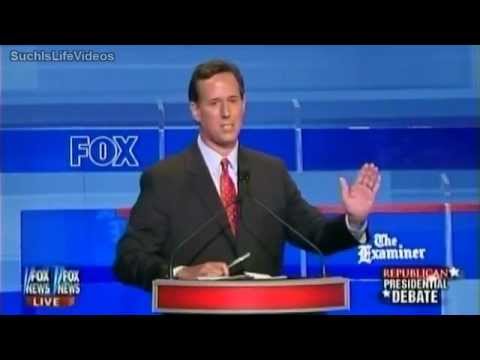 Chris Wallace: Sen. Santorum, I see you wanting to jump in, your thoughts about RomneyCare.

Rick Santorum: Well, first, I was the first author of medical savings accounts back in 1992 whith John Kasich in the House. But this is a very important argument here. This is the Tenth Amendment run amuck. Michele Bachmanm says that she would go in and fight health care being imposed by states mandatory-up, but she wouldn't go in and fight marriage being imposed by the states. That would be okay. We have Ron Paul saying, oh, whatever the states want to do under the Tenth Amendment's fine. So if the states want to pass polygamy, that's fine. If the states want to pass impose sterilization, that's fine. No, our country is based on moral laws, ladies and gentlemen. There are things the states can't do. Abraham Lincoln said, "the states do not have the right to do wrong." I respect the Tenth Amendment, but we are a nation that has values. We are a nation that was built on a moral enterprise. And states don't have the right to tramp over those because of the Tenth Amendment.
We are accustomed to seeing anti-gay extremists like Santorum lie unashamedly when it comes to gay people. And so it is a special treat to see him running amuck and lying about the positions of fellow Republicans right to their faces. Reagan must be rolling over in his grave. Bachmann has been an unwavering supporter of the Federal Marriage Amendment which would short-circuit the Tenth Amendment exactly as Santorum argues it should. She reiterated her support again last night.  And as for polygamy, Paul handed Santorum's head right back to him on a platter: "It's sort of like asking the question if the states wanted to legalize slavery or something like that, that is so past reality that no state is going to do that." But who ever said that Santorum was working with reality in the first place?
GOP Candidates On Same-Sex Marriage
Jim Burroway
August 12th, 2011
Think Progress has a handy compilation clip from Thursday night's GOP debate in Iowa of candidates discussing same-sex marriage. One of my favorite reactions comes from across the Pond, with The Guardian's Richard Adams responding to Romney's argument that "marriage is a status":
Looking back through some clips, there's Romney saying: "Marriage is a status, it's not an activity." Who says romance is dead, eh? Calling marriage a "status" makes it sound like a Facebook update.
The emerging consensus, albeit a snarky one,  is that the debate's real winner was Rick Perry, who doesn't officially declare his candidacy until tomorrow.
Here's the clip and transcript.
Mitt Romney: Marriage should be decided at the federal level. … Marriage is a status. It's not an activity that goes on within the walls of a state and as a result, our marriage status relationship should be constant across the country. I believe we should have a federal amendment to the Constitution that defines marriage as a relationship between a man and a woman because I believe the ideal place to raise a child is in a home with a mom and a dad.

Jon Huntsman: I also believe in civil unions, because I think this nation can do a better job when it comes to equality. And I think this nation can do a better job when it comes to reciprocal beneficiary rights rights. And I believe that this is something that ought to be discussed among the various states. I don't have any problem with the states having this discussion. But as for me, I support civil unions.

Ron Paul: (About whether polygamy would "be okay too") It's sort of like asking the question if the states wanted to legalize slavery or something like that, that is so past reality that no state is going to do that. But on the issue of marriage, I think marriage should be between a single man and a single woman and that the federal government shouldn't be involved. I want less government involvement. I don't want the federal government having a marriage police.

Rick Santorum: It sounds to me like Rep. Paul would actually say polygamous marriages are okay. If the state has the right to do it, they have the right to do it.

Michele Bachmann: I support the Federal Marriage Amendment because I believe that we will see this issue at the Supreme Court someday, and as president I would not nominate activist judges who legislate from the bench. I also want to say that when I was in Minnesota, I was the chief author of the Constitutional amendment to define marriage as one-man, one-woman. I have an absolutely unblemished record when it comes to this issue of man-woman marriage.
Santorum Supports Gay Rights — In Iran
Jim Burroway
August 12th, 2011
Just when you think you know a guy…
Of course this particular point about gays is moot. Iranian President Mahmoud Ahmadinejad famously declared in 2007 that there are no beers in Iran.
Now It's Tea And Not Basketball
Jim Burroway
August 11th, 2011
The metaphors become even more strained:
Rick Santorum today finally wrapped up his 50-city tour de Iowa. He continued to press anti-gay views, saying that calling same-sex marriage a marriage would be like calling a cup of tea a basketball. He repeatedly quoted a study that families do better in heterosexual marriages. Though that study actually uses the phrase "nuclear" family, which can include same-sex couples.
He made those remarks yesterday at a very lonely stop of the "Value Voters Bus Tour" which is making its way through Iowa. He's really been straining at the metaphors: napkins and not paper towels, water and not beer. But none of those metaphors have the punchiness of "frothy mix." His weird metaphors may go on a temporary hiatus: Santorum is reportedly developing  laryngitis. That development will be particularly timely if it affects his participation in tonight's GOP debate.
Santorum Says Marriage Is All Wet
Jim Burroway
August 10th, 2011
Or something like that. This week, marriage is water and not beer. Last week, marriage was a napkin and not a paper towel, a metaphor which provided yet another opportunity to remind people of Santurum's Google problem. He really needs to stay away from the metaphors. They just don't work for him.
Pawlenty, Santorum join FRC's and NOM's Iowa Bus Tour
Jim Burroway
August 10th, 2011
The "Values Voters Bus Tour," sponsored by the Family "Research" Council's lobbying arm, the National Organization for Marriage, and the Susan B. Anthony List, kicked off yesterday in Des Moines, Iowa, with the goal of hitting several Iowa communities ahead of Saturday's GOP presidential Straw Poll. Minnesota Gov. Tim Pawlenty was on hand for the tour's start, which was greeted by a sparse crowd that appears to have been outnumbered by reporters:
The bus made five more stops before the day was done yesterday. This morning, the bus tour resumed with a breakfast in Cedar Rapids, Iowa, where Pennsylvania Sen. Rick Santorum met the bus.
Mitt Romney declares anti-gay litmus test for judicial appointments
Timothy Kincaid
August 4th, 2011


NOTE: The header, which originally said "Mitt Romney declares anti-gay litmus test for Supreme Court nominees", was revised for accuracy.
The National Organization for Marriage is bragging that Republican presidential candidates Michele Bachmann, Rick Santorum, and Mitt Romney have signed their pledge:
I, ______________, pledge to the American people that if elected President, I will:

One, support sending a federal constitutional amendment defining marriage as the union of one man and one woman to the states for ratification.

Two, nominate to the U.S. Supreme Court and federal bench judges who are committed to restraint and to applying the original meaning of the Constitution, appoint an attorney general similarly committed, and thus reject the idea our Founding Fathers inserted a right to gay marriage into our Constitution.

Three, defend the federal Defense of Marriage Act vigorously in court.

Four, establish a presidential commission on religious liberty to investigate and document reports of Americans who have been harassed or threatened for exercising key civil rights to organize, to speak, to donate or to vote for marriage and to propose new protections, if needed.

Five, advance legislation to return to the people of the District of Columbia their right to vote on marriage.
Most of this is just a declaration of personal anti-gay animus and is neither a pledge of intent or likelihood.
There is almost no chance at all that two-thirds of each house of Congress would vote for a Federal Marriage Amendment and that likelihood decreases significantly with each passing year. By the time that the 2013-2017 Presidential term begins, it doesn't matter what a President might "support", it isn't going to happen.
Also by that time, it is likely that the constitutionality of DOMA3 will have progressed out of the initial federal court hearings and on to appeal. And having declined to defend the law, the Justice Department cannot decide to step in and resume authority once a new Attorney General is in the office. At most, the Attorney General could file an amicus brief, which any of these nominees could do on their own today.
As for establishing a presidential commission to look at how gays are harassing and threatening homophobes, that would be political suicide. Not only would it appear to oh, just about anyone, as homophobic and an abuse of power, but it would be embarrassing to NOM when the commission released its report. The boycott of El Coyote may sound like a "threat" to NOM's target audience, but "the gays didn't eat there after the owner gave to Prop 8″ is going to sound like a statement of the obvious to the rest of the country.
Equally stupid would be an effort on the part of the federal government to interfere with the District's Human Rights Act so as to exclude gay people. That is the only mechanism by which legislation could "return to the people of the District of Columbia their right to vote" on limiting any of the District's provisions based on sexual orientation. Only two Senators and 37 members of the House were willing to sign on to an amicus brief arguing that the Human Rights Act didn't cover gay marriage. Even fewer would sign on to legislation to amend the "The Human Rights Act" specifically to exclude gay people from coverage.
Now none of this is to say that Michele Bachman and Rick Santorum would not try to do all of the above. They live in a bubble in which the things that they say actually make sense and where people admire them and their values. But both are wackadoodles with no chance of winning the Presidency.
Mitt Romney, however, is a credible candidate. And he should have thought a bit more before signing onto this pledge. Because he just made a declaration that has potential to negatively impact his campaign.
No, it was not the wacky appeal to ancestor-worship that has our "Founding Fathers" writing the Fourteenth Amendment in 1868. Palinist history is about symbolism, not fact, so this is not much of a liability to Romney at this stage.
Nor is it unusual for Republican nominees to declare their support for a commitment to constraint and to oppose those who "legislate from the bench."
But this pledge goes way beyond such language. And by signing, Mitt Romney took the unusual step of declaring that his judicial nominees must reject the idea that the US Constitution protects the marriage rights of gay people. Mitt Romney announced that he has a litmus test.
In practice, litmus tests for judicial nominees are complicated.
An administration makes judicial appointments that it believes share its ideology. But the nominees themselves are bound by professional ethics from declaring their position on matters that are expected to appear before them. And most aren't much favorable of the notion that your whim is to be followed rather than their consideration of the facts, weight of precedent, or argument of the litigants.
But regardless of whether or not litmus test questioning occurs in private, declaring a litmus test for judicial nominees, especially this early in a political campaign, is not wise. And at some point, a reporter is going to ask Romney the unanswerable question, "Considering Ted Olson's legal stature and established conservative credentials, would his support for same-sex marriage disqualify him from an appointment to the federal bench?"
Rick Santorum: "States Do Not Have The Right To Destroy The American Family"
Jim Burroway
July 30th, 2011
No one can accuse former Pennsylvania Senator and GOP presidential hopeful Rick Santorum of "tenther" tenancies. On Friday, evening Santorum spoke at the Western Summit outside of Denver and delivered this attack on Texas Governor Rick Perry, who had earlier cited the Tenth Amendment and said that New York's granting of marriage equality to same-sex couples was "their business, and that's fine with me."
Santorum lashed out at that remark, and in the process tried to deny that he had ever compared gay relationships to sex with dogs or your sister.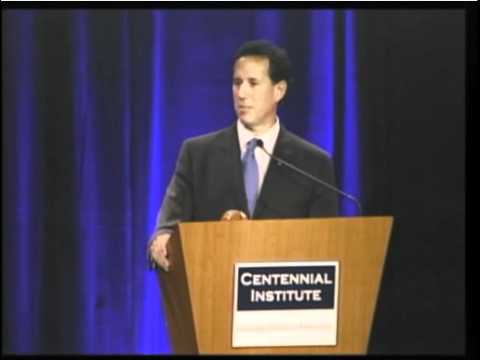 I think it was the year of my election, in the Atlantic Monthly there was a profile on Tim Gill and what he had accomplished here in Colorado, the Colorado Plan. And in the first paragraph of that article, he said, "Our plan is to make sure there is never another Rick Santorum elected to a national office." My opponent spoke at the Human Rights Campaign. My opponent was a pro-life Democrat, son of Bob Casey, one of the great social conservative leaders, maybe last social conservative leader of the Democratic Party. And he had wrapped himself in his father, but he embraced the gay and lesbian community like no other candidate had. He went out and spoke and did fundraisers, estimates… millions, and certainly millions in direct contribution, and I believe over ten million in indirect contributions starting, in my race, eighteen months. Why?

Because I had the temerity to stand up in 2003 before any of this started to roll. Before Lawrence versus Texas was even decided, and I fired across the bow of the United States Supreme Court and said, "Supreme Court you can decide this case the right way and say the sodomy statute is voilate [sic] of equal protection and everything will be fine. But if you say there is a constitutional right to consensual sexual activity, Katie bar the door."

And that's what they did. And when I said that, I compared… I said… I didn't compare anything… I said if the Supreme Court gives the right of individuals.. the constitutional right to consensual sexual activity, then you have the right to incest, you have the right to all sorts… polygamy, you name it. You have the right to anything if it's consent.

When I said that, the gay community went ballistic and they came after me. Mainstream media called for me to resign because I was comparing homosexuality with incest and other things. No I wasn't. I was saying if the standard was consent, then how do you rationally draw the line? You can't. And they aren't. And subsequent to that, the Massachusetts decisions and others came down, and I stood for marriage. I was the one, with Wayne Allard, Marilyn Muscgrave, two great warriors here in Colorado (applause) who stood… and we forced a vote on the Federal Marriage Amendment.

But ladies and gentlemen, we have this issue before us again today, and it's within our party. And we need to talk about it. There's some in our party who say, well if New York wants to pass same-sex marriage, that's fine with me. Some who say, well I'm not going to get involved in what states do. It's their business. Abraham Lincoln said it best: we do not have the right to do wrong. (applause) States do not have the right to destroy the American family. It is your business. It is not and should not… It is not fine with me that New York has destroyed marriage. It is not fine with me that New York is setting the template that will cause great division in this country. There is not fifty definitions of marriage.
And in the process, he denied that he ever compared gay relationships with incest and bestiality. In his clarification, he said that he didn't make a comparison, but just said that they met the same standard. As if that were a big difference. Also, as if that were true. What he actually said in 2003 was this:
In every society, the definition of marriage has not ever to my knowledge included homosexuality. That's not to pick on homosexuality. It's not, you know, man on child, man on dog, or whatever the case may be.
It looks like a duck to me.
Gov. Perry, who had to backtrack somewhat from his earlier support of New York's Tenth Amendment right to enact marriage equality, also gave a keynote address at the Western Conservative Summit. Speaking after Santurom's address, Perry sought once again to burnish his social conservative credentials, saying, "The traditional definition of marriage suits Texas and this Governor just fine." But, he added, "Washington needs a refresher course on the Tenth Amendment."
Perry, who is expected to announce his own presidential bid soon, today reiterated his support for a constitutional amendment which would rescind the Tenth Amendment when it comes to marriage. "Yes, sir, I would. I am for the federal marriage amendment," he told reporters. "And that's about as sharp a point as I could put on it."