The Daily Agenda for Friday, July 29
Jim Burroway
July 29th, 2011
TODAY'S AGENDA (OURS):
Pride Celebrations This Weekend: Belfast, Northern Ireland; Braunschweig, Germany; Frankfurt, Germany; Harrisburg, PA; Norwich, UK; Nottingham, UK; Pittsburgh, PA (Black Pride); Raleigh/Durham, NC (Black Pride); Vancouver, BC.
Also This Weekend: Diverse/Cité, Montréal, QC; Up Your Alley, San Francisco, CA.
TODAY'S AGENDA (THEIRS):
Western Conservative Summit: Denver CO. Presidential candidates Sen. Rick Santorum, Godfather Pizza magnate Herman Cain, and potential GOP presidential candidate and Texas governor Rick Perry are slated to speak at the Centennial Institute at Colorado Christian University in Lakewood, Colorado as part of a weekend-long Western Conservative Summit. Santorum and Perry share keynote speaking duties this evening at 5:45 MDT. They will be streaming it live here.
TODAY'S BIRTHDAY:

Tim Gunn: 1953. He was on the faculty of Parson The New School for Design, and he served as the fashion design chair until 2007 before moving to Liz Claiborne to work as their chief creative officer. But you know him from the Bravo reality series Project Runway, which just started its ninth season this past week. He is an animal rights spokesperson, having opposed the use of fur in fashion. He also made an "It Gets Better" video, motivated by his own suicide attempt when he was seventeen. Those good works aside, he really stepped in it this past week when he criticized Secretary of State Hillary Clinton's fashion sense. "Why must she dress that way?" he asked. "I think she's confused about her gender. All these big, baggy menswear-tailored pantsuits. No, I'm really serious. She wears pantsuits that are really unflattering." Really? I don't remember anyone slamming Lawrence Eagleberger's baggy suits.
If you know of something that belongs on the agenda, please send it here. PLEASE, don't forget to include the basics: who, what, when, where, and URL (if available).
Why it's never smart for a politician to whine about how badly he's treated
Timothy Kincaid
July 27th, 2011
If you don't want people to say mean things about you, don't go into politics (or blogging). And when they do (and they will) it is never smart to whine about the mean mean meanies who are so mean to you. Not only will you gain no sympathy or new support, but then everyone will be repeating all those mean things and chuckling.
But former Pennsylvania Senator Rick Santorum isn't the sharpest tool in the shed. And he had been the subject of a cruel (but well deserved) prank for a very long time.
After Santorum's vile statement in 2003 in which he discussed his support for anti-gay sodomy laws in terms of bestiality and incest, Dan Savage decided to have a little fun. He held a contest for a new definition for "santorum" and the winner was:
The frothy mixture of lube and fecal matter that is sometimes the by-product of anal sex.
A Spreading Santorum webpage was set up for tracking the extent to which the new definition could be detected in culture and it was clever enough that it drew web traffic placing it as the first listing when "santorum" was googled. And so there it sat as the first result through the rest of Rick Santorum's term as Senator and his failed reelection bid.
But with his presidential campaign, there was a pretty good chance that eventually "Rick Santorum for President" along with news articles about the campaign would have gotten the traffic necessary to push the aging joke off of the front page. And it likely would have, were it not for the actions of two people.
First, Savage encouraged his readers to go back and select the link to keep it active in the Google search matrices. Enough responded to keep Savage's santorum link in place ahead of the candidate's page. In fact, the campaign site was fourth, after a Wikipedia article and another site's reference to Savage's definition.
But the real boost to Spreading Santorum came from none other than Rick Santorum himself. On July 18 he went on a radio show to complain about the way he was being mistreated by Savage and in addition to some recent comments also noted the website. And then someone with a whole lot of hero worship and no political sense must have advised the next move: Santorum sent out a fund raising letter with the following sentence:
Remember this is not the first time Savage has attacked us on our stance of supporting American values. Savage and his perverted sense of humor is the reason why my children cannot Google their father's name.
And when this letter was published on Politico on July 20, which turned into articles in the media, just what do you suppose that people did? Obviously they set out to find out why you couldn't google "Santorum".
But July 22, the presidential campaign link had dropped to eighth place behind:
The campaign site has now moved back up into sixth place. But Savage is goading Rick Santorum, threatening to make his first name into a vulgar word as well. I guess now we'll have to wait and see if Sen. Santorum is so very incredibly stupid that he bites at the bait.
Nobody Pays Attention To Preambles Anyway
Jim Burroway
July 11th, 2011
When the Iowa-based Family Leader began asking GOP presidential candidates to sign its anti-gay "Marriage Vow," it originally contained this statement in the pledge's preamble:
Slavery had a disastrous impact on African-American families, yet sadly a child born into slavery in 1860 was more likely to be raised by his mother and father in a two-parent household than was an African-American baby born after the election of the USA's first African-American President.
Never mind the abject ignorance of that statement — slave marriages weren't legally recognized in the south and families were routinely split up and sold, making the likelihood of actually being raised by a mother and a father rather shaky — that part of the preamble was criticized by the left and right alike for its suggestion that African-American children were better off under slavery. Late Saturday night, Family Leader bowed to criticism and quietly removed that statement from its preamble. But by then, Rep. Michele Bachmann had already raced to put her signature on the document, only to be followed a very short time later in a photo finish by Sen. Rick Santorum.
Bachmann's campaign has been fending off criticisms for signing the racially-offensive document ever since.
A Bachmann spokeswoman said earlier Saturday that reports the congresswoman had signed a vow that contained the slavery language was wrong, noting it was not in the "vow" portion.

"She signed the 'candidate vow,' " campaign spokeswoman Alice Stewart said, and distanced Bachmann from the preamble language, saying, "In no uncertain terms, Congresswoman Bachmann believes that slavery was horrible and economic enslavement is also horrible."
Totally understandable when you think about it. I bet almost none of our founding fathers like John Quincy Adams paid much attention to the Preamble to the Constitution before they signed it either.
Santorum Signs Iowa Anti-Gay Pledge
Jim Burroway
July 9th, 2011
Former Pennsylvania Senator Rick Santorum has become the second GOP presidential candidate to sign Iowa's Family Leader ant-gay pledge, after Minnesota Congresswoman Michele Bachmanm. Which  means you can now officially call Santorum a number two.
GOP Presidential Candidates Debate Marriage, DADT
Jim Burroway
June 14th, 2011
Last night, seven candidates for the GOP presidential nomination appeared in a debate in New Hampshire, home to the nation's first primay. Participating were Godfather Pizza magnate Herman Cain, former Minnesota governor Tim Pawlenty, Texas Congressman Ron Paul, former Massachusetts governor Mitt Romney, former House speaker Newt Gingrich, Minnesota Congresswoman Michelle Bachman, and former Pennsylvania Senator Rick Santorum. And of course, LGBT issues came up in the debate.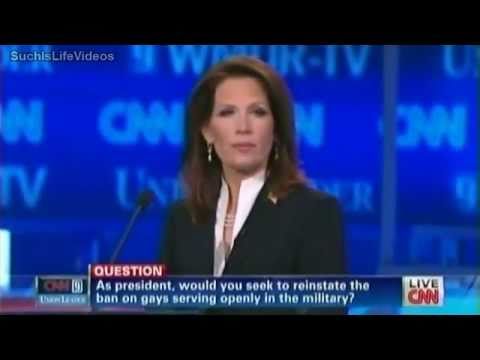 Only Herman Cain and Ron Paul opposed a Federal Marriage Amendment to ban marriage equality in the states.
Herman Cain said that he didn't support repealing DADT, but he didn't want the distractions that it would take to put it back into effect. Pawlenty says that he would seek the advice of "combatant commanders." This wiggle room leaves open the likelihood that he would re-instate DADT. Ron Paul appeared to say the would keep it in place. He talked about punishing behavior, without specifying whether a consensual relationship between two people of the same gender would be punishable. Romney dodged the question altogether, saying that DADT should not have been repealed "until this conflict is over." Gingrich answered by building a case for its reinstatement, an indication that he would work to restore the discriminatory policy. Bachmann said she "would keep the 'Don't Ask, Don't Tell' policy." When asked to clarify, she indicated that she would reinstate the policy after sufficiently cloaking it with "advice" from the military. Santorum took a lot of words to more or less repeat what Ron Paul said, but given the context of Santorum's overall policies and attitudes toward gay people, I don't think his eagerness to reimpose the policy would be much in doubt.
Not one candidate spoke about gay people as though they were taxpayers, patriots, or fellow citizens.
Teen pop-stars matter
Timothy Kincaid
May 31st, 2011
I don't pay much attention to Miley Cyrus. I'm not a 15 year old girl, I am suspicious when children of celebrities get cast in television shows, and I've seen way too many child stars implode. But, so far at least, Cyrus (now 18) seems to be transitioning well from her Hannah Montana role to a solo artist, has not got down Lindsay Lohan Lane, and may well be able to face adulthood with a sense of perspective.
And, okay I'll admit it, Party in the USA is infectious.
Yet still, Cyrus is not on the short-list of people I'd select to fight for my equality. For one thing, her audience can't vote.
But Cyrus can do one thing that even the most seasoned politico cannot achieve. She can influence where the parents of little girls spend their money. And she's not hesitant to do so.
Last week, Urban Outfitters had a little public image problem over some jewelry that they sold which was similar to that of a small independent jeweler. Miley Cyrus used it to raise a different issue (Vancouver Sun)
Cyrus Tweeted, "Love that everybody is hating on Urban Outfitters." She added, "Not only do they steal from artists but every time you give them money you help finance a campaign against gay equality. #SHADYASHELL"

Hashtags aside, Cyrus also pointed out, "IF WE ALLOW GAY MARRIAGE NEXT THING U KNOW PEOPLE WILL BE MARRYING GOLD FISH" – Rick Santorum UO contributed $13,000 to this mans campaign"
You and I may not care what Miley Cyrus thinks. The voters in your state may not care what Miley Cyrus thinks. But retailers of clothing very much care what Miley Cyrus thinks, especially when she's tweeting to a million kids that could be their customers.
And Cyrus' tweet is indicative of something larger that we are just beginning to see.
For decades we have relied on the decency of corporate executives, the economic advantage of a diversity, the loyalty of gay shoppers, and (in rare cases with limited success) on boycotts of the most egregious offenders.
But now, corporations are discovering the cost of being associated in any way with anti-gay causes or politicians. Target discovered this past year that contributing to a politician whose economic policies they prefer can lose you customers if he also has anti-gay social policies. And earlier this year the CEO of Urban Outfitters admitted how his boss' association with Santorum is problematic. (Philly.com)
"You all probably know, till the day he dies Dick Hayne's going to be famous for giving Rick Santorum some money 15 years ago," said Senk, who has often described Hayne as a mentor and was referring to his well-known political leanings. "Dick Hayne's a Republican, OK?"

"I'm the first openly gay CEO of a Fortune 1000 company, and I supported Bob Casey, who dethroned Santorum," Senk continued. "So, obviously, Dick and I don't agree, politically. Now, Dick has moderated over the years, and I probably have moderated over the years, because we have learned from each other…"
And as time goes on, as the kids who are Cyrus's audience become a larger part of the market, more and more companies are going to find themselves trying to explain why they supported politicians who treated gay people as inferior. No longer will support for or against equality be a matter of little concern for kids who have grown up seeing gay folk as maybe a little different but no lesser than themselves.
And as we approach the 2012 election cycle, you can be certain that many a corporate executive will consider the ramifications of writing a check. And more than a few will decide that they don't want Miley Cyrus, or anyone else, linking their name with someone best known for their anti-gay statements and positions.
Is it too much to hope that Miley Cyrus just doomed Rick Santorum's presidential campaign?
Santorum Says "No Truce" To Gay Issues
Jim Burroway
May 6th, 2011
From last night's GOP debate in South Carolina:
Rights v. Privileges
Timothy Kincaid
May 3rd, 2011
A lesbian woman came up to me and said, 'why are you denying me my right?' I said, 'well, because it's not a right.' It's a privilege that society recognizes because society sees intrinsic value to that relationship over any other relationship.
- Former US Senator Rick Santorum speaking about adoption
Those who seek to institutionalize inequality based on their own biases like to say, "that's not a right, that's a privilege." And implied in this statement (often accompanied by a smirk) is the notion that some people deserve preferential treatment and others deserve lesser treatment and that privileges can be doled out or restricted by whim.
You just aren't good enough, you see. These are privileges for other people, those deemed worthy.
But besides being juvenile, this response displays a fundamental ignorance of the US Constitution. The clause under which discrimination is addressed is not worded in the way that they assume:
Fourteenth Amendment, Section One

All persons born or naturalized in the United States, and subject to the jurisdiction thereof, are citizens of the United States and of the State wherein they reside. No State shall make or enforce any law which shall abridge the PRIVILEGES or immunities of citizens of the United States; nor shall any State deprive any person of life, liberty, or property, without due process of law; nor deny to any person within its jurisdiction the equal protection of the laws. [emphasis added]
You see, Senator Frothy Mix, whether adoption is a right of citizens or a privilege of citizenship, it still is protected from arbitrary applicaion. Oh, and by the way, you really are a pompous ass.

(hat tip JMG)
Santorum Never Googled Langston Hughes
Jim Burroway
April 15th, 2011
Former Sen. Rick "Man on dog" Santorum yesterday hosted a town hall meeting where he unveiled his 2012 Presidentical campaign slogan, "Fighting to make America America again." Turns out, the pithy phrase didn't come from Santorum's creative genius. It's from a pro-union, pro-racial justice, and pro-immigrant poem by that famous Harlem Renaissance gay poet Langston Hughes. The poem, "Let America Be America Again," goes, in part, like this:
I am the young man, full of strength and hope,
Tangled in that ancient endless chain
Of profit, power, gain, of grab the land!
Of grab the gold! Of grab the ways of satisfying need!
Of work the men! Of take the pay!
Of owning everything for one's own greed!
[...] Yet I'm the one who dreamt our basic dream
In the Old World while still a serf of kings,
Who dreamt a dream so strong, so brave, so true,
That even yet its mighty daring sings
In every brick and stone, in every furrow turned
That's made America the land it has become.
O, I'm the man who sailed those early seas
In search of what I meant to be my home–
For I'm the one who left dark Ireland's shore,
And Poland's plain, and England's grassy lea,
And torn from Black Africa's strand I came
To build a "homeland of the free."
The free?
Who said the free? Not me?
Surely not me? The millions on relief today?
The millions shot down when we strike?
The millions who have nothing for our pay?
For all the dreams we've dreamed
And all the songs we've sung
And all the hopes we've held
And all the flags we've hung,
The millions who have nothing for our pay–
Except the dream that's almost dead today.
O, let America be America again–
The land that never has been yet–
And yet must be–the land where every man is free.
The land that's mine–the poor man's, Indian's, Negro's, ME–
Who made America,
Whose sweat and blood, whose faith and pain,
Whose hand at the foundry, whose plow in the rain,
Must bring back our mighty dream again.
O, yes,
I say it plain,
America never was America to me,
And yet I swear this oath–
America will be!
When informed of the phrase's origin, Santorum told a reporter from ThinkProgress, "well, I'm not too sure that's my campaign slogan, I think it's on a web site." I can understand how he may not have been too clear about it. I hear Santorum is afraid of the Google.
Far Right gathers for Value Voters weekend
Timothy Kincaid
September 17th, 2010
Earlier this month we discussed the wackadoodle extravaganza which was the Taking America Back convention. But this weekend, that seminar's cousin the 2010 Value Voters Summit is meeting for roughly the same purpose: rallying the troops to impose their religious beliefs on non-believers by use of governmental force. And while Taking America Back consisted primarily of the delusional, the excitable, and the social misfits, the Family Research Council's Value Voters Summit draws "respectable" activists and recognizable politicians.
But make no mistake, the agenda of the Voter Voters Summit is no less radical or unAmerican than that of its low-rent cousin. And no small part of their obsession is on the extent to which gay people should be disallowed from participating in society.
The plenary session presentations consist of:
* We Still Hold These Truths: Rediscovering Our Principles, Reclaiming Our Future
* 'Don't Ask, Don't Tell' Panel
* We the People: The Tea Party's Place in American Politics
* Parental Choice Education: Beyond One-Size-Fits-All Schools
* Hollywood Panel
Although only one of the five plenary discussions focuses solely on gay issues, it is without question that much of the other sessions will also be dedicated to "opposing the homosexual agenda". That is, after all, the number one complaint that social conservatives have with the schools and Hollywood. And for those who really want to spend their weekend on nothing but "evil sodomites", they can attend Saturday's 3:30 breakout session entitled The falsehood of the inevitability of same-sex "marriage".
The entire event will be filled with speeches and presentations by familiar names in the anti-gay movement. But unlike Taking America Back, most of these have social grace and appearance of sanity. With one notable exception: the American Family Association's Bryan Fischer will be speaking tomorrow morning and is likely to spout things that are so irrational as to confuse even that sympathetic audience.
These conferences are useful; they help us separate political opponents from those who truly are devoted enemies of our lives, freedoms and liberties. Many conservative Republicans hold positions that are unfavorable to us, but do so more from ignorance or distorted principle than out of zealous animus. But those who participate at these conferences do so because the believe that they are authorized by God to destroy our cause and our lives.
This year, perhaps even more than most, participation at the Value Voters Summit is a clear indication of animus towards the gay community. And by going there this year, politicians are making a visible statement that they are not just in disagreement with some of our cause but rather that they see us as a threat and an enemy and that they will do whatever they can to harm us.
Most of these names will not surprise us:
Governor Mike Huckabee
Senator Jim Inhofe (R-OK)
Senator Jim DeMint (R-S.C.)
Representative Michele Bachmann (R-Minn.)
Representative Mike Pence (R-Ind.)
Governor Mitt Romney
Senator Rick Santorum
Christine O'Donnell
Newt Gingrich
Governor Bob McDonnell (R-Va.)
Governor Tim Pawlenty (R-Minn.) (via video)
Representative Gregg Harper (R-Miss.)
Santorum: Don't Trust The Generals
Jim Burroway
February 20th, 2010
"Don't Ask, Don't Tell" supporters have often defended their support by saying they were only following the advice of top military leaders. Now that military leaders are coming out in favor of repealing the ban on gay servicemenbers serving openly, former Sen. Rick Santorum says we shouldn't trust the generals:
Addressing how the military leadership, led by Joint Chiefs of Staff Chairman Mike Mullen, could now favor a repeal of the law, Santorum raised the specter of brainwashing.

"Political correctness is reigning in the military right now," he said. ""Some people say: [Do] whatever the generals say [on DADT]. I'm not too sure that we haven't so indoctrinated the officer corps in this country that they can actually see straight to make the right decision."

The line went over well with the CPAC crowd.
Really? Somehow I missed that on GayPatriot's and GOProud's Twitter stream. But Bruce Carroll does defend Rick "Man-On-Dog" Santorum as being "not homophobic." Right. Because you'd have to be brainwashed to believe otherwise.
Rick Santorum Wants to Protect Box Turtles
Jim Burroway
September 6th, 2008
He also wants to to protect the spotted owl and snails. But not gay people.
Michelangelo Signorile has been airing several interviews from the GOP convention lately, and this one of former Senator Rick Santorum is priceless. Here we have Santorum arguing against same-sex marriage:
I use the example of the environmental impact statement. You know, we have an ecology, we have an environment that is impacted by changes in the environment. We have a moral ecology in this country just like we have a physical ecology in this country. We have a set of values and traditions that define who we are as a society and have an impact throughout society. When I want to change the environment, I have to go out and prove that by building this structure or changing this place, that I'm not going to affect the ecology of the area, that I'm not going to adversely impact the box turtle, or the spotted owl, or the snail.
What would Santorum include in his environmental impact statement? He wants to misuse studies to claim that gays sexually abuse children at higher rates, and that gay relationships experience more domestic violence — even though the scientific evidence shows the exact opposite.
It's a shame how those who claim the moral high ground hold the truth in such low regard.
Nordic Myths
Jim Burroway
May 28th, 2008
Former Sen. Rick Santorum (R-Pa) recently published an op-ed denouncing the recent California Supreme Court ruling on same-sex marriage. There's much to criticize in Sen. Santorum's op-ed, but this statistical nugget stood out in particular:
Look at Norway. It began allowing same-sex marriage in the 1990s. In just the last decade, its heterosexual-marriage rates have nose-dived and its out-of-wedlock birthrate skyrocketed to 80 percent for firstborn children.
Anti-gay activists are returning once again to Scandinavian marriage and birthrate statistics as real-world examples of what happens when you allow same-sex marriage. The argument goes something like this: If you allow same-sex marriage like Scandinavia did, then you will soon see rising out-of-wedlock birthrates and a general breakdown in marriage.
But right off the bat, Sen. Santorum gets it wrong about same-sex marriage in Norway because there is no same-sex marriage there. Instead, Norway as adopted a limited form of civil unions. Norway's 1993 civil unions laws, for example, do not permit adoptions by same-sex couples (although Norwegian law was later changed to allow a parent to adopt his partner's children). Norway also prohibits artificial insemination for same-sex couples as well.
And what about that statistic: Eighty percent of all firstborn children in Norway are born out of wedlock? Where did he get that figure?
Well one thing I know for certain is that Santorum didn't get it from the StatBank Norway website. StatBank Norway is the official repository for all statistical information about Norway. They have tons of statistics on population growth and characteristics, births, deaths, marriage, divorce, and economic data. But I've been unable to find anything on their web site breaking down the family status of firstborn children.
And so I started looking around for where this 80 percent statistic might have come from. It appears to have originated with Stanly Kurtz's National Review article from May 25, 2004, where he claims:
Add the children of single parents and step families, and we are surely at over 50 percent of children living with unmarried parents in Norway's liberal north. If that sounds high, consider that in 2002, 83 percent of first-born children in the northern Norwegian county of Nord-Troendelag were born outside of marriage, as were 58 percent of subsequent children.
If what Kurtz says is true, then it's not all of Norway that is experiencing this explosion of firstborn babies born outside of marriage. It is just one county of Nord-Troendelag. But Kurtz doesn't provide any citation for that statistic, so we still don't know where it comes from. He later provides a link to a summary from StatBank Norway, but it doesn't mention the firstborn statistic at all. (I've updated the link to a cached version of the page as it appeared on StatBank Norway as of April 6, 2004.) So we're still left in the dark as to where this statistic came from, and we have no way to verify whether it's true or not.
But we can verify that Norway's overall birth rate outside of marriage is pretty high, and it has been for quite some time. We can see this by combining data from Norway's Statistical Yearbooks for 2007 and 1996 and plotting that data on a single graph. When we do that, we can see that the rate of births outside of marriage had skyrocketed throughout the seventies and eighties, only to level off somewhat in the 1990′s and 2000′s.
But more specifically with respect to civil unions, look at what the data tells us:
Before 1993, the percentage of births outside of marriage grew steadily by an average of about 9% per year.
After civil unions were enacted in 1993, the growth of that birth rate slowed dramatically. The the growth rate fell from 9% per year to an average of less than 1.5% per year between 1993 and 2006.
Which means that if there were a cause and effect between Norway's birth rate outside of marriage and providing civil unions for same-sex couples, the data suggests that civil unions actually had a dramatic affect in slowing the rate of births outside of marriage.
Now I don't believe that a case can be made linking civil unions with the rate of births outside of marriage. But if Santorum, Kurtz or anyone else insists on there being a connection, then so be it. The data is on our side.