DC Mayor signs marriage bill
Timothy Kincaid
December 18th, 2009
From the Washington Continent:
Dec. 18, 2009, 3:30 p.m. – D.C. Mayor Adrian Fenty, joined by members of the District of Columbia City Council and residents, signed into law historic legislation granting all residents the legal rights and privileges of marriage.

"Marriage inequality is a civil rights, political, social, moral, and religious issue in this country and many nations," said Fenty. "And as I sign this act into law, the District from this day forward will set the tone for other jurisdictions to follow in creating an open and inclusive city."
Congress will now have 30 days from the time that the bill is provided to the Speaker of the House and the Senate President to pass legislation blocking the bill. That is not expected to happen.
Washingon Archdiocese: Forget We Said All That
Jim Burroway
December 17th, 2009
Remember when the Catholic Archdiocese of Washington threatened to shut down its homeless shelters, food services and other community services if the D.C. city council approved same-sex marriage? Well now they're saying "never mind." In a statement issued Tuesday, the Archdiocese said:
Religious organizations have long been eligible to provide social services in our nation's capital and have not been excluded simply because of their religious character. This is because the choice of provider has focused on the ability to deliver services effectively and efficiently. We are committed to serving the needs of the poor and look forward to working in partnership with the District of Columbia consistent with the mission of the Catholic Church.
This is the opposite of what they said before the same-sex marriage bill passed. At that time, they said they would be "unable" to continue those services if same-sex marriage became legal.
Click here to read the full statement from the Catholic Archdiocese of Washington.
Chaffetz to fight DC's marriage law
Timothy Kincaid
December 15th, 2009
As expected, Jason Chaffetz will be the pointman assigned to overturn marriage equality in Washington, DC. (SL Tribune)
A Utah Republican renewed his pledge Tuesday to prevent the nation's capital from allowing gay couples to marry after the Washington, D.C., Council signed off on such a measure.
That Chaffetz is visible in this effort suggests to me that the Republican Party isn't going to put up much of a fight. Jason isn't exactly known for either his intellect or his abilities. He was also the lead in trying to block out-of-state marriages from being recognized in the capital. I wish him equal success.
Hunting for ex-gays in Washington, D.C.
Timothy Kincaid
December 15th, 2009
The recent votes by the city counsel of Washington, DC, to first recognize out-of-state same-sex marriages and now to offer marriage equality brought out plenty of anti-gay activists. And many loudly proclaimed the healing power of Christ to overcome the homosexual lifestyle.
But among the many there in the chambers to denounce the evils of homosexuality, one demographic seemed to be missing: residents of the city who had been healed. There just didn't seem to be any living, breathing ex-gays there to remind their elected officials to represent this often-invisible minority.
The reason may be revealed in an article by Amanda Hess in the Washington CityPaper back in September.
Unfortunately for PFOX and reporters on the sexual-orientation beat, ex-gay Washingtonians are hard to come by. Since each of my dozen or so calls to PFOX headquarters went unanswered, I am unable to confirm any of the group's purported ex-gay offspring or friends. J. Matt Barber, a member of the PFOX board of directors, tells me that he has "a number of very close friends who are former homosexuals"—none of whom live in D.C. I do track down ex-gay minister Anthony Falzarano, who founded PFOX in Washington in 1995. Falzarano was happy to detail the hundreds of male sex partners he had in his former life, but his flamboyant ex-gayness is no use to PFOX now—Falzarano has since left D.C. for West Palm Beach, Fla. Quinlan, PFOX's current go-to ex-gay, once called D.C. home, but he has since settled into his heterosexual lifestyle in Dayton, Ohio.
Anti-gay activists are quick to tell you that the world is just teeming with "former homosexuals". I guess just not in DC.
D.C. legalizes marriage
Timothy Kincaid
December 15th, 2009
Following up on their vote of two weeks ago, the City Council for Washington, DC, has taken the second and final step in enacting marriage equality in the nation's capital. (AP)
The Washington, D.C., City Council voted Tuesday to legalize gay marriage in the nation's capital, handing supporters a victory after a string of recent defeats in Maine, New York and New Jersey.

Mayor Adrian Fenty has promised to sign the bill, which passed 11-2, and gay couples could begin marrying as early as March. Congress, which has final say over Washington's laws, could reject it, but Democratic leaders have suggested they are reluctant to do so.
Congress will have 30 days after Mayor Fenty signs the bill to reject it. Otherwise the District of Colombia will join Massachusetts, Vermont, New Hampshire, Iowa, and Connecticut in allowing same-sex marriages at some point early in 2010.
More biblical illiteracy from NOM
Timothy Kincaid
December 2nd, 2009
In a recent statement, National Organization for Marriage's Brian Brown once again illustrates that his familiarity with his own Christian religion and its holy texts are only marginally better than that of an atheist raised as a Buddhist in Abu Dhabi.
In responding to the vote for Marriage in the nation's capital, he declared (for the umpteenth time) that NOM would continue its fight to oppose equality.
We will fight in Congress. We will fight through the courts to get this to the people of D.C. who have a God-given right to vote for marriage and Charter-given right to overturn the council's decision.

A God-given right to vote for marriage? What kind of nonsense is that?
Scripture doesn't endorse democracy, in fact quite the opposite. Kings are set up by God to rule the people and it is your duty to obey them.
Hmmmm. Come to think of it, I'll bet Brian Brown really would support a "biblical model" for government. For all his endorsement of democracy, he seems pretty fond of theocracy.
D.C. Council Approves Same-Sex Marriage
Jim Burroway
December 1st, 2009
The Washington Post's blog D.C. Wire reports that the District City Council has approved same-sex marriage on an  11-2 vote. The council will have to approve it again in two weeks before it goes to Mayor Adrian Fenty for his signature. Mayor Fenty has pledged to sign the bill.
Marriage equality scheduled to come to District of Columbia tomorrow
Timothy Kincaid
November 30th, 2009

On Top Magazine:
Two states are expected to decide on whether to grant gay couples the right to marry before the end of the year, but gay marriage proponents are thoroughly sanguine about the District of Columbia, where passage of Council member David Catania's gay marriage bill is expected to win approval on December 1.
Nearly every council member has endorsed the bill and its passage is certain. Congress has the power to overturn any legislation passed in the nation's capital but there does not appear to be political will to do so.
And undoubtedly this will be seen as a convenience for some legislators with a conservative public image. Their staff will be able to marry without any political cost to the elected official.
Save The Blade
Jim Burroway
November 18th, 2009
The staff of the Washington Blade now have an online presence here. You will soon be able to buy a brick here. They say that they will have a modest premiere of their new publication on Friday, Nov. 20. However modest that issue might be, it will still be a remarkable achievement, and indicative of the tremendous talent and drive of everyone at the Blade. It's no wonder the Blade has been such a vitally important news source not just for Washington, but for the LGBT community nationwide. These are the people who made it so essential.
Publisher Says He Won Bid to Buy Washington Blade Before Shutdown
Jim Burroway
November 17th, 2009
A Washington, D.C.-area LGBT publisher has confirmed that his company had been in the process of purchasing the Washington Blade and working toward a seamless transfer when the current owner, Window Media, abruptly ceased operations.
Window Media had been in receivership with the Small Business Administration. Nicholas Benton, owner of the weekly Falls Church News-Press confirmed in a press release that his company, Benton Communications, had won a bid in September to purchase The Blade "for purposes of a seamless perpetuation of the nation's oldest gay community newspaper." Benton says that he was contacted by agents representing Window Media and the SBA in late September and informed that his bid was accepted. He said that the process to complete the sale continued until Nov. 6.
"Everything was in place, although moving slowly, to make the seamless transition we hoped for. But I remain unaware of what happened, and as a result of Monday's events, The Blade is gone after 40 years of publication, its employees are out of work, and the nation's and region's LGBT community has been stripped of an invaluable institution." Benton said.
So far, there has been no word yet on why Window Media and the SBA suddenly shut down The Washington Blade and other newspapers, including Southern Voice, The Houston Voice and The South Florida Blade. Miami-based Multimiedia Platforms had been negotiating the purchase of The South Florida Blade, but has announced that they will now launch a new newspaper after hiring the former employees at the defunct paper and 411, a companion magazine.
Former Washington Blade editor Kevin Naff has said that he and other staffers plan to investigate starting a new paper. The Blade ran a profit as a standalone publication within Window Media, but not a large enough profit to keep the parent company out of bankruptcy.
Washington Blade, SOVO Shut Down
Jim Burroway
November 16th, 2009
Word is spreading around the Internet that Windows Media, publisher of the Washington Blade, Houston Voice, Southern Voice, South Florida Blade and other LGBT news outlets, has gone out of business over the weekend in Chapter 7 bankruptcy liquidation. SOVO editor Laura Douglas-Brown posted a note on Southern VoiceFacebook page confirming the shutdown:
With deepest regret, as editor of SoVo, I have to tell you that we arrived at the office to learn that our parent company, Window Media, has shut down. While the 20 years of SoVo have come to an end, our civil rights movement is only beginning. I am personally grateful to all of the staff, and to all of you who have had the courage to share your stories. It has been the honor of my life to help you tell them.
Project Q Atlanta reports that Southern Voiceemployees showed up to find that the locks had been changed and a note taped to the door, asking employees to return on Wednesday to collect their personal belongings.
This is a horrendous loss to the LGBT community. The Washington Blade began just forty years ago as The Gay Blade, a free one-paged mimeograph newspaper. It grew to become one of the most powerful voices for LGBT issues in the nation, having broken many important stories over the year covering the political beat in the nation's capital. The editorial and reporting talent at the Blade is one of the best in the industry, and not just the specialty niche LGBT news industry. Few reporters have a Rolodex like veteran reporter Lou Chibarro. (Even fewer are still using a genuine Rolodex as Lou reportedly does.) The talent at that small paper would be the envy of any other publication, LGBT or mainstream. It would be very difficult to overstate the magnitude of this loss.
Catholic Church Threatens D.C.
Jim Burroway
November 12th, 2009
Washington, D.C. City Council is expected to take up a same-sex marriage bill in the coming weeks. The bill would not require religious institutions to perform or accommodate same-sex marriages, but they would have to obey city laws prohibiting discrimination against LGBT people. It's that point — that religious organizations providing social services under contract with the city would be prohibited from discriminating — that has the Catholic Archdiocese of Washington threatening to take all their cards and go home:
The Catholic Archdiocese of Washington said Wednesday that it will be unable to continue the social service programs it runs for the District if the city doesn't change a proposed same-sex marriage law, a threat that could affect tens of thousands of people the church helps with adoption, homelessness and health care.

…Catholic Charities, the church's social services arm, is one of dozens of nonprofit organizations that partner with the District. It serves 68,000 people in the city, including the one-third of Washington's homeless people who go to city-owned shelters managed by the church. City leaders said the church is not the dominant provider of any particular social service, but the church pointed out that it supplements funding for city programs with $10 million from its own coffers.
Which means that the Catholic Church feels it is more important to discriminate against LGBT people than follow Jesus' mandate to serve the poor. Go figure. City Council members appear unimpressed with that threat:
"If they find living under our laws so oppressive that they can no longer take city resources, the city will have to find an alternative partner to step in to fill the shoes," [City Council Member David] Catania said. He also said Catholic Charities was involved in only six of the 102 city-sponsored adoptions last year.
Videos from the National Equality March
Jim Burroway
October 11th, 2009
Lt. Dan Choi, who is in the process of being dismissed
from the New York National Guard under Don't Ask, Don't Tell:
Sex and the City start Cynthia Nixon:
Judy Shepard, mother of hate crime murder victim Matthew Shepard:
Lady Gaga:
March organizer and LGBT activist Cleve Jones:
Oscar-winning (Milk) screenwriter Dustin Lance Black:
Veteran civil rights leader and chairman of the NAACP Julian Bond (Parts 1 and 2):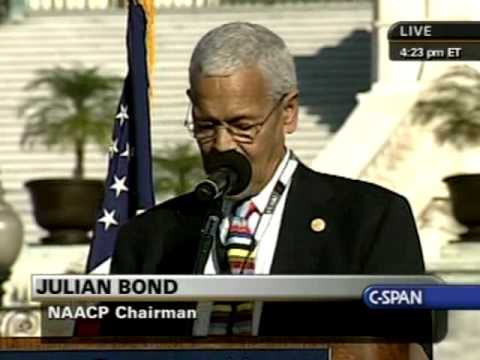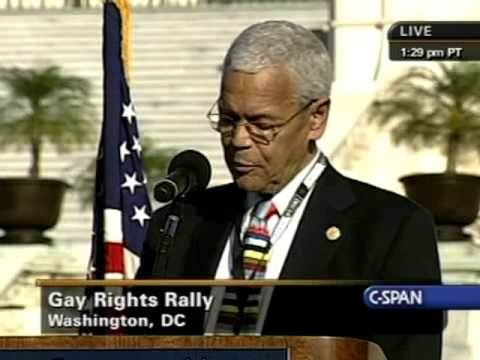 David Mixner: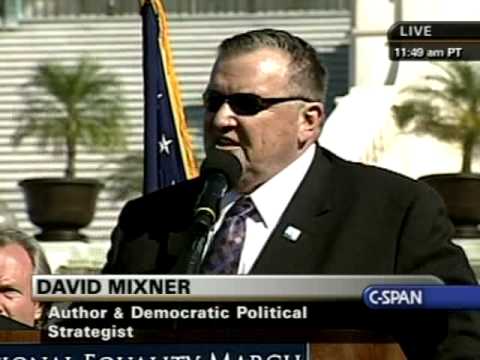 LGBT Servicmembers Remembered At Arlington National Cemetary
Jim Burroway
October 10th, 2009
Robert Polzoni sent these photos on his Flicker stream.
Lt. Dan Choi and other former servicemembers today honored those who gave their lives for our nation with a wreath-laying ceremony at the Tomb of the Unknowns in Arlington National Cemetery. Many of the former servicemembers have been dismissed from the military under "Don't Ask, Don't Tell." Choi was dismissed came out earlier this year, and he is in the process of being dismissed under President Obama's watch. The ceremony at Arlington was among 50 events being held as part of Sunday's National Equality March.
D.C. Marriage Bill Introduced
Timothy Kincaid
October 6th, 2009
As expected, David Catania introduced a bill to the city council of the District of Columbia to legalize same-sex marriage. (NYT)
City Council members introduced legislation Tuesday to allow same-sex marriage here. If it passes, as expected, Washington would be the first city below the Mason-Dixon line to allow such unions. The city's bill is expected to become law by December.
General consensus is that there will be no concerted attempt in Congress to block the home rule decision by the District and that, after some denouncements which will be mostly ignored but good for politicking back home, the law will go into effect.
Rep. Jason Chaffetz, a Republican from Utah, said he did not believe his fellow opponents of same-sex marriage would be able to block the city's measure legalizing it.

"Given the other issues Congress is focused on, such as health care, it hasn't got much attention," said Representative Chaffetz, the ranking member of the House subcommittee that oversees the District. "You couple that with the Democrats' stranglehold on House rules, and the minority is left out of the legislative process."
Some are warning that future changes in Congressional make up could result in Republican efforts to ban marriage equality in the District. And that could be true. However, I believe that if the policy were firmly in place for a number of years, such efforts would appear distasteful, especially to those Republicans who still believe that "smaller local government" is an ideology instead of a campaign slogan.
Incidentally, Bishop Harry Jackson is trumpeting a theme that we discussed earlier this week.
Bishop Jackson, who helped file the petition for a referendum, said: "The faith community has been concerned for months, that it's been cast as bigots, racists, and worse. Nothing could be further from the truth."
I think that perhaps anti-gay activists may be starting to hear the voices of their own conscience.