Lt. Daniel Choi Arrested In DADT Protest At White House
Jim Burroway
March 18th, 2010
Iraq war veteran Lt. Daniel Choi, whose discharge from the US Army under "Don't Ask, Don't Tell," handcuffed himself to the White House fence this afternoon along with Capt. Jim Pietrangelo, who was discharged in 2004. Here is CNN's coverage of that protest: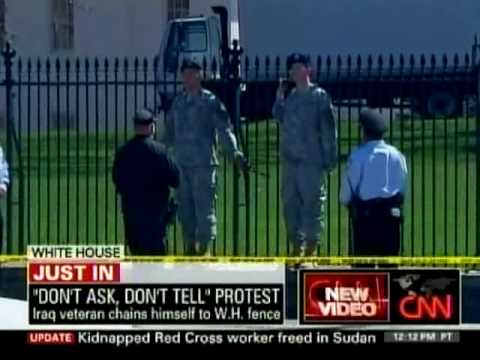 Choi and Pietrangelo had earlier attended a rally at Freedom Plaza organized by the Human Rights Campaign which featured comedienne Kathy Griffin. Griffin invited Choi, who had not been invited to speak, up to the stage to say a few words. Choi took the opportunity to invite participants at the rally to march with him and Pietrangelo to the White House.
Once they reached the White House shortly before 1:00 pm, Choi and Pietrangelo handcuffed themselves to the fence. They were quickly met by police and Secret Service. After a standoff of about an hour, police cut they two from the fence and placed them under arrest. A third advocate, Robin McGehee of GetEQUAL was also arrested.
Latest word is that Choi and Pietrangelo will be held in DC jail overnight and appear tomorrow in DC Superior Court. Observers say that it is highly unusual for a person to be arrested with "failure to obey a lawful order" and be held overnight. Typically such an individual makes bail and is released the same day. Why the delay?
In the best tradition of protests, that is where this story would end for the day, as unsatisfying an ending as it is right now. But wouldn't you know it, whenever it comes to the gays, it seems there always has to be some squabbling going on somewhere. This one is playing out as an anti-HRC/pro-HRC tussle. Blogger John Avarosis describes the events at the HRC's rally this way:
I was there, chronicled Dan from this morning's preparation to his unexpected speech at the HRC rally (Joe Solmonese told him he couldn't speak, Dan got Kathy Griffin to invite him on stage), to his march to the White House fence where he and Capt. James Pietrangelo (who was kicked out in 2004 for being gay) handcuffed themselves to the White House gate with hundreds of supporters chanting. It was an amazing scene. Griffin told Choi she'd march with him the White House, then she refused to go when he found her after rally. Solmonese reportedly gave Choi the thumbs up when Choi asked him if he'd march to the White House – Solmonese too was nowhere to be scene, and refused to go when Choi approached him after the HRC rally.
The HRC responded:
There's been some confusion about Lt. Dan Choi's role in the rally.  As Joe Solmonese was walking to the stage, Lt. Choi asked Joe if he could have a speaking role. Joe explained that it wasn't his sole decision to make on the spot given that there was already an established program that included Kathy Griffin, other organization and veterans.  After Choi then spoke with Kathy Griffin, she agreed to bring him up on stage and speak to the crowd during her remarks.

Lt. Choi in his speech called on the crowd to march on the White House. Joe Solmonese along with Eric Alva and others felt it was important to stay and engage those at the rally in ways they can continue building the pressure needed for repeal. This does nothing to diminish the actions taken by Lt. Choi and others. This is the nature of social change and everyone has a role to play.
As for Kathy Griffin, we have this tweet:
It was my honor 2 share th podium w Lt Dan Choi today. I understand he's been arrested in front of the White House. I dig that dude! Balls!
NOM funds DC Candidate with questionable ethics
Timothy Kincaid
March 17th, 2010
Rev. Anthony J. Motley is a protege of Marion Barry running for City Council against gay Council Member at Large David Catania.
In February, the CityPaper looked into some of Motley's business practices with the city and found them to be curious. It seems that Barry was lining Motley's pockets with city money and that Motley was responding by providing personal favors to Barry including the loan of a Mercedes.
He "personally received at least $54,000 from [fiscal 2009] earmark grant recipients"—earmarks all requested by Barry.
…
Under the terms of a settlement agreement with federal prosecutors in his long-running federal tax-fraud case, Barry has to fully report his income and spending to authorities on a monthly basis in order to determine how much of his income is seized in order to pay back taxes. If Barry were to include payments on a luxury vehicle, they could demand an adjustment to Barry's repayment schedule.
The article continues with several other instances in which Motley's behavior either crossed or skirted the line of legality. In fact, an investigation into improprieties in Barry's earmarks found that Motley had forged documents and engaged in self-dealing in addition to using educational funds set up for poor children to pay for political "councils" which in turn paid him. All of which suggests that not only is Anthony Motley a political ally of Marion Barry, but he appears to share both Barry's personal taste for power and privilege and his questionable ethics.
None of which matters to the National Organization for Marriage. There is no scoundrel too shady or wactivist too hateful to be endorsed, supported, and funded by NOM. All that matters is that Motley shares NOM's opposition to marriage equality.
As of last June, Motley was not yet on board with NOM's agenda. At that time he was singing a different song. (WaPo)
Motley said in an interview that there are divisions in the city that he wants to eliminate: geography and race but also one between ministers and the gay and lesbian community.

Motley said he pulled together a meeting between the two groups to talk about the legalization of gay marriage. Motley, who said he has supported domestic partnerships and other gay issues in the past, said he has not decided whether he supports legalizing same-sex nuptials. "I'm evolving on that," he said. "I have not gotten to the point that I can say definitively."
But since NOM has a check-book (and no accountability), Motley has now evolved a position and decided that he really likes divisions after all.
So it is no surprise that NOM is funding Motley. (MetroWeekly)
Motley has accepted two campaign contributions from NOM, and another from the Committee to Elect Delano Hunter. Hunter is running for a seat to represent Ward 5. He has also been supported by NOM.

"Obviously we're interested in electing candidates that will support traditional marriage and allowing voters of D.C. the right to have their say on the issue," Brian Brown, executive director of NOM, says. "Rev. Motley does."
Sadly, is is also no surprise that NOM seems to have broken the law to do so.
According to the D.C. Office of Campaign Finance (OCF), candidates seeking election for a City Council At-Large seat may accept no more than $1,000 from one organization or individual. But Motley's campaign contribution listings on OCF's official web site, shows that it accepted $950 from "The National Organization for Marriage, PPC," on January 29, and another $950 from "The National Organization for Marriage, Inc." on February 1.

Brown says the two contributions were a mistake and that only one should have been made.
Perhaps it was just a reporting error. Perhaps it was a mistake and NOM accidentally gave more than they intended. Perhaps it's all innocent.
But why is it that every time National Organization for Marriage becomes involved in a campaign, there are questionable practices or laws ignored or broken?
Fact Checking the Family "Research" Council Straw Man Argument
Jason Cianciotto
March 13th, 2010
In response to a Washington Post article about the economic benefits of same-sex marriage in DC, the Family Research Council (FRC) provides a classic example of how right-wing organizations manipulate data and statistics to suit their anti-LGBT positions.
Here's the quote:
When same-sex weddings kicked off in D.C. yesterday, the city wasn't seeing anything but dollar signs. In an absurd article in today's Washington Post, reporters tried to argue that counterfeit marriage could be the economic salvation of the city's economy. In a region with 12% unemployment, local officials claim that redefining marriage "will create 700 jobs and contribute $52.2 million over three years to the local economy."

Not so fast, says FRC. The last census counted 3,678 same-sex partner homes in D.C. Assuming that number has stayed roughly the same, then the 150 who applied for marriage licenses yesterday would amount to a whopping four percent of the local homosexual population–hardly the stuff of economic recovery. For the Post's $52.2 million projection to come true, all 3,678 of those D.C. couples would have to get married and spend over $14,000 per wedding. (I don't know about you, but my wife and I spent a LOT less!) These "marriages" (which have yet to meet financial expectations in other states) may make a fast buck in the short term, but they will do nothing but drain the economy down the road. Consider the massive health care expenses incurred by taxpayers every year to cope with the diseases spread by homosexual behavior. According to the Kaiser Foundation, federal funding grew to more than $18 billion in 2004 to deal with the HIV/AIDS epidemic. Over half of all U.S. infections are in men having sex with men! That means taxpayers spend roughly $10 billion a year treating the diseases caused by a behavior celebrated in same-sex "marriage." So much for economic development!
Not so fast FRC.
Yes, according to the Washington, DC Census Snapshot published by the Williams Institute, there are an estimated 3,678 same-sex couple households in the district, and the Associate Press did report that 150 same-sex couples applied for licenses on the first day same-sex marriage became legal there. This is about all that is factually correct in FRC's statement.
FRC's claim that the 150 couples represent "four percent of the local homosexual population" is a classic manipulation used by the religious right and discredited "researchers" like Paul Cameron. They take an estimate of one portion of a minority population and pretend that it is generalizeable to the population as a whole. In this case, the number of same-sex couple households willing to self-identify in the Census is not equivalent to the total population of lesbian, gay, or bisexual DC residents, which according to the Williams Institute is approximately 33,000.
Even more importantly, it is laughable for FRC to base its argument on the number of couples who applied for licenses on the first day. The Washington Post article references another Williams Institute report, which estimates that 2,000 same-sex couple in DC would marry over the next three years. In addition, another 12,500 couples are expected to come from out of state to get married. This is a more complete picture of the estimates used to create the projection of 700 new jobs and $52.2 million in revenue, but FRC simply ignores this information.
Where to begin with FRC's last argument about same-sex marriage being a long-term drain on the economy because of "diseases spread by homosexual behavior?"
We could cite CDC data on transmission rates caused by "heterosexual behavior." We could also estimate federal funding spent on prevention efforts that address the damage caused by social, and familial environments created by FRC. As they say, so much for economic development!
However, it would be a waste of time to feed into FRC's "straw man" arguments.
They have no interest in examining real facts. Nor do they see the folly in their position against allowing same-sex couples access to an institution that fosters monogamy as well as mutual caring and support. As so many articles and special reports on Box Turtle Bulletin have illustrated, there is no place for scientifically supported facts in the anti-gay playbook.
Catholic Charities and Discrimination
Jason Cianciotto
March 6th, 2010
[I'm proud to have Jason Cianciotto as a friend and now, perhaps, an occasional contributor to BTB. Jason was previously the Director of the Policy Institute at the National Gay and Lesbian Task Force, and later the Executive Director of the Wingspan Community Center in Tucson. He is now free as a bird, traveling around the country with his husband, Courter. — Jim B.]
Now that marriage equality has reached Washington, DC, faith-based social service providers that receive city funding are no longer able to discriminate against married gay and lesbian clients and employees. As a result, in mid-February DC Catholic charities transferred its foster-care and adoption program to the National Center for Children and Families in order to avoid having to offer services to married same-sex couples. On March 1st the organization also announced that it would stop offering health insurance to the spouses of all new employees, gay or straight, a move enabling them to "remain faithful to the church's teachings" by not having to provide insurance to the same-sex spouses of employees.
DC Catholic charities would rather you not see this as an issue of discrimination. Instead they cast themselves as "victims," losing freedom of religion every time a same-sex couple slips on a pair of wedding rings. Additionally, coverage in the Washington Post characterized these changes as "fallout," as if same-sex marriage was akin to a nuclear explosion. However, this is a distraction from the real issue at hand: While faith-based organizations should be able to provide services consistent with their beliefs and traditions, when those services are funded by tax dollars, discrimination based on any characteristic should not be allowed. Period.
This scenario already played out in Massachusetts. In 2006 the Archdiocese there also suspended foster care and adoption support services provided through Catholic charities rather than comply with that state's anti-discrimination laws. As was the case in DC, these services were picked up by other secular agencies. This is a positive outcome for children in need of care based on scientifically supported best practices, rather than on any particular religious tradition.
The distribution of tax dollars to organizations that act in the best interest of children who need a good home, regardless of the sexual orientation of prospective parents, is scientifically supported. For example, in January the Journal of Marriage and Family published a comprehensive analysis of 81 studies of one- and two-parent families, including gay and lesbian couples and individuals. On established measures of self-esteem, social adjustment, and other key indicators, children raised by same-sex parents were indistinguishable from those raised by married men and women. This further strengthens the position of every major medical and mental health professional association in support of the estimated 65,500 adopted children in the U.S. living with a gay or lesbian parent.
As more states legalize same-sex marriage, Catholic charities and other faith-based social service providers will be forced to change discriminatory policies or lose public funding. As was the case in Massachusetts and DC, it is likely that a shift in service provision to secular agencies will continue. This is a positive outcome for all children and families in need, who should not be caught in the cross-fire of the religious rights' culture war against equality for all Americans.
Nearly half of all Americans live where there is some recognition of same-sex couples
Timothy Kincaid
March 3rd, 2010
About 5.1% of Americans (15.5 million) live in areas in which same-sex marriages are legal and equal to opposite-sex marriages: Massachusetts, Connecticut, Iowa, Vermont, New Hampshire, and the District of Columbia.
Another 58.4 million (19.2%) live in states which have either civil unions or domestic partnerships that offer all the rights and protections of marriage without the name: California, New Jersey, Oregon, Nevada, and Washington. To that we can add two more states (New York and Maryland) in which the local state government will honor marriage occurring elsewhere and we have a total of 32.6% of Americans living with the rights and responsibilities of marriage available to their family.
There are also five states which recognize same-sex couples and offer them limited itemized rights. They are Hawaii, Colorado, Wisconsin, Maine, and Rhode Island and they add an additional 14.2 million Americans (4.7%).
But recognition does not stop there. There are dozens more counties and cities who provide what local recognition and benefits as they can, adding another 14.2 million local residents (4.7% of Americans) who can appreciate that their city officials see them as a couple. Local municipalities include the populations of Salt Lake City, UT; Phoeniz AZ; Tuscon AZ; Duluth, MN; Minneapolis, MN; St. Paul, MN; Lawrence, KS; Columbia, MO; Kansas City, MO; St. Lewis, MO; Ann Arbor, MI; Cook County, IL (Chicago); Urbana, IL; Cleveland, OH; Cleveland Heights, OH; Toledo, OH; Philadelphia, PA; Pittsburgh, PA; Harrisburg, PA; El Paso, TX; Travis County, TX (Austin); Eureka Springs, AK; New Orleans, LA; Carrboro, NC; Chapel Hill, NC; Clarke County, GA (Athens); Fulton County, GA (Atlanta); Broward County, FL (Fort Lauderdale); Key West, FL; Miami-Dade County, FL; and West Palm Beach, FL.
In total about 140 million Americans – about 46% of the nation's population – live where there is some form of official notice of same-sex couples. So NOM can proclaim "victory" when they have an election in California or Maine, but this ball is rolling and the momentum is in the direction of recognition.
Congratulations to our Nation's Capital
Timothy Kincaid
March 3rd, 2010
Today the residents of the District of Columbia are free to pick up a marriage license to marry the person whom they love without regard to that person's gender. The first marriage may occur as early as next Tuesday (after the waiting period).
Congratulations to Washingtonians on your newly acquired freedom.
Supreme Court says "yes" to DC Marriages
Timothy Kincaid
March 2nd, 2010
Opponents of marriage equality in the District of Columbia have been trying everything they could think of to stop marriage license from being issued to same-sex couples tomorrow. Unable to persuade city council members from choosing discrimination, they sought to get a congressional veto.
Recognizing that their congressional efforts were simply a clown show, they went to the courts and demanded that they be allowed to vote by initiative. After the District Courts all declined their demands, they made a last ditch appeal to the Supreme Court. (AHN)
Efforts by conservatives to overturn the law have continued. A group of conservatives including clerics Harry Jackson and James Silver filed papers Monday asking the Supreme Court to stay the law.

"The D.C. Council violated the congressionally authorized process for amending the D.C. Charter and, as a result, the citizens of the District are being denied the right to refer the act to the people," the group said in its petition.

The D.C. Court of Appeals ruled against Jackson's group last week. Jackson and Silver, members of a coalition of community leaders and pastors called Stand4MarriageDC.com, also tried to seek approval last year from the D.C. board of elections for a ballot initiative on whether marriage should be between persons of opposite sexes.
Today Chief Justice John Roberts declined placing a stay. (AP)
The Supreme Court has refused to stop the District of Columbia's gay marriage law.

The court on Tuesday turned down requests from gay marriage opponents to stop the law, which will take effect on Wednesday.
This is good news for DC and Maryland residents.
But it may possibly also be good news for California gay couples and those around the nation. Were Justice Roberts an anti-marriage advocate, he may have been willing to lean towards granting the stay. It is, of course, far too soon and far to speculative to assume that this is a forerunner of his position on Perry v. Schwarzenegger, but it certainly weighs on the side of hope.
Catholic Charities Ends Spousal Benefits
Jim Burroway
March 2nd, 2010
In a bid to avoid inadvertently providing spousal benefits to gay men and women who happen to be employees, Catholic Charities of Washington, D.C. , has taken the extraordinary step of ending spousal benefits for all of its employees, the Washington City Paper reports.
Catholic Charities President and CEO Edward Orzechowski sent a memo out to employees yesterday informing them that spouses' who have already been enrolled in the health plan would continue to receive care under a grandfather clause, but that new employees or newly married employees would no longer be eligible to obtain coverage for their spouses through Catholic Charities.
The change goes into effect today. The District of Columbia will begin granting marriage licenses to same-sex couples beginning on March 4.
According to the Washington Post, Catholic Charities employs 850 people in the District and five surrounding Maryland and Virginia counties, but fewer than 100 use the spousal benefits option.
Forty Years of LGBT History Is Now Safe
Jim Burroway
February 26th, 2010
It was a horrendous loss when the venerable Washington Blade went belly up last year. While the paper itself was thriving and profitable, it's parent company, Windows Media, was a financial disaster. The Blade had become the LGBT paper of record for the nation's capital, and with its tremendous access to Congress and administration figures, I don't think it's too much of an exaggeration to say that the Blade was the nation's paper along the lines of the New York Times or Washington Post on LGBT issues.
Today, the paper's successor, DCAgenda, announced that they have successfully purchased the print and electronic archives and other assets of the Blade, ensuring that this historical treasure will be in safe hands.
Maryland recognizes same-sex marriages performed elsewhere
Timothy Kincaid
February 24th, 2010
Earlier today Maryland Attorney General Douglas F. Gansler released a report that seemed to suggest – but not state – that the State of Maryland could – but perhaps didn't have to – recognize out-of-state same-sex marriages. For much of the day confusion reigned.
Now he has clarified (WaPo)
Maryland Attorney General Douglas F. Gansler (D) said Wednesday that effective immediately, and until challenged in court, the state recognizes same-sex marriages performed elsewhere and that Maryland agencies should begin affording out-of-state gay couples all the rights they have been awarded in other places.

"State agencies in Maryland will recognize out-of-state gay marriages as of right now," Gansler said at a news conference explaining the effect of a long-awaited opinion he released Wednesday morning.
This will be particularly relevant next week when the District of Columbia will allow same-sex couple to begin to marry. Most of the residents of Maryland are within a short drive of the District and it would not be a incapacitating inconvenience to plan weddings there.
Washington Archdiocese: No Foster Family For You!
Jim Burroway
February 17th, 2010
The Roman Catholic Archdiocese of Washington, D.C., has ended its foster-care program in response to the District's move toward marriage equality. Catholic Charities turned their 80-year-old foster care program over to the National Center for Children and Families on February 1. Catholic Charities CEO Edward Orzechowski said that he believes the other social service programs run by the group will continue to operate as long as they don't recognize the validity of same-sec relationships:
Asked if that meant looking at ways to avoid paying benefits to same-sex partners or ways to write benefits plans so as not to characterize same-sex couples as "married," Orzechowski said "both, and."

"Now we're in a position where we need to scrutinize everything," he said. "From our point of view, it's important that we don't in any way compromise our religious teaching."
Eleven Republican legislators reveal that they oppose equality more than they oppose big government
Timothy Kincaid
February 3rd, 2010
One of the much-touted principles of the Republican Party is that government which is closer to the people is preferable to big centralized Federal government. For some Republican legislators that is just rhetoric to be ignored when big government better suits their personal agenda.
Nine Republican Senators and two Republican House Members have signed as co-sponsors to a bill to override the near-unanimous decision of the elected representatives of the District of Columbia to allow for marriage equality in that municipality. Although local elected officials and local election boards and local judges agree that this is a local decision and that it is not appropriate for the rights of some citizens to be up for majority veto, these Senators and Representatives believe that Federal intervention is the answer.
The 9 Senate co-sponsors are Senators

Robert Bennett (UT) – Mormon
Sam Brownback (KS) – Catholic
Jim Bunning (KY) – Catholic
John Cornyn (TX) – Church of Christ (Restoration Movement)
Mike Enzi (WY) – Presbyterian
James Inhofe (OK) – Presbyterian
Pat Roberts (KS) – Methodist
David Vitter (LA) – Catholic
Roger Wicker (MS) – Southern Baptist

The 2 House co-sponsors are Representatives

Jason Chaffetz (UT) – Mormon
Jim Jordan (OH) – Grace Bible Church (independent)
This bill is going nowhere. It will not be brought up for a vote in either the House or the Senate. So the only reason to sign on is to publicly identify with the idea of forcing the city to do what the they want by use of the full power of the Federal government. These eleven Republicans do not really believe in what the Party claims to believe about local v. centralized power.
Conservatives are quick to claim that moderates who verge from the party platform on an issue or two are RINOs (Republicans in Name Only). I wonder if they will use the same term for these Republicans who have flipped the bird to one of the central tenets of the Party.
Where The Money To Overturn Same-Sex Marriage in DC Coming From?
Jim Burroway
February 2nd, 2010
Hint: None of it is coming from within Washington, D.C.. Rev. Harry Jackson's three groups to wage three different ballot fights against DC's new marriage equality law have raised a total of $199,000 so far. Of that, $102,192 came from Rev. Jackson's MAryland-based High Impact Leadership Coalition. That sum is followed by $40,000 from Focus On the Family, $32,130 from the National Organization for Marriage, and $25,000 from the Family Research Council. None of the donations are from DC residents.
Chaffetz feebly tries to stop DC marriage
Timothy Kincaid
January 27th, 2010
From the Mormon Church's Deseret News
Rep. Jason Chaffetz, R-Utah, introduced a bill Wednesday that seeks to overturn a new District of Columbia ordinance allowing gay marriage, but he predicts Democratic leaders will not allow it to come to a vote.
Not only are the Democratic leaders going to ignore Chaffetz, so are the Republican leaders. The poor guy is the Rodney Dangerfield of Congress.
Case against DC marriages thrown out
Timothy Kincaid
January 14th, 2010
A motion for summary judgment is when you tell the court that the law is so obviously on your side that a trial would be a waste of time and request that you be declared the victor up front. Litigants on both sides of an issue often request summary judgment just as a matter of practicality, but it is generally only granted if there is little question as to the outcome of a case.
The coalition of anti-gay religious leaders headed by Bishop Harry Jackson seeking to force a referendum to oppose marriage equality filed a motion for summary judgment. So did the District of Columbia.
Today Judge Judity N. Macaluso found for the District (pdf):
ACCORDINGLY, for the reasons stated above, it is this 14th day of January 2010, hereby

ORDERED, that "Petitioners\' Motion for Summary Judgment," filed November 20, 2009, is DENIED. It is further

ORDERED, that Petitioners\' request for a writ in the nature of mandamus is DENIED. It is further

ORDERED, that "District of Columbia\'s Motion to Dismiss, or in the Alternative, for Summary Judgment," filed December 18, 2009, is GRANTED. It is further

ORDERED, that Summary Judgment is entered in favor of the District of Columbia Board of Elections and Ethics and the District of Columbia.