Supreme Court Nominee Addresses Same-Sex Marriage — Sort Of
Jim Burroway
June 30th, 2010
The subject of same-sex marriage came up in today's Senate confirmation hearing for Elena Kagan's nomination to the Supreme Court. In it, Sen. Chuck Grassley (R-IA) asked about the 1972 case of Baker vs. Nelson, in which the US Supreme Court refused to review the decision by the Minnesota State Supreme Court, which held that denying same-sex marriage was not a violation of the Due Process Clause. That US Supreme Court Decision consisted of a single sentence dismissing the case "for want of a substantial federal question."
Here is how Kagan fielded Grassley's question: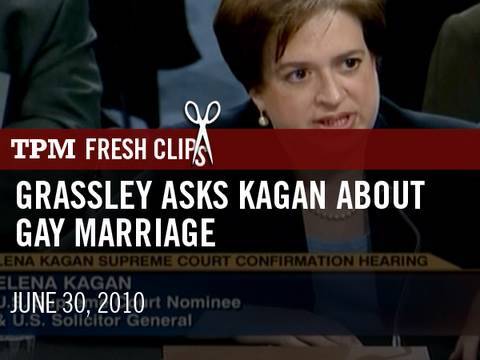 Click here for an unofficial transcript.
Evan Hurst: An Eyewitness Account of Lou Engle's "Stealth Bomber Meeting"
Jim Burroway
June 30th, 2010
As we reported earlier, Lou Engle is holding a series of talks every night in St. Louis between June 19 and July 12. These nightly sessions are taking place at the Gateway House of Prayer on S. Lindbergh Blvd. in the western St. Louis suburb of Rock Hill. Evan Hurst of Truth Wins Out traveled to St. Louis to attend one of Engle's talks, and he lived to tell about it. It turns out that Engle has a rather high opinion of himself:
He asserts at the beginning that he is a prophet, and not a teacher, which is telling, for several reasons. It shows that we're dealing with a person who is not only delusional, but also not really a scholar of his chosen subject, the Bible. Engle introduces the story of Jezebel and Ahab, found in 1 Kings, to draw a parallel to modern times where, Engle believes, other Christians who he views as unorthodox are the root of most problems. On one side are Lou, his followers and like-minded people. He will later refer to them as the "Yahweh Separatists." On the other is basically everyone else in the world, including most Christians, who he refers to as a "Jezebel" generation. He intones the call of the Calvinist reformers, "Sola Scriptura!", which I think would probably amuse those old Calvinists, considering.
And it apparently doesn't take long to get to Engle's thoughts on homosexuality:
If we're struggling with a homosexual, same-sex desire, LET THE BIBLE KILL YOU, rather than make it easier for you, and say well, there must be a better scriptural answer to this … Brothers and sisters, let the Bible kill you rather than you twist the scriptures! And in that killing, it will break you so that you can find a redeemer and a savior! Oh, I believe there are those struggling with same-sex desires who will stand, having done everything to stand, and maybe they won't find the deliverance they've been looking for, but they refuse to let the world dictate their theology; they're gonna stand on the Bible. And they may go for thirty years in an agonizing struggle, but they go into heaven because they stood with God rather than standing with the ideologies of this world.
There is so, so much more, including audio clips. The clips show Engle's vision for a theocratic America and his paranoia that demonic powers are currently roaming the halls of government. Particularly interesting is Evan Hurst's observation that Engle occasionally teeters on the edge of "Things He's Not Supposed To Say," as Evan puts it. And at one point, Engle falls beyond that edge:
Our president two days ago came out and said 'We bless the fathers of families that have two fathers'! This is a decree, a blessing, called this month, LGBT pride month. When decrees come from high places, it actually opens doors! It is a key! It unlocks the spiritual realm for the fueling of the demonization of culture! Is this being taped?" [voice from bouncer/heavy off to the side interjects "We can erase it."]
Again, Evan has audio of all of this — including Engle's "prophetic dreams," which you just have to read for yourself.
Engle isn't the only person who thinks God talks to him in his dreams. He comes from a movement that was started by the controversial Kansas City Prophets. When I wrote that piece, I was accused of being paranoid and delusional, and that the piece itself was pure fantasy. But with Evan's eyewitness account and audio recordings, I have to ask: Who's delusional now?
Tennessee appeals court slaps down anti-gay activist judge – again
Timothy Kincaid
June 30th, 2010
It's hard to think of a definition of "activist judge" that would not have Chancellor George Ellis of the 28th Judicial District in West Tennessee as Exhibit A.
In May 2008, Angel Chandler and her ex-husband Joseph Barker went before the judge to modify their parenting plan. But Ellis didn't like that Angel was living with her female partner of nine years and decided that he was going to do a little legislating from the bench.
Now the 28th judicial district in Tennessee has Local Rule 23, whereby agreements have a "paramour clause," a decision that denies custody or even visitation rights to parents who allow an unmarried partner to stay overnight. But this can be overridden by a court, something that Ellis decided he wasn't going to do.
Now this is not the case of a judge siding with the straight parent; her ex-husband (who has remarried) didn't ask for the clause or object to its removal. And it wasn't over-reliance on a hostile child services worker; reports showed no harm to the children. This was simply the case of a judge going against the wishes of the parents and the children and the advice of the psychologist, and taking it upon himself to disrupt the life of this family out of his own personal biases and bigotries.
Angel's and her partner moved into two halves of a duplex so they could live near each other but apart while they appealed the decision, but soon found the double households to be prohibitively expensive. But fortunately they won their appeal, with the court reminding Ellis that the state law requires the primary consideration for custody arrangements be what's in the best interest of the children.
Well, Ellis didn't need no stinkin' law to do what he wanted to do, so he insisted that the paramour clause remain in place until he could have a hearing. Well in March of this year he had his hearing at which time he decided – without any evidence as support – that it was in the best interest of the children that Chandler and her partner be forced to live apart in order for her to have her kids visit. (Citizen Times)
"A paramour overnight, abuse of alcohol and abuse of drugs are clearly common sense understanding that children can be adversely affected by such exposure…."
(There is no mention of there actually having been abuse of alcohol or drugs, Ellis just sort of threw that in there for comparison. Ya know: alcohol, drug, lesbians – all just obviously not in the kids' best interest to be around these things.)
So back to the court they went. And this time the appeals court was not amused that Chancellor Ellis had decided to impose his agenda over that of the law.
"The record is devoid of any evidence whatsoever to support the finding that a paramour provision is in the best interests of the children. In fact, the record contains evidence demonstrating that a paramour provision is contrary to the best interests of the children," the court wrote.
So far I've been unable to locate any mention of this story by the usual crowd of anti-gay ranters. I guess their definition of "activist judge" is one who disagrees with them.
India's increasing gay acceptance
Timothy Kincaid
June 30th, 2010
India, with a population of about 1.2 billion people, has in the past few decades been increasing its prominence on the world stage. It has aggressively sought market reforms that have resulted in dramatically increased standards of living and it has begun to liberalize its culture and adopt more modern social norms.
One of the significant changes has been India's response to homosexuality and gay people. In 2009, the High Court of Delhi found that sodomy laws were unconstitutional, a decision that was accepted by the government to apply nationwide. Although some religious leaders objected, the decision seems to have have caused no upheaval.
There are still strong cultural traditions that frown on same-sex sexuality, but there are also demonstrations of positive movement. This may be greatly due to a fledgling pro-gay movement which does not seem to have much organized opposition. The dominant religions have not adopted homophobia as a central tenet of faith and there do not appear to be dominant political figures who are using bias and animus as a rallying point. (As best I can tell from California – but I'm open to correction).
Consequently, we see increased visibility of gay people in the Indian culture. In 2006, Manvendra Singh Gohil, a member of the royal family of an Indian state announced that he is gay. While it caused great consternation at the time – including a threatened disowning – recent news reports about Prince Manvendra seem unfazed by the prince's sexuality and seem to view him as something of a cultural phenomenon.
The GLBT community also seems to taking heart from 2009's decision. The end of criminalization resulted in an outpouring of jubilation which seems to have been channeled into the establishment of greater community stability and visibility.
And now a small news report illustrates how this increased openness is encouraging the birth of ventures targeting the community. (hindustan times)
India's first online store selling gay literature has opened. Based in Malad, the store is called www.queer-ink.com and has been started by Fiji-Indian Shobhna Kumar, a self-professed lesbian.

She works within the city's gay community, counselling people and their families, helping organise the queer rally and working in HIV prevention.

"I had a selfish reason for starting this, as I could not get access to these books," she explains. "And Amazon would not deliver them. I think they wouldn't get through customs as they offend Indian sensibilities. There are a few Indian online bookstores, but they take weeks to deliver. I figured other people must be in the same position."
India's GLBT community may be in some ways where Western gay communities were a few decades ago. But there seems to be a rapidity to their movement, a momentum. And absent an organized religious right, India may soon catch up – if not pass – some Western nations in its acceptance of its GLBT citizens.
Wisconsin ban on all couple recognition upheld by state supreme court
Timothy Kincaid
June 30th, 2010
In 2006, Wisconsin voters passed (59% – 41%) the following referendum:
Only a marriage between one man and one woman shall be valid or recognized as a marriage in this state. A legal status identical or substantially similar to that of marriage for unmarried individuals shall not be valid or recognized in this state.
This was challenged in court under the argument that this referendum actually addressed two issues rather than one as is required: 1) shall marriage be banned, 2) shall civil unions be banned. Supporters of gay couples argued that those who wished to ban marriage but allow civil unions did not have an option.
Today, the Wisconsin Supreme Court announced their decision (Grand Forks Herald)
The court's 7-0 ruling concluded that the constitutional amendment was properly put to voters in a statewide referendum in 2006. Justices rejected a lawsuit that claimed the amendment violated a rule limiting constitutional amendments to a single subject.
Doctors Treating Pregnant Women To Prevent Lesbian Babies
Jim Burroway
June 30th, 2010
There has been a considerable body of research trying to examine the role that pre-natal hormones may play in the development of homosexuality and other types of perceived gender-variant identities, interests and behavior in adulthood. Researchers Alice Dreger, Ellen K. Feder, and Anne Tamar-Mattis have raised the alarm that some doctors are giving pregnant women doses of dexamethasone (or just "dex"), a risky Class C steroid, to prevent congenital adrenal hyperplasia (CAH) from developing in female fetuses.
CAH can lead to ambiguous genitalia in females leading to a form of an intersex condition. A few researchers have linked CAH with sexual orientation. Dreger, et al., write:
Pediatric endocrinologist Maria New, of Mount Sinai School of Medicine and Florida International University, and her long-time collaborator, psychologist Heino F. L. Meyer-Bahlburg, of Columbia University, have been tracing evidence for the influence of prenatal androgens in sexual orientation. In a paper entitled "Sexual Orientation in Women with Classical or Non-Classical Congenital Adrenal Hyperplasia as a Function of Degree of Prenatal Androgen Excess" published in 2008 in Archives of Sexual Behavior, Meyer-Bahlburg and New (with two others) gather evidence of "a dose-response relationship of androgens with sexual orientation" through a study of women with various forms of CAH.

They specifically point to reasons to believe that it is prenatal androgens that have an impact on the development of sexual orientation. The authors write, "Most women were heterosexual, but the rates of bisexual and homosexual orientation were increased above controls . . . and correlated with the degree of prenatal androgenization."

They go on to suggest that the work might offer some insight into the influence of prenatal hormones on the development of sexual orientation in general. "That this may apply also to sexual orientation in at least a subgroup of women is suggested by the fact that earlier research has repeatedly shown that about one-third of homosexual women have (modestly) increased levels of androgens." They "conclude that the findings support a sexual-differentiation perspective involving prenatal androgens on the development of sexual orientation."
In another paper published in 1999, Meyer-Bahlburg suggests that CAH in women can cause such "a lower interest … in getting married and performing the traditional child-case/housewife role" — a condition that Focus On the Family, I'm sure, would agree must be avoided at all costs. Dreger, et al., also point to another paper published this year by New and Saroj Nimkam of Weill Cornell Medical College, which links women's interest in traditionally male occupations and games as "abnormal." This, Dreger et al. say, shows how preposterous these assumptions are in scientific research:
It seems more than a little ironic to have New, one of the first women pediatric endocrinologists and a member of the National Academy of Sciences, constructing women who go into "men's" fields as "abnormal." And yet it appears that New is suggesting that the "prevention" of "behavioral masculinization" is a benefit of treatment to parents with whom she speaks about prenatal dex. In a 2001 presentation to the CARES Foundation (a videotape of which we have), New seemed to suggest to parents that one of the goals of treatment of girls with CAH is to turn them into wives and mothers. Showing a slide of the ambiguous genitals of a girl with CAH, New told the assembled parents:

"The challenge here is . . . to see what could be done to restore this baby to the normal female appearance which would be compatible with her parents presenting her as a girl, with her eventually becoming somebody's wife, and having normal sexual development, and becoming a mother. And she has all the machinery for motherhood, and therefore nothing should stop that, if we can repair her surgically and help her psychologically to continue to grow and develop as a girl."
Today, New doesn't think surgery is necessary, but administering dex to pregnant mothers is another matter altogether. And so, without ethical oversight and without informing mothers of the risks of taking a powerful Class C steroid during pregnancy, New and her colleagues have been undertaking a dangerous, unregulated experiment to try to prevent lesbianism in fetuses.
It is widely accepted in the gay community that the more people come to believe that homosexuality is biological in origin, the greater the willingness of the general public to accept the notion of equal rights for gay people. While opinion polls bear a strong correlation between accepting a biological origin and gay rights, that attitude does not necessarily extend to the medical community.
This case isn't the first time we've seen researchers suggest that trying to prevent homosexuality is an ethically defensible position.In 2001, Aaron Greenberg and the controversial J. Michael Baily, both of Northwestern University, published a paper in the Archives of Sexual Behavior noting that "As we learn more about the causes of sexual orientation, the likelihood increases that parents will one day be able to select the orientation of their children." They gave a number of reasons why parents might seek to prevent homosexuality in their children or even abort a fetus if a test were to determine that the fetus were homosexual. Interestingly, they deny that the reasons are based on heterosexism, yet go on to raise a number of heteronormative reasons why parents might want to abort or treat gay fetuses:
Parental desires to avoid having a homosexual child may, however, arise out of motives that are less blameworthy than heterosexism. In fact, the motive may be praiseworthy. In attempting to avoid having a homosexual child, a parent may be motivated by a desire to spare the child the unhappiness that may arise out of living in a society that often treats homosexual people badly in a variety of ways. Surely such a motive deserves moral approval as would an action based on the motive, at least so long as the benefits of sparing the child are not outweighed by any harms the action might cause (see discussion of costs, given later).

Finally, selecting for a heterosexual child may stem from motives that are neither good nor bad, but simply acceptable, from a moral standpoint. For example, parents may wish, understandably, to guarantee themselves the highest probability of one day having grandchildren. Although homosexual people often have children, one's chances of being a grandparent would certainly seem to be maximized by having heterosexual children. The desire for grandchildren is one that seems morally neutral and that a great many people would no doubt understand and sympathize with.

Heterosexual parents may also wish to have heterosexual children for the simple reason that they wish to have children more like themselves, with whom they can more easily and completely fulfill the role of parent in connection with their children's sexual lives. That role involves such activities as teaching, advising, empathizing, and vicariously experiencing, all of which would be, at least in many cases, facilitated by parents' sharing the sexual orientation of their children. A comparison may be made here with a child's religious upbringing. Catholic parents, let us say,would very often be deeply disappointed and saddened by the conversion to, say, Judaism, of their children. This is not necessarily because the parents are anti-Semites or even value Judaism less than Catholicism. Rather, such parents may wish to have children who are like themselves in this respect and with whom they can share certain feelings and experiences that are important to them. Few people would claim that such parents are acting immorally when they enculturate a child in their religion. Similarly, heterosexual parents might wish to have heterosexual children not because they object to homosexuality but to have more in common with their children in an important area of life. Such a motive seems understandable and morally acceptable.
Of course, many on the religious right would still condemn all abortions regardless of the reason. But for them, finding a medical "cure" for homosexuality would be perfectly acceptable. In 2007, Rev. Albert Mohler, president of Southern Baptist Theological Seminary in Louisville, Kentucky, noting the possible "ram"-ifications of gay sheep studies, acknowledged that there may indeed be a biological basis for homosexuality. That acknowledgment nearly made him a pariah among fellow conservatives who view that possibility an anathema, particularly to the ex-gay dogma that clings to the "curable" viewpoints based on environmental theories of homosexuality. But Mohler had a simple way out of that dilemna:
If a biological basis is found, and if a prenatal test is then developed, and if a successful treatment to reverse the sexual orientation to heterosexual is ever developed, we would support its use as we should unapologetically support the use of any appropriate means to avoid sexual temptation and the inevitable effects of sin.
The problem however is that, like the "treatments" deployed in ex-gay therapy, these latest highly experimental medical treatments are being performed without ethical oversight or professional standards. Alice Dreger worries that New, Meyer-Bahlburg, and other researchers are placing pregnant women under enormous risks:
This drug is unequivocally experimental and risky. … In spite of Dr. Maria New's outrageous FDA-regulation-flaunting claims that this off-label drug use "has been found safe for mother and child," it ain't been. New is a rogue pediatrician whom medical societies have been nudging (and sometimes yelling at) for years. Because she apparently wouldn't stop experimenting on these women and children without ethics oversight, in January I got called in to help by a few freaked-out clinicians. And I called in my colleagues to call out the feds. New just looks and sounds safe for mothers and children. Which is why she's really dangerous.
In fact, much as is the case with the ex-gay movement, Dr. New is not only ignoring the risks, but she's flying completely blind as well:
In the Q&A period, during a discussion of prenatal dex treatments, an audience member asked New, "Isn't there a benefit to the female babies in terms of reducing the androgen effects on the brain?" New answered, "You know, when the babies who have been treated with dex prenatally get to an age in which they are sexually active, I'll be able to answer that question." At that point, she'll know if they are interested in taking men and making babies.
[Hat tip: Dan Savage]
Update: In her blog post at Psychology Today, Alice Dreger handily demolishes each of the reasons that many (Greenberg and Bailey, for example) give to justify trying to prevent gay children from being born. My favorite is #6:
6. Puppies make great grandchildren, not least because if your child goes away and you're too busy to care for them, you can put them in a kennel.
Will Uganda's Parliament Take Up The Anti-Homosexuality Bill?
Jim Burroway
June 29th, 2010
As I noted earlier, Alexis Okeowo at Vanity Fair reported:
The (Anti-Homosexuality) bill's most controversial elements—those criminalizing sexual practices or an H.I.V./AIDS diagnosis—are being scrapped to deflect the attention of critics so that the rest of the bill can pass. Parliament, which opened in early June, will be discussing the measure this week.
And as I've repeatedly cautioned, there is absolutely no evidence that the bill itself has been modified in any way. A Cabinet report suggested several changes, but there has been no reports that those changes have actually been made to the draft legislation itself. At last report, the bill was still languishing in the Presidential Affairs Committee and the Foreign Affairs Committee.
Warren Throckmorton doubts that Uganda's Parliament is preparing to take up the measure, pointing to an agenda for the final session that was published on the Parliament's web site. That agenda omits any mention of the Anti-Homosexuality Bill.
So where does the bill stand? Right now it's anybody's guess. Parliament's notice of its final agenda states that "Parliament will, as it is mandated, continue to debate other issues which will be raised on the floor of the House." This means that Parliament isn't precluded from raising the issue at a moment's notice. The published agenda also doesn't alleviate concerns that portions of the bill may be pushed through in a piecemeal fashion, perhaps as amendments to other pieces of legislation. I don't see any scheduled bills listed in the final agenda which might serve as a related vehicle for passing elements of the Anti-Homosexuality Bill. Our own Congress has quite the habit of attaching completely unrelated amendments to proposed legislation. I don't know if Uganda's Parliamentary rules allow for similar practices or not. We'll just have to watch things very closely.
Daily Kos admits fraud by polling partner
Timothy Kincaid
June 29th, 2010
What do you do when your polling partner turns out to be fabricating results?
On response might be to drop the pollster and quietly make a different partnership. In that way you could hush it up hoping to avoid embarrassment.
Daily Kos has taken a different path. Rather than try and keep it all "in house", they have publicly announced that their polling partner committed fraud and denounced any results that Daily Kos had published.
As difficult as it has been to learn that we were victims of that fraud, our commitment to accuracy and the truth is far more important than shielding ourselves from cheap shots from the Right.
Frankly, I was a bit suspicious of some polling that was reported by Research 2000 and am not surprised at the announcement. Some of it seemed to be a bit too convenient for Daily Kos' worldview and I assumed that push polling was happening on the part of both Research 2000 and the website.
I am delighted to be wrong about Markos Moulitsas (Daily Kos' founder) and by taking the high road he has gained my respect.
Australia's new Prime Minister confirms opposition to equality
Timothy Kincaid
June 29th, 2010
From the Sydney Morning Herald
Prime Minister Julia Gillard says she does not support legalising gay marriage in Australia.

Labor policy on gay marriage will remain the same under her prime ministership, Ms Gillard told Austereo show today.

"We believe the marriage act is appropriate in its current form, that is recognising that marriage is between a man and a woman, but we have as a government taken steps to equalise treatment for gay couples," Ms Gillard said.

Asked if that was also her personal view, Ms Gillard said it was.
Those steps have a long way to go before they can be considered to have equalized treatment.
Phoenix gay group accuses HRC of putting "coalition" interests ahead of gay businesses
Timothy Kincaid
June 29th, 2010
The Greater Phoenix Gay and Lesbian Chamber of Commerce is not pleased that the Human Rights Campaign is discouraging gay individuals and couples from traveling to Arizona or doing business with Arizona gay businesses. And they have been frustrated in their attempts to get HRC to consider their concerns. (FoxNews)
"They haven't even read SB 1070. … They don't even really know what's going on around here," Joseph Gesullo, chairman of the Phoenix gay chamber, said of the organizations calling for boycotts. "It's really just hurting the people of Arizona."
Gesullo has been able to negotiate with another group, the National Gay and Lesbian Chamber, who has expressed support for Arizona's gay business operators.
But Gesullo said the Human Rights Campaign has "absolutely" resisted requests to tone down the boycott. He accused the group of kowtowing to Latino advocacy groups as well as the Service Employees International Union and expressed concern that the move would discourage gay and lesbian couples from visiting Arizona. That, in turn, hurts the hundreds of Phoenix businesses that count themselves as chamber members, he said.
And Gesullo may not be completely incorrect.
[Human Rights Campaign spokesman Fred Sainz] denied that the Human Rights Campaign launched the boycott just because the SEIU wanted it, but said there's nothing wrong with working as a "coalition." He said there's a strong connection between those who support Arizona's immigration law and those "who would bring similar harm" to the gay, lesbian, bisexual and transgender community.
While I'm not sure a boycott will have any effect on businesses or interests that oppose gay equality, it is likely to keep away many who might shop in a gay business or contribute to a gay cause.
It is always fascinating when gay organizations put the interests of outside members of a coalition ahead of the interests of gay individuals and organizations. I wonder if those coalition partners would do the same?
The Kansas City Star Readers' Representative plays devil's advocate
Timothy Kincaid
June 29th, 2010
When the Kansas City Star ran a web article about NY gay pride accompanied by a photo of a nude man on a bike in San Francisco, I wrote to the Star to express my discontent. Derek Donovan, the Readers' Representative responded to clarify how the picture came to be and to give me a little lesson about what is an appropriate illustration for gay pride.
I did not agree.
Here is my less-than-friendly original comment:
Really, KC Star?

The best possible picture to accompany a story about this year's gay pride parade in New York City was a picture of a nude guy on a bike from last year's pride in San Francisco? What kind of irresponsible hateful jerk decided to try and trash gay people universally by tying this picture to the entire community? I'm sure he's really proud of his little homphobic effort
Here is Mr. Donovan's much-more-polite response:
Dear Mr. Kincaid,

The letters editor shared your note with me, since it pertains to how The Star covers the news. That photo came directly from The Associated Press, where it was posted online automatically. When a Web editor at KansasCity.com noticed it, he removed it. Wire content rotates in and out of KansasCity.com automatically every day without an editor's hand, as it does on many news sites.

However, I'm going to play devil's advocate here. That man in the photo was indeed a participant in the pride parade, as were a number of others in skimpy and outlandish costumes. It's the journalist's job to document what goes on — and that includes images that some people don't want to see. A column from the National Gay and Lesbian Journalists Association says:

"Some photojournalists may feel like ignoring the femme boys, the butch girls and all those drag queens on Rollerblades. That's just as wrong as making them the entire focus of coverage."

Full column:

http://www.nlgja.org/publications/articles/dotinga_pride.htm

Some gay people love pride events, and others disdain them. Some are ambivalent. The Society of Professional Journalists' code of ethics says to "Tell the story of the diversity and magnitude of the human experience boldly, even when it is unpopular to do so."

The bottom line (no pun intended) is that the man in the photo chose to appear nude in the parade. And again, an editor removed the image when he saw it. I don't really think the word "homophobic" is applicable here, but I will include your comments in my weekly report to the publisher, vice presidents and the entire newsroom.

Best wishes,
Derek Donovan
Readers' representative
The Kansas City Star
And this is my rebuttal
Derek,

Thank you for your response. And let me state up front that I am appreciative of the Star's decision to remove the deceptive picture from accompanying and illustrating your article.

However, in playing devil's advocate, I think you failed to closely read your own position or apply it to the situation.

Yes, the NGLJA does advise:

"Some photojournalists may feel like ignoring the femme boys, the butch girls and all those drag queens on Rollerblades. That's just as wrong as making them the entire focus of coverage."

In other words, don't color the story to portray a false impression. The man on the bike, as the only picture provided, became the entire focus of coverage. He became the sole image of Gay Pride, regardless of the fact that the article was about the New York gay pride parade – and he was from an entirely different type of gay pride parade 3,000 miles away (New York and San Francisco have sharply different gay cultures and their parades have both different messages and different meaning).

And NGLJA follows that advice with this:

"Photos that only show stereotypical images of gays and lesbians without reflecting the diversity of our community have rightly caused anger for many years," Poller said. "But at the same time, it's good to remember what the day is about, what the event feels like. Pride is loud and boisterous and fun, and the published photos should reflect that."

Was that picture loud, boisterous or fun? No. Only to the person who got a chuckle from tying this image to the gay community as a whole.

And was it honest, true or a fair representation of pride? Again, no.

Readers had no way to know that this man on his bike was extremely atypical for gay pride parades. Indeed, he would not have been allowed to ride nude in the vast overwhelming number of pride parades, including the subject of your article.

The Society of Professional Journalists' code of ethics says to "Tell the story of the diversity and magnitude of the human experience boldly, even when it is unpopular to do so."

This picture did not tell the story of diversity and magnitude. This was not an inclusive photograph showing several floats, a marching band or two, some drag queens, and a few go-go dancers. Rather this was a picture that focused on a single individual and, by default, portrayed him as representative.

Based on the criteria you stated, the AP – and the Star – failed miserably.

And I'm troubled by your failure to see the problem with the decision to use this photograph. This was not an accidental happenstance.

Yes, the man in the photo chose to appear nude in the parade. But someone else chose to photograph him, to put him on the wire, and to allow the picture to represent gay pride.

To understand my point, ask yourself this question: would you not feel shame for accompanying a story about the MLK march or Saint Patrick's Day parade or the Lotus festival with a picture that sought to stereotype the participants in a negative way? Would you not be embarrassed if the coverage of a Tea Party rally deliberately pictured a person who, say, was missing teeth?

We would recognize these images as attempts to demean. And they would be.

So let's not pretend that there was no intent on someone's part to portray gay people and gay pride parades in as outlandish a way as possible. To do so discredits an otherwise credible response.

Again, thank you for your reply. I am taking the liberty of sharing it with my readers.

Timothy Kincaid
Vanity Fair: Uganda Parliament To Discuss Anti-Gay Bill This Week
Jim Burroway
June 29th, 2010
Alexis Okeowo at Vanity Fair discloses:
Though widespread international criticism, especially from the United States, derailed the bill in its original form and forced Uganda to drop its death-penalty provision, parliament is set to discreetly pass amendments that would prevent all residents and local and international non-profit organizations from "promoting," advocating, or associating any of their activities with homosexuality.

The punishment would effectively end all health and sexuality programs geared towards gays and lesbians, allow the government to round up and punish activists at will, and make it essentially illegal for gays to exist.

"I don't think it's going to be withdrawn, I don't think it's going to stay on the shelves, I think it's going to pass," [LGBT Advocate Frank] Mugisha tells me bluntly and calmly as he sips from his soda at an open-air bar in Kampala, the capital of Uganda. "We know now that they're working on something new—they want to water the bill down and raise it again in a new form." The bill's most controversial elements—those criminalizing sexual practices or an H.I.V./AIDS diagnosis—are being scrapped to deflect the attention of critics so that the rest of the bill can pass. Parliament, which opened in early June, will be discussing the measure this week.
This appears to confirm earlier reports suggesting that Uganda's political leaders will try to pass portions of the draconian Anti-Homosexuality Bill quietly and in piecemeal form so as to escape notice from critics. One report indicated that the Cabinet subcommittee tasked with examining the bill observed that Clause 13, the section outlawing "promotion of homosexuality" had "some merit." It is this provision that health care workers point to as potentially criminalizing providing health services to LGBT people.
The fact that Parliament is expected to take up the measure again this week suggests that, despite the Cabinet's recommendations, the bill has experienced a new lease on life. Jeff Sharlet, author of The Family: The Secret Fundamentalism at the Heart of American Power, recently wrote that the bill's sponsor, David Bahati, along with his assistant, Pastor Julius Oyet, were "ecstatic at what they perceived as [American pastor Lou] Engle's strong support of the bill." Their ecstasy was stoked by Engle's rally in Kampala held on May 2. Engle is on record as supporting criminalization of homosexuality, along with measures "to not allow it to be legalized, so to speak, so then it just spreads through the legal system of the nation."
Olson: SCOTUS confirms gays as a class
Timothy Kincaid
June 29th, 2010
In yesterday's commentary about the Christian Legal Society's attempts to get recognition by Hastings Law School, I noted that the Supreme Court seems to have identified gay people not in terms of behavior but as a distinct class of people:
The court confirmed its position that attempts to differentiate between behavior and identity (in religious terms, "love the sinner, hate the sin") as distinctions without difference
…
While it may be premature and reaching to draw such a conclusion, it appears that the court seems to be in agreement that sexual orientation is a matter of people and not a matter of behavior.
It appears that Ted Olson, lead Theodore Boutrous, counsel in Perry v. Schwarzenegger, made the same observation. He has written a letter to Judge Walker advising him of the court's decision and encouraging him to consider it in his decision whether to find Proposition 8 to be in violation of the US Constitution.
In Christian Legal Society, the Supreme Court definitively held that sexual orientation is not merely behavioral, but rather, that gay and lesbian individuals are an identifiable class. Writing for the Court, Justice Ginsburg explained: "Our decisions have declined to distinguish between status and conduct in this context." Slip op. at 23 (citing Lawrence v. Texas, 539 U.S. 558, 575 (2003); id. at 583 (O'Connor, J., concurring in judgment); Bray v. Alexandria Women's Health Clinic, 506 U.S. 263, 270 (1993)). This confirms that a majority of the Court now adheres to Justice O'Connor's view in Lawrence, where she concluded that "the conduct targeted by [the Texas anti-sodomy] law is conduct that is closely correlated with being homosexual" and that, "[u]nder such circumstances, [the] law is targeted at more than conduct" and "is instead directed toward gay persons as a class," id. at 583 (O'Connor, J., concurring in judgment) (emphasis added). See also Romer v. Evans, 517 U.S. 620 (1996) (treating gay and lesbian individuals as a class for equal protection purposes). The Court's holding arose in response to Christian Legal Society's argument that it was not discriminating on the basis of sexual orientation, but rather because gay and lesbian individuals refused to acknowledge that their conduct was morally wrong. The Court rejected that argument, holding that there is no distinction between gay and lesbian individuals and their conduct.
Poor ProtectMarriage. Almost all of their witnesses had to be pulled after failing miserably in depositions (one was called as a witness for the plaintiffs). Their sole witness was unqualified and actually hurt their cause. They had to change their "reason" for the proposition time after time (including within closing arguments). And now their argument against heightened scrutiny just skipped out the door.
If they weren't defending discrimination based on animus and founded in a smug assumption of superiority, I might almost feel sorry for the supporters of Proposition 8.
God hates jointly filed tax returns?
Timothy Kincaid
June 29th, 2010
The New York Democratic leadership is at war. With itself. Again.
This time Governor Paterson and the legislature are battling over control of the state's budget. Paterson, a Democrat, is vetoing spending and tax hikes while the House and Senate, led by Democrats, fear that Paterson's methods will set a precedent that will shift power to future governors. And as the Democratic Party holds a very narrow majority in the Senate, any defections can turn the whole thing over to Republicans in the Senate to advance their spending priorities.
So Ruben Diaz, one of the less ethical players in Albany, has taken opportunity of the situation and threatened to deny his vote to Democrats in the legislature unless he be allowed to dictate tax policy for gay couples.
Same-sex marriages conducted in New York State are not recognized. However, if another state allows same-sex marriage, then New York will honor and recognize that marriage. Thus, those who marry in Connecticut, Vermont, Massachusetts, New Hampshire, Washington D.C., or Iowa can return home as a happily married couple.
But that doesn't mean that all things are equal. For example, couples do not have the right in the State of New York to file a joint tax return. The state says, in effect, "Yes, we recognize that you are a married couple, but lie and tick the "single" box and pay the higher tax rate."
So Assemblyman Daniel O'Donnell proposed an amendment to the appropriations bill to allow legally recognized same-sex married couples to file their state income taxes in exactly the same manner as opposite sex couples. Well that was just too much for Senator Diaz.
Because Diaz answers to his God. Or his ego… which might be the same thing. But anyway, his theocratic impulses tell him that God wants gay people to pay higher taxes.
"That's something I'm not comfortable with and we are working on it," said Sen. Ruben Diaz Sr., concerned about a provision allowing married same-sex couples to file joint tax returns. "Right now we are working something out….we have 32 Democratic senators. Next year we may have 34. We might have 30. Next year things might change. As long as we have 32, as long as we have 32, each member should be respected."

Earlier, Diaz Sr. stormed out of conference saying "stupid, stupid, stupid." A few minutes after saying the above, he said he had the provision excised from the budget bill.
As usual, the leadership caved to Diaz.
Former Exodus Leader Alan P. Medinger Died
Jim Burroway
June 29th, 2010
Alan P. Medinger, former Executive Director of Exodus International (the office's title has now been changed to President) and former Executive Director of Baltimore/Washington-based Regeneration Ministry passed away on Monday morning. He is survived by his wive, Willa, two daughters and a son, and several grandchildren.
Medinger is probably best known for his book, Growth into Manhood: Resuming the Journey
, in which he recounts a theory of homosexuality which is essentially identical to Joseph Nicolosi's reparative therapy model. This model puts forward the claim that homosexuality is the result of poor parental bonds and same-gender modeling, particularly with the father. According to that theory, the lack of a male bond with the father results in a "gender identity deficit" with a resulting "inner sense of emptiness." In Growth into Manhood, Medinger refers to his own homosexuality as being the result of specific "choices" he made in childhood:
For me, a couple of those factors were decisions that I made quite early in life. I have a vivid memory of lying in bed one night as a young boy, listening to my parents fight, and saying to myself quite smugly, "They can never hurt me. No one will ever hurt me." I believe that I made a decision that night to never be emotionally vulnerable. As a consequence of that decision, until my conversion years later, I would never be free to truly love anyone.
Medinger claimed to have experienced a sudden, miraculous "healing" from homosexuality on November 26, 1974 as a result of prayer. He started Regeneration in 1979. He was the first Executive Director of Exodus International, and he held that position until 1985.
In Medinger's writings, he would occasionally reference several of the more unsavory characters in the anti-gay political movement. In Growth into Manhood, he refered to Holocaust revisionist Scott Lively's book, The Pink Swastika, as source material for evidence of the "super-warrior" type of gay man:
Another type is the man who exalts manhood to the extreme. At the same time, he denigrates womanhood, and as an outgrowth of this, he sees a man (usually a younger man or teenage boy) as a more desirable sexual partner. This type of man seldom shows any deficit in manhood. To the contrary, he may be the warrior or super-man type. This phenomenon was seen in the ancient Greeks and Romans and more recently in the Nazis. There may be an element of love for the younger man who is the object of the older man's attractions, but the older man seems driven by male idolatry rather than gender emptiness.
The core thesis of Lively's book is that homosexuality was at the root of the Nazi party, and that the natural consequence of equal rights for LGBT people in society would be the return of violent fascism. This theme, which has been rejected by every reputable historian, is the relentless focus of the entire book.
Medinger also cited discredited "researcher" Paul Cameron, for example, in this Regeneration newsletter of 1994 in which he cited Cameron's widely discredited "obituary study" to claim that gay men only live, on average, to age 41.