Petition Circulates Demanding Santorum Apologize To Gay Soldiers
Jim Burroway
September 23rd, 2011
At last night's GOP debate, after the only American Soldier to ask a question the entire night was booed by audience members, GOP presidential candidate Sen. Rick Santorum said that gay soldiers like him should be barred from serving the country. Santorum neither thanked the soldier, identified as Stephen Hill, for his service, nor did he admonish the audience members who booed him. Instead, he denounced the repeal of "Don't Ask, Don't Tell" as "playing social experimentation" and promised to reinstitute the ban.
Change.org now has a petition up calling on Santorum to "apologize to Hill and all soldiers that he insulted by insisting they had no place in our armed services."
American Soldier Booed At GOP Debate
Jim Burroway
September 23rd, 2011
Frankly, I never thought I'd see the day.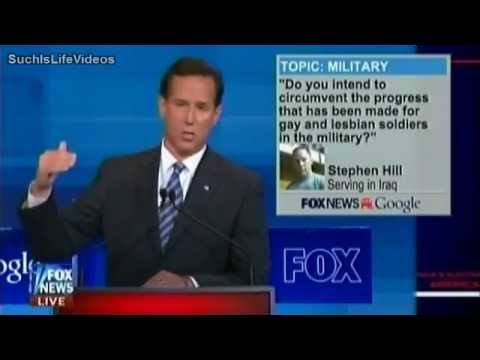 Megyn Kelly: Senator Santorum, this question stirred up a whole lot of controversy online and comes from Stephen Hill, who is a soldier serving in Iraq.

Stephen Hill: In 2010 when I was deployed to Iraq, I had to lie about who I was because I'm a gay soldier and I didn't want to lose my job. My question is, under one of your presidencies do you intend to circumvent progress that's been made for gay and lesbian soldiers in the military? [Scattered booing]

Sen. Rick Santorum. Yeah, I would say any type of sexual activity has absolutely no place in the military and the fact that they are making a point to include it as a provision within the military that we are going to recognize a group of people and give them a special privilege in removing "Don't Ask, Don't Tell,"  I think tries to inject social policy into the military and the military's job is to do one thing and that is to defend our country. [Applause] We need to give the military, which is all volunteer, the ability to do so in a way [cheering and applause] that is most efficient and protective of our men and women in uniform and I believe this undermines that ability. [more cheers and applause]

Kelly: So what would you do with soldiers like Stephen Hill? I mean now he's out. You know, you saw his face on camera. When he first submitted his video to us, it was without his face on camera. Now he's out. So what would you do as president?

Santorum: I think, it's… it's… Look, what we're doing is playing social experimentation with our military right now, and that's tragic. I would just say that going forward we would reinstitute that policy if Rick Santorum was President. Period. That policy would be reinstituted, and as far as people who are in it, I would not throw them out, because that would be unfair to them because of the policy of this administration. But we would move forward in conformity to what was happening in the past which was sex is not an issue. It should not be an issue. [applause] Leave it alone. Keep it to yourself [applause and cheers] whether you are a heterosexual or a homosexual.
GOP candidates and their spinners in the spin room afterwards were scrambling to characterize the booing as "unfortunate." But none of the candidates found it necessary to denounce it on stage.
UPDATE: GOProud was perhaps the first out of the gate to demand an apology:
Tonight, Rick Santorum disrespected our brave men and women in uniform, and he owes Stephen Hill, the gay soldier who asked him the question about Don't Ask, Don't Tell repeal, an immediate apology.

"That brave gay soldier is doing something Rick Santorum has never done – put his life on the line to defend our freedoms and our way of life.  It is telling that Rick Santorum is so blinded by his anti-gay bigotry that he couldn't even bring himself to thank that gay soldier for his service.

"Stephen Hill is serving our country in Iraq, fighting a war Senator Santorum says he supports.  How can Senator Santorum claim to support this war if he doesn't support the brave men and women who are fighting it?"
Follow-up To Gay Airman Who Came Out To His Father On YouTube
Jim Burroway
September 21st, 2011
Just as "Don't Ask, Don't Tell" was about to be thrown onto the trash heap of history, we brought you the dramatic video a gay airman stationed in Germany as he came out to his father. In the weeks leading up to Tuesday, he had been posting videos on YouTube discussing his thoughts on coming out to his comrades, but in those videos he never showed his face. But on Tuesday, we saw him, unobscured, as he undertook the nerve-wracking task of coming out to his father over the phone, and the wave of relief that came over him as his father re-affirmed his love and pride in him.
As of this hour, his video has been seen 1,532,380 times, with 17,456 likes and 707 dislikes. ABC News followed up with Air Force Senior Airman Randy Phillips, who is stationed at Ramstein Air Base in Germany. Phillips says he feels comfortable now that he no longer has to hide:
It feels great. It's nice not having to look over your shoulder or worry about who you are talking to, Phillips told ABC News the day after "Don't Ask, Don't Tell" was officially repealed. "I never thought I'd be so comfortable with it. It's very supportive. Everybody's been so great."

…Now that "Don't Ask Don't Tell" has been repealed, Phillips, like many other enlisted men and women, can at last reveal his face, and cannot officially tell his fellow airman and commanding officers the truth. He told ABC News that he is happy that he has inspired others. He also said that now the whole family knows that he is gay.

As for Phillips' father, he told ABC News that he was not exactly thrilled that his son put the clip on YouTube — but reiterated once again that he loves his son, and always will.
Gay WWII Veteran Reflects on DADT Repeal
Jim Burroway
September 20th, 2011
Jack Strouss, an 88-year-old gay World War II veteran, speaks about DADT's repeal at a ceremony in Atlanta.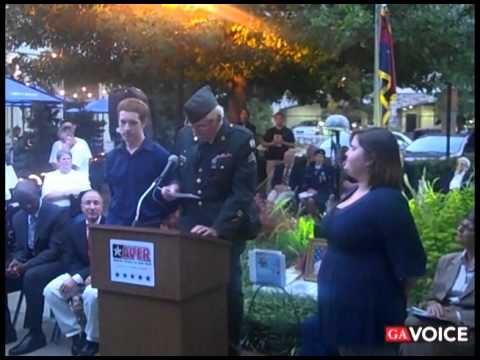 14,346
Jim Burroway
September 20th, 2011
According to Servicemembers United, that's the final tally of the number of soldiers, sailors and airmen/women who were discharged under "Don't Ask, Don't Tell" since it was enacted in 1993.
Elaine Donnelly Still Trying To Keep Her Day Job
Jim Burroway
September 20th, 2011
It's hard to know what the raison d'être for Elaine Donnelly's Center for Military Effectiveness could possibly be except to hang around for a possible GOP president in 2013 who can reimpose "Don't Ask, Don't Tell" via executive order. Maybe that's why she's still pounding the pavement defending dead DADT. The American Family Association's OneNewsNow commiserated with Donnelly on DADT's passing this way:
"The law requires more than just PowerPoint presentations," she tells OneNewsNow. "The administration is supposed to describe exactly what will happen under the new LGBT law. [But] they haven't done that! They're barreling ahead anyway. The president [is] just determined to impose LGBT law on the military, regardless of the concerns of Congress."

The CMR leader predicts litigators for homosexual activists and the homosexual movement are going to have a field day. "Without the law on the books, they will go into court and challenge anything that stands in the way of what they perceive as a civil rights issue," she warns.
Donnelly told Focus On the Family's CitizenLink that people should "watch and report to Congress about the fallout from the repeal."
DADT DEAD
Jim Burroway
September 20th, 2011
Today marks the end of the last legally-sanctioned governmental witch hunt for gays and lesbians with the demise of "Don't Ask, Don't Tell." That milestone isn't sitting very well with anti-gay activists.On Friday, Elaine Donnelly, who really ought to be out of a job by now at her so-called Center for Military Readiness, demanded that Congress, which repealed DADT in the first place, reimpose the ban because, apparently, it'll lead to active-duty unions in the military — or something like that. (Which is why I think we have Donnelly's incompetence to thank for DADT's repeal almost as much as the valiant efforts of LGBT advocacy groups.) A few members of the House appeared ready to take up that call, with Reps. Howard McKeon (R-CA) and Joe Wilson (R-SC) calling for a delay in the implementation of the law that both houses of Congress passed less than a year ago. That call was met with stony silence from the Pentagon.
Then the Family "Research" Council took the opportunity to express their abysmally low opinion of America's military on Friday when they said, "In a matter of days, the U.S. military will be embarking on its most difficult mission yet: celebrating homosexuality in its ranks." That's right. Most difficult mission. More difficult than Iraq, Afghanistan, Tet, Inchon, D-Day, and Guadalcanal. Star and Stripes shot that down with the precision of a smart bomb and predicted that the first day without DADT will be business as usual, and The Marine Corps Times prepared the way last week with a banner headline proclaiming, "We're gay. Get over it!"
It's nice to see the military establishment regarding today's milestone as a non-event, but we'd be kidding ourselves if the passing of the last legal requirement for the governmental pursuit of gay people was meaningless. It's not by a long shot. Here's a round-up of today's events:
Servicemember Comes Out Via YouTube: For several weeks now, a YouTube channel under the account name of "AreYouSurprised" has been featuring videos posted by a servicemember in Germany discussing the importance of DADT's repeal and weighing the pros and cons to coming out to his unit. Until now, he has never shown his face. Until now, when he comes out to his father in Alabama with the camera rolling:
I hope you had a hanky handy.
"I Do," one minute after midnight: With DADT tossed to the dustbin of history, one Navy officer and his partner celebrated two civil rights victories with a Vermont marriage:
When Navy Lt. Gary Ross and his partner were searching for a place to get married, they settled on a site in Vermont, in part because the state is in the Eastern time zone.

That way, the two men were able to recite their vows before family and friends at the first possible moment after the formal repeal of the military's "don't ask, don't tell" policy. Just after midnight Tuesday, the partners of 11 years were married.

I think it was a beautiful ceremony. The emotions really hit me…but it's finally official," Ross said early Tuesday.
White House Tweets DADT Repeal: Also shortly after midnight, the White House and President Barack Obama announced via Twitter that DADT's repeal was official.
The White House has also posted this video commemorating the sacrifice of gay and lesbian servicemembers under DADT.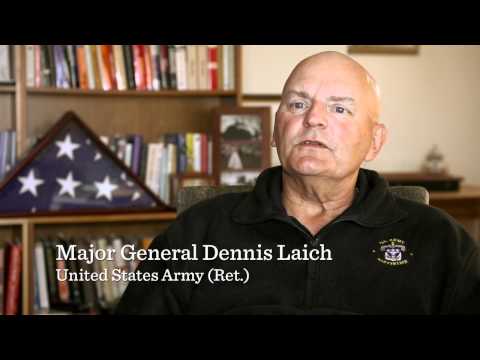 Stars & Stripes Reveals OutServe Co-Founder's Real Name: Now that DADT is officially history, the founder of OutServe can show his face and say his name:
Finding out that 1st Lt. Josh Seefried is gay won't be a shock to most of his co-workers at Joint Base McGuire-Dix-Lakehurst in New Jersey. He has already come out to some of them, and dropped not-so-subtle hints for others. …But now that the "don't ask, don't tell" law barring openly gay troops from serving in the military has been repealed, even some close friends who know Seefried's personal life will be stunned to find out that he has an even bigger secret. For more than a year, Seefried has been using the pseudonym "J.D. Smith" as an organizer with OutServe, speaking on behalf of the group's 4,000-plus gay active-duty and veteran members.

He has briefed officials at the White House and been a lobbying force within the Pentagon. He has been a regular in the press, including several national TV and radio spots. And he and the other OutServe founders have positioned the group as a critical bridge between closeted troops and the professional military establishment in the months following the repeal.

"I'm living a triple 'double life,' I guess," Seefried said. "When I go into work now, my life will be completely changed. It's scary, but it's also exciting. And that's how it will be for a lot of gay troops."
"Diseased Aliens": Michelle Benecke, who co-founded the Servicemembers Legal Defense Network remembers the hysteria surrounding the imposition of DADT:
"People forget what it was like in 1993. The right wing portrayed us as diseased aliens who wanted to hurt the military – and raised the specter of AIDS at every opportunity," she says. "It's hard to explain that time, but they manipulated people's fear of AIDS to paint us as the other. For lots of reasons, not just because of AIDS, but definitely, gay people were painted as the other – as strangers trying to hurt the military."

Looking at that landscape, she says, "In my view, we were at a pre-civil rights framework. First, we had to get people to recognize our humanity, and servicemembers did that by telling their stories."

And so, she and Osburn began SLDN the day after President Clinton signed the bill into law. From that early support, gay, lesbian and bisexual servicemembers became not just the subject of the law but a key part of its repeal.
Today Is The Last Day of the Last Active Legal Penalty Against Gay People
Jim Burroway
September 19th, 2011
Today is the last day in which the military ban on gays serving openly, known as "Don't Ask, Don't Tell" in its latest incarnation, remains the law of the land. Which means that today marks the very last day in which the U.S. Government can legally initiate an active investigation into the private lives of gay citizens solely to determine whether they should be formally sanctioned. Tomorrow's formal elimination of DADT marks a very important legal milestone in U.S. history, when the the federal government's last legal active pursuit against gay people comes to an end.
Regular BTB readers who have been following our historical items in the Daily Agenda will remember that sixty years ago, there were active campaigns to root out homosexuals from all branches of the federal government solely because of their homosexuality. In 1953, that campaign culminated in President Dwight D. Eisenhower signing Executive Order 10450 which formalized the federal employment ban. By then, the U.S. military had long searched out homosexuals from among their ranks, and when they were found, they were often sent to mental hospitals or the brig. Either way, virtually all of them would wind up with a dishonorable discharge which, in the days when military service was universal, made finding a job afterward extremely difficult. Beginning in 1952, gay people were formally prohibited from entering the country under a legal provision barring "aliens afflicted with psychopathic personality, epilepsy, or a mental defect." That languages was interpreted to include gay people, an interpretation which remained in effect until 1990 even though the American Psychiatric Association declared that homosexuality was not a mental defect in 1973. Altogether, these legal requirements mandated thousands of active investigations into the private lives of thousands of citizens in order to impose legal sanctions.
And all of this was against a backdrop in which homosexuality was a criminal offense in every state in the until 1961, when Illinois overhauled its statutes and dropped its anti-sodomy law. Illinois would remain alone in that regard until 1970, when other states slowly began to drop their anti-gay statutes. After a series of lawsuits and demonstrations, the U.S. civil service began hiring gay people in 1975. By the 1990s, most federal investigative services charged with the granting of security clearances no longer considered sexual orientation a barrier to holding clearances, and President Clinton's 1995 executive order brought the rest of the security investigative services in line. In 2003, the U.S. Supreme Court struck down those anti-sodomy laws which still remained on the books. With those cumulative acts, U.S. civilians were finally free from legally mandated investigations to determine their eligibility for legal sanction. No U.S., state, or local law enforcement agency could launch an investigation into the private romantic life of a U.S. citizen solely to determine whether that citizen should be legally penalized because of it.
Sure, the law didn't (and still doesn't) provide for full equality for gays and lesbians: we can't marry in most states, it is still legal for employers to fire someone solely because of his or her sexuality, and LGBT couples face various other enormous tax and other financial inequalities under the law. But these are consequences of legal indifference, not the products of active and hostile pursuit. Where law enforcement investigations designed solely to determine one's sexual orientation were legally mandated and often played out in the front pages of newspapers and the evening news, today we have a whole generation for whom such a scenario is unthinkable — with one glaring exception. Gays and lesbians serving in the military still operate under a McCarthyite prohibition based solely on their private lives. But today is the last day of that official, legal federal obsession with the love lives of Americans. Tomorrow we enter a new era. For the first time in our nation's history, no gay American will be found guilty for loving someone. We're still far from equal in the eyes of the law, but beginning tomorrow we are, at long last, fully free.
USMC Times: "We're Gay. Get Over It."
Jim Burroway
September 12th, 2011
This week's  edition of the Marine Corps Times celebrates next week's end to "Don't Ask, Don't Tell." This is what will remain on the newsstands and PX's all over the world for the next seven days.
Update: Servicemembers United is claiming credit. Servicemembers Legal Defense Network has published guidelines for what servicemembers can and cannot do while celebrating DADT's repeal.
DADT Repeal: Thank You Elaine!
Jim Burroway
July 22nd, 2011
Timothy Kincaid extends his appreciation to Log Cabin Republicans for their tireless efforts in helping to secure DADT's repeal. I initially had a much harder time singling out one individual or organization for finally getting this repeal done.
And then I thought of Elaine Donnelly.
Her consistently incompetent appearances before Congress, her desperate attempts at building support for DADT's retention, her weirdly fraudulent polls — I mean really. Can there be any doubt that Donnelly was at least as effective in moving DADT's repeal forward as the Human Rights Campaign?
Thank you Elaine!  I'm raising my margarita glass tonight to you!
DADT Certification Is Done!
Jim Burroway
July 22nd, 2011
The military ban on gay servicemembers serving openly known as "Don't Ask, Don't Tell" will officially pass into history on September 20, 2011. President Barack Obama signed the certification stating that the U.S. military is now fully prepared to end the policy with no harm to military readiness. The certification, which is required by the repeal law passed last December, starts a sixty day clock to final repeal.
The White House released the following statement from President Obama:
Today, we have taken the final major step toward ending the discriminatory 'Don't Ask, Don't Tell' law that undermines our military readiness and violates American principles of fairness and equality.  In accordance with the legislation that I signed into law last December, I have certified and notified Congress that the requirements for repeal have been met.  'Don't Ask, Don't Tell' will end, once and for all, in 60 days—on September 20, 2011.

As Commander in Chief, I have always been confident that our dedicated men and women in uniform would transition to a new policy in an orderly manner that preserves unit cohesion, recruitment, retention and military effectiveness.  Today's action follows extensive training of our military personnel and certification by Secretary Panetta and Admiral Mullen that our military is ready for repeal.  As of September 20th, service members will no longer be forced to hide who they are in order to serve our country. Our military will no longer be deprived of the talents and skills of patriotic Americans just because they happen to be gay or lesbian.

I want to commend our civilian and military leadership for moving forward in the careful and deliberate manner that this change requires, especially with our nation at war.  I want to thank all our men and women in uniform, including those who are gay or lesbian, for their professionalism and patriotism during this transition.  Every American can be proud that our extraordinary troops and their families, like earlier generations that have adapted to other changes, will only grow stronger and remain the best fighting force in the world and a reflection of the values of justice and equality that the define us as Americans.
Secretary of Defense Leon Panetta and Chairman of the Joint Chiefs of Staff Adm. Mike Mullen signed the certification letter yesterday and presented it to the President this afternoon.
According to Chris Geidner at Metro Weekly:
In a news conference at the Pentagon, Maj. Gen. Steven A. Hummer said that the military had completed "the necessary policies and regulations to implement repeal," praised the work of the Repeal Implementation Team, and said, "This thoughtful and steady approach…has laid the groundwork for a smooth and orderly transition."

…Hummer said the military expects all training of active duty servicemembers and reserves will be completed by Aug. 15.

Hummer said that the repeal implementation Team has conducted a thorough review of regulations and policies, made the necessary revisions, and stated that those changes will be effective upon the date of repeal. Some of the main policies addressed relate to separations of servicemembers under DADT. Such servicemembers, when discharged fully under DADT, will be able to re-apply after repeal, said Hummer.
There are still some issues related to DADT's repeal which are yet to be addressed:
"Perhaps the largest piece of this is benefits," said Hummer.

Although Hummer said that certain benefits in which servicemembers can select a beneficiary of their own choosing will be open to gay, lesbian and bisexual servicemembers who wish to name a same-sex partner, he noted that the Defense of Marriage Act (DOMA) and "the existing definition of 'dependent' in some laws" will prohibit extending benefits such as health care and housing allowances to the same-sex partners of servicemembers.
Sen. Susan Collins (R-ME), whose refusal to let DADT repeal die when all hope appeared lost, praised today's development:
America is now one giant step closer to joining at least 28 of our closest allies in welcoming the service of any qualified individual who is willing and capable of serving our country.  I am delighted to have helped lead the effort to begin repeal of this law because it is the right thing to do for our military and for our country.
Sen. Collins was the only Republican on the Senate Armed Services Committee to vote to include DADT's repeal in the Defense Authorization bill.  In December, she was the only Republican in the Senate to vote to proceed to the Defense Authorization bill which included repeal language. When that vot failed, Sens. Collins and Joe Lieberman (I-CT) then introduced a standalone bill which passed the Senate on December 18, 2010 by a vote of 65-31.
Sen. Lieberman also praised DADT's imminent demise:
"Our strongest in the world military is even stronger today with the certification that its readiness and effectiveness will not be diminished by the open service of gay and lesbian servicemembers. I thank our military leaders for their efforts over the past several months to implement this policy. Justice has been served, and we should all be grateful that patriots stand guard every day around the world protecting our precious freedoms."
Rep. Barney Frank (D-MA) also reacted to the news:
Given Leon Panetta's lifelong record of opposition to unfair discrimination, I knew when the President appointed him to be the Secretary of Defense that he would act promptly to implement last December's legislation to end "Don't Ask, Don't Tell."

I have a prediction: just as we have seen in those states where same-sex marriage has occurred with none of the negative consequences predicted, it will soon be clear that there was never any basis for this discriminatory policy in the first place other than prejudice, and the gay, lesbian, bisexual and transgender servicemembers will soon demonstrate that there never was a good reason to keep them from serving our country.
DADT receives death certificate
Timothy Kincaid
July 22nd, 2011
In accordance with the terms set out in the legislation terminating the Military's Don't Ask Don't Tell policy, the President of the United States, the Secretary of the Defense, and the Chairman of the Joint Chiefs of Staff have now certified that the Department of Defense has now prepared the necessary policies and regulations and that such policies and regulations are consistent with the standards of military readiness, military effectiveness, unit cohesion, and recruiting and retention of the Armed Forces.
It's official. While the change will not go into effect for another 60 days, the policy restricting the open service of gays and lesbians in the military has been certified dead.
Many people and organizations played an role in this change. And many deserve credit. And you will receive emails from several today claiming that credit and asking you for money.
But one organization which has, in my opinion, contributed far beyond most will probably get scant recognition elsewhere in our community, so I'll give them the opportunity to brag a bit.
Today, on July 22, 2011, the President, Secretary of Defense, and the Chairman of the Joint Chiefs took the next step, certifying that the military is ready to end the ban on open service. It is a proud day to be an American, and a proud day to be a Log Cabin Republican.

Log Cabin Republicans fought this archaic policy on many fronts, from working with the Pentagon's Comprehensive Working Group which showed servicemembers were unopposed to the change, to securing the needed Republican votes in Congress for repeal, to bringing the federal lawsuit Log Cabin Republicans v. United States which declared 'Don't Ask, Don't Tell' unconstitutional. It has been a long campaign, and the fight is not yet over, but victory is in sight at last.
Thanks guys. Considering the vote count and the pressure that the lawsuit applied, I honestly don't think we could have accomplished this at this time without you.
Uncle Sam Wants YOU
Jim Burroway
July 8th, 2011
The Pentagon is moving swiftly in accordance with the Ninth Circuit Court of Appeal's lifting of its stay, rendering "Don't Ask, Don't Tell" immediately unenforceable. The Defense Department announced today that it will start accepting applications from gay military recruits:
In a memo to the secretaries of the military branches, Clifford L. Stanley, undersecretary of defense for personnel and readiness, directed them to comply with the court injunction immediately.

"It remains the policy of the Department of Defense not to ask service members or applicants about their sexual orientation, to treat all members with dignity and respect, and to ensure maintenance of good order and discipline," the memorandum read in part. "Further, because the injunction is once again in effect, the department will process applications for enlistment or appointment without regard to sexual orientation."
The Army Times reports that the Pentagon has also ordered a halt to all discharge proceedings against gay servicemembers.
Active Duty Military Marches In San Diego Pride
Jim Burroway
July 8th, 2011
Now that "Don't Ask, Don't Tell" has been half-lifted by the Ninth Circuit Court of Appeals, LGBT members of the U.S. military in the San Diego area marched in the city's Gay Pride parade this weekend as out and proud LGBT Americans.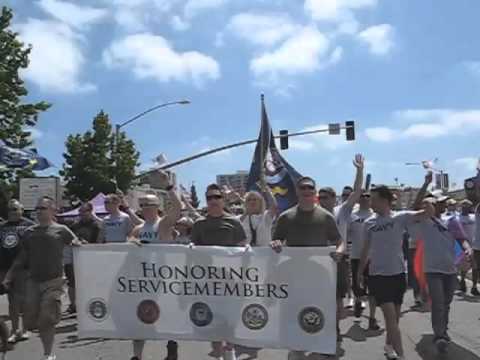 San Diego is home port for the U.S. Navy's Pacific Fleet, and the area is dotted with ports, naval air stations, national guard facilities — and the Marine's Camp Pendelton is just up the cost in north county. This appears to be the first organized march by active duty military personnel in a U.S. Gay Pride parade.
Ninth Circuit lifts stay on Log Cabin's DADT victory. Policy unenforceable immediately
Timothy Kincaid
July 7th, 2011
[Sorry folks, I thought I had posted this yesterday but I guess I forgot to hit "publish"]
From the LA Times
A federal appeals court in San Francisco issued a ruling Wednesday that ends enforcement of the law banning openly gay people from serving in the military, citing the Obama administration's recent determination that gays and lesbians have suffered a history of discrimination.

The statute known as "don't ask, don't tell" was ruled unconstitutional by U.S. District Judge Virginia Phillips in September, and a ban on its enforcement was imposed a month later. The U.S. 9th Circuit Court of Appeals stayed Phillips' ruling, though, while it was being appealed and to allow the Defense Department time to prepare for integrating gays into the armed services.

A three-judge panel of the appeals court lifted that stay in a two-page order Wednesday, granting a motion brought by the Log Cabin Republicans, a gay-rights advocacy group that sued the federal government over "don't ask, don't tell" seven years ago.
There are several reasons why this case is important.
First, should the Ninth Circuit uphold the victory as seems likely, it takes the matter out of the hands of any future hostile administration or Congress. While it's unlikely that Congress would reinstate the ban, it removes the possibility.
As importantly, it alleviates the possibilities of delaying tactics or conditional reversal or partial retainment of discrimination. Matters of housing or full inclusion cannot be accepted as "policy" but would be held to the scrutiny of constitutional challenge and those establishing or administering such policy would keep that in mind.
But most importantly of all, I believe that this is the first time that a Federal Circuit Appellate Court has taken the position that a stay on the reversal of a discriminatory policy was more harmful to gay people than to those seeking to uphold the discrimination. THAT'S A BIGGIE, FOLKS. And it establishes a precedent that reflects an entire shift in perspective. The presumption no longer is in favor of the status quo.
Further, this is fascinating in that the Ninth Circuit cited the Administration's new views about anti-gay discrimination requiring heightened scrutiny. Remember, the Ninth Circuit has yet to rule on the Perry v. Schwarzenegger appeal and (should the Proponents be deemed to have standing), if the same consideration is given then it seems likely that the ruling will stand.
And I would not be surprised it Olson and Boies immediately filed a motion to have the stay lifted on Perry.

UPDATE: The original title of this posting was inaccurate. The Ninth Circuit did not uphold Log Cabin's victory over DADT but rather lifted the stay during appeal.
Gay Soldiers Attacked, Fear Coming Forward Because of DADT
Jim Burroway
July 5th, 2011
Two gay Ft. Carson soldiers south of Colorado Springs were beaten Saturday at a fast food restaurant while their attackers shouted anti-gay and racial slurs. Police are investigating the attack as a possible hate crime, but the two soldiers have to remain anonymous because "Don't Ask, Don't Tell" has not yet been officially dismantled.
This attack comes almost exactly twelve years after Pfc Barry Winchell was murdered because he was gay. That murder occurred in July, 1999, and highlighted the physical dangers that LGBT servicemembers are exposed to under DADT. After twelve years and with DADT's promised imminent demise, some things still haven't changed. The soldiers, who remain unidentified in KRDO's story, say that most people in their unit know that they are gay. But, says one, "I don't need people higher up knowing. I still have to protect myself as far as on the military side." One of the soldiers is being treated for facial fractures and his jaw has been wired shut. The other had been repeatedly kicked in the head and ribs, and he said his right eye had swollen closed. With injuries like those, it will be impossible for them to hide now.
LaBarbera Award: Bryan Fischer
Jim Burroway
June 2nd, 2011
Admittedly, the American Family Association's Bryan Fischer could qualify for this award virtually every day, so we've had to raise the bar for his nomination for this award. (He's won three times before.) Yesterday, Right Wing Watch caught Fischer saying this:
You're going to have the homosexual lobby committing one hate crime after another against service members, especially officers, who have deeply held convictions about the acceptability of homosexual behavior. And so I'm predicting that things are about to get very ugly in the United States military for people of faith. We are going to see principle-driven officers, one after another, are going to become to victims of systematic hate crimes. This is going to be a pogrom, this is going to be virtual genocide, military genocide, career genocide for people of faith in military, perpetrated by the homosexual lobby.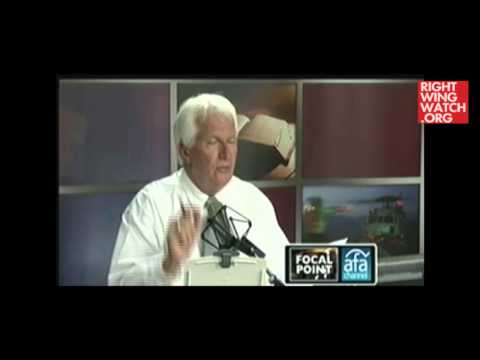 Newt Gingrich and Tim Pawlenty have both appeared on Fischer's program trolling for anti-gay votes.
About those "21 religious groups" and their chaplain letter…
Timothy Kincaid
May 25th, 2011
A news article has been circling about the response of "Leaders of 21 religious groups that provide chaplains to the U.S. military" to the tentative (and subsequently reversed) announcement that chaplains could exercise their religious beliefs in regards to same-sex marriage.
Chaplains and service members who believe gay marriage and homosexuality are immoral might fear reprisal if they express their views openly once the military's lifts the "don't ask, don't tell" policy, said the retired chaplains, who sent a letter Monday to the chiefs of chaplains of the Navy, Army, and Air Force.

"This is already an assault and a challenge on individual conscience and some soldiers may think it's forcing them to abandon their religious beliefs or being marginalized for holding to those beliefs," said Douglas E. Lee, a retired Army brigadier general and chaplain, whose signature was the first on the letter.
Conservative Christian press expressed the letter in even more indignant terms. (Christian Post)
They want to ensure that chaplains and service members won't be punished if they preach on or discuss homosexuality as a sin.
Considering that the temporarily announced policy was the result of questions from real chaplains about their own rights and abilities, I thought that I would review just what this letter said and who signed it.
Well, it turns out that the complaints really didn't have to do with real fears by real chaplains. Rather, this is a document written by the Alliance Defense Fund complaining about how allowing chaplains to have religious freedom would hurt their own political campaigns against the rights and freedoms of gay Americans.
Of equally grave concern is the fact that chaplains are instructors of conscience. Chaplains have a tremendous moral responsibility to insure that when they preach, teach or counsel, they do so in accordance with their conscience and in harmony with the faith group by which they are endorsed. When guidance, however, is forthcoming from senior leadership that implies protected status for those who engage in homosexual behavior and normalizes same-sex unions in base chapels, any outside observer would conclude that both homosexuality and homosexual unions officiated as marriages in base chapels are normative. This creates an environment that is increasingly hostile to the many chaplains—and the service members they serve—whose faith groups and personal consciences recognize homosexual behavior as immoral and unsafe and do not permit same-sex unions.
In plain English: if military leadership treats same-sex unions like opposite-sex unions, then those who are anti-gay will no longer have official support for their doctrine. And those who seek to cultivate a culture of rejection and hostility towards gay people will be viewed askance once the military treats all people equally.
And in response they demand that all soldiers should not "be marginalized" for holding and espousing anti-gay views. They should be free to dole out homophobic slurs, to denounce fellow gay soldiers, to mock, berate, and demean gay people in general, provided that all of these behaviors are an expression of conscience based on their religious beliefs.
Which is, of course, nonsense. Anti-Semitism, anti-Catholic, or racist statements do not receive protection from marginalization even when an expression of conscience based on their religious beliefs. Why, then, should homophobes receive special treatment, special exceptions, that others do not receive?
And, as a matter of credibility, let's review exactly to what extent this letter represents the faith community. Let's look to see who did – and who did NOT – sign this letter.
As it turns out, the signatories are all from anti-gay denominations. Some, like the Southern Baptist Convention and the Lutheran Church – Missouri Synod are denominations of significant size and presence in the chaplaincy. But most of these "21 religious groups" are miniscule and filler designed to give the letter a greater representation than it deserves. And some, like the Anglican Church in North America, owe their entire existence, their very reason for being, to the anti-gay attitudes of a handful of malcontents who broke away from their religious affiliation solely because it rejected anti-gay animus.
Who is not there? No mainline or moderate denominations, and not even the reliably anti-gay Catholic Church (which sent a separate letter) or Mormon Church. No Jewish, Muslim, Buddhist, Wiccan, or other non-Christian affiliating bodies. This is not a broad spectrum of "religious groups that provide chaplains to the U.S. military." It is simply a collection of far-right anti-gay denominations pretending to be so.
And this is not about chaplains being denied religious freedom. This is not about an assault and a challenge on individual conscience of conservative soldiers.
This is about one segment of Christendom seeking to impose its will over society, over the military, and especially over those segments of Christendom that do submit to their demands for 'orthodoxy'. This letter is an assault on the civil and social freedoms of gay people and on the religious freedoms of gay-supportive people of faith.
Conservatives attack Navy policy, get it reversed
Timothy Kincaid
May 11th, 2011
A memo was made public on Monday that stated that same-sex marriages could be be conducted on Navy bases in states that allow such marriages and that chaplains who so wished could participate.
Predictably, social conservatives reacted with outrage.
Tony Perkins, president of the Family Research Council (identified as a hate group by the SPLC), tweeted
Hearing Navy chaplains are now being trained to perform same sex weddings following [Don't Ask Don't Tell (DADT)] changes. Major religious liberty implications.
And the politicians got all charged up as well (Christianity Today)
Rep. Todd Akin (R-Mo.) and 62 other Members of Congress also object to the new policy. They sent a letter to the Secretary of the Navy accusing the Navy of violating federal law.

"We find it difficult to understand how the military is somehow exempt from abiding by federal law. Not only does this document imply recognition and support of same-sex marriage in opposition to DOMA, it also implies that the Navy will now perform these marriages so long as they do not violate state statutes," Akin wrote.
And so the Navy has today reversed the policy. But what is being carefully avoided by conservatives is how this came about and who is really impacted.
The policy memo was written by Navy Chief of Chaplains Rear Adm. Mark L. Tidd and was written to chaplains to answer questions that arose when those Navy chaplains were undergoing training as to what chaplains were allowed to do.
This reversal will have but minimal effect on gay couples. No, we will not be allowed to marry on base, but we can find another venue quite close by. The wedding will go on.
Who this really effects the most are military chaplains. This reversal tells them that they do not have the freedom to officiate at certain weddings. They cannot rely on the teachings of their own denomination or the guidance of their faith; instead politicians will dictate what are acceptable standards for sacraments.
So listen up, all you Methodists, Episcopalians, Presbyterians, Lutherans, Congregationalists, Disciples of Christ, American Baptists, Universalists, Reformed Jews, or any other religious denomination who either does support same-sex marriage or is deciding whether to do so: it's time you wake up to the truth. This is an attack on you.
Tony Perkins and the rest who yell the loudest about religious liberties don't want religious liberty at all. Or, at least, not for you. They want to dictate to you what is acceptable religious policy in this country. It's time you get in this fight and realize that you are fighting as much for your own freedom as you are for ours.
Bob Barr on conservatism
Timothy Kincaid
May 2nd, 2011
During his eight years (1995 – 2003) in the House of Representatives, Bob Barr (R-GA) was best know for his partisanship and conservative advocacy. Long an advocate of Second Amendment rights and suspicious of governmental spending – which he saw in terms of governmental encroachment on a free people – Barr seemingly found no inconsistency in toeing Republican Party positions which supported governmental encroachment on a number of social issues.
In addition to being a strong advocate for the Federal Government's "war on drugs", Barr took a leading role in opposing rights for gay people. In 1996, he was the author and chief supporter of the Defense of Marriage Act.
But the bombing of the World Trade center in 2001, coupled with the federal government's crack down on civil freedoms, woke Barr up. His libertarianism ceased to be (as it is for many Republicans) a platitude around which exceptions are the norm and he began to question whether many of the positions he had one time championed were not actually in direct violation to the principles which he espoused.
Barr's turn around has been dramatic. In 2006 he left the Republican Party and registered as Libertarian, serving as that party's presidential candidate two years later. And he has also advocated for the legalization of marijuana.
But perhaps the most unexpected of Barr's reversals has been his public repudiation of his most notable action in Congress, DOMA. Interestingly, this is not, I suspect, based out of some newfound appreciation for gay people; rather, it seems to flow from a newfound respect for freedom, individual autonomy, and constitutional equality.
Consequently, Barr speaks very differently from other advocates for the reversal of anti-gay governmental discrimination. His is not an advocacy that rails as "the bigots" but rather speaks to the ideals that permeate the writing, if not the thinking, of the Republican Party and it's leaders.
Speaking over the weekend at the Log Cabin Republicans National Convention, Barr spoke specifically of marriage and the government's role.
A federal law that burdens a fundamental right is – should – be deemed in violation of the principle of equal protection. When viewed as a fundamental personal decision on the right to associate, it clearly falls within the ambit of the XIV Amendment's notion of "privileges or immunities." Prohibitions against same-sex marriage violate the equal protection clause by placing more than a burden on this right – an outright prohibition for one group of individuals to exercise that right legally and to have their contracts enforced by the courts.
This is interesting language in that it brings up a point that our community can sometimes overlook. We tend to talk in terms of what marriage means to us: rights, responsibilities, community, recognition, and equality. Yes, marriage restriction does infringe on hospital visitation and inheritance tax. But those are not particularly strong arguments to those who may see changing visitation rules and tax codes as a solution.
Barr focuses instead on what we, as a people, have the right to expect and demand from our government.
As Linda Harvey flippantly says (and entirely misunderstands) we already can marry, and – contrary to Harvey's assumptions – we can marry the person we love. And we may marry in every state, in every nation, anywhere we may find ourselves.
Marriage is a contract, a social, emotional, and financial agreement based on terms, conditions, and promises. These vows we may pledge, be it in front of an alter with family, friends and God as witness, or privately and quietly.
We can marry; that isn't really our issue. Our issue is whether the state will recognize and enforce this contract.
And we have the right to demand that it do so. And opponents who argue that we can have wills, and powers of attorney, and 'designated funeral-planning agent' forms to provide "many of the same benefits" should be made to explain why it is that the state may enforce those contracts, but not the one we have already made.
But it is not specific issues, such as gay marriage or gay military service, that should be the focus for conservatives. Such thinking puts the emphasis on the who, not the what.
Barr believes, as do I, that in our approach to policy, we ought not start with the impact some law may have on gay people, but rather on whether any people should be subjected to some arbitrary control over their lives, regardless of their demographic. And it is that argument that can appeal to the principles of some who may never come to see us as morally equal but who can, nevertheless, see us as civilly and legally equal.
What many so-called conservatives fail to realize also is that defending traditional notions of morality (if consistency is to be a component also of our political philosophy) ought to include keeping the government as much out of our personal lives as possible and limiting its power as much as possible. And, speaking of morality, using the collective power of the state to do what individuals cannot do – impose the will of one group of people on another set of people – is truly immoral. We each were endowed by our Creator with one life and we should be free to live it as we see fit, so long as we do not harm another.
Click here to read the red of Barr's eloquent and thought provoking speech