Fox News: DADT a failure and absurd
Timothy Kincaid
February 9th, 2010
On Fox and Friends Weekend, Col. David Hunt, a Fox military analyst, called Don't Ask, Don't Tell an "abject failure". Fox host Clayton Morris agreed, calling it a civil rights issue and absolutely absurd.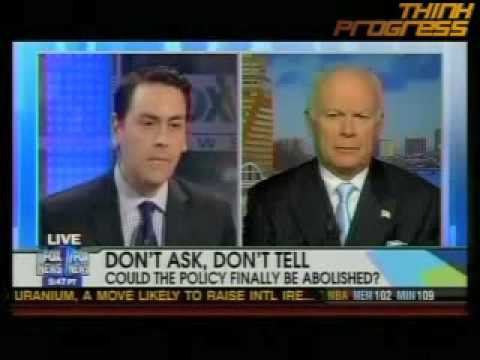 They said Sen. John McCain is "flat wrong."
McCain Gets 27% of Gay Vote
Jim Burroway
November 5th, 2008
According to CNN's exit polling, 70% of the gay vote went for Barack Obama, while 27% voted for McCain. This is in line with Bush's gay votes in 2000 and 2004. It appears that no matter what, something around a quarter of LGBT voters will stick with the Republican candidate on other issues in presidential elections.
Palin Tells Dobson McCain Will Implement Full GOP Platform
Jim Burroway
October 26th, 2008
GOP Vice Presidential Nominee Sarah Palin told Focus On the Family's James Dobson that she believes that John McCain will implement the full Republican Platform on taking office. That platform includes total bans on stem cell research, abortion and gay marriage — position which are far more conservative than those taken by McCain himself during the campaign.
Dobson began the interview on his radio program Wednesday by calling the GOP platform the "strongest pro-life, pro-family document to come out of a political party." Palin responded that she believes that a President McCain will implement the full platform:
"I do, from the bottom of my heart. I am such a strong believer that McCain believes in those strong planks and we do have good conversations about some of the details too, about the different planks and what they represent."
McCain has previously stated his opposition to the Federal Marriage Amendment on federalist grounds, but he has endorsed state constitutional amendments to ban same-sex marriage.
McCain's Washington Blade Talking Points
Jim Burroway
October 1st, 2008
As for the rest of McCain's Interview with the Washington Blade, he touched on quite a few topics:
On LGBT Role Models: "I had the humbling experience of speaking at Mark Bingham's funeral after the attacks on Sept. 11. Mark had supported me during the 2000 campaign. Unfortunately, I barely knew him, but our country learned about him after 9-11. He was one of the heroes on 9-11 who tried to retake control of United Flight 93. His efforts along with the other brave patriots could have saved hundreds of lives. I honor and respect Mark.  Memories of his sacrifice and the other victims from 9-11 motivate me everyday to make sure we keep our nation safe from the terrorists who want to attack our way of life because freedom is a threat to their message of hate."
On HIV/AIDS: "I'm proud to have supported President Bush's efforts to address the international AIDS crisis. History will remember him for the PEPFAR program, which has saved millions of lives. We've made progress on the domestic front too, but not enough. I am committed to supporting the development of a National AIDS Strategy. Countries receiving PEPFAR aid are required to develop a national plan; but we don't have one in our country. … Recent CDC statistics show that gay men continue to be strongly impacted by the disease, and the disease is disproportionately affecting people of color. Our prevention and treatment efforts must be improved to address these challenges."
On adoption by gay couples: "I hope my comments are not misinterpreted. I respect the hundreds of thousands of gay and lesbian people who are doing their best to raise the children they have adopted. As someone who adopted a child, Cindy and I know better than most couples the amazing satisfaction that comes from providing love to an unwanted child. I believe a child is best raised by a mother and father because of the unique contributions that they make together to the development of a child."
On gays in the military: "On 'Don't Ask, Don't Tell,' I'm going to defer to our military commanders. So far they have told me it's working. I'm willing to have the policy reviewed to make sure that's the case, but at the end of the day, I'm going to rely on the commanders who will be impacted by a change in the law."
On the Defense of Marriage Act: "As a Republican, I am a strong advocate for federalism. States should be able to decide as many issues as possible. That's certainly the case on the definition of marriage. My home state of Arizona shouldn't be compelled to recognize a marriage from California or Massachusetts. Those states can decide that issue by themselves."
On so-called "marriage amendments": "My own view is that marriage should be reserved for a man and a woman. That's what I supported in Arizona. I realize this is a controversial issue and we must conduct this debate in a way that respects the dignity of every person. … As I did in my home state of Arizona, I support the effort in California to define marriage as the union of a man and a woman. However, the people of California will ultimately decide this issue, and I'll of course respect the decision of the voters."
On non-descrimination in the workplace: "Gay and lesbian people should not face discrimination in the workplace. I've always practiced that in my hiring. I select the best people, regardless of their sexual orientation. I support the concept of non-discrimination in hiring for gay and lesbian people. However, we need to make sure legislation doesn't lead to a flood of frivolous lawsuits or infringe on religious institutions. What I can say now is I will give careful consideration to any legislation that reaches my desk, and confer with Congress before making decisions."
On Hate Crimes Legislation: "I have voted against the proposal several times. Let me make it clear that no one should face violence because of who they are. It's un-American and morally repugnant. People who commit any violent crime should face tough penalties. However, I am not convinced that this is properly a federal issue, or that criminal sentences for terrible crimes should be longer because of the views of the perpetrator or the identity of the victim."
McCain: "I Hope Gay and Lesbian Americans Will Give Full Consideration to Supporting Me"
Jim Burroway
October 1st, 2008
In what is believed to be the first time a Republican presidential nominee made himself available to the gay press, John McCain participated in a written interview with the Washington Blade this week in which he said he appreciated the Log Cabin Republicans' endorsement and hopes that "gay and lesbian Americans will give full consideration to supporting me."
McCain wrote about working with former Congressman Jim Kolbe (R-AZ) for 25 years. Kolbe was the first Republican Congressman to serve in the House as an openly gay man. McCain also spoke highly of former Tempe Mayor Neil Giuliano, who is now the executive director of GLAAD. Giuliano survived a recall election in 2001 over his sexual orientation. And McCain recalled giving the eulogy at Mark Bingham's funeral. Bingham, a member of a San Francisco bay-area gay rugby team, died while bringing United Flight 93 down into a Pennsylvania cornfield on September 11, 2001. His actions along with others on the flight may have saved thousands of lives in Washington, D.C., which is believed to have been the hijackers' target.
As for "Don't Ask, Don't Tell," McCain said:
I promise to give full consideration to any legislation that reaches my desk. On "Don't Ask, Don't Tell," I'm going to defer to our military commanders. So far they have told me it's working. I'm willing to have the policy reviewed to make sure that's the case, but at the end of the day, I'm going to rely on the commanders who will be impacted by a change in the law.
I wonder if this somewhat non-committal answer will be satisfactory to his conservative base. For some, merely promising to have the policy reviewed might be too much for them. For example, Tom Minnery, head of Focus On the Family Action sent out an email alert identifying "Out in the barracks: homosexuality hits the armed forces" as an alarming headline we might see if Obama were elected.
McCain Campaign Accepts Log Cabin's Endorsement
Timothy Kincaid
September 3rd, 2008
Yesterday at Log Cabin Republicans' Big Tent Event, the McCain campaign accepted the gay group's endorsement. Mike DuHaime, the National Political Director, spoke on behalf of the candidate and the campaign.
He told the crowd of 200 people, "On behalf of Senator McCain and the campaign, thank you for this endorsement. Sen. McCain is running an inclusive campaign and he'll have an inclusive administration [as president]."

DuHaime also said that Sen. McCain will win this election because he is the "only one who has the ability to unite the entire party." He went on to say that everyone supporting Sen. McCain must talk to others about why they're voting for him. "This is so important in the gay and lesbian community," said DuHaime.
As Ed Stoddard writing for Reuters noted,
The endorsement may boost McCain's reputation as a maverick who reaches across partisan lines, but it may not go down well with his party's conservative Christian base.
The campaign's acceptance of endorsement, a first for Log Cabin, was also accompanied by unprecedented access to the convention. These steps, while not on par with the way in which the Democratic Party welcomed its gay delegates, are welcome and an indication of a growing acceptance of gay men and women in the fabric of the nation.
Log Cabin Endorses John McCain
Timothy Kincaid
September 2nd, 2008
Log Cabin Republicans has endorsed Sen. John McCain for President. Log Cabin appears to recognize that McCain's agenda is not much in alignment with the goals of the gay community or the principles of equality:
"We have honest disagreements with Sen. McCain on a number of gay rights issues. Log Cabin will continue our conversation with him and other Republican leaders about issues affecting gay and lesbian Americans. We will speak out when there's disagreement—either during the upcoming campaign or when John McCain is President," said Sammon.
Their endorsement seems based on the following:
McCain led the Republican opposition to the anti-gay Federal Marriage Amendment
McCain has an "inclusive record" which has engendered support from grassroots members of the organization
McCain has a long history of dialogue and friendly association with Log Cabin
An endorsement will give Log Cabin better access to a McCain administration
Other issues (foreign policy, the economy, jobs, energy policy, health care reform, and taxes) are important to LGBT voters
Gay and lesbian Republicans believe Sen. John McCain is the most qualified person to lead our country.
There is no indication in the press release that Log Cabin had gained any concessions or clarifications of position from the McCain campaign before making their decision.
[Please keep our Comments Policy in mind]
Weekly Standard Editor: McCain Needs To Bash Gays
Jim Burroway
July 7th, 2008
Fred Barnes, editor of The Weekly Standard was on Fox News (where else?) yesterday with some advice for McCain: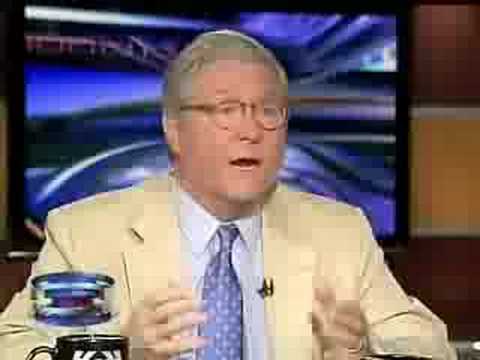 BARNES: McCain has to run a center-right campaign. He's paying a lot of attention to the center, and he also needs to pay attention to the right, because these are the people … (crosstalk).

BARNES: And here's what he needs to do. He needs to touch on some of the social issues which energize the right. In particular, gays in the military for one. We know Barack Obama is for allowing gays in the military, and Bill Clinton tried to do, but backed off. This is not a popular issue. Gay marriage is another one. These are both issues that I think McCain's going to have to use. You can't ignore the right. If he does, he'll lose.
McCain's been hearing this advice a lot lately. He heard it two weeks ago when he met with several Ohio social conservatives including Mike Gonidakis, head of Ohio Right to Life, and Phil Burress, head of Cincinnati-based Citizens for Community Values. Burress also sits on the board of directors of Exodus International.
While meeting with Burress and others, McCain promised to be more outspoken in his opposition to same-sex marriage. Afterwards, McCain released a statement endorsing California's proposed ban on same-sex marriages. This was just a few days after McCain reportedly met with members of the Log Cabin Republicans.
It looks like wedge politics may be roaring back. Surprised?
McCain Supports CA Anti-Marriage Amendment
Jim Burroway
June 27th, 2008
We're still not sure what McCain might have told the Log Cabin Republicans during his still-unacknowledged meeting with them, the LCRs are sure to be disappointed by this news. "Protect Marriage," the California group that is sponsoring the Californian anti-marriage amendment, has announced that John McCain is supporting their efforts to abolish more than 2,000 legal marriages in California. According to McCain's statement:
"I support the efforts of the people of California to recognize marriage as a unique institution between a man and a woman, just as we did in my home state of Arizona. I do not believe judges should be making these decisions."
Actually, Arizona defeated an attempt to write a ban on same-sex marriage into the constitution in 2006. Nevertheless, same-sex marriage is explicitly banned in Arizona by state law, and that law has been consistently upheld by the courts.
A vote to put another proposed amendment on the ballot may come up for a vote in the Arizona Senate as early as today. It's still not too late to contact your Senator. And thanks to Equality Arizona, it only takes about three minutes of your time.
McCain Meets With Log Cabin
Timothy Kincaid
June 25th, 2008
GayPatriot has exclusively learned that presumptive Republican Presidential nominee Senator John McCain held a personal meeting with the head of the national gay Republicans organization, the Log Cabin Republicans. Log Cabin President Patrick Sammon confirmed his meeting with Senator McCain earlier today.
It is not inconsequential that the presumptive nominee for the Republican Party has met with a leader in the gay community. It suggests that McCain recognizes our community to be a constituency and that we have specific concerns and issues upon which we may be able to find common cause. It also suggests that he is unlikely to be quick to engage in politics based on accusations of "homosexual agenda".
I hope that Log Cabin is able to get the Senator to clarify his position on certain areas of policy that seem to be nebulous or contradictory. I also hope that the Senator will craft a campaign that actively competes for the votes of gay and lesbian citizens. Such a direction would not only be effective in moving our country closer to equality under law for the members of our community but it would also go far towards healing the rift in the nation caused by culture war and past devisive campaigns.
LaBarbera Award: Pastor John Hagee
Jim Burroway
June 2nd, 2008
I don't know how we managed to overlook John Hagee when handing out LaBarbera Awards. He's uttered so many doozies in the past, so much so that presumptive GOP presidential nominee Sen. John McCain was finally forced to distance himself from the man whose support he once courted.
But this latest discovery looks like it's about as good a reason as any to recognize some of the lunacy which runs rampant among anti-gay extremists:
On March 16, 2003, on the eve of the United States' invasion of Iraq, Pastor John Hagee took to the pulpit to warn of the coming Antichrist. In his sermon, "The Final Dictator,"Hagee described the Antichrist as a seductive figure with "fierce features." He will be "a blasphemer and a homosexual," the pastor announced. Then, Hagee boomed, "There's a phrase in Scripture used solely to identify the Jewish people. It suggests that this man [the Antichrist] is at least going to be partially Jewish, as was Adolph Hitler, as was Karl Marx."
You see? Fred Phelp's Westboro Baptists aren't a complete aberration. You can get the full effect here:

Now you see, that's how you win the LaBarbera Award.
By the way, Sen. Joseph Lieberman (I-CT) still says he's going to deliver the keynote address at Hagee's Christians United For Israel (CUFI) summit. Also scheduled to attend is Rep. Elliot Engel (D-NY). No word yet on whether Engel has reconsidered given this latest outburst.
Ellen DeGeneres and Sen. John McCain Debate Same Sex Marriage
Jim Burroway
May 22nd, 2008
Click here to read the transcript
McCain's Pastor on Homosexuality
Timothy Kincaid
March 21st, 2008
In recent days there has been much attention given to views expressed from the pulpit by the pastor of one of the presidential candidates. People can legitimately debate whether or not the views of a spiritual leader can be presumed to be held by a faithful and devoted congregant. But in either case, such views are worth noting.
Unlike many Republican candidates, John McCain has not been over-quick to insert his faith into every facet of his election efforts – or not more so than his rivals. And there is even some question as to his denominational association.
John McCain was raised Episcopalian. However, McCain's family – and the candidate when he is in town – attend North Phoenix Baptist Church. Curious about this church's theology, I set out to find what, if anything, it had publicly expresses about homosexuality. I was surprised to find that the pastor, Daniel J. Yeary, had written an article about his beliefs.
Yeary does not find scriptural support for sexual expression between persons of the same sex.
The entire canon of Scripture precisely teaches that sexual expression is intended for and restricted to the confines of heterosexual marriage. Jesus never affirmed, permitted, or condoned homosexual expression or practice. He clearly taught that God's intention was heterosexual marriage (Matthew 19:1-9). The apostle Paul emphatically opposed the practice of homosexuality. Romans 1:26-27 and 1 Corinthians 6:9-10 detail condemnation of homosexual expression with the view that such is unnatural.
And although he does give a brief recitation of pro-inclusive theology (second hand from Stanton Jones), he does not find it convincing.
None of these arguments can nullify the reality that, without exception, every time homosexual practice is mentioned in Scripture, it is condemned.
Yet there is within Yeary's article none of the fire-and-brimstone condemnation of evil agendas and destruction of society. His discussion was initiated by his confusion and uncertainty when a family called about a gay son, a situation that seems to have first challenged his preconceptions.
I was stunned. I had known this boy as my friend. His family was healthy, balanced, and in no way dysfunctional. The son was, by testimony and lifestyle, a Christian. His confession did not make sense to me. But the parents were convinced. They urgently needed to provide a compassionate and intelligent reaction.
I wish that his research had not relied so heavily on the message of anti-gay religious activists, but I do appreciate that he does not push the myth of reorientation or get caught up in repudiating science. Ultimately, however, Yeary endorses a "solution" that I find as neither consistent with Christ's message nor the overall theme of Scripture.
Outside the bonds of heterosexual marriage, the proper use of sexuality is to honor God by obedience. Celibacy is a gift from God, and a chaste life is God's expectation. Only God can provide the spiritual strength for this difficult commitment.
Yet I cannot help but note the sharp contrast between Mike Huckabee's baptist theology and that of Daniel Yeary. I did not observe any call for culture war or for political repudiation. Yeary does not seem to be ready with a quick condemnation nor is he willing to let the church off easy for its attitude and responsibilty.
A significant key to hope for the homosexual is the response of Christians. Repulsive acts must not be permitted to cause us to reject persons. We must minister with grace to all who need love, respect, and forgiveness. We must repent of our arrogance and intolerance and learn to love the sinner convincingly while condemning sin clearly.
I have no illusions that candidate McCain or a president McCain will be an unwaivering ally of gay equality. Nor (being a pastor's son) do I read too much into the fact that someone's butt sits in the pew of a particular church. And I would much prefer to find that his pastor has endorsed gay unions like Hillary Clinton's onetime pastor, or has at least some ambigious pro-gay positions like Barrack Obama's. But I am comforted that McCain does not appear to have subjected himself to a regular stream of Sunday morning homophobic rantings.
Tuesday was Super Duper for Gay Americans
An Opinion
Timothy Kincaid
February 6th, 2008
At the conclusion of "America's Primary", the presidential primaries remain exciting. Senators Clinton and Obama are very close in delegate count and no one can know for certain whom will bear the Democrat banner.
Senator McCain is significantly ahead in delegate count and barring some unexpected event is likely to be the nominee. While there is still some life in the Republican primary and peculiar things do happen in politics, at the moment we will assume that McCain will be running against either Senator Clinton or Senator Obama.
But what does that mean to gay Americans?
Quite a bit, actually. Below I will explore where the candidates stand on a few issues that are of particular importance to our community.
Marriage
None of the three support marriage equality. Yet none of the three candidates are in favor of a constitutional amendment barring states from instituting or recognizing marriage between gay couples.
Interestingly, John McCain may have the most invested in opposing such an amendment. Citing his federalist ideals, McCain argued passionately on the floor of the Senate against the passage of the amendment.
However, this does not mean that McCain is in favor of gay marriage. Although he has expressed in the past that he is in favor of some recognition of gay couples, he campaigned for a constitutional amendment banning both marriage and any other form of recognition in his own state. It lost.
But in any case, with McCain as the Republican nominee, this election cycle is unlikely to have banning gay marriage as any central theme.
It is uncertain to what extent any candidate would champion rights for gay couples.
Both Senators Clinton and Obama have expressed approval of overturning the federal Defense of Marriage Act (DOMA), or at least that portion of it that defines federal recognition of marriage as being only between a man and a woman.
Senator McCain is very much in favor of that part of DOMA that releases states from recognizing gay marriages performed in other states. Senator Clinton also seems to favor keeping that restriction in place. From a pragmatic point of view, I too want this upheld for some time as I think that without it a federal marriage ban would have much more support.
There is some question as to whether McCain could support the federal recognition of marriage as defined by the various states (overturning that half of DOMA), especially those which do so by means of positive legislative action. His federalist philosophy may well override his personal affinity to an opposite sex definition of marriage if the appropriate argument was presented.
Ultimately, the decision to overturn DOMA is up to Congress. And while a vote for Clinton or Obama could be argued to be a mandate to overturn the bill, a McCain election would probably not be construed to be a mandate to keep it in place.
The most significant impact that the new President will have on the lives of gay persons in relationships will be on appointments to Department heads. On that level, it is likely that gay couples will fare better overall under Democrats than Republicans. However, it is also likely that McCain's appointments will be far more centrist and moderate than those of some other Republicans.
ENDA
Both Clinton and Obama back non-discrimination in housing and employment.
It appears that McCain does not favor ENDA. It is unknown whether his opposition rises to the level of a veto should Congress pass the legislation.
DADT
Both Clinton and Obama have expressed interest in overturning DADT.
McCain has hedged his bets a bit. He claims that senior military officers claim that the policy is working. This leaves him open to change in policy should "senior military officers" tell him that the policy is no longer a necessity.
Judicial Nominees
This is a subject that is raised as being of paramount importance for the advancement of any faction's social agenda. But it is also the least easy to predict.
Conservative Republicans have nominated judges for the bench, and even the Supreme Court that have championed causes that conservatives find abhorrent. And Democrats have appointed judges whose decisions were decidedly conservative.
Ironically, many of the decisions decried as the actions of "liberal activist judges" were made by conservative judges taking positions that were strictly constructed rather than simply parroting the platitudes of their political friends. It is my personal opinion that those judges who are most exact in their interpretation of law will eventually be those judges that establish equality for gay persons – and on such terms that their decisions will be difficult to fault. Equality under the law is, at its heart, a conservative ideal.
We can assume that to some extent Democrats will appoint judges that are somewhat more approachable on gay issues than will a Republican. But McCain is no usual Republican when it comes to judicial appointments.
In 2005, Senator McCain was part of the "gang of 14", a group of moderate Senators of both parties that stood in the way of filibuster efforts to force controversial and highly partisan judges through approval. While McCain has promised to appoint "strict constructionist judges", it is unlikely that he would make appointments based on partisan ideals or conservative ideology that did not have bipartisan respect. An adamantly anti-gay judge is unlikely to make McCain's list.
Overall Comfort and Access
The candidate with the most comfort and ease with gay people, Rudy Giuliani, has been eliminated from the running. But all of the remaining credible candidates have demonstrated that they are more-or-less approachable to our community.
Hillary Clinton will probably continue in the vein of her husband and her Senate career. She will probably not be closely aligned to our community and will likely place us lower in priority if she needs to broker a deal, but she has been known to have some gay friends – at least in the past. She is likely to give access to gay groups and perhaps appoint a gay liaison.
Barack Obama is more difficult to measure. His religious community has a strong social justice history and is officially favorable to gay equality. But his campaign has shown insensitivity to the community by pushing forward some within the black community that have a history of homophobia and support for the ex-gay movement. However, he has strong gay support and has spoken out against homophobia. It is likely that Obama will provide access to gay groups.
John McCain is a social conservative, but this seems to be tempered by a federalist streak. Further, I have watched McCain for many years and have yet to see an overtly hostile attitude towards gay people. I recall many years ago when Lon Mabon's anti-gay group, the Oregon Citizen Alliance, invited him to speak, McCain came and gave them a little lecture about being tolerant of others with whom they disagree.
Some have expressed alarm over robo-calls made by McCain's campaign that discussed "special rights", but the candidate did pull the calls immediately upon being informed of their content. It's difficult to know to what extent McCain approved the calls, but the content seemed inconsistent with his history.
The jury is still out on McCain, but I don't anticipate anti-gay activism to be a part of his campaign or his administration. Further, as the more homophobic elements of the Republican Party have been openly attacking him, McCain may not feel that he owes anything to them if elected. I am cautiously optimistic that McCain would give access and a fair hearing on gay issues.
Conclusion
Gay people should be encouraged with the current state of the elections.
While true gay champions such as Kucinich or Gravel have been eliminated as possible nominees, the two remaining Democrat candidates support gay equality, if to a somewhat lesser degree. While I personally don't see much conviction in their support, we can be sure that gay people will not be treated with hostility by either administration.
Further, gay people should be overjoyed that Huckabee's theocratic campaign has been all-but-eliminated from any chance of winning. A Huckabee administration would prioritize anti-gay discrimination as part of a Kingdom of God in America agenda.
In the upcoming national election I anticipate that the differences between the two candidates (whomever they turn out to be) on gay issues will have little resonance or impact on the election. We will not have to spend the rest of the year hearing about how marriage needs to be "protected". Nor will we hear about "San Francisco Values" or an "attack on the family".
And I anticipate that the next President, regardless of party, will not be overtly hostile to gay people or gay couples and may indeed be open to arguments about equality under the law.