CA Supremes: Gov and AG need not appeal Perry
Timothy Kincaid
September 9th, 2010
After the Pacific Justice Institute was laughed out of court for claiming that Governor Schwarzenegger and Attorney General Brown should be forced to appeal the decision in Perry v. Schwarzenegger, PJI appealed the 3rd Appeals court's dismissal to the California Supreme Court.
And they got all excited when the CA Supremes asked Schwarzenegger and Brown to weigh in on the appeal. (Karen Ocamb)
The California Supreme Court has ordered the Attorney General and the Governor to respond by 9 am this morning explaining why they have not filed this appeal. Then the Pacific Justice Institute has just three hours to respond by noon today.

"We are pleased that the judicial branch is at least considering forcing the executive branch to do its job," said Karen England, Executive Director of Capitol Resource Institute.
So the Governator and the Attorney General sent a letter to the court reminding them that they have discretion to appeal or not appeal and that this discretion is part of the constitutionally protected separation of powers. (And while it was expected and understood that neither wished to appeal, this is where the Governor went on record stating that he would not do so.)
And then the CA Supreme Court yawned and "denied review Wednesday without comment."
So now it is official. Neither the Governor nor the Attorney General will be appealing the reversal of Proposition 8. But we will probably have to wait until the first week of December to find out whether the Ninth Circuit Court of Appeals will find that the appellants (the organization that sponsored Proposition 8) have any standing to appeal the case without them.
PJI and Meese argue nonsense, sue Governor and AG
Timothy Kincaid
September 1st, 2010
Is there a polite way of saying, "dumber than a bag of hammers"? Because if so, I think that Pacific Justice Institute may deserve the title. (WaPo)
A conservative legal group is trying to force Gov. Arnold Schwarzenegger and Attorney General Jerry Brown to defend California's gay marriage ban in court.

The Pacific Justice Institute petitioned the 3rd District Court of Appeal in Sacramento on Monday for an emergency order that would require the two officials to appeal a ruling that overturned Proposition 8.
And they have got former Attorney General Ed Meese to support them.
Meese, who served one term as attorney general under President Ronald Reagan and Reagan's legal adviser when he was governor of California, said that Schwarzenegger and Brown's positions were at odds with his own experience.

"Governor Reagan never refused or declined to defend a state law or state constitutional provision, regardless of his own opposition or dislike for a challenged provision," he wrote. "As attorney general, I never refused or declined to defend a law on the basis that I disagreed with the law as a matter of policy."
Okay, I'm not an attorney. But you don't have to have studied law to know that no one has the obligation to appeal a decision.
Perhaps if there had been no defense of the proposition, they might have an argument. But Proposition 8 had its day in court and it lost. Mightily.
The Governor, and the Attorney General are not automatons who as a matter of rote appeal every court decision that comes their way but are officials elected to make decisions, including evaluating the cost and effectiveness of appeal and determining the best interest of the State.
I'll be quite astonished if this suit (in State court, incidentally) isn't thrown out on its ear.
Meg Whitman Would Defend Prop 8 If Elected Governor
Jim Burroway
August 23rd, 2010
Former eBay CEO Meg Whitman, who is running for the GOP nomination for California Governor, announced that if she were elected governor, she would defend Prop 8 in Federal Court:
Whitman's first definitive statements on how she would handle the issue as governor came hours before she spoke at the opening of the three-day state GOP convention in San Diego, where she is facing open hostility from conservatives over her positions on illegal immigration and climate change.

"I think the governor of California and the attorney general today have to defend the Constitution and have to enable the judicial process to go along … and an appeal to go through," Whitman said. "So if I was governor, I would give that ruling standing to be able to appeal to the circuit court."
The two named defendants, California governor Arnold Schwarzenegger and Attorney General Jerry Brown, have refused to defend the constitutionality of Prop 8 in Federal District Court. U.S. District Judge Vaughn Walker then invited the Alliance Defense Fund to defend Prop 8 as intervener. Following Judge Walker's ruling declaring Prop 8 unconstitutional, it is unclear whether ADF has standing to appeal the case to the Ninth Circuit Court. A hearing to decide the issue is scheduled for December 6. The same hearing will also hear arguments on the appeal itself.
Because both the issue of standing and the appeal will be heard before the next governor takes the oath of office in January 3, it is unclear whether the new governor or attorney general could join the case at that later date:
UC Hastings College of the Law professor Rory Little said Whitman's ability to defend the proposition would hinge on several factors – the biggest of which, of course, is whether she becomes governor.

It would also depend on whether the 9th Circuit decides the standing issue before January 6 and how the court decides.

"There are a lot of ifs," Little said. "If the 9th Circuit hasn't decided the matter by December, she could attempt to file a brief to say, 'Now, the state of California enters the case.'
The state GOP is holding its annual part convention this year at the Manchester Grand Hyatt, which is subject to a boycott by LGBT advocacy groups over owner Doug Manchester's $125,000 donation to the pro-Prop 8 campaign.
Prop 8 Plaintiffs May Seek Reimbursement of Legal Fees
Jim Burroway
August 19th, 2010
When a plaintiff brings a lawsuit before a court and wins, the plaintiff may ask the court to demand that the defendant pay the plaintiff's legal fees. So toward that end, Ted Olson and David Boies, who led the legal team that successfully argued in Federal District Court that California's Prop 8 was unconstitutional, have filed papers indicating that they intend to ask that Alliance Defense Fund be ordered to cover their legal fees if the Ninth Circuit Court upholds the District Court's decision. Estimates have those fees and costs running in the millions.
Imagine that. All of those people who donated to ADF to "protect marriage" may find that their money will actually go towards protecting marriage for everyone.
Schadenfreude Alert: Liberty Counsel STILL Blames ADF For Prop 8 Decision
Jim Burroway
August 18th, 2010
Almost immediately after U.S. Federal District Judge Vaughn Walker handed down his decision declaring California's Proposition 8 unconstitutional, Matt Staver's Liberty Counsel, which is closely aligned with Jerry Falwell's Liberty University, blamed the Alliance Defense Fund for losing the case. As I said earlier, you can tell Staver was furious because they didn't get around to blaming it on judicial activism until the final paragraph of their statement. Now, they've taken their cat fight to the Canadian Catholic LifeSiteNews:
According to Staver, the ADF "basically gave away the essence of the case, because they wanted to shy away from homosexuality and really were not willing to take the issue directly head on."

The ADF wished to stipulate, he said, that counseling some homosexuals to change could be harmful, that homosexual partners form long and lasting relationships, and that homosexuality does not impair any area of life. Liberty Counsel was not willing to do so.

Regardless of the reason that the ADF opposed Liberty Counsel's entrance, the attitude that the ADF wished to project towards the court was reflected in the witnesses they planned on calling: at least three seemed to think that homosexuality, in itself, was perfectly fine.

Katherine Young and Paul Nathanson had been slated to testify before the court for the proponents of Proposition 8, but they were both withdrawn before they did so. Advocates of same-sex "marriage," however, used Young's and Nathanson's videotaped depositions to help bolster their own arguments.
That last point actually bolsters ADF's objections to having Liberty Counsel as co-defendants for Prop 8. Given that the plaintiffs were so successful in citing the Liberty Counsel's own favored tactic so well to bolster their arguments against Prop 8, it's almost a shame that Liberty Counsel was not allowed to intervene.
Sua Sponte And Prop 8 Standing
Jim Burroway
August 17th, 2010
I love BTB readers. One sharp-eyed commenter explains the importance of this line in yesterday's order from the Ninth Circuit Court of Appeals:
The court sua sponte orders that this appeal be expedited pursuant to Federal Rule of Appellate Procedure 2. The provisions of Ninth Circuit Rule 31-2.2(a) (pertaining to grants of time extensions) shall not apply to this appeal.
Our commenter writes:
Sua sponte! The court wrote it was taking this case "sua sponte" – on its own initiative – since, as it states, Prop8 backers clearly have no standing to make this appeal.
More specifically it seems to me, the court decided to expedite the case on its own initiative. But this may hint at the extent to which the court is suspicious about the Alliance Defense Fund's standing to continue to defend Prop 8. The court also  specifically  order them "to include in their opening brief a discussion of why this appeal should not be dismissed for lack of Article III standing."
The court went on to demand that ADF address Arizonans For Official English v. Arizona, the 1997 case in which the U.S. Supreme Court unanimously slapped down the Ninth Circuit Court for violating Article III of the U.S. Constitution after an Arizona PAC stepped in to defend a constitutional amendment that had been passed as part of a ballot initiative but declared unconstitutional in Federal District Court.
Ninth Circuit may not be favorable to Prop 8 supporters
Timothy Kincaid
August 12th, 2010
The next steps that the supporters of Proposition 8 must do convince the Ninth Circuit 3-judge panel that they have standing for an appeal and meet the requirements for a stay in the ruling.
Rick Hasen notes that this months panel may not be ideologically inclined to view their requests favorably.
That stay request will be heard by a motions panel of the Ninth Circuit, which is made up this month of Judges Leavy, Hawkins, and Thomas. Not a great draw for Prop. 8 supporters.
If unable to convince the panel, they can appeal to Justice Kennedy.
Judge Walker Lifts Prop 8 Stay Effective August 18
Jim Burroway
August 12th, 2010
We have received word that Chief U.S Federal District Judge Vaughn Walker has lifted the stay on enforcing last week's ruling declaring California's Prop 8 unconstitutional. Effective 5 PM PDT on August 18, California becomes the sixth state where same-sex couples enjoy the freedom to marry.
The order reads (PDF: 40 KB/11 pages):
None of the factors the court weighs in considering a motion to stay favors granting a stay. Accordingly, proponents' motion for a stay is DENIED. Doc #705. The clerk is DIRECTED to enter judgment forthwith. That judgment shall be STAYED until August 18, 2010 at 5 PM PDT at which time defendants and all persons under their control or supervision shall cease to apply or enforce Proposition 8.
It will now be up to the Ninth Circuit Court of Appeals to decide whether to issue a stay. Given that none of the defendants have any intention of appealing, it's unlikely the Appeals Court will intervene. The Alliance Defense Fund, which intervened to defend Prop 8, is not a named defendant and it is unclear that ADF would have any standing either to ask for a stay or seek an appeal.
UPDATE: We have two threads on this order. Please continue conversation on the other thread.
Judge To Rule On Prop 8 Stay Today
Jim Burroway
August 12th, 2010
When U.S. District Judge Vaughn Walker released his ruling striking down California's Proposition 8 as unconstitutional, he also imposed a temporary stay blocking immediate implementation of his decision. Judge Walker is expected to rule today, sometime between 9:00 a.m. and noon PST on whether he will life the stay or hold it in place pending appeals.
Two defendants of in Perry v. Schwarzenegger, the state Attorney General and Governor Arnold Schwarzenegger, have already announced that they will oppose the stay and will not appeal the case. The Board of Supervisors for Imperial County, which had attempted to intervene when the original defendants declined to defend the case, voted on Tuesday to appeal the ruling. It is doubtful that they will have standing to appeal. It is also questionable as to whether the Alliance Defense Fund, which ultimately did intervene to defend Prop 8, has standing to intervene either. If that's the case, then the ruling would apply only to the state of California and would not go to the Ninth Circuit Court of Appeals or the U.S. Supreme Court.
Glenn Beck — Yes, That Glenn Beck — Says Marriage Equality Not A Threat
Jim Burroway
August 12th, 2010
As more evidence that many social conservatives have found other groups more attractive as wedge issues, Fox News' Glenn Beck told Bill O'Reilly yesterday that same-sex marriage is not a threat to the country:
Honestly, I think we have bigger fish to fry. You can argue about abortion or gay marriage or whatever all you want. The country is burning down…I don't think marriage, that the government actually has anything to do with…that is a religious right…I believe that Thomas Jefferson said, "If it neither breaks my leg nor picks my pocket, what difference is it to me?"
But not everyone has moved on. Reps. Lamar Smith (R-TX), Steve King (R-IA), Michele Bachmann (R-MN) and John Fleming (R-LA) introduced a resolution in the House of representatives condemning Judge Vaughn Walker of failing "to conduct himself in an impartial manner before striking down California's popularly enacted Proposition 8."
Update: Last year, Glenn Beck had a very different view of same-sex marriage: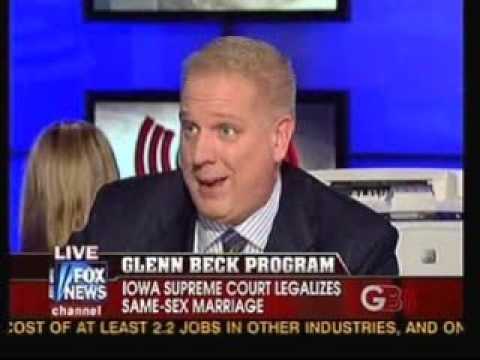 Marin, Chambers, Others Respond to Prop 8 Decision
Jim Burroway
August 10th, 2010
Christianity Today has a roundup of responses from various Evangelical leaders to last week's decision declaring California's Prop 8 unconstitutional.
The most interesting response, to me, comes from Andrew Marin, who is often credited as being a "bridge builder" between Evangelicals and the gay community. Interesting, only because I've been listening to hours of his talks trying to figure out what he really believes, and I don't think I'm any closer to understanding what he wants to accomplish than when I started, since he won't just come right out and say what he really believes. In response to the Prop 8 decision, Marin told Christianity Today:
We can continue to politically fight a drawn-out battle with a government that is not governed through an evangelical worldview, producing more casualties for Christ. Or we can learn right now what it means to live in relation to, and relationship with LGBT people as gay marriage is legalized—continuing to actively show Christ's compelling nature regardless of state or national policy. The choice is ours.
Trying to understand Marin's position on same-sex marriage (or whether homosexuality is a sin) is like trying to deconstruct the latest statements from the Federal Reserve. When asked directly whether he thinks gay people should marry, Marin adamantly refuses to answer and instructs his followers to do the same. Which, to me, blows his whole bridge-building exercise out of the water. After all, who wants to walk onto a bridge when they don't know where it goes?  So without a map, we're left hunting for clues and here we find another: the government is not governed (as evidenced by this decision) through an Evangelical worldview. Many LGBT people might find cause to dispute that — we can't marry in 9/10ths of the country — but as a self-proclaimed evangelical himself we at least now have an indication that marriage equality doesn't fit that shared worldview. Take that hint for what it's worth.
Alan Chambers, of Exodus International responded:
We cannot avoid the glaring scriptural truth that there is, and will always be, a right way and a wrong way concerning just about everything we can imagine. And, yet, I believe that our attitudes towards people (internal and external) are just as important as our positions on the issues at hand. … I firmly believe that if we had spent as much money, time, and energy battling for people's hearts as we did fighting against their agendas, the gay rights battle would look very different today.
In a recent statement condemning Uganda's proposed draconian legislation to impose the death penalty on gay people under certain circumstances and to virtually outlaw knowing or providing services to LGBT people, Chambers acknowledged that part of his motivation for waiting sixteen months before adequately addressing the March 2009 anti-gay Kampala conference which started the whole mess was due to the fact that LGBT advocates were calling upon him to do so. That was, I think, a startling and welcome admission. It also marks a change from 2007 when he spoke before a group of anti-gay activists in Florida and characterized the gay community as following an "evil agenda" and actively lobbied Congress against hate crimes legislation and other issues important to the LGBT community. And yet, even in those times, he would offer messages to other broader mainstream audiences similar to the one above. So whether this change is episodic (as others have been) or enduring remains to be seen. (Update: Alan reaffirms that "Exodus isn't returning to politics, but it was a good venue for talking about having compassion for our neighbors whether we agree with them or not.")
Other interesting reactions include Timothy George of Samford University:
Christians who thought they would be able to just sleep through this issue will not be allowed to. At stake in the debate is the very nature of marriage itself. Thinking biblically does not allow us to regard marriage as merely prudential or preferential (I like strawberry, you like pistachio), but as a covenantal union of one man and one woman established by God for a purpose that transcends itself. Marriage is not a "right" to be defended or exploited…
Gerald R. McDermott, professor of religion at Roanoke College:
Social science has shown that children do best in a home with two parents of the opposite sex in a low-conflict marriage, and gay marriages make that impossible for their children and less likely for society generally. More children will be created by artificial sperm donation, which in many cases forever cuts the children off from knowing both their biological parents. Gay marriage will also encourage teens who are unsure of their sexuality to embrace a lifestyle that suffers high rates of suicide, depression, HIV, drug abuse, STDs, and other pathogens.
McDermott, a relatively minor figure in anti-gay politics, nevertheless remains unchastened over pushing discredited researcher Paul Cameron's bogus statistics. His 2004 Christianity Today article, "Why Gay Marriage Would Be Harmful," was the basis for one of the earliest reports by Box Turtle Bulletin.
Glenn Stanton of Focus On the Family was equally direct in his response:
The gospel is deeply serious while Judge Walker's decision is a jumbled mess of sloppy thinking and accusation. He asserts religion is the cause of violence against gays. Jesus, when asked a tough legal question about marriage, explained, "God created them male and female." This dual identity of humanity is no small thing for us nor our Lord because male and female image the invisible God, creating a full human communion. But Judge Walker says, "Gender no longer forms an essential part of marriage." The Christian's allegiance is clear.
Gender was a major focus on the 2008 debate hosted by Box Turtle Bulletin between anthropologist Patrick Chapman and Glenn Stanton on Stanton's white paper, "Differing definitions of marriage and family" (PDF: 80KB/10 pages).
And finally, I'd like to highlight Mark Yarhouse, of Regent University:
I don't know that there is one response to the Proposition 8 decision that will reflect the depth and breadth of the gospel in the life of believers today. A gospel response is shaped by many factors, including how one views Christ and culture. Some Christians will see appealing the decision as part of the gospel response, drawing upon legal avenues and hoping it will be overturned upon appeal. Other Christians will prayerfully consider alternatives to legal means to be a witness to a rapidly changing culture. I think younger Christians, in particular, are more likely to explore such alternatives.
Yarhouse collaborated with Wheaton College's Stanton Jones in an ex-gay study that found very little change among the study's participants. Because of the study's results, Yarhouse has since downplayed the possibility of sexual orientation change.
Brown or Plessy?
Jim Burroway
August 9th, 2010
So Perry v. Schwarzenegger has taken its first bold step. Assuming the Ninth Circuit Court of Appeals hears the case (the defendants of record have already said they won't appeal, and there is the surprising possibility is that ADF may not have legal standing to do so) then the question becomes whether this case will be the Brown v. Board of Education for LGBT equality, or our Plessy v. Ferguson.  Jon Rowe looks at the Supreme Court and believes he sees a setup for the latter:
Assuming Kagan is on the bench and the lineup remains, I predict there will be 4 votes for gay marriage, 4 against with Justice Kennedy breaking the tie AGAINST constitutionalizing gay marriage. BUT Kennedy being Kennedy he very likely would "split the baby" by demanding a federal constitutional right to civil unions that grant all the rights of marriage other than the name.
The return of "separate but equal"?
Frum: Did California's Marrying Gays Destroy Bristol Palin's Marriage?
Jim Burroway
August 9th, 2010
Alaska was among the earliest states in the Union to pass a constitutional amendment in 1998 to ban same-sex marriage. Bristol Palin was nine years old at the time, which would be plenty of time to protect her marriage. Half her life, in fact. In another nine years she became pregnant and gave birth to Tripp Easton Mitchell Johnston on December 27, 2008. She never married. She and the boy's father, Levi Johnston have been off-again and on-again since then, but they are now back off again
And according to David Frum, this is precisely why last week's decsision striking down Prop 8 is a danger to heterosexual marriages.  I kid you not.
Update: Frum's last paragraph says, "The harm feared from same-sex marriage has already arrived: Whether same-sex marriage is accepted or not, opposite-sex marriage as a norm and expectation has already collapsed." Maybe I misread, but I took this to mean that regardless of what the court finally decides, at least some of the "collapse" is attributed to same-sex marriage. That's the premise he cited at the begining, and it's where he appeared, to me at least, to be at the end — after having dismissed the racial discrimination claims pretty effectively. But of course that wasn't NOM's argument. In fact, in addressing NOM's argument, he called their warnings about the supposed superiority of opposite-sex parents rasing children "important and valid."
Maybe I misread it, maybe he's inelegant in wrapping this up. Thank God, being confused or confusing isn't a crime. But I still find his position unclear, and I struggle to understand whether he thinks there's any connection or not.
David Boies: Junk Science, Fear and Prejudice Were Put On Trial and Lost
Jim Burroway
August 9th, 2010
David Boies, one of plaintiff's lawyers for the gay couples successfully challenging the constitutionality of California's Prop 8 in Federal District Court, was on CBS's Face The Nation yesterday morning, where he eviscerated the Family Research Council's Tony Perkins on their "junk science."
It's easy to sit around in debate and throw around opinions and appeal to people's fear and prejudice, cite studies that either don't exist or don't say what you say they do. In a court of law, you've got to come in and you've got to support those opinions. You've got to stand up under oath and cross examination.

And what we saw at trial is that it's very easy for people who want to deprive gay and lesbian citizens the right to vote [sic]  make all sorts of statements in campaign literature or in debates where they can't be cross examined. But when they come into court and they have to support those opinions, and they have to defend those opinions under oath and cross examination, those opinions just melt away.

And that's what happened here. There simply wasn't any evidence. There weren't any of "those studies." There weren't any empirical studies. That's just made up. That's just junk science. And it's easy to say that on television, but the witness stand is a lonely place to lie. And when you come into court, you can't do that. And that's what we proved. We put fear and prejudice on trial, and fear and prejudice lost.
Meanwhile, Ted Olson was on Fox New Sunday defending Judge Vaughn Walker against claims of "judicial activism." Olson deftly defined "judicial activism" this way: "Most people use the term judicial activism to explain decisions they don't like."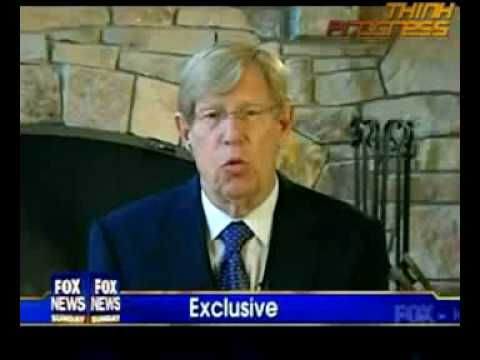 Olson cited the case of Reitman v. Mulkey, in which the U.S. Supreme Court struck down California's Prop 14 of 1963 because it violated the U.S. Constitution due to its racial discrimination, despite the fact that Californians overwhelmingly supported it at the ballot box. Money quote: "Would you like Fox News' right to free press put up to a vote?"
Also this, on conservative values: "We believe that a conservative value is stable relationships and stable community and loving individuals coming together and forming a basis that is a building block of our society, which includes marriage."
McCain Begins to Flip On Federal Marriage Amendmet
Jim Burroway
August 6th, 2010
Sen. John McCain (R-AZ) famously opposed the Federal Marriage Amendment in 2004 and 2006 when it came to the Senate Floor, saying that "it usurps from the states a fundamental authority they have always possessed and imposes a federal remedy for a problem that most states do not believe confronts them." It's not that McCain supported marriage equality (he supported California's Prop 8 and Arizona's Prop 102 in 2008), but that he saw it as a states rights issue. Now that a Federal Judge has found California's Proposition 8 unconstitutional, McCain is reconsidering his opposition to the FMA:
Asked whether he thinks backing the Federal Marriage Amendment, or a U.S. constitutional amendment that would ban same-sex marriage, would be an appropriate response to the ruling, McCain said he hasn't decided what action at this time is appropriate.

"I haven't looked at the impact of the decision yet as far as what, if any, action needs to be taken," he said. "I've been on the immigration issue, the defense authorization bill and this START treaty, so I really have not had an opportunity to talk to my people about it."
"We're Living In Sodom and Gomorrah! Damn You People!"
Jim Burroway
August 5th, 2010
A gentle BYU grad (or maybe just a fan?) responds to Judge Walker
By the way, his own straight marriage looks like it's not in such great shape. Restraining orders, court appointed psychologists, etc. So much for opposite sex couples being better.
[Hat tip: BTB reader Stephen]
LaBarbera Award: Bryan Fischer. Again.
Jim Burroway
August 5th, 2010
Disenfranchising LGBT Americans from the institution of marriage isn't enough for the American Family Association's Bryan Fischer. He also thinks LGBT Americans should be legally banned from public office:
He is Exhibit A as to why homosexuals should be disqualified from public office. Character is an important qualification for public service, and what an individual does in his private sexual life is a critical component of character. A man who ignores time-honored standards of sexual behavior simply cannot be trusted with the power of public office.
He also thinks that this should have disqualified Elana Kagan from the Supreme Court:
This, by the way, is why Elana Kagan should not be elevated to the Supreme Court. Although she has not come out of the closet herself, her lesbian partner has, and Ms. Kagan's sexual preference is an open secret in Washington circles. Her indulgence in sexually aberrant behavior should make her ineligible to serve on the highest court in the land.
Kagan's lesbian partner? Where did this rumor come from?
Bryan Fischer is a repeat honoree. The Prop 8 decision has spawned two other award winners in the past twenty four hours so far. Prop 8 is really bringing out the crazy, isn't it?
LaBarbera Award: Family Research Council
Jim Burroway
August 5th, 2010
The Family Research Council has detected a conspiracy:
After two decades of criticism that he wasn't gay-friendly enough, the 65-year-old judge paid back his skeptics with the most powerful rebuke against man-woman marriage this country has ever seen. Back in 1987, his impartiality on homosexual issues was so stunning that Democrats actually opposed his nomination to the court where he now sits. But the reporter writes, "We now know what Walker never bothered to reveal when he was being castigated as anti-gay: He is gay."

It turns out that the Judge behind Proposition 8′s undoing was just biding his time until he could unleash his ultimate agenda: decimating marriages that have defined civilization since the beginning of time.
How clever is that? Judge walker threw everyone off by his "impariality" for twenty-three years. First, in a particularly inspired stroke of brilliance, he got himself blocked for being too "anti-gay" when conservative icon Ronald Reagan tried to appoint him to the Federal bench in 1987. But hat was okay because he knew, clever as he was, that another Republican President, George H.W. Bush, would manage to get his second appointment attempt through the Senate just two years later. Successfully embedded, all he had to do was just wait there for the next two decades until someone would decide to propose, campaign for, and pass a state constitutional amdendment banning same-sex marriage. And to do that, of course they would use animus against LGBT people to achieve their noble aims. Because, you see, Walker knew that would happen. He also knew that he would still have to bide his time until someone else brought a Federal suit against the state of California and file it in San Francisco. And he just sat there, omnicient and all-powerful, waiting for his trap to spring as the random selection process that assigned cases to judges landed the lawsuit onto Walker's docket. And with that, his diabolical plan had come to fruition and he could finally "unleash his ultimate agenda."
Genius!
For good measure, the FRC ominously hints that the decision striking down Prop 8 may lead to violence:
 In the meantime, the Left might want to think twice about its victory lap. Instead of aiding their cause, this decision is feeding the unrest across America that our government has become tyrannical.
Insane consipracy theories and warnings of violence. That's a very combustible combination. Be wary folks. Things are going to get really rough for a while.
AFA Calls for Judge Walker's Impeachment
Jim Burroway
August 5th, 2010
Following up in American Family Association's Tim Wildmon's reaction yesterday to the Federal Court decision declaring California's Prop 8 unconstitutional, the AFA has issued this action alert demanding impeachment proceedings against Judge Vaughm Walker:
Impeachment proceedings, according to the Constitution, begin in the House of Representatives. It's time for you to put your congressman on record regarding the possible impeachment of Judge Walker. 

Take Action
Email your representative today and urge him to launch impeachment proceedings against Judge Vaughn Walker for his outrageous ruling against natural marriage. 
Prop 8 Rally in West Hollywood
Timothy Kincaid
August 5th, 2010
At about six last night I headed to the West Hollywood park to join others who were there to celebrate the outcome of Perry v. Schwarzenegger. I should have tried to get there earlier as the park was packed. Unlike the National Organization for Marriage's 'big park, few people' dynamic, this was a smallish park with hundreds of people jammed in every space with others out on the sidewalk listening even though they couldn't see.
There was a huge cross-section of the community. I stood behind a young Latina couple in their early 20′s and beside a couple of elderly gay men who brought their dog. Across the way I saw a go-go boy holding up his phone to take a picture of the speakers. I saw people that I know have a wide range of experiences and perspectives all there to celebrate our common cause for equality (the best T-Shirt I saw said "fiscally Republican, socially Democrat, sexually liberal"). Old friends and strangers, we were all family.
To my surprise this turned out to be the rally to be at. Not only were the plaintiffs and the board of the American Foundation for Equal Rights present, but Ted Olson and David Boies as well.
This was my first time to hear Ted Olson speak live, and it was fascinating. He has a deep voice and speaks slowly and I first wondered how he could keep the court's attention. Then I realized something odd: while the crowd had been mostly attentive for other speakers, it was now completely silent. Olson's inflection and word choice left you wanting to hear what he next had to say; it was not a courteous attention, it was a rapt attention.
It became clear to me the power of persuasion that this slow speaking man with his carefully measured words could wield and how extremely fortunate we were to have him on our side. When Olson speaks, you want to agree with him. And when he and Boies were done speaking I was convinced that we will take this to the Supreme Court and we will win.
It was thrilling. I've been to a lot of political rallies and heard a lot of speeches, but this event will stand out for me.
UPDATE: I finally found the quote. At the rally Boies said:
Most of what you're going to hear from the other side is going to be a series of attacks," he said. "They're going to attack the judge, they're going to attack the judicial system, they're going to attack everything they can think of to attack except the court's opinion because I guarantee you… most of the people that are going to criticize the opinion will not have even read it."
Maggie, Brian, he might as well have called you out by name.