Mississippi School District Settles With Lesbian Student Over Cancelled Prom
Jim Burroway
July 20th, 2010
Fulton, Mississippi's nickname of "the world's cruelest town" was well-earned when Itawamba Agricultural High School student Constance McMillen was denied her prom. When the school learned that Constance planned to bring her girlfriend to the prom, they canceled it. Then parents organized a private prom and at first refused to tell her where it was taking place. Then they invited her to that private prom at the country club, only to organize a double-secret private prom elsewhere. This left Constance and her girlfriend with a half dozen developmentally disabled students at the country club wondering where everyone went.
The American Civil Liberties Union sued the school district over this outrageous behavior by so-called adults. Today the ACLU announced a settlement:
Itawamba County School District officials agreed to have a judgment entered against them in the case of a recent high school graduate who sued her school for canceling the prom rather than let her attend with her girlfriend. The agreement ends a precedent-setting lawsuit brought by the American Civil Liberties Union on behalf of 18-year-old Constance McMillen, who suffered humiliation and harassment after parents, students and school officials executed a cruel plan to put on a "decoy" prom for her while the rest of her classmates were at a private prom 30 miles away.

"I'm so glad this is all over. I won't ever get my prom back, but it's worth it if it changes things at my school," said McMillen, who was harassed so badly by students blaming her for the prom cancellation that she had to transfer to another high school to finish her senior year. "I hope this means that in the future students at my school will be treated fairly. I know there are students and teachers who want to start a gay-straight alliance club, and they should be able to do that without being treated like I was by the school."

As set forth in documents filed in court today, school officials agreed to implement a policy banning discrimination or harassment on the basis of sexual orientation and gender identity, the first policy to do so at a public school in the state of Mississippi. The school also agreed to pay McMillen $35,000 in damages and pay for McMillen's attorneys' fees.
The Nation: LGBT Youth Face Violence Behind Bars
Jim Burroway
July 12th, 2010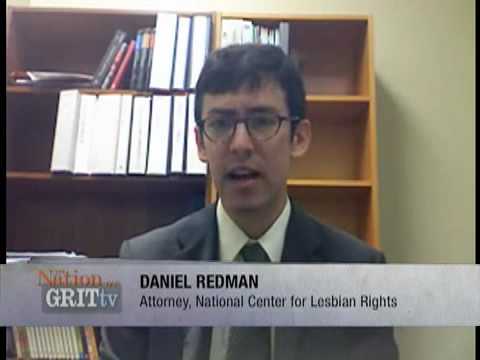 Kids screw up. But in some cases, they're thrown into situations that very few mature adults can handle effectively, let alone adolescents. Sometimes those situations mean they land in our juvenile justice systemm which is intended to both punish and rehabilitate youths who break the law. But as in adult prisons, juvenile detentions centers are also very violent and dangerous places, particularly for those who happen to be gay or transgender:
"I was scared to sleep at night because I didn't know if I was going to wake up in the morning," writes one incarcerated youth at Louisiana's Swanson Center for Youth. One 15-year-old who was shuttled back and forth from group homes and secure facilities in Shreveport, New Orleans and Baton Rouge reports that staff did nothing when he reported a rape because he "reported it too late," that he was "whipped with a clothes hanger" for rule violations and that the abuse from staff and other youth was so bad that he tried to kill himself. Two of Krystal's gay friends were raped in prison by other youths. One of them was assaulted so viciously that the injuries required internal stitches. Staff put Krystal's other friend in isolation to protect him from further assault.

Krystal [a transgender woman who identified as a male when she entered Louisiana's system at the age of twelve] reports that she was physically attacked by other youth nearly every day that she was in the system. Shortly after arriving, Krystal found her shoes in the trash, covered in urine and spit. Frequently, youths attacked Krystal for refusing to perform sex acts. Other queer youth in the facility had similar experiences. "We're all in the same category," she says. And there was nowhere to hide. "It was basically like a big dorm—one big room where everybody sleeps, that's what's going on," Krystal says. "Sometimes you would get sent to lockdown for fighting back, but there's nothing else you can do." Krystal reported the abuse to staff, but "they would just wait till things happened. Sometimes the staff would tell the other youth to stop. Sometimes they wouldn't."
Daniel Redman, who wrote this story in last months's The Nation, is a Law Project Fellow for the National Center for Lesbian Rights. He reports that according to U.S justice department statistics, LGBT youth are twelve times more likely to be sexually assaulted by fellow inmates than straight youth. To compound the problem, many of these LGBT youths turned to crime to support themselves after they were kicked out of their homes for being gay or transgender. Redman uncovered some more statistics:
LGBT youth make up 15 percent of the prison population. Indeed, one-quarter of all LGBT youth are kicked out of their homes or run away. Compared to their heterosexual peers, incarcerated LGBT youth are twice as likely to report abuse at the hands of family members, homelessness or state-ordered foster placement. A shocking estimated 20-40 percent of homeless youth identify as LGBT.
Redman also discovered that the ex-gay movement has a hand in this. Given the tragedies behind this, my only complaint is that his report is too short. I hope Redman will be able to find an editorial outlet that will allow him to expand on what he learned.
This is an issue that too few LGBT advocates have been willing to touch. Advocating for LGBT youth in prison, I guess, leads one to be exposed to the charge of being soft on crime. Standing up for these kids can be touchy, unfortunately. Yet who can deny that this story illustrates the worst consequences of homophobic violence and rejection, often beginning in the very homes of these youth?
Exodus Co-Founder: I Regret Teaching That Gayness Is The Result Of Bad Parenting
A multi-part video interview series with Michael Bussee, co-founder of Exodus International turned critic.
Daniel Gonzales
May 18th, 2010
Yesterday we looked at Michael's regret for teaching the idea that if you worked hard enough in an ex-gay program you would be changed.
Today Michael shares his other regret, teaching that bad parenting causes a person to be gay.  Michael talks about the division in families that can cause and his own process of later reclaiming the belief his father was actually loving, giving, encouraging and self-sacrificial.
(transcript below the jump)
Massachusetts Legislature Passes Anti-Bullying Measure
Jim Burroway
April 29th, 2010
Both houses of the Massachusetts legislature approved an anti-bullying law spurred on by the deaths of two youths who committed suicide following episodes of bullying by their classmates. The unanimous votes in both houses was on a reconciling bill which ironed out difference in two earlier bills from each house. The legislation will require school employees to report all instances of bullying and require principals to investigate them. A spokesman for the governor's office said that Gov. Deval Patrick (D) will review the bill, but that he saw its passage as a "top priority."
The impetus for the bill came from the suicides of Phoebe Prince and 11-year-old Carl Joseph Walker-Hoover, who killed himself just over a year ago over taunts about his perceived sexuality.
BREAKING: Georgia Teen Attends Prom
Jim Burroway
April 19th, 2010
Derrick Martin, the rural Georgia teen who quietly got permission to bring his boyfriend to the Bleckley County High School prom, apparently got everything that he hoped for:
When Martin, 18, and his boyfriend Richard Goodman, also 18, stepped onto a makeshift "red carpet" and their names were announced, a few parents whispered but many in the crowd gave him a loud cheer. No one yelled out in protest.

"I wonder if they realize what they've done," said Arturro Beeche, a San Francisco professor who flew into Georgia on Friday and drove Martin and Goodman to the prom. "Once it happens in small-town America, it will inspire so many," he said.
Maybe someday all proms will be this uneventful.
Exodus Co-Founder: Gay Kids Ending Up On Our Doorstep
A multi-part video interview series with Michael Bussee, co-founder of Exodus International turned critic.
Daniel Gonzales
April 19th, 2010
As we learned earlier this month the thinly veiled  ex-gay front group "American College of Pediatricians" issued a letter to school officials across the country advocating ex-gay therapy for teens questioning their sexual orientation.
Prior to the 2005 controversy where 16 year old Zach Stark was sent to the Love In Action residential ex-gay program against his will few people were aware that children are forced and coerced into exgay programs against their will.
However as this video interview with Exodus co-founder Michael Bussee shows, children have been victims of the ex-gay movement since it first began.  The details are in many ways even more upsetting than Zach's experience:
(transcript after the jump)
The American Academy of Pediatrics takes on fraudulent letter from bogus pediatrics group
Timothy Kincaid
April 13th, 2010
Yet again, Truth Wins Out has done what TWO does so well: getting professionals to refute the nonsense claimed by anti-gay activist masquerading as scientists. In response to the letter that the bogus American College of Pediatricians sent to principals, the real representative organization, the American Academy of Pediatrics has set the record straight:
On or around March 31, 2010, school superintendents may have received another letter from the American College of Pediatricians, which is in no way affiliated with the American Academy of Pediatrics. The letter promotes another campaign titled "Facts About Youth," which professes to offer guidance to educators on "approaches to students experiencing sexual orientation and gender identity confusion." Their campaign does not acknowledge the scientific and medical evidence regarding sexual orientation, sexual identity, sexual health, or effective health education.

The AAP encourages school administrators and officials, teachers, parents, and youth to become familiar with and utilize the AAP developed and endorsed resources on this issue for reliable, sound, scientific, medical advice
Vatican Official Blames Rape of Girls by Priests on Gays
Jim Burroway
April 12th, 2010
That's how the AP is reporting it:
"Many psychologists and psychiatrists have demonstrated that there is no relation between celibacy and pedophilia. But many others have demonstrated, I have been told recently, that there is a relation between homosexuality and pedophilia. That is true," said (Vatican Secretary of State Cardinal Tarcisio) Bertone. "That is the problem."

…At least one of the highest-profile pedophiles in the Chilean church victimized young girls, including a teenager who became pregnant. At the time, the archbishop of the capital, Santiago, received multiple complaints about Father Jose Andres Aguirre from families concerned for their daughters. But the priest — known to his parishioners as Father Tato — continued serving at a number of Catholic girls schools in the city. Later the church sent Aguirre out of Chile twice amid abuse allegations. He was eventually sentenced to 12 years in prison for abusing 10 teenage girls.
The Cardinals assertion is a willful faith-based slander, similar to the kind of blame that has been levied against gays here in the U.S. against priests who are equal-opportunity abusers. It's worth noting that the California priest who Cardinal Joseph Ratzinger (now Pope Benedict XVI) in 1985 demurred from defrocking for tying up and raping boys in his parish, was finally convicted in 2004 of molesting a young girl at the home which that very same by-then ex-priest shared with his wife. His crimes also led to a lawsuit against the  Oakland diocese by seven women who said he abused them in the 1970's, apparently before he tied up those two boys.
Experts on child sexual abuse point out that for many perpetrators the gender of the victim is inconsequential. But who needs experts or common sense when gays makes such a convenient scapegoat?
Dowd's Vatican II Lunacy
Jim Burroway
April 7th, 2010
Maureen Dowd decided to be the meek, obedient Catholic girl and let her devout brother analyze the Church's sexual abuse problems. He diagnoses the problem from personal experience just fine:
When I was in the 7th grade, one of the new priests took four of us to the drive-in restaurant and suggested a game of 'pink belly' on the way back; we pulled up a boy's shirt and slapped his belly until it was pink. When the new priest joined in, it seemed like more groping than slapping. But we thought it was inadvertent. And my parents never would have believed a priest did anything inappropriate anyway. A boy in my class told me much later that the same priest climbed into bed with him in 1958 at a rectory sleepover, but my friend threw him to the floor. The priest protested he was sleepwalking. Three days later, the archbishop sent the priest to a rehab place in New Mexico; he ended up as a Notre Dame professor.
But then in the very next sentence, he blamed Vatican II, whose "liberalized rules set up a takeover of seminaries by homosexuals."  But that ecumenical council didn't start until October 11, 1962, and ended November 21, 1966. For those keeping score, that's four to seven years after that future Notre Dame professor was kicked to the floor.
She might as well have invited Bill Donahue to write her column.
Fun Facts about Fulton, MS
Timothy Kincaid
April 6th, 2010
In addition to being the world's cruelest town, Fulton, MS, is the county seat of Itawamba County. Fulton has a population of about 4,000 and the county has about 22,800. In Fulton (and Itawamba County) there are:
1 Pentecostal Church
1 Catholic Church
1 Christian Church (Restoration Movement)
1 Church of God
1 Quaker Fellowship
4 Non-denominational Churches
9 Church of Christ Churches
10 Methodist Churches
40 Baptist Churches
0 People who treated Constance and the learning disabled kids the way they want to be treated
(in order to be strictly accurate, I replaced "0 Christians who believe in treating others the way they want to be treated" with the above language)
Fulton MS: The World's Cruelest Town
Jim Burroway
April 6th, 2010
Itawamba Agricultural High School student Constance McMillen made news this past month when she decided to take her girlfriend to the prom, just like hundreds of other couples in that town and thousands more nationwide. Her school however reacted by first putting out a memo describing who is allowed to attend the prom (opposite sex couples), and then canceling it. Later, she was invited by an attorney for the school board to attend a private prom organized by parents to be held at the Fulton Country Club. For the time being and on the surface, the matter seemed resolved.
It turned out that the "prom" at the Fulton Country Club was entirely fake:
McMillen tells The Advocate that a parent-organized prom happened behind her back — she and her date were sent to a Friday night event at a country club in Fulton, Miss., that attracted only five other students. Her school principal and teachers served as chaperones, but clearly there wasn't much to keep an eye on.

"They had two proms and I was only invited to one of them," McMillen says. "The one that I went to had seven people there, and everyone went to the other one I wasn't invited to."

Last week McMillen asked one of the students organizing the prom for details about the event, and was directed to the country club. "It hurts my feelings," McMillen says.
To add more cruelty to the situation, the fake prom was apparently meant to be the "freak" prom. In addition to Constance and her girlfriend, two others with learning disabilities, were among the five others who were there. Meanwhile, the rest of the class attended the real prom which was held at a secret location.
Itawamba students even went so far as to set up a public Facebook page called "Constance Quit Yer Cryin" to celebrate their "victory." The Facebook page has now become, in effect, a public shaming post for the people of Fulton. Says Jorje, for example, "thank you for making my homestate of Texas look all the better by the day, ignorant southern homophobes!" Wrote another, "What kind of backwoods white trash sets up a fake prom. You are pathetic and at some point in your life will pretend this never happened. Losers."
Another observed, "Not ONE parent or student has defended themselves on here? Not ONE? If you can't take the heat, don't set up an FB page. You are cowards as well as deceivers and scoundrels."
The facebook page also has three image captures of private pages documenting Itawamba student' high0-fiving it over having pulled off the fake prom. Says one student, "I had fun at the 'prom' last night…:)". Another wrote on her Facebook page, "Best 'prom' in the history of IAHS…thats [sic] right 2010 goes out with a bang!)
Update: Meanwhile, we have this reminder via Truth Wins Out:
She spent all Saturday getting ready, fixing her hair, slipping into the pink floral dress her mother finished the week before. Her father, a Baptist preacher, helped pick her date, a respectable young man worthy of escorting his daughter, the first and only black student at Jones Valley High School.

She and her date drove that 1965 night with her father and a retinue of supporters and protectors toward the high school gym. They turned the corner.

The gymnasium was dark, empty.

"They had fooled us," Carolyn Tasmiya King-Miller said. "I remember going home that night in tears. I sat on the sofa in my prom dress, lying on my mother's breast and crying all night. That's when the silence started."
No Corpus Christi in Texas
Timothy Kincaid
March 27th, 2010
In 1997, playwright Terrence McNally wrote Corpus Christi. The play is a Christ tale, not intended to revise the historical and theological Jesus, but to present a parallel adapted to a more current time wherein Joshua, the Christ figure, and his disciples confront societal rejection and internal conflicts in ways that are reminiscent of, but not identical to, those recorded in the Gospels.
Christ tales are not uncommon. Nor do they generally generate controversy. For example, while C.S. Lewis denied that The Lion, the Witch, and the Wardrobe is an allegory (smart him), it is clearly a Christ tale, and one which has come to be revered by Christians of all denominations. When the Waldon/Disney film was released in 2005, religious reviewers praised the production and churches organized viewings.
But McNally introduced one element in his tale that has resulted in protests, death threats, and even a fatwa. While Christians could handle an animal Christ figure, they were horrified that McNally's Joshua and his disciples are gay. And they have fought nearly every production of the play.
Corpus Christi (latin for "body of Christ") is set in the 1950s in the Texas town where McNally was raised, Corpus Christi. So it is only fitting that the latest flap over the play come from Tarleton State University in Texas.
In Tarleton's advance directing course, students each select a play and produce an abbreviated workshop production. John Jordan Otte, a gay Christian, selected McNally's play. And the Earth went spinning off it's orbit, the stars crashed from the sky, and the seas rose up and drowned millions. Or so you would think from the public reaction.
In came the letters and the demands that the school ban this student from blaspheming. Protests were organized and the president of the university wrote an op-ed to both denounce the play and express its limitations (Star Telegram):
The university does not endorse the play.

The play is not a university-sponsored production in the Fine Arts series at Tarleton.

The play is a project for a class. It is not intended for the public any more than a student's math assignment.

The performance is part of the student's project. It is not open to the general public. The audience includes only the class members and relatives invited to attend.

The play is a class assignment in an advanced directing course. Students were allowed to pick any play to produce an abbreviated workshop performance.

Direct costs associated with the production are paid for by the student director.

The actors are volunteers, and no student is required to be in the play.

Any student in the class who finds the material objectionable will not be required to attend.
President Dottavio called the play "offensive, crude and irreverent" and said it had "no artistic or redeeming quality". He mad it clear that were it not for that pesky First Amendment, he'd put an end to it. And to further discourage viewing, the production was rescheduled and attendance was restricted.
The production called "Corpus Christi" was to be performed, at the school in Stephenville, at 4 p.m. Saturday.

A news release provided Thursday to The Associated Press says the student-produced play will now start at 8 a.m. Saturday. A private audience of invited guests and relatives of the cast will be the only people allowed to watch the play, the school said.
But that was not adequate for the Lieutenant Governor, who apparently is a complete idiot. David Dewhurst, running for re-election, weighed in (Dallas Morning News)
Says Dewhurst in a statement: "Every citizen is entitled to the freedom of speech, but no one should have the right to use government funds or institutions to portray acts that are morally reprehensible to the vast majority of Americans."
And is seems that censorship ruled the day. Last night, the school released the following statement:
The four student-directed plays, including "Corpus Christi," scheduled to be performed at Tarleton State University on Saturday, March 27, 2010, have been canceled this evening by the professor. The professor cited safety and security concerns for the students as well as the need to maintain an orderly academic environment as reasons for canceling the plays. The performance of these four class plays will not be rescheduled.
This is sad for the students, infuriating for those who love liberty, and embarrassing for Texans who are trying to live beyond the stereotype of "good ol' boy". But there is little doubt that 'God fearing, Bible believing Christians' are celebrating their victory over the homosexual agenda.
Which is both ironic and fitting.
I am certain that few who complained about the production have seen it. I have.
My church hosted a bare-set production a few years ago. Having heard that it was sacrilegious and blasphemous and disrespectful, I was a bit hesitant about what I was going to see. But what I found was a presentation that did not seek to mock or demean the Christian faith, but rather to make it relevant.
The play removes the Christ story from its distant setting, its forgotten political/religious squabbles, and a culture that is foreign both in place and thinking. It takes the focus off of the trapping of the story and looks at what happens when the outcast challenges the religious structure. It was a touching, thought provoking, and intensely spiritual journey that left me with a greater respect for the life and message of Christ.
So it is ironic that Christian folk are up in arms at a play that inspires and deepens faith. But, considering that it also challenges where we each fit in the oppressed/oppressor dynamic and asks us to step outside our presumptions and dogma and look at what Christ represents, it is only fitting that churches should find it so threatening. And the response of the authorities illustrates the current relevance of Corpus Christi.
GA Teen Going to the Prom, But Where Does He Go Afterwards?
Jim Burroway
March 24th, 2010
Derrick Martin pulled off an amazing accomplishment this week. The 18-year-old gay senior wanted to take his boyfriend to the Bleckley County High School prom, something that had never happened in this small Georgia town. Apparently being the prudent young man that he is, he asked school officials if that would be okay. To his surprise (and to the surprise of many of the rest of us) the school said yes. He can take his boyfriend to the prom. While there are a few objections, the town seems to be taken the startling developments with aplomb.
Well, not his parents. They kicked their son out of the house. He is now staying with a friend.
Mormon/Boy Scout sexual abuse problem
Timothy Kincaid
March 19th, 2010
Across the country boys bond in scouting, enjoying the experience of nature, learning social values, and earning recognition for doing good deeds. And the Boy Scouts of America provide a memorable and often rewarding experience for boys – provided that these boys are not same-sex attracted or skeptical about the Abrahamic God.
But for fourteen percent of Scouts, their experience could be more accurately described as religious training in the beliefs of the Church of Jesus Christ of Latter Day Saints (the "Mormons"). Unlike a scouting group hosted by the local Methodist Church which meets in their basement, for the Mormons scouting is a part of the church, an official teaching mechanism that places theology as a higher priority than socialization. It serves not only for inculcating the beliefs of the church, but as an outreach tool.
Elder Robert Backman was recognized by the Boy Scouts of America in 1986 for his efforts in incorporating Scouting into the LDS Church's Young Men organization. He is quoted in the Aaronic Priesthood Boy Scout Guide:
As you know, we are vitally concerned about our youth and feel that with the proper attention we can save many more than we are doing at the present time. I am convinced that Scouting is a mighty activity arm to hold these boys close while they learn to appreciate the honor of holding the priesthood of God.
…
If we do all else and lose the young man, we have failed in our sacred stewardship. We must not allow a separation of priesthood, Scouting, or athletics.
…
Every phase of the Scouting program should help young men and their leaders understand that Scouting activities are carried out to accomplish priesthood purposes.
For Mormons, family is a valued concept. But part of the definition of "family" is the concept of church brotherhood and the expectation that Mormons will raise their children to be integrated into the faith at a young age. Scouting is more of an expectation or obligation than an optional club.
And evidence is arising that the Boy Scouts of America may have taken steps to hide evidence of sexual abuse. And they may have done so for decades. (No. County Times)
The "perversion files," a nickname the Boy Scouts are said to have used for the documents, have rarely been seen by the public, but that could all change in the coming weeks in an Oregon courtroom.

The lawyer for a man who was molested in the 1980s by a Scout leader has obtained about 1,000 Boy Scouts sex files and is expected to release some of them at a trial that began Wednesday. The lawyer says the files show how the Boy Scouts have covered up abuse for decades.
And it further appears that the Mormon Church may have played a roll in giving some predators access to children.
The lawsuit also named the Church of Jesus Christ of Latter-day Saints because the Mormons acted as a charter organization, or sponsor, for the local Boy Scouts troop that included the victim. But the church has settled its portion of the case.
…
The Mormon bishop who also served as head of the Scout troop, Gordon McEwen, confronted Dykes after receiving a report of abuse by the mother of one boy in the troop in January 1983.

In a video deposition played for the jury, the bishop said Dykes admitted abusing 17 boys. But McEwen said he contacted the parents of all 17 boys and the boys themselves, and none would confirm any abuse.

Dykes was arrested in 1983 and pleaded guilty to attempted sexual abuse, received probation and was ordered to stay away from children.

Clark told the jury Dykes continued with his scouting activities until he was arrested in July 1984 during a routine traffic stop while he was driving a van full of Scouts on a camping trip.
It has yet to be determined whether Mormons are a significant segment of the thousands of Boy Scout sexual abuse cases. But this is not the first time that the Church has been accused of enabling predators.
The three men, who are brothers now aged 39, 41 and 43, claim that William E. Knox, 65, a Mormon church and Boy Scouts leader, molested them repeatedly in Sunnyvale between 1977 and 1987.

A brother identified as John Doe 2, who now lives in Georgia, said, "I'm a victim and a survivor of childhood sexual abuse. It was devastating to me. I've been abused hundreds of times over several years."

The brother alleged, "During the abuse, I told the church leadership responsible to protect me and they did nothing to protect me."
The Idaho Falls Post Register chronicles a story of abuse at an LDS scouting camp in the 1990's which boggles the mind.
1988 Brad Stowell, 16, admits to Blackfoot police, his mother and his LDS bishop that he molested a 6-year-old neighbor. He is sent to LDS Social Services counseling.

1988 Stowell is hired to teach first aid at Camp Little Lemhi. He has testified he started preying on campers that summer.
…
1991 Richard J. Scarborough reports to the national Boy Scouts of America that a child molester has been hired to work at Camp Little Lemhi.
January 1994 Richard Scarborough writes to the LDS church president, complaining that local church leaders are ignoring his warning about the pedophile in the LDS Scout troop.

January 1995 Carol Scarborough tells Camp Little Lemhi program director Jim Summers that Brad Stowell molested a neighbor boy.

1995 Camp Little Lemhi director Richard Snow hires Stowell as aquatics director.
It continues in horrifying detail until Stowell is arrested in 1997 after repeated abuse.
And such abuse will continue for as long as the Scouts (and the Mormons and the Catholics and a whole host of other) continue to focus on and exclude gay people while ignoring the true source of the problem. They fear and expel gay men who are attracted to other adult men while ignoring the married, church going, men who secretly prey on available children of both sexes.
Now advocates for victims of child abuse are eagerly awaiting what the newly opened files will tell them. I'm certain that the Scouts are worried. I wonder if the LDS Church has reason to be concerned.
Our condolences to the Burke family
Timothy Kincaid
February 6th, 2010
In November 2009, Brendan Burke came out to the world. He had come out to his famous hockey coach father Brian Burke two years earlier.
Burke's story was happy in that it revealed that a sport as drenched in testosterone as hockey could accept Brandon with a shrug. His father, his coach, an his team were all supportive and even when reporters went searching for a story they could not find anyone in hockey willing to be disrespectful to him.
On Friday, Brendan Burke was in a fatal accident. While driving on a treacherous snowy road in Michigan Indiana, his vehicle slid sideways into the path of a truck and he and his passenger were both killed.
But Brandon Burke will be remembered for being brave. And for helping to illustrate to the next generation of hockey kids that homophobia need not be part of the sports world and helping to dispell the stereotype that gay men cannot be physically tough competitors.
Our thoughts and prayers go out to his family, friends, and teammates at this time of their grief.