Miss California Pageant Replaces Carrie Prejean
Timothy Kincaid
May 11th, 2009

The Miss California Pageant can't fire Carrie Prejean; that privelege lies only with the owner, Donald Trump, and he won't announce his decision before tomorrow. But they've pretty much given up on her ever fulfilling her duties. (LA Times)
Carrie Prejean, the controversial Miss California, was neither fired nor embraced today by local pageant officials. Instead, frustrated officials said at a news conference in Beverly Hills that they would simply circumvent her and appoint first runner-up Tami Farrell as "our official Beauty of California ambassador."

In effect, they created a shadow Miss California to fulfill the appearances they claim Prejean has been unavailable to do. The co-executive director of the pageant, Keith Lewis, described the local pageant as little more than helpless passengers "on this runaway train."
With Carrie dedicating all her time to anti-gay evangelism, they have been unable to reach Prejean and she has proven unwilling to participate. She thinks she's found a better gig.
God and Satan Battled Over Carrie
Timothy Kincaid
May 11th, 2009
Carrie Prejean's pastor thought she was like Esther, who risked her life to save the Jewish people. Now Carrie thinks that she's the center of attention for both God and Satan.
"I felt as though Satan was trying to tempt me in asking me this question. And then God was in my head and in my heart saying, 'Do not compromise this. You need to stand up for me and you need to share with all these people … you need to witness to them and you need to show that you're not willing to compromise that for this title of Miss USA.' And I knew right here that it wasn't about winning. It was about being true to my convictions."
Oh good heavens.
Anti-Gay School Board President wants "Carrie Prejean Day"
Timothy Kincaid
May 8th, 2009
This is a week old, but I just noticed it.
Jim Gibson is a trustee of the Vista Unified School Board in Vista, the city in northern San Diego County that Carrie Prejean calls home. His wife, Cathy, is the San Diego area director for Concerned Women for America.
Gibson is delighted that one of his alumni has taken such a prominent anti-marriage position. So much so that he wants the school district to honor her.
Trustee Jim Gibson said this week he wants to make June 1 "Carrie Prejean Day" in the district. He called Prejean, a 2005 Vista High School graduate, a "good, strong role-model."

"We're setting her up as an example," he said. "As far as I'm concerned, she's a great role-model, and she's a person who needs to be emulated."

Gibson's proposed proclamation calls Prejean an "exemplary student leader" who "showed integrity, leadership, dedication and high moral standards" in the Miss California and Miss USA pageants.
This is not the first time that Gibson has gotten excited about opposing same-sex marriage. He unsuccessfully tried to get the school board to endore Proposition 8.
Gibson is planning on presenting the proclamation to the board on May 14th. If it passes, perhaps the students can emulate Carrie's high moral standards by coming to school topless.
Photos Taken of Me as a Teenager
Timothy Kincaid
May 5th, 2009
See Updates Below
Carrie Prejean, Miss California, has issued a statement seeking to deflect criticism about presenting herself as a model of Christian virtue in the light of top-less pictures that have begun to hit the internet.
I am a Christian, and I am a model. Models pose for pictures, including lingerie and swimwear photos. Recently, photos taken of me as a teenager have been released surreptitiously to a tabloid Web site that openly mocks me for my Christian faith. I am not perfect, and I will never claim to be. But these attacks on me and others who speak in defense of traditional marriage are intolerant and offensive. While we may not agree on every issue, we should show respect for others' opinions and not try to silence them through vicious and mean-spirited attacks.
I wondered at this particular explanation. Whoever wrote this for Carrie (clearly not Carrie herself) made a point of saying the nudie pics were taken when she was a teenager. But Prejean is only 21. So the pics are, asuming they aren't kiddie porn, two to three years old.
But those who have seen the unrevealed pictures say they appear to be after her quite recent breast enhancement. If it turns out that these are more recent pictures, then what remaining shreds of dignity that Prejean has managed to hold onto will dissipate entirely.
UPDATE
The PR firms statement that Carrie's pictures were "as a teenager" may possibly have something to do with the contract she entered into with the Miss California USA Pageant. A/P reports:
Pageant spokesman Roger Neal said Tuesday it appears the 21-year-old Prejean has run afoul of several sections of the 12-page contract prospective contestants were required to sign before competing in the state contest.

The contract contains a clause asking participants whether they have conducted themselves "in accordance with the highest ethical and moral standards" and if they've ever been photographed nude or partially nude.
Access Holywood has more:
On Monday, photos surfaced on TheDirty.com showing a topless Carrie Prejean posing provocatively. However, Carrie quickly responded to the photos, claiming she was only 17 years old when the pictures were taken.

But was Carrie's claim a strategic move since many media outlets would not likely air underage nudity?

Today, Access Hollywood uncovered evidence, which may put her age at over 18 when the photos were taken.

The Miss California USA organization told Access they were "shocked" by the photo and said they believe the images were shot between the time of now-21-year-old Carrie's breast augmentation and the Miss USA Pageant, which would be roughly 10 weeks ago.
For "a Christian", Prejean seems to have a shocking disregard for honesty and for someone so very concerned about marriage, she seems to have a rather cavalier attitude about contracts.
UPDATE 2:
TMZ has a handwritten note from Carrie claiming that they were taken before she turned 18. They don't think that she appears in these images to be the same age as she does in pictures taken when she was Miss Teen California prior to her 18th birthday.
Anti-Gay Marriage Champ Goes Topless
Timothy Kincaid
May 4th, 2009
We've all suspected it was coming. We got a little taste of Carrie's "come do me on the beach" look from the pages of B!isss Magazine. And now the first topless pic is on the web.
From theDirty.com
Yep. Everything about this pic says "Biblical correctness".
And if rumor is correct, there are more to come; some which might require pixilating.
Marriage Foes Need "Blond Bombshells With Nice Boobs"
Jim Burroway
May 2nd, 2009
Won't you help today?
[Courtesy of Emily K]
The New Look of Conservative Christian Values
Timothy Kincaid
May 1st, 2009
Many in the world of anti-gay conservative Christianity have praised Miss California, Carrie Prejean, as having courage, belief, convictions and Christian values.
Maggie Gallagher: Her example resonates, especially to many young Americans, because she chose to stand for truth rather than surrender her core values.
Family Research Council's Tony Perkins: Prejean's Christian beliefs were no secret to the organization; she quotes a biblical passage in her official bio on the Miss California USA website, citing Philippians 4:13, "I can do all things through Christ who strengthens me," as a daily source of inspiration.
American Family Association's Tim Wildmon: What I was most impressed with was Miss California's courage, as she knew her answer could very well cost her the opportunity to fulfill her dream to be Miss USA. But she went ahead and expressed her convictions.
Carrie Prejean: We have to be strong and true to our faith and our beliefs.
Carrie has become the poster girl for Christianity – or at least the anti-gay variety. And this pictorial from the center fold of B!isss Magazine must be the new look of Conservative Christian values:
I hope that some Christians will recognize the irrationality of rushing to embrace anyone, no matter who, so long as they espouse an anti-gay agenda. It's time that conservative Christians do some soul searching and distinguish between a principled position based on their theological understanding of scripture and a knee-jerk homophobic endorsement of anything anti-gay.
The Marriage Movement's Face Doesn't Speak
Timothy Kincaid
May 1st, 2009
Earlier this week, National Organization for Marriage's Maggie Gallagher nominated Carrie Prejean as the "new face of the marriage movement." And after meeting with Carrie, she went on to feature her in NOM's new ad and to have her speak at their press conference.
But now Maggie has released a statement suggesting that the face of the marriage movement doesn't speak for the marriage movement. How fitting.
A number of media sources have described Carrie Prejean as a spokesperson for the National Organization for Marriage.

As we made clear at our press conference yesterday: Carrie appeared with NOM as a private citizen; she does not work for the National Organization for Marriage. She is a spokesperson for her own views, as anyone watching her can tell.

We are grateful to Carrie Prejean for her willingness to stand up for marriage. We would love to work with Carrie in the future if she chooses, and we wish her well in all her future endeavors whatever she chooses. We're proud of her. Americans are proud of her. She is a remarkable young woman. Thank you, Carrie.
It's hardly a surprise that Maggie is trying to downplay Carrie's authority as the voice of the "marriage movement". Calling in to Greta Van Susteren on FoxNews, it was quite clear that Carrie's thoughts on recognition and rights for gay couples are less than thoroughly developed.
VAN SUSTEREN: What is your thought on civil unions?

PREJEAN: My thought on civil unions? You know what, Greta? I don't have the answers to everything. I'm not running for political office. I don't have the answers to everything, you know, in the world out there.

But I think that there should be rights for people, you know, especially in California. I think that people that are homosexual should have some rights, you know, hospital rights, and things like that.

But I would like to be more educated on that, so when I do have a better answer for you, I will get back to you on that one.

But so far I just support traditional marriage, and that's my main focus.

VAN SUSTEREN: What about adoption?

PREJEAN: Greta, I am focusing on marriage right now, not adoption, not civil unions, just traditional marriage, and I'm going to do whatever it takes to promote that.

VAN SUSTEREN: I understand, and I understand your position on traditional marriage. I'm just sort of trying to figure out where you draw the line in terms of what kind of rights that you think that a man and woman should have that maybe two men, two women, shouldn't have.

And that's why I was asking the question on civil unions and adoptions. I was just trying to sort it out for myself what you think.

PREJEAN: Well, I'm not a politician, so I can't give you an answer to that.
The, Ahem, "Face" of the Marriage Movement
Timothy Kincaid
April 30th, 2009
Maggie Gallager has declared Carrie Prejean to be the face of the Marriage Movement.
So here's what "the face of the marriage movement" looks like:
And after the plastic surgery, here are what "the boobs of the marriage movement" look like:
NOM's Lesson in Irony
Timothy Kincaid
April 30th, 2009
After National Organization for Marriage's "Gathering Storm" ad aired – and was subjected to much mockery – the Human Rights Campaign got their hands on the audition tapes for the ad and put them on youtube. This was an embarrassment that was covered by Rachel Maddow on MSNBC.
NOM responded by claiming copyright infringement and even insisted that youtube pull the Maddow segment because of the tiny snippet she showed.
Now NOM has discovered that karma can be a b-tch (as Christian press might spell it). Perez Hilton (aka Mario Lavandiera) has caused the new Carrie Prejean ad to be pulled because they used a tiny snippet of his video.
Now I think that both video bits are probably perfectly legal under the Fair Use doctrine. And it's petty of Perez. But it certainly is delicious irony.
And Maggie Gallagher must be furious. She hates being treated the same as gay folk.
Businesses Distance Themselves from Carrie Prejean
Timothy Kincaid
April 30th, 2009
Being Miss California is good for a modeling career. Businesses like the prestige of a title to go along with a pretty face and believe the positive image will reflect on their business.
Usually.
But turning your pageant presence into a controversial political campaign to deny rights to others is one sure way to get potential – and past – employers to want nothing to do with you.
On the Miss California USA webpage, one sponsor wants you to know right up that they want nothing to do with Prejean's anti-gay campaign:
Official Statement from Hotel Zoso

Hotel Zoso was a local sponsor for the 2009 state pageant and is a non-discriminatory hotel welcoming persons from all walks of life regardless of race, religion, sexual orientation or personal beliefs.

While we support freedom of speech, the answer Miss California gave does not reflect the stance or opinion of Hotel Zoso management."
On the site bio for Prejean it says:
Carrie is a model and was recently featured in "Blisss Magazine" as one of the center folds "Super Taste" model of the month. She is on the cover of PJ Salvage Fall Catalog 2008. The face of "Double Happiness Jewelry" and just shot the campaign for "Naughty Monkey" a women's shoe line. …
But Stephanie Wells, the creative director for Double Happiness Jewelry, makes clear that she does not want to be in any way associated with Prejean's anti-gay activism.
Hello – Carrie is not the face of Double Happiness Jewelry. Carrie has worked as a contract model for us in the past, twice – we have worked with other models before Carrie and since working with Carrie. I did not even know she was Miss CA or that claim was on her website prior to this whole controversy.

Double Happiness is pro freedom – pro choice, pro gay marriage, pro blonde, pro brunette, pro white chocolate, pro dark chocolate – basically pro good people who do good things with their lives.

We believe that all people/animals deserve all basic (for lack of a better word) human rights worldwide, and we hope that day will come soon.
I hope it will too, Stephanie.
NOM's New Ad is Unimpressive
Timothy Kincaid
April 30th, 2009
The National Organization for Marriage has released their new ad starring Carrie Prejean, Miss California. Let's take a look at it: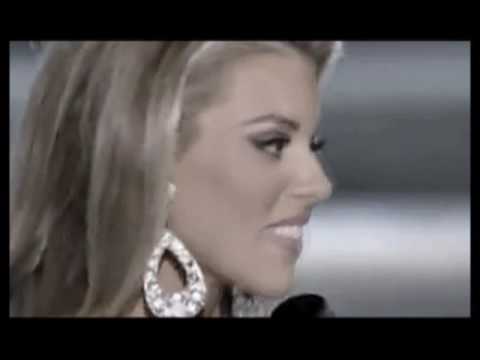 When asked a question about same-sex marriage, a young contestant answers honestly.

Carrie Prejean: "I believe that a marriage should be between a man and a woman, no offense to anybody out there. That's how I was raised and that's how I think that it should be between a man and a woman."

She is immediately attacked.

Perez Hilton: "She's a dumb BEEP, OK?"

When a pro-marriage group expresses concerns about how same-sex marriage will impact religious groups, they are called liars and bigots.

Joe Solmonese: "It is no longer palatable in this country, OK, to be an outright bigot. If you want to deny us these rights you need to do it by lying and misrepresenting"

Gay marriage activists attack people for supporting marriage because they don't want to debate the consequences of same-sex marriage. They want to silence opposition.

Some of the nation's foremost scholars warn that gay marriage can create widespread legal conflicts for individuals, small businesses and religious organizations.

Please help support marriage with your donation.
Here are the problems I see with this ad:
1. It relies on old and trivial news. By now everyone has seen the little tiff between Carrie Prejean and Perez Hilton. And while some may sympathize with Carrie, it's hardly the sort of incident upon which to base a significant political position.
2. It gives voice to NOM's opposition. When your dear friend indignantly says, "she called me FAT!!", it may not be admirable but the very first thing you automatically do is look to her waist to see if it's true. So it isn't wise to remind viewers that some consider NOM to be bigoted and untruthful; it places the association in their minds.
3. It has no point. The theme is "gay marriage supporters are bad because they called me names". And seeking to demonize your opponent may not be the wisest choice when you've just reminded your viewer that you are being called a bigot.
4. It has no audience. The thought of "widespread legal conflicts" hardly seems threatening when compared to the Swine Flu or the economy. And most viewers won't consider themselves or anyone they know to be likely impacted by "widespread legal conflicts", whatever that may mean.
5. It has no authority. Most viewers have never heard of Douglas Laycock and while he may be a legal scholar, an uncredited allusion to a virtually nameless law professor is not likely to win the support of those waivering.
6. It is dishonest. Douglas Laycock actually supports marriage equality. His concern, as written, was that adequate religious protections be incorporated into Connecticut's law to stop people like NOM from playing the victim. It doesn't get much more deceptive than to quote your opponent's mockery of you as though it were praise.
UPDATE:
Though NOM's ad was pulled by Youtube, it has been reposted by Paul VillaReal at
http://www.youtube.com/watch?v=wA2yC8VAhzU
Carrie Prejean's New Career: Anti-Gay Activist
Timothy Kincaid
April 29th, 2009
When Carrie Prejean, Miss California, bumblingly told the Miss USA audience that she chooses "opposite marriage" and believes that "a marriage should be between a man and a woman", I mostly ignored the situation. We tend to pay less attention to the ignorance of the misinformed and focus more on the deliberate deceptions of anti-gay activists.
However, as the story lingered way beyond its freshness date I wrote a commentary noting that Prejean was startlingly ignorant on a number of issues surrounding sexual orientation. Yet still I thought the story was but momentary and not particularly relevant to our efforts.
But now it seems that Prejean may be taking steps to turn her moment of foolishness into a career of hostility and bigotry.
And that brings her into our spotlight.
What Carrie Prejean believes
To understand Prejean's motivations, we have to understand what she believes.
We know that she opposes marriage equality and believes that homosexuality is "a behavior that develops over time". But her opinions have been developed in a stew of bigotry that goes far beyond misinformation about the bases of orientation.


Carrie Prejean attends a church that has strong opinions on the subject of sexuality and marriage. Miles McPherson, a football player turned pastor, was one of the driving forces behind the evangelical support for Proposition 8. In addition to anti-gay rallies at his church, McPherson was a proponent of the notoriously untruthful website for youth, iProtectMarriage.com.
Miles McPherson, one of Prop 8′s proponents and senior pastor of the Rock Church in San Diego, says the site aims to reach out to all young voters, especially those who support same-sex marriage for the wrong reasons.

"Right now they're driven by the wrong information and a lot of emotion," said McPherson, a former NFL player with the San Diego Chargers. "They'll say, 'I don't want to be called a bigot. I don't want to discriminate,'" said McPherson.
It seems that McPherson falls into the camp of Christians that believe that honesty and truth are optional and far subsidiary to "fighting the homosexual agenda". In a message in February 2008, he said,
The homosexual agenda is being pushed upon this nation, to the point where it may become illegal for pastors to preach against homosexuality from the pulpit, that is where even such preaching is deemed a crime. In some countries this is already the case. Keep in mind this battle is not about gay people, rather it is a spiritual battle in which we are fighting the devil!
And it was in this imagery of spiritual battle against evil that Prejean formed her "biblical correctness". And it is among his youthful warriors (the average attendant's age is under 30), that Carrie takes her place.
And McPherson is not hesitant to equip his warriors with the tools of political victory, with unvarnished lies a chief weapon. In addition to the blatant falsehoods on the Prop 8 website, McPherson's church, The Rock in San Diego, says the following about gays in a piece written by McPherson entitled Sodom and Gomorrah, A City Inflamed
Consequences of a Homosexual Lifestyle

God's Word tells us differently and He provides us of the evidence that homosexuality is not natural or normal. There are physiological repercussions from homosexual behavior; male homosexuals are 430 times more likely to contract HIV than a heterosexual, while heterosexuals have a 1-in-750,000 chance of contracting the virus responsible for HIV, a male homosexual has a 1-in-165 chance of getting HIV. A 20 year old gay male has a 30% chance of either dying or contracting AIDS before the age of 30. They are also 23 times more likely to get other sexually transmitted diseases than a heterosexual.

There are also moral repercussions stemming from homosexual behavior as evidenced by the fact that one third of all sexual crimes against children are committed by homosexuals even though they are representative of only one percent of the population. Pedophilia has even been called central to the gay lifestyle. The agenda of the North American Man Boy Love Association (NAMBLA) is to lower the age of consent so that sex with children will be legal.
I wrote to several pastors at the church earlier in the week to inform them that their claims about AIDS were mathematically impossible and in conflict with the literature and statistics provided by health organizations. I also corrected their false claims about child molestation and informed them that equating the gay community to NAMBLA is comparable to equating all of Christianity to the Phelps family.
I've not received a reply.
The website is unchanged.
The Cultivation of a Victim Image
Since losing the crown on the 19th, Prejean has been seeking every opportunity to discuss her story in the media and to craft an image as a Christian victim of vile homosexual activists.
The essential premise of this image is that Carrie was the front-runner and that her dream of being Miss USA was stolen from her when she bravely stood up for her faith. Prejean set up that premise in an interview with Matt Lauer on NBC Today,
Ms. PREJEAN: … You know what, Matt, I was on that stage that night and I was so excited to be there. I was competing for Miss USA, and I was called into the top 10 and to the top five. And I was standing there and, you know, I was ready for my question. And when I heard it from him, I knew at that moment after I had answered the question, I knew that I was not going to win because of my answer.

LAUER: Because you had spoken from your heart.

Ms. PREJEAN: Because I had spoken from my heart, from my beliefs and for my God.
Prejean further fed that perception in an interview with FOXNews
FOXNews.com: Before "the question," did you think you would win Miss USA?

Carrie Prejean: There was a lot of talk about me, people saying I was the frontrunner. During the whole two-week experience leading up to the pageant, I was very confident and relaxed. Not too nervous.
However, that premise does not appear to fit the facts. In viewing the final competition scores, it appears that Prejean was not the front-runner going into the question. In fact, unless Kristen Dalton, Miss North Carolina, flubbed badly and Prejean was brilliant there was no way that she could win.
As Brook Lee, a former Miss Universe who was at the event and spoke to the judges, put it, "for her to go in the press and say she lost the crown because of her answer is playing with the truth."
She has also been pushing the story that the Miss California franchise tried to manipulate her into recanting her testimony.
Prejean said Sunday that her state sponsors urged her to apologize afterward but she rejected the advice and says officials from the Miss California USA pageant were worried that her comments would cost their contest financial backing and tried to prepare her for a string of post-pageant media interviews by discouraging her from discussing her religious beliefs.

"You need to apologize to the gay community. You need to not talk about your faith. This has everything to do with you representing California and saving the brand,'" Prejean recalled being told. "I was representing California. I was representing the majority of people in California."
This accusation was soundly denounced by the Miss California pageant officials.
[P]ublic relations representative Roger Neal today called those claims lies. Neal says he was one of the people who attempted to advise the Prejean. According to him, Prejean was urged to reiterate she didn't mean to offend anyone, and to use the national spotlight "to heal some wounds."
Even Prejean's claim that her sister is "a gay rights activist" who "supports gay marriage" appears to be a fiction.
McPherson's Influence
But perhaps we should not be surprised that truth has played so small a part in the establishment of her martyr myth. She is being coached and guided by her religious mentor, Mile McPherson.
The Rock's site claimed that the Rock's Senior Pastor Miles McPherson "spent time with Prejean in the critical hours following the pageant". This coaching was further confirmed when Rex Wockner asked if she'd be willing to have coffee with Perez Hilton, the gay blogger who asked her the question in the pageant.
Carrie: Um, I'm not sure if I would have coffee with him. If I did, I'd bring Miles with me.
And McPherson's influence may be directing Prejean in a new and troubling direction.
If anything, Prejean has solidified her stance in the last week. McPherson, who preaches against homosexuality, has been acting as her adviser and encouraging her to use her newfound fame to persuade other evangelical Christians to share their views, even if they are unpopular.

"I learned that God has a bigger crown than any man can give you," she said.
Prejean Joins the Anti-Gay Activists
I'm not sure why conservative Christians would be so anxious to align their movement with a young woman whose sole claim to fame is to walk her fake breasts down a runway hoping that her appeal to vanity and lust will result in adoration and personal gain. But the political operatives of that movement often leave me shaking my head in wonder.
Nevertheless, they have welcomed Prejean with open arms, and she has leapt at the opportunity to turn her beauty queen status into the face of anti-gay activism.
Prejean has been lauded by some mainstream conservative leaders for standing for her beliefs. She was commended by the Alabama state legislature and today she made a special appearance at Liberty University's convocation.
But it is troubling that Prejean has decided to align herself with the most extremist and demonizing of professional anti-gay activists. Later today she will be join Mat Staver and Matt Barber in a radio interview, both of whom are known for their virulent homophobic positions.
And Prejean is willing to go further than give interviews. Yesterday Maggie Gallagher, the head of National Organization for Marriage (of Gathering Storm fame) had breakfast with Miss California. Maggie had plans for the meeting.
And I would like to nominate Miss California as the new face of the marriage movement. Much better than mine! "Truth and love will prevail over lies and hate."

But beauty never hurt.
And, indeed, Gallager's nomination was accepted. The National Organization for Marriage has announced that a new NOM ad will feature Prejean. And a source close to the group says the campaign includes ads that "will focus on how standing up for marriage elicits attacks from the left and homosexual rights activists."
My Predictions
The Miss California pageant almost certainly will remove Carrie Prejean's title and take her crown. They cannot afford to have Miss California headlining political ads that seek to criticize "the left and homosexual activists". Indeed, the negative publicity she's already generated – along with demonizing the organization – probably has the administration thinking ahead for the best time to let her go.
Surely this ad seals the deal.
And Prejean will get another round of playing the martyr when that happens.
However, her expected attempt to exploit the removal of her title will likely not elicit the same sympathy. While folks can feel badly for a girl who just "spoke her opinion", they aren't as inclined to think that running anti-gay advertising is in line with her duties as Miss California. In fact, any attempt to play the victim may well turn against her those who currently see her as such.
Which is ironic, because Carrie Prejean truly is a victim. She's the pawn of those who want to use her 15 minutes of fame to advance their own anti-gay agenda.
The whirl of controversy – coupled with anti-gay activism – has killed any sponsorship or modeling career she may have been seeking. No one will want their product associated with a woman who is reviled by half the population.
And, unlike Matt Barber who lost his job for tying his employer's name to his anti-gay screeds, Prejean does not appear to have the qualifications required to become a full time paid anti-gay activist. She's not articulate and she isn't passionate.
At most, she can for a brief while show up at anti-gay functions as a token of 'homosexual intolerance'.
In the long run, Carrie Prejean's decision to join anti-gay ranks is not to her benefit.
McPherson will go on with his church and Maggie Gallagher will go on with her activism. But when Carrie's usefulness has run out, she'll find herself without a title, a crown, a career, or the respect of her peers.
Miss USA contestant Carrie Prejean to star in anti-gay ad
Gabriel Arana
April 29th, 2009
Miss (anti-gay) USA contestant Carrie Prejean has agreed to appear in a television ad for the National Organization for Marriage (NOM) as part of the its broader $1.5 million ad campaign against same-sex marriage. This is the same group that produced the histrionic "Gathering Storm" ad.
"She is attacked viciously for having the courage to speak up for her truth and her values," reads a NOM press release. "But Carrie's courage inspired a whole nation and a whole generation of young people because she chose to risk the Miss USA crown rather than be silent about her deepest moral values."
Again, this is gay marriage opponents trying to win the case against gay marriage by sidestepping the actual issue; instead of arguing about gay marriage per se, they argue about consequences it will have — namely, curbing the ability or religious organizations to speak out. (Or in the case of Prejean, costing you — gasp! — the Miss USA crown.) Their language is decidedly Orwellian: this is not an anti-gay-marriage campaign, but a "religious liberty ad campaign."
Also note that banning gay marriage would not have prevented the outcry against Prejean. In a public forum, she submitted her view and had it scrutinized. As I said in a previous post, some of these conservative religious groups seem to think religious freedom entails immunity from any sort of criticism; they want the marketplace of ideas to fall silent whenever something under the banner of religion is at issue.
One of the most powerful sections of the Iowa Supreme Court's decision explicitly treats the charge implicit in NOM's tactic: that allowing gay marriage infringes on religious rights.
Our constitution does not permit any branch of government to resolve these types of religious debates and entrusts to courts the task of ensuring government avoids them… civil marriage must be judged under our constitutional standards of equal protection and not under religious doctrines or the religious views of individuals.
The justices rightfully conclude that the government should not be involved in religious debates. This is important not only to maintain the separation of church and state, but also to protect religious organizations themselves: why are religious organizations looking to the courts and legislative bodies to resolve a theological issue? Allowing gay marriage is in fact a neutral position: it allows religious organizations that want to perform gay marriages to do so and allows those that do not to refuse to.
Miss California not the Brightest Star in the Galaxy
Timothy Kincaid
April 27th, 2009
Much has been made over the answer given by Miss California, Carrie Prejean, to a gay marriage question from gay blogger Perez Hilton during the April 19 Miss USA Pageant:
Perez Hilton: "Vermont recently became the 4th state to legalize same-sex marriage. Do you think every state should follow suit. Why or why not?"

Prejean: "Well I think its great that Americans are able to choose one or the other. We live in a land where you can choose same-sex marriage or opposite marriage. And you know what, in my country, in my family, I think that I believe that a marriage should be between a man and a woman. No offense to anybody out there, but that's how I was raised and that's how I think it should be between a man and a woman. Thank you very much."
This question may well have cost Miss California the title of Miss USA. [See Update Below]
Those who favor marriage equality heaped scorn on her head while those who vision themselves as defenders of traditional marriage saw in her a champion. And that's a role Carrie was quick to adopt.
But I think with that question specifically, it's not about being politically correct. For me it was being biblically correct.
Frankly, all I saw was a vapid girl who validated every stereotype about the intellectual challenges of beauty queens.
I was a bit inclined to give her a little break on the factual accuracy of her answer (if not it's content), assuming she was startled and perhaps a bit underprepared for an unexpected question. But yesterday Rex Wockner interviewed Miss Prejean and the words that tumbled out of her pretty little head left little question about the sophistication of Carrie's thinking process.
This is Miss California, after a week of preparation about the subject of same-sex marriage, discussing the bases for sexual orientation:
Rex: I understand that you were raised to believe that marriage is between a man and a woman, and I understand that you grew up knowing that you were always going to marry a guy, but you're heterosexual. Um, some people are born gay, maybe, you think?

Carrie: No, I don't think so.

Rex: OK, so now we're getting somewhere.

Carrie: I think it's a behavior that develops over time.

Rex: Why would someone choose it, given that if you choose that, you get discriminated against?

Carrie: Um, because obviously Perez Hilton doesn't think that there's anything wrong with it.

Rex: No, but if being gay is a choice, rather than something you're born with, why would you choose something that's going to lead to your being discriminated against? What would be the motivation?

Carrie: I'm not sure what the motivation would be.

Rex: OK. Me either.
And here she is on marriage:
Rex: And, I guess, last question: What would be so wrong with two women who love each other getting married?

Carrie: What would be so wrong with two women that love each other?

Rex: What would be so wrong with that? Yeah.

Carrie: What don't you see wrong with that?

Rex: I don't see anything wrong with it.

Carrie: Why?
Poor dear. You can't really blame folks for having the opinions of their parents when it's quite clear that they lack the skills necessary to process information and come up with opinions of their own.
And I do think it appropriate that the anti-equality crowd now has a spokesperson whose intellect matches the arguments they make.
UPDATE:
It appears that Carrie Prejean was not the front runner for this competition. This seems to be a fiction spread by both those who wish to view Miss California as being duly punished for her bad behavior as well as by those who wish to see her as a martyr for her faith.