A Simple Anglican/Catholic Proposal
Jim Burroway
October 21st, 2009
The Vatican has announced that they have set up a special structure in which disaffected Anglicans and their clergy can become Roman Catholics while keeping their married priests, the Anglican liturgy and Book of Common Prayer. The Vatican wants to woo Anglicans who are angry over the church's acceptance of women and gay clergy and the blessings of same-sex unions.
This news reportedly was sprung on Rowan Williams, the Archbishop of Canterbury and head of the Anglican Communion, just hours before it was made public. Archbishop Rowan tried to put a positive spin on the move, calling it an "end to uncertainty for such groups who have nurtured hopes of new ways of embracing unity with the Catholic Church."
But I think this represents an interesting pathway that could be a two-way street. After all, there are many disaffected Catholics (myself included) who find great comfort in the Roman liturgy and customs, a deeply felt comfort and meaning that, to us, the Anglican liturgy and the Book of Common Prayer just can't approach. I don't mean this as a knock against Anglican traditions. The Vatican move recognizes the deep fondness dissafected Anglicans hold for their familiar Anglican rite and makes room for it within Roman Catholicism. But the same is true both ways: the Roman Missal embodies all of our cherished touchstones just as the Anglican liturgy and customs embodies theirs.
So why not set up a similar structure within the Anglican Communion where disaffected Catholics can continue to worship using the great historical richness of the Roman liturgy and customs while simultaneously entering the 21st century?
Meet Bishop Sal, the Face of Catholic Anti-Gay Discrimination
Timothy Kincaid
September 22nd, 2009
The East Bay Express has an article on Salvatore Cordileone, the new Bishop of Oakland. It seems the Catholic Church rewarded him with this position for all his hard work and devoted efforts in taking away civil rights from gay couples.
What almost no one knows is that without Bishop Sal, gay men and lesbians would almost surely still be able to get married today. As an auxiliary bishop in San Diego, Cordileone played an indispensable role in conceiving, funding, organizing, and ultimately winning the campaign to pass Proposition 8. It was Bishop Sal and a small group of Catholic leaders who decided that they had to amend the state constitution. It was Bishop Sal who found the first major donor and flushed the fledgling campaign with cash. It was Bishop Sal who personally brought in the organization that took the lead on the petition drive. And it was Bishop Sal who coordinated the Catholic effort with evangelical churches around the state. Bishop Sal even helped craft the campaign's rhetorical strategy, sitting in on focus groups to hone the message of Proposition 8.
Nuns Become Catholic
Timothy Kincaid
September 9th, 2009
Ten Maryland nuns — almost an entire religious community — converted from the Episcopal Church to Catholicism on Thursday, saying their former denomination had become too liberal in its acceptance of homosexuality.
To which my first thought was, "There are Episcopal nuns?"
Episcopal Bishop of Maryland Eugene Sutton said in a statement that "despite the sadness we feel in having to say farewell, our mutual joy is that we remain as one spiritual family of faith, one body in Christ."
Well, except for the lesbians of course. They need to stay chaste and, oh I don't know, become nuns maybe.
Non-Churchgoers In Maine, Get Lost
Jim Burroway
September 8th, 2009
This really is all about narrow religions imposing their views on everyone else. According to WBLZ in Bangor, Maine:
Maine's Catholic church continues to be active in the fight against same sex marriage.

The bishop has asked churches to take up a special second collection next weekend to support Stand For Marriage Maine, the group leading the effort to repeal Maine's same sex marriage law.
An interesting tidbit appears at the end of that short news brief. Stand for Marriage Main will hold a rally at the Augusta Civic Center on September 13. But you or I probably won't be able to get in — not unless we pick up free tickets through our local church. Non-churchgoers need not apply.
Gay Canadian Sues Church
This commentary is the opinion of the author and may not necessarily reflect that of other authors at Box Turtle Bulletin.
Timothy Kincaid
July 15th, 2009
Jim Corcoran is no doubt a valued member of the family at St. Michael's Catholic Church in Ontario. (National Post)
Mr. Corcoran, 50, began as an altar server just before Christmas. He said St. Michael's did not have altar boys and he thought that creating a group of adult altar servers would help the priest during Mass. Many Catholic parishes have adult servers.
But he's also an idiot.
Mr. Corcoran is a gay man married to his partner. He and his priest (and you, and I, and the neighbor's cousin's cat) all know that the Catholic Church has some pretty restrictive beliefs about the participation of gay men in the life of the Church. Mr. Corcoran cannot have thought that his efforts would be universally praised and appreciated.
And, as could be expected, several parishoners signed a letter to the Bishop and Corcoran was removed.
So he's suing.
A gay man has filed a complaint with the Ontario Human Rights Tribunal against a Catholic bishop after he was removed from his volunteer job as an altar server because of his sexual orientation.
Now in the US, Corcoran would be tossed out on his ear. I hope that in Canada they do the same.
Don't get me wrong. I think the decision of the Church was stupid. Corcoran probably isn't even technically in violation of the Vatican policy; he and his partner are chaste. And the motivation of the parishoners appears to have been pettiness and spite and was primarily an attack on the priest.
But the issue isn't whether the Church is right or wrong. The issue is whether the Church should be allowed to make its own policies, however stupid they may be.
And I come down on the side of self-determination and freedom – both for Corcoran and the Church. St. Michael's should be entitled to deny liturgical authority to whomever they please for whatever reason they please, and Jim Corcoran should be entitled to cross the street to a church that operates more to his pleasing.
Former Milwaukee Archbishop Admits He's Gay
Jim Burroway
May 12th, 2009
When public figures come out of the closet, the event is usually greeted with joy and applause in the gay community. But when that event is tainted with scandal, the reaction is considerably muted. When New Jersey Gov. James McGreevey announced that he was "a gay American" and was resigning just as a scandal was about to bust open, it was, shall we say, a mixed bag.
And so when the next coming out involves a Catholic Archbishop who was accused of sexual assaulting a seminarian and hiding pedophile priests, I'm reminded that there are those who I really don't want as a member of my club.
In a soon-to-be released memoir, A Pilgrim in a Pilgrim Church: Memoirs of a Catholic Archbishop
, former Milwaukee Archbishop Rembert Weakland acknowledges he is gay. He also discusses his struggles with his homosexuality and the teachings of the Catholic church. According to Publisher's Weekly:
When Weakland resigned as Milwaukee archbishop in 2002 after revelations of a past homosexual relationship and a confidential payout, it was seen as another stunning episode in the unfolding clergy abuse scandal. It was especially painful to liberal Catholics who viewed Weakland as their champion. Weakland was publicly penitent, but other events that year—chief among them the resignation of Cardinal Bernard Law in Boston—made Weakland's drama a footnote. With this frank and well-told memoir, that's no longer the case. A Benedictine monk, Weakland is up front about his homosexuality in a church that preferred to ignore gays, and about his failures in overseeing pedophile priests. But this is really the poignant journey of a soul, not a mea culpa about sex, with chapters on his hardscrabble boyhood and fascinating, and sometimes sobering, insights into the life of a bishop and the tensions between the American Catholic Church and the Vatican. At points the narrative has more than enough detail on the life of a globe-trotting abbot. But overall this is an invaluable historical record and a moving personal confession. (June)
Weakland stepped down soon after Paul Marcoux, a former Marquette University theology student, revealed in May 2002 that he was paid $450,000 in archdiocese money to settle a sexual assault claim he made against the Weakland. The incident allegedly occurred more than two decades earlier. Weakland denied the assault, but apologized for concealing the payment.
Weakland was a favorite among liberal Catholics because of his strong stance on social justice issues and liturgical reform. In a recent statement, Weakland said Christians needed to speak more openly about gays in the priesthood without the "hysteria" that often characterizes the debate.
Christmas Rainforests
Timothy Kincaid
December 22nd, 2008
Christmas Week is the time when all of Christendom contemplates the birth of the Christ. Even those of other faiths, or no faiths at all, might spend a moment to reflect on the impact that one person's birth has had on civilization.
So perhaps it is no wonder that at this time of tradition and reflection on the miracle of Christmas, that most Christian of all men, Pope Benedict XVI, has turned his thoughts to, ummm, rainforests and homosexuality?
The BBC is reporting that the Pope has yet again spoken out against homosexuality and compared protecting humanity from gays and the transgendered to protecting endangered rainforests.
When the Roman Catholic Church defends God's Creation, "it does not only defend the earth, water and the air… but (it) also protects man from his own destruction," the pope said.

"If tropical forests deserve our protection, humankind… deserves it no less," the 81-year-old pontiff said, calling for "an ecology of the human being."

It is not "outmoded metaphysics" to urge respect for the "nature of the human being as man and woman," he told scores of prelates gathered in the Vatican's sumptuous Clementine Hall.
I'm not saying the man's obsessed, but it seems that every time you hear from him he has something to say on homosexuality and each seems more extreme than the last.
But with this latest declaration, it sounds almost as if the Pope has declared war on gays. While that is indeed a bit troubling, maybe it should concern Catholics in the modern world far more than it does our community.
The last election showed 36% of Catholic Californians and 49% of Catholic Arizonans willing to buck the church's official stance on Propositions 8 and 102. And in Europe, Pope was not able to convince a single nation in the EU to refuse signing onto a UN position paper opposing the criminalization of homosexuality.
If the heirarchy of the church continues to become more extreme in its anti-gay positioning, the Church is more likely hurt itself more than the gay community. The Pope runs the risk of seeming to be an intolerant, out-of-touch, and increasingly irrelevant figurehead.
Is Pope Benedict XVI Just Being Ironic?
Jim Burroway
December 11th, 2008
The Catholic Church is not known for its ironic sense of humor. But how else do we read this statement from Pope Benedict XVI on the occasion of 60th anniversary of the Universal Declaration of Human Rights?
Some 60 years ago, on Dec. 10, the U.N. General Assembly, meeting in Paris, adopted the Universal Declaration of Human Rights, which still today constitutes a very high point of reference in the intercultural dialogue on liberty and the rights of man. The dignity of every man, really guaranteed only when all his fundamental rights are recognized, protected and promoted. The Church has always confirmed that the fundamental rights, beyond the different formulations and the different weight they might carry in the realm of the different cultures, are a universal fact, because they are inscribed in the very nature of man.

…I support these good wishes with the prayer that God, Father of all men, will enable us to build a world where every human being feels accepted with full dignity, and where relations between individuals and peoples are governed by respect, dialogue and solidarity."
The Vatican has taken a nonsensical, contradictory position by opposing a U.N. resolution calling for the elimination of anti-homosexuality laws around the world, even though a Vatican spokesman claims they oppose all criminal penalties against homosexuality. The Vatican has staunchly opposed the death penalty while opposing a measure calling on nations to lift the death penalty and other criminal penalties for LGBT people.
And despite all of that, the Pope calls for a world where people are "goverened by respect, dialogue and solidarity." What solidarity? What respect? What dialogue? I am truly at a loss for words.
I think maybe he's confused the meaning of Matthew 6:3. He must think it says, "Don't let your left hand catch what your right hand is doing.
U.S. Catholic Groups To Hold Vigils At Cathedrals
Jim Burroway
December 10th, 2008
Three Catholic groups which support LGBT equality have announced plans to hold vigils in five U.S. cities today to call attention to the Vatican's opposition to a U.N. resolution calling for the decriminalization of homosexuality. DignityUSA, New Ways Ministry, and Call To Action will hold vigils in the following locations:
Hundreds Protest Vatican's Opposition to Decriminalization of Homosexuality
Jim Burroway
December 8th, 2008
According to AFP, about 250 people protested in St. Peter's Square on Saturday over the Vatican's opposition to a U.N. resolution calling for member nations to decriminalize homosexuality.
Vatican spokesman Federico Lombardi exhibited more of the Vatican's intrinsically disordered logic by saying the Church opposed "all forms of violent or discriminatory penal law regarding homosexuals…. No one obviously wants to defend the death penalty for homosexuals." Some 80 countries have laws against homosexuality, with some including the death penalty or long terms of up to life imprisonment.
And yet the Vatican claims to oppose all "discriminatory penal law regarding homosexuals" by actively lobbying against a U.N. resolution calling for the repealing of all such laws. It certainly can't get any more contradictory than that.
Here is an Italian news report of the protest: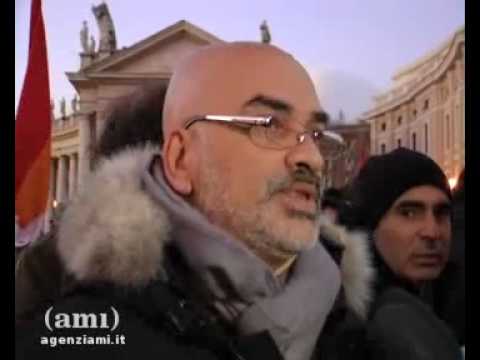 [Hat tip: Towleroad]
A Patronizing "Pastoral Message"
Timothy Kincaid
December 6th, 2008
Cardinal Roger M. Mahony, Archbishop of Los Angeles, has issued A pastoral message to homosexual Catholics in the Archdiocese of Los Angeles assuring gay Catholics that they "are cherished members of the Catholic Church, and that we value you as equal and active members of the Body of Christ".
I know what the Cardinal is trying to say. He just wants gay Catholics to know that this very personal action that he encouraged to harm their life wasn't personal. It's not out of some desire to hurt them, you see, it's just out of Mahony's absolute certainty about how things should be.
And that while he actively seeks to eliminate any measure of equality for same-sex attracted persons either in society or in the Church, he values them as equal members of the Body of Christ. You're equal in the eyes of God, you see, but dogma and doctrine require that you be treated as intrinsically disordered, not to be protected from death sentences, and psychologically suspect due to your "deep-seated homosexual tendencies."
Frankly, there are times that outright animosity is better. At least you know that the Phelpses are thinking about you when they carry signs saying "God Hates Fags".
But these folks who campaign to change civil law in some way that impacts only gay people and then turn around and claim that it has nothing to do with gays, well they just infuriate me. It's not that they declare us evil, per se, but rather that they refuse to consider us at all.
Consider the dismissiveness inherent in the Cardinal's refusal to even recognize that gay couples exist:
As we have come to learn over these past decades, there are many groupings of people residing under one roof across California. Some of these groupings are related family members, while others are companions and friends. There are now 17 rights for such companions and friends specifically included in the State of California's legal structure.
Having relegated decades-long committed loving relationships to "companions and friends", and having declared – in a moment of absolute absurdity – that Proposition 8 never "intended, directly or indirectly, to lessen the value and importance of gay and lesbian persons", the Cardinal arrogantly assigns the ill intention of the perpetrators of this attack on gay family onto the victims.
We are saddened that some people who opposed Proposition 8 have employed hurtful and accusatory language, and even threatening actions, against those who voted for Proposition 8. This is most unfortunate since such strategies obscure the basic matter at issue: the preservation of the ordered relationship between man and woman created by God.
At no point did Mahony acknowledge, much less apologize for, the hurtful and accusatory language of the Yes on 8 Campaign or the threatening actions against those who contributed against it. I guess the extortion letter signed by the Executive Director of the California Catholic Conference was justified by "the basic matter at issue".
This is not by any reasonable definition a "pastoral message". There is no recognition of the harm caused. There is no salve for the wounds in his flock. There is not even an admission that this political endeavor had the slightest of negative consequences on gay people.
There is only self-justification, lies about the intent and result of the campaign, and blame assigned to those who disagree with him – including those to whom this letter pretends to be addressed.
I'm not a Catholic so I cannot speak for those who are part of the Church. But were I one of Mahony's flock, I would find his smarmy patronizing self-congratulatory "message" to be an offense to me, my family, my friends, my God, and all decent people everywhere.
Vatican's Intrinsically Disordered Opposition To Decriminalizing Homosexuality
Jim Burroway
December 2nd, 2008
The Catholic church — as part of a what it sees as a consistent "pro-life" ethic — opposes the death penalty. But the Vatican's representative in the United Nations is opposing a measure calling on governments around the world to decriminalize homosexuality — including countries which impose the death penalty on gays:
Archbishop Celestino Migliore said the Vatican opposed the resolution because it would "add new categories of those protected from discrimination" and could lead to reverse discrimination against traditional heterosexual marriage.

"If adopted, they would create new and implacable discriminations," Migliore said. "For example, states which do not recognize same-sex unions as 'matrimony' will be pilloried and made an object of pressure," Migliore said.
The proposed measure does nothing to extend rights to anyone — unless you consider the elimination of the death penalty, imprisonment or fines for homosexuality a special right. Because that's all the proposed resolution does: it only calls for decriminalization.
Homosexuality is still punishable by imprisonment or fines in more than 85 countries. Some, including Afghanistan, Iran, Saudi Arabia, Sudan and Yemen, impose the ultimate penalty of death. A Vatican spokesman argues that the church is against all that, saying that "no one wants the death penalty or jail or fines for homosexuals." And yet the Vatican opposes a measure calling for the elimination of these very penalties that "no one wants." Because, according to the Vatican, the only way to prevent adding "new categories of those protected from discrimination" is to preserve the most egregious examples of discrimination — criminal sanctions against gay people.
No wonder an editorial in Italy's La Stampa called the Vatican's stance "grotesque." Me, I think that this sort of flawed and inconsistent reasoning is just instrinsically disordered.
UK Catholic Bishops Instruct Priests Not To Offend Gays
Jim Burroway
November 29th, 2008
New instructions from UK Roman Catholic Biships:
Roman Catholic priests have been banned from using 'heterosexist' language in their churches in case they offend gay worshipers. They have been told by their bishops not to assume that every churchgoer is a heterosexual and to reflect this 'in language and conversation'. 'Remember that homophobic jokes and asides can be cruel and hurtful – a careless word can mean another experience of rejection and pain,' say the bishops in a leaflet advising priests and worshippers how to be more welcoming to gay people.
I think maybe they need to address these instructions to some of the guys at the top.
The Vatican vs. The APA
Jim Burroway
November 17th, 2008
The Vatican has issued a statementcalling on Catholic seminaries to test applicants for psychological traits including "deep-seated homosexual tendencies." The document doesn't require psychological testing, but it does suggest that psychological evaluations could be useful to detect a "sexuality identity that is confused or not yet well defined." The Vatican had previously released guidelines barring gay men from entering the seminary unless they had been chaste for at least three years.
But as the Los Angeles Times points out, enlisting psychologists to root out gay men from the seminary could be a problem, especially considering the American Psychological Association's guidelines:
"Psychologists are aware of and respect cultural, individual and role differences, including those based on age, gender, gender identity, race, ethnicity, culture, national origin, religion, sexual orientation, disability, language and socioeconomic status, and consider these factors when working with members of such groups. Psychologists try to eliminate the effect on their work of biases based on those factors, and they do not knowingly participate in or condone activities of others based upon such prejudices."
So here's the thing. The problem the Vatican is trying to solve in the aftermath of its clergy sexual abuse scandals is pedophilia, not homosexuality. Pope Benedict XVI himself recognized that distinction last April when he addressed the scandals, saying "I would not speak at this moment about homosexuality, but pedophilia which is another thing. And we would absolutely exclude pedophiles from the sacred ministry."
So if the problem is not homosexuality, then what is this except an activity "based upon such prejudices"?
Any psychologist who cooperates with this witch hunt will find himself or herself in violation of the APA's guidelines.
Ex-Gay Group Courage Continues to Push Heterosexual Marriage as the Goal
Timothy Kincaid
October 29th, 2008
I have mixed feelings about the Catholic Church's ex-gay group Courage. On one hand they do make a place for same-sex attracted people who wish to live celebately in accordance with their faith without expectation of miraculous reorientation. They tend not to highly politicize their agenda or publically demean those who don't "become straight". And yet, on the other hand, they continue to perpetuate the myth that orientation is maliable.
From an LA Daily News article about how Catholic priests are feeling pressured to comply with the Church's anti-gay marriage campaign, some light is shed on the attitudes of the Los Angeles branch of Courage:
Harrigan oversees the Los Angeles chapter of the Roman Catholic-based Courage support group, modeled after 12-step recovery programs, for men and women renouncing gay and lesbian lifestyles. If they continue to feel homosexual attraction, members receive help in living celibately.

"In some cases, members finish the program and go on and marry members of the opposite sex and have children," Harrigan said. "As for the Yes on Proposition 8 campaign, I do hope members of the Catholic Church step up and vote."
Personally, I think it is the height of irresponsibility to encourage same-sex attracted persons to marry someone of the opposite sex and concieve children. The pressures on any marriage are great, and when one's primary sexual, emotional, and romantic attraction is naturally directed towards the same sex, the likelihood of long-term success is low. And to bring children into a such a relationship is rash and callous.
To set up marriage and children as an accomplishment, the "finished" stage of "the program", is cruel. It sets a goal that will be unacheivable for most "stugglers" and which will be disasterous for many, if not most, that reach it.