Hutcherson to Annoy Mt. Si High School Again
Timothy Kincaid
April 23rd, 2008
Rev. Ken Hutcherson is determined to be a general nuisance and all around pain in the ass.
He has opposed Washington's non-discrimination laws. He's threatened Microsoft with a hostile take-over because they support their gay employees. But now he's set his sights a bit lower – Mt. Si High School where his daughter attends.
He has tried to get two teachers fired. He's tried to get the Gay-Straight Alliance banned. He harassed and threatened the librarian. And now he's going to be protesting the schoolkids who observe the Day of Silence.
Oh yeah, while kids on the inside are silently bringing attention to bullying, Hutcherson will be outside presenting himself as a screaming ranting example of the type of threat that gay kids face.
On his church's website he says
Wednesday, 23 April 2008

Prayer Warriors, it's time to put on your knee pads and start praying! I am organizing a protest of Mt. Si High School and the Snoqualmie Valley School District. We will be protesting at Mt. Si High School on the Day of Silence, April 25 at 10:00 am. We have taken out a huge ad in the Snoqualmie Valley newspaper which will run next Wednesday. Please pray that over 1,000 people will participate.

Enough is enough. We have tried to work with the School District and they will not hear us. They will hear this protest. Pray it up! It's time to make a moral stand in our public schools.

Pastor Hutch!
Please, no one tell Pastor Hutch that by next Wednesday the event will be over.
The Stranger reports that Hutch also took to the airwaves to spread his own special brand of hate-the-gay.
The Monday radio program that featured Hutcherson claimed that several high schools in and around Seattle are trying to stop the event from happening. All of the schools contacted by The Stranger, however, including some of those mentioned on the program, said the activity is going forward—sponsored by students and without interference from school administrators. "Of course we would hope that there's tolerance of other people and other lifestyles, on any day of the year and not just one day," said David Tucker, a Seattle Public Schools spokesperson.
Fortunately, the Reverend Ken Hutcherson will not be the sole voice of Christianity or community to be heard by gay kids at Mt. Si
A group at Tolt Congregational Church in Carnation plans to run an ad beside Hutcherson's in Wednesday's edition of the Snoqualmie Valley Record reading, "We are One in The Spirit," and pledging to support the GSA. Another group, called "Friends of GSA," is encouraging Snoqualmie residents to confront Hutcherson's group outside of Mount Si on Friday morning, although McCormick isn't thrilled about that. "A school is not the right place for this," she said.
Poor Hutch. His efforts to stop the Day of Silence are not going to be any more effective than his bid to remove domestic partners insurance from Microsoft. But at this point I doubt that he has any illusions about his effectivity; he just likes to see his name in print.
Hutcherson Threatens and Intimidates High School Librarian
Timothy Kincaid
March 12th, 2008

Ken Hutcherson, known for his anti-gay activism, is continuing his harassment of teachers at Mt. Si High School where his daughter is a student.
The Snoqualmie Valley Record reports:
Mount Si librarian Elaine Harger said she had received an e-mail from Rev. Ken Hutcherson that referred to Mount Si's Gay-Straight Alliance as a "sex club" and asked if Harger wanted to be added to the list of Mount Si teachers he was pushing to have fired.

"What had I done to justify that he would try to get me fired from my job? This is intimidation, pure and simple," said Harger.
Hutcherson may call himself a Reverend and a Christian. He may even pastor a church. But I find his behavior to be indicative of a heart full of arrogance, anger, and self-righteousness and I want nothing to do with his form of religion.
UPDATE: (hat tip to reader a. mcewen)
The text of the letter was:
Dear Elaine Harger,

I see that my name was used many times in your letter to Mrs. Garding,(names removed). These are concerned parents, in which I am one, and not Hutcherson supporters as you have said. I could disappear at this very moment but the parents are not going away.

I want the teachers Kit McCormick and George Potratz fired and I will not stop until they are gone. Do you wish to be added to that list? I want the day of silence silenced and it will not happen during school time anymore. I have never said that the GSA should not be a club but have asked why a sex club is pushed on campus.

You have the right to invoke my name for being an invited guest, and as an invited guest that was treated very poorly, I demand that all students have a safe environment and not just the students of the GSA.

Do you think my daughter feels Mount Si is a safe environment for her? Do you think that conservative, ultra-patriotic, pro-war, Bible-stumpers as one administrator has said feels safe at Mount Si? Do you think Christian, Mormon, and any other religious groups of kid think Mount Si is a safe environment for them?

You and others may have wished I was never invited but I was so now you have to deal with me and how I was treated. I am here for the long run and I am not going away, even if letters like yours are continued to be written. Please do continue to write because I am collecting them for my case of a hostile environment for me as a parent, for me as an invited guest, for me as a Christian, and for me as a resident of the Snoqualmie School District.

Dr. Ken Hutcherson
Senior Pastor Antioch Bible Church
Hutcherson's Hate Sermon
Jim Burroway
February 24th, 2008
Watchman On the Walls cofounder Ken Hutcherson is at it again. This came from a recent Sunday sermon by the good reverend:
On a Sunday when Tarico was present, Hutcherson was preaching on gender roles. During his sermon, Hutcherson stated, "God hates soft men" and "God hates effeminate men." Hutcherson went on to say, "If I was in a drugstore and some guy opened the door for me, I'd rip his arm off and beat him with the wet end."

"That was a joke," Hutcherson said Friday, when I asked him about the comment. But it's not really funny, is it?
No it isn't at all. Especially in light of Lawrence King's recent murder. Remember, he was described as effeminate by his classmates. It's appalling to see a Christian preacher make light of violence like this. This man man has no sense of shame or decency.
With a constant torrent of statements like these coming from pastors, it's no wonder that nearly eight out of ten evangelical youth consider their own church to be "too anti-homosexual." Exodus International claims that they want to change that by "demonstrat[ing] love and compassion to homosexual individuals." And yet, Hutcherson has been a regular speaker at Exodus International's annual conference for some time now. If Exodus leaders proudly stand on the stand on the same stage as their "good friend" again this year, their sham will be vividly apparent to everyone.
Gosh, Why Would Hutcherson's Daughter Make the GSA Kids Uncomfortable?
Timothy Kincaid
February 19th, 2008
As we previously reported, Rev. Ken Hutcherson has expanded his war on the lives of gay people from Microsoft to Mt. Si High School.
Convinced of his moral superiority, Hutcherson has no hesitation in making outlandish demands and accusations. The new targets in his sights are the teachers who he feels disrespected him and the school's Gay-Straight Alliance.
Hutcherson told OneNewsNow
In addition, says the pastor and father, teachers at the school have approached his daughter — and on at least one occasion, one of his daughter's friends — in hopes of discouraging her from attending Gay Straight Alliance meetings in the aftermath of the assembly. They have reportedly advised that her presence causes members of the club to be "uncomfortable."
On his church website, Hutch has the following message:
The text reads:
This poster is hanging in the window of a classrom [sic] at Mt. Si High School!

It's time we wake up and realize we are in a culture WAR!

When teachers are allowed to hang posters like this in our local school, we've got a big problem. It's time to take back our schools.

Pastor Hutch
Hutcherson knows that the poster is a product of the students – or he should. So why is he complaining that a teacher was allowed to hang the poster? Because he knows that he won't be able to stir up anger against children and honesty always takes a back seat to effectiveness in war.
I don't know Hutcherson's daughter. She may be delightful. But if I were a student who was part of Mt. Si's GSA, I too would be uncomfortable to see her – or her camera – in the room. Her father has declared WAR on their lives, and it certainly appears that she is a soldier.
Hat tip: Good-As-You
Isn't It Ironic, Dontcha Think?
Timothy Kincaid
February 15th, 2008
If you're like me you've screamed at your radio, "No Alanis, rain on your wedding day is not ironic. It's just unfortunate." Irony is a discrepancy between what's expected and what happens, especially when enlivened by 'perverse appropriateness'.
For example:
Rev. Ken Hutcherson, an active opponent of gay civil rights, was invited to speak at Mt. Si High School on a day to recognize and honor Martin Luther King Jr's work for civil rights. No, that's not the example.
One teacher booed and one teacher questioned Hutcherson on his commitment to civil rights. Also, Hutcherson is very upset that some people in the community have began to think that he and his family are bigoted and homophobic because they hold anti-gay views. Still isn't the example.
And Hutcherson objects that his daughter has been made to feel stress when teachers told her that other students feel uncomfortable when she monitors the Gay-Straight Alliance meetings. OK, we're getting closer.
Although Mt. Si's principal apologized to Hutcherson, he refuses to let this go. And though the two teachers received a letter of reprimand, Hutcherson demands that they be fired. One booed him and one questioned him and they need to go! And if the school doesn't heed his demands they will "pay and pay dearly".
"You can see the arrogance that's going on in our public school system with the agenda of making our schools just so open and available to what the homosexual agenda is all about," he remarks. "I'm absolutely amazed at the stubbornness that we've run into in our public education system, especially with teachers who think that nothing can happen to them."
And that, Alanis, is ironic.
Hutcherson Attracts Conflict Again
Timothy Kincaid
February 9th, 2008
UPDATED: See Below
Rev. Ken Hutcherson is the senior pastor of a 3,500 member church in Redmond, WA. Hutch, as he's called, was also a linebacker for the Cowboys, Chargers, and Seahawks in the mid 70's. But what he's best known for is as a vocal opponent of civil rights and equality for gay people.
Hutcherson is a founder of the anti-gay group Watchmen on the Walls, which has been known to justify violence and murder, he's lobbied to overturn Microsoft's anti-discrimination policies (including a bizzare scheme in which he encourages Christians to buy shares of Microsoft and give them to him), and most recently seemed to reject the Christian notion of loving gay people ("The Bible says when a sinner will not separate himself from a sin then he is condemned with it.")
Hutcherson's beliefs are not a secret. But somehow the principle of Mt. Si High School in the Snoqualmie Valley either did not know or did not care about Hutch's very vocal and visible campaign to reinstate legal discrimination against gay folks in Washington State. So he invited Rev. Hutcherson to come speak at the school's Martin Luther King, Jr. Day assembly.
Hutcherson, whose daughter attends the school, did not speak about his homophobic social activism but instead discussed growing up black in Alabama.
But some students and teachers were shocked that such a vocal opponent of gay civil quality would be brought in to talk about civil rights on a day recognizing King's contributions. One teacher booed when Hutcherson was announced and another teacher asked Hutcherson at the end of his presentation how he could claim to speak about civil rights when he so actively opposed them for gay people. Hutch got offended.
The principle sent out a public apology to Hutcherson and gave each of the two teachers a "letter of discipline" in their permanent files.
Well this event has stirred up a firestorm in the community. The assembly has now been the subject of two contentious School Board meetings. Some parents are furious that any teacher should voice their "personal and political views" while others are angry that the administration would not support the teachers who stood up to bigotry. Hutcherson's wife, Jan, claimed at the meeting that the beliefs of Hutcherson have resulted in the family being "boldly called names like 'bigot', 'homophobe'".
But as the event was scheduled on his birthday, I can't help but wonder why no one is asking what Dr. King would have done had he been in attendance.
UPDATE:
Good-As-You brought to our attention a letter that Hutcherson wrote to his church:
Saturday, 09 February 2008

Dear Church,

Last night at the Snoqualmie Valley School Board Meeting, the teachers supportive of the Gay Straight Alliance drew a line in the sand, and I am stepping over it. I spoke to the Superintendent this morning and he promised, "…it's for the children."

I said I want him to protect my daughter and I want Kit McCormick removed from the classroom.

Another teacher at the meeting last night, George Potratz, said that if I am trying to repeal rights for gays, he thinks we should start a movement to bring back slavery.

Mr. Potratz does not deserve to be on the faculty of the school and should be fired immediately. Over the next few days, I will be talking with the School Board and the school officials.

My theme will be a line from a Pink Floyd song, "Hey! Teachers! Leave them kids alone!"

In response to what happened, one of our members, Steve Dudgeon, wrote the following letter: Click here to read!

Pastor Hutch
I find it very disturbing that this man is trying to bully the school into firing a teacher for simply asking him a question at a school assembly. Does he really think that getting someone fired for disagreeing with you is remotely "Christian"?
The letter is even more laden with martyrdom language. Hutch and his congregation believe that they are the victims whenever those whom they are attacking stand up to them.
I was amazed at the vitriol and hatred shown by several pro-gay rights teachers toward us as Christians. They hate our guts.
In some rather strange parable about bull fighting, Dudgeon argues that a Christian is to go into a bull ring and wave a red flag. If the bull charges, the Christian demands that the owner of the bull build a smaller ring.
Oddly enough, I think that pretty well describes Hutcherson's attitude and approach.
Hutcherson Reboots His Microsoft Project
Jim Burroway
January 7th, 2008
When last we checked in on this strange saga, Watchmen On the Walls co-founder Ken Hutcherson appeared before a Microsoft shareholders meeting threatening that if they didn't drop their support for equal treatment of LGBT employees, he'd become their "worst nightmare." Soon after, we learned that Hutcherson plans to pack Microsoft shareholders with like-minded investors. Today, the Seattle Post-Intelligencer reports that Hutcherson has a new financial venture to support this effort:
Hutcherson, joined by some of the country's most influential Christian leaders, has created a new organization, AGN Financial Network, to finance the effort. The worldwide venture asks people to buy three shares of company stock, and donate one to AGN. Its Web site tells visitors, "You have the power to change the world," and contains tips on how to open a brokerage account. Among the listed supporters are Richard Land of the Southern Baptist Convention and religious pundit Gary Bauer.

"We're not trying to hurt Microsoft or their shareholders, nor are we calling for a boycott of their products," volunteer spokesman Dennis Sullivan said. "We are trying to get Christians to buy their shares."
When we first reported on this plan, we did the math on what it would require to take over a $318 billion company. Not an easy did thing to do. The Post-Intelligencer also ran the numbers:
It would be difficult to influence company direction — just to gain a 1 percent stake in Microsoft, about 31 million people would each have to spend $104 to buy three shares. Microsoft has about 9.36 billion outstanding shares, and its largest holder is Chairman Bill Gates, with 858 million shares, or 9 percent of the total. Capital Research and Management Co. follows with nearly 557 million shares, or 6 percent.
Interestingly, Hutcherson thinks that Microsoft should confine its policies to "within its four walls," and that they should have no voice in public policy whatsoever. Hutcherson also thinks he is exempt from that same principle:
Hutcherson said it's not Microsoft's job to influence the public agenda, and that it should be left to others, like him.

"That's what my job is," he said. "I'm a pastor."
Some people seem to think the First Amendment doesn't apply to everyone.
Ken Hutcherson: Rejecting "Loving the Sinner?"
Jim Burroway
January 5th, 2008
There was a very quick article in Thursday's Christian Science Monitor about the Watchmen On the Walls. Yours very truly was interviewed for the story. The quote they used was a very quick one, about the Watchmen's militancy and explicitly theocratic leanings. I wish reporter Ben Arnoldy had included my explanation that I am very careful about who I label theocratic. It's a label that I very rarely use because very few fit it. But many of the Watchmen do. Nevertheless I think Arnoldy captured the gist of it.
Of course, I wasn't the only one contacted for the article. Among others, so was Watchman co-founder Kenneth Hutcherson:
The Watchmen is a Christian movement that doesn't teach hate or seek out violent followers, says Mr. Hutcherson, who is a pastor in Washington State. "God's word does not allow us to hate. It tells us to stand up for righteousness and call a sin a sin," he says. He rejects, however, the idea of loving the sinner while hating the sin. "The Bible says when a sinner will not separate himself from a sin then he is condemned with it. The one thing I'm trying to do is get heterosexuals out of the closet. We are the majority," he says.
If Hutcherson really rejected the idea of loving the sinner while hating the sin, that represents an about-face from fellow co-founder and holocaust revisionist Scott Lively's band-aide attempt in Riga, Latvia last November:
Say that with me. "We love the sinner, but hate the sin." That must be your phrase because that will protect you from being misrepresented.
Presented that way, it sounds more like a magical incantation instead of theology. Understandably, Hutcherson doesn't believe in magic. I get that. And since he's won't even avail himself of that simple fig leaf of a phrase, I guess the rest of the nakedness metaphor becomes appropriate as well.
The Watchmen In Riga, Part 1: "Become A Missionary To America"
Scott Lively announces his move to Springfield, Massachusetts, and invites the world to join him as "missionaries to America."
Jim Burroway
November 26th, 2007
The Watchmen On the Walls held another conference two weeks ago, this time in Riga, Latvia, home of Alexey Ledyaev's New Generation church. Ledyaev is one of the Watchmen's founders, along with holocaust revisionist Scott Lively and Seattle-area pastor Kenneth Hutcherson. This latest conference garnered very little attention here in the States, but since Ledyaev's New Generation church put the video of the entire conference on their web site, I thought it might be informative to learn what was discussed in Riga.
Pastor Alexey Ledyaev opened the conference on Wednesday evening, November 14, with a strident sermon on the weapons of spiritual warfare. While he described these "weapons" as spiritual in nature, the war metaphors were pushed to their most militant limits as he whipped the crowd into a frenzy:
Liberalism is penetrating into our brain, but we must return to the fundamental things and name things as they are. If God names it evil, then we must name it evil. When you tell the truth, strength comes to you.

…We're in the war and we're in it because of trophies — human souls.

Today our home is being ravaged before our eyes. Our weapons are being taken away. We were strong when we had those weapons.
Ledyaev stoked the crowd even further by describing the "danger" in the most ludicrous terms:
They are trying to wash our brains and explain that Bible is obsolete, that the form of the traditional family is obsolete. Today homosexualists boldly enter the schools with the bold slogan "Your kids are our kids. We will re-educate them." Sexually immature kids are being seduced and taught about traditional and non-traditional sex. They are forced to cross-dress in order to feel which orientation is inside them. They are being told that if you are born as a boy, it doesn't necessarily mean you will become a man. If you were born as a girl, it doesn't necessarily mean you will become a woman. It's all happening now.

The devil is ravaging our home and I want to ask our Church: where are we? We are told to surrender our weapons and be silent – but we are refusing to take this dictation down. Because we have another commander-in-chief and he tells us to act!
Things had calmed back a bit the following morning when American author and holocaust revisionist Scott Lively took the stage. And even though his talk was lower key than Ledyaev's, it was no less provocative.
Lively began by bringing the conference up to date with the Watchmen's activities over the previous months. He talked about going to Belarus, Ukraine, and Russia, and then followed that with an account of the U.S. conferences in Sacramento and Seattle. And here's where his grip on reality became somewhat tenuous. He began by talking about how the Watchmen had been "attacked" in a report from the Southern Poverty Law Center:
There's an organization in the United States called the Southern Poverty Law Center. This is a very powerful and influential organization. This is an organization that got its start fighting against the Ku Klux Klan and racism in the Old South in the United States. And it became very famous for fighting against hate groups.

Then in about the nineteen nineties, then there was very, very little racism left in America. And this organization had no more people to investigate. So they picked a new target, what they called the Christian Right. Christian Conservatives. And they began taking the side of the homosexuals against the Christians.
Lively then went on to embellish the story about the attention the Watchmen received in Seattle:
The devil was trying to kill Watchmen On the Walls in Seattle. But God was with us. We had a very good conference and we got publicity throughout the whole state of Washington that we never would have had. But at the very beginning of the conference we held a press conference. And we met with the media and we told them who we were. And we wrote a statement about the Watchmen On the Walls and who we are. My translator, Lev here has translated it and it will be posted on the Watchmen On the Walls web site.

And the next morning, when we came to the conference, the sidewalks was filled with homosexuals with signs attacking us. And the media was back again. They were looking to see if there would be a fight. But what they saw was Christians coming to together to praise God and to stand strong on the values that he has given us about the family. And the next day, in the biggest newspaper in the whole state, was a very positive story about Watchmen On the Walls and about how it was not the hate group that we had been called. Glory to God! Hallelujah.
The largest newspaper in the state, The Seattle Times, did indeed write about the Watchmen. But it does not appear to draw any conclusions about who they are, as Lively claimed in Riga.
But Lively was clearly flattered by the attention, calling the Watchmen a very important international movement. And since they are now "very important," they have to be careful with everything they say. "We have to understand that we are being watched by people all over the world. There are probably even homosexual spies in this room."
These "spies," Lively warned, would love nothing more than to catch someone associated with the Watchmen saying something ugly. And that's where Lively coached his Russian-speaking audience with a new phrase that he claimed would inoculate them against the charges of being a hate group:
In America, the Christians have chosen a phrase that explains what we believe. And you may have heard this phrase. "We love the sinner, but hate the sin." Amen? Okay. Say that with me. "We love the sinner, but hate the sin." That must be your phrase because that will protect you from being misrepresented. And it will bring you in harmony with Christians around the world.
And with that, Lively went on to speak in those "harmonious" terms that many Christians all over the world have used to describe gays and lesbians:
You have to understand how this battle works. We follow the God of truth. They Holy Spirit, who is called the Spirit of Truth, lives inside of us. But our adversaries follow the father of lies. Scripture calls him the "father of lies." They can't tell the truth, and they to tell the truth because they don't want people to listen to what we have to say. But we can't say anything that would give them proof that what they teach is right… So we must be wise as serpents and innocent as doves. We won't stop telling the truth, and they won't stop telling the lies. But this is a war.
That's quite a long ways from loving the sinner.
Lively ended his talk that morning with an announcement that he and his wife will be moving to Springfield, Massachusetts to join a New Generation church which serves the Russian-speaking community there. And he invited others in Riga to join him in his quest to change America:
We're going to Springfield as missionaries to America. We want to do the three tasks of the church. We want to take that goal of transforming society and to apply it in all the areas of life. And I want to invite you, whether you're here in Riga, whether you're watching on the Internet, or whether you're watching on DVD, come to Springfield. Come and be part of the experiment. Help us to develop New Generation and the Watchmen On The Walls into the English-speaking world.
(Thanks to Ruslan Porshnev of the Russian LGBT web site Anti-Dogma, for generously providing the English translations of the Russian speakers at the conference. You can read more about his work here.)
See also:
The Watchmen In Riga, Part 1: "Become A Missionary To America"
The Watchmen In Riga, Part 2: From Babylon To Jerusalem
The Watchmen In Riga, Interlude: A Pastor's Prayer
The Watchmen In Riga, Part 3: The "Secrets" Of Homosexuality
The Watchmen In Riga, Part 4: "A Militant Army Marching Against Evil"
Hutcherson's Plan For Microsoft: A Hostile "Christian" Takeover
Jim Burroway
November 16th, 2007
So we already told you about Pastor Ken Hutcherson's bluster before Microsoft shareholders last Tuesday, where he threatened the company with a "firestorm" if they don't change their nondiscrimination policies. Hutcherson was later reminded hat Microsoft's policies were affirmed by 97 percent of the shareholders last year. So what's a Watchman to do?
Well it looks like Hutcherson wants to take over Microsoft by packing it with new shareholders who will vote Hutcherson's way. So let's see… There are about 9.35 billion shares of Microsoft stock outstanding. And since stock is hovering around $34 per share, that represents a market capitalization of some $318 billion. For a man who can't even collect enough signatures in two attempts to get an innitiative placed on the Washington state ballot to overturn that state's anti-discrimination laws, that looks like a pretty tall order.
Hutcherson Threatens Microsoft; Microsoft Not Impressed
Jim Burroway
November 16th, 2007
Rev. Ken Hutcherson, pastor of Antioch Bible Church and one of the founders of Watchmen On the Walls, decided to drag his bullying pulpit to Mircosoft's annual shareholder meeting. You may recall that in Hutcherson persuaded Microsoft to withdraw its an employment anti-discrimination bill that was before the Washington state legislature which would have made it illegal to fire an employee due to their sexual orientation.  Without Microsoft's support, the bill was narrowly defeated.
A few weeks later, after furious protests from LGBT people from around the world and by Microsoft's own LGBT employee group, the company reversed itself and promised to support anti-discrimination legislation in the future. In January 2006, the bill came up again in the Washington legislature. This time it passed both houses of the legislature and was signed into law on January 31, 2006.
Hutcherson has been taking this defeat very personally since then. He twice tried to place a referrendum on the ballot to overturn the anti-discrimination law. Both time he failed to gather the required number of signatures. He has also threatened to launch a boycott of Microsoft, but so far talk of boycotts have been just that: talk.
And so to keep the bluster going, Hutcherson went to Tuesday's Microsoft shareholder's meeting where he issued another empty threat: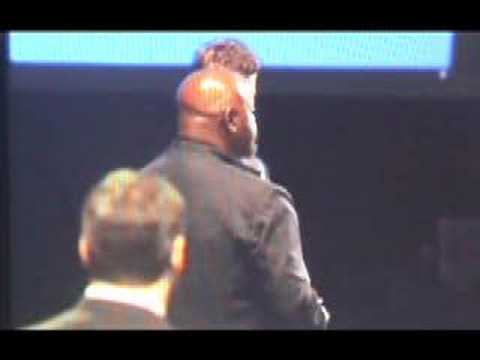 QUESTION: Good morning. My name is Ken Hutcherson. I want to ask a couple of brief questions, no answers necessary. This is really letting you know, that do you know the greatest firestorm as stockholders is coming towards the corporations for the cost of taking up the fight that Christians, Evangelicals, Catholics, Jews, and Muslims have stood against for years, and the second thing is the reason why this firestorm is coming is because I came to Brad Smith and Stafford Mays, who works in Diversity. We had worked out a plan to work together to improve our community. Thank you, Brad, for that opportunity. Thank you, Stafford, for that opportunity. And Mr. Steve Ballmer, CEO, stood and called me a liar. Thus, we are putting together one of the largest, one of the most powerful groups to come to deal with Microsoft on issues that we believe is hurting our society. And the reason why we are excited about this is because we know that we have the power behind us.

And as I close, I would like to let you know that sometimes our love to work with you as a partner to improve our community, that fails; thus, we have to come another way, and I am probably one of the worst nightmares that this corporation can have. I'm a black man with a righteous cause, with a great deal and a whole host of powerful white people behind me. I hope to hear from you so we can work together. If not, you will be hearing from me again. Thank you.

CHRIS LIDDELL: Thank you, Mr. Hutchison. I'll ask if there are any other questions from the floor. I believe there's one over there. Someone can you take a microphone there. Number three, thank you.
In the official company video at about the 51:42 mark (unfortunately the YouTube video above cuts off well before then), another shareholder rose to speak:
QUESTION: I own over 1,000 shares, and I also represent an investment club with many more shares. My question is for any particular person, it doesn't matter. What can shareholders do to support the corporation in opposition against hurtful, and hateful constituent actions, particularly and specifically Reverend Hutcherson? (Applause.)

BRAD SMITH: As a company we've had a clear policy with respect to the way we treat our people. And we believe in that policy. It's a policy that's founded on non-discrimination. It's a policy that we believe has served our employees well, it's served our shareholders well, and I think that reflected last year when all of our shareholders were asked to vote on that policy, and over 97 percent of you, and all of our other shareholders, stood up and agreed with us. I think that it is precisely in that form that shareholders had the opportunity to continue to make their views known, and we very much appreciate that support.
Hutcherson's bluster seems to have fallen with a hard thud. What do you think his next move will be? Switch his support to Apple?
Update: No, his next move is even more outlandish. He actually thinks he can take over Microsoft.
Watchmen Wrap-up
Jim Burroway
October 25th, 2007
The Watchmen On the Walls are trying to get their last impressions in on their conference last weekend in Lynnwood, Washington. While they had anticipated that about 600-700 people would attend the conference at the Lynnwood Convention center, only about 100 people actually showed up.
Now, ordinarily such a dismal showing would be seen as something of a failure. According to news reports, there appeared to be more protesters outside the conference hall than inside. But the Watchmen are gamely putting a triumphant face on the whole thing.
Latvian pastor Alexei Ledyaev put it this way:
I am very pleased with the way in which the conference took place in California and Washington. Surprisingly, the news media attack on the Watchmen in Washington has made us popular, and has brought us many new friends. … I am sure that next year there will be an even better Watchmen conference.
Taking the adage that there is no such thing as bad publicity, they appeared to have been especially pleased to have been on television this time. Sergei Prihodko, US Coordinator for the Watchmen, claimed that "according to some estimates," the publicity was worth half a million dollars.
Let's see… Half a million, divided by a hundred people…
But despite all the attention, the Watchmen could not avoid their ominous rhetoric. The Stranger's Eli Sanders observed:
Next Lively offers a disclaimer: "We do not promote or condone violence." It's quickly followed by more defiance: "We do not apologize for opposing homosexuality because it is morally, physically, psychologically, and socially wrong, unnatural, and harmful." Technically, Lively's statements do stop short of explicit calls to violent action, but they clearly lay the foundation upon which an impressionable and/or agitated mind could come to the conclusion that violence might be necessary to defend the Watchmen from their "enemies."
And while it's true that Lively, Ken Hutcherson, and others issued statements claiming that violence was not being promoted, there were some glaring inconsistencies. For example, Hutcherson said this about violence:
We have law enforcement, we have the police, and we have those who would say no that is wrong. And we have the responsibility if anyone is trying to take it that far to tell them that is absolutely wrong. That is not what the Bible teach. We're not going to stand on anything the Bible doesn't teach.
But holocaust revisionist and Watchman co-founder Scott Lively himself twisted the facts about Satendar Singh's murder to paint the assailants in a sympathetic light before a Watchmen conference last August in Novosibirsk. What's more, Lively has shown a violent streak himself. The SPLC reports that Lively was ordered by a court in 1991 to pay $20,000 to a lesbian photojournalist who he dragged by the hair through the halls of a Portland church.
And then there's this ominous statement from another prominent Watchman, Vlad Kusakin:
"All of the events that happened during the week before the conference look like a filthy provocation. There was an incredible stir in media. We were accused of everything. Of hatred, of ties with the KKK, of incitement to murder! Someone has thrown this hoax in to gain political points. So far I can not tell for sure, but it looks like the root of this provocation lies somewhere in Latvia, and soon we will make all efforts to find this source and present to the public those real instigators and racists who wanted to provoke a conflict in Seattle."
But if Mr. Kusakin really wants to find the "source" rather than a scapegoat, he needs to look no further than the Watchmen's own web site.
Low Turnout At Watchmen Conference
Jim Burroway
October 22nd, 2007

It looks like this past weekend's Watchmen On the Walls conference turned out to be a bust. Organizers of the conference had expected 600 to 700 people to show up to the convention center in Lynnwood, Washington, but according to news reports the conference drew only a little over a hundred. It would appear that there were nearly as many protesters outside the convention center as there were conference attendees inside.
Seattle television station KING was there with a video report on the conference. Box Turtle Bulletin was credited for relaying the video of the Scott Lively speaking at the Watchman conference in Novosibirsk last August.
The Watchmen On The Walls issued this statement Friday during a news conference before the start of the conference:
We are the Watchmen on the Walls.

We are a global coalition of men and women of every race, color and nationality who believe in the superiority of the natural family and marriage between one man and one woman.

We are against cohabitation, divorce, abortion, adultery and other behaviors that weaken the marriage-based society on which civilization depends. But we are especially focused against homosexuality, because those who practice this self-destructive vice, and have organized themselves into a political movement, are the chief enemies of the natural family.

We do not promote or condone violence.

We do not apologize for opposing homosexuality because it is morally, physically, psychologically and socially wrong, unnatural and harmful. This is self-evident to the vast majority of the citizens of the world, whom we represent.

…

We are the Watchmen on the Walls and we will not shrink from our duty.
Notice how they sandwiched a single statement about not condoning violence between statements characterizing homosexuality as "morally, physically, psychologically and socially wrong, unnatural and harmful" and the "chief enemy of natural families." While they don't seem to explicitly condone violence, they certainly couch their rhetoric in the language of warfare.
And in the face of real violence, Lively in particular has shown an amazing capacity to excuse it whenever it occurs. And Lively is no stranger to violence himself. According to the SPLC, Lively was ordered by a court in 1991 to pay $20,000 to a lesbian photojournalist he was accused of dragging by the hair through the halls of a Portland church.
See also:
Watchmen Wrap-up
The Watchmen: Protections for LGBT Youth Worse Than Holocaust Furnaces
Jim Burroway
October 18th, 2007
Earlier this week, California governor Arnold Schwarzenegger signed several pieces of legislation which improves the rights of LGBT residents of that state. Much of that legislation is designed to protect students from harassment and bullying in public schools by making sure teachers and school administrators fully understand their responsibilities to protect youth.
These protections for LGBT youth have generated howls of protest among leading anti-gay activists. Not the least of them are the Watchmen On the Walls, an emerging international anti-gay extremist group we've been monitoring recently. The Watchmen will be meeting in Lynnewood, Washington this weekend. We've already offered a preview of some of the virulent, hate-inducing rhetoric emanating from that group from a Watchmen conference held last August in Novosibirsk.
Another glimpse into what we might find at the upcoming confab can be found in last weekend's Watchmen gathering in Sacramento to protest the governor's latest moves. For example, Randy Thomasson of the Campaign for Children and Families spoke at that Watchmen meeting and said that the new laws in California will leave children "morally raped" in the classroom. And then there's this, from a translation of the Watchmen's Russian-language web site:
Vlad Kusakin, human rights activist and owner of "The Speaker" media holding company, told the audience: "Now it's time to rescue our children from the public schools as from a hellish furnace. Just like one who would prescribe the burning of kids in the Nazi's concentration camps furnaces, now 65 years later Arnold Schwarzenegger opened furnaces which are even worse for our children by his signature. Pray and fast for the kids and families of California and take your kids out of public schools".
We earlier reported on Scott Lively's influence in the Slavic-American evangelical community. That influence comes mainly from his book, The Pink Swastika, where he blames gay people as being behind the formation of the Nazi Party and carrying out the Holocaust. This theory has been readily accepted among a population who suffered mightily at the hands of the Nazis during World War II. You can see this reflected in Kusakin's remarks.
Lively, who with Seattle-area pastor Kenneth Hutcherson, and Riga, Latvia megachurch pastor Alexey Ledyaev, founded the Watchmen. Lively also spoke in Sacramento. Again, according to the Russian language web site:
Scott Lively, human rights activist, historian and lawyer, stated that "in American legislatures there are ways to pass, as well as to repeal, any law. Therefore, the only thing we're lacking in the struggle for Judeo-Christian morality is the unity of the churches and the courage of clergy. Let's put away our denominational ambitions and unite our prayers and efforts for the sake of rescuing the civilization."

George Neverov cited statistics on deaths and diseases among homosexuals, and he also demonstrated that 3% of population is dictating the moral principles of life for the rest of overwhelming majority: "For how long shall we cowardly bend before a morality that is alien to us? For how long shall we swallow all that loathsome stuff that is imposed on us by immoral law-makers and minorities? When, O Church, will you raise in prayer and spiritual battle over the land that is entrusted to you?"
Ken Hutchison dismissed objections to the Watchmen's violent rhetoric, telling The Seattle Times: "You're going to have extremists on any aspect on any teaching." But these extremists aren't just some fringe part of the Watchmen movement. Lively and Kusakin, along with Hutcherson, are among the most prominent U.S.-based leaders. In the Watchmen world, these guys don't represent the extremes; they're at the very the core of the movement.
The SPLC's Casey Sanchez reported that the Watchmen "routinely deliver hateful screeds on the airwaves and from the pulpit in their native tongue that, were they delivered in English, would be a source of nationwide controversy." Maybe it's time we learned a little Russian.
Thanks to Ruslan Porshnev for his help with the translations.
From Novosibirsk To Lynnwood
International hate group Watchmen on the Walls will gather in Lynnwood, Washington Oct 19-21. Their conference in Novosibirsk last August may provide a provocative preview.
Jim Burroway
October 14th, 2007
The international anti-gay extremist group Watchmen on the Walls will hold a conference in Lynnwood, Washington October 19 through 21. Unfortunately, the Lynnwood Convention Center doesn't appear to know who they are dealing with:
The venue is owned by the Lynnwood Public Facilities District, a public taxing district that operates the convention center but is separate from the city.

"Our understanding is that they're law-abiding. They have a right of free speech just like any other group," said Mike Echelbarger, the board's chairman.

"If we were talking about the (Ku Klux Klan) we'd have a totally different take on it. Of course we wouldn't rent to the KKK," he said.
Of course, they wouldn't rent to the KKK. But as we reported earlier, they may as well. The rhetoric the Watchman use has often been violent, using the rhetoric of warfare in their speeches and writings. Founded by Redmond, Washington by preacher Kenneth Hutcherson, holocaust revisionist Scott Lively, and Latvian megachurch pastor Alexey Ledyaev, Watchmen on the Walls have gained a tremendous amount of influence in Latvia, Lithuania, Ukraine and Russia. Ledyaev's fomenting of anti-gay hatred in Riga, Latvia led to violence when skinhead and other demonstrators threw excrement and eggs at Gay Pride participants in 2006.
And as the SPLC recently reported, the Watchmen also represent an increasingly violent anti-gay movement among Slavic evangelical immigrants in several U.S. cities which have previously been known as being gay friendly. In July 2007, a group of Russian-speaking men killed Satendar Singh, a 26-year-old gay Fijian of Indian near Sacramento, California. Two men, Andrey Vusik, 29, and Aleksandr Shevchenko, 21 were charged in connection with Singh's death. Vusik fled to Russian in July and is being sought by the FBI. Ledyaev and Lively have refused to publicly condemn the killing.
Scott Lively (right) at the Watchmen conference in Novosibirsk, Aug 16-19.
I recently learned that the Watchmen held a conference last August in the Siberian capital of Novosibirsk in the Russian Federation. Scott Lively appeared at that conference, where he described Singh's killing to his Russian audience his way:
Now, I've been working with the Russian community in Sacramento. And I want to tell you this is an example of how bad things are in the United States. Because we've come to a place in the United States where the homosexuals have achieved very high power. And they've begun to punish… They've begun to cause the political powers to punish anyone who says that homosexuality is wrong.

There was a situation in Sacramento a few weeks ago in a public park. There was a group of homosexuals and they were very drunk and one of the homosexual men was taking off his pants. And there were children in the park. And a Russian man went over to these homosexuals and he was rebuking them and there started a fight. And the Russian man punched the homosexual. [The audience starts to shout and applaud.] No, no, no, don't… The man was very drunk… the homosexual was very drunk. He was very drunk and he fell down and he hit his head and he died. [Some in the audience start to applaud and laugh] No…. no…

Now the Russian man has been accused of murder and the FBI is seeking him. And all of the powers in Sacramento have been accusing all of the Russian community of being murderers. And the goal is to silence everyone who speaks against homosexuality. And this is a very dangerous situation because we don't want homosexuals to be killed. We want them to be saved. Amen?
Do you feel the love?
Scott Lively's fame in the Slavic-American evangelical community stems from his book, The Pink Swastika, where he blames the rise of Nazism in Germany on gays. This theory has been readily accepted among a population who suffered mightily at the hands of the Nazis during World War II. In a June 23, 2003 letter to the Washington Times, Lively wrote that "No clear-thinking person believes that the homosexual sexual ethic and that of the family-based society can peacefully coexist. …One must prevail at the expense of the other." He repeated and expanded that war rhetoric in his remarks in Novosibirsk:
There is a war that is going on in the world. There is a war that is waging across the entire face of the globe. It's been waging in the United States for decades, and it's been waging in Europe for decades. It's a war between Christians and homosexuals.

This is a war you haven't seen yet. You've only seen a little bit of it, because Russia had been protected against the homosexual movement by the Communists. One of the few good things that the Soviet Union did is that it stopped the sexual revolution from infecting the Russian people. But all across the West, the sexual revolution changed the culture of the nations. The sexual revolution embraces the idea that there should be no limits on sexual conduct.

And this is the design of the Devil to destroy civilization, because civilization is based on the natural family. One man and one woman united in marriage bringing children into the world and training them to replace them in the next generation. That's the foundation of civilization and the heart of Christian living.

And in the United States where the sexual revolution began, it was the homosexual political movement that designed this strategy to attack Christianity. The homosexual movement teaches sexual freedom, and its first target is the heterosexual people. The homosexual activists stayed hidden but they taught this philosophy through their activists. And out of the philosophy came the principalities and powers that is destroying the West: The pornography industry, the abortion industry, and the destruction of marriage through divorce.

These things are the product of a way of thinking. They deny the Truth of God. They deny the design of God for human beings. And their purpose is the change the cultures of the world.

Now, the homosexual movement has been winning this war in the United States, and it has been winning this war in Europe. And we're looking at the future collapse of Western civilization. And Watchmen on the Walls is an organization to fight against this collapse. Watchmen On the Walls is an organization of men and women with courage, who will stand on the Truth of God and without compromise demand that the culture will follow the guidance of God. That marriage and family must be held at the highest level.
Ken Hutcherson has been equally blunt with the war rhetoric, telling the Seattle Times last January, "We better wake up. This is a war." Hutcherson went to Latvia last March to speak at Ledyaev's church in preparation for this year's Pride celebrations. While there, he claimed that he was speaking on behalf of President Bush, saying that the White House's Office of Faith-Based and Community Initiatives named him "Special Envoy for Adoptions, Family Values, Religious Freedom, and Medical Relief." When the Seattle Stranger asked the White House about it, spokeswoman Alyssa J. McLenninghen said nobody gave Hutcherson any such title or authority to speak on behalf of the White House. Hutcherson promised to prove his status by producing video of him being given the "power," but no such proof has surfaced.
According to a translation of the Watchmen On the Walls website, Vlad Kusakin says the conference in Lynnwood is intended to promote the "protection of traditional Christian and moral values, which, owing to the liberalization of mores are under threat of extinction." Kusakin is the host of a Russian-language anti-gay radio show in Sacramento and the publisher of a Russian-language newspaper in Seattle. He is also one of the speakers at the conference. Scott Lively rallied his Novosibirsk audience with a similar mandate:
If we allow the people who hate God to take control of all the centers of power, then they will change all of the rules and they will put barriers in the way of the Gospel. They will prevent us from telling the truth to the people around us. But if the people of God can step forward and take control of the centers of power, then we can make the rules work in favor of the Gospel. We can use the government to help us tell the message of Jesus Christ. And we must do this!
Hat tips: Ruslan Porshnev and BTB reader Tom.
See also:
Ever Wonder What Anti-Gay Hatred Sounds Like In Russian? — for video of Scott Lively's talk last August in Novosibirsk.
The Watchmen: Protections for LGBT Youth Worse Than Holocaust Furnaces