District Attorney on King Case Dismisses Quest's "Blame the Victim" Defense
Timothy Kincaid
May 9th, 2008
Karen Ocamb, writing for the Advocate, interviewed Senior Deputy District Attorney Maeve Fox about the murder of Lawrence King, a 15 boy shot by a classmate because he was gay. Although William Quest, the defense attorney for King's killer, Brandon McInerney, has been telling the press that the blame should lie with King or with the school district, Fox isn't buying it.
Fox declined to say if she thought Quest would mount a "gay panic defense" – saying that McInerney murdered King because the gay boy came on to him. However, Fox scoffed at any "blame the victim" defense as an "absolute failure to acknowledge personal responsibility." Any "heat of passion" defense," Fox said, requires an immediate, unforeseen reaction to an objectively overwhelming provocation and the absence of malice of forethought – the exact opposite of premeditation, which is what McInerney is charged with.
Fox further explained her thinking and why the DA wants to charge McInerney as an adult with premeditated murder with a special allegation of a hate crime.
"When you kill someone, to me you need to be incarcerated away from the public for a long time. Because to me, you've demonstrated that you're dangerous. That's why we have such lengthy sentences for murderers because you don't want to just say, 'Now don't ever do that again!' They're dangerous people in most cases – unless it's some extreme case where the person was under duress – in those cases we generally work out some kind of plea or arrangement. What I'm thinking of is battered women, people who kill under extreme circumstances.

"But if it's a situation where it's unprovoked and premeditated," Fox continued, "then I would say in pretty much all of those cases, that public safety is a tremendous concern for me. And punishment is very high on my list of priorities. I'm very big on personal responsibility. And unless you can show me that you had a really, really, really good reason for doing what you did, I think you should stand up and be accountable for it. And you should be punished because otherwise we would live in pure chaos. These are the rules we've set up for each other and to me, it's a very important part of this job."
Lawyer Blames School for King's Shooting
Jim Burroway
May 8th, 2008
Deputy Public Defender William Quest is something else. Quest is the lawyer for 14-year-old Brandon McInerney, the teen accused of shooting Lawrence King point blank in the head at E.O. Green Junior High School in Oxnard, California February 12. Last April, Quest blamed King's death on King himself. Today, he's decided that it's the school system's fault:
Educators should have moved aggressively to quell rising tensions between the two boys, which began when King openly flirted with McInerney, said Deputy Public Defender William Quest. Instead, administrators were so intent on nurturing King as he explored his sexuality, allowing him to come to school wearing feminine makeup and accessories, that they downplayed the turmoil that his behavior was causing on campus, Quest said.
Larry King Speaks Up For Lawrence "Larry" King
Jim Burroway
April 23rd, 2008
Mark Malkin talked to GLSEN president Kevin Jennings about Larry King's Public Service announcement:
GLSEN president Kevin Jennings tells me that King immediately agreed to participate when they contacted him. "Larry King helps us reach the kind of mainstream audience he speaks to every night," Jennings said. "I don't necessarily see this as a YouTube phenomenon, but I see this reaching a much more traditional audience."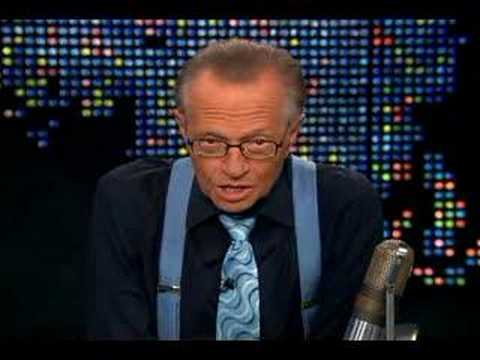 Click here to read the transcript.
Defense Blames Lawrence King for his Own Murder
Timothy Kincaid
April 21st, 2008
Deputy Public Defender William Quest, the defense attorney for Brandon McInerney, the 14 year old who shot his 15 year old gay classmate Lawrence King, has made statements intended to fuel blame against the victim.
From the Ventura Star
Quest said he believes school administrators supported one student expressing himself and his sexuality — King — and ignored how it affected other kids, despite complaints. Cross-dressing isn't a normal thing in adult environments, he said, yet 12-, 13- and 14-year-olds were expected to just accept it and go on.
Mr. Quest is not being accurate. Other than boots and jewelry, King did not cross-dress; he wore the school uniform.
Further, Mr. Quest is not allowed to use gay panic as a defense in his case. California law does not allow it.
A.B. 1160 declares that it is against public policy for a defendant to play upon the bias of the jury, or for a jury to allow bias against the victim to enter into its decision-making.
So, other than efforts to disparage young Mr. King or to taint the jury pool, it isn't clear what Quest is hoping to achieve by such claims. Sadly, I fear that his statements may just be the result of the common belief that gay people deserve the violence enacted against them.
Gay Groups Ask for Leniency in Lawrence King Murder
Jim Burroway
April 15th, 2008
A coalition of 27 LGBT activist organizations is urging the Ventura County, California District Attorney to charge 14-year old Brandon McInerney, Lawrence King's murderer, as a juvenile. McInerney shot King, 15, point blank in the head on February 12th at E.O. Green Junior High School in Oxnard, California. With hate crime enhancements, McInerney faces up to 27 years in prison if he is charged as an adult. But citing an overall "climate of intolerance and fear about sexual orientation and expression," the coalition feels that prosecuting McInerney as an adult would "compound this tragedy with another wrong."
The press release, which is not yet available online, reads:
A coalition of 27 groups fighting for lesbian, gay, bisexual and transgender rights today is urging Ventura County prosecutors to try 14-year-old Brandon McInerney in juvenile court, and not as an adult. McInerney has been charged as an adult in the February 12 murder of his E.O. Green Middle School classmate, 15-year-old Lawrence King. Students say McInerney targeted King because the victim was openly gay and because he wore women's jewellery and makeup.

LGBT civil rights organizations, including Lambda Legal, the National Center for Lesbian Rights, and the Transgender Law Center, have delivered a short statement to Ventura County District Attorney Gregory D. Totten, calling on him to try McInerney as a juvenile.

"We are saddened and outraged by the murder of junior high school student Lawrence King," the statement reads. "At the same time, we call on prosecutors not to compound this tragedy with another wrong "we call on them to treat the suspect as a juvenile, not as an adult.

"The facts in this matter seem clear: one boy killed another in a climate of intolerance and fear about sexual orientation and gender expression. The alleged perpetrator, who turned 14 years old less than three weeks before the shooting, should be held accountable for his actions. But we support the principles underlying our juvenile justice system that treat children differently than adults and provide greater hope and opportunity for rehabilitation. In addition, public safety is not served by treating children as adults. According to research released by the Centers for Disease Control in 2006, children transferred to adult court are more likely to re-offend than those committing similar offenses who remain in the juvenile justice system. California law does not require District Attorneys to prosecute 14 year-olds as adults, even in circumstances such as these, and we oppose them doing so. We are issuing this joint statement because we believe so strongly in principles of justice that protect all our young people and know that, even in the face of strong emotions, we should not abandon them. We refuse to let our sense of outrage blind us to the fact that the suspect is only 14 years old.

"Prosecuting the alleged perpetrator as an adult will not bring Lawrence King back nor will it make schools safer for LGBT youth. We must respond to this tragedy by strengthening our resolve to change the climate in schools, eliminate bigotry based on sexual orientation, gender identity or expression and hold schools responsible for protecting students against discrimination and physical harm."
The list of signatories include: American Civil Liberties Union of Northern California; American Civil Liberties Union of San Diego and Imperial Counties; American Civil Liberties Union of Southern California; Ally Action (CA); Children of Lesbians and Gays Everywhere (COLAGE; national); Community United Against Violence (San Francisco); Different Avenues (DC); Equality California; Gay Straight Alliance Network (CA); Gay & Lesbian Advocates & Defenders (GLAD); Human Rights Campaign; LAGAI – Queer Insurrection; Lambda Legal; LifeWorks Mentoring (Los Angeles); Los Angeles Gay and Lesbian Center; National Black Justice Coalition; National Center for Lesbian Rights; National Center for Transgender Equality; National Gay and Lesbian Task Force; Parents, Families and Friends of Lesbians and Gays (PFLAG) National; Safe Schools Coalition; San Francisco LGBT Community Center; Sylvia Rivera Law Project (New York); TGI Justice Project (CA); Transgender Law Center; The Lesbian, Gay, Bisexual & Transgender Community Center (NY); TransYouth Family Allies, Inc.
LA Times Article about Larry King
Timothy Kincaid
March 8th, 2008
The Times has a good article filling in a few details of the life of young Larry King, a 15 kid shot by a schoolmate because he was gay.
Larry had searched elsewhere for a safe harbor. After he landed at Casa Pacifica, he joined a youth group sponsored by the nonprofit Ventura County Rainbow Alliance, which offers social services to the gay community.

Alliance Executive Director Jay Smith would not reveal what Larry had talked about during the group's Friday night meetings. But Smith said that no teenager should have to wake up in a shelter knowing the school day ahead would bring a fresh heap of rejection and scorn. "Not having a mom or dad to run to. . . . I can't imagine what that is like," he said. "His life was tough."
While there is no part of this story that isn't tragic, it is encouraging to know that there was someone to turn to. When anti-gays and homophobes claim that youth groups or Gay-Straight Alliances are "recruiting" and "sex clubs", think of Larry King.
Ellen DeGeneres Discusses Larry King's Murder
Jim Burroway
February 29th, 2008
I can't think of a single thing to add to this:
In Response To the Murder of Lawrence King, Where Is the Voice of the Church?
This commentary reflects the opinions of the author, and is not necessarily those of the other contributors of Box Turtle Bulletin.
Timothy Kincaid
February 18th, 2008
If you want to infuriate a conservative Christian, suggest that the church is at least partially responsible for anti-gay violence.
The response is quick, harsh, and brimming with indignation. How dare you suggest that the church supports violence? Why, the very admonitions against murder are from the ten commandments, you know! The church is full of love, love, love, love for "persons suffering with same-sex attraction".
I do not doubt that sermons within the church talk about love. About being kind. About showing mercy. All while opposing sin and the vile agenda of sinners. One should love the sinner and hate the sin.
But only one part of that message seems to make it outside the church doors.
Much is said about homosexuality by the self appointed voices of Christianity. One cannot go a day without some proclamation about destroying society, or an evil agenda, or protecting children, or some such thing. It is clear that "Christianity" feels threatened by and is in opposition to "the Homosexual Agenda".
But is it opposed to violence against gay people? And if so, how would anyone know?
In the wake of the murder of 15 year old Lawrence King by a classmate apparently motivated by King's non-gender-conforming appearance and openness about his sexual orientation, the community of Oxnard has been asking itself hard questions. Why did this happen? What could we have done differently?
And the community has joined together to express its sorrow and its love. A hastily organized rally by two sophomore students resulted in over 1,000 children showing their support for tolerance and peace. Editorials and letters to the local paper have called on the community to look at its part in the tragedy.
But one group has been strangely silent. One voice has had nothing to say about retrospection or self-examination. One voice has not been raised to condemn either the harsh treatment of Lawrence King when he was alive or his brutal execution.
I have searched and as best I can find, in the days since King's murder, the sole discussion about this tragedy from Christian media has been limited to a single CNS article by Susan Jones titled "Hate Crime Charges Against Teen Who Shot 'Feminine' Boy". This, incidentally is from a media source that actively opposes hate crimes legislation.
At no point did the article indicate that it was heinous, immoral, or even slightly inappropriate that Lawrence King was murdered for his orientation. But it did declare that "homosexual activists have seized on Lawrence King case" and that "some conservative groups say California has gone overboard when it comes to "sexual indoctrination" in the schools".
Perhaps the church in Oxnard mourns the loss of one of the community's children. But if it mourns, it does so silently. I am confident that sermons on Sunday sought to bring comfort to congregations, but if there was any outcry against the homophobia that led to King's death, it was not public.
But the greater voice of Christianity has not been silent since Larry was shot.
In the past few days, CBN tells us that homosexuality is about relational brokenness and that it's possible to change your orientation. OneNewsNow (AFA) reports Rev. Ken Hutcherson calling a Gay-Straight Alliance a "sex club" without even suggesting that perhaps his accusation may be extreme. The California Catholic Daily reports that in California young children are to be "educated" to approve of the homosexual lifestyle and a Christian leader says "You have to get them out. You have to rescue them".
And it is not just within the Christian press that homosexuality has been decried as evil this week.
From the Battle Creek Enquirer:
"I don't define myself against other churches, but I am very scriptural and I don't shy away from the hard scriptural passages," said Griffin, who has recently tackled issues such as homosexuality, adultery and pornography. "I believe the truth is spoken in love. I don't just pound the pulpit."
From the Louisville Courier-Journal:
Presbyterians may disagree with their church's ban on ordaining noncelibate gays and lesbians, but they must follow the rules, according to the Louisville-based denomination's highest court.
From the Arizona Daily Star:
Leaders from five Anglican provinces said Friday they will boycott a once-a-decade world Anglican summit because the U.S. Episcopal Church ordained a gay bishop.
Yes there are denominations, churches, and individuals that are seeking to include gay people in the body of Christ. And they are seeking to have their voice be heard.
But sadly, if you asked the random stranger on the street, "What do Christians believe about gay people," the answer would not be that gay people are to be loved as your neighbor or that they are equal children of God. Rather, you are going to hear time after time that the church condemns gays and lesbians and opposes their rights and equality.
So I ask – if the church opposes violence against gay people and seeks to show love, why does no one see it? If the church finds the murder of Lawrence King to be heinous and disgusting, why cannot I find words to that effect? If murder is at least as bad as homosexuality in the eyes of the church, why don't the articles of Christian news-sources or the quotes of preachers and other religious leaders reflect this?
Tell me, just who is to blame for the message that the world has heard from the church this past week… if not the church?
Students March for Lawrence King
Jim Burroway
February 17th, 2008
Last Friday, we reported on a memorial march for Lawrence King, the 15-year-old student who was shot and killed by a classmate because he was gay. There was another march Saturday, this time organized by Oxnard, California students. They had expected only a few hundred to show up. But much to the surprise of organizers, school officials and police, more than a thousand turned out to remember Larry.
Vigil And March For Lawrence King Tonight
Daniel Gonzales
February 15th, 2008
A vigil organized by the Ventura County Rainbow Alliance is being held tonight (Friday). Supporters will gather at the Art Barn (856 E. Thompson) at 7pm and proceed to the pier.
Update: Friends, classmates, and total strangers gathered for a quiet and solemn remembrance: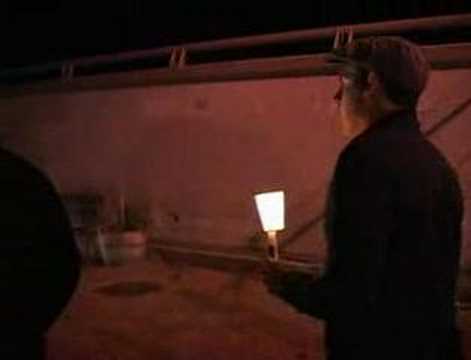 Gay Eighth Grader Fatally Shot
Jim Burroway
February 14th, 2008
Lawrence King, a 15-year-old student at at E.O. Green Junior High School in Oxnard, California was shot at least twice in the head by another classmate last Tuesday. Fellow students say that King was gay and was often taunted by fellow students.
King was rushed to St. John's Regional Medical Center, where he was initially listed in critical condition. By the end of the day, his condition was reportedly improving. But today we learn that he has been declared brain dead by two neurosurgeons at the hospital on Wednesday at 2 pm. He is being kept on life support so his organs can be harvested for transplant.
Police said the 14-year-old Brandon McInerney shot King at the start of the school day and fled the campus. He was arrested by police a few blocks away. Today, prosecutors charged him with premeditated murder, with a special allegation of using a firearm in the commission of a hate crime. Once King is removed from life support, prosecutors have indicated they will try McInerney as an adult.
Lawrence's father described his son as "headstrong, confident, artistic and sweet":
Larry King loved to sing songs by folk rock trio Crosby, Stills and Nash, and was studying "The Star-Spangled Banner" in hopes of singing it at his younger brother's baseball games, his father said. "He had a very gifted singing voice."

…He also enjoyed using licorice sticks to catch crawdads at Bubbling Springs Park in Port Hueneme, where his family would go for his younger brother's baseball games.
In 2001, the Journal of Public Health reported on the results of the National Longitudinal Study of Adolescent Health, which found that gay youth are almost twice as likely to be subjected to extreme forms of violence requiring medical attention. According to the Los Angeles Times, a 2002 California Department of Education study found that a student who is thought to be gay is five times more likely to be threatened or injured by a weapon. And yet in the face of all this, California social conservatives continue to express outrage that the California schools are required to address the problem of bullying in schools. In 2008, does it still require the tragic death of an eighth grader to justify safe schools for everyone?