Defeated Ugandan Anti-Gay Minister Blames "Political Mafia"
Jim Burroway
September 12th, 2010
Uganda's Minister of Ethics and Integrity James Nsaba Buturo, the staunch supporter of the draconian Anti-Homosexuality Bill who was defeated in the ruling NRM party's primary elections a week ago, is not going quietly into the good night. He is declaring instead that his loss was orchestrated by "political mafia", while a party spokesman effectively tells him to STFU: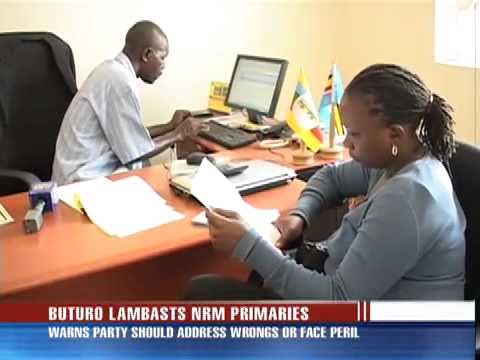 Did Buturo become too much of a liability for the Ugandan government? Perhaps. NRM's conduct of its own party elections does appear to be a showcase in corruption, but undoubtedly its a form of corruption that suits party leaders. While President Yoweri Museveni is coming under criticism for the chaos, it's not difficult to imagine that at least some of those outcomes were in line with his goals. When you're dealing with a president who is in his twenty-fifth year in power, you can expect that very little happens by accident.
While it is difficult to read the tea leaves from so far away, I suspect that Buturo may have become too much of a problem for Museveni. During the international outcry over Uganda's proposed Anti-Homosexuality Billlast winter, tensions appeared to have already formed within the Ugandan government. In one camp was President Museveni, who had to deal with international condemnations and threats to foreign aid. His approach was to urge lawmakers to "go slow" on the legislation while he appointed a special cabinet committee to come up with a way out of the mess. That committee recommended that the bill be "rejected" while agreeing that some passages should be passed under other guises (namely, Clause 13 of the bill which would outlaw all advocacy on behalf of LGBT people.)
But Buturo placed himself in an entirely different camp. He strongly rejected the committee's recommendation, denounced the committee for allegedly meeting in secret without him, and demanded that the bill be passed in its entirety. (The bill still remains sidelined, for now.) And that wasn't Buturo's first act of defiance on behalf of the bill. At one point last December, Buturo may have been responding to  some sort of message from higher-ups when he suddenly announced that he would remain silent about the proposed law "until it has been passed or defeated." That silence barely lasted a week,
And with that, the two camps appeared to have been well established, with Museveni trying to calm international outrage over the bill while Buturo remained a stubborn supporter of the bill's passage. But the problem for Buturo is that in a country like Uganda, there is only room for one camp and Buturo wasn't in it.
Now maybe Buturo's loss really was the result of a legitimate voter backlash against the incumbent. Or maybe, as Buturo charges, his primary challenger won because of corruption and bribes. With such rampant corruption, Buturo's complaint is very credible. But observing, as we are from afar, a country in which the ruling party completely controls the so-called "independent" election commission, and whose president is very determined to extend his rule to at least thirty years, it appears highly plausible that Buturo's loss may have been preordained. It's hard to know. Uganda is a country that is rife with conspiracy theories. But that doesn't mean that some of those conspiracies aren't real.
Uganda's constitution allows the president to appoint someone to a state ministry who is not a member of Parliament. If Buturo is not around after next year's elections, we'll know that he became too much of a problem for Museveni. (And, to add further complication, that problem may not have had anything to do with the Anti-Homosexuality Bill after all. It may have been something else entirely.)
But if he still carries the title of Minister of Ethics and Integrity, we'll know something else about Museveni's aspirations. And that won't be good either.
Comments