Bryan Fischer Wants To Put Everyone In Jail
Jim Burroway
October 14th, 2011
At least he's not just picking on gay people: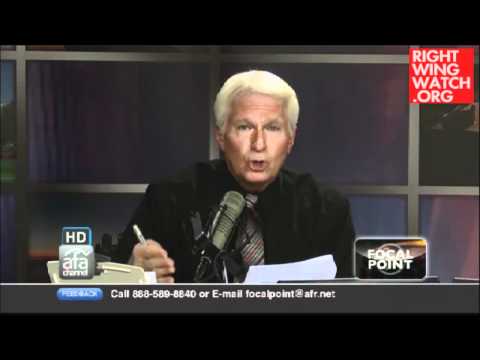 These are behaviors that can be made illegal, and should be made illegal: those who strike their fathers and mothers, for murderers, the sexually immoral – that means it's perfectly appropriate to have laws against what the law calls fornication, absolutely appropriate to make that illegal; men who practice homosexuality, perfectly permissible – in fact, we're directed, we're told in the Scriptures that it's a good idea, this is the purpose of the law, it's for the lawless and disobedient to engage in homosexuality – it's perfectly appropriate for that kind of behavior to be against the law.
Bryan Fischer: "Homosexual Agenda" is America's "Greatest Threat"
Jim Burroway
October 9th, 2011
Bryan Fischer, who followed GOP presidential candidate and former Massachusetts Gov. Mitt Romney to the podium during yesterday's Values Voter Summit, delivered some of that poisonous language which Romney denounced.  Right Wing Watch has posted his entire talk here. During this portion of his speech, Fischer denounced "the homosexual agenda" as the "greatest greatest immediate threat to every freedom and right that is enshrined in the First Amendment":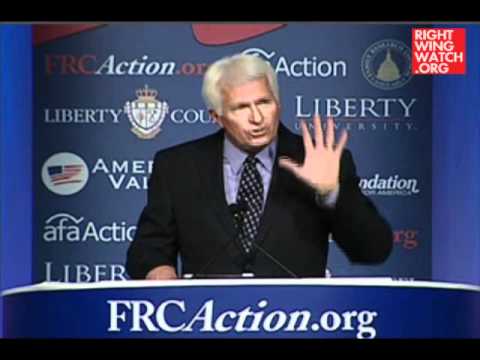 I believe we need a president who understands that just as Islam represents the greatest long range threat to our liberty, so the homosexual agenda represents the greatest immediate threat to every freedom and right that is enshrined in the First Amendment. It's a particular threat to religious liberty….

We need a president who understands that every advance of the homosexual agenda comes at the expense of religious liberty. We need a president who understands that we must choose as a nation between homosexuality and liberty, because we cannot have both. A president who understands that we must choose between homosexuality and liberty, and who will choose liberty every time.
Mitt Romney Mildly Scolds Bryan Fischer
Jim Burroway
October 9th, 2011
The American Family Association's Bryan Fischer, who has stated that the First Amendment's religious freedoms should only apply to Evangelical Christians and not to Mormons or Muslims, was given a very visible speaking slot at yesterday's Values Voter Summit immediately following GOP presidential candidate and former Massachusetts Gov. Mitt Romney, Romney just happens to be one of those Mormons that Fischer believes isn't protected by the First Amendment. Romney took his turn at the podium to call out Fischer on his "poisonous language."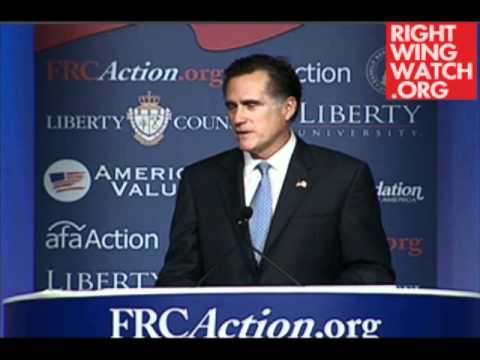 Our values ennoble the citizen and they strengthen the nation. We should remember that decency and civility are values too. One of the speakers who will follow me today, has crossed that line I think. Poisonous language does not advance our cause. It has never softened a single heart nor changed a single mind. The blessings of faith carry the responsibility of civil and respectful debate. The task before us is to focus on the conservative beliefs and the values that unite us. Let no agenda, narrow our vision or drive us apart. We have important work to accomplish.
A very mild rebuke, given to very mild applause — all of which serves to illustrate Romney's difficulties in retaining his frontrunner status in the Republican race for the nomination. But as timid as that rebuke was, it certainly elicited a howl from the bully who is now outraged of the "public attack," and like all bullies who get caught, he responds screaming that someone else started it:
Dr. Robert Jeffress started the fracas on Friday by referring to Mormonism as a "cult" in interviews with reporters after he introduced and endorsed Gov. Rick Perry on Friday.

According to MSNBC, Gov. Romney's people got in touch with Bill Bennett and they decided to tag team – Bennett would kneecap Dr. Jeffress first and then Mitt would kneecap me right before I took the podium after his speech.

Here's how Politico reported it:

"Rather than answering Jeffress directly, Romney came to the summit on Saturday and rebuked another hardline social conservative: Bryan Fischer, a controversial official at the American Family Association who has disparaged Mormonism, as well as homosexuality, Islam and more.
And there's this nice touch:
I spoke immediately after Romney, who apparently was goaded into attacking me by the New York Times, the Boston Globe and other media outlets who wrote eagerly about the anticipated brawl. Here's the breathless headline, for instance, from the Deseret News: "Mitt Romney vs. Mormon critic Bryan Fischer: Showdown Saturday?"
Ya see? The reference to The Deseret News conclusively proves that the Mormon Church put Romney up to the "attack."
Bullies typically scream the loudest when they are startled by their target rising up to defend themselves, no matter how tentatively. Romney mildly suggested that Fischer went too far in a timid half-dozen sentences. Fischer's cri de coeur goes on for more than nine hundred words. That means that Romney's mild slap stung Fischer pretty hard. And I have a feeling Fischer still isn't done crying.
The Daily Agenda for Saturday, October 8
Jim Burroway
October 8th, 2011
TODAY'S AGENDA (OURS):

First Openly Gay Ordination for the Presbyterian Church, USA: Madison, WI. Last May, the Presbyterian Church USA became the fourth mainline Protestant Church to allow the ordination of openly gay clergy. Today, that promise becomes a reality as Scott Anderson is ordained at Covenant Presbyterian Church in Madison, Wisconsin. The Princeton Theological Seminary graduate had served as Co-Moderator of More Light Presbyterians before moving to Madison to become the Executive Director of the Wisconsin Council of Churches.
Anderson's ordination will mark his return to a ministry he was forced to abandon twenty-one years ago. In 1990, while working as a parish minister in Sacramento, he was threatened with exposure by a couple who wanted him to help raise money for a cause they were advancing that he disagreed with. Rather than submit to the couple's threats, he outed himself instead, and in keeping with the church's rules he stepped down as minister and embarked on the long process of working to change the church's stance toward ordination of openly gay people. Anderson will be supported by his partner of twenty-one years at today's ordination. Anderson is being ordained by the John Knox Presbytery, which consists of 60 congregations in Iowa, Minnesota, and Wisconsin.
AIDS Walks This Weekend: Columbus, OH; Indianapolis, IN and Kent/Sussex, DE.
Pride Celebrations This Weekend: Atlanta, GA; Orlando, FL; Rio de Janeiro, Brazil and Tucson, AZ.
Also This Weekend: Iris Prize Film Festival, Cardiff, UK.
TODAY'S AGENDA (THEIRS):
Values Voter Summit: Washington, D.C. Whenever the Family "Research" Council and the American Family Association team up to put on their annual Values Voter Summit, you can pretty much guarantee that they will more than live up to their reputation for being on the Southern Poverty Law Center's list of anti-gay hate groups. Yesterday, we saw GOP presidential candidate Sen. Rick Santorum give his most bizarre qualification yet for the presidency, when he told the conference that voters should "look at who they lay down with at night and what they believe." That will be hard to top, although Liberty Counsel's Mat Staver gave it his best shot by saying that gay equality will lead to the destruction of Western Civilization.
Today's lineup will be about as crazy as yesterday's. The AFA's Bryan Fischer, whose sheer lunacy knows no bounds, will be a featured speaker, along with FRC's Tom McClusky and Tony Perkins, National Organization for Marriage's Brian Brown, American Values' Gary Bauer, AFA's Ed Vitagliano, Alliance Defense Fund's Alan Sears, Eagle Forum's Phyllis Schlafly, Glenn Beck and Bishop Harry Jackson, among many others. GOP Presidential candidates speaking today will be Texas Rep. Ron Paul and former Massachusetts Gov. Mitt Romney.
If you know of something that belongs on the agenda, please send it here. Don't forget to include the basics: who, what, when, where, and URL (if available).
And feel free to consider this your open thread for the day. What's happening in your world?
Mat Staver: Gays Threaten Survival of Western Civilization
Jim Burroway
October 7th, 2011
Mat Staver, head of Liberty Counsel and dean of Liberty University's law school, appeared on an American Family Association radio program this morning just before introducing GOP presidential candidate Sen. Rick Santorum at the Values Voter Summit. Staver told AFA Radio that "the sexual anarchy with the agenda of the homosexual movement" threatens the survival of Western Civilization: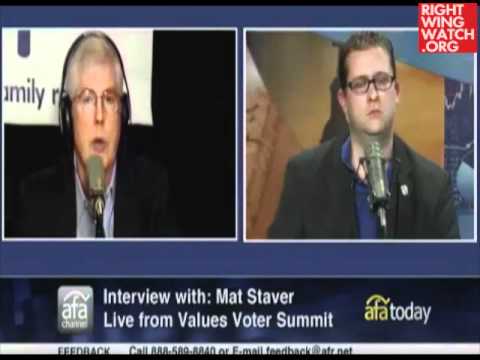 Staver: We are facing the survival of western values, western civilization. And I think those survival, whether they win or lose, what will the future of America be will be determined in our lifetime…. One of the most significant threats to our freedom is in the area of sexual anarchy with the agenda of the homosexual movement, the so-called LGBT movement. It does several things, first of all it undermines family and the very first building block of our society, but secondly, it's a zero sum game as well and it's a direct assault on our religious freedom and freedom of speech.
Do you really want to know what threatens the survival of Western Civilization? Well, if one of the great pillars of Western Civilization is the rule of law, then Staver's Liberty Counsel and law school pose a far greater threat to Western Civilization than treating all people equally. Members of Staver's organizations have been implicated in facilitating the kidnapping of then- seven-year-old Isabella Miller-Jenkins, in defiance of a court order ordering Isabella's mother, Lisa Miller, to turn custody of the child over to her other mother from a civil union, Janet Jenkins, after Miller refused to follow to previous court orders granting visitation rights. There is considerable evidence that Miller may be following the advice of legal counsel in defying the courts' rulings. Teachers at Staver's law school presented a case study that was remarkably similar to the Miller-Jenkins case, and taught students that, as future lawyers, they should encourage their clients to chose "God's law" over "man's law" and defy the legal system. Students who responded on an exam that the client should follow the court order were given bad grades, while students who responded that the client should be urged to break the law got A's.
If there is a threat to Western Civilization, it's posed by those who would impose legal anarchy to further their narrow religious agenda in open defiance of the law.
Full Page Ad Reminds Voters Who's Behind "Values Voter Summit"
Jim Burroway
October 7th, 2011
The Southern Poverty Law Center has taken out a full page ad in the Washington Post reminding readers why the two organization's sponsoring the event, the Family "Research" Council and the American Family Association, have been included in their very short list of anti-gay hate groups. The ad reads:
Just whose values are represented at the Values Voter Summit?Prominent public figures will attend the Values Voter Summit in DC this weekend.

But what values are they promoting?

The summit is hosted by the Family Research Council and co-sponsored by the American Family Association — organizations that have mounted a long-running campaign of falsehoods that demonize the LGBT community.

They portray gay people as child molesters, deviants, public health threats and more. Their outrageous claims have been thoroughly debunked by numerous scientific authorities and respected professional associations such as the American Psychological Association and the American Academy of Pediatrics.

Their words have consequences: Gay men, lesbians, bisexuals and transgender people are far more likely than any other group to be victimized by violent hate crimes. Many have been driven by relentless demonization to seek a "cure" for their sexual orientation through dangerous therapeutic practices. Many have been driven to suicide by relentless bullying in our schools.

Whose values are these?

Is bearing false witness a "family" value? Is bigotry?
The ad goes on to list several quotes from the FRC and AFA equating homosexuality with pedophilia, criminality, Nazi's, and Adolf Hitler. The SPLC and Wayne Besen's Truth Wins Out held a joint press conference this morning to release a report on the AFA and FRC's "false propaganda that demonizes the LGBT community." FRC's Tony Perkins is furious, and equates the SPLC's exercise of free speech:
Perkins said the SPLC news conference reflected an attempt to prevent free discussion of ideas and noted that he doesn't show up at SPLC events to protest the civil rights organization's beliefs.

"Southern Poverty Law Center is obviously desperate to try to shut down public debate," he said.
Elaine Donnelly Still Trying To Keep Her Day Job
Jim Burroway
September 20th, 2011
It's hard to know what the raison d'être for Elaine Donnelly's Center for Military Effectiveness could possibly be except to hang around for a possible GOP president in 2013 who can reimpose "Don't Ask, Don't Tell" via executive order. Maybe that's why she's still pounding the pavement defending dead DADT. The American Family Association's OneNewsNow commiserated with Donnelly on DADT's passing this way:
"The law requires more than just PowerPoint presentations," she tells OneNewsNow. "The administration is supposed to describe exactly what will happen under the new LGBT law. [But] they haven't done that! They're barreling ahead anyway. The president [is] just determined to impose LGBT law on the military, regardless of the concerns of Congress."

The CMR leader predicts litigators for homosexual activists and the homosexual movement are going to have a field day. "Without the law on the books, they will go into court and challenge anything that stands in the way of what they perceive as a civil rights issue," she warns.
Donnelly told Focus On the Family's CitizenLink that people should "watch and report to Congress about the fallout from the repeal."
Matt Barber Says Gays Committing "Economic Terrorism" And Want To Jail Christians. Meanwhile, AFA Boycotts Home Depot And Wants To Jail Gays.
Jim Burroway
August 31st, 2011
There is a fundraising group called the Charity Give Back Group (CGBG), whose innocuous sounding name hides its political activities. When customers shop with major name-brand companies through their virtual shopping mall, proceeds go to CGBG affiliated groups including the Family "Research" Council, Focus On the Family, Liberty Counsel and others. LGBT activists have pressured companies to cut ties with CGBG, and so far Apple, Microsoft, Delta Airlines and Wells Fargo are among the big names that have withdrawn from the program.
Anti-gay groups are now crying foul over "homo-fascist" tactics, despite their own well-established pattern of boycotting companies who don't fall lockstep into their program of anti-gay politics. Liberty Counsel's Matt Barber calls the pressure against companies participating in CGBG "economic terrorism" with the ultimate goal of putting conservative Christians behind bars:
I've said this before and I'll say it right now. The sexual anarchist lobby, this radical, militant lobby, wants three things in this order: they want to see those of us who hold traditional values and have a biblical view of sexual behavior and sexual morality; they want to see us behind bars. Absent that, if that doesn't work, they want to see us discredited, our licenses, my law licenses revoked, unable to teach in schools and so forth. They want us completely discredited and marginalized to the fringes of society. Finally and included in that is the inability, they want to see people like us not able to make a living. And that's why they're going after these organizations and they're using economic terrorism, for lack of a better phrase.
He might want to try to come up with a better phrase. In 2008, Barber joined with Peter "Porno Pete" LaBarbera and others for a bit of "economic terrorism" of their own when they announced a boycott of McDonalds and rallied in front of their headquarters. The American Family Association regularly launches acts of "economic terrorism" against such big name companies as Home Depot and Pepsi. And by the way, their jihad against Home Depot is on again, in case you've had difficulty keeping track.
And speaking of wanting to put people behind bars, AFA's spokesman Bryan Fischer yesterday pined for the days when homosexuality was a felony in all fifty states and says, "There is no reason why it cannot be a criminal offense once again. Absolutely none."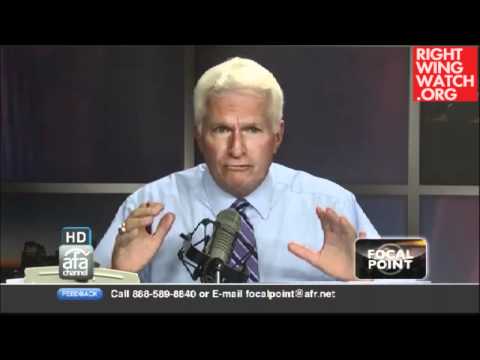 Less than 0.5% of Houston Show Up For Rick Perry's Rally
Jim Burroway
August 6th, 2011
Houston's Reliant Stadium hold 71,000 people, but according to officials with Texas Gov. Rick Perry's "The Response" prayer rally, about 30,000 people showed up. That should mean that the stadium would be half full. Doesn't look like it to me. Failure #1.
Perry also sent invitations to every governor in the nation to attend his rally. The only one to show up was Kansas Gov. Sam Brownback. Gov. Rick Scott of Florida made a video that was played in the stadium. Only two others out of at least forty-nine — that's failure #2.
The American Family Association's Tim Wildmon addressed criticisms of the wholesale obliteration of the lines between church and state as represented by a religious revival organized by a political executive by saying "no political candidates will be speaking." Candidate, perhaps not — although please, does anyone not believe Perry is running for president — but the criticism stems from two current, elected governors speaking from the stage with another one phoning it in. These aren't just candidates. They are current office-holders sworn to uphold the Constitution. Failure #3.
Dishonesty about the 'how many LGBTs' study
Timothy Kincaid
April 8th, 2011
Gary Gates of UCLA's Williams Institute has made a tentative calculation of the LGBT population. I'll have an analysis up soon about his calculation. But, in the meanwhile, please be careful in what you read. A number of unscrupulous reporters are nearly giddy in their misrepresentation of Gates' work.
Take, for example, the way in which SanDiego6 distorts the story:
A California demographer has released a best guess of how many gay men and lesbians there are in the U.S.

Gary Gates puts the figure at 4 million adults, representing 1.7 percent of the 18-and-over population.

That's much lower than the 3 to 5 percent that has been the conventional wisdom in the last two decades, based on other isolated studies.
This is so dishonest that it is difficult to attribute the inaccuracy to ignorance or carelessness. Gates did not "put the figure at 4 million adults." Here is what Gates actually said (PDF):
An estimated 3.5% of adults in the United States identify as lesbian, gay, or bisexual and an estimated 0.3% of adults are transgender.
This implies that there are approximately 9 million LGBT Americans, a figure roughly equivalent to the population of New Jersey.
Among adults who identify as LGB, bisexuals comprise a slight majority (1.8% compared to 1.7% who identify as lesbian or gay).
San Diego 6 doesn't even mention bisexuals, choosing instead to go the lower number and pretending that it is reflective of the study.
Not surprisingly, this is the same spin that American Family Association's Bryan Fischer put on the report. Perhaps they share the same motivation.
Anti-Gay Activists React to DOMA Announcement
Jim Burroway
February 23rd, 2011
Brian Brown from National Organization for Marriage lost his already limited capacity for original thought and channels John Paul Jones:
We have not yet begun to fight for marriage," said Brian Brown, president of NOM."The Democrats are responding to their election loss with a series of extraordinary, extra-constitutional end runs around democracy, whether it's fleeing the state in Wisconsin and Indiana to prevent a vote, or unilaterally declaring homosexuals a protected class under our Constitution, as President Obama just did," said Brown. "We call on the House to intervene to protect DOMA, and to tell the Obama administration they have to respect the limits on their power. This fight is not over, it has only begun!"
Maggie Gallagher chimes in:
On the one hand this is a truly shocking extra-constitutional power grab in declaring gay people are a protected class, and it's also a defection of duty on the part of the President Obama," said Maggie Gallagher, Chairman of NOM, "On the other hand, the Obama administration was throwing this case in court anyway. The good news is this now clears the way for the House to intervene and to get lawyers in the court room who actually want to defend the law, and not please their powerful political special interests."
Liberty Counsel's Mat Staver, who charged that allowing same-sex marriages would lead to an epidemic of violent crime, called Obama the most divisive President in US History:
Regardless of President Obama's own ideological agenda, as President, he and his Attorney General have a duty to defend lawfully passed legislation, especially when the essence of the law has been upheld by many courts. Thirty states have passed marriage amendments affirming marriage as one man and one woman. Today President Obama has abandoned his role as President of the United States and transformed his office into the President of the Divided States. He has been the most divisive president in American history. He has today declared war on the American people and the fundamental values that are shared by most Americans. His radicalism resulted in the historical push-back in the 2010 elections. His radicalism today will come back around when the people respond to this betrayal in 2012," said Staver.
Focus On the Family's Tom Minnery wants Congressional Republicans to drop whatever they're doing and pick up the flag:
"We would hope Congress uses the tools at its disposal to counter this decision and defend marriage," Minnery said.
What should Congress do? Family Research Council's Tony Perkins wants Congress to take Holder's bait by dropping their "only interested in the deficit" mantra and reveal what many suspect to be their true colors:
"With this decision the President has thrown down the gauntlet, challenging Congress. It is incumbent upon the Republican leadership to respond by intervening to defend DOMA, or they will become complicit in the President's neglect of duty," concluded Perkins.
American Family Association's Bryan Fischer, who recently said that he would "fight to the last ditch" for marriage discrimination, has Perkins's back:
"I think it's a clear sign that we simply cannot avoid engaging on the social issues," Bryan Fischer, director of issue analysis for the group, told TPM. "Mitch Daniels has called for a truce on social issues and that would be fine if the homosexual lobby was willing to lay down arms, but they're obviously not and this proves it. A truce is nothing more than a surrender."
So far, House Speaker John Boehner is staying on message and has declined to take the bait:
A spokesman for House Speaker John Boehner, R-Ohio, criticized the administration change of position. "While Americans want Washington to focus on creating jobs and cutting spending, the president will have to explain why he thinks now is the appropriate time to stir up a controversial issue that sharply divides the nation," said spokesman Brendan Buck.
Update: Potential GOP Presidential candidate and former Arkansas Governor Mike Huckabee found a clever way to blame gay marriage for increasing the deficit:
Nonetheless, Huckabee opposes gay marriage on the grounds that, according to him, it destroys traditional families.  "There is a quantified impact of broken families," Huckabee said. "[There is a] $300 billion dad deficit in America every year…that's the amount of money that we spend as taxpayers to pick up the pieces because dads are derelict in their duties."
Wherein I agree with Bryan Fischer about special rights
Timothy Kincaid
December 24th, 2010
When it comes to anti-gay activists, there are few people nastier than the American Family Association's Bryan Fischer. Yes, there are plenty who share his aversion to any policy, practice, or social attitude which does not presume that gay people are vile creatures deserving of derision and harsh abuse, but Fischer is among the few who boldly use language that others reserve for the private company of those who share their animus.
And it is primarily due to Fischer and his nasty rants that the AFA has earned the rare distinction of being added to the short list or organizations recognized by the Southern Poverty Law Center as an Anti-Gay Hate Group.
But on occasion, even certified haters say something that rings true. And while Fischer makes his point using contemptuous stereotypes and sneering smugness, I think he makes a good point:
If a homosexual signs up now, he's stuck with the whole magilla. Go to your superior officer now and say, hey, I'm a flaming homosexual, I hate the army, let me out of here, the superior officer will say, tough darts, those days are gone. You're stuck with us now, Nancy-boy.
…
The more this message resounds, the fewer homosexuals will want to enlist. It's one thing to be gay, and say, hey, I'll give it a few weeks and then bail if I don't like the food, can't get enough action in the barracks, or thought I'd enjoy ogling male soldiers in the shower more than I did.

Those days are now shortly to be a distant memory for our homosexual friends. They enlist, they're stuck with the whole program just like everybody else.

In other words, they had preferential treatment and special privileges, a status and privileges and an exit strategy denied to their honest and straight counterparts. And homosexuals just bargained it away. Now, they will discover to their dismay, they're back to having equal rights instead of special rights.
Besides the palpable hatred, Fischer also plays a lot with insinuation, equating "basis of statements by the Service member" – which could simply mean that the servicemember wasn't caught in the act, so to speak – with "throwing themselves out". Further, he entirely dismisses the idea that servicepeople may wish to be honest, a principle about which he knows nothing.
But he's right. One of the things that bothered me about the administration of DADT was that it truly did give unhappy gay and lesbians soldiers an advantage. Once a DADT expulsion became an Honorable Discharge, then the policy harmed committed soldiers wishing to continue their noble service and rewarded those who just wanted out.
Now I doubt that many soldiers considered a policy that demeaned their existence and forced silence and dishonesty on them to be "preferential treatment." And from what I've read, many revealed their orientation only after enduring unbearable treatment by homophobes, from which they had no recourse.
But to the extent that there were gay people who saw their orientation as an escape clause from a poorly chosen contract, that "special right" is gone. Once DADT is fully dead, everyone will be treated the same.
And I think that's a good thing.
Appeal fears
Timothy Kincaid
August 16th, 2010
Some of those who were closely watching Perry v. Schwarzenegger are now concerned about the prospect of going to the Supreme Court and possibly losing big. And that fear is not coming only from our community; anti-gays also have some who advise to quit now.
Right Wing Watch has transcript of a conversation between the WallBuilders' David Barton, and the AFA's Tim Wildmon and Marvin Sanders:
Barton: Right now the damage is limited to California only, but if California appeals this to the US Supreme Court, the US Supreme Court with Kennedy will go for California, which means all 31 states will go down in flames, although right now this decision is limited only to California.

So there's an effort underway to say "California, please don't appeal this. I mean, if you appeal this, its bad for you guys but live with it, but don't cause the rest of us to have to go down your path."

Wildom: So you think the better situation here would be California not to appeal …

Barton: Well, I'm telling you that that's what is being argued by a lot of folks now because the other Supreme Court attorney who watched this from afar said "on no, you left too many arguments on the table, you stayed technical." And now, knowing what Kennedy has already done in two similar cases to this and knowing that he's the deciding vote, the odds are 999 out of 1000 that they'll uphold the California decision.

If they do, there's not a marriage amendment in the country that can stand. And so the problem is that instead of California losing its amendment, now 31 states lose their amendment. And that won't happen if California doesn't appeal this decision. It's just California that loses its amendment.
This appeal really is a high stakes game.
AFA's predictable response to the "Ground Zero Mosque"
Timothy Kincaid
August 11th, 2010
The American Family Association's Bryan Fischer has a predictably extremist and lunatic bizarrely irrational response to the proposed Islamic Center and mosque planned for 51 Park Street in Manhattan.
Permits should not be granted to build even one more mosque in the United States of America, let alone the monstrosity planned for Ground Zero. This is for one simple reason: each Islamic mosque is dedicated to the overthrow of the American government.

Each one is a potential jihadist recruitment and training center, and determined to implement the "Grand Jihad" of which Andy McCarthy has written.
…
Because of this subversive ideology, Muslims cannot claim religious freedom protections under the First Amendment. They are currently using First Amendment freedoms to make plans to destroy the First Amendment altogether. There is no such thing as freedom of religion in Islam, and it is sheer and utter folly for Americans to delude themselves into thinking otherwise.
The world of Fischer's imagination must be a very dark and scary place to live.
LaBarbera Award: Bryan Fischer. Again.
Jim Burroway
August 5th, 2010
Disenfranchising LGBT Americans from the institution of marriage isn't enough for the American Family Association's Bryan Fischer. He also thinks LGBT Americans should be legally banned from public office:
He is Exhibit A as to why homosexuals should be disqualified from public office. Character is an important qualification for public service, and what an individual does in his private sexual life is a critical component of character. A man who ignores time-honored standards of sexual behavior simply cannot be trusted with the power of public office.
He also thinks that this should have disqualified Elana Kagan from the Supreme Court:
This, by the way, is why Elana Kagan should not be elevated to the Supreme Court. Although she has not come out of the closet herself, her lesbian partner has, and Ms. Kagan's sexual preference is an open secret in Washington circles. Her indulgence in sexually aberrant behavior should make her ineligible to serve on the highest court in the land.
Kagan's lesbian partner? Where did this rumor come from?
Bryan Fischer is a repeat honoree. The Prop 8 decision has spawned two other award winners in the past twenty four hours so far. Prop 8 is really bringing out the crazy, isn't it?
AFA Calls for Judge Walker's Impeachment
Jim Burroway
August 5th, 2010
Following up in American Family Association's Tim Wildmon's reaction yesterday to the Federal Court decision declaring California's Prop 8 unconstitutional, the AFA has issued this action alert demanding impeachment proceedings against Judge Vaughm Walker:
Impeachment proceedings, according to the Constitution, begin in the House of Representatives. It's time for you to put your congressman on record regarding the possible impeachment of Judge Walker. 

Take Action
Email your representative today and urge him to launch impeachment proceedings against Judge Vaughn Walker for his outrageous ruling against natural marriage. 
Prop 8 Supporters React
Jim Burroway
August 4th, 2010
First, we go to Andy Pugno, general counsel for the Alliance Defense Fund, which represented the losing side in today's decision:
"Today's ruling is clearly a disappointment. The judge's invalidation of the votes of over seven million Californians violates binding legal precedent and short-circuits the democratic process. But this is not the end of our fight to uphold the will of the people for traditional marriage, as we now begin an appeal to the Ninth Circuit Court of Appeals.

"It is disturbing that the trial court, in order to strike down Prop 8, has literally accused the majority of California voters of having ill and discriminatory intent when casting their votes for Prop 8.

"But the reality is that Prop 8 was simply about restoring and strengthening the traditional definition of marriage as the unique relationship of a man and a woman, for the benefit of children, families and society.

"At trial we built a solid record to show that marriage has served as the foundation of the family and society as a whole, has universal functions and features attributable only to unions between a man and woman, has been defined in both law and language as a union between a man and a woman, and acts as the predominate relationship in which to create and support children.

"We are confident that the trial court record we built will help us ultimately prevail on appeal and reverse today's ruling.
Newt Gingrich, who believes in the sanctity of marriage between on man and three consecutive women, warns that this should be another knock against confirming Elena Kagan to the Supreme Court:
"Judge Walker's ruling overturning Prop 8 is an outrageous disrespect for our Constitution and for the majority of people of the United States who believe marriage is the union of husband and wife. In every state of the union from California to Maine to Georgia, where the people have had a chance to vote they've affirmed that marriage is the union of one man and one woman. Congress now has the responsibility to act immediately to reaffirm marriage as a union of one man and one woman as our national policy. Today's notorious decision also underscores the importance of the Senate vote tomorrow on the nomination of Elena Kagan to the Supreme Court because judges who oppose the American people are a growing threat to our society."
Wendy Wright, Concerned Women for America stomps her foot and demands that the decision be overturned immediately:
Judge Walker's decision goes far beyond homosexual 'marriage' to strike at the heart of our representative democracy. Judge Walker has declared, in effect, that his opinion is supreme and 'We the People' are no longer free to govern ourselves. The ruling should be appealed and overturned immediately.

"Marriage is not a political toy. It is too important to treat as a means for already powerful people to gain preferred status or acceptance. Marriage between one man and one woman undergirds a stable society and cannot be replaced by any other living arrangement.
Robert George of the American Principles Project, sees this as ensuring "additional decades fo social dissension and polarization":
Another flagrant and inexcusable exercise of 'raw judicial power' threatens to enflame and prolong the culture war ignited by the courts in the 1973 case of Roe v. Wade," said Dr. Robert P. George, Founder of the American Principles Project. "In striking down California's conjugal marriage law, Judge Walker has arrogated to himself a decision of profound social importance—the definition and meaning of marriage itself—that is left by the Constitution to the people and their elected representatives."

"As a decision lacking any warrant in the text, logic, structure, or original understanding of the Constitution, it abuses and dishonors the very charter in whose name Judge Walker declares to be acting. This usurpation of democratic authority must not be permitted to stand."

…"The claim that this case is about equal protection or discrimination is simply false," George said. "It is about the nature of marriage as an institution that serves the interests of children—and society as a whole—by uniting men and women in a relationship whose meaning is shaped by its wonderful and, indeed, unique aptness for the begetting and rearing of children.

…"Judge Walker has abandoned his role as an impartial umpire and jumped into the competition between those who believe in marriage as the union of husband and wife and those who seek to advance still further the ideology of the sexual revolution. Were his decision to stand, it would ensure additional decades of social dissension and polarization. Pro-marriage Americans are not going to yield to sexual revolutionary ideology or to judges who abandon their impartiality to advance it. We will work as hard as we can for as long as it takes to defend the institution of marriage and to restore the principle of democratic self-government," concluded Dr. George.
Focus On the Family's Judicial Analyst Bruce Hasknecht (he apparently didn't get layed off last week) warns that this could have repurcussions for the other 49 states in the union:
"Judge Walker's ruling raises a shocking notion that a single federal judge can nullify the votes of more than 7 million California voters, binding Supreme Court precedent, and several millennia-worth of evidence that children need both a mom and a dad.

"During these legal proceedings, the millions of California residents who supported Prop 8 have been wrongfully accused of being bigots and haters. Nothing could be further from the truth. Rather, they are concerned citizens, moms and dads who simply wanted to restore to California the long-standing understanding that marriage is between one woman and one man – a common-sense position that was taken away by the actions of another out-of-control state court in May 2008.

"Fortunately for them, who make up the majority of Californians, this disturbing decision is not the last word.

…"We do want Americans to understand the seriousness of this decision, however. If this judge's decision is not overturned, it will most likely force all 50 states to recognize same-sex marriage. This would be a profound and fundamental change to the social and legal fabric of this country.
Tony Perkins at the Family Research COuncil anticipates that the decisionwill be upheld by the Ninth Circuit Court of Appeals ("the most liberal appeals court in America"), and will only make the anti-gay rhetoric "more volatile":
"This lawsuit, should it be upheld on appeal and in the Supreme Court, would become the 'Roe v. Wade' of same-sex 'marriage,' overturning the marriage laws of 45 states. As with abortion, the Supreme Court's involvement would only make the issue more volatile. It's time for the far Left to stop insisting that judges redefine our most fundamental social institution and using liberal courts to obtain a political goal they cannot obtain at the ballot box.

"Marriage is recognized as a public institution, rather than a purely private one, because of its role in bringing together men and women for the reproduction of the human race and keeping them together to raise the children produced by their union. The fact that homosexuals prefer not to enter into marriages as historically defined does not give them a right to change the definition of what a 'marriage' is.

"Marriage as the union between one man and one woman has been the universally-recognized understanding of marriage not only since America's founding but for millennia. To hold that the Founders created a constitutional right that none of them could even have conceived of is, quite simply, wrong.

"FRC has always fought to protect marriage in America and will continue to do so by working with our allies to appeal this dangerous decision. Even if this decision is upheld by the Ninth Circuit Court of Appeals-the most liberal appeals court in America-Family Research Council is confident that we can help win this case before the U.S. Supreme Court."
Randy Thomasson, of Save California thinks the oath of office should be updated to force judges to only issue conservative rulings:
"Natural marriage, voter rights, the Constitution, and our republic called the United States of America have all been dealt a terrible blow. Judge Walker has ignored the written words of the Constitution, which he swore to support and defend and be impartially faithful to, and has instead imposed his own homosexual agenda upon the voters, the parents, and the children of California. This is a blatantly unconstitutional ruling because marriage isn't in the U.S. Constitution. The Constitution guarantees that state policies be by the people, not by the judges, and also supports states' rights, thus making marriage a state jurisdiction. It is high time for the oath of office to be updated to require judicial nominees to swear to judge only according to the written words of the Constitution and the original, documented intent of its framers. As a Californian and an American, I am angry that this biased homosexual judge, in step with other judicial activists, has trampled the written Constitution, grossly misused his authority, and imposed his own agenda, which the Constitution does not allow and which both the people of California and California state authorities should by no means respect."
Tim Wildmon of the American Family Association goes further, and calls for Judge Walker's impeachement:
"This is a tyrannical, abusive and utterly unconstitutional display of judicial arrogance. Judge Walker has turned 'We the People' into 'I the Judge.'

"It's inexcusable for him to deprive the citizens of California of their right to govern themselves, and cavalierly trash the will of over seven million voters. This case never should even have entered his courtroom. The federal constitution nowhere establishes marriage policy, which means under the 10th Amendment that issue is reserved for the states.

"It's also extremely problematic that Judge Walker is a practicing homosexual himself. He should have recused himself from this case, because his judgment is clearly compromised by his own sexual proclivity. The fundamental issue here is whether homosexual conduct, with all its physical and psychological risks, should be promoted and endorsed by society. That's why the people and elected officials accountable to the people should be setting marriage policy, not a black-robed tyrant whose own lifestyle choices make it impossible to believe he could be impartial.

"His situation is no different than a judge who owns a porn studio being asked to rule on an anti-pornography statute. He'd have to recuse himself on conflict of interest grounds, and Judge Walker should have done that.

"The Constitution says judges hold office 'during good Behavior.' Well, this ruling is bad behavior – in fact, it's very, very bad behavior – and we call on all members of the House of Representatives who respect the Constitution to launch impeachment proceedings against this judge."
Richard Land demands the revival of the Federal Marriagae Amendment
"This is a grievously serious crisis in how the American people will choose to be governed. The people of our most populous state—a state broadly indicative of the nation at large demographically—voted to define marriage as being between one man and one woman, thus excluding same-sex and polygamous relationships from being defined as marriage.

"Now, an unelected federal judge has chosen to override the will of the people of California and to redefine an institution the federal government did not create and that predates the founding of America. Indeed, 'marriage' goes back to the Garden of Eden, where God defined His institution of marriage as being between one man and one woman.

"This case will clearly make its way to the 9th Circuit Court of Appeals and then to the Supreme Court of the United States, where unfortunately, the outcome is far from certain. There are clearly four votes who will disagree with this judge—Roberts, Thomas, Scalia, and Alito. The supreme question is: Will there be a fifth? Having surveyed Justice Kennedy's record on this issue, I have no confidence that he will uphold the will of the people of California.

"If and when the Supreme Court agrees with the lower court, then the American people will have to decide whether they will insist on continuing to have a government of the people, by the people and for the people, or whether they're going to live under the serfdom of government by the judges, of the judges and for the judges. Our forefathers have given us a method to express our ultimate will. It's called an amendment to the Constitution. If the Supreme Court fails to uphold the will of the people of California—if we are going to have our form of government altered by judicial fiat—then the only alternative left to us is to pass a constitutional amendment defining marriage as being between one man and one woman.

"Many senators who voted against the federal marriage amendment the last time it came up said publicly if a federal court interfered with a state's right to determine this issue, they would then be willing to vote for a federal marriage amendment. Ladies and gentlemen, prepare to vote.
Lou Sheldon of the Traditional Values Coalition is losing his creativity. In fact, his statement is rather boring. I won't bother posting it. But TVC state lobbyist Benjamin Lopez thinks this will motivate the Tea Party Movement even more:
"If folks think that the Tea Party movement is a force to be reckoned with now, wait until the silent majority of pro-family voters flex their political muscle once again. Judges beware, you will go the way of Rose Bird, stripped of their robes and kicked off the bench," Lopez added.
Oops! Lopez's statement appears to have been deleted, which just leaves Sheldon's uncreative outrage.
Family Research Council: Military at Greater Risk of HIV if DADT is Repealed
Jim Burroway
July 29th, 2010
The Family Research Council released a podcast featuring the American Family Association's Dr. Robert LaButta, a retired U.S. Army Col., who warned that repealing "Don't Ask, Don't Tell" would lead to rampant HIV, STDs, and psychological disorders in the military:
Homosexuals are identified by the U.S. government as a cohort at high risk for sexually transmitted diseases like HIV/AIDS. At the National HIV Prevention Conference in August 2009, the Centers for Disease Control and Prevention (CDC) reported that AIDS is 50 times more common in men who have sex with men (homosexuals and bisexuals) than in other populations. HIV is already a threat to military readiness–although HIV-positive recruits are excluded from the military, those who become HIV-positive while serving cannot be discharged, but they also cannot be deployed overseas. However, this is far from the only health risk to homosexuals.

One of the nation's leading AIDS researchers, Ronald Stall, has declared, "It may be a fallacy to say that HIV is the dominant, most dangerous and most damaging epidemic among gay men in the United States today. There are at least four other epidemics occurring among gay men that are intertwining and making each other worse. This is called a syndemic." The "four other epidemics" are "substance abuse, partner violence, depression and childhood sexual abuse."
According to our estimates, the prevalence of HIV is probably below 10% of the total LGBT population. (Those estimates however are fought with unknowable variables, so caution is advised whenever anyone attempts to estimate HIV prevelance in the LGBT population.) All people entering the military are tested for HIV, and all military personnel are retested at periodic intervals.
[Hat tip: Karen Ocamb at LGBT POV]
AFA's Bryan Fischer: Protestant Immigrants Good, Catholic Immigrants Bad
Jim Burroway
July 23rd, 2010
The American Family Association's Bryan Fischer has some reservations about the fact that some Evangelical conservatives support President Barack Obama's immigration reform proposals. Those evangelical see Latinos, who make up the bulk of the expected beneficiaries of immigration reform, as being sufficiently anti-gay and, therefore, desirable future voters for socially conservative causes. Fischer disagrees:
Not so fast. According to the Christian Post, 57% of Latino Catholics in California support homosexual marriage. Let's not forget that Latinos make up 36.6 percent of California's population.

The good news, if you happen to be an evangelical, is that just 22 percent of Latino Protestants support gay marriage.

If getting pro-family illegals legalized is the goal, perhaps Dr. Land can be persuaded to amend his recommendation and give preference to Protestant illegal aliens.
Leave it to Fischer to suggest a religious test for entry to the U.S. The American Family Association, according to former AFA attorney Joe Murray, isn't just anti-gay, but anti-Catholic as well.  This, of course, shouldn't be too surprising. Where there's one form of bigotry, there's almost never a good reason to refrain from indulging in other forms as well.
Update: Details behind Fischer's numbers are discussed here.
AFA boycotts the Home Depot
Timothy Kincaid
July 21st, 2010
It must be boycott season, cuz the American Family Association has named their latest target. This year the featured business will be Home Depot.
Home Depot, the lumber/hardware mega-store, refused to acquiesce to AFA's demands that they ban all employees from participating in gay pride:
"At the end of the day here, we're not going to send anything out that forbids our associates to be involved in these pride festivals in any way." – July 15, 2010
Well if Home Depot isn't going to get control over their employees on their own time, then by golly AFA will.
So here's what I predict will happen.
1. AFA will auto-email Home Depot pre-fab letters from their member list declaring that they will not shop at Home Depot.
2. Home Depot's stock will go up. (I still haven't figured out why this happens)
3. At some point Home Depot will agree to some tiny concession of no material concern.
4. AFA will declare victory and call off the boycott.
In the meanwhile, I've been meaning to change my sticking front door-knob… maybe it's time.