Most Pathetic Protest Ever
Jim Burroway
July 17th, 2008
The AFA's McDonalds boycott has started off with a resounding thud. Have you ever seen anything more sad?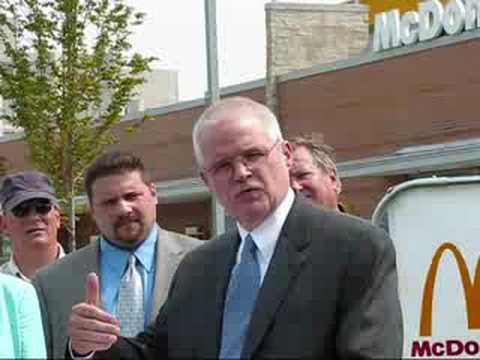 AFA's Latest Email Perfectly Illustrates Their Fixation With Man On Man Sex
Daniel Gonzales
July 15th, 2008
I just received an email from the AFA's "One Million Dads" campaign "alerting" me to the grave danger that awaits young children in any public library with a reasonably stocked gay and lesbian studies section Barnes and Noble bookstores.
In Collierville, Tennessee, recently, an 11 year-old boy named Landon Howse was walking through the Barnes & Noble bookstore when he noticed a book lying open on one of the reading area tables. His dad, Brannon Howse, was right behind him. What Landon saw were graphic pictures of two men engaged in sex. The book was titled "Ultimate Gay Sex," and is one of the many sexually explicit books offered in Barnes & Noble stores.

[snip]

Since this story broke, AFA has learned that this is a serious problem in Barnes & Noble stores across the country. Many parents have written to say they have had the same type of heart wrenching experiences with their children as Barnes & Noble does not place the homosexual pornography behind the counter or even in a restricted area not open to minors. Anyone can go in and find it on the shelf. I wanted to warn parents and grandparents about this danger because this is the largest bookstore chain in America and other bookstores have similarly have no responsible policy when it comes to placing these kinds of books in theirs stores.
"Since this story broke" the AFA says? Odd how a Google News search for the father's name turns up nothing.
But back to my main point. The offending book, "Ultimate Gay Sex," or at least the one sold on Amazon.com is nothing more than a sex guide, a sex guide that happens to be written for gay people. Gay people of course enjoy reading about how they can improve their sex lives much as straight people do.
But alas the AFA hysteria alert makes no mention of straight sex guides sold at Barnes and Noble — yet another example of how the AFA is fixated on the sex lives of gays and lesbians more than any other group.
As a side note, Collierville hosted a Love Won Out conference earlier this year.
AFA To Boycott McDonalds
Jim Burroway
July 3rd, 2008
The American Family Association is calling for another of their futile boycotts, this time of all McDonalds restaurants.
The AFA claims that McDonalds is giving "the full weight of their corporation to promoting the homosexual agenda, including homosexual marriage."
Are they serious? McDonalds is promoting the homosexual agenda? In those shoes?
Personal Cruelty
Timothy Kincaid
April 10th, 2008
Anti-gays often portray their attacks as being directed against a nebulous "homosexual agenda" or perhaps "the sin of homosexuality". This is often packaged with a claim that they love individuals, or "the sinner".
But sometimes their anti-gay activism reveals itself to be an obvious hateful attack on individuals.
For example, Tammy Baldwin has served as the representative for Wisconsin's 2nd congressional district since 1999. And since that time Lauren Azar, her other half, has been accorded travel privileges on par with the spouses of other Congressmen. Although the House rules specify that spouses are given travel accomodations, the former House Speaker, Dennis Hastert (R-Ill), had waived the rules for Azar.
However, when Azar prepared to accompany Baldwin on a fact finding mission this year, the Pentagon blocked her from traveling on a military plane. The situation was resolved when current House Peaker Nancy Pelosi informed Defense Secretary Robert Gates that she was waiving the House rules to allow Azar to travel.
From the AP
The Pentagon still has in place its "don't ask, don't tell" policy, which bars gays from serving openly in the military. But that had nothing to do with this case, said Pentagon press secretary Geoff Morrell.

"This is strictly about following our statutory guidelines and the House rules," he said.

Morrell said that Pelosi asked Gates to honor her decision to waive House rules to allow Azar to travel and that Gates asked her to put that request in writing.

"She did so, and he — in this one case only — agreed to it," Morrell said. "This is not a precedent by any means. This does not open the doors for life partners to travel on congressional delegations." But Gates has agreed to review future requests on a case-by-case basis, Morrell said.
Now most living breathing people see this as a simple act of decency. Most folks would think it odd to insist that Baldwin be the sole Congressman to travel alone.
However, Elaine Donnelly and the AFA spin it differently
Elaine Donnelly of the Center for Military Readiness calls this situation "a slippery slope." "This sets a disturbing precedent because it tends to suggest that marriage doesn't matter, [and that] marriage of people of same-sex or any such association should be treated as the equivalent of marriage," she contends.

Donnelly believes this gives ammunition to those who want to change the military's policy of not allowing homosexuals in the military. "This is an incremental step forward for the gay rights agenda," she continues. "These things are all interconnected. This radical social change doesn't always happen overnight with a court ruling. Sometimes it comes creeping along incrementally."
This is a single instance of a consideration granted to an associate in Congress. Donnelly's concerns about a "slippery slope" ring hollow when compared to the assurances of the Pentagon.
So why, then, does Donnelly find Azur's travel so objectionable? Why would she complain that Azur should not be granted passage?
Simply, because Baldwin and Azur are gay.
By her attack on the travel of a specific individual, Elaine Donnelly discredits any presumption of principled objection and reveals her agenda and herself to be petty, spiteful, and cruel.
Having a Cow Over McDonalds
Jim Burroway
April 10th, 2008
Ed Brayton is thinking about starting a weekly award "for the most ridiculously hyperbolic rhetoric I come across." Ed might want to think daily. Anyway, he thinks that anti-gay rhetoric alone will provide plenty of fodder, although that's not strictly his beat. He was checking out the personal blog of Rick Pearcey, husband of Nancy Pearcey of the Discovery Institute. That's where Ed found this little gem:
Not today, in light of reports that McDonald's has decided, apparently, to declare war on my family. And to declare war on the civilization of liberty, independence, creativity, and humanity under God that my Dad fought for in World War II.
What did McDonald do the "declare war" on liberty, independence, humanity, World War II, and Ricky Pearcey's family?
Well it turns out he gets his "news" from the American Family Association's OneNewsNow:
McDonald's … has given a significant amount of money, I might mention, to become a member of the National Gay and Lesbian Chamber of Commerce," Wildmon explains. "Among the many other things that the National Gay and Lesbian Chamber of Commerce promotes is hate crimes [legislation], the ENDA [Employment Non-Discrimination Act]. [T]hey're dedicated to pushing the homosexual agenda."

In exchange for the donation, a McDonald's senior executive has been placed on the board of the pro-homosexual group. Wildmon says the chain's decision is baffling
Wildmon is apoplectic, and so is Pearcy. Brayton found this reaction particularly noteworthy:
For human beings, this is a matter of liberty under God — Why help finance groups that turn their backs on the Declaration of Independence, the Founding vision, and the living Creator who holds it all together?
Run for the hills everyone! World War II was all in vain.
More Response from Ford to AFA's "Boycott Victory"
Timothy Kincaid
March 13th, 2008
Earlier this week, the American Family Association, declared victory in changing the advertising policy at Ford Motor Company and it's various brands.
At that time the response from Ford, while encouraging, was not adequately specific to assure me that no agreement had been made or that Ford would continue its relationship with it gay market. But Jeff Bercovici at Conde Nast's Portfolio.com has contacted Ford and reports the following comments:
But Ford spokesman Jim Cain insists the automaker had made no such promises. "I can tell you there was not a negotiated settlement to this boycott," he says, sounding somewhat mystified by AFA's triumphalism.

While Ford has scaled back some of the marketing and philanthropy AFA objects to, any such decreases were merely part of a broader retrenchment in response to dismal market conditions, says Cain. "We've been in real financial difficulties. There's been reduced spending in lots of areas."

But, he adds, Ford continues to be involved with groups such as PFLAG and Human Rights Campaign, both of which agitate for gay marriage.
I will take the Ford spokesman at his word. And I will watch to see whether any increase in performance at Ford Motor Company will result in the resumption of marketing and philanthropy towards the gay community.
AFA's Ford Boycott is Over
Timothy Kincaid
March 11th, 2008

Two years ago this week the American Family Association declared that they and their anti-gay allies would boycott Ford Motor Company. They had made demands on Ford – which they thought were being met – until gay groups convinced Ford that homophobia would not stand unchallenged. Ford did not want to be portrayed as caving to a campaign of bigotry.
The boycott was called after Ford reneged on an agreement with American Family Association to stop funding homosexual groups which promote homosexual marriage.
Specifically, AFA had insisted on the following:
1. Ford would not renew current promotions or create future incentives that give cash donations to homosexual organizations based on the purchase of a vehicle.
2. Ford would not make corporate donations to homosexual organizations that, as part of their activities, engage in political or social campaigns to promote civil unions or same-sex marriage.
3. Ford would stop giving cash and vehicle donations or endorsements to homosexual social activities such as Gay Pride parades.
4. Ford would cease all advertising in homosexual websites and media outlets (magazines, television, radio) in the U.S. with the exception of $100,000 to be used by Volvo. The Volvo ads would be the same ads used in the general media and not aimed at the homosexual community specifically.
Now the AFA is lifting their boycott. They believe that their demands have been met.
Concerned over the claims, blogger Joe.My.God contacted Ford. He received the following reassurances (more details at his site):
The AFA has made its decision and is ready to move on. Our principles have not changed. We are committed to treating everyone fairly and with respect, including our dealers, customers and employees. Ford will continue to market its products widely to attract as many customers as possible and make charitable contributions to strengthen communities to the extent business conditions allow. Difficult business conditions in recent years have reduced our overall spending across the board.
Generally, gay bloggers seem to read in the above statement some indication that Ford remains committed to marketing to the gay community. I wish that I was so convinced.
I have found that when questions like, "Do you love me" elicit vague responses such as, "I love everyone", the real answer is "no". This is especially true when questions of gay rights and equality enter the picture.
You seldom find a raging homophobe or dedicated anti-gay activist who doesn't "love the person bound by homosexuality". Every argument against hate crimes includes "we oppose crimes against all people". Every opposition to non-discrimination policies is phrased, "we oppose discrimination against everyone but don't think special groups should be listed".
So when I read non-specific vague promises of "treating everyone fairly" and "market [our] products widely to attract as many customers as possible", my first assumption is that Ford will no longer be target marketing the gay community. If you intend on continuing advertising to gay customers, well you just say so. Ford's statement didn't even mention the word "gay", much less any indication that AFA's claim is without basis.
I believe it is still far too soon to know what has been promised or what will occur. Ford will have ample opportunity to clarify whether any concessions have been made to AFA and that all advertising in gay media will cease. Alternately, Ford could run an add next month in the Advocate.
So far I find this situation troubling. But I'm sure that by June I'll know whether or not to take "Don't Buy Ford" signs to gay pride.
AFA Finds Goldfish Sexy
Jim Burroway
November 17th, 2007
At least that's how it looks to me. The American Family Association sent out this Action Alert, alarmed that hotels are replacing Gideon Bibles with "Sex Kits.":
Hotels replace Gideon Bibles with "sex kits"

Now is the time to let the hotel chains know that you want them to keep the Gideon Bibles

The latest fad with some hotels is to replace their Bibles with "intimancy [sic] kits." For instance, at New York City's trendy Soho Grand Hotel guests can enjoy a gourmet mini-bar, an iPod, a flat-screen TV and even the company of a complimentary pet goldfish. But no Bible.
That's the problem with the AFA crowd. There's no telling what they'll find sexy.
GOP Top Tier Ignore the "Values Voters"
Timothy Kincaid
September 17th, 2007
The great circus of extremism known as the Values Voters Debate is being held today, and the Republican front runners will not be there. NBC6 is reporting that Rudy Giuliani, Mitt Romney, John McCain and Fred Thompson all have "scheduling conflicts" and wouldn't be caught dead at the event.
One can hardly blame them. The debate is moderated by WorldNetDaily's Joseph Farah and will host questions from "the American Family Association, Liberty Counsel, Creation Studies Institute and the like", including the brother of Terri Schiavo.
But though Janet Folger is terribly disappointed (and predicting dire results for those who are skipping the lunacy), there are some candidates so extreme (or so desperate) that they are willing to publically tie their wagons to young earthers, Ford boycotters, xenophobes, and homophobes.
Tonight's forum, which will be moderated by Joseph Farah, the editor of WorldNetDaily, will feature Senator Sam Brownback (R-Kansas), former Arkansas Governor Mike Huckabee, Congressmen Duncan Hunter (California), Ron Paul (Texas), and Tom Tancredo (Colorado), John Cox — and former U.S. Ambassador Alan Keyes, who announced his candidacy over the weekend.
Those with nothing to do (and I truly mean nothing to do) can tune in to watch the also-rans claim to each be more extreme than the other.
Do These Folks Agree With Cameron's "Solution"
Jim Burroway
May 14th, 2007
Dr. Warren Throckmorton has also posted about Paul Cameron's disturbing views expressed in Cameron's article, "Gays in Nazi Germany." Dr. Throckmorton concludes:
Suffice to say that Dr. Cameron is not simply ideologically opposed to homosexuality, he is fixated on "solutions" that I find abhorrent. I call on fellow social conservatives who still refer to the Camerons' work to take a hard look at these posts and reflect on whether someone with such extreme animosity could possibly approach social science data with sufficient objectivity to be trusted.
When Ex-Gay Watch pointed out that Exodus was using Cameron's research, Exodus finally responded by removing those web pages from their web site. On the other hand, NARTH has so far failed to act.
I wonder how many of these individuals, organizations and publishers agree with Paul Cameron's Solution for those who live "parasitic lives"?
E-mail me or leave a comment if you find someone who is using Cameron's "science" and I'll add them to the list.
Publications:
American Family Association:
Americans For Truth:
Courage:
Concerned Women For America:
Ears To Hear:
Evergreen International:
Family Research Council:
International Healing Foundation (Richard Cohen):
Lifesite News:
National Association for the Research and Therapy of Homosexuality (NARTH):
One News Now:
Renew America:
Virtue Online:
Let me know if you find any others.
Two Republicans Do The Right Thing
Jim Burroway
August 21st, 2006
The editors of the Kalamazoo Gazette observed that "After what happened to a couple of Kalamazoo County commissioners this week, it's a wonder any Republican lawmakers have the nerve to support equal rights for homosexuals."
Last Tuesday, two GOP Commissioners joined seven Democrats to include "a person's political affiliation, sexual orientation or gender identity" in the county's non-discrimination policy. Immediately before the vote, more than six thousand residents started getting automated phone calls with recorded messages from the American Family Association denouncing GOP Commissioners Bob Brink and Joe VanBruggen. Despite all this, the two stuck to their guns and passed the measure.
The editors congratulate their courage:
So we know that the AFA has a long memory and is more than willing to try to punish elected officials for years after a vote the organization doesn't approve of.

That does put a target on Brink's back if he decides to run for the 61st House District seat in two years.

Sometimes, it isn't easy to do the right thing when one knows that the penalty might be the end of a political career.

Bob Brink and Joe VanBruggen showed a lot of courage Tuesday night.
Contact information to congratulate the Board is available via this web site.
A Study in Holland
Jim Burroway
July 31st, 2006
There has been a noticeable increase in the number of visitors to this web site using search engines to learn more about the famous "Dutch Study." I suspect the recent spike in visitors may have something to do with an article that appeared in the American Family Association's AFA Journal this month. Ed Vitagliano notes that in countries and states where marriage or civil unions are allowed, the number of same-sex couples tying the knot is relatively low. Why do you suppose that is? Ed thinks he has the answer:
Even when they couple, homosexual relationships are relatively short-lived. A study of homosexual couples in Holland found that same-sex unions lasted an average of 18 months and included an average of eight additional sex partners outside the "monogamous" relationship.
Well we've been down this familiar road before. The AFA is relying on cooked statistics for this. This was a non-representative study based on AIDS patients who were all under the age of thirty. This is hardly a pool where you'd expect to find many couples celebrating their golden anniversaries. But these statistics have reached urban-legend status. You can read more about it in Straight From The Source: What the "Dutch Study" Really Says About Gay Couples.
The AFA thinks that the low number of same-sex couples getting hitched shows that gays aren't really interested in marriage, but are only interested in advancing their nefarious plot to win "the cultural victory that legalized same-sex marriage would represent." But as I said before, I think the answer is much simpler — and much more conservative and family-valued than that.