Gang Style Chicken
Randy Potts
August 17th, 2012
As much as I'd like to ignore it, Floyd Lee Corkins, II, has forced me to think once more about Chick-fil-A and the food fight between the left and the right.  Dan Cathy's remarks several weeks ago opened up a fault line – suddenly, instead of staying safely within our left-wing and right-wing echo chambers, Americans are debating the First Amendment and boycotts and marriage rights.  Many in the LGBT community report that once-silent family members are now sending them emails, proudly posting pictures of chicken on Facebook, and calling them late at night to quote Bible verses about death and destruction.  Just two days ago, Mr. Corkins shot a security guard at the Family Research Council and fifteen Chick-fil-A sandwiches were found in his backpack; it's safe to assume he wasn't delivering Tony Perkins' lunch.
Although food has loomed large in touching off historical debate (see the Boston Tea Party, Gandhi's march to the sea to make salt, or four college students sitting implacably at a Woolworth's lunch counter), the food is only a foil for a larger, more important debate – what constitutes our community's values, how do we define those values, and which of those values can bring us together rather than tear us apart?  The single common denominator throughout all these "food fights" is that in each instance a community stood up to protest its second-class status.  The same holds true for today's debate.
The question at hand is this – can LGBT people and the unions they form, the children they raise, the families and community bonds they form, be truly accepted into American society?  Can the American dream accommodate a group once pegged by the majority as alien and subversive?  Now that, in 2012, it seems clear that the majority has begun to respond with a resounding yes, how do we deal with the not-insubstantial minority that is left angry and upset?  How do we deal with those within our own ranks, as it appears Mr. Corkin was, whose rage at those who refuse to "see the light" may translate unforgivably into violence?
In 2010, the Southern Poverty Law Center designated several anti-gay groups as "hate groups" for the first time.   Their research of FBI documents over the previous fourteen-year period revealed a little-publicized fact:  LGBT people are overwhelmingly the largest target of physical attacks inspired by hate in the U.S.  Our status as second-class citizens is second to none.  Coming from a conservative family background as I do, my first reaction when I heard that Mr. Corkins had attacked an organization labeled as a "hate group" was this – is that label helpful in any way?
Reading up on how the FBI discusses groups that inspire violence it became clear that labeling the Family Research Council and other organizations like it as hate groups is simply a recognition that the violence occurring against the LGBT community has a real, concrete source and a real, concrete voice.  When Tony Perkins talks about the "homosexual agenda" and Dan Cathy triumphantly says "guilty as charged" when asked about the millions of dollars he contributes to anti-LGBT causes, their words fall dangerously close to the dividing line the FBI has established between rhetorical violence on the one hand and physical violence on the other.  Identifying seven distinct stages along this spectrum, the last stage between rhetoric and physical violence is Stage Five when
"the hate group attacks their target without weapons . . . prowling their turf seeking vulnerable targets."
This is what America saw on Mike Huckabee's "Chick-fil-A Appreciation Day": a community rallied together to attack the idea that the LGBT community – our unions, our families, our places of gathering, our places of worship – is worthy of first class citizenship.  Chick-fil-A restaurants and its packaging has become home turf, a veritable gang sign, and Mr. Corkins' deplorable attack two days ago was simply a confirmation of that fact.
In our national gang-style fever, calling out hate is not only justifiable but critically important.  Keeping up the fight for marriage equality, for equal protection laws, for first class citizenship in a calm, rational manner is the most effective way to take the long view and play it out in full.  In the words of Dr. Martin Luther King, pictured above eating fried chicken with his family,
"It may be true that the law cannot make a man love me, but it can stop him from lynching me, and I think that's pretty important."
Thoughts on how my words have consequences
A Commentary
Timothy Kincaid
August 16th, 2012
I cringed when I first heard about the shooting at the extremist anti-gay group Family Research Council. I'd like to say that it was out of concern for those who work there, and I was concerned, but truthfully I was more afraid of the political fallout of the situation and desperately hoped it wasn't someone gay who was the culprit.
By the time we learned that Floyd Corkins was not only gay but also a volunteer at an LGBT center, I'd calmed down enough to realize that while this event was jarring, it didn't exactly come as a surprise to me. Nor would I have been shocking if it had been, as it so often has, an attack on a LGBT person or organization by a deranged person on the far right.
A suicide bomb. A place of worship defaced. An innocent kid shot in a drive-by. A racist epithet hurled at a politician. A shooting at FRC.
These things get attention and news space. They get public outcry and denunciation. As they should. And I am proud that my community spoke with one voice in denouncing the violence yesterday. It was the only appropriate response.
But these are not events that occur in a vacuum. No one wakes up one day and decides – purely on whim – to shoot up a Sikh temple because it was the first building they happened upon. No one steps aboard an airport bus full of Israelis with a bomb because he thought it had the best air conditioning.
And it was not purely out of happenstance that Floyd Corkins walked into the lobby of the Family Research Council.
I don't know Corkins' intentions yesterday. Perhaps he left the house thinking that he would confront someone at FRC and tell them off or throw a chicken sandwich at them. Or perhaps he thought that he would go make a brave act of political assassination and be hailed as a hero who took out someone who doesn't deserve to live. Perhaps we will eventually know, perhaps not.
But we do know that Corkins took a gun with him and we can surmise that his intentions were to do harm. And if not, I think it's fair to say that if it wasn't Corkins, it would have eventually been someone, some gay person who believed that violence against the Family Research Council was justified.
And that is what Corkins believed. Because that is the message that Corkins heard.
Oh, I doubt anyone ever said to him, "Tony Perkins should be shot!" But I'm certain that during his volunteer work at the center he heard plenty about how Perkins was a H8ter and a ReTHUGlican and a Christer. I'm sure that he learned that the Family Research Council consisted of people who hate him and who would see every gay person dead if they could get away with it.
Cartoon villains. Single faceted characters without any redeeming qualities. Evil personified.
Disposable.
The world would be better off without them.
How do I know Corkins heard that message? Because I've heard it; you have too. And sometimes I've used language about our political opponents that failed to recognize their humanity. I've allowed my contempt of someone's beliefs and advocacy result in contempt of them as a person.
Of course I feel no hesitation about opposing bigotry and discrimination. I believe that it is not only justified but necessary to call the Family Research Council what it is: a hate group. Nor will I wrap Tony Perkin's efforts to diminish our lives in the false piety of "love" and "religious opinion". Lies are lies and Perkins is a liar.
I'm comfortable with that. I know that most people who read here would never ever see anything that might cause them to think that violence towards Perkins, or any of our adversaries, is in anyway encouraged or acceptable. Most people know that "it goes without saying" that such a response would condemned without exception.
But for some people, it doesn't go without saying. For some people, it has to be said. Some people have to be told that we will not see them as heroes if they take – or even threaten – the life of someone else.
Do I say it enough?
In our culture, in which one half of the population seems to be engaged in war with the other half, a lot is said. A lot is insinuated. A lot is claimed. And a lot of it has basis in nothing more that the dehumanization of people with whom we disagree.
We see it so often that we don't even hesitate. Today I read that only a "privileged white lady" would call and ask police to base their actions on her religion. And that because of Republican victories in 2010 that it wouldn't be surprising if someone called for a constitutional amendment declaring women as property. And I shrugged. It's just hyperbole.
Of course it comes from the other direction as well. And in our community we document and expose the crazy rantings of Bill Donahue and Bryan Fischer. As we should.
And we decry the failure of those who claim that they are only trying to protect the family and love the homosexual but look away when their allies call us child molesters who shake our fists in God's face. And yes, it absolutely is odious that NOM's Brian Brown would dare to self-righteously claim to have "condemned all violence and vilification" when he's often their number one cheerleader.
But I think that – more often than I care for – I allow their attitude to dictate my own. Because NOM says heinous things, I can say them back. Because they are H8TERS, I'm justified in hating them.
But does it really matter "who started it"? Is my own sense of morality so unstable that the words or behavior of someone else should justify doing or saying something that I know to be wrong?
And every bit as important, can I let stand outrageous things that others say? I know that if I too aggressively chastise "my side" for extreme language then I become an aider and abettor, a kapo, a quisling, and lose any power to impact the conversation.
But do I go far enough? Or do I look away while those who disagree with me are depicted as fascists, racists, and misogynists?
And I know that writing this commentary runs risks. Some readers will see this only in terms of whether I'm blaming our community for Corkins' actions. I'm not. Some who advocate for anti-gay political positions and are cynically capitalizing on this tragedy might claim that I'm validating their outrageous assertions. Of course I'm not.
But does that mean it shouldn't be said? Should I wait for someone else who can better articulate or who will be better received?
And I also know that I can too quickly make this about "them", the ones on the right or left, gay or anti-gay who "go too far" and leave the wrong impression. I can get lectury and lay out a sermon about what "we" could have done when I really mean what "you" could have done. Because it's a lot easier to see others' errors than one's own.
Do I really own this problem to the extent that I think I do? Or am I being all self-congratulatory and better?
I don't have answers. I'm not even sure I have the right questions. But I do know that I will try and pay more attention. I'll try to to be aware that that which "goes without saying" doesn't. And I'll try to remember that my words – not just those of Tony Perkins and Linda Harvey and Brian Brown – have consequences.
Dear Brian Brown: When it comes to violence and vilification, NOM is there.
Rob Tisinai
August 16th, 2012
Dear Brian Brown,
After Wednesday's shooting at the Family Research Council, you quickly leveraged the event into a self-serving denunciation of the Southern Poverty Law Center. I can't fault you for that. After all, in the wake of Gabrielle Giffords' shooting, I denounced Sarah Palin for lacking the decency to take down her "target map" with its Giffords crosshairs as the Congresswoman struggled through intensive care. However…
However, you'd be more persuasive if you didn't exploit this crime to lie about yourself and your organization.
NOMblog reports your statement:
Today's attack is the clearest sign we've seen that labeling pro-marriage groups as 'hateful' must end. The Southern Poverty Law Center has labeled the Family Research Council a 'hate group' for its pro-marriage views, and less than a day ago the Human Rights Campaign issued a statement calling FRC a 'hate group'—they even specified that FRC hosts events in Washington, DC, where today's attack took place.

NOM has always condemned all violence and vilification connected to our ongoing national debate about the meaning and definition of marriage.
Please, Brian, this event is too important for casual deception. NOM has long, long history, not just of failing to condemn violence and vilification, but of promoting it.
41 LGBT Advocacy Groups Jointly Condemn FRC Shooting
Jim Burroway
August 15th, 2012
Twenty-three Forty-one LGBT advocacy organizations have come together to isue a joint statement condemning today's shooting at the Family Research Council's headquarters in Washington, D.C. in which a guard was injured. You already have Timothy's, Rob's and my reactions from earlier today. I speak for everyone here at BTB in wishing for the guard's swift recovery, along with our gratitude that the worst that could have happened didn't happen.
Click here to read the Joint Statement after the jump.
FRC shooter identified
Timothy Kincaid
August 15th, 2012
The FBI has released the identity of the shooter at the Family Research Council. He's 28 year old Floyd Lee Corkins of Herndon, VA. We don't yet know exactly what were Corkins' motivations or what his orientation may be.
And as vile and despicable as I find FRC – as indicated by their absurd suggestions that it's the Southern Poverty Law Center's fault for accurately describing them as a hate group – there is absolutely no excuse for this act. I have nothing but contempt for Mr. Corkins' behavior or for any rhetoric that seeks to excuse Mr. Corkins for this act.
The Shooting at Family Research Council
Rob Tisinai
August 15th, 2012
Let me add my voice to those deploring the violent attack on the Family Research Council. Details are scarce, but all reports indicate that FRC's security team acted heroically under fire. I wish a speedy recovery to the guard who was shot and I hope he gets the recognition he deserves. The struggle for equality is a battle for hearts and minds; bloodshed has no place in the fight.
Shooting at the Family Research Council's Headquarters (Updated)
Jim Burroway
August 15th, 2012
Washington, D.C. police have a suspect in custody following a shooting this morning at the Family Research Council. According to a statement from FRC president Tony Perkins, "The police are investigating this incident.  Our first concern is with our colleague who was shot today.  Our concern is for him and his family."
Police arrived at the scene at 10:50 a.m. local time and closed the 800 block of G Street NW. The victim, a guard at FRC, was conscious and breathing according to a police spokesperson. The Washington Post reports that a Tweet from the D.C. firefighters' union's says that the guard was shot in the arm. Politico reports that he was transported to a local hospital.
Police have not yet released the identity of the suspect. A source at FRC told Fox News that the suspect "made statements regarding their policies, and then opened fire with a gun striking a security guard." Multiple news outlets say that the FBI is investigating, which could mean that they are looking whether the incident qualifies as an act of domestic terrorism. (Update: The Washington Post clarifies the FBI's role: "Because the FRC's offices are housed inside a federally owned building, the FBI is also responding." Metro Weekly confirms that the FRC rents space in a federaly owned building.)
Update: It should go without saying, but times like these demand that it be said anyway. We do not know the motivation of the shooter, but if the shooter is sane and competent, it is then probably a safe assumption that he didn't single out the FRC because he liked the group's mission and wanted to deliver cupcakes. Violent backlashes against political and social causes– no, not causes, people — are always reprehensible, and they are reprehensible without reservation or exceptions.
I am reminded of this 1963 quote from Dr. Martin Luther King, Jr.: "Darkness cannot drive out darkness; only light can do that. Hate cannot drive out hate; only love can do that. Hate multiplies hate, violence multiplies violence, and toughness multiplies toughness in a descending spiral of destruction." For those inclined toward prayer, we ask that you pray for the security guard and for all the others who were targeted and are now undoubtedly shaken up by today's events. For those not inclined toward prayer, we ask that you keep them in your thoughts.
Update: From the Washington Examiner:
A man walked into the lobby at about 10:45 a.m. and was confronted by the security guard as per the organization's policy, D.C. police Chief Cathy Lanier said. The man opened fire, and the guard was hit in the arm before he and other security guards tackled the shooter," Lanier said.

"As far as I'm concerned, the security officer here is a hero," Lanier said. "The persona never made it past him."

A suspect was taken into custody, and the man was uninjured, Lanier said.
Exodus Condemns Family "Research" Council For Honoring Anti-Gay Pastor
Jim Burroway
May 29th, 2012
Exodus International, the world's largest Christian ministry helping individuals and families struggling with same sex attraction, denounced the Family Research Council's choice of pastor Ron Baity to receive its highest pro-family honor, the 2012 Watchman Award.

Baityis on record saying, "gays act worse than maggots," will make society "more filthy," and God had an "urban renewal plan for Sodom and Gomorrah." Baity also compares gay and lesbian people to murderers and says gay marriage is America's "death warrant." Baity is founding pastor of Winston-Salem's Berean Baptist Church and head of the pro-marriage organization, Return America.

"It's time conservative Christians who claim biblical principles such as loving their enemies and neighbors, and considering the welfare of others first, to speak swiftly and strongly against this type of action," says Alan Chambers, president of Exodus International.

"For too long we've stayed silent and allowed our brothers and sisters to tip that hat toward hate. It's a terrible witness for Christ, and clear hypocrisy to a watching world."
Exodus hasn't had a very close relationship with the Family "Research" Council for quite a while. Exodus has traveled more in Focus On the Family's circle than FRC's, and their association with FOTF has been curtailed somewhat after Exodus took over the Love Won Out travelling roadshow conference in 2009. Last fall, there were reports that Exodus would undergo a rebranding exercise in an effort to stave off bankruptcy. The first evidence for that exercise came in January when Exodus president Alan Chambers appeared on a surprise panel of a meeting of the Gay Christian Network and said that "99.9% of them (ex-gays) have not experienced a change in their orientation."
That provoked a mild rebuke from NARTH. Meanwhile, Exodus removed books on Reparative Therapy,(*) NARTH's signature form of therapy, from Exodus's online bookstore. It now appears that Exodus has removed references to NARTH altogether from its web site.
I don't think we can deny that changes are taking place at Exodus. What's unclear is how deep those changes go, particularly to member ministries and churches. It's also unclear how deep these changes are held within Exodus's leadership. Last February, Exodus board member Mike Goeke wrote an op-ed for the Baptist Press describing why he thought homosexuality was in a special category that made it different from all the other "sins."
That's why I had hoped to attend another Love Won Out conference to see what, if any, changes had been made in its messaging. The last time I attended one was in 2007, and I was prepared to go to Albuquerque to attend one that had been scheduled for May. Unfortunately, it was cancelled due to a lack of interest. I had also wanted to try to attend the Exodus Freedom Conference in St. Paul, Minnesota at the end of June, but finances won't permit it.
So I'm in the same boat as the rest of you, trying to read the tea leaves from afar. And as is the case with tea-leaf reading, the result likely says more about the reader than any message contained in the leaves: Exodus is either making all the changes we've hoped they were making, or they are frantically trying to say or do anything to stay alive. I happen to believe the truth actually lies elsewhere — not in the tea leaves, but simply by watching and noting each development as it unfolds. To be sure, Exodus is not becoming a pro-gay or gay-affirming organizaiton. But I think today's statement condeming the FRC's honoree does break new ground, if for no other reason than for the fact that Exodus International has strongly criticized a very powerful and influential anti-gay organization. I'm not willing to read anything more into this statement than that. But I'm also not willing to read anything less.
…
[(*) NOTE: Reparative Therapy is a very specific term which describes just one particular type of therapy out of a large array of therapies aimed at changing sexual orientation. Reparative Therapy derives its name from the theory that gay men become gay because they suffered a "masculine deficit" due to the failure to form a healthy bond with their fathers. That "masculine deficit" sets up a "reparative drive" in the son, wich is defined as the son's impulse to "repair" that masculine deficit by seeking out relationships with other men. Reparative Therapy depends on this particular theory of male homosexuality, and it is quite rigid on that point. Many ex-gay therapists are not Reparative Therapists, and some are quite emphatic on that point.
This is why we here at BTB do not use the phrase "reparative therapy" as a generic term for sexual orientation change therapies because that usage is incorrect. We only use this term when we are talking about this particular form of therapy intended to address the so-called "reparative drive."]
Anti-Gay Groups Conspire to Add Anti-Gay Measures To Defense Authorization Bill
Jim Burroway
May 8th, 2012
Chris Geidner is reporting that Rep. Todd Akin (R-MO) will introduce an amendment to the National Defense Authorization Act before the House Armed Services Committee tomorrow to weaken the implementation of the repeal of "Don't Ask, Don't Tell." The amendment would, in effect, create a "conscience protection clause" for military chaplains, giving them free reign to denounce LGBT servicemembers as shameful and sinful. Another measure, which would prohibit chaplains from performing same-sex marriages under the guise of enforcing the Defense of Marriage Act on military bases, would ironically have the effect of violating the consciences of chaplains who support marriage equality.
Both measures are currently part of the same amendment, but they may instead be broken up into two separate amendments in order to "(give) us the strongest hand going into conference with the Senate," according to an email sent to amendment supporters form Justin Johnson, Akin's legislative director. Similar measures were included in the House version of the 2011 National Defense Authorization Act, but were dropped during conference negotiations with the Senate, which did not include similar measures in their version of the act.
The email had a interesting list of names in the address line:
Among the advocates included in the planning for the amendments being offered and from whom Johnson was seeking input were Elaine Donnelly of the Center for Military Readiness; Brian Duggan, a lobbyist for the National Organization for Marriage; Austin Nimocks and Daniel Blomberg, lawyers with the Alliance Defense Fund; Arthur Schulcz, a Virginia lawyer who brought a lawsuit on behalf of chaplains claiming religious discrimination even prior to the repeal of DADT; Tom McClusky from the Family Research Council; Doug Lee and Ron Crews from the Chaplain Alliance for Religious Liberty; members of the Archdiocese for the Military Services; Nathaniel Bennett, the director of government affairs for the American Center for Law and Justice; and the president of the Associated Gospel Churches, which has highlighted on its main page a link to the organization's "Resolution on Homosexuality and the Military." FRC has been designated as a hate group by the Southern Poverty Law Center.
Did Grenell Jump or Was He Pushed?
This post has been updated with more information from the New York Times and Talking Points Memo
Jim Burroway
May 3rd, 2012
Or did he just simply let go?
On April 19 when Gov. Mitt Romney named Richard Grenell, a longtime GOP communications strategist as his national security and foreign policy spokesman, conservative blogger Andrew Sullivan hailed the announcement as "a real outreach to gay Republicans" while Karen Ocamb said is marks "the day Romney pivots to appeal to mainstream voters for the general election."
But if that was a pivot, it ended Tuesday when Grenell resigned from the campaign. His very brief announcement hinted at why he left such a high-profile post in a national presidential campaign: "My ability to speak clearly and forcefully on the issues has been greatly diminished by the hyper-partisan discussion of personal issues that sometimes comes from a presidential campaign."
What "hyper-partisan" discussions was he referring to? At first, some speculated that it may have been related to the initial criticisms from pundits and bloggers over provocative Twitter posts that he made about Rachel Maddow's appearance, Newt Gingrich's wife Calista's appearance, Hillary Clinton's appearance, Michele Obama's accent, and other snarky tweets. But it quickly seemed unlikely that those criticisms led to Grenell's sudden departure. Most of them came from left-of-center and beyond, which Republicans tend to wear as a badge of honor (as many Democrats do with criticism from the right). And besides, by April 22 when Grenell deleted some 800 tweets and took his personal web site offline, those criticisms were already loosing traction. The world quickly moved on to the next outrage.
Well, most of the world anyway. One key component of the restive GOP base didn't. SPLC-certified hate-artist Bryan Fischer of American Family Association called Grenell's appointment "a deliberate poke in the eye" to Christian conservatives, and mounted a campaign for Grenell's removal with a six-point list of demands for Gov. Romney. Family "Research" Council warned that Grenell's support for same-sex marriage would have him lobbying "for foreign policy more in line with the current administration than the last Republican one." National Review's Matthew Franck wrote that Grenell supported marriage equality "with a kind of unhinged devotion that suggests a man with questionable judgment." He even suggested that Grenell's gayness would cause him to turn traitor to the Republican cause and switch teams if Obama were to come out for same-sex marriage.
Those criticisms apparently spooked and paralyzed the Romney campaign. Andrew Sullivan did some "actual reporting from yours truly" and got to the bottom of Grenell's resignation:
It seems clear from sources close to Grenell and reporters on the foreign policy beat that his turning point came last week. He'd been part of organizing a conference call to respond to Vice President Biden's foreign policy speech, now known best for the "big stick" remark. So some reporters were puzzled as to why Grenell, a week into his job as Romney's national security spokesman, was not introduced by name as part of the Romney team at the beginning of the call, and his voice completely absent from the conversation. Some even called and questioned him afterwards as to why he was absent. He wasn't absent. He was simply muzzled. For a job where you are supposed to maintain good relations with reporters, being silenced on a key conference call on your area of expertise is pretty damaging. Especially when you helped set it up.

Sources close to Grenell say that he was specifically told by those high up in the Romney campaign to stay silent on the call, even while he was on it. And this was not the only time he had been instructed to shut up. Their response to the far right fooferaw was simply to go silent, to keep Grenell off-stage and mute, and to wait till the storm passed. But the storm was not likely to pass if no one in the Romney camp was prepared to back Grenell up. Hence his dilemma. The obvious solution was simply to get Grenell out there doling out the neocon red meat — which would have immediately changed the subject and helped dispel base skepticism. Instead the terrified Romneyites shut him up without any actual plan for when he might subsequently be able to do his job. To my mind, it's a mark of his integrity that he decided to quit rather than be put in this absurd situation. And it's a mark of Romney's fundamental weakness within his own party that he could not back his spokesman against the Bryan Fischers and Matthew Francks.
This confirms what the Washington Post learned shortly after Grenell's resignation, when Jennifer Rubin wrote: "The ongoing pressure from social conservatives over his appointment and the reluctance of the Romney campaign to send Grenell out as a spokesman while controversy swirled left Grenell essentially with no job." She later reported that many members of the campaign privately reached out to Grenell over the weekend to try to persuade him from resigning, but they were unsuccessful. She then reiterated the root of the problem: "Despite the controversy in new media and in conservative circles, there was no public statement of support for Grenell by the campaign and no supportive social conservatives were enlisted to calm the waters."
[Update: The New York Times this morning has more. During that foreign policy conference call:
It turned out he was at home in Los Angeles, listening in, but stone silent and seething. A few minutes earlier, a senior Romney aide had delivered an unexpected directive, according to several people involved in the call.

"Ric," said Alex Wong, a policy aide, "the campaign has requested that you not speak on this call." Mr. Wong added, "It's best to lay low for now."

For Mr. Grenell, the message was clear: he had become radioactive.
After interviewing more than a dozen aids and advisers, The Times describes the episode as "halting attempts by the campaign to manage its relationship with the most conservative quarter of the Republican Party."
"It's not that the campaign cared whether Ric Grenell was gay," one Republican adviser said. "They believed this was a nonissue. But they didn't want to confront the religious right."]
This leaves many wondering if there is any room for gay Republicans in visible positions. GOPRoud's Jimmy LaSilva said, "This was an opportunity to send an important message that Mitt Romney wants everybody to get behind him and to support his campaign. They let that opportunity pass." [Update: Go Proud's Christopher Barron added, "It doesn't bode well for the Romney campaign going forward if they couldn't stand up to the most outrageous attacks about him being gay." Fred Karger, who ran against Romney as an openly gay candidate told TPM,
"It's going to be difficult for Romney to take other steps like this. And that's what's really frightening to me. It's just too tough to stand up to these groups because they have a lot of money and power. You've got to be able to do that, that's leadership."]
Sullivan was more direct:
So if all gay Republicans who support marriage equality are banned even from speaking on other topics entirely (like Iran or Afghanistan, where Grenell is a fire-breather), who's left? The answer, I'm afraid, is no one. Grenell was prepared to stay silent on gay issues entirely and do his job. But that wasn't enough. Romney's anti-gay agenda is therefore deeper and more extreme than Bush's.
Meanwhile, AFA's Bryan Fischer is declaring Grenell's resignation a huge win. With continued silence from the Romney camp, this leaves likes of Fischer to operate as the de-facto gatekeepers of acceptable members of the Romney campaign — and perhaps even of a Romney administration.
Guess Whose Fault It Is That Heterosexual Secret Service Agents Were Caught In A Straight Prostitution Scandal
Jim Burroway
April 17th, 2012
Family "Research" Council's Tony Perkins is the Einstein who connected these dots:
Perkins: Yeah, you know that's a great point. Just for a moment step back and look at the implications of (Don't Ask, Don't Tell repeal), over the weekend we saw the news of the President's Secret Service detail in Colombia and the issue of them hiring prostitutes and now the White House is outraged about that. Actually in a meeting this morning my staff asked, 'why should the President be upset'? It was actually legal; it was legal there to do that, so why should we be upset? Well, the fact is we intuitively know it's wrong, there's a moral law against that.

The same is true for what the President has done to the military enforcing open homosexuality in our military. You can change the law but you can't change the moral law that's behind it. You can change the positive law, the law that is created by man, but you can't change the moral law, it's wrong. So what you have is you have a total breakdown and you can't pick and choose. Morality is not a smorgasbord; you can't pick what you want. I think you're absolutely right, this is a fundamental issue going forward because if we say 'let them do what we want,' what's next? You cannot maintain moral order if you are willing to allow a few things to slide.
FRC VP Warns of Third Party If GOP Embraces Marriage Equality
Jim Burroway
April 6th, 2012
A recent Politico article argues that same-sex marriage has become a "dead issue" among many Republicans. I beg to differ, myself, although Politico says that House Republican leadership has "quietly worked behind the scenes to kill amendments that reaffirm opposition to same-sex unions." Family "Research" Council's vice president Tom McClusky isn't having it, telling the Janet Mefferd Show:
Mefferd: If the GOP continues to go in a direction where they will not get on the side of traditional marriage and be willing to fight for it, what do Christians do?

McClusky: I think you will—there are always threats of a third party—I think if something like that were to happen you would see a third party. It would be made up of more than just disgruntled conservative Republicans. On the marriage issue there's African Americans who normally vote Democratic, there's Hispanics, and the same on the life issue, and there are a lot of good Democrats like say in the state legislature of New York who fought against same-sex marriage and Maryland who tried to, I think what you see is a lot of people drifting from both parties into a third party or some sort of independent party that is more pro-life and pro-marriage.
McClusky also said that "Societies that try to do away with marriage, they crumble, they fall apart." Well, then. It's a good thing we're trying to expand marriage and not do away with it.
[via Right Wing Watch]
Santorum's Pastor Problem
Jim Burroway
March 20th, 2012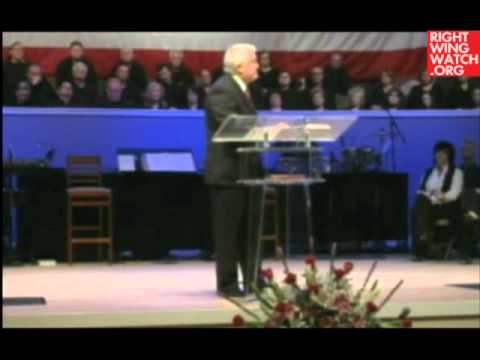 I don't care what the liberals say, I don't care what the naysayers say, this nation was founded as a Christian nation! The God of Abraham, the God of Isaac, the God of Jacob, there's only one God! There's only one God, and his name is Jesus! I'm tired of people telling my I can't say those words. I'm tired of people telling us that as Christians we can't force or beliefs, or we can no longer pray in public. I'm — Listen to me! If you don't like… love American and you don't like the way we do things, I got one thing to say. GET OUT! We don't worship Buddha, we don't Mohammed, we don't woship Allah, we worship God. We worship God's son, Jesus Christ.

…I believe the church is to be the conscience of the nation. The church needs to be the conscience of our state and our local community. Listen closely. Now hold on for just a moment. As long as they continue to kill little babies in our mother's womb, somebody's got to take a stand and say it's not right! God be merciful to us as a nation. As long as sexual perversion is becoming normalized, somebody needs to stand up and say God forgives us, God have mercy upon us! As long as they continue to tell our children they cannot pray in public schools or pray in open public places today, somebody's got to take a stand and say God forgive us, God have mercy upon us! As long as they continue to tear down traditional marriage… Listen! God intended for marriage to be between a man and a woman, and as long as they continue to attack marriage, somebody needs to take a stand and say NO! NO! NO! NO!

…I'm telling you my friend I believe the Christians in American are the key to revival. I believe that Christians in America is (sic) the key to the economy to turn it around. I believe that Christians in America is (sic) the key to the jobless rate continue (sic) to go down. I believe its a spiritual thing. If we would put God back in America, put God back in our pulpits, put God back in our homes and in our statehouse and then in Washington, D.C., then we can have revival in America! And the Holy Spirit will show up and great and mighty things will happen for this country!
The video closes with the camera on Sen. Rich Santorum, standing and clapping, after Greenwell Springs Baptist Church pastor Dennis Terry's fiery speech yesterday calling on anyone who does not adhere to his particular brand of Christianity to leave the country so that they can finally establish their talibanic regime in the White House. Terry made those comments at a rally in Louisiana, which is the home of Family Research Council's Tony Perkins. To tighten that circle just a little, Terry is also Perkins's pastor, who was also on hand at the event.
If anyone wonders at the collapse of the so-called "Catholic vote" (I, for one, believe that Catholics never voted as a block to begin with), one only has to watch this video. Despite Santorum's identification as a conservative Catholic, despite his reportedly attending Mass daily, what you see here is as alien — and as disturbing — to the majority of Catholics as it is to any other (yes, I'll say it) ordinary American. Catholics have acquired a long history of shunning the pronouncements of the hierarchy on issues of private morality, and they have a much longer history of fearing the interference of government in religious affairs. Co-mingling the two are anathema to most Catholics in the pews, even as the Bishops have become increasingly politically active. That partly explains how Romney has been picking up most of the Catholic vote in recent contests.
At the rally's close, Terry prayed over Santorum and asked God to "have favor upon Rick Santorum," as Perkins stood next to them. When Jeremaiah Wright "goddamned" American, Obama was nowhere in sight, but he got the blowback anyway. Terry laid his hands on Santorum and — more relevant to our point here — Santorum obediently bowed his head for Terry's blessing, nodding in agreement.
When pressed by reporters afterward, Santorum tried to half-heartedly back away from Terry's comments that American "heretics" — and let's be clear: that's who Terry's talking about — need to leave America. But the sad truth is, Santorum fully owns Terry and all of the other dominionists who would turn this nation into a theocratic Ameristan as the first opportunity. And to those who say that dominionism is a myth, all I have to say is that we have video proof of it right there, right at the top of this post. And one of them is running for President.
Anti-Gay Extremists Have A Cow Over Obama's Foreign Policy Memorandum
Jim Burroway
December 6th, 2011
Any day our opponents are driven to fits of apoplexy is a good day if you ask me. Family "Research" Council's Peter Sprigg is positively sputtering over the Obama Administration's memorandum directing American international agencies to take action in countries where LGBT abuses are taking place. Sprigg's sputtering, but unfortunately he's not speechless:
It is startling that President Obama is prepared to throw the full weight and reputation of the United States behind the promotion overseas of the radical ideology of the sexual revolution. If he did the same on other issues, his own liberal allies would undoubtedly accuse him of cultural imperialism. Threats to withhold foreign aid from poor countries unless they conform their laws to the views of Western radicals are unconscionable.

The United Nations, like the United States, remains sharply divided on the issue of whether special rights should be granted on the basis of sexual conduct, sexual orientation or gender identity. No treaty or widely accepted international agreement has established homosexual conduct as a human right, yet the Obama administration's actions seem guided by this fiction.
Right. Obama shouldn't be listening to "Western radicals" who think gay people shouldn't be jailed. And we already know Sprigg's opinion on that topic, and given the Family "Research" Council's lobbying Congress against resolutions condemning Uganda's Anti-Homosexuality Bill, it's safe to say that the rest of FRC shares Sprigg's position.
Liberty Counsel's Matt Barber chimes in with his own outrage:
The announced policy, according to Matt Barber of Liberty Counsel Action, "displays the arrogance of the Obama administration."

It is "frankly offensive," says the attorney, that President Obama "feels compelled to export American culture's decline in morality, and export that immorality to other nations that are trying to adhere to traditional principles relative to human sexuality."

Barber also notes that the administration is apparently ignoring the fact that foreign nations — like the United States — are sovereign countries. He adds that the U.S. is "using essentially blackmail and the purse strings" of the nation to force countries to change their moral principles.
Speaking of exporting immorality, has anyone seen Lisa Miller lately?
Chik-Fil-A's Anti-Gay Contributions
Jim Burroway
November 1st, 2011
Chick-Fil-A's charitable arm, the WinShape Foundation, has received $7.8 million in funding from Chick-FilA, Inc. WinShape, which was founded by Chick-Fil-A's founder and chairman S. Truett Cathy, turned around and gave more than $1.7 million to several anti-gay groups in 2009, including the Marriage and Family Legacy Fund ($994,199), Fellowship Of Christian Athletes ($480,000), National Christian Foundation ($240,000), Focus On The Family ($12,500) Eagle Forum ($5,000), Exodus International ($1,000), and Family "Research" Council ($1,000). Equality Matters has the details. Remember that the next time you're hankering to "Eat Mor Chikin."