Exodus Condemns Family "Research" Council For Honoring Anti-Gay Pastor
Jim Burroway
May 29th, 2012
Exodus International, the world's largest Christian ministry helping individuals and families struggling with same sex attraction, denounced the Family Research Council's choice of pastor Ron Baity to receive its highest pro-family honor, the 2012 Watchman Award.

Baityis on record saying, "gays act worse than maggots," will make society "more filthy," and God had an "urban renewal plan for Sodom and Gomorrah." Baity also compares gay and lesbian people to murderers and says gay marriage is America's "death warrant." Baity is founding pastor of Winston-Salem's Berean Baptist Church and head of the pro-marriage organization, Return America.

"It's time conservative Christians who claim biblical principles such as loving their enemies and neighbors, and considering the welfare of others first, to speak swiftly and strongly against this type of action," says Alan Chambers, president of Exodus International.

"For too long we've stayed silent and allowed our brothers and sisters to tip that hat toward hate. It's a terrible witness for Christ, and clear hypocrisy to a watching world."
Exodus hasn't had a very close relationship with the Family "Research" Council for quite a while. Exodus has traveled more in Focus On the Family's circle than FRC's, and their association with FOTF has been curtailed somewhat after Exodus took over the Love Won Out travelling roadshow conference in 2009. Last fall, there were reports that Exodus would undergo a rebranding exercise in an effort to stave off bankruptcy. The first evidence for that exercise came in January when Exodus president Alan Chambers appeared on a surprise panel of a meeting of the Gay Christian Network and said that "99.9% of them (ex-gays) have not experienced a change in their orientation."
That provoked a mild rebuke from NARTH. Meanwhile, Exodus removed books on Reparative Therapy,(*) NARTH's signature form of therapy, from Exodus's online bookstore. It now appears that Exodus has removed references to NARTH altogether from its web site.
I don't think we can deny that changes are taking place at Exodus. What's unclear is how deep those changes go, particularly to member ministries and churches. It's also unclear how deep these changes are held within Exodus's leadership. Last February, Exodus board member Mike Goeke wrote an op-ed for the Baptist Press describing why he thought homosexuality was in a special category that made it different from all the other "sins."
That's why I had hoped to attend another Love Won Out conference to see what, if any, changes had been made in its messaging. The last time I attended one was in 2007, and I was prepared to go to Albuquerque to attend one that had been scheduled for May. Unfortunately, it was cancelled due to a lack of interest. I had also wanted to try to attend the Exodus Freedom Conference in St. Paul, Minnesota at the end of June, but finances won't permit it.
So I'm in the same boat as the rest of you, trying to read the tea leaves from afar. And as is the case with tea-leaf reading, the result likely says more about the reader than any message contained in the leaves: Exodus is either making all the changes we've hoped they were making, or they are frantically trying to say or do anything to stay alive. I happen to believe the truth actually lies elsewhere — not in the tea leaves, but simply by watching and noting each development as it unfolds. To be sure, Exodus is not becoming a pro-gay or gay-affirming organizaiton. But I think today's statement condeming the FRC's honoree does break new ground, if for no other reason than for the fact that Exodus International has strongly criticized a very powerful and influential anti-gay organization. I'm not willing to read anything more into this statement than that. But I'm also not willing to read anything less.
…
[(*) NOTE: Reparative Therapy is a very specific term which describes just one particular type of therapy out of a large array of therapies aimed at changing sexual orientation. Reparative Therapy derives its name from the theory that gay men become gay because they suffered a "masculine deficit" due to the failure to form a healthy bond with their fathers. That "masculine deficit" sets up a "reparative drive" in the son, wich is defined as the son's impulse to "repair" that masculine deficit by seeking out relationships with other men. Reparative Therapy depends on this particular theory of male homosexuality, and it is quite rigid on that point. Many ex-gay therapists are not Reparative Therapists, and some are quite emphatic on that point.
This is why we here at BTB do not use the phrase "reparative therapy" as a generic term for sexual orientation change therapies because that usage is incorrect. We only use this term when we are talking about this particular form of therapy intended to address the so-called "reparative drive."]
Anti-Gay Groups Conspire to Add Anti-Gay Measures To Defense Authorization Bill
Jim Burroway
May 8th, 2012
Chris Geidner is reporting that Rep. Todd Akin (R-MO) will introduce an amendment to the National Defense Authorization Act before the House Armed Services Committee tomorrow to weaken the implementation of the repeal of "Don't Ask, Don't Tell." The amendment would, in effect, create a "conscience protection clause" for military chaplains, giving them free reign to denounce LGBT servicemembers as shameful and sinful. Another measure, which would prohibit chaplains from performing same-sex marriages under the guise of enforcing the Defense of Marriage Act on military bases, would ironically have the effect of violating the consciences of chaplains who support marriage equality.
Both measures are currently part of the same amendment, but they may instead be broken up into two separate amendments in order to "(give) us the strongest hand going into conference with the Senate," according to an email sent to amendment supporters form Justin Johnson, Akin's legislative director. Similar measures were included in the House version of the 2011 National Defense Authorization Act, but were dropped during conference negotiations with the Senate, which did not include similar measures in their version of the act.
The email had a interesting list of names in the address line:
Among the advocates included in the planning for the amendments being offered and from whom Johnson was seeking input were Elaine Donnelly of the Center for Military Readiness; Brian Duggan, a lobbyist for the National Organization for Marriage; Austin Nimocks and Daniel Blomberg, lawyers with the Alliance Defense Fund; Arthur Schulcz, a Virginia lawyer who brought a lawsuit on behalf of chaplains claiming religious discrimination even prior to the repeal of DADT; Tom McClusky from the Family Research Council; Doug Lee and Ron Crews from the Chaplain Alliance for Religious Liberty; members of the Archdiocese for the Military Services; Nathaniel Bennett, the director of government affairs for the American Center for Law and Justice; and the president of the Associated Gospel Churches, which has highlighted on its main page a link to the organization's "Resolution on Homosexuality and the Military." FRC has been designated as a hate group by the Southern Poverty Law Center.
Did Grenell Jump or Was He Pushed?
This post has been updated with more information from the New York Times and Talking Points Memo
Jim Burroway
May 3rd, 2012
Or did he just simply let go?
On April 19 when Gov. Mitt Romney named Richard Grenell, a longtime GOP communications strategist as his national security and foreign policy spokesman, conservative blogger Andrew Sullivan hailed the announcement as "a real outreach to gay Republicans" while Karen Ocamb said is marks "the day Romney pivots to appeal to mainstream voters for the general election."
But if that was a pivot, it ended Tuesday when Grenell resigned from the campaign. His very brief announcement hinted at why he left such a high-profile post in a national presidential campaign: "My ability to speak clearly and forcefully on the issues has been greatly diminished by the hyper-partisan discussion of personal issues that sometimes comes from a presidential campaign."
What "hyper-partisan" discussions was he referring to? At first, some speculated that it may have been related to the initial criticisms from pundits and bloggers over provocative Twitter posts that he made about Rachel Maddow's appearance, Newt Gingrich's wife Calista's appearance, Hillary Clinton's appearance, Michele Obama's accent, and other snarky tweets. But it quickly seemed unlikely that those criticisms led to Grenell's sudden departure. Most of them came from left-of-center and beyond, which Republicans tend to wear as a badge of honor (as many Democrats do with criticism from the right). And besides, by April 22 when Grenell deleted some 800 tweets and took his personal web site offline, those criticisms were already loosing traction. The world quickly moved on to the next outrage.
Well, most of the world anyway. One key component of the restive GOP base didn't. SPLC-certified hate-artist Bryan Fischer of American Family Association called Grenell's appointment "a deliberate poke in the eye" to Christian conservatives, and mounted a campaign for Grenell's removal with a six-point list of demands for Gov. Romney. Family "Research" Council warned that Grenell's support for same-sex marriage would have him lobbying "for foreign policy more in line with the current administration than the last Republican one." National Review's Matthew Franck wrote that Grenell supported marriage equality "with a kind of unhinged devotion that suggests a man with questionable judgment." He even suggested that Grenell's gayness would cause him to turn traitor to the Republican cause and switch teams if Obama were to come out for same-sex marriage.
Those criticisms apparently spooked and paralyzed the Romney campaign. Andrew Sullivan did some "actual reporting from yours truly" and got to the bottom of Grenell's resignation:
It seems clear from sources close to Grenell and reporters on the foreign policy beat that his turning point came last week. He'd been part of organizing a conference call to respond to Vice President Biden's foreign policy speech, now known best for the "big stick" remark. So some reporters were puzzled as to why Grenell, a week into his job as Romney's national security spokesman, was not introduced by name as part of the Romney team at the beginning of the call, and his voice completely absent from the conversation. Some even called and questioned him afterwards as to why he was absent. He wasn't absent. He was simply muzzled. For a job where you are supposed to maintain good relations with reporters, being silenced on a key conference call on your area of expertise is pretty damaging. Especially when you helped set it up.

Sources close to Grenell say that he was specifically told by those high up in the Romney campaign to stay silent on the call, even while he was on it. And this was not the only time he had been instructed to shut up. Their response to the far right fooferaw was simply to go silent, to keep Grenell off-stage and mute, and to wait till the storm passed. But the storm was not likely to pass if no one in the Romney camp was prepared to back Grenell up. Hence his dilemma. The obvious solution was simply to get Grenell out there doling out the neocon red meat — which would have immediately changed the subject and helped dispel base skepticism. Instead the terrified Romneyites shut him up without any actual plan for when he might subsequently be able to do his job. To my mind, it's a mark of his integrity that he decided to quit rather than be put in this absurd situation. And it's a mark of Romney's fundamental weakness within his own party that he could not back his spokesman against the Bryan Fischers and Matthew Francks.
This confirms what the Washington Post learned shortly after Grenell's resignation, when Jennifer Rubin wrote: "The ongoing pressure from social conservatives over his appointment and the reluctance of the Romney campaign to send Grenell out as a spokesman while controversy swirled left Grenell essentially with no job." She later reported that many members of the campaign privately reached out to Grenell over the weekend to try to persuade him from resigning, but they were unsuccessful. She then reiterated the root of the problem: "Despite the controversy in new media and in conservative circles, there was no public statement of support for Grenell by the campaign and no supportive social conservatives were enlisted to calm the waters."
[Update: The New York Times this morning has more. During that foreign policy conference call:
It turned out he was at home in Los Angeles, listening in, but stone silent and seething. A few minutes earlier, a senior Romney aide had delivered an unexpected directive, according to several people involved in the call.

"Ric," said Alex Wong, a policy aide, "the campaign has requested that you not speak on this call." Mr. Wong added, "It's best to lay low for now."

For Mr. Grenell, the message was clear: he had become radioactive.
After interviewing more than a dozen aids and advisers, The Times describes the episode as "halting attempts by the campaign to manage its relationship with the most conservative quarter of the Republican Party."
"It's not that the campaign cared whether Ric Grenell was gay," one Republican adviser said. "They believed this was a nonissue. But they didn't want to confront the religious right."]
This leaves many wondering if there is any room for gay Republicans in visible positions. GOPRoud's Jimmy LaSilva said, "This was an opportunity to send an important message that Mitt Romney wants everybody to get behind him and to support his campaign. They let that opportunity pass." [Update: Go Proud's Christopher Barron added, "It doesn't bode well for the Romney campaign going forward if they couldn't stand up to the most outrageous attacks about him being gay." Fred Karger, who ran against Romney as an openly gay candidate told TPM,
"It's going to be difficult for Romney to take other steps like this. And that's what's really frightening to me. It's just too tough to stand up to these groups because they have a lot of money and power. You've got to be able to do that, that's leadership."]
Sullivan was more direct:
So if all gay Republicans who support marriage equality are banned even from speaking on other topics entirely (like Iran or Afghanistan, where Grenell is a fire-breather), who's left? The answer, I'm afraid, is no one. Grenell was prepared to stay silent on gay issues entirely and do his job. But that wasn't enough. Romney's anti-gay agenda is therefore deeper and more extreme than Bush's.
Meanwhile, AFA's Bryan Fischer is declaring Grenell's resignation a huge win. With continued silence from the Romney camp, this leaves likes of Fischer to operate as the de-facto gatekeepers of acceptable members of the Romney campaign — and perhaps even of a Romney administration.
Guess Whose Fault It Is That Heterosexual Secret Service Agents Were Caught In A Straight Prostitution Scandal
Jim Burroway
April 17th, 2012
Family "Research" Council's Tony Perkins is the Einstein who connected these dots:
Perkins: Yeah, you know that's a great point. Just for a moment step back and look at the implications of (Don't Ask, Don't Tell repeal), over the weekend we saw the news of the President's Secret Service detail in Colombia and the issue of them hiring prostitutes and now the White House is outraged about that. Actually in a meeting this morning my staff asked, 'why should the President be upset'? It was actually legal; it was legal there to do that, so why should we be upset? Well, the fact is we intuitively know it's wrong, there's a moral law against that.

The same is true for what the President has done to the military enforcing open homosexuality in our military. You can change the law but you can't change the moral law that's behind it. You can change the positive law, the law that is created by man, but you can't change the moral law, it's wrong. So what you have is you have a total breakdown and you can't pick and choose. Morality is not a smorgasbord; you can't pick what you want. I think you're absolutely right, this is a fundamental issue going forward because if we say 'let them do what we want,' what's next? You cannot maintain moral order if you are willing to allow a few things to slide.
FRC VP Warns of Third Party If GOP Embraces Marriage Equality
Jim Burroway
April 6th, 2012
A recent Politico article argues that same-sex marriage has become a "dead issue" among many Republicans. I beg to differ, myself, although Politico says that House Republican leadership has "quietly worked behind the scenes to kill amendments that reaffirm opposition to same-sex unions." Family "Research" Council's vice president Tom McClusky isn't having it, telling the Janet Mefferd Show:
Mefferd: If the GOP continues to go in a direction where they will not get on the side of traditional marriage and be willing to fight for it, what do Christians do?

McClusky: I think you will—there are always threats of a third party—I think if something like that were to happen you would see a third party. It would be made up of more than just disgruntled conservative Republicans. On the marriage issue there's African Americans who normally vote Democratic, there's Hispanics, and the same on the life issue, and there are a lot of good Democrats like say in the state legislature of New York who fought against same-sex marriage and Maryland who tried to, I think what you see is a lot of people drifting from both parties into a third party or some sort of independent party that is more pro-life and pro-marriage.
McClusky also said that "Societies that try to do away with marriage, they crumble, they fall apart." Well, then. It's a good thing we're trying to expand marriage and not do away with it.
[via Right Wing Watch]
Santorum's Pastor Problem
Jim Burroway
March 20th, 2012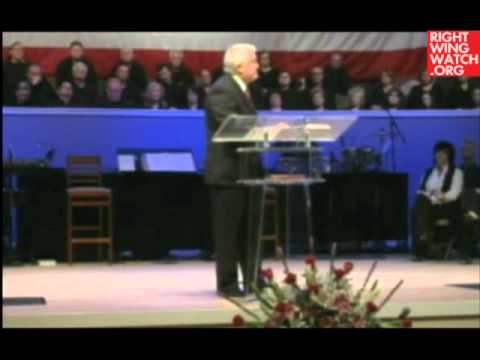 I don't care what the liberals say, I don't care what the naysayers say, this nation was founded as a Christian nation! The God of Abraham, the God of Isaac, the God of Jacob, there's only one God! There's only one God, and his name is Jesus! I'm tired of people telling my I can't say those words. I'm tired of people telling us that as Christians we can't force or beliefs, or we can no longer pray in public. I'm — Listen to me! If you don't like… love American and you don't like the way we do things, I got one thing to say. GET OUT! We don't worship Buddha, we don't Mohammed, we don't woship Allah, we worship God. We worship God's son, Jesus Christ.

…I believe the church is to be the conscience of the nation. The church needs to be the conscience of our state and our local community. Listen closely. Now hold on for just a moment. As long as they continue to kill little babies in our mother's womb, somebody's got to take a stand and say it's not right! God be merciful to us as a nation. As long as sexual perversion is becoming normalized, somebody needs to stand up and say God forgives us, God have mercy upon us! As long as they continue to tell our children they cannot pray in public schools or pray in open public places today, somebody's got to take a stand and say God forgive us, God have mercy upon us! As long as they continue to tear down traditional marriage… Listen! God intended for marriage to be between a man and a woman, and as long as they continue to attack marriage, somebody needs to take a stand and say NO! NO! NO! NO!

…I'm telling you my friend I believe the Christians in American are the key to revival. I believe that Christians in America is (sic) the key to the economy to turn it around. I believe that Christians in America is (sic) the key to the jobless rate continue (sic) to go down. I believe its a spiritual thing. If we would put God back in America, put God back in our pulpits, put God back in our homes and in our statehouse and then in Washington, D.C., then we can have revival in America! And the Holy Spirit will show up and great and mighty things will happen for this country!
The video closes with the camera on Sen. Rich Santorum, standing and clapping, after Greenwell Springs Baptist Church pastor Dennis Terry's fiery speech yesterday calling on anyone who does not adhere to his particular brand of Christianity to leave the country so that they can finally establish their talibanic regime in the White House. Terry made those comments at a rally in Louisiana, which is the home of Family Research Council's Tony Perkins. To tighten that circle just a little, Terry is also Perkins's pastor, who was also on hand at the event.
If anyone wonders at the collapse of the so-called "Catholic vote" (I, for one, believe that Catholics never voted as a block to begin with), one only has to watch this video. Despite Santorum's identification as a conservative Catholic, despite his reportedly attending Mass daily, what you see here is as alien — and as disturbing — to the majority of Catholics as it is to any other (yes, I'll say it) ordinary American. Catholics have acquired a long history of shunning the pronouncements of the hierarchy on issues of private morality, and they have a much longer history of fearing the interference of government in religious affairs. Co-mingling the two are anathema to most Catholics in the pews, even as the Bishops have become increasingly politically active. That partly explains how Romney has been picking up most of the Catholic vote in recent contests.
At the rally's close, Terry prayed over Santorum and asked God to "have favor upon Rick Santorum," as Perkins stood next to them. When Jeremaiah Wright "goddamned" American, Obama was nowhere in sight, but he got the blowback anyway. Terry laid his hands on Santorum and — more relevant to our point here — Santorum obediently bowed his head for Terry's blessing, nodding in agreement.
When pressed by reporters afterward, Santorum tried to half-heartedly back away from Terry's comments that American "heretics" — and let's be clear: that's who Terry's talking about — need to leave America. But the sad truth is, Santorum fully owns Terry and all of the other dominionists who would turn this nation into a theocratic Ameristan as the first opportunity. And to those who say that dominionism is a myth, all I have to say is that we have video proof of it right there, right at the top of this post. And one of them is running for President.
Anti-Gay Extremists Have A Cow Over Obama's Foreign Policy Memorandum
Jim Burroway
December 6th, 2011
Any day our opponents are driven to fits of apoplexy is a good day if you ask me. Family "Research" Council's Peter Sprigg is positively sputtering over the Obama Administration's memorandum directing American international agencies to take action in countries where LGBT abuses are taking place. Sprigg's sputtering, but unfortunately he's not speechless:
It is startling that President Obama is prepared to throw the full weight and reputation of the United States behind the promotion overseas of the radical ideology of the sexual revolution. If he did the same on other issues, his own liberal allies would undoubtedly accuse him of cultural imperialism. Threats to withhold foreign aid from poor countries unless they conform their laws to the views of Western radicals are unconscionable.

The United Nations, like the United States, remains sharply divided on the issue of whether special rights should be granted on the basis of sexual conduct, sexual orientation or gender identity. No treaty or widely accepted international agreement has established homosexual conduct as a human right, yet the Obama administration's actions seem guided by this fiction.
Right. Obama shouldn't be listening to "Western radicals" who think gay people shouldn't be jailed. And we already know Sprigg's opinion on that topic, and given the Family "Research" Council's lobbying Congress against resolutions condemning Uganda's Anti-Homosexuality Bill, it's safe to say that the rest of FRC shares Sprigg's position.
Liberty Counsel's Matt Barber chimes in with his own outrage:
The announced policy, according to Matt Barber of Liberty Counsel Action, "displays the arrogance of the Obama administration."

It is "frankly offensive," says the attorney, that President Obama "feels compelled to export American culture's decline in morality, and export that immorality to other nations that are trying to adhere to traditional principles relative to human sexuality."

Barber also notes that the administration is apparently ignoring the fact that foreign nations — like the United States — are sovereign countries. He adds that the U.S. is "using essentially blackmail and the purse strings" of the nation to force countries to change their moral principles.
Speaking of exporting immorality, has anyone seen Lisa Miller lately?
Chik-Fil-A's Anti-Gay Contributions
Jim Burroway
November 1st, 2011
Chick-Fil-A's charitable arm, the WinShape Foundation, has received $7.8 million in funding from Chick-FilA, Inc. WinShape, which was founded by Chick-Fil-A's founder and chairman S. Truett Cathy, turned around and gave more than $1.7 million to several anti-gay groups in 2009, including the Marriage and Family Legacy Fund ($994,199), Fellowship Of Christian Athletes ($480,000), National Christian Foundation ($240,000), Focus On The Family ($12,500) Eagle Forum ($5,000), Exodus International ($1,000), and Family "Research" Council ($1,000). Equality Matters has the details. Remember that the next time you're hankering to "Eat Mor Chikin."
Bryan Fischer: "Homosexual Agenda" is America's "Greatest Threat"
Jim Burroway
October 9th, 2011
Bryan Fischer, who followed GOP presidential candidate and former Massachusetts Gov. Mitt Romney to the podium during yesterday's Values Voter Summit, delivered some of that poisonous language which Romney denounced.  Right Wing Watch has posted his entire talk here. During this portion of his speech, Fischer denounced "the homosexual agenda" as the "greatest greatest immediate threat to every freedom and right that is enshrined in the First Amendment":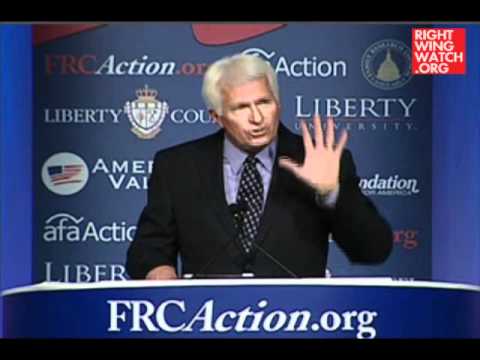 I believe we need a president who understands that just as Islam represents the greatest long range threat to our liberty, so the homosexual agenda represents the greatest immediate threat to every freedom and right that is enshrined in the First Amendment. It's a particular threat to religious liberty….

We need a president who understands that every advance of the homosexual agenda comes at the expense of religious liberty. We need a president who understands that we must choose as a nation between homosexuality and liberty, because we cannot have both. A president who understands that we must choose between homosexuality and liberty, and who will choose liberty every time.
Mitt Romney Mildly Scolds Bryan Fischer
Jim Burroway
October 9th, 2011
The American Family Association's Bryan Fischer, who has stated that the First Amendment's religious freedoms should only apply to Evangelical Christians and not to Mormons or Muslims, was given a very visible speaking slot at yesterday's Values Voter Summit immediately following GOP presidential candidate and former Massachusetts Gov. Mitt Romney, Romney just happens to be one of those Mormons that Fischer believes isn't protected by the First Amendment. Romney took his turn at the podium to call out Fischer on his "poisonous language."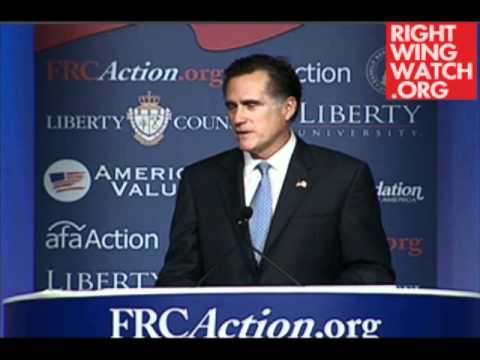 Our values ennoble the citizen and they strengthen the nation. We should remember that decency and civility are values too. One of the speakers who will follow me today, has crossed that line I think. Poisonous language does not advance our cause. It has never softened a single heart nor changed a single mind. The blessings of faith carry the responsibility of civil and respectful debate. The task before us is to focus on the conservative beliefs and the values that unite us. Let no agenda, narrow our vision or drive us apart. We have important work to accomplish.
A very mild rebuke, given to very mild applause — all of which serves to illustrate Romney's difficulties in retaining his frontrunner status in the Republican race for the nomination. But as timid as that rebuke was, it certainly elicited a howl from the bully who is now outraged of the "public attack," and like all bullies who get caught, he responds screaming that someone else started it:
Dr. Robert Jeffress started the fracas on Friday by referring to Mormonism as a "cult" in interviews with reporters after he introduced and endorsed Gov. Rick Perry on Friday.

According to MSNBC, Gov. Romney's people got in touch with Bill Bennett and they decided to tag team – Bennett would kneecap Dr. Jeffress first and then Mitt would kneecap me right before I took the podium after his speech.

Here's how Politico reported it:

"Rather than answering Jeffress directly, Romney came to the summit on Saturday and rebuked another hardline social conservative: Bryan Fischer, a controversial official at the American Family Association who has disparaged Mormonism, as well as homosexuality, Islam and more.
And there's this nice touch:
I spoke immediately after Romney, who apparently was goaded into attacking me by the New York Times, the Boston Globe and other media outlets who wrote eagerly about the anticipated brawl. Here's the breathless headline, for instance, from the Deseret News: "Mitt Romney vs. Mormon critic Bryan Fischer: Showdown Saturday?"
Ya see? The reference to The Deseret News conclusively proves that the Mormon Church put Romney up to the "attack."
Bullies typically scream the loudest when they are startled by their target rising up to defend themselves, no matter how tentatively. Romney mildly suggested that Fischer went too far in a timid half-dozen sentences. Fischer's cri de coeur goes on for more than nine hundred words. That means that Romney's mild slap stung Fischer pretty hard. And I have a feeling Fischer still isn't done crying.
The Daily Agenda for Saturday, October 8
Jim Burroway
October 8th, 2011
TODAY'S AGENDA (OURS):

First Openly Gay Ordination for the Presbyterian Church, USA: Madison, WI. Last May, the Presbyterian Church USA became the fourth mainline Protestant Church to allow the ordination of openly gay clergy. Today, that promise becomes a reality as Scott Anderson is ordained at Covenant Presbyterian Church in Madison, Wisconsin. The Princeton Theological Seminary graduate had served as Co-Moderator of More Light Presbyterians before moving to Madison to become the Executive Director of the Wisconsin Council of Churches.
Anderson's ordination will mark his return to a ministry he was forced to abandon twenty-one years ago. In 1990, while working as a parish minister in Sacramento, he was threatened with exposure by a couple who wanted him to help raise money for a cause they were advancing that he disagreed with. Rather than submit to the couple's threats, he outed himself instead, and in keeping with the church's rules he stepped down as minister and embarked on the long process of working to change the church's stance toward ordination of openly gay people. Anderson will be supported by his partner of twenty-one years at today's ordination. Anderson is being ordained by the John Knox Presbytery, which consists of 60 congregations in Iowa, Minnesota, and Wisconsin.
AIDS Walks This Weekend: Columbus, OH; Indianapolis, IN and Kent/Sussex, DE.
Pride Celebrations This Weekend: Atlanta, GA; Orlando, FL; Rio de Janeiro, Brazil and Tucson, AZ.
Also This Weekend: Iris Prize Film Festival, Cardiff, UK.
TODAY'S AGENDA (THEIRS):
Values Voter Summit: Washington, D.C. Whenever the Family "Research" Council and the American Family Association team up to put on their annual Values Voter Summit, you can pretty much guarantee that they will more than live up to their reputation for being on the Southern Poverty Law Center's list of anti-gay hate groups. Yesterday, we saw GOP presidential candidate Sen. Rick Santorum give his most bizarre qualification yet for the presidency, when he told the conference that voters should "look at who they lay down with at night and what they believe." That will be hard to top, although Liberty Counsel's Mat Staver gave it his best shot by saying that gay equality will lead to the destruction of Western Civilization.
Today's lineup will be about as crazy as yesterday's. The AFA's Bryan Fischer, whose sheer lunacy knows no bounds, will be a featured speaker, along with FRC's Tom McClusky and Tony Perkins, National Organization for Marriage's Brian Brown, American Values' Gary Bauer, AFA's Ed Vitagliano, Alliance Defense Fund's Alan Sears, Eagle Forum's Phyllis Schlafly, Glenn Beck and Bishop Harry Jackson, among many others. GOP Presidential candidates speaking today will be Texas Rep. Ron Paul and former Massachusetts Gov. Mitt Romney.
If you know of something that belongs on the agenda, please send it here. Don't forget to include the basics: who, what, when, where, and URL (if available).
And feel free to consider this your open thread for the day. What's happening in your world?
Full Page Ad Reminds Voters Who's Behind "Values Voter Summit"
Jim Burroway
October 7th, 2011
The Southern Poverty Law Center has taken out a full page ad in the Washington Post reminding readers why the two organization's sponsoring the event, the Family "Research" Council and the American Family Association, have been included in their very short list of anti-gay hate groups. The ad reads:
Just whose values are represented at the Values Voter Summit?Prominent public figures will attend the Values Voter Summit in DC this weekend.

But what values are they promoting?

The summit is hosted by the Family Research Council and co-sponsored by the American Family Association — organizations that have mounted a long-running campaign of falsehoods that demonize the LGBT community.

They portray gay people as child molesters, deviants, public health threats and more. Their outrageous claims have been thoroughly debunked by numerous scientific authorities and respected professional associations such as the American Psychological Association and the American Academy of Pediatrics.

Their words have consequences: Gay men, lesbians, bisexuals and transgender people are far more likely than any other group to be victimized by violent hate crimes. Many have been driven by relentless demonization to seek a "cure" for their sexual orientation through dangerous therapeutic practices. Many have been driven to suicide by relentless bullying in our schools.

Whose values are these?

Is bearing false witness a "family" value? Is bigotry?
The ad goes on to list several quotes from the FRC and AFA equating homosexuality with pedophilia, criminality, Nazi's, and Adolf Hitler. The SPLC and Wayne Besen's Truth Wins Out held a joint press conference this morning to release a report on the AFA and FRC's "false propaganda that demonizes the LGBT community." FRC's Tony Perkins is furious, and equates the SPLC's exercise of free speech:
Perkins said the SPLC news conference reflected an attempt to prevent free discussion of ideas and noted that he doesn't show up at SPLC events to protest the civil rights organization's beliefs.

"Southern Poverty Law Center is obviously desperate to try to shut down public debate," he said.
The Daily Agenda for Friday, October 7
Jim Burroway
October 7th, 2011
TODAY'S AGENDA (OURS):
Campus Pride College Fair and Prep Day: Boston, MA. Campus Pride's College Fair is an opportunity for LGBT students and their families to discuss educational opportunities with participating LGBT-affirming colleges and universities. The fair features expert advice about LGBT-friendly colleges, scholarship resources and even effective tips for campus visits. The Northwest Region College Fair takes place today at Boston's City Hall, from 1:30 p.m. to 4:00 p.m. More information can be found here. Future College Fairs will take place in Los Angeles (Oct 15) and New York (Nov 4).
AIDS Walks This Weekend: Columbus, OH; Indianapolis, IN and Kent/Sussex, DE.
Pride Celebrations This Weekend: Atlanta, GA; Orlando, FL; Rio de Janeiro, Brazil and Tucson, AZ.
Also This Weekend: Iris Prize Film Festival, Cardiff, UK.
TODAY'S AGENDA (THEIRS):
Values Voter Summit: Washington, D.C. The Family "Research" Council, one of only a handful of organizations tracked by the Southern Poverty Law Center for being an anti-gay hate group, kicks off its annual Values Voter Summit in the nation's capital this morning with a breakfast talk by Mat Staver, Chairman of Liberty Counsel and Dean of Liberty Unversity's Law School. Members of Staver's Liberty Counsel and law school staff have been implicated in the Isabella Miller-Jenkins kidnapping case, while teachers have instructed law students to ignore "man's law" in favor of "God's law." And so as you might expect, the Summit just goes straight downhill from there. Other speakers include House Speaker John Boehner (R-OH), House Majority Leader Eric Cantor (R-VA), Sen. Jeff Sessions (R-AL), and GOP Presidential candidate Sen. Rick Santorum. And all of that is before lunch, when voting begins for the Summit's straw poll. Afternoon speakers include GOP presidential candidates Herman Cain, Texas Gov. Rick Perry, and former House Speaker Newt Gingrich, plus Rep. Steve King (R-IA) and Sen. Roy Blunt (R-MO). The evening plenary session features another GOP presidential candidate, Rep. Michele Bachmann (R-MN), as well as Louisiana Gov. Bobby Jindal. The craziness just goes on and on and on through Sunday morning.
Exodus International Florida Regional Conference. Leesburg, FL. Exodus International will conduct a two-day conference with the theme "Chosen for Freedom," beginning today and continuing through Saturday. The conference's featured speakers include Exodus International president Alan Chambers, former Exodus president Joe Dallas, and former Exodus vice president Randy Thomas. Also speaking is Dr. Julie Hamilton, a former president of the National Association for Research and Therapy of Homosexuality (NARTH) and whose book, Handbook of Therapy for Unwanted Homosexual Attractions, includes a final chapter by discredited ex-gay activist George Rekers. As we reported in our original investigation of Rekers's "treatment" of four-year-old Kirk Murphy, Rekers claimed that he had successfully turned the "effeminate pre-homosexual" boy into a straight man. He built his entire career on that supposedly groundbreaking success story. Except there were a couple of problems: Kirk grew up to be gay, and he ultimately committed suicide over the lifelong conflicts he struggled with as a result of that therapy. Yet in Hamilton's book, Rekers boasted that Kirk "had a normal male identity," six years after Kirk took his life. Hamilton's book with Rekers's boast is still on sale at NARTH's web site, and I have no doubt that it will also be available at the conference, which takes place today and tomorrow at the First Baptist Church in Leesburg, FL.
Minnesota Anti-Marriage Strategy and Briefing Session: Bloomington, MN. The Minnesota Faith and Freedom Coalition, supporters of the latest proposed constitutional amendment to make same-sex marriage even more illegaler in the Gopher state, will hold a Strategy and Briefing Session at the Doubletree Inn in Bloomington, MN this morning from 10:00 a.m. to 11:30 a.m. Invited speakers include GOP presidential candidate Rep. Michele Bachmann (R-MN) and former Christian Coalition honcho Ralph Reed.
If you know of something that belongs on the agenda, please send it here. Don't forget to include the basics: who, what, when, where, and URL (if available).
And feel free to consider this your open thread for the day. What's happening in your world?
Family "Research" Council Stays Classy On DADT Repeal
Jim Burroway
September 22nd, 2011
Of course, I kid. The Family "Research" Council is having a total meltdown, warning that the military is about to drown in a pool of "HIV-tainted blood":
FRC will continue to monitor the consequences of this reversal of 236 years of American military policy, limit the damage–and demand that the Defense Department do the same. Expect to see celebrations from homosexual groups and fawning stories in the media about how "the sky has not fallen." That's only because there will be no press releases from the new victims of sexual harassment or assault, the soldiers exposed to HIV-tainted blood, the thousands of servicemembers who choose not to reenlist rather than forfeit their freedom of speech and religion, and the untold number of citizens who choose never to join the military. It's clear this President is more interested in appeasing sexual revolutionaries than in fighting America's enemies.
Matt Barber Says Gays Committing "Economic Terrorism" And Want To Jail Christians. Meanwhile, AFA Boycotts Home Depot And Wants To Jail Gays.
Jim Burroway
August 31st, 2011
There is a fundraising group called the Charity Give Back Group (CGBG), whose innocuous sounding name hides its political activities. When customers shop with major name-brand companies through their virtual shopping mall, proceeds go to CGBG affiliated groups including the Family "Research" Council, Focus On the Family, Liberty Counsel and others. LGBT activists have pressured companies to cut ties with CGBG, and so far Apple, Microsoft, Delta Airlines and Wells Fargo are among the big names that have withdrawn from the program.
Anti-gay groups are now crying foul over "homo-fascist" tactics, despite their own well-established pattern of boycotting companies who don't fall lockstep into their program of anti-gay politics. Liberty Counsel's Matt Barber calls the pressure against companies participating in CGBG "economic terrorism" with the ultimate goal of putting conservative Christians behind bars:
I've said this before and I'll say it right now. The sexual anarchist lobby, this radical, militant lobby, wants three things in this order: they want to see those of us who hold traditional values and have a biblical view of sexual behavior and sexual morality; they want to see us behind bars. Absent that, if that doesn't work, they want to see us discredited, our licenses, my law licenses revoked, unable to teach in schools and so forth. They want us completely discredited and marginalized to the fringes of society. Finally and included in that is the inability, they want to see people like us not able to make a living. And that's why they're going after these organizations and they're using economic terrorism, for lack of a better phrase.
He might want to try to come up with a better phrase. In 2008, Barber joined with Peter "Porno Pete" LaBarbera and others for a bit of "economic terrorism" of their own when they announced a boycott of McDonalds and rallied in front of their headquarters. The American Family Association regularly launches acts of "economic terrorism" against such big name companies as Home Depot and Pepsi. And by the way, their jihad against Home Depot is on again, in case you've had difficulty keeping track.
And speaking of wanting to put people behind bars, AFA's spokesman Bryan Fischer yesterday pined for the days when homosexuality was a felony in all fifty states and says, "There is no reason why it cannot be a criminal offense once again. Absolutely none."