Bryan Fischer: "Homosexual Agenda" is America's "Greatest Threat"
Jim Burroway
October 9th, 2011
Bryan Fischer, who followed GOP presidential candidate and former Massachusetts Gov. Mitt Romney to the podium during yesterday's Values Voter Summit, delivered some of that poisonous language which Romney denounced.  Right Wing Watch has posted his entire talk here. During this portion of his speech, Fischer denounced "the homosexual agenda" as the "greatest greatest immediate threat to every freedom and right that is enshrined in the First Amendment":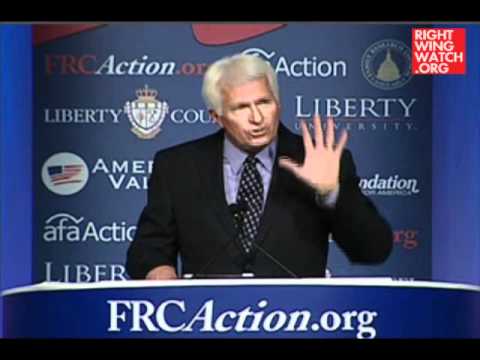 I believe we need a president who understands that just as Islam represents the greatest long range threat to our liberty, so the homosexual agenda represents the greatest immediate threat to every freedom and right that is enshrined in the First Amendment. It's a particular threat to religious liberty….

We need a president who understands that every advance of the homosexual agenda comes at the expense of religious liberty. We need a president who understands that we must choose as a nation between homosexuality and liberty, because we cannot have both. A president who understands that we must choose between homosexuality and liberty, and who will choose liberty every time.
Mitt Romney Mildly Scolds Bryan Fischer
Jim Burroway
October 9th, 2011
The American Family Association's Bryan Fischer, who has stated that the First Amendment's religious freedoms should only apply to Evangelical Christians and not to Mormons or Muslims, was given a very visible speaking slot at yesterday's Values Voter Summit immediately following GOP presidential candidate and former Massachusetts Gov. Mitt Romney, Romney just happens to be one of those Mormons that Fischer believes isn't protected by the First Amendment. Romney took his turn at the podium to call out Fischer on his "poisonous language."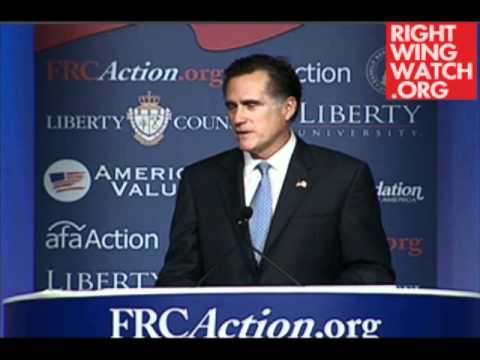 Our values ennoble the citizen and they strengthen the nation. We should remember that decency and civility are values too. One of the speakers who will follow me today, has crossed that line I think. Poisonous language does not advance our cause. It has never softened a single heart nor changed a single mind. The blessings of faith carry the responsibility of civil and respectful debate. The task before us is to focus on the conservative beliefs and the values that unite us. Let no agenda, narrow our vision or drive us apart. We have important work to accomplish.
A very mild rebuke, given to very mild applause — all of which serves to illustrate Romney's difficulties in retaining his frontrunner status in the Republican race for the nomination. But as timid as that rebuke was, it certainly elicited a howl from the bully who is now outraged of the "public attack," and like all bullies who get caught, he responds screaming that someone else started it:
Dr. Robert Jeffress started the fracas on Friday by referring to Mormonism as a "cult" in interviews with reporters after he introduced and endorsed Gov. Rick Perry on Friday.

According to MSNBC, Gov. Romney's people got in touch with Bill Bennett and they decided to tag team – Bennett would kneecap Dr. Jeffress first and then Mitt would kneecap me right before I took the podium after his speech.

Here's how Politico reported it:

"Rather than answering Jeffress directly, Romney came to the summit on Saturday and rebuked another hardline social conservative: Bryan Fischer, a controversial official at the American Family Association who has disparaged Mormonism, as well as homosexuality, Islam and more.
And there's this nice touch:
I spoke immediately after Romney, who apparently was goaded into attacking me by the New York Times, the Boston Globe and other media outlets who wrote eagerly about the anticipated brawl. Here's the breathless headline, for instance, from the Deseret News: "Mitt Romney vs. Mormon critic Bryan Fischer: Showdown Saturday?"
Ya see? The reference to The Deseret News conclusively proves that the Mormon Church put Romney up to the "attack."
Bullies typically scream the loudest when they are startled by their target rising up to defend themselves, no matter how tentatively. Romney mildly suggested that Fischer went too far in a timid half-dozen sentences. Fischer's cri de coeur goes on for more than nine hundred words. That means that Romney's mild slap stung Fischer pretty hard. And I have a feeling Fischer still isn't done crying.
The Daily Agenda for Saturday, October 8
Jim Burroway
October 8th, 2011
TODAY'S AGENDA (OURS):

First Openly Gay Ordination for the Presbyterian Church, USA: Madison, WI. Last May, the Presbyterian Church USA became the fourth mainline Protestant Church to allow the ordination of openly gay clergy. Today, that promise becomes a reality as Scott Anderson is ordained at Covenant Presbyterian Church in Madison, Wisconsin. The Princeton Theological Seminary graduate had served as Co-Moderator of More Light Presbyterians before moving to Madison to become the Executive Director of the Wisconsin Council of Churches.
Anderson's ordination will mark his return to a ministry he was forced to abandon twenty-one years ago. In 1990, while working as a parish minister in Sacramento, he was threatened with exposure by a couple who wanted him to help raise money for a cause they were advancing that he disagreed with. Rather than submit to the couple's threats, he outed himself instead, and in keeping with the church's rules he stepped down as minister and embarked on the long process of working to change the church's stance toward ordination of openly gay people. Anderson will be supported by his partner of twenty-one years at today's ordination. Anderson is being ordained by the John Knox Presbytery, which consists of 60 congregations in Iowa, Minnesota, and Wisconsin.
AIDS Walks This Weekend: Columbus, OH; Indianapolis, IN and Kent/Sussex, DE.
Pride Celebrations This Weekend: Atlanta, GA; Orlando, FL; Rio de Janeiro, Brazil and Tucson, AZ.
Also This Weekend: Iris Prize Film Festival, Cardiff, UK.
TODAY'S AGENDA (THEIRS):
Values Voter Summit: Washington, D.C. Whenever the Family "Research" Council and the American Family Association team up to put on their annual Values Voter Summit, you can pretty much guarantee that they will more than live up to their reputation for being on the Southern Poverty Law Center's list of anti-gay hate groups. Yesterday, we saw GOP presidential candidate Sen. Rick Santorum give his most bizarre qualification yet for the presidency, when he told the conference that voters should "look at who they lay down with at night and what they believe." That will be hard to top, although Liberty Counsel's Mat Staver gave it his best shot by saying that gay equality will lead to the destruction of Western Civilization.
Today's lineup will be about as crazy as yesterday's. The AFA's Bryan Fischer, whose sheer lunacy knows no bounds, will be a featured speaker, along with FRC's Tom McClusky and Tony Perkins, National Organization for Marriage's Brian Brown, American Values' Gary Bauer, AFA's Ed Vitagliano, Alliance Defense Fund's Alan Sears, Eagle Forum's Phyllis Schlafly, Glenn Beck and Bishop Harry Jackson, among many others. GOP Presidential candidates speaking today will be Texas Rep. Ron Paul and former Massachusetts Gov. Mitt Romney.
If you know of something that belongs on the agenda, please send it here. Don't forget to include the basics: who, what, when, where, and URL (if available).
And feel free to consider this your open thread for the day. What's happening in your world?
Full Page Ad Reminds Voters Who's Behind "Values Voter Summit"
Jim Burroway
October 7th, 2011
The Southern Poverty Law Center has taken out a full page ad in the Washington Post reminding readers why the two organization's sponsoring the event, the Family "Research" Council and the American Family Association, have been included in their very short list of anti-gay hate groups. The ad reads:
Just whose values are represented at the Values Voter Summit?Prominent public figures will attend the Values Voter Summit in DC this weekend.

But what values are they promoting?

The summit is hosted by the Family Research Council and co-sponsored by the American Family Association — organizations that have mounted a long-running campaign of falsehoods that demonize the LGBT community.

They portray gay people as child molesters, deviants, public health threats and more. Their outrageous claims have been thoroughly debunked by numerous scientific authorities and respected professional associations such as the American Psychological Association and the American Academy of Pediatrics.

Their words have consequences: Gay men, lesbians, bisexuals and transgender people are far more likely than any other group to be victimized by violent hate crimes. Many have been driven by relentless demonization to seek a "cure" for their sexual orientation through dangerous therapeutic practices. Many have been driven to suicide by relentless bullying in our schools.

Whose values are these?

Is bearing false witness a "family" value? Is bigotry?
The ad goes on to list several quotes from the FRC and AFA equating homosexuality with pedophilia, criminality, Nazi's, and Adolf Hitler. The SPLC and Wayne Besen's Truth Wins Out held a joint press conference this morning to release a report on the AFA and FRC's "false propaganda that demonizes the LGBT community." FRC's Tony Perkins is furious, and equates the SPLC's exercise of free speech:
Perkins said the SPLC news conference reflected an attempt to prevent free discussion of ideas and noted that he doesn't show up at SPLC events to protest the civil rights organization's beliefs.

"Southern Poverty Law Center is obviously desperate to try to shut down public debate," he said.
The Daily Agenda for Friday, October 7
Jim Burroway
October 7th, 2011
TODAY'S AGENDA (OURS):
Campus Pride College Fair and Prep Day: Boston, MA. Campus Pride's College Fair is an opportunity for LGBT students and their families to discuss educational opportunities with participating LGBT-affirming colleges and universities. The fair features expert advice about LGBT-friendly colleges, scholarship resources and even effective tips for campus visits. The Northwest Region College Fair takes place today at Boston's City Hall, from 1:30 p.m. to 4:00 p.m. More information can be found here. Future College Fairs will take place in Los Angeles (Oct 15) and New York (Nov 4).
AIDS Walks This Weekend: Columbus, OH; Indianapolis, IN and Kent/Sussex, DE.
Pride Celebrations This Weekend: Atlanta, GA; Orlando, FL; Rio de Janeiro, Brazil and Tucson, AZ.
Also This Weekend: Iris Prize Film Festival, Cardiff, UK.
TODAY'S AGENDA (THEIRS):
Values Voter Summit: Washington, D.C. The Family "Research" Council, one of only a handful of organizations tracked by the Southern Poverty Law Center for being an anti-gay hate group, kicks off its annual Values Voter Summit in the nation's capital this morning with a breakfast talk by Mat Staver, Chairman of Liberty Counsel and Dean of Liberty Unversity's Law School. Members of Staver's Liberty Counsel and law school staff have been implicated in the Isabella Miller-Jenkins kidnapping case, while teachers have instructed law students to ignore "man's law" in favor of "God's law." And so as you might expect, the Summit just goes straight downhill from there. Other speakers include House Speaker John Boehner (R-OH), House Majority Leader Eric Cantor (R-VA), Sen. Jeff Sessions (R-AL), and GOP Presidential candidate Sen. Rick Santorum. And all of that is before lunch, when voting begins for the Summit's straw poll. Afternoon speakers include GOP presidential candidates Herman Cain, Texas Gov. Rick Perry, and former House Speaker Newt Gingrich, plus Rep. Steve King (R-IA) and Sen. Roy Blunt (R-MO). The evening plenary session features another GOP presidential candidate, Rep. Michele Bachmann (R-MN), as well as Louisiana Gov. Bobby Jindal. The craziness just goes on and on and on through Sunday morning.
Exodus International Florida Regional Conference. Leesburg, FL. Exodus International will conduct a two-day conference with the theme "Chosen for Freedom," beginning today and continuing through Saturday. The conference's featured speakers include Exodus International president Alan Chambers, former Exodus president Joe Dallas, and former Exodus vice president Randy Thomas. Also speaking is Dr. Julie Hamilton, a former president of the National Association for Research and Therapy of Homosexuality (NARTH) and whose book, Handbook of Therapy for Unwanted Homosexual Attractions, includes a final chapter by discredited ex-gay activist George Rekers. As we reported in our original investigation of Rekers's "treatment" of four-year-old Kirk Murphy, Rekers claimed that he had successfully turned the "effeminate pre-homosexual" boy into a straight man. He built his entire career on that supposedly groundbreaking success story. Except there were a couple of problems: Kirk grew up to be gay, and he ultimately committed suicide over the lifelong conflicts he struggled with as a result of that therapy. Yet in Hamilton's book, Rekers boasted that Kirk "had a normal male identity," six years after Kirk took his life. Hamilton's book with Rekers's boast is still on sale at NARTH's web site, and I have no doubt that it will also be available at the conference, which takes place today and tomorrow at the First Baptist Church in Leesburg, FL.
Minnesota Anti-Marriage Strategy and Briefing Session: Bloomington, MN. The Minnesota Faith and Freedom Coalition, supporters of the latest proposed constitutional amendment to make same-sex marriage even more illegaler in the Gopher state, will hold a Strategy and Briefing Session at the Doubletree Inn in Bloomington, MN this morning from 10:00 a.m. to 11:30 a.m. Invited speakers include GOP presidential candidate Rep. Michele Bachmann (R-MN) and former Christian Coalition honcho Ralph Reed.
If you know of something that belongs on the agenda, please send it here. Don't forget to include the basics: who, what, when, where, and URL (if available).
And feel free to consider this your open thread for the day. What's happening in your world?
Family "Research" Council Stays Classy On DADT Repeal
Jim Burroway
September 22nd, 2011
Of course, I kid. The Family "Research" Council is having a total meltdown, warning that the military is about to drown in a pool of "HIV-tainted blood":
FRC will continue to monitor the consequences of this reversal of 236 years of American military policy, limit the damage–and demand that the Defense Department do the same. Expect to see celebrations from homosexual groups and fawning stories in the media about how "the sky has not fallen." That's only because there will be no press releases from the new victims of sexual harassment or assault, the soldiers exposed to HIV-tainted blood, the thousands of servicemembers who choose not to reenlist rather than forfeit their freedom of speech and religion, and the untold number of citizens who choose never to join the military. It's clear this President is more interested in appeasing sexual revolutionaries than in fighting America's enemies.
Matt Barber Says Gays Committing "Economic Terrorism" And Want To Jail Christians. Meanwhile, AFA Boycotts Home Depot And Wants To Jail Gays.
Jim Burroway
August 31st, 2011
There is a fundraising group called the Charity Give Back Group (CGBG), whose innocuous sounding name hides its political activities. When customers shop with major name-brand companies through their virtual shopping mall, proceeds go to CGBG affiliated groups including the Family "Research" Council, Focus On the Family, Liberty Counsel and others. LGBT activists have pressured companies to cut ties with CGBG, and so far Apple, Microsoft, Delta Airlines and Wells Fargo are among the big names that have withdrawn from the program.
Anti-gay groups are now crying foul over "homo-fascist" tactics, despite their own well-established pattern of boycotting companies who don't fall lockstep into their program of anti-gay politics. Liberty Counsel's Matt Barber calls the pressure against companies participating in CGBG "economic terrorism" with the ultimate goal of putting conservative Christians behind bars:
I've said this before and I'll say it right now. The sexual anarchist lobby, this radical, militant lobby, wants three things in this order: they want to see those of us who hold traditional values and have a biblical view of sexual behavior and sexual morality; they want to see us behind bars. Absent that, if that doesn't work, they want to see us discredited, our licenses, my law licenses revoked, unable to teach in schools and so forth. They want us completely discredited and marginalized to the fringes of society. Finally and included in that is the inability, they want to see people like us not able to make a living. And that's why they're going after these organizations and they're using economic terrorism, for lack of a better phrase.
He might want to try to come up with a better phrase. In 2008, Barber joined with Peter "Porno Pete" LaBarbera and others for a bit of "economic terrorism" of their own when they announced a boycott of McDonalds and rallied in front of their headquarters. The American Family Association regularly launches acts of "economic terrorism" against such big name companies as Home Depot and Pepsi. And by the way, their jihad against Home Depot is on again, in case you've had difficulty keeping track.
And speaking of wanting to put people behind bars, AFA's spokesman Bryan Fischer yesterday pined for the days when homosexuality was a felony in all fifty states and says, "There is no reason why it cannot be a criminal offense once again. Absolutely none."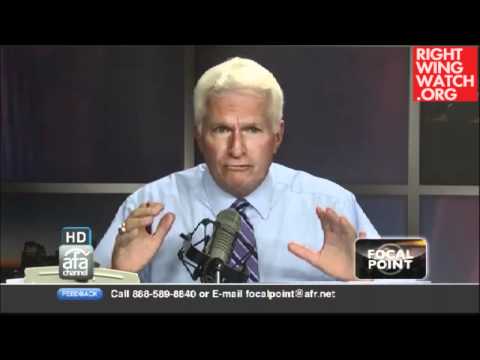 LaBarbera Award: Tony Perkins
Jim Burroway
August 19th, 2011
Observers of gay youth suicides can point to many different factors leading to their deaths. Fundamentally, suicide is what often comes when a person loses all hope of things ever changing for the better. Many gay kids who survive suicide attempts say that they reached their breaking point when they came to believe that their mere presence was disgusting, immoral, a gross pervert, and that the very thought of them makes people want to throw up.
And where do they get these ideas? They get them from the people around them. From classmates, teachers, preachers, neighbors, parents, relatives, and Tony Perkins. And Perkins is raising money off of it, with this fundraising plea that was sent out in the mail:
If you've not yet heard about this true story, get ready to be shocked–and to take action.

For President Obama to use the power of his office to promote such aims is truly appalling. I was especially disappointed to see pro-homosexual videos aimed directly at young people recorded at the White House. They were made in partnership with Dan Savage, a homosexual extremist who built a career on hatred of Christians and their values.

The videos are titled "It Gets Better." They are aimed at persuading kids that although they'll face struggles and perhaps bullying for "coming out" as homosexual (or transgendered or some other perversion), life will get better.

President Obama, Michelle Obama, Vice President Biden, and many White House staffers recorded and posted "It Gets Better" videos on the first-ever White House web pages devoted exclusively to the so-called LGBT (lesbian, gay, bisexual, transgender) "community."

Can you imagine George Washington, Ronald Reagan, or any other president telling school children that it's okay to be immoral and that they'll eventually feel better about it?

It's disgusting. And it's part of a concerted effort to persuade kids that homosexuality is okay and actually to recruit them into that "lifestyle."

Thanks for giving what you can and for praying for FRC–and for our nation.
All of the names are in there: immoral, perversion, disgusting, appalling. And of course the rest of FRC's mission is to drive home the message that gay people makes Tony Perkins want to throw up. Their solution to the youth suicide problem? More of the same name-calling from other kids and all of the adults around them — and even from the President and First Lady of the United States if he were to have his way. We already have several examples of the kind of messages Perkins would be perfectly happy with from one presidential candidate and prospective First Lady.
There is a saying that's going around in management circles: the definition of crazy is doing the same thing over and over again and expecting a different result. I don't think Perkins is crazy. I think he's evil because I don't think he expects a different result. He's fine with things exactly as they are right now.
It's just one more reason why Perkins's Family Research Council is among a very tiny handful of anti-gay groups on the SPLC's list of certified hate groups.
[via Right Wing Watch]
Conservative churches welcome homosexuals
Timothy Kincaid
August 18th, 2011
Tony Perkins, lead anti-gay activist at Family Research Council tweeted the following
And he's right.
As long as you are a "homosexual" – as Tony and fellow believers define the term – the church doors are open wide. To them, a homosexual is someone who engages in sex with persons of the same sex, and has nothing whatsoever to do with attractions, instincts, love, or family. If you show up looking to be delivered from a sinful homosexual lifestyle then you are not only welcomed but celebrated.
Church members will joyously go online to leave comments on the Militant Homosexual Activist Blogsites reporting that the saving grace of Jesus healed a broken and wounded soul right that very morning. Of course, they don't actually want to associate with that person, "do you know what he's done? And he's so very, well, flamboyant still", but nevertheless they are happy to report deliverance.
Yes indeed, homosexuals are welcome.
Ah, but as for conservative churches welcoming gay people? The folks that do not believe that their orientation – that immutable, natural, and powerful force – is inherently evil? Those folk?
Yeah, not so much.

(hat tip: Joe My God)
Pawlenty, Santorum join FRC's and NOM's Iowa Bus Tour
Jim Burroway
August 10th, 2011
The "Values Voters Bus Tour," sponsored by the Family "Research" Council's lobbying arm, the National Organization for Marriage, and the Susan B. Anthony List, kicked off yesterday in Des Moines, Iowa, with the goal of hitting several Iowa communities ahead of Saturday's GOP presidential Straw Poll. Minnesota Gov. Tim Pawlenty was on hand for the tour's start, which was greeted by a sparse crowd that appears to have been outnumbered by reporters:
The bus made five more stops before the day was done yesterday. This morning, the bus tour resumed with a breakfast in Cedar Rapids, Iowa, where Pennsylvania Sen. Rick Santorum met the bus.
FRC: Not Too Late To Block DADT Repeal
Jim Burroway
April 20th, 2011
The Family "Research" Council never admits defeat. In an Op-Ed posted on Fox News, FRC continues to falsely portray the Pentagon's survey as evidence that DADT's repeal will be bad for morale. But when 70% believe that having a gay service member in their unit will have a positive, mixed, or no effect on the unit's ability to "work together to get the job done," it's hard to see where FRC is coming from — unless they want to encourage the minority who think otherwise to make DADT's repeal a problem for unit cohesion. Even chaplains are on board with the change.
The repeal's full implementation is expected to occur sometime this summer.
Anti-Gay Activists React to DOMA Announcement
Jim Burroway
February 23rd, 2011
Brian Brown from National Organization for Marriage lost his already limited capacity for original thought and channels John Paul Jones:
We have not yet begun to fight for marriage," said Brian Brown, president of NOM."The Democrats are responding to their election loss with a series of extraordinary, extra-constitutional end runs around democracy, whether it's fleeing the state in Wisconsin and Indiana to prevent a vote, or unilaterally declaring homosexuals a protected class under our Constitution, as President Obama just did," said Brown. "We call on the House to intervene to protect DOMA, and to tell the Obama administration they have to respect the limits on their power. This fight is not over, it has only begun!"
Maggie Gallagher chimes in:
On the one hand this is a truly shocking extra-constitutional power grab in declaring gay people are a protected class, and it's also a defection of duty on the part of the President Obama," said Maggie Gallagher, Chairman of NOM, "On the other hand, the Obama administration was throwing this case in court anyway. The good news is this now clears the way for the House to intervene and to get lawyers in the court room who actually want to defend the law, and not please their powerful political special interests."
Liberty Counsel's Mat Staver, who charged that allowing same-sex marriages would lead to an epidemic of violent crime, called Obama the most divisive President in US History:
Regardless of President Obama's own ideological agenda, as President, he and his Attorney General have a duty to defend lawfully passed legislation, especially when the essence of the law has been upheld by many courts. Thirty states have passed marriage amendments affirming marriage as one man and one woman. Today President Obama has abandoned his role as President of the United States and transformed his office into the President of the Divided States. He has been the most divisive president in American history. He has today declared war on the American people and the fundamental values that are shared by most Americans. His radicalism resulted in the historical push-back in the 2010 elections. His radicalism today will come back around when the people respond to this betrayal in 2012," said Staver.
Focus On the Family's Tom Minnery wants Congressional Republicans to drop whatever they're doing and pick up the flag:
"We would hope Congress uses the tools at its disposal to counter this decision and defend marriage," Minnery said.
What should Congress do? Family Research Council's Tony Perkins wants Congress to take Holder's bait by dropping their "only interested in the deficit" mantra and reveal what many suspect to be their true colors:
"With this decision the President has thrown down the gauntlet, challenging Congress. It is incumbent upon the Republican leadership to respond by intervening to defend DOMA, or they will become complicit in the President's neglect of duty," concluded Perkins.
American Family Association's Bryan Fischer, who recently said that he would "fight to the last ditch" for marriage discrimination, has Perkins's back:
"I think it's a clear sign that we simply cannot avoid engaging on the social issues," Bryan Fischer, director of issue analysis for the group, told TPM. "Mitch Daniels has called for a truce on social issues and that would be fine if the homosexual lobby was willing to lay down arms, but they're obviously not and this proves it. A truce is nothing more than a surrender."
So far, House Speaker John Boehner is staying on message and has declined to take the bait:
A spokesman for House Speaker John Boehner, R-Ohio, criticized the administration change of position. "While Americans want Washington to focus on creating jobs and cutting spending, the president will have to explain why he thinks now is the appropriate time to stir up a controversial issue that sharply divides the nation," said spokesman Brendan Buck.
Update: Potential GOP Presidential candidate and former Arkansas Governor Mike Huckabee found a clever way to blame gay marriage for increasing the deficit:
Nonetheless, Huckabee opposes gay marriage on the grounds that, according to him, it destroys traditional families.  "There is a quantified impact of broken families," Huckabee said. "[There is a] $300 billion dad deficit in America every year…that's the amount of money that we spend as taxpayers to pick up the pieces because dads are derelict in their duties."
The DOJ's buddies – Part I
Timothy Kincaid
January 27th, 2011
There is an old saying that you are known by the company you keep. So the Obama Administration's Department of Justice must be mortified by who has filed amicus briefs in support of their defense of the federal Defense of Marriage Act.
In July, 2010, First Circuit Federal Court Judge Joseph Tauro ruled that the federal Defense of Marriage Act violated the constitutional rights of states to define marriage and of the rights of same-sex couples to have their legal marriages recognized. This ruling did not touch on rights outside of Massachusetts.
The Department of Justice appealed that decision and are arguing for the constitutionality of Congress to deny rights based on sexual orientation. They are joined by a Who's Who of anti-gay activists such as National Organization for Marriage, NARTH and the Eagle Forum.
Considering that the administration officially wishes to repeal DOMA – or at least that portion found unconstitutional – the decision to defend DOMA is one of legal principle (though I'm not convinced of its necessity) that then of ideology. So, sensing that no one from the DOJ is likely to stand on the table and scream, "they're filthy sinners full of perversion and disease who are defying God and should be punished," they have plenty of friends to make that point for them.
GLAD, who is arguing the Gill case on the side of equality, had collected these amicus briefs on their website for your perusal and delight. But, on the off chance that you may not find defense of discrimination and heterosexual superiority to be delightful – or that you may not wish to lose your lunch – I'll give you a synopsis and save you the effort.
The National Organization for Marriage was the first out of the gate. In an argument that surely would have impressed George Orwell, they declare that allowing the states to define marriage – as they have always done – would be a violation of the Tenth Amendment.
Whatever the origin of the misunderstanding of the scope of the Tenth Amendment, the court below turned the Tenth Amendment on its head. Rather than protecting against federal usurpation of powers reserved to the states, the ruling below would allow each state to impose its own definition of marriage on the federal government in a sort of reverse Supremacy Clause.
Well, I'll say that at least it is a novel argument.
They ramble a bit about censuses and other matters under federal definition, but basically they call for a newspeak approach to federalism whereby it is best achieved by centralized federal control. Listing all of the ways in which the federal government violates the rights of same-sex couples, they present this as evidence of the government's right to do so. They rant about bigamy and Think of the Children. This was not their best effort.
The certified hate group, Family Research Council, was up next. Nothing new or interesting here, just the same ol' "no strict scrutiny required" and "them homos in't got no rights". But I'll give Tony and crew props for perhaps the single most meaningless sentence ever entered into public record:
And no court has ever held that marriage, traditionally understood, extends to same-sex couples. [emphasis in original]
George I. Goverman, "a citizen and resident of Massachusetts and a member of the bar of the Commonwealth since 1970", chimed in to bring up Baker v. Nelson. Perhaps he intended to file his amicus with Perry, but got confused.
He also has a unique presentation style; his argument is in Times New Roman but for case references he appears to have selected an Arial italics font. They are also different font size and don't quite line up, leaving a rather jarring effect.
But having read countless "procreative activity" amici during Perry, this peculiar presentation was not quite enough to keep me interested. I was, however, amused that he appealed to George Orwell at his conclusion. I guess he didn't read NOM's paper.
Judge Roy Moore (of Ten Commandments fame) was here with his Foundation for Moral Law to "defend the unalienable right to acknowledge God as the moral foundation of our laws."
After he informed the court that "the views of the American people as a whole from the beginning of American history through the present, have held that homosexual conduct has always been and continues to be immoral and should not be protected or sanctioned by law," I assume that the judge will just toss this one on the pile marked "raging loons." It seems that Moore hasn't read a poll or opened a newspaper in the past decade or so.
But I hope the court does read Moore's rantings. For this paragraph, if for no other:
From Biblical law and other ancient law, through English and American common law and organic law, to recent times, homosexual conduct has been abhorred and opposed; the idea of a "marriage" based on such conduct never even entered the legal mind until very recent times. Congress's passage of the federal definition of marriage in DOMA had the force of that history behind it and several present-day interests that were asserted when DOMA was enacted in 1996, such as an interest in defending marriage and an interest in defending traditional notions of morality.
The Supreme Court has found that defending "traditional notions of morality" is not an adequate reason for enacting law. In fact, to do so would be to invite judicial rejection.
So it is definitely to our advantage to remind the court that the sole purpose of anti-gay laws – including anti-marriage laws – is based in a desire on the part of one segment of society to impose their religious beliefs upon others. It also helps that Moore quotes the Bible about abominations and such and makes a bestiality comparison. I'm surprised he didn't channel Jonathan Edwards.
Thank you, thank you, thank you, Judge Moore for writing in and making it perfectly clear that opposition to same-sex marriage is based in religious doctrine, antipathy to gay people, and – at least in your case – baldfaced bigotry.
Why Family Research Council was so furious to be called a hate group
A Commentary
Timothy Kincaid
January 18th, 2011
In December, the Southern Poverty Law Center updated its list of Anti-gay Hate Groups to include the Family Research Council and gave honorable mention to the National Organization for Marriage and Concerned Women for America. This did not go over well with the nation's social conservatives.
Not much attention has been paid in the past to SPLC's gay hate list. Most, like Traditional Values Coalition or MassResistance or any of Scott Lively's three groups were so extreme and out of the mainstream that there wasn't much defense that could be raised. And further, some were led by leaders like Lou Sheldon and Brian Camenker that, frankly, come across in public as not quite sane.
And some haters are convenient. Social conservatives can point at the Phelps family and say, "Thank God that I am not like that hater" and suggest that anything this side of a "God hates" sign is moderate and reasonable.
But this time SPLC's announcement was not greeted with rolled eyes or casual disregard. Instead, social conservatives – from pastors to politicians – took to the media with harsh rhetoric and a desire to discredit SPLC. Family Research Council's online petition drew a Who's Who of religious extremists from Lou Engel to Linda Harvey to Brent Bozell. If anyone had every written a newspaper op-ed which railed against "the homosexual agenda" or put the word "gay" in scare quotes or called you a "degenerate" or a "pervert", then they were there. So too were a couple dozen politicians including congressmen, governors, and a few potential presidential candidates.
The Family Research Council is well connected, and its spokesman, former LA state legislator Tony Perkins, has become the voice of the far right social conservative movement. Accusing him of hate is accusing the entire anti-gay industry of hate. And throwing in such activist groups as Concerned Women or NOM suggests that even mainstream anti-gay activism has hate involved.
But still, the response was so loud and angry. The religious right was furious and their reaction was way out of proportion to SPLC's rather quiet announcement.
But if you understand Christian theology, you can see why. It's because, by definition, a Christian group cannot be a hate group.
This is not just a "we good Christians don't hate" sort of explanation or some "no true Scotsman" logical falacy. It's not even a distracting platitude like "love the sinner, hate the sin." Rather, the idea that a Christian group cannot be a hate group is definitional. And the authority for this definition can get no higher.
In the Gospel of John, written within the first century, Jesus is credited with setting up an amazing qualifier by which one either was or was not one of his followers. Further, he empowered this with a commandment.
John 13:35 – A new command I give you: Love one another. As I have loved you, so you must love one another. By this everyone will know that you are my disciples, if you love one another.
By the words of Christ, one can either be his follower or be a hater. But not both. You may call yourself "Christian" and have all sorts of views about theology, but the one indicator that is a non-negotiable criterion is that you love.
And while this is in keeping with the overall theme of Jesus' message as reported in the four gospels (love your neighbor, etc.), it takes a particular twist that can be quite troubling to those who operate as do FRC. Oddly, here, Jesus put the responsibility – indeed the right – of discerning who were his true disciples not on his followers, but on outsiders. The "everyone" here is not Peter and Andrew but, for example, the Southern Poverty Law Center.
So to be told by the SPLC that you engage in hate is to be told that you are not a follower of Christ, that your protestations of morality are, indeed, a sounding brass or tinkling cymbal, and that rather than being the Christian you think you are, you are really working for the Enemy of Christ. It is small wonder that that Family Research Council and their supporters are furious.
[In future commentaries, we will discuss the Christian definitions of love and hate, whether the SPLC got it right, and whether FRC or other conservative religious individuals and organizations can rightly be described and discussed using either word]
Fox News — Gasp! — Gets it Wrong!
Rob Tisinai
December 25th, 2010
How many factual errors can you find in this quote from Fox News:
Conservative groups and lawmakers are firing back at the Southern Poverty Law Center for releasing a new report labeling some mainstream conservative organizations as "hate groups" for their opposition to gay marriage.

In its latest report, the center added 18 "anti-gay groups" to its list of active hate organizations, including Concerned Women for America, the Traditional Values Coalition, the Family Research Council and the National Organization for Marriage.
I see three mistakes:
SPLC added 13 5 new organizations to its list of hate groups, not 18.
SPLC did not add the National Organization for Marriage to its list of hate groups.
SPLC did not add any organizations to its list of hate groups "for their opposition to same-sex marriage."
Two sentences, three factual errors.  None of us seriously expect Fox News to be fair and balanced, but we at least expect them to be — well, I guess we'd best not expect anything good at all.