"86 Percent" of Tony Perkins's Statistics Are Rubbish
Jim Burroway
November 29th, 2010
[Update: A couple of eagle-eyed commenters noticed something we all should have caught. This post has been revised accordingly. I love BTB readers.]
The Family "Research" Council's Tony Perkins appeared on Chris Matthew's Hardball on MSNBC today to demonstrate his outrage over the Southern Poverty Law Center's adding his organization to their very small list of anti-gay hate groups.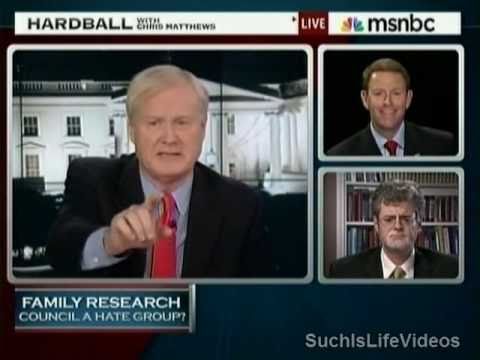 SPLC's Mark Potok explained that the FRC earned its Hate Group designation due to the FRC's persistent acts in demonizing LGBT Americans with false research and statistics. Perkins then set out to defend his group by demonizing LGBT Americans with false research in statistics:
If you go back to the Archives of Sexual Behavior, a peer-reviewed reviewed journal, that stated that in self-identified… 86% of men, homosexual men, or who engage… or men who engage in molestation of children, 86% of them identified as homosexual or bisexual. That study has not been refuted.
The study was not "refuted," in Perkins' terminology, simply because the finding was not considered to be significant, not even by its authors. The study, "Behavior patterns of child molesters" by W.D. Erickson, N.H. Walbek, and R.K. Seely which appeared more than twenty years ago (1988, to be exact), didn't set out to determine the sexual orientation of child molesters. The study, of 229 convicted child molesters in Minnesota, (which, by the way, was never intended to be nationally representative in any way) was focused on the types of sexual contact the men engaged in with their victims — vaginal or anal penetration, oral contact, and so forth. In this particular sample, 63 victims were male, and 166 victims were female.
But the "finding" that Perkins and company found so exciting is encapsulated in just one sentence: "Eighty-six percent of offenders against males described themselves as homosexual or bisexual." (emphasis mine.)
That's right, one lone sentence out of a ten page document, buried deeply within the text. [Update: — and Perkins completely misquoted it. Perkins said that 86% of men who abused children — without regard to gender — said they were gay or bisexual, a claim that the authors specifically did not make.]
The authors themselves didn't see it as a significant finding, and there are other good reasons for it. The authors didn't delve into the adult relationship makeup of these offenders, nor did they disclose what criteria the offenders used in their self-labeling. The authors also didn't try to investigate whether there was any validity to their self-labeling.
And this, too, is important, because child sexual abuse experts understand that abusers often have little to no sexual attraction to other adults of any gender, which means that in clinical terms they are actually pedophiles rather than homosexual or bisexual. And while many pedophiles will identify themselves using the language of heterosexual/homosexual/bisexual, their crimes are no more relevant to LGBT equality than the prevalence of heterosexuals among rapists are relevant to straight people.
This study did not investigate sexual orientation. It did set out to answer the questions that the investigators sought to answer, which was what kind of sexual contact did offenders initiate with their victims? FRC, however, took a single sentence from a study that did not try to investigate the sexual orientation of offenders, and amplified a throw-away line as though it were the entire study's reason for being. And because it didn't investigate sexual orientation, it's illegitimate to to amplify one lone throw-away sentence into "overwhelming scientific evidence" — those are Tony Perkin's words — that gays are a threat to children.
The reason the FRC is legitimately a part of the SPLC's list of hate groups is their penchant for taking one line from a study out of context, and present that single sentence as being somehow more significant than the tons of studies that experts in the field of child sexual abuse have conducted through the ages. We have summarized many of those findings in our report, Testing the Premise: Are Gays a Threat To Our Children? Interestingly, that report was prompted, in part, by a specious tract put out by the FRC a few years earlier. That specific tract has been withdrawn, but not because they woke up and realized their so-called "research" was bogus. They still hold to their false linkages between homosexuality and child sexual abuse here and, more significantly, here (PDF: 312KB/22 pages).
Oh, and nice touch there, when Tony Perkins adds, "If you look at the American College of Pediatricians, they say the research is overwhelming that homosexuality poses a risk to children."
The American College of Pediatricians is a rump political group formed in 2002 in response to the much, much larger American Academy of Pediatrics' statement in support for LGBT parental rights. The AAP is made up of some 60,000 members who know more than just about anyone what's best for children. The American College of Pediatricians, on the other hand, is made up of a couple hundred dissenters who, by judging from their web site, are mainly concerned with homosexuality more than the plethora of childhood health issues that your average pediatrician is much more likely to care about.
When the SPLC announced that they were adding the FRC to their small list of anti-gay hate groups, they cited the FRC's "propagation of known falsehoods — claims about LGBT people that have been thoroughly discredited by scientific authorities — and repeated, groundless name-calling." Tony Perkins responded by providing convincing proof of the SPLC's allegations. And he did it with the slightest hint of embarrassment.
FRC values anti-gay conformity more than pro-life advocacy
Timothy Kincaid
November 2nd, 2010
The Family "Research" Council sees itself as a protector of conservative social values, specifically by opposing abortion rights and equality for gay Americans. But it appears that FRC has a hierarchy in their social agenda and they may well value partisan conformity to anti-gay positions more than they value "the inherent dignity of every human life from conception." (Times-Picayune)
The conservative Family Research Council Action PAC has launched a last-minute radio ad campaign against Rep. Anh "Joseph" Cao, R-New Orleans, for his support of gay rights.
…
Cao co-sponsored both the Hate Crimes Protection Act of 2009 and House legislation to repeal the policy that prohibits openly gay men and women from serving in the armed forces, known as "don't ask, don't tell."

"I believe it is a human rights violation to impose government-sanctioned penalties on a group of people just because of their sexual orientation, just as it would be a human rights violation to impose penalties on a group because of its religious affiliation or race," Cao said. "I will continue to fight for the protection of human rights for all people."
This alone might not raise eyebrows. It would not be unusual for FRC to oppose pro-gay candidates. But it should be viewed in context: (FrumForum)
Further confounding is the fact that Cao is one of the most pro-life Republicans on Capitol Hill. He was only persuaded to vote against the final version of the healthcare bill because he wasn't satisfied that it would not fund abortions. On pro-life issues, the National Right to Life has Cao supporting them on all of their five identified pro-life votes in the last Congress.
FRC is willing to give up a staunch pro-life vote, and replace him with a Democrat who is not likely to vote with FRC on many issues at all. Why is FRC trying to throw the election?
Because FRC is not just opposing Cao due to his gay advocacy; rather, FRC is furious that Cao dare be a Republican who supports gay people. Tony Perkins and FRC are desperate to hold onto the Republican Party and keep gay equality as a partisan issue for as long as possible. His biggest fear is that it will soon become acceptable for elected Republicans to be pro-gay; when that happens, the battle will be over.
Suicide, Responsibility, and the Teenaged Brain
Rob Tisinai
October 28th, 2010
Anti-gay activists are working hard to duck responsibility for anti-gay bullying and teen suicides. These attempts occasionally veer into sheer lunacy, as when they claim gay teens are in despair because society is too accepting of homosexuality. But there's one dodge I find particularly offensive. From the comments on NOM's Facebook page:
The only people responsible for the suicides are the people that comitted them.
Nobody forces anyone to take his own life; ergo, only those who commit suicide are responsible.
Each person is responsible 4 their own actions. U make believe u r gay. God did not make u gay & He does not make u commit sucicide. nor does anyone else
I don't know if gay is always a choice, or not. But suicide is ALWAYS a choice. The ultimate cop-out.
To be fair, I don't see this from polished anti-gay leaders. But it's all over the comments on their web pages and blogs. It's a strange argument coming from conservatives, who generally believe teenagers require strict discipline and are still learning to make wise decisions. They think a 15-year-old like Billy Lucas can't handle alcohol, a car, the vote, or serving in the military, but he'll have no trouble hearing that in the core of his being he's an abomination, a pervert, an affront to God.
We have good reason not to trust kids to their own judgment when it comes to the big stuff. The human brain isn't mature until it's 23 to 25 years old. Through magnetic resonance imaging (MRI), scientists are now able to track blood flow — and therefore activity — in the brains of adults and teens as they confront information and solve problems. The science is new, but some differences are clear:
Between childhood and adulthood, the brain's "wiring diagram" becomes richer, more complex and more efficient, especially in the brain's frontal lobe, or front outer mantle, which is the seat of such higher order functions as learning and socialization. An important part of the frontal lobes is the prefrontal cortex (PFC), which is often referred to as the "CEO" or executive of the brain and is responsible for such skills as setting priorities, organizing plans and ideas, forming strategies, controlling impulses, and allocating attention. New research suggests that the PFC is one of the last areas of the brain to fully mature…

[O]ne key MRI study found that when identifying emotions expressed on faces, teens more often activated their amygdala—the brain area that experiences fear, threat and danger— whereas adults more often activated their prefrontal cortex—the area of the brain linked more to reason and judgment—and performed better on the task. Behaviorally, the adult's responses were more intellectual, the teens' more from the gut. These findings and others suggest that although the plasticity and changeability of the adolescent brain are extremely well suited to meet the demands of teen life, guidance from parents and other adult institutions are essential while decision-making circuitry is being formed.

Impulse control, planning and decisionmaking are largely frontal cortex functions that are still maturing during adolescence…[O]ne reason adolescents may have difficulty inhibiting inappropriate impulses is that the circuitry needed for such control is not fully mature in early adolescence, thereby making such tasks relatively difficult.
In short, kids have less impulse control than adults, and they listen to their gut when processing emotional cues.
Imagine then that you're a gay teen, and you're watching this Jimmy Swaggart broadcast with your parents, who have demonized gays in front of you all your life. Look at Swaggart's face as he speaks. Take in his "emotional cues." Hear your parents murmuring "Mm hmm. That's right."
Imagine reacting from your gut, not your intellect. Imagine your brain has only limited impulse control.
Imagine all that — as the only life you know.
Maggie Gallagher wants to know if she has blood on her hands. Jimmy Swaggart. Peter Sprigg. Tony Perkins. Bryan Fischer. Linda Harvey. Whether you're calling us an abomination, or phrasing it more gently (like Maggie) and merely saying we can never feel the love that a man and a woman can. You all have blood on your hands.
The Tragic Suicide of Alan Turing
Rob Tisinai
October 15th, 2010
Alan Turing was a brilliant English mathematician who helped the Allies win World War II.
Working as a cryptographer at the now famous Bletchley Park complex he used his incredible focus and intelligence to crack the seemingly impossible codes of the German Enigma Machine. By locking himself in his room for days at a time he managed to reverse engineer the Enigma Machine — a stroke of pure genius that allowed the British and their allies to anticipate attacks and other vital information, changing the course of the war.
He's also known as the father of computer science. Time named him one of the 100 most important people of the 20th century.
[E]veryone who taps at a keyboard, opening a spreadsheet or a word-processing program, is working on an incarnation of a Turing machine.
Alan Turing was gay. He killed himself on June 8, 1952, by eating a bite of an apple laced with cyanide. But why? We've seen a lot of theories from the right on why gay kids are killing themselves. Could any of them apply?
Bryan Fischer of the American Family Association might say it's because society was pushing too hard for people to be gay:
It must be pointed out that homosexual activists are not wholly innocent in these tragedies either. Homosexuals cannot reproduce so they must recruit. Part of the agenda of groups like GLSEN (the Gay, Lesbian and Straight Education Network) is to urge students at younger and younger ages to come out and declare a disordered sexual preference. Sexually confused youth are pressured into locking into a sexual identity far before they are mature enough to do so.
Peter Sprigg of the Family Research Council might argue that society was too accepting of homosexuality:
Peter Sprigg, senior fellow for policy studies at the Family Research Council in Washington, D.C., said the rash September suicides by gays might be linked to the students believing they were born gay. "That creates hopelessness," he said. "It is more loving and compassionate to say you don't have to be gay for the rest of your lives."
His colleague Tony Perkins might back him up:
Some homosexuals may recognize intuitively that their same-sex attractions are abnormal–yet they have been told by the homosexual movement, and their allies in the media and the educational establishment, that they are "born gay" and can never change. This–and not society's disapproval–may create a sense of despair that can lead to suicide.
Could Turing have killed himself because homosexuality was illegal in Britain?
Could he have done it because police discovered his sexual orientation while investigating a burglary of his home, and he was convicted of gross indecency?
Could it have been because in order to avoid a prison term he submitted to chemical castration by the government via female hormones?
No, of course not. As Tony Perkins makes clear, society's disapproval does not cause suicide. Alan Turing must have killed himself because Britain was just too damn accepting.
Family "Research" Council Gets It Wrong On LGBT Mental Health
Jim Burroway
October 11th, 2010
The Washington Post has been taking a very strong lurch to the far right recently. If you have any doubt about that, then consider this op-ed by Tony Perkins, which is completely indistinguishable from the propaganda regularly promulgated by his Family "Research" Council. In this lovely gem gracing the WaPo's web site, Perkins blames gay people for the teen suicides that has garnered so much attention recently:
Some homosexuals may recognize intuitively that their same-sex attractions are abnormal–yet they have been told by the homosexual movement, and their allies in the media and the educational establishment, that they are "born gay" and can never change. This–and not society's disapproval–may create a sense of despair that can lead to suicide."
Perkins preceded that outrageous statement with this "evidence":
There is an abundance of evidence that homosexuals experience higher rates of mental health problems in general, including depression. However, there is no empirical evidence to link this with society's general disapproval of homosexual conduct. In fact, evidence from the Netherlands would seem to suggest the opposite, because even in that most "gay-friendly" country on earth, research has shown homosexuals to have much higher mental health problems. [Hyperlinks in the original]
I guess Perkins doesn't actually intend for people to click on those hyperlinks. Apparently, he intended them for decoration, the same way FRC people regularly sprinkle their publications with footnotes to make them look more scholarly. But I would invite you to go ahead and click on the first one, which points to a 2002 article from the Monitor On Psychology, the American Psychological Association's official magazine. Among the studies discussed  in that article was one by Susan Cochran ("Emerging issues in research on lesbians' and gay men's mental health: Does sexual orientation really matter?" American Psychologist, 56, no. 11 (Nov 2001): 931-947). Her study did find elevated levels of psychological distress among gay people. However,
For one thing, she says, "these are certainly not levels of morbidity consistent with models that say homosexuality is inherently pathological." For another, the data simply don't prove either pro- or anti-gay arguments on the subject, whether it's that the inherent biology of homosexuality causes mental illness or that social stigma provokes mental illness in LGB people, she says.
Cochran also predicted that her study would, no doubt, be misused by anti-gay people like Perkins "to falsely promulgate the argument that gay people are by nature mentally ill." She was right.
But while her study couldn't settle the social stigma question, the very next study mentioned in the article came very close to doing just that. This one by Vickie Mays and Susan Cochran ("Mental health correlates of perceived discrimination among lesbian, gay, and bisexual adults in the United States." American Journal of Public Health, 91, no 11 (Nov 2001): 1869-1876. Full study available online here.) "explored whether ongoing discrimination fuels anxiety, depression and other stress-related mental health problems among LGB people," wrote the Monitor. "The authors found strong evidence of a relationship between the two." The Monitor continues:
GB respondents reported higher rates of perceived discrimination than heterosexuals in every category related to discrimination, the team found.

While the findings do not prove that discrimination causes mental health problems, they take a step toward demonstrating that the social stigma felt by LGB people has important mental health consequences. That again points to the need for tailored mental health treatment, in particular therapy that includes ongoing discussion of how discriminatory experiences may affect stress levels, they note.
So, instead of blaming the problems that gay people have on simply being gay — as Tony Perkins does by pretending that science does the same — actual real live scientists have found very much the opposite, that social stigma provides a very strong explanation for the psychological distress that LGBT people face.
By the way, that same Monitor article went on to describe two other studies that found that lesbians, especially those who are already out, are actually doing quite nicely on the coping front, thank you very much. They also measured higher in self-esteem. Tony Perkins somehow forgot to mention that.
But where there is evidence of social stress, there is evidence of higher levels of psychological distress. And that extends to "the evidence from the Netherlands." Here, Perkins links to the full text of that study online, but he appears not to have read it. While the study's authors notes that the Netherlands is generally more tolerant, it doesn't mean that LGBT people there are free from anti-gay bias and stress. After all, "more tolerant" is not the same as tolerant. And as for the study's findings, the authors offered this explanation:
The effects of social factors on the mental health status of homosexual men and women have been well documented in studies, which found a relationship between experiences of stigma, prejudice, and discrimination and mental health status. Furthermore, controlling for psychological predictors of present distress seems to eliminate differences in mental health status between heterosexual and homosexual adolescents.
In fact, anti-gay violence has actually been on the rise in the Netherlands. It's gotten so bad that a recent rally to protest the rise in anti-gay violence was marred by attacks and threats to LGBT people who were leaving the protest. In 2005, Chris Crain, former editor of the Washington Blade, was gay-bashed in Amsterdam by two persons who called him and his partner "fucking fags." An observer in the U.K. wrote, "Reports across all media have pointed out that the events of April 30th (the date of Crain's attack) weren't a one-off, and that a growing number of lesbians and gay men don't feel as safe on the streets as they once did."
This is the nirvana in which, according to Perkins, there is no prejudice or discrimination against gay people.
Perkins' claim that gay people are their own worst enemy is wholly unsubstantiated and completely without merit. But that is pretty much to be expected from the Family "Research" Council. What's not expected is for the Washington Post to serve as this propagandist's mouthpiece without any move by the fact checkers. I assume they still exist there; I could be mistaken.
FRC files their amicus brief on Perry v. Schwarzenegger
Timothy Kincaid
September 22nd, 2010
The anti-gay activist group, Family Research Council, has filed an amicus brief with the Ninth Circuit stating their arguments in opposition to Judge Walker's finding that Proposition 8 is a violation of the US Constitution.
It boils down to this:
Properly framed, therefore, the issue before this Court is not whether there is a fundamental right to enter into a marriage with the person of one's choice, but whether there is a right to enter into a same-sex marriage.
The court, they say, is focused on the wrong issue. It isn't a matter of individual freedom that matters, it that the marriages are gay. GAY, I say!! Gay, gay, gay. That's the important part.
They go on to state that there is no discrimination based on sex, because both sexes are banned from marrying Teh Ghey! (And besides, if sports teams can discriminate based on sex, why not marriages?)
And, of course, ever present was the presumption that gay people don't exist and if they'd just shape up and live right then they could marry the opposite sex and they wouldn't have this issue at all.
Proposition 8 does not discriminate on the basis of sexual orientation. Homosexuals may marry someone of the opposite sex, and heterosexuals may not marry someone of the same sex.
And then there was the laughable statement:
… nothing …even remotely supports the conclusion that Californians approved Proposition 8 with the intent or purpose to discriminate against homosexuals, as opposed to their knowledge that, if adopted, Proposition 8 would have a disparate impact on homosexuals. Nor are there any facts that could support such a conclusion.
Proposition 8 was not about gay people or them getting married; it was about preserving definitions. And there is nothing whatsoever that suggests that voters intended for Proposition 8 to impact gay folks at all.
What ever could have given Walker the idea?
Apart from the language of Proposition 8 itself, which is facially neutral with respect to a person's sexual orientation, how could the intent or purpose of more than seven million voters be determined? By exit polls? Pre- or post-election polling? Random sampling of the electorate? Voter interviews? And how, based on the selective evidence presented by the plaintiffs (from a veritable deluge of messages inundating the voters during the hard fought campaign over Proposition 8), could any court possibly distinguish between the electorate's knowledge that what it was voting on would have a disparate impact on a given class of persons (homosexuals) and an intent or purpose to cause that impact?
Oh, I dunno. How about the fact that every ad they ran, every speech they made, every sign they waved, every interview they gave and every sermon they preached were based entirely on Stopping Gay Marriage. No exceptions.
It would take a tremendous amount of credulity to buy the idea that while all of the advertising for Proposition 8, all the rallies, all the get-out-the-vote and all of the celebrating was based in opposing gay couples that the voters really had "channeling procreative sexual activity into a stable social and cultural environment in which the children so procreated may be raised and providing the benefits of dual-gender parenting" in mind.
And in perhaps their only honest and non-cynical moment they conclude:
In light of the foregoing, it is irrelevant whether, as the district court purported to find, Proposition 8 was motivated by animus against homosexuals. The fact remains that Proposition 8 is reasonably related to legitimate state interests. That is sufficient to sustain its constitutionality under the rational basis standard. The district court's holding to the contrary should be reversed. [emphasis added]
I'm not sure that such briefs achieve the goal of supporting the Proponent's assertion that there is no animus towards gay people. I doubt that the judges hearing the appeal are dunces and arguing that the voters should be able to instill bigotry into the constitution is not a compelling selling point.
The Tea Party Doesn't Care About Social Issues, Ctd.
Jim Burroway
September 18th, 2010
From Peter at Right Wing Watch, who attended the Values Voters Summit yesterday in Washington, D.C.:
A Tea Party panel brought together three activists who told stories about their own transformations from being moms and conservatives who minded their own business to becoming activists. Activists Katie Abram and Billie Tucker said their Tea Party work was guided by God waking them up early in the morning with instructions, the same way, one said, God does with Glenn Beck. Tucker describes a disagreement among organizers of their local tea party group. When one argued against adding moral issues to the mission, Tucker responded, saying "God did not wake me up for four months at four in the morning to say, 'Billie, we've got a tax issue.' He woke me up because he said my country doesn't love me like it used to love me."
Tea Party Express Leader Denies Social Issues Are Part Of Agenda
Jim Burroway
September 17th, 2010
Tea Party Express chairperson Amy Kremer is attending the Family Research Council's annual Values Voters Summit in Washington, D.C. this weekend, where she will appear as a panelist. While she was there, she sat down with the American Family Association's Bryan Fischer, who pressed her on taking a stand on social issues. Said Kremer, "If we go and allow religion and social issues to become a big part of this movement, this movement is going to fall apart."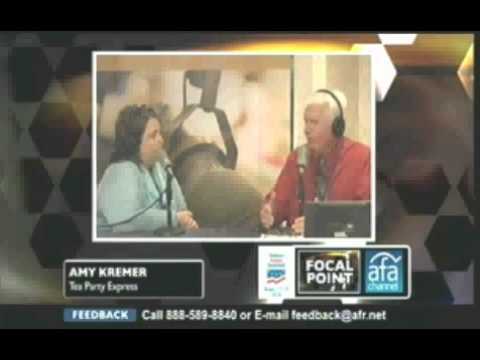 So there you have it. The Tea Party Express has no stake in social issues. Which is why their chairperson is attending a three-day conference dedicated to social issues conducted by the Family Research Council.
Tea Party Express was founded by a Sacramento-based GOP political consulting firm in 2008. Which means it's totally nonpartisan too. Former Tea Party Express chairman Mark Williams, incensed over plans to build an Islamic community center two blocks from New York's Ground Zero, said Muslims worshipped a "monkey-god." Which means they are totally not xenophobic either.
David Boies: Junk Science, Fear and Prejudice Were Put On Trial and Lost
Jim Burroway
August 9th, 2010
David Boies, one of plaintiff's lawyers for the gay couples successfully challenging the constitutionality of California's Prop 8 in Federal District Court, was on CBS's Face The Nation yesterday morning, where he eviscerated the Family Research Council's Tony Perkins on their "junk science."
It's easy to sit around in debate and throw around opinions and appeal to people's fear and prejudice, cite studies that either don't exist or don't say what you say they do. In a court of law, you've got to come in and you've got to support those opinions. You've got to stand up under oath and cross examination.

And what we saw at trial is that it's very easy for people who want to deprive gay and lesbian citizens the right to vote [sic]  make all sorts of statements in campaign literature or in debates where they can't be cross examined. But when they come into court and they have to support those opinions, and they have to defend those opinions under oath and cross examination, those opinions just melt away.

And that's what happened here. There simply wasn't any evidence. There weren't any of "those studies." There weren't any empirical studies. That's just made up. That's just junk science. And it's easy to say that on television, but the witness stand is a lonely place to lie. And when you come into court, you can't do that. And that's what we proved. We put fear and prejudice on trial, and fear and prejudice lost.
Meanwhile, Ted Olson was on Fox New Sunday defending Judge Vaughn Walker against claims of "judicial activism." Olson deftly defined "judicial activism" this way: "Most people use the term judicial activism to explain decisions they don't like."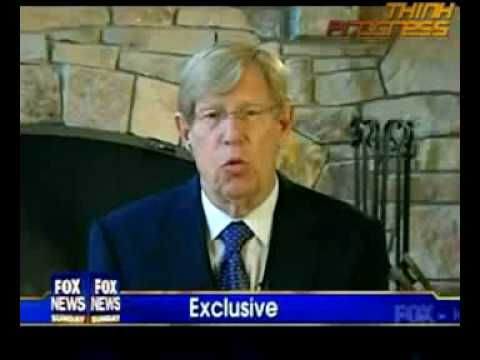 Olson cited the case of Reitman v. Mulkey, in which the U.S. Supreme Court struck down California's Prop 14 of 1963 because it violated the U.S. Constitution due to its racial discrimination, despite the fact that Californians overwhelmingly supported it at the ballot box. Money quote: "Would you like Fox News' right to free press put up to a vote?"
Also this, on conservative values: "We believe that a conservative value is stable relationships and stable community and loving individuals coming together and forming a basis that is a building block of our society, which includes marriage."
LaBarbera Award: Family Research Council
Jim Burroway
August 5th, 2010
The Family Research Council has detected a conspiracy:
After two decades of criticism that he wasn't gay-friendly enough, the 65-year-old judge paid back his skeptics with the most powerful rebuke against man-woman marriage this country has ever seen. Back in 1987, his impartiality on homosexual issues was so stunning that Democrats actually opposed his nomination to the court where he now sits. But the reporter writes, "We now know what Walker never bothered to reveal when he was being castigated as anti-gay: He is gay."

It turns out that the Judge behind Proposition 8's undoing was just biding his time until he could unleash his ultimate agenda: decimating marriages that have defined civilization since the beginning of time.
How clever is that? Judge walker threw everyone off by his "impariality" for twenty-three years. First, in a particularly inspired stroke of brilliance, he got himself blocked for being too "anti-gay" when conservative icon Ronald Reagan tried to appoint him to the Federal bench in 1987. But hat was okay because he knew, clever as he was, that another Republican President, George H.W. Bush, would manage to get his second appointment attempt through the Senate just two years later. Successfully embedded, all he had to do was just wait there for the next two decades until someone would decide to propose, campaign for, and pass a state constitutional amdendment banning same-sex marriage. And to do that, of course they would use animus against LGBT people to achieve their noble aims. Because, you see, Walker knew that would happen. He also knew that he would still have to bide his time until someone else brought a Federal suit against the state of California and file it in San Francisco. And he just sat there, omnicient and all-powerful, waiting for his trap to spring as the random selection process that assigned cases to judges landed the lawsuit onto Walker's docket. And with that, his diabolical plan had come to fruition and he could finally "unleash his ultimate agenda."
Genius!
For good measure, the FRC ominously hints that the decision striking down Prop 8 may lead to violence:
 In the meantime, the Left might want to think twice about its victory lap. Instead of aiding their cause, this decision is feeding the unrest across America that our government has become tyrannical.
Insane consipracy theories and warnings of violence. That's a very combustible combination. Be wary folks. Things are going to get really rough for a while.
Prop 8 Supporters React
Jim Burroway
August 4th, 2010
First, we go to Andy Pugno, general counsel for the Alliance Defense Fund, which represented the losing side in today's decision:
"Today's ruling is clearly a disappointment. The judge's invalidation of the votes of over seven million Californians violates binding legal precedent and short-circuits the democratic process. But this is not the end of our fight to uphold the will of the people for traditional marriage, as we now begin an appeal to the Ninth Circuit Court of Appeals.

"It is disturbing that the trial court, in order to strike down Prop 8, has literally accused the majority of California voters of having ill and discriminatory intent when casting their votes for Prop 8.

"But the reality is that Prop 8 was simply about restoring and strengthening the traditional definition of marriage as the unique relationship of a man and a woman, for the benefit of children, families and society.

"At trial we built a solid record to show that marriage has served as the foundation of the family and society as a whole, has universal functions and features attributable only to unions between a man and woman, has been defined in both law and language as a union between a man and a woman, and acts as the predominate relationship in which to create and support children.

"We are confident that the trial court record we built will help us ultimately prevail on appeal and reverse today's ruling.
Newt Gingrich, who believes in the sanctity of marriage between on man and three consecutive women, warns that this should be another knock against confirming Elena Kagan to the Supreme Court:
"Judge Walker's ruling overturning Prop 8 is an outrageous disrespect for our Constitution and for the majority of people of the United States who believe marriage is the union of husband and wife. In every state of the union from California to Maine to Georgia, where the people have had a chance to vote they've affirmed that marriage is the union of one man and one woman. Congress now has the responsibility to act immediately to reaffirm marriage as a union of one man and one woman as our national policy. Today's notorious decision also underscores the importance of the Senate vote tomorrow on the nomination of Elena Kagan to the Supreme Court because judges who oppose the American people are a growing threat to our society."
Wendy Wright, Concerned Women for America stomps her foot and demands that the decision be overturned immediately:
Judge Walker's decision goes far beyond homosexual 'marriage' to strike at the heart of our representative democracy. Judge Walker has declared, in effect, that his opinion is supreme and 'We the People' are no longer free to govern ourselves. The ruling should be appealed and overturned immediately.

"Marriage is not a political toy. It is too important to treat as a means for already powerful people to gain preferred status or acceptance. Marriage between one man and one woman undergirds a stable society and cannot be replaced by any other living arrangement.
Robert George of the American Principles Project, sees this as ensuring "additional decades fo social dissension and polarization":
Another flagrant and inexcusable exercise of 'raw judicial power' threatens to enflame and prolong the culture war ignited by the courts in the 1973 case of Roe v. Wade," said Dr. Robert P. George, Founder of the American Principles Project. "In striking down California's conjugal marriage law, Judge Walker has arrogated to himself a decision of profound social importance—the definition and meaning of marriage itself—that is left by the Constitution to the people and their elected representatives."

"As a decision lacking any warrant in the text, logic, structure, or original understanding of the Constitution, it abuses and dishonors the very charter in whose name Judge Walker declares to be acting. This usurpation of democratic authority must not be permitted to stand."

…"The claim that this case is about equal protection or discrimination is simply false," George said. "It is about the nature of marriage as an institution that serves the interests of children—and society as a whole—by uniting men and women in a relationship whose meaning is shaped by its wonderful and, indeed, unique aptness for the begetting and rearing of children.

…"Judge Walker has abandoned his role as an impartial umpire and jumped into the competition between those who believe in marriage as the union of husband and wife and those who seek to advance still further the ideology of the sexual revolution. Were his decision to stand, it would ensure additional decades of social dissension and polarization. Pro-marriage Americans are not going to yield to sexual revolutionary ideology or to judges who abandon their impartiality to advance it. We will work as hard as we can for as long as it takes to defend the institution of marriage and to restore the principle of democratic self-government," concluded Dr. George.
Focus On the Family's Judicial Analyst Bruce Hasknecht (he apparently didn't get layed off last week) warns that this could have repurcussions for the other 49 states in the union:
"Judge Walker's ruling raises a shocking notion that a single federal judge can nullify the votes of more than 7 million California voters, binding Supreme Court precedent, and several millennia-worth of evidence that children need both a mom and a dad.

"During these legal proceedings, the millions of California residents who supported Prop 8 have been wrongfully accused of being bigots and haters. Nothing could be further from the truth. Rather, they are concerned citizens, moms and dads who simply wanted to restore to California the long-standing understanding that marriage is between one woman and one man – a common-sense position that was taken away by the actions of another out-of-control state court in May 2008.

"Fortunately for them, who make up the majority of Californians, this disturbing decision is not the last word.

…"We do want Americans to understand the seriousness of this decision, however. If this judge's decision is not overturned, it will most likely force all 50 states to recognize same-sex marriage. This would be a profound and fundamental change to the social and legal fabric of this country.
Tony Perkins at the Family Research COuncil anticipates that the decisionwill be upheld by the Ninth Circuit Court of Appeals ("the most liberal appeals court in America"), and will only make the anti-gay rhetoric "more volatile":
"This lawsuit, should it be upheld on appeal and in the Supreme Court, would become the 'Roe v. Wade' of same-sex 'marriage,' overturning the marriage laws of 45 states. As with abortion, the Supreme Court's involvement would only make the issue more volatile. It's time for the far Left to stop insisting that judges redefine our most fundamental social institution and using liberal courts to obtain a political goal they cannot obtain at the ballot box.

"Marriage is recognized as a public institution, rather than a purely private one, because of its role in bringing together men and women for the reproduction of the human race and keeping them together to raise the children produced by their union. The fact that homosexuals prefer not to enter into marriages as historically defined does not give them a right to change the definition of what a 'marriage' is.

"Marriage as the union between one man and one woman has been the universally-recognized understanding of marriage not only since America's founding but for millennia. To hold that the Founders created a constitutional right that none of them could even have conceived of is, quite simply, wrong.

"FRC has always fought to protect marriage in America and will continue to do so by working with our allies to appeal this dangerous decision. Even if this decision is upheld by the Ninth Circuit Court of Appeals-the most liberal appeals court in America-Family Research Council is confident that we can help win this case before the U.S. Supreme Court."
Randy Thomasson, of Save California thinks the oath of office should be updated to force judges to only issue conservative rulings:
"Natural marriage, voter rights, the Constitution, and our republic called the United States of America have all been dealt a terrible blow. Judge Walker has ignored the written words of the Constitution, which he swore to support and defend and be impartially faithful to, and has instead imposed his own homosexual agenda upon the voters, the parents, and the children of California. This is a blatantly unconstitutional ruling because marriage isn't in the U.S. Constitution. The Constitution guarantees that state policies be by the people, not by the judges, and also supports states' rights, thus making marriage a state jurisdiction. It is high time for the oath of office to be updated to require judicial nominees to swear to judge only according to the written words of the Constitution and the original, documented intent of its framers. As a Californian and an American, I am angry that this biased homosexual judge, in step with other judicial activists, has trampled the written Constitution, grossly misused his authority, and imposed his own agenda, which the Constitution does not allow and which both the people of California and California state authorities should by no means respect."
Tim Wildmon of the American Family Association goes further, and calls for Judge Walker's impeachement:
"This is a tyrannical, abusive and utterly unconstitutional display of judicial arrogance. Judge Walker has turned 'We the People' into 'I the Judge.'

"It's inexcusable for him to deprive the citizens of California of their right to govern themselves, and cavalierly trash the will of over seven million voters. This case never should even have entered his courtroom. The federal constitution nowhere establishes marriage policy, which means under the 10th Amendment that issue is reserved for the states.

"It's also extremely problematic that Judge Walker is a practicing homosexual himself. He should have recused himself from this case, because his judgment is clearly compromised by his own sexual proclivity. The fundamental issue here is whether homosexual conduct, with all its physical and psychological risks, should be promoted and endorsed by society. That's why the people and elected officials accountable to the people should be setting marriage policy, not a black-robed tyrant whose own lifestyle choices make it impossible to believe he could be impartial.

"His situation is no different than a judge who owns a porn studio being asked to rule on an anti-pornography statute. He'd have to recuse himself on conflict of interest grounds, and Judge Walker should have done that.

"The Constitution says judges hold office 'during good Behavior.' Well, this ruling is bad behavior – in fact, it's very, very bad behavior – and we call on all members of the House of Representatives who respect the Constitution to launch impeachment proceedings against this judge."
Richard Land demands the revival of the Federal Marriagae Amendment
"This is a grievously serious crisis in how the American people will choose to be governed. The people of our most populous state—a state broadly indicative of the nation at large demographically—voted to define marriage as being between one man and one woman, thus excluding same-sex and polygamous relationships from being defined as marriage.

"Now, an unelected federal judge has chosen to override the will of the people of California and to redefine an institution the federal government did not create and that predates the founding of America. Indeed, 'marriage' goes back to the Garden of Eden, where God defined His institution of marriage as being between one man and one woman.

"This case will clearly make its way to the 9th Circuit Court of Appeals and then to the Supreme Court of the United States, where unfortunately, the outcome is far from certain. There are clearly four votes who will disagree with this judge—Roberts, Thomas, Scalia, and Alito. The supreme question is: Will there be a fifth? Having surveyed Justice Kennedy's record on this issue, I have no confidence that he will uphold the will of the people of California.

"If and when the Supreme Court agrees with the lower court, then the American people will have to decide whether they will insist on continuing to have a government of the people, by the people and for the people, or whether they're going to live under the serfdom of government by the judges, of the judges and for the judges. Our forefathers have given us a method to express our ultimate will. It's called an amendment to the Constitution. If the Supreme Court fails to uphold the will of the people of California—if we are going to have our form of government altered by judicial fiat—then the only alternative left to us is to pass a constitutional amendment defining marriage as being between one man and one woman.

"Many senators who voted against the federal marriage amendment the last time it came up said publicly if a federal court interfered with a state's right to determine this issue, they would then be willing to vote for a federal marriage amendment. Ladies and gentlemen, prepare to vote.
Lou Sheldon of the Traditional Values Coalition is losing his creativity. In fact, his statement is rather boring. I won't bother posting it. But TVC state lobbyist Benjamin Lopez thinks this will motivate the Tea Party Movement even more:
"If folks think that the Tea Party movement is a force to be reckoned with now, wait until the silent majority of pro-family voters flex their political muscle once again. Judges beware, you will go the way of Rose Bird, stripped of their robes and kicked off the bench," Lopez added.
Oops! Lopez's statement appears to have been deleted, which just leaves Sheldon's uncreative outrage.
Glamtrack: FRC Warns Against "Gays On A Train!"
Jim Burroway
August 3rd, 2010
The Family Research Council is really, really wierded out  that Amtrack is behaving like a typical travel company by targeting advertising to gays. You know, to people who like to travel. Goodness, we wouldn't want Amtrack to, you know, go all consumer-focused on us, now would we? FRC doesn't think so, anyway. They'd rather Amtrack remain a socialist money-losing behemoth. Their action alert went out two weeks ago. Rachel Maddow and Kent Jones responded:
Visit msnbc.com for breaking news, world news, and news about the economy
Family Research Council: Military at Greater Risk of HIV if DADT is Repealed
Jim Burroway
July 29th, 2010
The Family Research Council released a podcast featuring the American Family Association's Dr. Robert LaButta, a retired U.S. Army Col., who warned that repealing "Don't Ask, Don't Tell" would lead to rampant HIV, STDs, and psychological disorders in the military:
Homosexuals are identified by the U.S. government as a cohort at high risk for sexually transmitted diseases like HIV/AIDS. At the National HIV Prevention Conference in August 2009, the Centers for Disease Control and Prevention (CDC) reported that AIDS is 50 times more common in men who have sex with men (homosexuals and bisexuals) than in other populations. HIV is already a threat to military readiness–although HIV-positive recruits are excluded from the military, those who become HIV-positive while serving cannot be discharged, but they also cannot be deployed overseas. However, this is far from the only health risk to homosexuals.

One of the nation's leading AIDS researchers, Ronald Stall, has declared, "It may be a fallacy to say that HIV is the dominant, most dangerous and most damaging epidemic among gay men in the United States today. There are at least four other epidemics occurring among gay men that are intertwining and making each other worse. This is called a syndemic." The "four other epidemics" are "substance abuse, partner violence, depression and childhood sexual abuse."
According to our estimates, the prevalence of HIV is probably below 10% of the total LGBT population. (Those estimates however are fought with unknowable variables, so caution is advised whenever anyone attempts to estimate HIV prevelance in the LGBT population.) All people entering the military are tested for HIV, and all military personnel are retested at periodic intervals.
[Hat tip: Karen Ocamb at LGBT POV]
Did FRC Lie To Congress About the Ugandan "Kill-The-Gays" Bill?
Jim Burroway
June 5th, 2010
The Family Research Council yesterday responded to criticisms that they lobbied Congress against a House resolution denouncing Uganda's Anti-Homosexuality Bill. As part of their response, they claimed that they wanted to make the resolution "more factually accurate regarding the content of the Uganda bill." I have several concerns over the FRC's ability to discern "factually accurate" information.
And knowing that supporters of Uganda's "kill-the-gays" bill have spread false information themselves about what the bill actually includes, it's still very much an open question what parts of the House resolution the FRC considered inaccurate. But this FRC radio broadcast from Tony Perkins soon after the National Prayer Breakfast of Feb 4, 2010 gives us a clue to what the FRC may have been telling Congress:
Does civility require the acceptance of all behavior? Hello, I am Tony Perkins with the Family Research Council. At the recent National Prayer Breakfast, President Obama took the podium calling for greater civility in Washington, which in my opinion is a laudable goal. However, his comments quickly turned to his preoccupation with defending homosexuality. The President criticized Ugandan leaders for considering enhance penalties for crimes related to homosexuality. The press has widely mischaracterized the law which calls for the death penalty, not for homosexual behavior which is already a crime, but for acts such as intentionally spreading HIV/AIDS, or preying upon vulnerable individuals such as children, which has been a problem in Uganda for years because the large number of orphans. The President said that "We may disagree about gay marriage, "but surely we can agree that it is unconscionable to target gays and lesbians for who they are." Mr. President as long as you characterize efforts to uphold moral conduct that protects others and in particular the most vulnerable, as attacking people, civility will continue to evade us. [Emphasis mine]
This is lifted almost verbatin from Martin Ssempa's false defense of the draconian Anti-Homosexuality Bill. As we've gone over before again and again, Perkins' clam that the law calls for the death penalty for intentionally spreading HIV/AIDS or that it only addresses those who prey on vulnerable individuals is flat-out wrong. And as is typical with the bill's supporters, the FRC refuses to link to the actual text of the bill itself — something that we do with each and every post mentioning the Anti-Homosexuality Bill. And they don't for good reason: They don't want you to know what the bill really says.
So once again, as we have done so many times in the past, let's look at the bill again. Here's the clause defining "Aggravated Homosexuality":
3. Aggravated homosexuality.
(1) A person commits the offense of aggravated homosexuality where the

(a) person against whom the offence is committed is below the age of 18 years;

(b) offender is a person living with HIV;

(c) offender is a parent or guardian of the person against whom the offence is committed;

(d) offender is a person in authority over the person against whom the offence is committed;

(e) victim of the offence is a person with disability;

(f) offender is a serial offender, or

(g) offender applies, administers or causes to be used by any man or woman any drug, matter or thing with intent to stupefy overpower him or her so as to there by  enable any person to have unlawful carnal connection with any person of the same sex,

(2) A person who commits the offence of aggravated homosexuality shall be liable on conviction to suffer death.

(3) Where a person is charged with the offence under this section, that person shall undergo a medical examination to ascertain his or her HIV status.
Clause 3. (1) (b) was often cited to support the claim that the Anti-Homosexuality Bill would impose the death penalty for the "deliberate" spread of HIV, but it is important to note that the bill contains no requirement that the intent be deliberate at all. In fact, the third subclause would suggest that the death penalty would apply upon receiving a positive serostatus result from an HIV test, which might very well be the first time the charged individual would know he or she was HIV-positive. Alternately, if the accused already knew he was HIV-positive, the proposed bill provides no acknowledgment that the accused's partner may have known about it and entered into a consensual relationship.
Yes, clause 3. (1) (a) includes a prohibition against sex with a minor, and (e) prohibits sex with a "person with disability," but again, this clause assumes that a disabled person — perhaps someone who is deaf, blind or in a wheelchair, for example — is unable to provide consent. Nowhere in the bill does it suggest that proof that the individual did not consent is needed.
And them of course, there's the problem with (f), where the "offender is a serial offender." That could mean anyone who has ever had more than one partner, or anyone who has had sex with his or her partner more than once. And as Rob Tisinai demonstrated, the bill is so badly written that the death penalty for the "serial offender" is so poorly written, just about anyone can be convicted of "aggravated homosexuality."
But as we have demonstrated so many times in the past, the Family "Research" Council's inability to comprehend plain English has likely meant that they have provided factually incorrect information to the House and Senate.
I know the boys at FRC are very smart people with good reading comprehension skills. Which is why I know that if this is the message they brought to the Hill, they did so deliberately to obscure the true nature of the Anti-Homosexuality Bill. And if anyone wants to obscure the true nature of the draconian bill to claim that all it does is "uphold(s) moral conduct that protects others and in particular the most vulnerable," then that can only mean one thing. The Family "Research" Council wants to kill you.
That's the base assumption, and it's a reasonable one. After all, we know they want to criminalize you. If they believe otherwise, then they need to come clean on exactly what they felt was so "factually inaccurate" about the House resolution.
[Hat tip to BTB reader L. Junius Brutus]
FRC's latest clarification about Uganda resolution
Timothy Kincaid
June 4th, 2010
The Family Research Council has released the following statement:
Inaccurate internet reports have been circulating indicating that the Family Research Council lobbied "against" a congressional resolution condemning a bill proposed in Uganda. The Uganda bill would have provided for the death penalty for something called "aggravated homosexuality." Unfortunately, those spreading these false rumors deliberately failed to obtain the facts first.

FRC did not lobby against or oppose passage of the congressional resolution. FRC's efforts, at the request of Congressional offices, were limited to seeking changes in the language of proposed drafts of the resolution, in order to make it more factually accurate regarding the content of the Uganda bill, and to remove sweeping and inaccurate assertions that homosexual conduct is internationally recognized as a fundamental human right.

FRC does not support the Uganda bill, and does not support the death penalty for homosexuality — nor any other penalty which would have the effect of inhibiting compassionate pastoral, psychological and medical care and treatment for those who experience same-sex attractions or who engage in homosexual conduct.
I guess they found a position on the death penalty. But it appears that they do not object to incarceration or other forms of punishment, so long as they still have access to the "criminal" so they can provide "pastoral, psychological and medical care and treatment."
There is no ambivalence about their agreement with incarceration of gay people, just so long as you don't inhibit the churches' access to them. And I shudder to think of what kind of "medical treatment" the Family Research Council would advocate for those who "engage in homosexual conduct."