Maine's Clear Choice
Jim Burroway
October 31st, 2009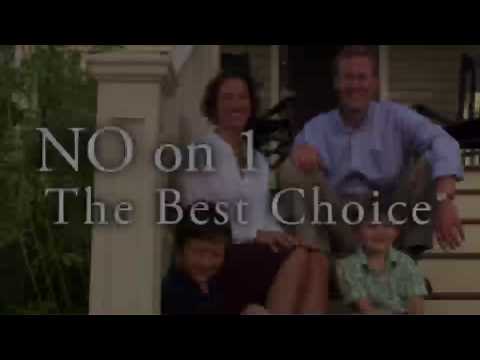 The Maine Message
This commentary is the opinion of the author and may not reflect the opinions of other authors at Box Turtle Bulletin
Jim Burroway
October 29th, 2009
Stand For Marriage Maine's "positive" feel-good approach didn't last long. They have a new ad out: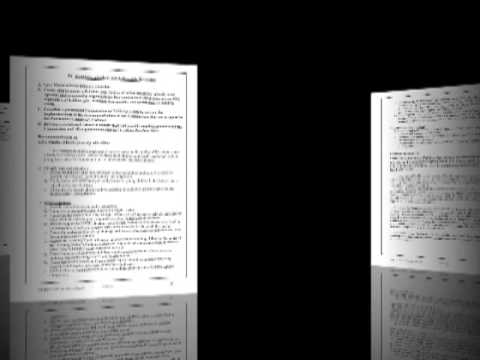 Notice how it's loaded with all the bad stuff that you care about — out-of-state militant activists corrupting your values, gay teachers pushing their agenda on your children, militant gay activists in your schools and even your daycare centers. "IT'S ALREADY HAPPENED HERE! DON'T BE FOOLED!"
Here's Protect Maine Equality's response: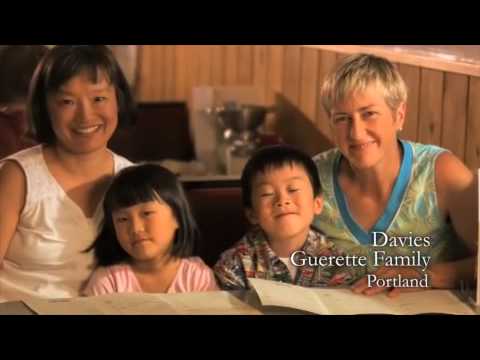 In a nutshell: please help someone else.
I've expressed some concerns about Maine's pro-marriage messaging and I've taken some flack for it. But this example crystallizes my concerns perfectly.
Frank Schubert, who is running the Stand for Marriage Maine campaign has recognized something that is very fundamental in all politics. Former U.S. House Speaker Tip O'Niel famously said that all politics are local. Schubert recognized that politics aren't just local, but personal. It hinges on the question, "How will this affect me?" Karen Ocamb's brilliant analysis of the California campaign which Schubert ran, which should be mandatory reading for everyone, describes very carefully how Schubert came to this conclusion:
During the Prop 8 Case Study workshop, Schubert said he, Flint and their team spent hours "looking at where people were and what we needed to do to reach them."

What they found was that most Californians were very tolerant of same sex relationships. Schubert said:

"They didn\'t see how gay marriage effected them, per se. It wasn\'t their issue. It wasn\'t something they cared to think about. It wasn\'t something they wanted to talk about. It was an uncomfortable subject generally for them event to get their arms around."
If we really want to win these battles, we need to begin with an understanding of this important truth:
Nobody Cares About Same-Sex Marriage
Oh, sure, people care about it. Everyone has an opinion about same-sex marriage. But nobody cares about in the sense that it is something that just doesn't affect them.
Sure, virtually everyone who is gay and out cares. That's about 4% of the population, and maybe not even that much in Maine. And the anti-gay religious right cares about it also, for whatever personal stake they've managed to take in it. That's a much higher percentage, but it's not even close to being a majority.
For everyone else, same-sex marriage is just not on their radar. And if they do care, it doesn't rise to the level of other things they care about more and are willing to invest more of their attention to: education, taxes, health insurance, the economy, the wars in Iraq and Afghanistan. Those are the things people care about and are willing to invest their own personal attention and energy to. They care enough to learn more about these things because one way or another, they all touch on them personally. As Schubert's research revealed:
"At the end of the day, people vote on issues based on how they think it will impact them and their families. We spent a great deal of time trying to understand what impacts could we develop that would work. Communication has to be aimed at and appeal to those self interests of the electorate." [Emphases mine]
And people don't see how same-sex marriage will impact them and their families — especially not enough to pay attention to the issue and go out and vote in an off-year election on someone else's problem. This, by the way, is just as much a problem for the "Yes" side as it is for the "No" side. So how do you fix it?
Change the topic from something nobody personally cares about to something everyone cares about.
That's right. In California (and in Maine), it meant taking an election about something nobody cares about (gays being allowed to marry) and making it about something that everyone cares about (for example, education). Again, Karen quotes Schubert with the a-ha moment:
"What the research showed was that we could not win by simply affirming traditional marriage. People said, 'Yeah, OK – but what\'s the problem here. How does this impact me?\'…. This forced acceptance [by the court] that gay marriage was now mandatory was a big deal – the consequences – specifically regarding religious freedom, religious expression and teaching of gay marriage in schools – and the education consequences become the most powerful in the course of the campaign.

We bet the campaign on consequences – especially on education. Education from the beginning – while it was one of three consequences – it was the one that was the most emotionally charged and the most powerful. And I remember testing an ad in focus groups in Southern California….[One ad was} with the Wirthlin couple from Massachusetts. She\'s telling the story of her son Joey – about he\'s being taught how a prince can marry another prince – and he\'s in second grade.

There's an African American gentleman in this group watching the ad [who] just shakes his head. So I [told the researcher to] ask him what he meant. And the guy says, 'I\'ll tell you what, if that happened to me – I would be pissed.\'

And that was the moment that we decided that the campaign would rely on education."
You could argue, then, that California's Prop 8 wasn't about same-sex marriage, but about education. And it worked. People don't care personally one way or another about same-sex marriage, but everyone cares deeply about education. And so Schubert made it about education; education is what people discussed and debated, and on election day people voted about education because that was what the election came to be about because it is what they personally cared about.
And it should come as no surprise that Stand for Marriage Maine is working precisely the same strategy in Maine. They are making the election about education, a subject that everyone cares about.
Protect Maine Equality running a masterful grass-roots effort and one of the best get-out-the-vote campaings I've ever seen. Their success in earned media (op-eds, television and press coverage) has been outstanding. As of Monday, they are also enjoying a lead in the polls (Update: But this new poll shows them at a dead heat). There is so much that they're getting exactly right, and win or lose, they have a lot to teach other campaigns.
But in their messaging, they are responding by trying to get people to care about something that fundamentally doesn't affect them one way or another. That worries me in the closing days of the campaign. I really hope they know what they're doing.
Maine AG to NOM: "What Is There To Hide?"
Jim Burroway
October 29th, 2009
As we reported a Federal Judge ruled against a lawsuit by the National Organization for Marriage claiming that Maine's reporting requirements for ballot question campaigns are unconstitutional. In addition, the Judge ruled that Maine voters have a legitimate right to know how those campaigns are raising money and who's behind it. That led Maine's attorney general to challenge NOM to comply with the law before next week's election.
Bolstered by the ruling, Maine's attorney general challenged the advocacy group Wednesday night to make its records public before next week's vote on Question 1.

"We are not going to give them legal advice. We trust that their legal counsel will advise them to comply fully," said Attorney General Janet Mills. "The court has ruled that it is in the public interest to do so, and the law couldn't be clearer.

"I would hope that they would file before the election," Mills said. "Why not? What is there to hide?"
What indeed?
Judge Declares NOM Not Above The Law
Jim Burroway
October 28th, 2009
A federal judge has denied a request by the National Organization for Marriage for a temporary restraining order to suspend Maine's campaign reporting requirements for ballot initiatives. NOM is currently footing nearly two-thirds of the total bill for Stand for Marriage Maine's effort to pass Question 1. NOM complained that because they were not a Maine-based group, that they should be exempt from what they consider to be overbearing regulations for Political Action Committees.  The court disagreed (PDF: 187KB/32 pages):
Maine\'s compelling interest in ensuring that the electorate knows who is financially supporting the views expressed on a particular ballot question cannot be satisfied by one-time reporting. Instead, Maine is entitled to conclude that its electorate needs to know, on an ongoing basis, the source of financial support for those who are taking positions on a ballot initiative. It will not do to say that a one-time disclosure in the week before the election is sufficient. That would not give the opposing viewpoint the opportunity to point out the source of the financing and seek to persuade the electorate that the source of support discounts the message.
This means that the Ethics Commission investigation will go forward, although the results will not likely be available before election day.
Hate Group Holds Press Conference At Maine Statehouse For Question 1
Jim Burroway
October 28th, 2009
Brian Camenker of MassResistance, one of only eleven anti-gay hate groups identified by the Southern Poverty Law Center, held a rally and press conference in the Hall of Flags at the Maine State House in Augusta. He will be joined by two other anti-gay extremists, Peter ("Porno Pete") LaBarbera and Paul Madore of the Maine Grassroots Coalition.
According to the group's press release, "Speakers at the press conference will expose the hidden aspects of the radical homosexual agenda, and will reveal how Maine is being manipulated into voting No on 1."
Brian Camenker certainly has a knack for making the news. Last October, he an an accomplice, Michael Olivio, were chased by Andover, Mass., police who were responding to 911 calls from parents who were concerned about two men taking pictures at a middle school. For some reason, Olivio thought it would be smart to begin stripping his clothes while running through neighbors' backyards during the chase:
We don't know what his intention and purpose was around the school and the kids," said police Lt. James Hashem.

But Michael Olivio's employer has come forward to back up his story. Olivio, 48, works for the anti-gay rights group MassResistance.org. Brian Camenker, head of the group, said Olivio mistakenly went to West Middle School Tuesday to snap pictures instead of the high school.

Camenker said Olivio was to get pictures of the high school because the state Commission on Gay, Lesbian, Bi-sexual and Transgendered Youth held a meeting there Monday night.

"I figured I would do a write-up for the Web site and I wanted a picture of the high school," Camenker said.
All three extremists have plenty of buffoonery in their history. Peter LaBarbera is particularly responsible for publishing among the most vile anti-gay tracts in the entire movement. He has long defended the discredited research of Paul Cameron, who has advocated the quarantining and medical extermination of gay people; he has deep connections with Holocauset revisionist Scott Lively, who insists that Nazism was, at its core, a homosexual movement; and he has openly defended White Supremacists when they assault LGBT people.
This press conference comes squarely on the heals of Stand for Marriage Maine's attempt to project a softer and kinder image. Jeff Connely Jesse Connolly, Campaign manager for Protect Maine Equality issued a press release denouncing the true face of the anti-gay crowd:
This is not the new face of the Yes campaign, it's been there all along. They can swap out their TV ads from attacks that have been called baseless by the Maine Attorney General and Maine newspapers across the state, to a gentler, softer approach, but the result is the same. They don't believe in treating all Maine families equally and these national and local spokespeople represent some of the most vitriolic, anti-gay voices in the country.

"They can't have it both ways — to pretend to back civil rights, yet stand behind a group like Mass Resistance which is one of only 11 designated anti-gay hate groups listed by the Southern Poverty Law Center. And they can't stand behind Peter LaBarbera who has attacked Ben & Jerry's, supported rescinding women's right to vote and believes we should return to the Old Testament where gay people were stoned. And they can't stand behind Paul Madore and the Maine Grassroots Coalition which is behind some of the most anti-gay hate speech over the last 20 years.
The Push Is On For Equality
Jim Burroway
October 28th, 2009
We are just one week away from a very important election in three states. We are hearing that the National Organization for Marriage is making last-minute dumps of huge amounts of cash in Washington and Maine, while Kalamazoo, Michigan is facing a tremendous onslaught of misleading ads against their non-discrimination ordinance, which is also up for a vote. Not only can you contribute, but you can help out with phone banking — right from your own home or wherever you happen to be. The following message from the Courage Campaign is being carried by LGBT bloggers nationwide, including Box Turtle Bulletin. Please do what you can today and in the coming days to ensure that on November 3, there will be no regrets.
Washington:
Who we are: Approve Referendum 71 is the campaign to preserve domestic partnerships in Washington State. By voting to approve, voters retain the domestic partnership laws that were passed during this year's legislative session, including using sick leave to care for a partner, adoption rights, insurance rights, and more.
What we need: We need phone bankers to get our supporters out to vote. Washington is an all mail-in ballot state, and we need to ensure our supporters put their ballots in the mail. Also, youth turnout is a critical component of our campaign, and youth turnout historically drops in off-year elections. So we need a lot of help to turn them out.
How you do it: Sign up here to make remote calls for Approve 71. We'll then contact you for a training, and you can make GOTV calls.
Maine:
Who we are: The No On 1/Protect Maine Equality campaign is working to protect Maine's recently-passed law legalizing marriage equality for same-sex couples. Our opponents have put the issue on the ballot for Nov 3, 2009. Because of Maine's early voting election laws, people are already voting at the polls, so we need help immediately to turn out our side at the polls.
What we need: We need you to devote a few hours to Call for Equality. Call for Equality is a virtual phonebank set up so that you can call Maine voters wherever you are. Much of Maine is rural, where canvassing isn't effective, so we need to reach these voters- along with other supporters- by phone. All you need is a phone and internet connection. No experience required! We'll provide the training, and all you need is a a few hours to help get a win in Maine.
How you do it: Click here to sign up for a training and your shift. There are lots of times available for your convenience.
Kalamazoo, MI:
Who We Are: The Yes on Ordinance 1856 / One Kalamazoo campaign is working in Michigan to support the City Commission of Kalamazoo's twice approved ordinance for housing, employment, and public accommodation protections for gay and transgender residents. Opponents forced a public referendum on the ordinance so dedicated local volunteers, led by former Stonewall Democrats Executive Director Jon Hoadley, are working to ensure voters say YES to fairness and equality and keep Ordinance 1856.
Why The Urgency: In the final weeks, the opposition has gone all out with aggressive disinformation and misleading red herrings to try to defeat the ordinance. This includes signs that say "No to Discrimination" (even though voting No actually supports continued discrimination of GLBT residents), transphobic door hangers and fliers, and now radio ads that falsely suggest that criminal behavior will become legal when this simply isn't true. The Yes on Ordinance 1856 supporters are better organized but many voters who want to vote for gay and transgender people are getting confused by the opposition.
How To Help:
1) Help the One Kalamazoo campaign raise a final $10,000 specifically dedicated to fight back against the lies on the local TV and radio airwaves and fully fund the campaign's final field and GOTV efforts.
Give here: http://www.actblue.com/page/3-2-1-countdown
2) If you live nearby and can physically volunteer in Kalamazoo sign up here. If you know anyone that lives in Kalamazoo, use the One Kalamazoo campaign's online canvass tool to remind those voters that they need to vote on November 3rd and vote YES on Ordinance 1856 to support equality for gay and transgender people.
Contact voters: http://www.onekalamazoo.com/tellfriends2
Poll Shows Maine's Q1 Losing, Yes Side Shifts Gears
Jim Burroway
October 27th, 2009
We have more details on that poll on Maine's Question 1. The poll is the Pan-Atlantic SMS Group's final 2009 tracking poll (PDF: 227 KB/13 pages) on questions being put before Maine voters next week, and the news is very encouraging. Compared to a similar poll conducted two weeks ago, their statewide sample of 400 likely Maine voters on Question 1 breaks down this way:
 
October 14
October 26
Vote YES
40.9%
40.0%
Lean YES
2.0%
1.5%
Vote NO
50.6%
51.8%
Lean NO
1.2%
0.8%
Undecided
5.2%
6.0%
Margin of error: 4.9%
Given the large margin of error, this shows things to be relatively stable. Despite all the fearmongering attack adds the YES side have been throwing at Maine voters, the NO side continues to hold a significant lead. Maybe that's why Stand for Marriage Maine has decided to shift their tone with their latest television ad: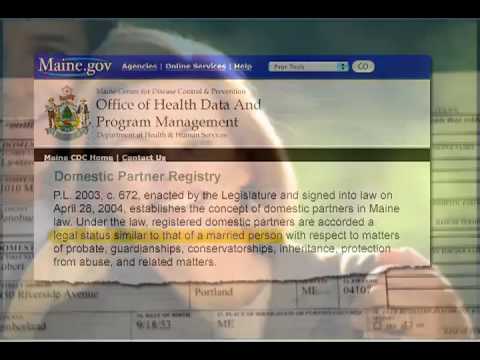 The tone is much less menacing, but the message is still there, softened with the assurance that "we want to be tolerant of gays." Calling Maine's second-class domestic partnerships adequate for LGBT couples, this ad claims that "it's possible to support the civil rights of all citizens and protect traditional marriage at the same time."
The ad includes text from Maine's Office of Health Data and Program Management, which administers Maine's Domestic Partnership Registry, which states that "registered domestic partners are accorded a legal status similar to that of a married person with respect to matters of probate, guardianships, conservatorships, inheritance, protection from abuse, and related matters."
But the act is actually very limited. Click on either of the links for "Instructions and Information for the Domestic Partnership Registry," and you'll find this notice:
It is important to remember that a registered domestic partnership is NOT the same as a marriage and does not entitle partners to rights other than those for which the registry was intended. This registry is intended to allow individuals to have rights of inheritance as well as the rights to make decisions regarding disposal of their deceased partners remains.
In other words, most of these these so-called "benefits" only kick in when one of the partners is seriously ill or dead. And somehow I get the impression that this is exactly the way they want it.
Poll: Good News on Question 1
Timothy Kincaid
October 27th, 2009
From the Bangor Daily News:
In the most closely watched race on the Nov. 3 ballot, Question 1, the latest survey results from Portland-based Pan Atlantic SMS Group show the effort to repeal Maine\'s same-sex marriage law trailing.

Roughly 40 percent of respondents indicated they would vote to repeal versus 52 percent in support of allowing same-sex couples to marry. That is a slightly larger gap than a Pan Atlantic poll from earlier this month.
But polls don't decide elections; voter turnout decides elections. So please do everything you can to help Mainers in their efforts to keep freedom and equality as more cherished values rather than bigotry and oppression.
Maine's "Yes" Side Claims LGBT Groups Contributed $5 Million to Defeat Question 1
Jim Burroway
October 25th, 2009
This is amazing. Stand for Marriage Maine's web page says this:
Your support will help us stand up to the vast network of wealthy homosexuals with seemingly unlimited resources from places like Hollywood, New York and Massachusetts. Washington, D.C.'s largest national lesbian, gay, bisexual and transgender civil rights organization has already pledged to spend as much as $5 million to try to defeat us.
Five million dollars from the Human Rights Campaign? Let's review. According to campaign filings by both sides, Protect Maine Equality's three largest donors are:
Portland resident Donald Sussman, $500,000.
The Human Rights Campaign, $220,000.
The National Gay and Lesbian Task Force, $140,000.
These three contributions altogether make up only 22% of Protect Maine Equality's total budget. The rest has come from ordinary contributors like you.
Now let's look at Stand for Marriage Maine. Their top three contributors are:
National Organization for Marriage: $1.5 million.
Roman Catholic Diocese of Portland: $550,000.
Focus On the Family: $114,500.
Altogether, these three organizations alone have provided 83% of Stand for Marriage Maine\'s total budget.
Who's trying to buy an election while pulling the wool over the eyes of Maine voters?
The Campaign in Maine
Jim Burroway
October 25th, 2009
Matt Foreman writes:
As the campaign in Maine enters the home stretch, our skeevy opponents have unleashed yet another ad claiming that unless marriage equality is overturned, same-sex marriage will be "pushed" on elementary school children.

Our side has responded with calm, rebutting the attacks with facts, statements from authoritative figures, and appeals to higher values. Sadly, that approach has been condemned by well-respected figures in our community, including Andrew Sullivan, Mike Tidmus, the Box Turtle Bulletin and the Bay Area Reporter.
Condemned? Hardly. I think there's a big difference between condemnation and constructive criticism. That said, I do remain concerned that Protect Marriage Equality is playing defense rather than controlling the parameters of debate. Stand for Marriage Maine's Frank Schubert has made Question 1 not about marriage equality, but about education. We have the opportunity to turn the election about something else, and that's fairness. Not just fairness for LGBT families, which I believe most voters really don't have a vested interest in (like they do with education). But fairness in terms of the caliber of debate carried out by our opponents. Nobody likes to be duped, and that's exactly what Stand for Marriage Maine is trying to do. That, and buy an election outright. Is that what Mainers really want?
I plan on returning to this topic more fully in a later post, hopefully tomorrow or Tuesday. On the positive side, let me repeat this: Protect Maine Equality is doing an amazing job with their grass-roots effort, perhaps the best I've seen yet. So read Matt's piece and donate or volunteer today. Remember, the rule is still in effect: people who sit on the sidelines have no right to criticize.
NOM Doubles Its Maine War Chest, Claims Special Rights
Jim Burroway
October 24th, 2009
The Bangor Daily News reports that Stand for Marriage Maine, the group pushing to strip LGBT Mainers of their right to marry, has almost doubled its war chest in the past three weeks. They raised $1.4 million in October, bringing their total amount raised to $2.6 million, according to reports filed Friday with the Maine Ethics Commission. Guess where the money came from:
But $1.1 million of the $1.4 million raised by Stand for Marriage Maine in October came from a single source: the National Organization for Marriage. In fact, the Washington, D.C., organization has bankrolled more than 60 percent of the campaign to ban same-sex marriages in Maine.

The No on 1 campaign, meanwhile, claims to have received contributions from more than 22,000 donors, compared to slightly more than 700 donors to the opposing camp.
This brings NOM's total investment to $1.5 million, according to the Associated Press. By my calculations, that's actually 58% of the total. But still, that's pretty amazing. One out-of-state special interest group is trying to purchase an election, lock, stock and barrel.  The Roman Catholic Diocese of Portland has contributed a total of $550,000 to the "yes" campaign. Another $114,500 came from Focus On the Family. Together, these three groups alone account for 83% of Stand for Marriage Maine's total budget.
And yet, despite the fact that the National Organization for Marriage is paying the lion's share of the bill, they are in court demanding that they be held above Maine's financial disclosure laws:
NOM\'s financial role in the Maine campaign will be discussed in federal court in Portland on Monday when a judge hears arguments in a complaint the group filed against the state.

Earlier this month, the Maine Ethics Commission voted 3-2 to investigate whether NOM was skirting campaign finance laws in order to avoid disclosing the identities of contributors. A complaint against NOM alleges the organization, which played a key role in overturning California\'s gay marriage law last November, funnels money to Stand for Marriage Maine while promising donors confidentiality.

NOM responded earlier this week by challenging the constitutionality of Maine\'s law requiring "ballot question committees" to file detailed campaign finance reports.
Meanwhile, campaign finance reports also show that Protect Maine Equality has raised more than $4 million so far. This includes $1.4 million raised in October, matching Stand for Marriage Maine's fundraising from the same period. While the nearly 80% of the Yes side's money during that period came from NOM, most of Protect Maine Equality's fundraising came from individual donors during the same period.
Protect Maine Equality also reports some large donors, but nothing like the outright attempted purchase of an entire campaign by NOM. According to the Bangor Daily News, Portland resident Donald Sussman has contributed more than $500,000. The Human Rights Campaign kicked in $220,000 in donations and in-kind goods and services, and the National Gay and Lesbian Task Force has contributed about $140,000 in funds, goods, and services.
Altogether, these three major donors make up only 22% of Protect Maine Equality's total take. The rest, as they say, comes from people like you. Please donate today.
"What Do You Think Our Boys Fought For On Omaha Beach?"
Jim Burroway
October 22nd, 2009
World War II veteran Phillip Spooner of Biddeford, Maine gave this moving testimony on April 22, 2009.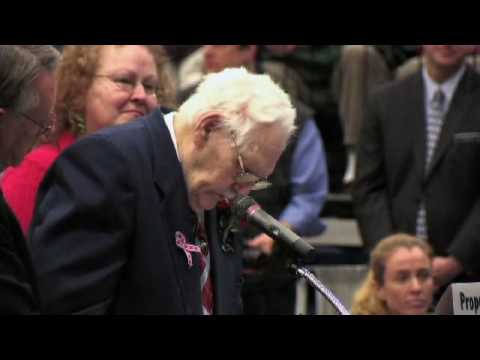 Click here to read the transcript.
Maine's Q1 "Yes" Spokesman Admits to Lying
Jim Burroway
October 19th, 2009
Protect Maine Equality has a new ad: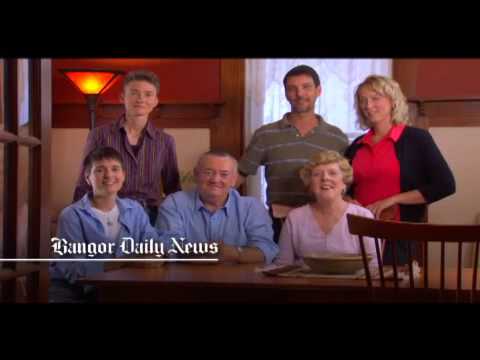 Meanwhile, Maine Public Broadcasting got an amazing admission from Marc Mutty of Stand for Marriage Maine:
We understand that schools will not be mandated to provide one curriculum or another, but neither will they be discouraged or will they be unable to provide the kind curriculum that they so choose that well could include teaching about same-sex marriage.

… We have never said that schools will be mandated — or, actually, perhaps we did in one ad, or certainly led people to believe that, inadvertently.
Give me a break. These ads are focus-grouped to within an inch of their lives. These people do nothing inadvertently. In fact, they are following Frank Shubert's playbook to the letter. The Maine Public Broadcasting report was right to say that the "No on 1" side "veered off message" to address the lies behind Stand for Marriage Maine's latest ad. This is one of my beefs with the Protect Maine Equality campaign. They are still letting the anti-equality side drive the agenda, and they have yet to put them on the defensive.
Mutty also told Maine Public Broadcasting that they will be branching out into new topics — again, straight out of their playbook. In the last days of California's Prop 8 campaign, they circulated materials that implied that then-candidate Barack Obama backed Prop 8's passage. Last week, we saw the President and the White House issue important statements opposing ballot measures to strip LGBT people of their rights. Will Protect Maine Equality use those statements pre-emptively? Or will they wait until Stand for Marriage Maine calls out the next dance card?
We certainly can't say we didn't see it coming.
By the way, I donated so I get to bellyache. You can donate too, right here, or you can volunteer.
White House Opposes Anti-Gay Ballot Measures
Jim Burroway
October 16th, 2009
Kerry Eleveld at The Advocate is reporting that the White House has come out against efforts in Maine and Washington state to strip LGBT Americans their marriage and partnership rights:
In response to an inquiry from The Advocate, the White House issued the following statement regarding President Barack Obama\'s position on same-sex relationship recognition voter referenda in Maine and Washington.

"The President has long opposed divisive and discriminatory efforts to deny rights and benefits to same-sex couples, and as he said at the Human Rights Campaign dinner, he believes 'strongly in stopping laws designed to take rights away.\' Also at the dinner, he said he supports, 'ensuring that committed gay couples have the same rights and responsibilities afforded to any married couple in this country.\'"
Update: This statement builds on what President Barack Obama said at the HRC dinner last weekend:
Will we uphold the ideals on which this nation was founded:  that all of us are equal, that all of us deserve the same opportunity to live our lives freely and pursue our chance at happiness?  I believe we can; I believe we will. And that is why I support ensuring that committed gay couples have the same rights and responsibilities afforded to any married couple in this country.   I believe strongly in stopping laws designed to take rights away and passing laws that extend equal rights to gay couples.
Latest Poll: 51.8% Against Maine's Question 1
Jim Burroway
October 14th, 2009
A new poll from Portland-based Pan Atlantic SMS Group shows that Mainers plan to vote "no" on Question 1 and preserve Marriage Equality in the state. According to a survey of 401 Mainers who identified themselves as "likely" voters in the Nov. 3 election, 51.8% say they will vote "no" on Question 1, and 42.9 plan to vote "yes."
The margin of error is +/- 4.9%, which means that statistically it's close to a tie. And given the fact that other polls often show more people saying they will vote for marriage equality than actually do at the polls, this is no time for complacency. Please donate today to preserve marriage equality in Maine.