Defense Secretary Orders State National Guards To Treat Gay Couples Equally
Jim Burroway
November 1st, 2013
Since the Supreme Court struck down Section 3 of the Defense of Marriage Act last June, the Defense Department has been rushing to implement policies designed to treat legally wedded same-sex couples equally with married couples generally. But several states have refused to issue Defense Department ID cards to same-sex spouses of National Guard members. Those states include Indiana, Florida, Georgia, Mississippi, Louisiana, Oklahoma, South Carolina, Texas and West Virginia. Defense Secretary Chuck Hagel, in a speech to the Anti-Defamation League, has announced that he is putting a stop to such discriminatory practices:
"Today, I directed the Chief of the National Guard Bureau, Gen. Frank Grass, to take immediate action to remedy this situation. At my direction, he will meet with the Adjutants General from the states where these ID cards are being denied. The Adjutants General will be expected to comply with both lawful direction and DoD policy, in line with the practices of 45 other states and jurisdictions."
A senior defense official told the Washington Blade that the Pentagon has some critical leverage to deploy against recalcitrant states:
"These are federal ID cards paid for with federal funding to provide federally mandated benefits," the official said. "I'm not going to speculate on our legal options."
Anti-gay sports commentator can't find a job
Timothy Kincaid
September 7th, 2013
In February 2012, Craig James was running for the Republican nomination for US Senator from Texas. He figured that as an ESPN Sports Commentator, he had face and name recognition, but the pols (and polls) were against him. So at that time it seemed the smart and bold choice to be as anti-gay as possible, even giving (eventual) Sen. Ted Cruz competition.
During a debate, Dallas Mayor Tom Leppert (also running) was trying to explain that even though he had participated in Dallas Gay Pride, he was not in favor of gay marriage (he just believed in representing everyone in the city) when James saw his opportunity to get some press. (keranews)
Former television sports analyst Craig James then weighed in.

James: I think right now in this country, our moral fiber is sliding down a slope that is going to be hard to stop if we don't stand up with leaders who don't go ride in gay parades. I can assure you I will never ride in a gay parade. And I hear what you're saying, Tom, but leaders – our kids out there people need to see examples.

Moderator: Do you think people choose to be gay?

James: I think it's a choice, I do.

Moderator: It's not in the genes?

James: I think that you have to make that choice. But in that case right there, they are going to have to answer to the Lord for their actions. We should not give benefits to those civil unions.
Later Texas Republicans went on to elect Ted Cruz, who has certainly missed no opportunity to advance his opposition to civil rights or equality for gay citizens. David Dewhurst, who came in second, remains as the state's Lieutenant Governor and Tom Leppert, third, went to work as President of Kaplan, Inc. an education company.
But James, who finished fourth with 4% of the vote, has had trouble returning to his former career.
ESPN said that there wasn't a place for him at their network after his anti-gay comments. And since then he has been "decompressing" and "been busy with business activities".
But last Friday it looked like he had a break, a chance to get back on television. It looked like FOX Sports Southwest, targeting good ol' Texas boys, wasn't so concerned about his anti-gay statements. (Houston Chronicle)
When FSSW general manager Jon Heidtke, an A&M former student, heard of James' interest, he approached him about joining that network.

"Jon said he heard I was interested in getting back in, and this came together overnight," James said. "I think it was the Lord putting us together. I went to the studio (Thursday) for rehearsal, and when I drove past the airport I had a big smile on my face."

James will work with Erin Hartigan and former Texans quarterback Tony Banks. "Big 12 Live," which airs at 11 p.m. Saturdays, is hosted by Ric Renner with Gary Reasons.
But it turns out that neither the Lord nor Heidtke had cleared the decision with FOX Sports upper management. And, after only one Saturday, James is out again.
And though James' shaky reputation among college sports fans may have made it an easier decision, FOX is saying that he was booted because of his phoby antics. (Dallas Morning News)
During the campaign James took a strong anti-gay stance.

"We just asked ourselves how Craig's statements would play in our human resources department," said a Fox spokesman. "He couldn't say those things here."
No doubt the usual rabble will claim that James is being persecuted and blacklisted because of his stance for traditional marriage. And James will no doubt have a new gig as keynote speaker for the type of dinners that specialize in professional martyrs, where he can rant his bile to appreciative elderly ladies and Peter LaBarbera.
But it won't be televised. Not even on FOX.
Callous from Dallas: Maurine Dickey
Timothy Kincaid
October 30th, 2012
Meet Maurine Dickey.
No, she's not a drag queen – that Texas Republican oh-so-smart 1980's Clairee Belcher housewife look is her real persona, and as for the name… well, sometimes fate has a quirky sense of humor.
Maurine is one of five Dallas County Commissioners and her smile is not quite so superior today. Maurine just lost a vote in the commission (party line 3-2) on a bill (she opposed) and Dallas County will now give a stipend to reimburse gay and unmarried employees who are in domestic partnership arrangements and who pay for their partner's health insurance. (Dallas Morning News)
The policy caps the stipend at the amount the county would pay for a married employee's spouse. It is not available for employee's whose partner has access to health care coverage through their own employer. Employees must sign an affidavit that defines the relationship as a domestic partnership and prove that they and their partner have lived and operated a household together for at least six months.
Now as we know, this is far from equal. I very much doubt that most employees' partners can get insurance at or below the county's negotiated rates or with anywhere near the benefits. But it still was too much for Maurine. Poor Maurine.
Republican Commissioner Maurine Dickey said the county was essentially creating a special pool of people for whom to provide separate benefits. She questioned whether commissioners should create special health care programs for obese people, smokers or people who drive blue Pontiacs made before 1978.
First off, let me say that Maurine is right. The county did give special rights and separate benefits. This stipend isn't available to all employees on an equal basis and it is absolutely true that this is unfair. I oppose creating special pools of people. I oppose separate benefits.
Except Maurine seems to have forgotten one itsy-bitsy little thing: the county wasn't the one who created this special pool of people; she and her buddies did that. In 2005, the Texas folk who think like Maurine looks decided that of all the people who share their lives with the one they love and who vow life-long devotion and care, they would exclude one group from the legal protections of marriage. It was the Maurine Dickeys of Texas who created that "special pool of people" to set aside and treat differently.
And it was Maurine and crew who decided that the benefits of gay employees would be different. Gay employees don't want "separate benefits", they want to be treated exactly like Maurine. And if Maurine doubts this then let's trade; let the gay employees have the full legal protections of marriage and Maurine can get a stipend.
To complain that the weak secondary provisions which go a little ways to make up for the burden of your discrimination are "special", to begrudge the crumbs tossed in the direction of those you've barred from the banquet, to be dismissive to those whom you've already unfairly deprived from equality under the law, that is callous and cruel.
Texas Republicans No Longer Want to Imprison Gays! (Not officially, at least)
Rob Tisinai
June 26th, 2012
This is…progress, I suppose.
In 2008 and 2010, the Texas State Republican Platform contained the following language:
Texas Sodomy Statutes – We oppose the legalization of sodomy. We demand that Congress exercise its authority granted by the U.S. Constitution to withhold jurisdiction from the federal courts from cases involving sodomy…

Marriage Licenses – We support legislation that would make it a felony to issue a marriage license to a same-sex couple and for any civil official to perform a marriage ceremony for such.
Neither of those are in the 2012 platform. That's kind of a big deal. Throwing gays in prison is apparently no longer a political winner even in the conservative heartland of the conservative heartland.
Here's another improvement. The 2010 platform offered a vile equation of gays with child molesters:
We also believe that no homosexual or any individual convicted of child abuse or molestation should have the right to custody or adoption of a minor child, and that visitation with minor children by such persons should be prohibited but if ordered by the court limited to supervised periods.
That's gone from 2012, with the language changed to:
We believe that no individual convicted of child abuse or molestation should have the right to custody or adoption of a minor child. An abused child should be given the option of declining visitation with his/her abuser. If court ordered, visitation with minor children by such persons should be supervised.
Also, they've backed away from total opposition to gay adoption and now are merely opposing "mandates that deny mothers a choice in selecting a traditional home for their children."
That's good news for kids with same-sex parents, so let me shout, Hoo-r…
Hold on.
Hoo-r…
Let me try one more time.
Hoo-r…oh, screw it.
It's hard to cheer this, even though it's a subtle but clear signal we're winning the culture war, even on the most hostile of fronts. Because the new platform still says this:
We affirm that the practice of homosexuality tears at the fabric of society and contributes to the breakdown of the family unit. Homosexual behavior is contrary to the fundamental, unchanging truths that have been ordained by God, recognized by our country's founders, and shared by the majority of Texans. Homosexuality must not be presented as an acceptable "alternative" lifestyle, in public policy, nor should "family" be redefined to include homosexual "couples." We believe there should be no granting of special legal entitlements or creation of special status for homosexual behavior, regardless of state of origin.
Got to love the scare quotes around "couples." I knew they thought we couldn't "marry" but apparently we can't even "couple."
Still, this horrible anti-gay platform is better than than evil version it only recently replaced. Yes, evil — that anti-parent, anti-child policy of treating gay moms and dads as if they were convicted child molesters was evil. But it casts a new light on Dan Savage's recent "house faggots" comment. I can't support Dan on that comment. I wish he wouldn't call anyone a faggot. I wished nobody called anyone a faggot. However, I also wish the outraged conservatives piling on Dan's choice of word were just as outraged by the evil that our country's biggest state Republican party has only just now stopped promoting. I wish they recognized that Dan's comment, however intemperate and unfair, was not unprovoked.
But I'm detouring from my original point, my happier point. We're winning. Even in the most hostile political circles, where winning is mostly an improved version of losing — we're still winning. This is progress, and it's only my privileged, urban, Southern-California perspective that makes it hard for me to celebrate it. But we're winning.
And by the way, there must have been some intense debates going on in Republican Texas over these changes. If anyone has video, transcripts, or links, please post them in the comments.
Dallas Baptist Pastor Blasts Congregation and Fellow Pastors for Opposing Marriage Equality
Jim Burroway
June 8th, 2012
Here's another reason why President Barack Obama's evolution on same-sex marriage matters. Rev. Frederick D. Haynes III of the Friendship-West Baptist Church in Dallas came to Obama's defense — and, in his way, to the defense of gay people as well:
…But whatever you like to ostracize other people it's because there's a fear that you have yourself, and the fear that you have finds itself rooted in an ignorance of other people. Or in a projection of your issues. Either there's ignorance or there is a projection of your issues…It really blows my mind how outraged you are. You are so outraged over what the President said. …

…Have you ever read the Gospel and heard Jesus say anything about homosexuality?…Black folk can't even deal with homosexuality because we got issues with sexuality. And because we got issues with sexuality we can't have a healthy discussion about homosexuality. Why, why do you get so upset?"
Gay, Pro-Gay Candidates Win Big
Jim Burroway
November 9th, 2011
Yesterday was a very good day for gay and -pro-gay candidates throughout the country. Here is a wrap-up. Please let me know what else is out there in the comments.
NOM Loses Big: Same-sex marriage remains secure in Iowa as Liz Mathis won big, 56-44%, over her NOM-backed opponent, Cindy Golding, in a special election for the Iowa state Senate. The National Organization for Marriage threw about $40,000 toward their failed attempt to elect Golding by making same-sex marriage an issue in the race. But soon after it was clear Golding lost, NOM's cultural director Thomas Peters tweeted: "That's what happens when a state GOP nominates a weak candidate." Wow. Talk about your fair weather friends.
Virginia's First: Adam Ebbin became the first openly gay state senator in Virginia after defeating his Republican challenger by a margin of 64-35%. His district, which is solidly Democratic, includes parts of Alexandria, Arlington, and Fairfax counties.
First Openly Gay, African-American Republican Mayor: At least that's what we think happened when Bruce Harris was elected mayor of Chatham Borough, New Jersey.
Charlotte's First: LaWana Mayfield became the first openly gay city council member as part of a Democratic landslide in North Carolina's largest city. North Carolina, which will see a marriage amendment on the ballot next year, saw a number of other LGBT victories:
Chapel Hill Mayor Mark Kleinschmidt won re-election with 78% of the vote.
Lee Storrow, a gay 22-year-old UNC grad won his race for a seat on the Chapel Hill city council.
Carrboro incumbent Alderwoman Lydia Lavelle was re-elected to another term for city council.
Cincinnati's First: Chis Seelbach became the first openly gay city council member. He worked in 2004 to help defeat Article XII in the city charter which banned anti-discrimination ordinances for gay people.
Indianapolis's First: Zach Adamson became the first openly gay city council member. S
Missoula's First: Caitlin Copple became the first openly gay city council member. She defeated one of only two city council members who voted against the city's anti-discrimination ordinance in 2010, which made Missoula the first city in Montana to provide discrimination protections in housing and employment regardless of sexual orientation or gender identity.
Youngest Mayor: Alex Morse, 22, beat incumbent mayor Mary Pluta in Holyoke, Massachusetts, to become the nation's youngest mayor.
Houston Re-elects: Mayor Annise Parker was re-elected with more than 50% of the vote, a margin which allows her to avoid a run-off. Mike Laster also became the first openly gay member of Houston's city council.
Traverse City Supports Anti-Discrimination Ordinance: Voters in Traverse City, Michigan voted by a 2-to-1 margin to keep an anti-discrimination ordinance.  The vote came more than a year after Traverse City adopted the ordinance to prevent discrimination against gays in employment, housing and other areas. Opponents of the measure collected signatures to place a referendum for repeal on the ballot.
And on a final note, there were a number of gains in school board elections around the country which I didn't cover, but I would like to point one out anyway: Daniel Hernandez, Jr., Rep. Gabrielle Gifford's openly gay intern, was elected to as seat on the board of the Sunnyside Unified School District in Tuscon's south side. Hernandez was one of the recognized heros during the January shooting at a Northwest side Safeway which killed  six and critically injured Rep. Giffords. And on a more personal note, I couldn't be happier about the stunning news that Arizona Senate President Russell Pearce, architect of infamous anti-immigrant S.B. 1070 which was later found unconstitutional, was ousted by voters in favor of a political newcomer in Mesa.
Texas Student Suspended Over Gay Kiss
Jim Burroway
October 14th, 2011
A 17-year-old Senior was caught kissing another male student in the high school's band hall, and for that he was kicked off the cheerleading squad and suspended. That's outrageous enough, but what adds to the problem is that he wasn't caught by a teacher of another student, but by surveillance camera. Which leads him to believe he was being targeted by school official because of his sexual orientation.
"They never check cameras for anything unless something is stolen," the young man said, asking not be identified. "We would be the ones getting caught because I'm sure we were the only ones, sexual orientation wise, being caught like that."
As is true with high schools everywhere, kissing is common at Alice High School — among heterosexual couples. If he had been kissing a female, he says he would not have been suspended. "In this school [kissing] is everywhere, if that were the case, suspending everyone for that, half the school would be suspended," he said.
The student's parents met with the school administrator Thursday, who said that the principal's decision would be under review. If there is any change in the decision, they will notify the parents next week. The parents say they will pursue further action if the student is not placed back on the cheerleading squad.
Gay Teacher Cleared of Allegations of Unfairly Punishing Anti-Gay Student
Jim Burroway
October 1st, 2011
When earlier news reports a week ago mentioned that a Ft. Worth high school student had been suspended for telling a classmate that he believed that homosexuality was wrong. On September 22, Fox News reported it this way:
Holly Pope said she was "absolutely stunned" when she received a telephone call from an assistant principal at Western Hills High School informing her that her son, Dakota Ary, had been sent to in-school suspension.

"Dakota is a very well-grounded 14-year-old," she told Fox News Radio noting that her son is an honors student, plays on the football team and is active in his church youth group. "He's been in church his whole life and he's been taught to stand up for what he believes."

And that's what got him in trouble.
Ary's German teacher, Kristopher Franks, was put on paid administrative leave on the following Monday. An offiicial with the teacher's union says that the leave was unrelated to the incident with Ary, and after a week-long investigation by the Fort Worth Independent School District, Franks was cleared of any wrongdoing and he returned to work Friday. Meanwhile, Ary and his mother called on Liberty Counsel to fight Ary's in-school suspension on the grounds that Franks had violated Ary's right to freedom of speech. And it turns out that the story that Ary's mother had been telling to every media outlet who would listen was likely exaggerated:
Ary said in  media interviews that he made the comment quietly to a classmate sitting next to him in response to a discussion going on in the class at the time.

But Franks told friends shortly after the incident that there was no discussion involving homosexuality at the time, and that Ary made the comment loudly while looking directly at Franks.

Franks also told friends that the comment was only the latest in an ongoing series of incidents in which Ary and a group of three of his friends have made anti-gay comments to and about him.

Franks told friends that the harassment by Ary and his friends began several weeks ago after Franks, who also teaches sociology, posted on the "World Wall" in his classroom a photo, taken from the German news magazine Stern, of two men kissing. The photo was ripped off the wall and torn in two at some point during Ary's class, and Franks told friends he believes that Ary or one of his friends tore up the photo.

During a later sociology class students upset that the photo had been torn up replaced it with a hand-drawn picture, and another student then covered that picture with a page bearing a hand-written biblical scripture from Leviticus calling sex between two men an abomination.

Franks told friends that since that incident, Ary and his friends had continued to make derogatory and harassing comments.
Franks reportedly has been the target of anti-gay comments for at least two years, and that Franks's car was vandalized in one incident. Meanwhile, Liberty Counsel, members of whom have been implicated in the kidnapping of Isabella Miller-Jenkins and who teach law students at Liberty University to choose "God's law" over "man's law,"  is trying to turn Ary's anti-gay harassment into its newest cause célèbre.
El Paso Priest Reassigned Over Anti-Gay Political Activities
Jim Burroway
September 22nd, 2011
An El Paso, Texas, Catholic priest, who campaigned against various city proposals to enact anti-discrimination ordinances to protect gay people, has been reassigned to a new parish because of his political activities in an upcoming recall election. El Paso Catholic Bishop Armando X. Ochoa reassigned Fr. Michael Rodriguez to a new parish in West Texas because his political activities "raised serious issues regarding whether his participation could be attributed to the Diocese of El Paso."
"(Father) Rodriguez has recently challenged certain city officials to participate with him in a partisan debate on issues related to an upcoming election," said Ochoa. "This type of intervention in the political process by religious organizations such as the Diocese of El Paso and San Juan Bautista Church is not permitted under Section 501 of the Internal Revenue Code."
The bishop added that the diocese received "credible information and documents" showing that Rodriguez failed to comply with diocesan policies. Another evangelical church, Word of Life, is currently being investigate by the IRS for its political activities.
Last month, Rodriguez took out a quarter-page ad in the El Paso Times calling gays "putrid" and "depraved."
Plane To Fly "It Gets Better" Banner for Ex-Gay Conference, but Ex-Gays Won't See It
Jim Burroway
September 9th, 2011
Exodus International is scheduled to conduct one of its Love Won Out ex-gay infomercial's tomorrow at a Houston-area church. According to The Advocate, the It Gets Better Project will hire an airplane to fly overhead for an ex-gay conference near Houston tomorrow with a message saying that you can't simply "pray the gay away." I think that sounds like a great idea, except:
Exodus International's Love Won Out conference is taking place this Saturday at the Sugar Creek Baptist Church, located near Houston. The plane is scheduled to fly around downtown Houston at noon Saturday …
Get a map and an alarm clock, fellas. The plane may be headed for downtown Houston, but Sugar Creek Baptist is nearly 25 miles away in Sugar Land. And everyone will already be safely ensconced inside the church at that hour, while nobody will be anywhere close to downtown Houston on a Saturday at noon (the weekend forecast: a "pleasant" 95 degrees and probably 195% humidity, with an air quality alert due to high ozone). If a plane flies a banner over a deserted downtown and nobody sees it, does it still send a message?
Why can't anyone fly the plane over Sugar Land at 7:30 a.m. as people are pulling into the parking lot?
El Paso Priest: Calling Gays "Putrid" Constitutes "True Pastoral Care for Homosexuals"
Jim Burroway
August 30th, 2011
Remember, it's all in the spirit of love-the-sinner-but-hate-the sin:
The main newspaper in El Paso, Texas, published a full-page ad Saturday from a right-wing priest who calls gays "immoral,""putrid," and "depraved."

The paid advertisement in the El Paso Times, titled "True Pastoral Care for Homosexuals," is from Friar Michael Rodriguez of El Paso's San Juan Bautista Catholic Church. The virulently antigay and antichoice Rodriguez first writes about showing compassion for gay people before explaining how gays are destructive sinners.

"Engaging in depraved and unnatural sexual acts will lead directly to the ruin of both the homosexual's body and soul," Rodriguez writes. "Our very anatomy cries out against the lie that homosexual acts are 'ok.'"
Earlier this year, Rodriguez penned an op-ed opposing that city council's attempt to provide non-discrimination protections for its city charter. Rodriguez blasted it as "a deliberate attempt on the part of our local government to initiate the legalization of same-sex unions." He wrote:
In summary, the maleficent agenda which lurks behind the actions of City Council and has given rise to the group "El Pasoans for Equality" is an affront to God, our Catholic religion, human reason, marriage and the family.

This homosexual agenda is in direct violation of: (1) the Sixth and Ninth Commandments, (2) the infallible moral teachings of the Catholic Church (Catechism #2357), (3) natural law and the most rudimentary moral code, (4) recent pronouncements by the Congregation for the Doctrine of the Faith (Dec. 29, 1975; Oct. 1, 1986; July 23, 1992; June 3, 2003), and (5) the 2009 pastoral letter on marriage by our nation's Catholic bishops.

…Holy Mother Church has a great, wondrous and tender love for all her children, regardless of "sexual orientation." She is committed to treating all persons with love, dignity, and respect. … If any person is engaging in sinful sexual activity, we Catholics are called to practice love and compassion, above all, by leading the person to the truth, and helping the sinner to renounce sinful behavior.
Written with love, of course.
The Advocate reports that last weekend's ad has been removed from the El Paso Times's electronic edition. Does anyone in El Paso want to scan me a copy?
Update: Thanks to a BTB reader, you can see the entire ad as it appeared in El Paso Times here (PDF: 376KB/1 page).
Less than 0.5% of Houston Show Up For Rick Perry's Rally
Jim Burroway
August 6th, 2011
Houston's Reliant Stadium hold 71,000 people, but according to officials with Texas Gov. Rick Perry's "The Response" prayer rally, about 30,000 people showed up. That should mean that the stadium would be half full. Doesn't look like it to me. Failure #1.
Perry also sent invitations to every governor in the nation to attend his rally. The only one to show up was Kansas Gov. Sam Brownback. Gov. Rick Scott of Florida made a video that was played in the stadium. Only two others out of at least forty-nine — that's failure #2.
The American Family Association's Tim Wildmon addressed criticisms of the wholesale obliteration of the lines between church and state as represented by a religious revival organized by a political executive by saying "no political candidates will be speaking." Candidate, perhaps not — although please, does anyone not believe Perry is running for president — but the criticism stems from two current, elected governors speaking from the stage with another one phoning it in. These aren't just candidates. They are current office-holders sworn to uphold the Constitution. Failure #3.
The Perry approach to the Constitution
Timothy Kincaid
August 1st, 2011
Texas Governor and Republican gubernatorial candidate Rick Perry supports the Constitution. But his support appears to be based not on principle or conceptual idea but on legality. He endorses what it says, but seems at a loss as to what it means.
Perry invokes the Tenth Amendment when he says that he supports the right of New York to define marriage as they wish. This fits well with the 'don't mess with Texas' independent streak that has been a part of that state since it gave up its separate nation status. This individualist desire for self-determination, though bipartisan, fits nicely with Republican rhetoric about smaller more localized government.
But Texas, Perry, and the Republican Party are also very socially conservative. And this combination results in policy and positions that often could best be paraphrased as "give me the freedom to chart my own destiny, but you must do as I say". And it is the second half that Perry invokes when he endorses a constitutional amendment to overrule New York's right to its own marriage criteria.
His thinking is revealed in an interview with Family Research Council's Tony Perkins. Gov. Perry leaped at a peculiar notion that allowed him to support Texas' individuality while denying New York's self determination (FRC Blog):
TONY PERKINS: Governor, we are about out of time but I don't want to put words in your mouth, but I think I hear what you are saying. The support given what's happening across the nation, the fear of the courts, the administration's failure to defend the defense of marriage act.

The only and thin line of protection for those states that have defined marriage, that have been historically been defined between a man and a woman. The support of a marriage amendment is a pro-state's rights position, because it will defend the rights of states to define marriage as it has been.

GOV. PERRY: Yes sir, and I have long supported the appointment of judges who respect the constitution and the passage of a federal marriage amendment. That amendment defines marriage between one man and one woman, and it protects the states from being told otherwise. It respects the rights of the state by requiring three quarters of a states vote to ratify. It's really strong medicine but is again our founding fathers had such great wisdom and their wisdom is just as clear and profound today as it was back in the late eighteenth century.
Perry has some small connection with principle in this statement, but it is based on false premises, perverted self interest, and results-driven thinking.
There are marriage-related issues which, one could argue, threaten a state's right to self government. Divorce is a prime example. There is a pretty decent argument that having united two people for life, a state's authority is challenged when another state undoes this act. But states have long since come to all provide for divorce and Perry is not challenging divorce laws.
And, using a real-case example, should Virginia refuse to recognize the custody decisions of Vermont, one could find a threat to the underlying function of federalism. But Perry is not coming down on the side of recognition.
And it must be noted that Perry is not predicating his support for a Federal Marriage Amendment on the repeal of DOMA, nor does his support extend only to protecting Texas' autonomy. While I would oppose a constitutional amendment that was limited to giving states the right to refuse to recognize marriages conducted in other states as being deliberately discriminatory and a nightmare to negotiate or administer, I could respect those who supported such a "solution" as having some measure of consistency and logic to their position. But this is not Perry's goal.
And it also must be clarified that Perkin's assertions about the Defense of Marriage Act, upon which Perry leaped, are flat out distortions. The legal challenges and the government's determinations have been limited in all instances to "Section Three: Definition of Marriage" of DOMA – that which deals with the Federal Government's recognition of a state's laws – and does not challenge "Section 2. Powers reserved to the states".
Should Governor Perry truly respect a state's right to define marriage within its borders (even over another state's right to expect recognition of its acts by other states) then he would not be troubled by challenges to DOMA3 at all. Rather, he would support efforts to throw out this federal disrespect of states' autonomy.
But Perry has a results-driven agenda. He wants marriage to be restricted according to his religion's doctrines and is willing to impose those restrictions on others with no regard to self determination or personal freedoms. But to do so without contradicting his admiration for the Tenth Amendment, he spills out a justification that lacks any basis in principle.
The Tenth Amendment was not handed to Moses on Mount Sinai. It is, rather, language written to formalize and give structure to a principle. The notion underlying the words is that individuals should be governed according to shared community values and that such restrictions as are imposed on the individual should not be the result of some other community's goals or dreams.
Interestingly, this notion is also seen in the provisions laid out for constitutional amendment. Recognizing that states would seek advantage, the authors set the rules of change to be so strict as to make imposition of unfair local or regional values on the entire nation very difficult.
And it is to these provisions that Perry appeals when he says that the rights of New York and its citizens are respected "by requiring three quarters of a states vote to ratify." Perry argues that New York has the ability to convince just a quarter of other states to protect their autonomy. And yes, is just such an attack that the founders sought to avoid.
However, while Perry praises the language of the Constitution, he fails to see his role.
Yes, New York can appeal; but to whom? And with what argument? When the state of New York comes calling, asking for those who champion a state's autonomy, what will Perry say?
And that is where Gov. Perry reveals his support for states' rights to be a sham. He doesn't really support the rights of a community of individuals to self-determination. Rather, he supports such rights such rights for him and his state, but others have this right only so long as they determine what he want them to determine.
Anti-Gay Dem Party Chair Doubles Down
Jim Burroway
March 17th, 2011
Bexar County (San Antonio) Democratic Party Chair and yesterday's LaBarbera Award winner Dan Ramos held a news conference this morning to announce that he was not resigning over comments he made last week likening gay people to "the "f*cking Nazi Party." Not only that, but Ramos doubled down:
Bexar County Democratic Chairman Dan Ramos reiterated that he believed that gays were like "white termites who have infiltrated the party much like termites infiltrate your house," and were co-conspirators with direct involvement in the theft of over $200,000 from party coffers.

…"I've always tried to be politically correct, however the gays, through the Stonewall Democrats, have taken over the party. Hell, my opponent in the election, Choco Meza, she's a lesbian," Ramos said. (Meza is not a lesbian.)

Ramos also referred to State Democratic Chairman Boyd Richie as a "racist bastard" and an "idiot" who's been too busy to help the local party. "Gay people have been advising Richie," he said, "and he slipped when he asked me to resign."
Update: Oh, goody. We have video: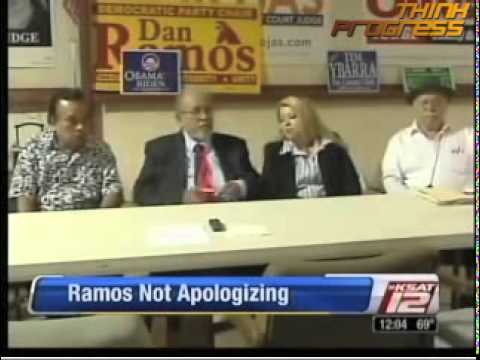 LaBarbera Award: Dan Ramos
Jim Burroway
March 16th, 2011
Bexar County (San Antonio, TX) Democratic Party Chairman let loose with some seriously demented statements last week to the San Antonio Current:
While the LGBT community has long found support within the national Democratic Party in its search for equal rights for gay, lesbian, and transgendered individuals, Ramos called the gay-rights movement a "very sinister movement" that is out of touch with San Antonio's values.

In an interview with the Current today, Ramos blamed homosexuals in the party for both undermining his authority and for the poor election results in Bexar County in 2010. "They are all connected to the gay Democratic Party, the so-called Stonewall Democrats. Just like termites they managed to get some of their people in key positions," he said.

The party faithful has been largely divided over Ramos since he was elected to office in May, 2010, but his chief detractors are all homosexuals, Ramos said.

Ramos said he opposes homosexuality on religious grounds and doesn't believe gay-friendly Democrats like Stonewall reflect the values of Bexar County voters. "I liken them to the Tea Party — the Tea Party and the f*cking Nazi Party — because they're 90 percent white, blue-eyed, and Anglo, and I don't give a f*ck who knows that. Just like the blacks … they're American, but you can't get your way just because you're black."
On January 31, 2010, Ramos appeared before the Stonewall Democrats asking for the group's endorsement in his quest for Party Chair. At the time, he said "I do not condone discrimination." It is unclear whether he received Stonewall Dem's backing.
Democrats statewide have angrily denounced Ramos and are demanding his resignation. Unfortunately, state party leaders are powerless to remove him. A bill has been introduced in the state legislature to remedy that situation. Meanwhile, Ramos has called a press conference for tomorrow morning, but he hasn't revealed the topic. According to the Dallas Voice, a spokesman for the Bexar County Democratic Party's steering committee speculates that Ramos has "been in the trenches for a long time and he's not going to go without a fight."