Chad Gibson's Mother Speaks Out
Jim Burroway
July 1st, 2009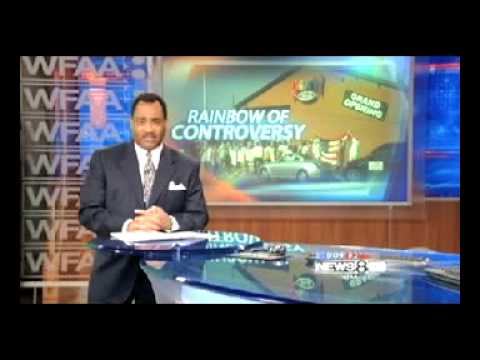 According to the Dallas Voice's Tammye Nash, Chad Gibson's brain has stopped bleading, but he's suffering terrible headaches.  The Ft. Worth Star-Telegram reports that Chad's condition has been upgraded from serious condition to fair. They also have this statement from the Texas Alcoholic Beverages Commission
We are saddened that this incident occurred and extend our sincere hope that Mr. Gibson recovers quickly," said TABC Administrator Alan Steen. "I have initiated an internal affairs investigation to answer questions about how these locations were chosen, to review the agents' actions, and specifically to establish the facts surrounding Mr. Gibson's injury."
Notes From the Last Night's Talk On Rainbow Lounge Raid
Jim Burroway
July 1st, 2009
John R. Selig attended the talk at BuzzBrews in Dallas last night featuring Todd Camp and Chuck Potter, who were eyewitnesses to the Rainbow Lounge raid by Ft. Worth police and Texas Alcoholic Beverages Commission (TABC) agents early Sunday morning. The following are rough notes taken by John and passed on via Rex Wockner. John Selig apologizes for not having had the time to organize them into a more orderly post.
At approximately 1:05 AM 6 members of the Ft. Worth Police Department and 2 TABC (Texas Alcohol Beverage Commission) Officers (number of officers reported in the media) raided the Rainbow lounge in Ft. Worth and terrorized the bar for 40 minutes. Chuck mentioned that he saw more than 8 officers in the bar. Terrorize is a strong word but it was one that all of the speakers used repeatedly and from their accounts they were not overstating their case. The TABC officers were wearing shirts that had State Police on their backs but you couldn't tell they were police officers from the front.
Rainbow Lounge was raided to intimidate the patrons to help close the bar which had been open for just over a week. The police had been by the bar every night since it had be open patrolling the parking lot. The night before the raid the police were peering through the fence into the patio. The bar was disliked because it was LGBT and it had strippers (who all obeyed the law). The night of the raid two other bars were raided earlier (one of the speakers mentioned that he believed that the other bars were hit first as a cover for the real target which was the Rainbow Lounge which was the third and last bar raided. One of the bars hit was a Latino bar and the other had a mixed crowd. All three bars were in less than desirable neighborhoods
The raid on the Rainbow lounge was different from the raids on the other two bars in three significant ways
1) The Rainbow Lounge was the only raid that had a Paddy Wagon sitting outside. The police intended to make arrests and haul people outside.
2) The raid at the Rainbow Lounge was the only raid that resulted in bodily injury to one of the people arrested.
3) This was the only raid where the police brutally took down patrons and terrorized the people in the bar. "They came into the Rainbow Lounge full of adrenalin, pumped and ready for a fight."
The speakers mentioned that this wasn't a typical TABC raid. They had seen them before. When the TABC comes in usually the music is turned off and the lights are turned on. They go behind the bar and check records and licenses and ask patrons for ID. What happened at the Rainbow Lounge was nothing like that.
The media notes that seven arrests were made. However, at least 20 people were dragged outside before it was determined which ones would be arrested.
The police walked up to patrons of the bar and tapped them on the shoulder from behind. They took one look at the patron and said you are under arrest. If the patron asked any question like is was going on or why am I under arrest, they were slammed to the floor, handcuffs were put on and they were dragged outside.
Chuck reported that Chad Gibson (who ended up in the Intensive Care Unit at John Peter smith Hospital because of his treatment) was tapped on the shoulder and told he was under arrest. When he asked why he was slammed against the wall, his head was pulled back so far that Chuck was worried that his neck might break. When they released him for a second, Chad tried to catch his breath and staggered as he did so. The police then slammed him to the ground and 5 cops were on top of him. A friend who was at a higher vantage point in the bar saw one cop with his foot on Chad's nexk on the floor. When a patron asked what was going on the police told him to move along or we will arrest you. When he saw the cop outside later the policeman told him that when I tell you to move along you move along and then grabbed him by the scruff of the neck. Chad was dragged outside and one cop watched him. Chad Gibson's injuries were caused while he was in TABC custody (which the TABC is now admitting). The cops say that Chad's injury was caused by Chad passing out when he was outside the bar because he was drunk. Eye-witnesses and doctors disagree with the police account. The police are also using the "Gay Panic" defense that they were groped by one of the people they arrested (I believe it was Chad Gibson. Chad was brutalized by the police and was dragged outside at 1:45 AM. The police wrote his ticket at 2:17 AM and the ambulance didn't arrive until 2:25 AM.
Chuck had seen Chad in the bar before and described him as shy and timid. He visited Chad in the hospital today and again described him as being fairly quiet, humble, shy and timid. Because of Chad's brain injury he doesn't remember many details from the night but doesn't believe he was drunk and there was no way that he would have assaulted a police officer. He wanted to thank everybody for their support and wishes.
Chuck mentioned that there were a number of heterosexual people in the bar that were shocked and outraged and three straight men were so shocked that they hugged Todd.
Patrons were traumatized by the brutality of the force used. One patron was approached (they all seemed to have been approached from behind). The cop told him that he thought the patron was drunk. The patron told the cop that he was drinking water and showed him the bottle. He was thrown against the pool table as the bottle fell to the floor and smashed. The patron's arms were twisted behind his back and the cop told the patron that he, the patron, had just assaulted the cop. He was cuffed and taken outside. If anybody asked any question of the a cop they were taken outside.
Todd believes that the raid had nothing to do with the Stonewall anniversary. Chuck disagreed and said he definitely believed that there was a connection that they picked that night. They wanted to intimidate the patrons so that they would leave the bar and never come back. They want the bar to close.
Most of the police were large men and many of the guys arrested were 120-150 lbs (no match for the cops) and the brutality of the force used was definitely not needed and used to intimidate and terrorize.
The bar closed at 2 AM. People were scared to get into their cars for fear of the police pulling them over and charging them with DWI. Chuck made it home at 2:45 and immediately started texting everybody that he knew. Todd who had been at the Rainbow Lounge with several friends to celebrate his birthday contacted newspapers and broadcast media as quickly as possible.
FWPD Chief Addresses Concerns At Community Forum
Jim Burroway
July 1st, 2009
The Dallas Voice's Tammye Nash attended Tuesday night's community forum in Ft. Worth, Texas hosted by Ft. Worth Police Chief Jeffrey Halstead. Chief Halstead answered a number of questions from the audience about the Sunday morning's raid on the Rainbow Lounge:
First: after the meeting had started, Chief Halstead announced that the director of the Texas Alcoholic Beverage Commission had just issued a statement acknowledging that Chad Gibson, who has been hospitalized with a head injury since the incident, was injured while in the custody of TABC agents.
Halstead, who only recently became police chief after moving to Ft. Worth from Phoenix, also announced that he wants to meet with LGBT leaders and will appoint an LGBT liaison. That leads me to believe that up until now, Ft. Worth hasn't had one. If true, that would be a very disturbing condition for the nation's seventeenth-ranked city, and one that I'm glad the Chief will correct. Halstead also announced that he intends to institute sensitivity training for the force's officers, which would be another long-overdue reform for such a large police department.
Donations for Chad Gibson's Medical Bills
Jim Burroway
June 30th, 2009
From Tammye Nash at The Dallas Voice:
To donate to a fund for Chad Gibson, walk into any Frost Bank location in Texas and ask to make a donation to Q Cinema for the benefit of Chad Gibson (the donation is through Q Cinema in order to be tax deductible). The account number is 608439230. Ability to make online donations coming soon.
Q Cinema a non-profit 501(c)3 organization which screens LGBT films and hosts other events for Ft. Worth audiences. Todd Camp is the founder of Q Cinema. He was one of the outspoken witnesses of the police raid at the Rainbow Lounge.
Ft. Worth Police Used "Restraint"
Timothy Kincaid
June 30th, 2009
WFAA.com reports:
Monday, police chief Jeff Halstead said the officers' actions are being investigated. However, he also said that officers that entered the bar during the scheduled inspection were touched inappropriately.

"You're touched and advanced in certain ways by people inside the bar, that's offensive," he said. "I'm happy with the restraint used when they were contacted like that."
Uh-huh. Because bleeding on the brain is the right, just, and appropriate consequence to being "advanced in certain ways." We should just be thankful that his goons showed restraint and didn't beat anyone to death for their "advances".
The more I hear from Mr. Halstead, the more he demonstrates his discomfort with and utter contempt for those members of his community that are gay. In a city that valued its residents this man would be disciplined for "advancing" the gay panic defense, the officers would be pulled off duty until the investigation was complete, and a liason would be assigned to determine the extent of police brutality experienced by gay residents. And that would be showing restaint.
Update on Chad Gibson's Condition
Jim Burroway
June 30th, 2009
Dallas Voice editor Tammye Nash spoke with Kristy Morgan, Chad Gibson's sister:
Kristy said the most recent CAT scans have shown that the blood clot on Chad's brain has stopped growing, which is good news, but he is not out of the woods yet. She said doctors told the family that as long as the clot remains — whether it is growing or not — there is the chance that all or some of it could break loose and cause severe damage or death, or that the bleeding could start up again.
Right now, doctors do not want to remove the clot surgically. Instead, they hope to be able to allow the clot to be reabsorbed back into the body, a pricess that could take six months to two years. Plans are underway to set up a fund to help defray medical costs.
Gibson was thrown against a wall and to the ground during a raid by Ft. Worth police and Texas Alcoholic Beverages Commission agents on the Rainbow Lounge. Gibson suffered severe head trauma as a result of that assault by police. They then accused him of being "over-intoxicated" to the point of "alcohol poisoning" based on his confusion, unsteadiness and vomiting — all of which, according to the Merck Manual, are signs of severe head trauma.
Fort Worth Police Department Community Forum is Tonight
Jim Burroway
June 30th, 2009
For those of you in the Dallas/Ft. Worth metroplex, you might want to check out the Ft. Worth Police Department's monthly Community Forums held on the last Tuesday of each month. That means there will be one tonight at:
New Beginnings International Church,
2000 East Loop 820.
Tuesday, June 30, 7:00 pm-8:00 pm.
Contact info is Officer Sharron Neal at (817) 392-4215.
If you go, you might want to challenge the police chief's "diagnosis" that Chad Gibson was falling-down drunk with "alcohol poisoning", when his symptoms were actually consistent with a severe head injury.
FWPD: Gibson Had "Alcohol Poisoning," Not A Severe Head Injury
Jim Burroway
June 29th, 2009
Fort Worth Police Chief Jeff Halstead spoke to reporters about Sunday morning's raid on the Rainbow Lounge. Halstead denied that the raid was timed to coincide with the 40th anniversary of the Stonewall Rebellion, and condescendingly advised everyone to "take a deep breath."
He also claimed that Chad Gibson was so drunk he was vomiting, exhibiting signs of "over-intoxication, possible alcohol poisoning." Others officers pointed to the fact that after Gibson was slammed against the wall and thrown to the ground, he was unsteady and vomiting. This is very telling. According to the Merck Manual's online entry regarding severe head injuries:
People may have some of the same symptoms as occur with minor head injury. Some, such as headache, may be more severe. Also, symptoms often start with a period of unconsciousness that begins at the time of impact. How long people remain unconscious varies. Some people awaken in seconds, while others do not awaken for hours or even days. On awakening, people often are drowsy, confused, restless, or agitated. They may also vomit, have seizures, or both. Balance and coordination may be impaired.
Doesn't that sound like severe drunkenness if one were predisposed to assume it? Here's how Chief Halstead described the situation:
The police statement said one patron was so drunk he was vomiting. Morgan said her brother threw up because of his head injury.

She also questioned police efforts to summon medical help. The time on Gibson's ticket for public intoxication is 2:10 a.m. An ambulance wasn't called until 2:25 a.m.

Club Manager Randy Norman said Gibson didn't seem drunk and was walking from the men's room, holding a bottle of water, when an officer pushed him against a wall and then pushed him to the ground. Some patrons said they heard Gibson ask the officer a question, but that he didn't fight back. At least three officers were involved in handcuffing him.

"The first question I heard was, 'How much have you had to drink?'" said Shane Wells, a dancer at the club. Gibson "said, 'I don't have to answer that question' and they grabbed him and ran him against that little wall.'"

Asked about Gibson's injury, Halstead said he could speak only about what is documented in the police report.

"In the police report, it was stated that he was handcuffed and he exhibited signs of over-intoxication, possible alcohol poisoning, and he fell face first," Halstead said.

"If there's an eyewitness to the contrary, then that is exactly the person we want to come forward to the Police Department."

Witnesses should contact the internal affairs division at 817-392-4270, he said.
As we've already documented, multiple witnesses have corroborated Shane Wells' and Randy Norman's descriptions of the officers' assault on Gibson. Gibson remains hospitalized in Intensive Care with internal bleeding in the brain, which the Merck Manual would describe as a severe head injury, right down to its symptoms.
"He Fell and Hit His Head"
Timothy Kincaid
June 29th, 2009
CBS Channel 11 is reporting the most bizarre story yet about how Chad Gibson came to be in intensive care with bleeding on the brain:
Police Chief Jeff Halstead said Gibson had grabbed at the agent's groin and was so drunk he was vomiting and fell and hit his head. Gibson was one of those arrested but was taken to the hospital instead of jail.
They also provide this first-hand account:
George Armstrong, 41, said he had been at the Rainbow Lounge about 30 minutes and had ordered one drink when officers stormed inside. He said as on officer passed him, he smiled and flashed the peace sign, but then he was suddenly grabbed and tackled to the floor with his arm twisted behind his back.

"He was yelling at me to stop resisting arrest, but I wasn't doing anything. It was horrible. I really thought he had broken my shoulder," Armstrong told The Associated Press on Monday. "I've never been so embarrassed and humiliated. I didn't do anything to him."

Armstrong was arrested, but he said no officers advised him of his Miranda rights or administered any tests to determine his blood-alcohol level.

He said he noticed that other people who were arrested were injured or said they had been tackled by police.

When Armstrong was released from jail the next day, he went to the hospital, where his arm was put in a sling after X-rays determined his shoulder and back were severely bruised and strained, he said.

Armstrong said he never saw anyone inside the Rainbow Lounge make lewd gestures at or grab the officers. He said the raid happened very quickly at the club that had just reopened.

"To me it seemed like they were trying to make a point," Armstrong said.
Five Eyewitness Accounts Of The Rainbow Lounge Raid
Jim Burroway
June 29th, 2009
The Dallas Voice's Tammye Nash has been doing a great job reporting on last weekend's raid on the Rainbow Lounge by Ft. Worth police. Her latest report includes eyewitness reports from five different people who didn't know each other. She found their descriptions remarkably similar. Todd Camp went to the Rainbow Lounge to celebrate his birthday with friends:
Camp said an officer "shoved me out of the way to grab the guy in front of me" in line at the bar. The officer "told the man, 'You're drunk,'" and took him out of the bar, Camp said. …Camp said straight friends who were there with him were frightened to the point of tears by what they saw.
Justin McCarty was working security at the Rainbow Lounge when an officer asked him how much he had to drink.
"I told him I was working and hadn't had anything to drink, and that's when he told me, 'Then you need to make yourself scarce.' So I did. I went to the back out of the way. I took that as a threat that if I didn't, I would be arrested, too," McCarty said.

McCarty said that he saw officers throw Chad Gibson to the floor, adding that, "There were people standing there watching it happen and crying. They were scared. It was just brutal."
At last report, Chad Gibson is in intensive care for treatment of a brain injury.
One thing that many longtime gay bar patrons have noticed is that gay bars are very popular with young straight couples that's often where they'll find the best DJ's and dance floor in town. That's what drew Brandon Addicks and his girlfriend and some of her friends to the Rainbow Lounge. But they saw more than just a fabulous dance floor:
"I saw a cop walk up behind a guy who was sitting at a table. The cop told him to stand up, and when the guy asked what for, the cop said, 'You're intoxicated,' Addicks said. "Then there was that guy getting the crap beat out of him there in the back. I have been in bars before when police have come in, and I have never seen anything like this,"
Another patron, Alison Egert, told an officer that she had had several drinks, but she had a designated driver. The officer let her go despite her admission of "public intoxication." When police threw Chad Gibson against a wall, that's when she noticed that police were only arrested men and "they seemed to be targeting the smaller men."
General manager Randy Norman had a strange conversation with one of the officers. The officer denied that the bar was singled out because it was a gay bar, but added, "I don't partake in being gay, but I don't care if you do." That sounded like a very odd statement to Randy. Sounds strangely defensive to me.
If you're in the Dallas area, Todd Camp and another eyewitness, Chuck Potter, will speak at BuzzBrews on Lemmon Avenue tomorrow at 8 p.m. But if you're in Dallas, you should already know this because you're keeping track on the Dallas Voice's indispensable Instant Tea blog, right?
Straight Ft. Worth Writer Finds Police Claims Doubtful
Timothy Kincaid
June 29th, 2009
Writing in a Fort Worth Weekly blog, Jeff Prince finds the story from the men in blue to be, well, unlike his own experiences in a gay bar:
As I sat there, I kept figuring one of these guys would hit on me. I was going to politely explain to them that I wasn't that way. Except nobody paid any attention to me. For 10 or 15 minutes not a single person spoke to me or approached me. I was relieved and offended at the same time. What am I chopped liver?
And Prince's experiences were similar to other straight guys he knew.
Perplexed at why "the patrons allegedly became fraught with horn and damn near raped our boys in blue", he concludes that "it must have been the uniforms".
Well, that or the police story is not exactly credible.
Nor does their story match that of the patrons. Compare this statement from the police:
…another officer requested assistance from inside the club as he had an intoxicated individual that was resisting arrest. This person was placed on the ground in an effort to control and apprehend.
to the report from one of the dancers at the bar:
I was still standing near the entrance to the VIP lounge with a friend when an officer approached a man standing there. The man had water in his hand. The officer asked him how much he had had to drink and the man said that he didn't have to answer that. The officer then said that he was going to arrest him for public intoxication. The man said,"You can't do that I am just standing here right now drinking water." At the time the officer shoved the man over towards the wall near the dressing room and then back to the rear wall near the men's restroom, then down onto the floor. Several other officers, made their way back there to hold that ONE MAN down on the ground as they placed restraints on him. At the time I noticed that all of them did not have FWPD uniforms on. Some of them were actually State Police.
About Those "Sexually Explicit Movements"
Jim Burroway
June 29th, 2009
Can anyone find a press release from the Ft. Worth Police Department complaining about intoxicated women in straight clubs making "sexually explicit movements"? Say, strippers in topless bars, for example? Or any drunken college co-eds? Were they thrown to the ground and given a head injury because of it?
Hmmmm, I didn't think so.
The Ft. Worth Police Department Has A Gay Panic Problem
Jim Burroway
June 29th, 2009
Ft. Worth police have issued a press release (Word Doc: 34KB/2 pages) blaming club patrons for police officers' excessive show of force during Sunday morning's raid on the Rainbow Lounge on the 40th anniversary of the Stonewall Rebellion. The cops are raising their own version of the "gay panic" defense, claiming that two patrons made "sexually explicit movements" and another "grabbed the [Texas Alcoholic Beverages Commission] agent's groin."
People on the scene find those charges incredible. Todd Camp, a former Ft. Worth Star-Telegram reporter who was at the bar, said, "No one was acting aggressive to officers." Another eyewitness, Chuch Potter, told a local CBS affiliate, "I can guarantee there wasn't a man in this bar that would've touched one of those officers, knowing they were arresting people."
Even straight people at the Fort Worth Weekly find the police department's shrieking sex-crazed-zombie-homos excuse unbelievable. Straight guy Jeff Prince was working on a story that took him to another gay bar a few years ago, and steeled himself against the guaranteed out of control lecherous onslaught that awaited him:
As I sat there, I kept figuring one of these guys would hit on me. I was going to politely explain to them that I wasn't that way. Except nobody paid any attention to me. For 10 or 15 minutes not a single person spoke to me or approached me. I was relieved and offended at the same time. What am I chopped liver?

Another straight dude Weeklyteer Dan McGraw did a cover story called "Waking Up the Rainbow" in 2005 about gay politics in Fort Worth and spent several nights incognito at a gay bar called Best Friends. He had a similar experience of being ignored. "It was like hanging out at any other bar," he said. "Most of the guys had been married before and had kids."

For some reason, however, Fort Worth police and Texas Alcoholic Beverage Commission officers went into a gay bar on Saturday night and the patrons allegedly became fraught with horn and damn near raped our boys in blue.
City councilwoman Kathleen Hicks says she's disturbed by the raid. She joins openly gay councilman Joel Burns in calling for an investigation into the raid that resulted in seven arrests and sent one man to the hospital with a critical brain injury.
Condition of Man Injured In Rainbow Lounge Raid Worsens
Jim Burroway
June 29th, 2009
The Dallas Voice's blog now reports that Chad Gibson's condition has worsened. Gibson suffered a head injury when he was thrown to the ground by police during Saturday night's raid on the Rainbow Lounge in Ft. Worth, Texas. Chad is in the Intensive Care Unit at a Ft. Worth hospital undergoing treatment for intracerebral hemorrhaging, or a bleeding in the brain. Doctors will decide soon whether Chad will need to undergo brain surgery to relieve a blog cot that has formed in his brain.
Who Are The Texas "State Police"?
Jim Burroway
June 29th, 2009
This is very odd. Look at the photo taken during Saturday night's raid on the Rainbow Lounge in Ft. Worth on the 40th anniversary of the Stonewall rebellion. See the armed men in uniform with the words "State Police" emblazoned on the back?
According to news reports, the raid was conducted by the Ft. Worth Police Department with agents from the  Texas Alcoholic Beverage Commission (TABC). Texas doesn't have a "state police." The highway patrol, run by the Department of Public Safety, is known coloquially as the DPS (i.e. "DPS officers were on the scene…"). The state's investigative arm is the Texas Rangers, but they generally don't get involved with cases like this.
So without trying to feed any conspiracy theories, I still have to ask: who are the "State Police" in the photo? Are they TABC agents? If so, why wouldn't their uniforms identify them as such? Any Texas readers have an answer?
Demonstrators Protest Ft. Worth Bar Raid
Jim Burroway
June 29th, 2009
The Ft. Worth Star-Telegram repoted that about a hundred people protested yesterday in front of the Tarrant County Courthouse to protest the raid Saturday night on the newly-opened Rainbow Lounge. The Dallas Voice puts the crowd's size at 150 to 200. In either case, turnout was likely dampened due to the fact that a much larger rally with thousands of people was already taking place in neighboring Dallas to commemorate the 40th anniversary of the Stonewall rebellion. Joel Burns, Fort Worth's first and only openly gay City Council member, raced back to Ft. Worth from Houston to attend the protest at the court house:
"We want all citizens of Texas and Fort Worth to know and be assured that the laws of ordinances of our great state and city will be applied fairly, equally and without malice or selective enforcement," Burns said at the rally, reading from a prepared statement.

"We consider this to be part of 'The Fort Worth Way' here. As elected representatives of the city of Fort Worth, we are calling for an immediate and thorough investigation of the actions of the city of Fort Worth police and Texas Alcoholic Beverage Commission in relation to the incident at the Rainbow Lounge earlier this morning," Burns said.

…Noting that the rainbow Lounge raid came on the 40th anniversary of the Stonewall Rebellion, Burns said at the rally, "Unlike 40 years ago, though, the people of this community have elective representation that will make sure our government is accountable and that the rights of all its citizens are protected."
Stonewall In 2009? Police Raid Texas Gay Bar, Arrest Patrons for "Public Intoxication"
Jim Burroway
June 28th, 2009
Update: One serious injury was reported. See below.
No kidding? The Dallas Voice's blog is reporting that a gay bar in Ft. Worth, Texas, was raided sometime last night:
According to [Ft. Worth Star-Telegram former critic Todd] Camp, the newly-opened Rainbow Lounge is "the only cool gay bar in town," but the police raided it, arresting numerous patrons for no reason.

I got another perspective in my in-box this morning:

The not awesome thing was the paddy wagon of homophobic police that showed up … looking for trouble. My group and I were sitting on the back patio at a picnic table. Nobody was being wild out there. [The police] came through with flashlights, being loud asking what was going on out here, then asked why everyone was all the sudden being quiet. When one group started up their conversations again, they took one guy away. I left shortly after and as I walked through the front bar there were numerous cops with plastic handcuffs all ready to go. I [left] the bar and they [had] a big van in the parking lot and numerous cars on the street. And just so you know, it wasn't fire hazard crowded or seedy wild in there. … The worst part is [friends later told me] that [the police] had numerous people face down on the ground outside. I just moved to Fort Worth from Dallas, so this is such a shock to me. I know Dallas would not put up with this.  … I am still so shocked it is 2009 and this just happened.

Anyone else there last night? Write to me (jones@dallasvoice.com) or my editor (nash@dallasvoice.com).
Other reporters at the Dallas Voice are receiving more first-hand accounts which confirm the above statement. Eyewitnesses say that some ten to twenty people have been arrested. One patron was this visitor from Santa Cruz, California:
We and a few of our friends went to the new Rainbow Lounge last night to dance and have some fun. I was in the VIP section when police officers started coming up there. The first arrest (that we saw) was right in front of me in that section.

They asked the guy if he had been drinking, and he said some, and they snidely replied, "Well, we'll see how much!" and plastic handcuffed him as they read him his rights The guy was doing NOTHIG [sic] wrong. It was utterly repugnant.

Once I saw this happen, I decided to try and speak with one of the police officers themselves, to go straight to the source and get their side. My sister Kelly and I simply started asking what they were doing here, stating how suspicious it seemed on this date and in this specific club, etc. This was a "State Policeman," whose name I forgot, who tried to explain their actions by referring to "anonymous tips" and "disgruntled ex-bartenders." We pointed out the place was open a week, so the disgruntled ex-bartender source seemed a bit unlikely! He wouldn't really answer my questions. although he did try to grab my hand and flirt with me (which was completely uninvited).
They have also received several photos taken by patrons using their cell phones. Numerous patrons report rough treatment by police. Several fled to a nearby home, fearing arrest if they tried to leave the house to get into their cars. There is one report that one man was slammed to the floor and is now hospitalized with a head injury. Another eyewitness said that police gave her the same excuse about responding to complaints from  "former bartender" at the week-old business. She also observed that police appeared to be specifically targeting effeminate men.
Local activists are calling for protests tonight. One was scheduled for the Rainbow lounge at 5 p.m. CST today, with another one set for the Tarrant County Courthouse in downtown Fort Worth at 7 p.m.
Update: The Dallas Voice has an update on Chad Gibson, the young man who was hospitalized for a head injury. The initial CAT scan showed little or no damage, but a second CAT scan performed this afternoon indicates that "the bleeding in his brain had increased." Chad has no memory of the incident in the bar, and his memory of events today (visitors and conversations with doctors) "have been spotty." Chad is being treated at John Peter Smith Hospital in Ft. Worth.
The Ft. Worth Star-Telegram has more details. Seven people were reportedly arrested at the Rainbow Lounge. Ft. Worth Police are offering a sort of a "gay panic defense, claiming that patrons made "sexually explicit moves" toward the police. The bar's general manager and other patrons dispute that:
The general manager of the Rainbow Lounge and several patrons disputed the police account, saying officers used excessive force to make arrests.

"He was just walking to the bathroom when an officer grabbed him and shoved him against a wall and pulled his head back," said Chris Hightower of Fort Worth, a friend of the injured patron. "He (the injured man) was then thrown to the ground and three other officers were on him."

Several patrons claimed that the officers were never assaulted.

"I have friends who are cops and I know what to do when officers are working," Camp said. "No one was acting aggressive to officers."

Camp said that he has been attending bars for years in Fort Worth when TABC conducts raids.

"Usually, they're very orderly and respectful – they work with the bar staff and check IDs, it's quick and painful and then it's over and then they're out," Camp said. "This was not that. This was harassment, plain and simple."

General manager Randy Norman said the bar had just been open a week and they had complied with all ordinances.

"Officers just don't come in armed with zip ties and a paddy wagon for a routine check of a bar," Norman said.
KTVT, the Dallas CBS affiliate has this:
Raymond Gill was at the bar early Sunday morning.  He says one of the TABC officers targeted him.  "I asked him why I was pulled outside. He stated it was because the way I was walking. He said I looked like I was drunk. But as I stated, I got to the bar 30 minutes before they got there. I sat down had not got up before police got there. No one saw me walk."

…Fort Worth police arrested seven people for reported public intoxication, and for reportedly inappropriately groping an officer. It's an allegation witness Chuck Potter disputes.

"I can guarantee there wasn't a man in this bar that would've touched one of those officers, knowing they were arresting people."
WFAA, the Dallas ABC affiliate confirms that Chad Gibson is in the Intensive Care Unit at John Peter Smith Hospital in Ft. Worth with bleeding on the brain. Chad was ticketed but not arrested:
Danny Crockett said he saw four officers detain Gibson.

"They choked his head back, pulled him back and then slammed him against the wall," he said.
Texans Support Couple Recognition
Timothy Kincaid
June 26th, 2009
Good news from Texas. A new poll by Texas Lyceum shows 57% of Texans support either civil unions or marriage.
Most Texans don't oppose same-sex unions, but they're split in their support for marriage or civil unions. While more than a third (36%) oppose either arrangement, 32% said they would support civil unions and another 25% think same-sex marriages should be permitted. The poll found a distinct partisan difference, with civil unions as the preference of 29% of Democrats, 31% of Independents and 37% of Republicans; same-sex marriage the preferred alternative of 36% of Democrats, 25% of Independents, and 14% of Republicans. Allowing neither of those alternatives was the preference of 29% of Democrats, 35% of Independents, and 43% of Republicans.
In 2005, only 24% of Texans voted against a constitutional amendment that banned both marriage and civil unions. This poll reveals significant change in public attitudes in less than four years.
It is also worth noting that even a majority of Republicans support couple recognition. And Texas Republicans do not have a history of support for gay causes. In 2000 at the Republican National Convention the delegation from Texas made a point of showing contempt for gay Rep. Jim Kolbe during his speech on Trade by bowing their heads and praying while he was speaking.
Let's hope that support continues to grow until Texans of all political stripe join together in reversing the discrimination they enshrined in their constitution and in providing marriage equality to all of their citizens.
When Actions Speak Louder Than Words
Jim Burroway
June 25th, 2009
The Southern Baptist Convention has ousted Broadway Baptist Church of Fort Worth, Texas over the church's acceptance of gays. Even though that church had sent their own gay-tolerant pastor packing over a controversy surrounding photos of same-sex couples in the church directory, it appears that what remained still wasn't anti-gay enough to appease the powers that be.
Meanwhile, another Southern Baptist preacher, Rev. Wiley Drake of First Southern Baptist Church in Buena Park, California, has been practicing "imprecatory prayer" for President Barack Obama's death. Drake and his church remain in good standing.
Newsweek reports that for the fourth year in a row, Southern Baptist Churches baptized fewer people than they did in each prior year. This is taken as a key indicator of church growth — or decline, as the case may be. Two years ago, then-SBC president Frank Page blamed the decline on the perception that Baptists are "mean-spirited, hurtful and angry people." This year's theme for the Southern Baptist Convention is "Love Loud: Actions Speak Louder Than Words." I have no further comment beyond that.
Texas Mayor Resigns For The Man He Loves
Jim Burroway
May 20th, 2009
J.W. Lown, mayor of the west Texas city of San Angelo, has resigned in order to be with his partner, a Mexican national who does not currently have legal status in the United States. According to the San Angelo Standard-Times:
Lown said in a telephone call late Wednesday afternoon from Mexico that he has started a relationship with someone who does not have legal status in the United States. Lown said he did not want to take the oath of office knowing he was "aiding and assisting" someone who was not a citizen. "I made the final decision when I knew it was the right decision to make for me and my partner and our future – and for the community," he said.
The mayor was about to take the oath of office for the start of his fourth term, which he won earlier this month in a landslide election. If he had completed his fourth two-year term, he would have tied for being the longest serving mayor of San Angelo.
Lown and his partner are in Mexico awaiting a visa to come back legally. Their wait may be a very long one.
This is not an unusual problem. Under current U.S. law, American citizens can legally bring their foreign spouses and other immediate family members into the United States.  But same-sex partners of U.S. citizens and permanent residents are not considered spouses — even if they are married in a state or country which allows same-sex marriage. That means countless gay and lesbian, bi-national couples are forced to remain apart unless the American partner decides to move in order to join his or her partner.
The Uniting American Families Act is intended to address the problem by allowing U.S. citizens and permanent residents to sponsor their same-sex partners for family-based immigration purposes. UAFA was introduced in Congress by Sen. Patrick Leahy (D-VT) and Rep. Jerrold Nadler (D-NY).
Lown has dual American and Mexican citizenship. In a statement to the city council, Lown said he and his partner will come back to San Angelo once his partner obtains a visa and if "the people of San Angelo will welcome me back." If the comments to the San Angelo Standard-Times are any indication, it appears that a very large number of San Angelinos are willing to welcome the popular mayor back with open arms.