Lawsuit Filed Against Scott Lively For Instigating Anti-LGBT Persecution in Uganda
Jim Burroway
March 14th, 2012
The Center for Constitutional Rights has announced this morning that they are filing a lawsuit on behalf of Sexual Minorities of Uganda (SMUG) against American anti-gay extremist Scott Lively for his role in "the decade-long campaign he has waged, in coordination with his Ugandan counterparts, to persecute persons on the basis of their gender and/or sexual orientation and gender identity." CCR announced its action this morning in a conference call with reporters. I was among those participating in the call.
The complaint (PDF: 2.2MB/47 pages) was filed in U.S. District Court in Massachusetts at Springfield, where Lively currently resides. CCR is bringing the suit under the Alien Tort Statute, which provides federal jurisdiction for "any civil action by an alien, for a tort only, committed in violation of the law of nations or a treaty of the United States." In other words, it allows a foreign national to sue in U.S. courts for violations of U.S. or international law conducted by U.S. citizens overseas. According to CCR, the U.S. Supreme Court has affirmed that ATS is a remedy for serious violations of international law norms that are "widely accepted and clearly defined."
The crime against humanity in international law that CCR alleges that Lively violated is the crime of persecution, which is defined as the "intentional and severe deprivation of fundamental rights contrary to international law by reason of the identity of the group or collectivity." CCR alleges that the defendant plaintif, Sexual Minorities Uganda, as well as individual staff members and member organizations, suffered severe deprivations of fundamental rights as a direct result of a coordinated campaign "largely initiated, instigated and directed" by Scott Lively.
In a conference call with reporters, CCR Senior Staff Attorney Pam Spees said that the Alien Tort Statute act had been applied in other specific cases of human rights violations against individuals. But she acknowledged that if this case prevails, it would establish a precedent for applying it to the crime of persecution, which, as a crime against a group, is different from a general "ordering the killing of people in his custody." She pointed out U.S. asylum cases have acknowledged sexual orientation and gender identity and expression as legitimate claims for persecution.
Lively is best known for his role, reported first here on BTB, as featured speaker at an anti-gay conference held in Kampala in March 2009. During that conference, Lively touted his book, The Pink Swastika, in which he claimed that gays were responsible for founding the Nazi Party and running the gas chambers in the Holocaust. Lively then went on to blame the Rwandan genocide on gay men and he charged that gay people were flooding into Uganda from the West to recruit children into homosexuality via child sexual molestation.
During that same trip, Lively met with several members of Uganda's Parliament. Only two weeks later, there were already rumors that Parliament was drafting a new law that "will be tough on homosexuals." That new law, in its final form, would be introduced into Parliament later in October. Meanwhile, the public panic stoked by the March conference led to follow-up meetings, a march on Parliament, and a massive vigilante campaign waged on radio and the tabloid press. Lively would later boast that his March 2009 talk was a "nuclear bomb against the gay agenda in Uganda."
In the complaint filed in Federal District Court, CCR provides details of Lively's activities in Uganda going back to 2002, when Lively began touring Uganda and establishing contacts with leading Ugandan figures, including Stephen Langa (who organized the March 2009 conference) and Pentecostal pastor Martin Ssempa. While there, he was interviewed for major daily newspapers and appeared on radio and television. In a conference call with reporters, Spees said that Lively's particular influence on Uganda's religious leaders was the primary avenue for "telegraphing the sense of terror" through his accusations against the gay community, and that influence picked up significantly following the 2009 conference. The complaint includes several examples where Lively's rhetoric showed up virtually verbatim in statements from Ugandan religious and political leaders. She also pointed out that the preamble of the bill's original draft included language that was lifted straight out of conference materials.
Tarso Luís Ramos, Executive Director of Political Research Associates, echoed Spees's assertion that Lively's influence played a major role in the growing climate of persecution in Uganda. He described the main avenue of influence as from religious leaders like Lively to prominent Ugandan religious leaders who also wield considerable moral and political influence. Ramons said that during Lively's 2009 trip to Uganda, he also met with members of the Ugandan Christian Lawyers Association and members of Parliament, and spoke at an assembly of 5,000 college students and at major pentecostal churches. According to the complaint, M.P. David Bahati, author of the Anti-Homosexuality Bill, was among those who attended the Kampala conference. Bahati and former Ethics and Integrity Minister James Nsaba Buturo were also named as co-conspirators in the complaint.
Ramos and Spees contrasted Lively's role with that of the secretive U.S. organization known as The Family or The Fellowship. Spees described Lively as the "go-to guy whose rhetoric went into hyperspace to stamp out" LGBT people "in a strategic way." She alleged that he provided a "tangible, clear plan" in contrast to The Family, which tried to distance itself from the bill. One  part of the "clear plan" outlined in the complaint was Lively's recommendation for the criminalization of LGBT advocacy in Uganda. That recommendation became Clause 13 in the Anti-Homosexuality Bill.
Spees emphasized that while Lively's "violent anti-gay rhetoric" forms a basis for the evidence of the complaint, the case is not about hate speech but what she described as his systematic efforts to provoke persecution in Uganda and elsewhere. She described Lively as a "key player in persecution" in a concerted effort to deprive and remove rights for LGBT Ugandans.
Speaking via telephone form Uganda, SMUG Executive Director Frank Mugisha welcomed the filing. He said that when the March 2009 Kampala conference was announced, they had no idea how far that conference's influence would go. Before 2009, he described an atmosphere where people were somewhat freer to live in groups as gay people, but after the conference there were demonstrations, meetings, reports of arrests, people being thrown out of their houses and churches, beatings, and severe curbs on freedom of assembly. Just last month, Ugandan authorities raided a meeting by LGBT leaders at a hotel in Entebbe and tried to arrest Kasha Jacqueline Nabagese, founder of the lesbian rights group Freedom and Roam Uganda.
More information about the lawsuit against Lively can be found at the CCR web site.
Update: The New York Times has this reaction from Lively:
Reached by telephone in Springfield, Mass., where he now runs "Holy Grounds Coffee House," a storefront mission and coffee shop, Mr. Lively said he had not been served and did not know about the lawsuit. However, he said: "That's about as ridiculous as it gets. I've never done anything in Uganda except preach the Gospel and speak my opinion about the homosexual issue. There's actually no grounds for litigation on this."
The Daily Agenda for Sunday, January 15
Jim Burroway
January 15th, 2012
TODAY'S AGENDA (Theirs):
Scott Lively Webcast On "The Global Threat of Homosexuality". The Resurrection Life of Jesus Church in Carmichael, CA, is run by a guy by the name of Pastor John S. Torell, who says he is the founder and president of European-American Evangelistic Crusades, Inc. Torell is something of a conspiracy theory connoisseur, with things to say about the Bilderbergers, the Jews and the New World Order. On the plane crash that killed Polish President Lech Kaczynski, Torell wrote, "Whenever politicians die 'accidentally', it's worthwhile to see if the deceased politicians had been doing anything that may have angered the Jews or the New World Order, which in Europe takes the form of the European Union (EU)." He says the Jews, which runs the Secret World Government, hates the Tea Party. As for the Occupy Wall Street Movement, it is the product of a conspiracy involving Estonian-born Kalle Lasn, Barack Obama, ACORN, North Korea, the American Nazi Party, the Communist Party, Iranian Ayatollah Seyyed Ali Khamene, Venezuela president Hugo Chavez, and Roseanne Barr (who is, in case you missed it, a Jew who was born in the Mormon capital of Salt Lake City).
Also, HIV is manmade, created in "an ultrasecret government project called the Special Virus Program." Another secret government program, in cooperation with that Jewish-run Secret World Government, is responsible for the earthquakes in Japan and Haiti. As for 9/11, the people who did it aren't the people you think did it. To find out who did it, you have to watch this video, which I haven't, so I don't know who did it. Mormonisms are a cult, United Pentecostals are a cult, Seventh Day Adventism is a cult, Unitarian Universalism is a cult, Catholicism is a big time cult, and Judiasm, in addition to controlling the Secret World Government, is also a cult. And anybody who doesn't read the King James Bible will probably end up in hell if they're not careful.
And so it should come as no surprise that the Resurrection Life of Jesus Church will host Scott Lively for a live webcast this morning on the topic of "The Global Threat of Homosexuality." Lively has traveled the world peddling his own brand of conspiracy theories including these in Uganda in 2009. His main schtick is to claim that Nazism was, in its essence, a gay movement, and that the inevitable result of equality for gay people is violent fascism. In Uganda, he pinned the blame for the genocide in neighboring Rwanda on "super macho" homosexuals. When it comes to paranoia, the aphorism about birds of a feather always springs to mind. The web cast, if you're interested, begins at 10:30 a.m. PST.
TODAY'S AGENDA:

Ugandan Pro-Gay Pastor To Speak: Washington, D.C. As we noted the past two days, Rev. Mark Kiyimba, pastor of the New Life Kampala Unitarian Universalist Church, is currently on a speaking tour in the U.S., spending this weekend and part of next week in the Washington, D.C. area. He has been a consistent voice for LGBT equality in Uganda. If you have a chance to hear him, you should avail yourself of the opportunity. Here is his schedule:
Celebrations This Weekend: Aspen Gay Ski Week: Aspen, CO; Melbourne Pride's Midsumma Carnival: Melbourne, VIC.
If you know of something that belongs on the agenda, please send it here. Don't forget to include the basics: who, what, when, where, and URL (if available).
And feel free to consider this your open thread for the day. What's happening in your world?
Occupy Hate, a.k.a. Scott Lively
Jim Burroway
November 21st, 2011
A contingent of the Occupy Springfield, Massachusetts, movement took time out to deliver a special message to Scott Lively's drop-in coffee shop. Lively counters with a bit of preaching of his own.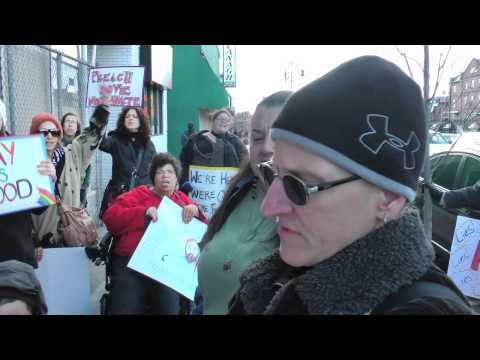 [via Joe.My.God]
LaBarbera calls (possible) vandalism a "hate crime"
Timothy Kincaid
October 21st, 2011
Peter LaBarbera (who calls himself "Americans for Truth About Homosexuality") is delighted about the instance of (possible) vandalism experienced by Christian Liberty Academy. He hasn't had this much attention in years.
Again today the American Family Association's newsletter gave him an opportunity to get his picture in front of potential donors. And, Pete never loses an opportunity to play a victim of the insidious homosexual agenda (send money). He has been a victim of a hate crime, you see.
Americans for Truth About Homosexuality (AFTAH) founder Peter LaBarbera tells OneNewsNow police are investigating the incident on the basis of vandalism, even though he sees it as a hate crime. Though he is no fan of hate crime laws, LaBarbera wonders if some victims of hate are more important than others.

"It seems that if this were a crime against homosexuals, there would be immediate calls, that this would be prosecuted as a hate crime," he suggests. "But when Christians are the victims of hate, there's not much talk about that."
A hate crime is one that identifies its victims not based on anything that they have personally done, but rather solely because of their identity within a group. It is a crime against a group, intended to intimidate that group, and only incidentally about the individual.
This appears to be the opposite. This is a crime (if it is indeed a crime) directed specifically towards individuals, Scott Lively and Peter LaBarbera. One could even say that the manifesto is devoted to Lively with a few mentions of LaBarbera and is extremely personal in its focus.
So unless Scott Lively is his own social demographic, no hate crime was committed.
Gay vandalism claim likely a hoax
Timothy Kincaid
October 19th, 2011
[Edited to include Point 6, provided by Jim Burroway]
On October 15, someone called "Pissed" posted a statement on the Chicago Independent Media Center website claiming that they had "put two chunks of concrete through the glass windows and doors of the Christian liberty academy" because of the scheduled Americans for Truth fundraiser featuring Scott Lively that evening.
I think it is a hoax.
Now it's possible that the school was vandalized. It's even possible that the vandalism was performed by outsiders and not staged for media effect. And if that happened, it's likely that the vandals were either gay or gay-supportive. But the statement simply isn't believable.
First off, Peter LaBarbera (who calls himself "Americans for Truth About Homosexuality") claims that the statement was e-mailed to Christian Liberty Academy, Americans For Truth, Scott Lively and others within a few hours of the event. Those who blog know that this is some pretty quick writing.
Which leaves one of three possible scenarios: 1) the perpetrator of the violence rushed home to write a manifesto, research the details of Lively's involvement in Uganda, and find the phone numbers and email addresses of a number of individuals; 2) the event was planned in advance with the decision to use strikingly different language in the statement than in a note accompanying the event; or 3) the author of the statement had no need to research the details contained in the statement or the email addresses to whom it should be sent.
I think the third scenario most likely.
After a while you learn the language of gay activists, the language of anti-gay activists, and (more importantly in this case) what anti-gay activists think is how gay people speak. This particular declaration is a combination of standard anti-gay-speak peppered with the phrase "hate group" and a few anecdotes to make it seem like it comes from a gay or gay-supportive individual.
Take, for example, the following paragraph:
In 2009, Lively and other American homophobes spoke at a conference in Uganda called "Exposing the Truth About Homosexuality and the Homosexual Agenda". This conference stirred the anti-gay atmosphere that already exists in Uganda, a country with laws that punish homosexual acts with up to 14 years in prison. As a direct result of this conference, participants have drafted a bill that, if passed, would increase the sentencing for homosexual acts to life sentences and execution and make it a legal responsibility to report homosexuals in the community. Lively has also co-written a book called "The Pink Swastika" which claims that homosexuals created the Nazi Party and were responsible for the Holocaust, a book that has been repeatedly denounced as inaccurate by historians.
While this might fly with someone who was unaccustomed to reading the rants of those on both sides of the Culture War, this raised red flags with me.
Few gay activists, especially of the 'throw bricks' variety, know the name of the Ugandan conference. In fact, here at Box Turtle Bulletin – the source of that source and the most thorough reporter of its detail – we referenced only once that this was the stated theme of the conference.
Note the passivity of the language. Gay activists tend to discuss this event as being primarily driven by the Americans. This takes the opposite stance – they only "spoke at" the conference. (The truth lies in between. The American anti-gay evangelists were not the original organizers, but were the stars of the show. As published American authors with claims of political and religious authority, they were granted the opportunity to speak before the Ugandan Parliament, were treated with deference, and their statements accepted as fact.)
This paragraph depicts the Kill the Gays Bill as being directed solely towards "homosexual acts." Find me a single gay activist – brick thrower or otherwise – who describes the Ugandan Homosexuality Bill of 2009 in these terms. We rightly note that in Uganda (as in American and everywhere else) bills that target "homosexual acts" in reality target gay people. We know that America's sodomy laws very seldom resulted in prosecution for actual sodomy but were, rather, the legal basis behind harassment of gay people. The raiding of gay bars, the cruel custody decisions, the military bans and other governmental employment bans, the prohibition of recognition of marriage, and other such official positions were not for the purpose of preventing "homosexual acts" and we don't pretend that they were. Only those who refuse to recognize the humanity of gay people speak as though anti-gay laws are about "acts".
One of the more chilling aspects of the Ugandan Kill the Gays Bill (aside from executing gay people) is the requirement that family, neighbors, friends, doctors, ministers, and others report gay people to the government. And that if they fail (or refuse) to do so, they face the threat of years in jail. Scott Lively supports that provision. And I think "a legal responsibility to report homosexuals in the community" is exactly how he would word it.
And look at the mild nature of criticism of the Pink Swastika: "a book that has been repeatedly denounced as inaccurate by historians." No, it's not "inaccurate", it's historical revisionism at its most insidious and it is denounced by every scholar of the Holocaust as being intentionally dishonest. But to the crowd to whom LaBarbera and Lively appeal, "historians" are ivory tower elitists dedicated to leftist views and therefore immediately suspect.
Who calls gay people "homosexuals" anymore? That right there is a red flag. This "manifesto" uses the word "homosexuals" as a noun for gay people. Gay people or people purporting to support gay rights NEVER call gay people "homosexuals." /li>
And that's just one paragraph. Other language in the article feels more at home within the anti-gay industry than in the gay community (e.g. "counter the Homosexual Agenda") and taken in its totality, this feels more like "this is what they say about us" than it does like the words of a gay person. For me, thee clincher was the listing of phone numbers to invite abuse.
So why would an anti-gay person write and post this?
That one's pretty obvious. To portray the gay community as violent and lawless with goals of "shutting down" anyone who disagrees and, as The Peter put it, "signalling a new brazennes [sic] by homosexual activists". And, equally important to their cause, to portray anti-gay activists as victims who are, in the words of this piece, "under constant attack."
As could be expected, the more rabid members of the anti-gay community are chiming in. The American Family Association sent out a news article featuring Matt (Bam Bam) Barber:
"We are going to speak God's truth in love without fear of reprisal, or even in this case, without fear of violence," the attorney assures. "So I have a message to the gay terrorists that perpetrated this crime: Your terrorist tactics have failed, and you will not succeed in silencing God's truth."
So goal achieved.
But, of course, my analysis is based only on experience and familiarity with the language of activists. I have no inside information on this article and no way of knowing for certain that the person who wrote it was not gay. And though suspicion of the event is shared by others (Joe Jervis of Joe.My.God, for example), we could all be mistaken.
As I said above, it is entirely possible that someone did vandalize the Christian Liberty Academy. Peter LaBarbera has on his website pictures of a paver with "shut down Lively" written on it, along with a note saying "This is just a sample of what we will do if you don't shut down Scott Lively and AFTAH … Fuck Scott Lively. Quit the homophobic shit".
Now this sounds much more like an gay activist of the brick-throwing variety. Not very bright, not well thought out, stupid lashing out without any thought of consequence. And here at Box Turtle Bulletin we unreservedly condemn this behavior. It is wrong and if the perpetrators can be found, they should be held liable for their actions.
According to LaBarbera, the Arlington Heights police are investigating the situation. I wish them the very best success in finding out who threw the pavers, who wrote the statement, and whether they are the same party.
Towards this goal, I call on the Chicago Independent Media Center to voluntarily provide any information that can assist the police in identifying the person who posted the statement. There are times to stand strong on the media's constitutional right not to divulge sources, and then there are times when a paper, as part of a community, can choose to participate in the protection of the community. I hope they do not to become a pawn of the author of the statement.
If a gay person or group vandalized the Christian Liberty Academy and then wrote a statement bragging of the event, I think I can speak for the overwhelming majority of "brazen homosexual activists" when I denounce the action and say that I hope that they are brought to justice.
And if the statement is a hoax written by an anti-gay activist posing as gay, I hope that they are exposed and that statutes dealing with false police claims are brought into play and that they find themselves facing jail time.

Full statement after the break
The Daily Agenda for Saturday, October 15
Jim Burroway
October 15th, 2011
TODAY'S AGENDA (OURS):
Campus Pride College Fair and Prep Day: Los Angeles, CA. Campus Pride's College Fair is an opportunity for LGBT students and their families to discuss educational opportunities with participating LGBT-affirming colleges and universities. The fair features expert advice about LGBT-friendly colleges, scholarship resources and even effective tips for campus visits. The West Coast College Fair takes place today at the University of Southern California from 11:30 a.m. to 1:30 p.m. More information can be found here.
AIDS Walks This Weekend: Atlanta, GA; Austin, TX; Los Angeles; CA; Philadelphia, PA; Tucson, AZ and Watertown, NY.
Pride Celebrations This Weekend: Bakersfield, CA; Jacksonville, FL;  Memphis, TN; Minsk, Belarus; Oklahoma, OK (Black Pride) and Tucson, AZ.
Also This Weekend: Floatilla, Hong Kong and Fort Lauderdale Gay and Lesbian Film Festival.
TODAY'S AGENDA (THEIRS):
Scott Lively Featured Guest At Americans for Truth Banquet: Arlington Heights, IL. Tonight will be a rare event in the constellation of SPLC-designated anti-gay hate groups: the alignment of two of the brightest stars in one locations. Scott Lively, who calls himself Abiding Truth Ministries, will be the featured guest of Peter LaBarbera, who calls himself Americans for Truth About Homosexuality, a a banquet LaBarbera is throwing to try to raise money. And in their bizarre galaxy where truth is unrecognizable, exporting hate is good, and killing gays in Uganda is "the lesser of two evils," LaBabera will be giving Lively something he calls a "truth teller's award." Moody Church pastor Erwin Lutzer will also speak a the event, which will take place beginning at 6:00 p.m. this evening at Christian Liberty Academy, 502 W. Euclid Ave. in Arlington Heights, IL, Moody Church pastor Erwin Lutzer will also speak a the event. The Chicago-based Gay Liberation Network will be organizing a protest, also beginning at 6:00 p.m. outside the venue. If you are in the Chicagoland area, please do what you can to be there.
TODAY IN HISTORY:
National Gay Task Force Founded: 1973. Dr. Howard Brown made the front page of The New York Times two weeks earlier when the the former Health Administrator for New York Mayor John Lindsay's administration came out of the closet. Brown had resigned in 1967 when he learned than an investigative reporter planned to expose homosexuals in City Hall.  His secret was not revealed, which meant the reasons for his resignation remained a mystery until he came out 1973. The response, he said, was overwhelmingly favorable, so much so that he decided to establish a new gay advocacy group. This new group, the National Gay Task Force (later to become the National Gay and Lesbian Task Force, or NGLTF) would be the first such organization with a truly national scope. According to an article in The Village Voice:
The Gay Task Force will work nationally on gay civil rights legislation and discrimination against gay parents in custody and visitation cases, and will coordinate information from all parts of the country about the progress toward gay civil rights. According to a spokesman for the group, a major coming out of the closet of other well-known people is expected in the near future.
Dr. Bruce Voeller served as its first Executive Director. Other leaders of the new organization included historian Martin Duberman, pioneering activist Barbara Gittings, and Ronald Gold who would had already played a pivotal role in the APA pending delisting of homosexuality as a mental illness later that year.
AIDS a Laughing Matter at the White House: 1982. The very first public mention of AIDS at the White House was not an auspicious one. It was the subject of jokes and laughter between the press and White House Deputy Press Secretary Larry Speaks:
Q: Larry, does the President have any reaction to the announcement ­ the Centers for Disease Control in Atlanta, that AIDS is now an epidemic and have over 600 cases?

SPEAKES: What's AIDS?

Q: Over a third of them have died. It's known as "gay plague." (Laughter.) No, it is. I mean it's a pretty serious thing that one in every three people that get this have died. And I wondered if the President is aware of it?

SPEAKES: I don't have it. Do you? (Laughter.)

Q: No, I don't.

SPEAKES: You didn't answer my question.

Q: Well, I just wondered, does the President ­

SPEAKES: How do you know? (Laughter.)

Q: In other words, the White House looks on this as a great joke?

SPEAKES: No, I don't know anything about it, Lester.

Q: Does the President, does anyone in the White House know about this epidemic, Larry?

SPEAKES: I don't think so. I don't think there's been any ­

Q: Nobody knows?

SPEAKES: There has been no personal experience here, Lester.

Q: No, I mean, I thought you were keeping ­

SPEAKES: I checked thoroughly with Dr. Ruge this morning and he's had no ­ (laughter) ­ no patients suffering from AIDS or whatever it is.

Q: The President doesn't have gay plague, is that what you're saying or what?

SPEAKES: No, I didn't say that.

Q: Didn't say that?

SPEAKES: I thought I heard you on the State Department over there. Why didn't you stay there? (Laughter.)

Q: Because I love you Larry, that's why (Laughter.)

SPEAKES: Oh I see. Just don't put it in those terms, Lester. (Laughter.)

Q: Oh, I retract that.

SPEAKES: I hope so.

Q: It's too late.
If you know of something that belongs on the agenda, please send it here. Don't forget to include the basics: who, what, when, where, and URL (if available).
And feel free to consider this your open thread for the day. What's happening in your world?
Scott Lively Admits "Love The Sinner/Hate The Sin" Was Just A Ruse
Jim Burroway
September 24th, 2011
Holocaust revisionist and two-time winner of the Southern Poverty Law Center's hate group designation Scott Lively wrote in World Net Daily yesterday that the Culture War against gay people is "nearly lost" — and it's all because "Christians" were sleeping:
Many Christians are only now awakening to the seriousness of the threat to our society posed by the homosexual movement. But, unfortunately for us all, it is only the sounding of the victory trumpets by "gay" activists that has stirred Christians from their slumber. The watchman's walls have been broken and breached, the village is in flames, and triumphal "gay" culture warriors are leading a long string of young prisoners by their necks into the woods. Most disturbingly, many of the captives, including some of the children of these still sleepy-eyed Christian parents, seem happy to go.

I have long warned that the homosexuals agenda is not about tolerance but control. It started, of course, with a plea for tolerance, but then immediately shifted to a demand for acceptance and in due time to celebration of all things "gay."
Lively, whose book, The Pink Swastika, fabricates the discredited argument that Nazism was, at its very core, a homosexual movement and that violent fascism inevitably follows whenever gays gain a modicum of protection and equality under the law, laments the passing of the days when teachers weren't allowed to be gay:
I'm old enough to remember the debate about whether homosexuals should be allowed to be teachers at all, let alone allowed to punish students for disagreeing with the class-time advocacy of their sexual lifestyle. I remember the protestations from the pro-homosexual side, that "gays and lesbians just want the right to be left alone. They would NEVER interject their private lives into the classroom." They all lied, and we believed them, and now our children and grandchildren are being forced to celebrate "gay" culture under penalty of law.

That is the end game for the "gays." The final stage of their agenda, which has always been about taking control of things, is the power to punish dissent: to silence or crush their detractors. They only have this level of control in a few places yet, but they are moving fast to achieve it everywhere, and the momentum is on their side. And wherever they have it, they use it.
Lively also admits that "loving the sinner and hating this sin" was just a ruse all along, and it's one that he now recognizes that we can all see right through it:
I'm not going to add here how much I really love homosexuals and just hate their sin. As a question of public policy it really shouldn't matter what I think about the perpetrators, just whether I am telling the truth about their agenda. I don't want to reinforce the ridiculous assumption that Christians need to offer a disclaimer to prove they aren't haters. It wouldn't mitigate their hostility toward me for saying it anyhow. Trust me.
Of course, Lively's use of "love the sinner/hate the sin" has been nothing but an empty aphorism. In 2007, Lively spoke at a Watchmen On the Walls conference in Latvia, where he taught his audience to say "live the sinner but hate the sin" as a very specific battlefield tactic:
In America, the Christians have chosen a phrase that explains what we believe. And you may have heard this phrase. "We love the sinner, but hate the sin." Amen? Okay. Say that with me. "We love the sinner, but hate the sin." That must be your phrase because that will protect you from being misrepresented. And it will bring you in harmony with Christians around the world.

… You have to understand how this battle works. We follow the God of truth. They Holy Spirit, who is called the Spirit of Truth, lives inside of us. But our adversaries follow the father of lies. Scripture calls him the "father of lies." They can't tell the truth, and they to tell the truth because they don't want people to listen to what we have to say. But we can't say anything that would give them proof that what they teach is right… So we must be wise as serpents and innocent as doves. We won't stop telling the truth, and they won't stop telling the lies. But this is a war.
Scott Lively's Abiding Truth Ministries has been on the Southern Poverty Law Center's very short list of  anti-gay hate groups for a few years now.  Not only that but Lively is co-founder of Watchmen On the Walls, another identified hate group, and he has worked with Massachusetts-based MassResistance, yet another identified hate groups. In October, he will speak at a banquet for Peter LaBarbera's Americans for Truth About Homosexuality, which is also listed in the SPLC's very short list. In 2009, he unleashed what he called his "Nuclear Bomb" at an anti-gay conference in Kampala, Uganda, which sparked yet another round of anti-gay vigilantism and violence, culminating in the introduction of the draconian Anti-Homosexuality Bill in that nation's Parliament.
Scott Lively: Marriage Equality is "Sign Of The End Times"
Jim Burroway
August 3rd, 2011
Guess what folks. We're the chosen people!  Or, rather more precisely, "God has chosen rampant homosexuality to be a key warning sign for judgment of the world as a whole, and not just of individual nations," says Scott Lively. One proof is with the rainbow itself:
In Chapter 9 God made an everlasting promise never again to destroy the earth by water, and said "I set my bow in the cloud and it shall be for a sign of a covenant between Me and the earth." hereafter, fire was always the symbol and means of God's wrath…

Did you also catch the spiritual significance of the rainbow in this context? Why has the homosexual movement chosen the rainbow as its symbol? I think they are deliberately flaunting their sin under God's nose while holding up the reminder that He promised not to destroy the earth by flood again. They are proclaiming "See, God, you can't stop us!" which was the exact sentiment expressed by Massachusetts Governor Deval Patrick when he signed the first "gay marriage" policy in the nation into law: looking up at the sky he said something to the effect of "See, nothing happened."
So, it's Satan, definitely Satan, who is is behind all this. There is no other possible explanation:
I have made this point before, but it bears repeating. I am 53 years old. When I was born homosexuality was illegal throughout the entire world. In the space of just half a century this tiny 1-3% of the population have made themselves a global political power with greater influence in the courtrooms and legislatures of the world than the Church of Jesus Christ. This astonishing transformation surpasses that of Darwinism, Marxism, and even Islam in its speed and breadth of reach. To my thinking, this can only have been accomplished by the god of this world (Satan 2 Cor 4:4) who knows his time is short and is making his move. What is more alarming is the shocking apathy of the church, which I take as a sign of the apostasy warned about by Jesus in Matt 24:12. The "love of most" for the truth of God truly has grown cold.
Scott Lively's Sixth Sense: "I See Gay People"
Jim Burroway
April 6th, 2011
Who knew we've been so invisible all this time? Like, you know, in San Francisco:
"They're really the driving force behind all the different elements of what we call 'the culture war,'" he shares. "They haven't been visible in doing this, but they've been the driving force — because their essential goal as a movement is the overthrow of the biblical model of family."

Lively explains that the city of San Francisco has a high concentration of homosexual power, and the city has taken direct action against the Catholic Church and against businesses that do not support homosexuality. He expects the same radical agendas to be prevalent throughout the state in the near future.
Goodness! Far be it for us to decide not to patronize businesses and religions we don't like.
In a separate post on his own web site, Scott Lively sounds downright despondent over the invisible homosexual hand. And when he gets despondent, he goes even more unhinged:
Consider the magnitude of what our generation is witnessing. Neither the four millennia of legal precedent, nor the opinions of the vast majority of the people of the world, nor the power or the authority of the worlds religions across the globe, nor the painful lessons of secular history of the consequences of sexual perversion to civilizations have proved sufficient to stop a relatively tiny group of sodomites from taking the reins of Western power and creating new rights for themselves at the world's expense.

It is insanity, and I am afraid that it may be terminal. When the "right" to spread sexual disease and dysfunction supersedes the right to discourage such things in the courtrooms and legislatures of the world's ruling powers their end is likely near.
And yet, Lively is apoplectic over the notion that anyone could possibly consider his Abiding Truth Ministries a hate group. Go figure.
Scott Lively Warns of "Outbreak of Homosexuality" In Moldova, Part of a "Secret Plan By the Homosexual Powers of the EU"
Jim Burroway
March 6th, 2011
According to this clunky Google translation of a Moldovan news report:
Public Association "Pentru Familie" / "For the family / states that adopted recently by the Government bill threatens the institution of family and social morality as homosexuality is pick up swing in the Republic of Moldova. Visiting Association, an international expert in the field of human rights Lively Scott, warned of "an outbreak of homosexuality" in Moldova, in case the parliament adopts the bill, reports Info-Prim Neo.

This is a bill to prevent and combat discrimination, government-approved on February 17. Chairman of the association "Pentru Familie" Vasile Filat said at a news conference on Monday that if this law is passed in parliament, this would entail the legalization of same-sex marriages, adoption of children couples gay acceptance of homosexual practice as the norm in schools.

…Foreign visitor Lively Scott stressed that this law has caused dire consequences in other countries where it was passed. "I guarantee you, if this bill passes, all the evil that struck the European Union, the collapse and to the Republic of Moldova", – said the expert in the field of human rights.
Holocaust revisionist Scott Lively is up to his old tricks again, even though it was not even two months ago that he said he was through with anti-gay activism.  Shocking, I know.
I'm having a hard time finding any more info on what Lively's doing or saying in Modova, but here's something I found interesting coming from what looks like an email to supporters from Lively posted to a Canadian web site:
However, in God's divine schedule I arrived just after the first move of a secret plan by the homosexual powers of the EU to push an anti-discrimination law based on sexual orientation through the Moldovan government.

I wish I had known at the beginning of my ministry in the early 1990s what I know now. We might have stopped the homosexual agenda in America. What I know now, and have taught the Moldovans, is that the anti-discrimination law is the seed that contains the entire tree of the homosexual agenda, with all of its poisonous fruit. It is the cornerstone of their legal and political strategy, putting the power of the governernment [sic] behind the legal premise that the practice of homosexuality deserves public approval and that opposition to homosexuality, including that which is rooted in the Biblical world view, must be discouraged. From that premise the conclusion is logically inevitable.

The Moldovan version of the bill however went much farther than usual and included a far reaching provision to give homosexual activists power in the national school system, teacher training and the preparation of instructional materials. They normally don't include such power-grabbing measures at the beginning, which indicates to me that they had extreme confidence that this law would pass with very little scrutiny or opposition.
Lively is adding a new twist to his vast worldwide homosexual conspiracy. Again, from the Moldovan web site:
Lobbying for the legalization of homosexuality is made from outside the Republic of Moldova, by agents of millionaire George Soros, who is interested in the fact that homosexuals have become a force, said Lively, Scott.
I wish I had just a tenth of the the imagination it takes to to make this up.
The unfortunate thing however is that Moldova has a serious problem with severe anti-gay violence. In 2008, a gay pride march was in the Moldovan capital of Chisina was attacked and broken up by a mob of skinheads and Moldovan nationalists. Violence and calls to violence has a habit of following Lively around, which is just one of many reasons for his "ministry" being among the very few in the U.S. who is listed as an anti-gay hate group by the Southern Poverty Law Center. In 2009, he unleashed what he called a "Nuclear Bomb" in Kampala, Uganda. That sparked yet another round of anti-gay vigilantism and violence, culminating in the introduction of the draconian Anti-Homosexuality Bill in that nation's Parliament.
Scott Lively endorses anti-gay violence in Uganda
Timothy Kincaid
February 3rd, 2011
It is not by coincidence that the three organizations with which anti-gay activist Scott Lively is associated are all deemed by the Southern Poverty Law Center to be Hate Groups. Lively has earned that well-deserved designation. And his latest commentary is not an exception. (RyanSorba)
Having accused gays of orchestrating Hitler's Nazi regime and being responsible for genocide in Rwanda, it certainly isn't beyond him to take the opportunity of David Kato's horrific murder to declare that it is "lavender Marxists" that are murdering Uganda.
Uganda is being murdered. The nation once called "The Pearl of Africa" by Winston Churchill, a lush and beautiful country as fertile as the Nile Delta.

It is the nation that retained its self-rule through centuries of African colonialism, the society that survived even the atrocities of the cannibal cultist Idi Amin, the culture that has been thriving in Christian revival for over a dozen years.

This great and honorable nation, alone in Africa to have all but conquered the scourge of AIDS through abstinence – and whose First Lady led a holy gathering of thousands of believers on the eve of the millennium, dedicating her homeland "to Jesus Christ for a thousand years" – this Uganda, a shining light in the Dark Continent, is being murdered.
But while this nonsensical rhetoric is troubling, even more so is Lively's endorsement of anti-gay violence in Uganda:
It is as if the militant ranks of "Code Pink" were transported back to 1890s America to agitate for "sexual freedom." Our great grandparents would not have countenanced this. There would have been violence, as there has now been in Uganda. [emphasis added]
Lively claims that it is the gays themselves, "agents provocateur", who deliberately goad naive innocents to murder them so as to "poison the gullible against the Ugandans." It's all a George Soros sponsored plot.
So violence is justified. Murder is justified. Pogroms are justified. Such things aren't evil, just "reactions" to the murderous gays.
There is indeed evil in Uganda today, but it is not the reaction of Christian and Moslem citizens to the rape of their culture. It is the pink-gloved hand of western powers that are cutting the throat of Africa's most God-fearing country, and one of the world's most promising Christian democracies.
Scott Lively responds to David Kato's murder
Timothy Kincaid
January 28th, 2011
If you ever questioned whether holocaust revisionist, anti-gay activist Scott Lively is a truly reprobate man, consider this explanation of David Kato's murder:
CNN is reporting that money and clothing had been stolen from his house, which would suggest a run-of-the-mill criminal intent. There is also the possibility that he was killed by a "gay" lover, as was the case with another homosexual activist two weeks ago in New York. Carlos Castro was castrated with a corkscrew by his boyfriend and bled to death in his hotel room.
Even after all this time, I'm still shocked when confronted by pure evil.
Manager At Scott Lively's Coffee Shop A Convicted Child Molester
Jim Burroway
January 13th, 2011
Anti-gay extremist Scott Lively, who travels the world to preach that the international gay cabal is recruiting young children into homosexuality through child molestation, hired a convicted child molester as manager of his Springfield, MA coffee house. The manager, Michael J. Frediani, 38, who lived in an apartment above the coffee house was arrested this morning by Springfield police for failing to register as a Level 2 sex offender.
In New York, Frediani was convicted of sexual abuse in the first degree and aggravated sexual abuse in the second degree in 1996.

The charge relates to an arrest by police in Canandaigua, N.Y., in 1995 in which the victim was an 11-year-old girl. The description of the offense was "deviate sexual intercourse."

He was sentenced to two to four years in state prison, serving at the Midstate Correctional Facility from September of 1996 to February of 1999, according to Carole Weaver, a spokeswoman for the state's Division of Parole.
New York determined that Frediani was a level 3 sex offender under that state's classification which indicates that Frediani is considered most likely to reoffend again. Lively says he didn't know about Frediani's past, and didn't appear too concerned about it:
Frediani had told Lively that he had a "rough past before he became a Christian," Lively said, adding that he did not know any specifics and that he saw no need for a criminal background check.

"That's the beauty of the salvation of Christ," Lively said. "When you come to Jesus Christ, and you accept his forgiveness for your sins, then you are forgiven by Him and enter a new life. It doesn't surprise me that he had a rough past, that he has a criminal record."
Right. He warns everyone that they should keep gay people away from their children, but just anybody can hang out with the local teens at Lively's coffee shop. Yeah. Good thinking.
Lively's coffee shop drew criticism last week from local officials when his new storefront ministry became a hangout for truent teens while skipping school.
Oh, and that bit about Lively turning over a new leaf and no longer being interested in anti-gay activism? I was skeptical. "'Let's see where we are, say, a year from now," I wrote. Well…
Lively said he continues to serve as a conference speaker around the world on the topic of homosexuality, but "it has nothing to do with the ministry in Springfield."
That wasn't even a full week.
Scott Lively's New Leaf?
Jim Burroway
January 5th, 2011
The Boston Globe has an interesting profile of Scott Lively this morning, in which he claims that he is turning aside his old ways and focusing more on helping the downtrodden in his adopted hometown of Springfield, Massachuetts:
Every day, patrons stream to the Christian folk shows and Bible classes at Holy Grounds Coffee House, the café he opened about two months ago on a block not far from downtown. A thousand people turned out for the March for Jesus he led from the café to the steps of City Hall on the day before Easter. And dozens of children and parents flocked to a city park for his annual Family Day celebration, featuring a water slide, face painting, and grilled food. Even the mayor stopped by that event.

"You can't walk down the street without being greeted by somebody saying, 'Hey, Rev. Scott!' '' said Lively, an evangelical pastor who moved to Springfield from California in January 2008. "It's very satisfying.''

…"He has won the hearts of his people with his sincerity and the things he's doing in the community,'' said Archbishop Timothy Paul, pastor of the Basilica of the Holy Apostles and president of the Council of Churches of Greater Springfield. "But I don't believe people in Springfield really know who he is.''
Who Scott Lively really is, is the virulently anti-gay activist whose Abiding Truth Ministriues has been on the Southern Poverty Law Center's very short list of  anti-gay hate groups for a few years now.  Not only that but Lively is co-founder of Watchmen On the Walls, another identified hate group (it was those Watchmen connections that brought him to Springfield), and he has worked with Massachusetts-based School of Christian Activism and MassResistance, two more identified hate groups. He is the author of author of the widely discredited book, The Pink Swastika, in which he claims that the Nazi movement was, at its core, a gay movement, and that the inevitable result of LGBT equality would be the imposition of murderous fascism.
In 2009, he took his message to Uganda with Exodus International board member Don Schmierer and International Healing Foundation's Caleb Lee Brundidge (Brundidge went on behalf of IHF head Richard Cohen). He would later brag that his messages was  a nuclear bomb against the gay agenda, which helped to prepare the groundwork for the introduction of the draconian Anti-Homosexuality Bill in Uganda's Parliament.
The Globe provides considerable coverage of those events. Lively is unrepentant in his views about gay people, but he now says he has changed his focus.
"We're not fighting the culture wars here in Springfield,'' he said. "The issues here are more fundamental than that. You can't deal with the culture wars with people who are struggling to survive. Those issues are not relevant. These are people who are trying to live.''

"This whole mission in Springfield is to show by example the positive side of all this — that when you follow the Biblical approach and try to be as true to him [God] as you can, you get the maximum positive benefit for yourself and society,'' he said. "It's completely different from all the things that I've done in the past, which is going against the wrongs. We're working toward what is right.''

…Lively's café features soft music and free Bibles, but no copies of "Pink Swastika,'' or "7 Steps to Recruit-Proof Your Child.'' On a recent day, two teenagers chatted at one table, and two lounged on a sofa, while a few regulars talked with the long-haired manager, Michael Free, who offers blessings to patrons.
So, has Lively fully abandoned the culture war? I doubt it. He's made similar noises before, but since then has argued that repealing "Don't Ask, Don't Tell" would result in a Nazi takeover of the U.S. military, and he went on The Daily Show to say that gay men exhibit absolutely no moral restraint whatsoever. More recently, he ran as a write-in candidate for Massachusetts governor with MassResistance's endorsement.
The Globe closes with Lively saying;
"If someone were looking for Scott Lively to stop being involved in the other stuff, this is it,'' he said in an interview in his café. "Those people who criticize me, they should be happy."
Believe me, I will be very happy when I never have to write about him again. Let's see where we are, say, a year from now.
MassResistance Endorses Scott Lively As Write-In Candidate for Governor
Jim Burroway
August 13th, 2010
MassResistance, the most prominent group in Massachusetts that has been fighting a quixotic battle against 'the state's same-sex marriage law since the Goodridge decision, has become increasingly rabid in its anti-gay opposition. So much so, that they are one of only fourteen anti-gay hate groups tracked by the Southern Poverty Law Center. (That's out of 932 active hate groups in the United States the SPLC tracked in 2009.) But to give you an indication of how firmly entrenched they are in the politics of personal vilification, MassResistance has now endorsed holocaust revisionist Scott Lively as write-in candidate for Massachusetts governor in the GOP primary:
Lively is everything that (GOP primary front-runner) Charlie Baker is not. He is principled, pro-family, pro-life, pro-traditional marriage, pro-2nd-amendment, pro-religion, pro-parents' rights, and utterly fearless.

Send a clear message to the RINO establishment

There's nothing quite like voting for someone you actually support, rather than the lesser of two (or three) evils.

And by thousands (we hope!) of people voting for Scott Lively as a write-in candidate in the September 14 Republican Primary, a very strong statement will be made to the RINO Republican establishment, especially since relatively few people vote in most primaries. Don't assume you own us. What you're selling, we're not buying. The people running the Massachusetts Republican Party love to use social conservatives to do the grunt work on campaigns, but they arrogantly see themselves as above "dirtying" themselves with the principled issues that conservatives care about.
Scott Lively is best known as the author of the widely discredited book, The Pink Swastika, in which he claims that the Nazi movement was, at its core, a gay movement, and that the inevitable result of LGBT equality would be the imposition of murderous fascism. He recently argued that repealing "Don't Ask, Don't Tell" would result in a Nazi takeover of the U.S. military, and he told The Daily Show that gay men exhibit absolutely no moral restraint whatsoever.
In March 2009, Lively was one of three American anti-gay activists to deliver what he called his "Nuclear Bomb against the gay agenda" at a conference in Kampala, Uganda which ultimately led to the introduction of the draconian Anti-Homosexuality Bill in Uganda's Parliament. That bill calls for the death penalty against LGBT people under certain circumstances, and virtually criminalizes knowing or providing services to gay people. Lively has called that bill "a step in the right direction" and "the lesser of two evils," although he claims to oppose the death penalty and has falsely claimed on multiple occasions that the death penalty has been removed from the bill. It has not. The bill, while unchanged, now appears stalled in two Parliamentary committees following international outcry.
Scott Lively himself is no stranger to the SPLC's list of anti-gay hate groups. His own Abiding Truth Ministries, now based in Springfield, Massachusets, is also listed as an anti-gay hate group. He has worked closely with the other two Massachusetts-based anti-gay hate groups. He delivered a series of lectures at the School of Christian Activism, which is a ministry of the New Generation Christian Center. New Generation itself is a ministry of Latvia-based pastor Alexey Ledyaev, founder of the New Generation Movement. Lively and Ledyaev co-founded an international anti-gay movement known as Watchmen On the Walls, which is also listed as an anti-gay hate group by the SPLC.
(By the way, here's a trivia note. The picture that MassResistance posted in their endorsement of Scott Lively is a cropped version of my screen-capture from video of Lively speaking on the first day of a Watchmen On the Walls conference in Riga, Latvia. What, they couldn't get a headshot from their good friend?)
Which means, for those of you keeping track, that Lively is now working very closely with four of the fourteen anti-gay hate groups tracked by the SPLC.
Scott Lively's ties with MassResistance are deep. He has appeared on MassResistance's podcast as far back as 2006, and his writings are promoted in MassResistance's web site. Last March, Lively joined Peter LaBarbera to speak at a MassResistance banquet. Last March, Lively joined Peter LaBarbera to speak at a MassResistance banquet.
MassResistance's Brian Camenker spoke at a rally put on by the Plymouth Rock Tea Party last July. This appearance followed the cancellation of another Tea Party rally on the Lexington Battle Green due to controversy over Camenker's participation.  Camenker will also appear at a South Boston Tea Party rally on Aug 22, where the featured speaker will be Don Feder. It should come as no surprise that Feder, who once described himself as being "to the right of Attila the Hun," was also a featured speaker at the Watchmen's Riga conference. Anti-gay extremism forms a very tight little world.
Scott Lively on the Daily Show
Jim Burroway
July 29th, 2010
Jason Jones caught up with Holocaust revisionist Scott Lively on last night's The Daily Show. Believe me, you so have to watch this:


I loved watching Lively's facial expressions as he understood how completely crazy he sounded at times. I wonder at what point did he realized that this was not your typical deferential documentary?
Scott Lively is co-author of The Pink Swastika, now in its fourth edition, in which he claims that Nazism and fascism were, at its core, a gay movement, and that in any country where LGBT equality becomes a reality, violent and murderous fascism would be the inevitable result. Last June, Lively warned that if "Don't Ask, Don't Tell" were repealed, the U.S. military would be taken over by modern-day Nazis. In March of 2009, Lively was one of three American anti-gay activists who put on a conference in Kampala, Uganda, which laid the groundwork for the introduction of the draconian Anti-Homosexuality Bill. He told that audience that murderous gay men were likely responsible for the 1994 Rwandan massacre.
Zagreb Pride
Timothy Kincaid
June 23rd, 2010
The Pride Parade in Croatia seems to have gone off without much problem. Yes, the neo-Nazis protested (they seem not to have read Scott Lively's Pink Swastika), but riot police were on hand to protect the marchers. Check out some great pictures and commentary here.
Scott Lively Warns of Nazi-Like Takeover If DADT Is Repealed
Jim Burroway
June 2nd, 2010
Holocaust revisionist Scott Lively has a new post up at his web site, in which he promises to personally go all-out to oppose the repeal of "Don't Ask, Don't Tell" by distributing copies of his book, The Pink Swastika to every member of the Senate — assuming he can get the donations he needs. Yes, there's a fundraising angle, but that shouldn't distract anyone from understanding that Lively is a true believer in his Holocaust revisionism whether it pays him a red cent or not.
In the Pink Swastika, Lively posits that the German Nazi movement was, at it's very core, a homosexual movement, and that militant and violent fascism is the core feature and goal of the LGBT equality movement. He uses that same twisted view of history to argue against DADT's repeal.
Lively certainly can't be faulted for having an overly-active imagination. Consider his prediction of what will happen if DADT is repealed. First, if gays are allowed in the military, then straight people will refuse to serve. Those straights who remain will turn to violence in response to the unrelenting sexual harassment. That violence will lead to "politically correct" sensitivity training, which will prompt a further exodus. This then leads to a draft, which would be supported by the "anti-war Lefties." But that sensitivity training? It won't work, so they will have to segregate the services into gay and straight units. And that's when the homosexuals take over all the branches of the military — just like, he says, what happened in Nazi Germany.
Whether or not a segregated service was initiated, a homosexual subculture of servicemen would form, characterized by intense internal loyalty and political ambition. Eventually, this "army within an army," buoyed by pro-homosexual "affirmative action," and the ability to act covertly (due to the fact that some would remain "closeted") would come to dominate the services. What would they do with such power? The historical precedents are uniformly bad.
And just when the gay-Brownshirts have their own private army, that's when the gay-hating Muslims gang up and attack. The end.
You know, I hope Lively does succeed in getting his message to every U.S. Senator. If he didn't exist, we'd have to invent him.
But in all seriousness, the truly disturbing part of this whole thing is this: Lively's lunacy is easy to laugh at when he lets his paranoia run wild here in the U.S. But when he exports it to Russia, Eastern Europe or Uganda, it causes real and lasting damage. He's a buffoon, but that doesn't mean he's not mortally dangerous.
Scott Lively Struggles With Uganda's Death Penalty
Jim Burroway
May 27th, 2010
Current TV's Vanguard reporter Mariana van Zeller has posted some outtakes from her outstanding documentary "Missionaries of Hate". Already, we saw a six-minute interview with Ugandan MP David Bahati, who introduced the Anti-Homosexuality Bill into Parliament in October 2009. What follows is an extended clip of her interview with Scott Lively, the American holocaust revisionist who delivered his infamous "Nuclear Bomb" at the March 2009 conference in Kampala that set the stage for the bill.
Lively leads off with the boast that he was "one of the people that helped to start the pro-family movement there. … This was all new to them." And so they asked him to speak. It's an interesting boast.  Lively claims credit for parachuting into this lost country and setting up a "pro-family" movement. Those poor Ugandan's couldn't have done it without him. But criticizing him for firming up the conditions that facilitated the Ugandans who put forth and supported the Anti-Homosexuality Bill, well, that's racist to suggest Ugandans weren't capable of doing this all on their own. (Of course, nobody has suggested such a thing. We've only noted his active participation in the process.) Yet there's not even the slightest hint that this glaring contradiction has ever crossed his mind.
This clip also provides clearer context to Lively's statement in the documentary where he calls the bill the "lesser of two evils," the two evils being the bill itself or allowing the so-called "gay agenda" to take over Uganda. In the documentary, it wasn't entirely clear whether the form of the bill he was endorsing as the "lesser of two evils" included or excluded the death penalty. In this clip, he's more clearly against the death penalty, but he really has to struggle with it for quite a while before he gets there. After mulling over a few possibilities for its inclusion, he finally says, "I don't believe that it's… that I could support it that way." Even still, it looked to me as though he was reluctant to say even this much against the bill. He looks as if he still needs some convincing.
Watch:
Click here to read a rush transcript of the interview.
Myths and Consequences: The True Impact of the Kampala Anti-Gay Conference
Jim Burroway
May 26th, 2010
One criticism of the coverage of the three American Evangelists who held their anti-gay Kampala Conference in March 2009 and its aftermath is over the inference that without the conference, we wouldn't be in this mess today. Critics of our coverage have charged that we have blamed Uganda's rampant homophobia on these American activists — a position we have never held. Holocaust revisionist Scott Lively, one of the principal American speakers who delivered his "nuclear bomb" at that notorious conference  has even played the race card: "It's racist to suggest that Africans have no will of their own to produce public policy to suit their own values."
While we do reject the notion that homophobia in Uganda is an American import, I think it is proper nevertheless to hold the three Americans — Lively, Exodus International board member Don Schmierer, and the International Healing Foundation's Caleb Brundidge — accountable for the conference and its aftermath. As many independent observers have noticed, this particular conference, with the unwieldy title "Exposing the truth behind homosexuality and the homosexual agenda," turned out to be – as I correctly feared when I first learned about it a week before it took place – the prime catalyst for the massive convulsion of anti-gay hysteria which followed and ultimately led to the tabling of the draconian Anti-Homosexuality Bill before Parliament.
Bishop Christopher Senyonjo is a rare straight allies for LGBT people in Uganda, and he's paid a very heavy price for his support. Last Friday, I asked him whether the link between the conference and the events following were overstated:
Jim Burroway: Over here in the US, we often get an unclear, distorted view of what's happening in Uganda. But when we look, we find that there have been a lot of outing campaigns in the 2006, 2007. To put things in perspective, did that conference really make things worse for LGBT people in Uganda? Or was it just that the rest of us in the Western world, we noticed it because we hadn't been paying attention before? Did it really make things worse?

Bishop Senyonjo: What we saw coming to the office, it made things worse. Because soon after that conference, we saw the introduction of the bill, you know what I mean? Because I think it was October something when Bahati came out with that bill, And we knew, I knew, different ones were at that conference that before the people come to speak to us, Lively and his company, they had also met with some members of Parliament and talked with them, even I think with the Minister of Integrity. So they had met with him and of course they spoke with someone in power behind them. Right? And not long after, this bill comes up.

Burroway: So, some of the people that you counsel, have they talked about their fears about the Anti-Homosexuality Bill?

Senyonjo: Oh yeah.

Burroway: Do you have any particular examples you can share without breaking anybody's confidentiality?

Senyonjo: Many, many are afraid, and they have been coming and talking to me about it. And they are afraid and would like to run out of the country. And that is something very difficult. They don't know how they can live in Uganda like that because their life will be in great danger, because they feel they cannot change what they are. And because many are losing their employment, we are trying to see that we can have some place where people can have what they call self-employment in a certain way so that they may not live a destitute kind of life. We're trying to do what we can, to have some possible room where you can have people, even if for a short time in a transition to allow them to see where they are going. Some people would need some shelter for some time, they could need transit to get to work…

Burroway: Because a lot of them loose their family, too, is that correct?

Senyonjo: Oh yeah. That's true. … so it is not easy. There is real fear of what is going to happen if this bill passed. And that is why many of us feel everything possible should be done to reject this bill.
Bishop Senyonjo was an eyewitness to all three days of the three-day conference, so I pressed him to talk more about Lively's talk –particularly Lively's assertion that homosexuality and Nazism are inextricably linked, and his blaming the Rwandan genocide on gays — but he was reluctant to touch those topics. "It creates a lot of unnecessary fears," he said. "It does, and we may probably not want to repeat those." Besides, he felt that those who attended the conference didn't place much weight to those two points, which surprised me because I thought that those were the most incendiary parts of the entire conference.
Instead, it turns out that the centerpiece message that came out of the conference was Lively's,  Brundidge's and Scmierer's reinforcement of the myth that gays recruit school children through child sexual abuse. That was the message which struck a particular chord in Uganda. Bishop Senyonjo concurred:
Burroway: One of the things that I keep reading in the newspapers in Uganda that are on the Internet is that there's a widespread belief that gay people are recruiting children in the schools, and then I heard basically Scott Lively say the same thing at his conference. Do you think that his talk helped confirm some of those fears that people have?

Senyonjo: Yeah. In fact, even myself, I was at one time accused that I was going to schools and trying to recruit, as it were, people into homosexuality, which is actually blackmail. And you can see, what are the intentions of these people to do this? …. People who will say this, they have very evil intentions which I don't understand. Because I don't go to schools to recruit young people. In each …. People develop into what they are, they know themselves whatever they are, what kind of sexual orientation they are. They are not being recruited into it.

Buroway: I know. I mean nobody recruited me.

Senyonjo: [Laughs] That's what I'm saying there's a lot of work we have to do in education. They threaten the parents, they say that people are going to schools trying to recruit their children into being gay or what?  This is not true, you know?
This reinforcement of the already prevalent myth — and it truly is a myth – is perhaps the worst legacy of the conference. As NPR's East African correspondent Gwen Tompkins reported last December:
Scott Lively's philosophies have been deeply internalized here among those who are proponents of the law, and for people who are listening to these public dialogues on homosexuality, they're hearing Scott Lively's words reiterated by Ugandan Evangelicals and others who are proponents of the bill. And they believe it to be Gospel. They believe it to be scientific fact, what they're listening to.
The Vanguard episode, "Missionaries of Hate," which premieres tonight on Current TV, further confirms the critical role that March 5-7 conference played in propelling this myth as "scientific fact."  Here is one exchange between Pepe Onziema of Sexual Minorities Uganda and Peabody-award winning reporter Mariana van Zeller:
Pepe Onziema: (SMUG) The conference basically introduced the idea that homosexuals, their agenda is to recruit children into homosexuality.

van Zeller: So before this conference this concept didn't really exist in Uganda?

Onziema: No.
The truth is, despite Pepe's recollection, this allegation didn't originate with the conference. I've seen these allegations in Uganda media long before the conference took place. But Pepe's faulty memory reinforces what NPR's Tomkins reported, that because those prior suspicions are now regarded as "scientific fact," the March 5-7 conference has now been thoroughly associated with being the origin of the charge. Where before, the myth was passed on as rumor, this conference led by three American "experts" elevated this rumor to "fact." Human rights advocate Julius Kaggwa told van Zeller confirms, "The theme of this conference was the gay agenda and the gay agenda was that there is a massive recruitment of school children into homosexuality." He added:
There is a culture of fear among gay people and among non-gay people. I mean the non-gay people are fearing that the gay people are invading our culture and want to recruit children into this thing. The gay people are scared because there's a massive onset of hatred, if you look like you're gay then you might be arrested, you might get mob justice, you might just get assaulted. So there is generally fear on every front.
And to match what Bishop Senyonjo told me about his clients' fears in the conference's aftermath, van Zeller followed the story of "Long Jones," a gay man who was arrested by police following the conference. Because of the conference, he said, "people became more out and spying and mentioning others."
As we noted yesterday, van Zeller talked to Scott Lively, who admitted that he knew that Ugandan lawmakers were considering new legislation to "strengthen" their already draconian anti-homosexuality law (life imprisonment is already the current penalty, depending on how it is prosecuted). And as we have reported multiple times, the three Americans also met with Ugandan members of Parliament as part of their tour in March, 2009.  Van Zeller also spoke with MP David Bahati, who introduced the Anti-Homosexuality Bill into Parliament. She asked him why he wrote the bill. His response:
I did that for the sake of protecting our children. Here in Uganda we have a problem of people promoting homosexuality, especially using money and materials to recruit young people.
And we know exactly where he got his "facts" from.
"Missionaries of Hate" airs Wednesday on Current TV at 10:00 EST. A preview is also available on Hulu.
(See also part 1 and part 2 of our talk with Bishop Senyonjo.)