Unconfirmed Reports: Museveni May Have Signed the Anti-Homosexuality Bill
Jim Burroway
February 20th, 2014
CNN's Mike Krever quoted Ethics and Integrity Member (and defrocked former priest) Simon Lokodo:
Ugandan President Yoweri Museveni has just signed that bill, according to the minister, but has not yet handed it over to parliament.
It's not clear to me whether Lokodo is much of an insider in Museveni's government. He may be speaking out of personal knowledge, but he also may be working with second-hand information.  Meanwhile, the Uganda Media Centre, the president's official press office, posted the following contradictory statement on its Facebook page earlier today:
Press Statement
February, 20, 2014

Government statement on the Anti-Homosexuality Bill

Following the passage of the Anti-Homosexuality Bill by the Parliament of Uganda in December, 2013, fears have been expressed by sections of the international community that this could lead to the persecution of some sections of Ugandan society.

The 1995 Constitution is the supreme law of Uganda.

Article 21(1)… of the said Constitution states "All persons are equal before and under the law in all spheres of political, economic, social and cultural life and in every other respect and shall enjoy equal protection of the law.

Article 21(2) states "Without prejudice to clause (1) of this article, a person shall not be discriminated against on the grounds of sex, race, colour, ethnic origin, tribe, birth, creed or religion, social or economic standing, political opinion or disability."
Government of Uganda reiterates its commitment to uphold and protect the fundamental rights and freedoms of all persons in Uganda as guaranteed by the Constitution.

No person shall be prosecuted outside the provisions of the law.

Government of Uganda therefore reassures all Ugandans and the international community of its continued commitment and respect for the rule of law in Uganda.

Ofwono Opondo
EXECUTIVE DIRECTOR/GOVERNMENT SPOKESPERSON
UGANDA MEDIA CENTRE
The Facebook comments to that post show that the statement is throwing everyone into confusion: Did he/will he sign the bill?
LGBT Advocate Faces Deportation To Uganda
Jim Burroway
February 19th, 2014
Longtime BTB readers may remember the formerly-anonymous blogger who went by the moniker GayUganda, Dr. Paul Semugoma. He formally revealed his identity in 2012 while in Washington D.C. for that year's International AIDS Conference, where he spoke passionately about the  challenges of confronting HIV/AIDS in a country where rampant homophobia makes it dangerous for LGBT people to disclose themselves to their doctors. He had, by then, moved to South Africa where he had applied for residency.
Today, there are reports that he is currently in detention in South Africa and facing deportation back to Uganda. One source says that "despite a High Court order to stay the deportation, he was taken to airport, where he refused to leave voluntarily."  Here is a full release from earlier in the day from South Africa's Treatment Action Campaign:
(19 FEBRUARY) Dr Paul Nsubuga Semugoma a Ugandan medical doctor and human rights activist has been under arrest for the past 48 hours and is facing the threat of deportation to his country of birth.
 
A group of South African human rights organisations are urgently attempting to halt his deportation as Paul is "wanted" in Uganda for his activism around lesbian, gay, bisexual and transgender (LGBT) issues in his country.
 
Paul has been in the forefront with the Ugandan Parliament in fighting the Anti-homosexuality Bill, were he presented how the bill not only is a human rights infringement but also a health access dilemma to the Men who have Sex with Men (MSM) community. The human rights situation in Uganda has deteriorated, and the LGBT community is particularly vulnerable at this time.
 
Paul is at risk should he be deported to Uganda. 
One of his close friends David Kato was murdered in 2011 and he felt he was not so safe anymore and decided to move to South Africa with his partner where he has been a volunteer doctor at Anova Health Institute for the past three years, working specifically with MSM.
 
Paul's special skills application has been pending since March 2012. His application was lost twice by the Department of Home Affairs, a case was lodged and he was requested to re-apply in which he did in April 2013 and again in August 2013. Paul was allowed to travel using his official passport and a receipt from the department. After several trips in and out of South Africa, Paul returned from a meeting in Zimbabwe earlier this week and was arrested.
 
Lawyers yesterday managed to get a court order to halt the threatened deportation and to order his release. However last night  immigration officials unlawfully refused to release him. As a result his lawyers are returning to the South Gauteng High Courttoday to secure another order for his release.
 
Activists will gather at the court today in support of Paul's release.
 
THIS STATEMENT IS RELEASED UNDER THE BANNER OF THE SA NATIONAL AIDS COUNCIL CIVIL SOCIETY SECTOR, TREATMENT ACTION CAMPAIGN, SONKE GENDER JUSTICE, ANOVA HEALTH INSTITUTE, COALITION OF AFRICAN LESBIANS and SECTION 27
More from AVAC: Global Advocacy for HIV Prevention:
Thank you for the rapid outpouring of support! A couple of actions you can take:

Social media campaigns are being organized using the social media hashtags #JusticeforPaulSemugoma and #freepaul. We encourage you to help raise the profile of the situation on Facebook, Twitter, and with any relevant media contacts.
 The Coalition of African Lesbians is encouraging partners to contact some of the officials with jurisdiction over the situation. Visit: https://www.facebook.com/CoalitionCAL for more information.
For those based in Johannesburg, 2014 AVAC Fellow Yvette Raphael wrote in about a protest that is being organized at OR Tambo International Airport. Contact Yvette at yvetteraphael8@gmail.com for more information.
The Ugandan Parliament has passed the Anti-Homosexuality Bill that would not only further criminalize homosexuality with life imprisonment, but would also criminalize providing services to LGBT people or engaging in any advocacy on their behalf. President Yoweri Museveni has announced that he will sign that bill into law. This will make Dr. Semugoma a three-times criminal: he's gay, he's a doctor providing health care to LGBT people, and he's an advocate.
Ugandan TV: Canada Threatens to Cut Ties
Jim Burroway
February 19th, 2014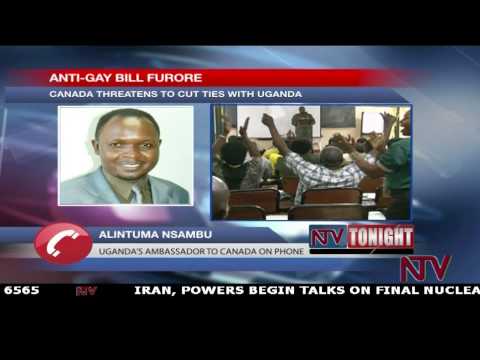 The Canadian government has threatened to cut diplomatic ties with Uganda if the Anti Homosexuality bill is signed into law. Ugandan Ambassador Alintuma Nsambu says he was summoned on Monday by the Canadian Foreign Affairs Minister to explain why Canada should not take that step. Nsambu says if signed, several western countries could isolate Uganda.
Ugandan Singer Criticizes Anti-Homosexualty Bill, Tabloid Retaliates
Jim Burroway
February 18th, 2014
Remember back at a time when, if anyone were to stand up for gay people, they would be accused of being gay themselves? It's been a long time since that's been a common occurrence here in the U.S., although I'm sure it still happens. In Uganda, however, it happens in the papers. The tabloid, Red Pepper, which has a long history of dangerous anti-gay "outings," has taken that tactic when a popular singer, Keko, criticized President Yoweri Museveni's announcement that he will sign the Anti-Homosexuality Bill. Red Pepper says Keko took to social media saying, "If Sevo signs the anti-homosexuality bill, we are always going to be third world. Development is tolerance." And then promptly "outed" her:
For over the years it has been rumored that female rapper Keko is a lesbian.

It has been claimed that the singer is in a gay relationship with fellow singer Sheeba Karungi, and actually stay together in a rented apartment in Kiwatule.

Neither of the two has ever denied the allegations. And now Keko has almost confirmed these allegations by blasting the president over the anti gay bill.
I put "outed" in quotes because I know nothing about Keko. I have no idea whether she's gay, straight, or anywhere in-between. While I can understand that for the sake of visibility, that kind of detail would matter. But in a country like Uganda, that's a first world luxury that gay people can't afford. Here, the retaliation isn't in the "outing," but something far more sinister where being called a lesbian is an accusation of criminal activity rather than just a description of someone's romantic leanings.
The Anti-Homosexuality Bill will criminalize all advocacy by or on behalf of LGBT people with five to seven years' imprisonment. Any day now, Keko's tweet may become a criminal offense. But until that day comes when official sanctions can be applied, rags like the Red Pepper will be happy to provide plenty of unofficial sanctions.
Ugandan Press Secretary: Museveni "Cannot Be Intimidated"
Jim Burroway
February 18th, 2014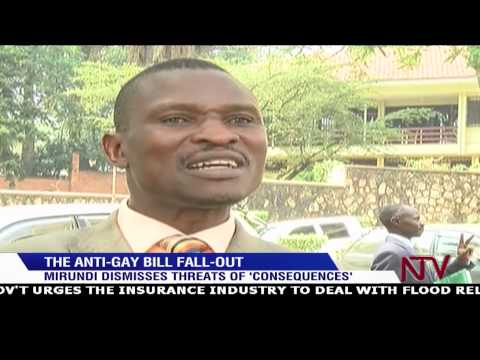 In the above clip from NTV Uganda, President Yoweri Museveni's press secretary Tamale Mirundi responds to US President Barack Obama's statement blasting Museveni for agreeing to sign the Anti-Homosexuality Bill. Mirundi tells reporters that Museveni "cannot be intimidated." On the question of foreign aid, Mirundi said, "we can do without that aid."
Report: US to Provide "Further Evidence" to Counter Uganda's "Scientific Report" on Homosexuality
Jim Burroway
February 18th, 2014
National Security Adviser Susan Rice's Tweeted on Sunday saying, she "Spoke at length with President Museveni last night to urge him not to sign anti-LGBT bill." In a following Tweet, she echoed Obama's statement, adding: "Told him it will be huge step backward for Uganda and the world." Uganda's independent Daily Monitor this morning provided some additional information on that conversation:
Barely 24 hours after his Kyankwanzi pronouncement, the President was already facing the "battle" with the American National Security Adviser, Ms Susan Rice, calling Mr Museveni to express her government's and Mr Obama's reservations on the matter.

According to the Foreign Affairs Permanent Secretary, Ambassador James Mugume, the Americans had called to offer "further evidence" that homosexuality is a natural behaviour in contradiction with what the local scientists had presented.

"We are discussing with the US government. We are waiting to see what they have [to present]. I am told that the Americans have some materials and evidence that they feel were left out by our scientists," Mr Mugume said in a telephone interview yesterday.
Video: "We Shall Have a War With the Homosexual Lobby of the World"
Jim Burroway
February 16th, 2014
Uganda's NTV has posted video of President Yoweri Museveni's announcement that he will sign the Anti-Homosexualty Bill at his ruling party caucus this weekend in Kyankwanzi.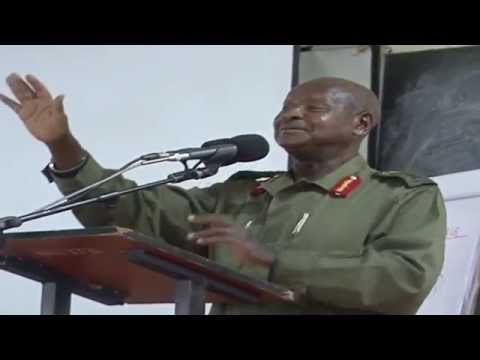 There's more in this broadcast of the program NTV at ONE. Skip ahead to the 25:39 mark:
Why Did Uganda's President Turn on Anti-Homosexuality Bill?
Jim Burroway
February 16th, 2014
That's the political question being asked today. Ugandan President Yoweri Museveni is very well aware of the hit he'll be taking internationally by giving his assent to the draconian legislation. A few months after the bill's 2009 introduction amid international outcry, Museveni told his ruling party caucus that the government should "go slow" with the bill, citing foreign policy concerns. Later that year, Museveni's cabinet reported that they had "rejected" the private member's bill sponsored by M.P. David Bahati. His cabinet tried to repeat that assertion again in 2011. When the bill passed last December, Museveni lashed out at House Speaker Rebecca Kadaga for rushing it through without a quorum, and just four weeks ago he told representatives from the Robert F. Kennedy Center for Justice and Human Rights that he would not give his assent to what he called a "fascist" bill.
So why the turnaround? A Ugandan opposition paper thinks it's purely a matter of domestic political calculations:
The Observer Editor Richard M Kavuma believes the president may have been guided by political calculations. Because he was keen to win over MPs on key issues such as denying suspects bail on certain offences, Kavuma said, the president may have decided to sign the popular bill as a concession.

"But it is also true that some of the president's people may challenge the legislation in court and given Uganda's largely progressive Constitution, they may get the bill declared unconstitutional," Kavuma said.

"That way the president comes out looking good to his anti-gay electorate, while the judges will take the flak from Uganda's generally Christian conservative population."

Kavuma added: "Because the law is likely to fail anyway, the president may have found the political cost of signing the bill to be much lower than that of maintaining his locally 'anti-people' stance.  On the contrary, he will be praised across churches, shrines and mosques if he signs the bill."
According to this analysis, there's virtually no political cost in the short term domestically, and, if it plays out in court the way Kavuma believes, there's no long term political cost either. In other words, it's the most cynical plan conceivable. Nobody loses, except of course Uganda's LGBT citizens, who don't count in this calculation anyway.
The Observer also notes that Museveni's announcement, made at a ruling party caucus this weekend, may have been aimed at tamping down internal challengers who may themselves have presidential aspirations. Museveni is all but assured to announce his run for re-election in 2016, when he will have already spent some thirty years as the country's leader following a 1986 civil war.
Obama: Anti-Homosexuality Bill "Will Complicate Our Valued Relationship With Uganda"
Jim Burroway
February 16th, 2014
The WHite House has issued this statement by President Barack Obama on Uganda's pending adoption of the Anti-Homosexuality Bill:
As a country and a people, the United States has consistently stood for the protection of fundamental freedoms and universal human rights. We believe that people everywhere should be treated equally, with dignity and respect, and that they should have the opportunity to reach their fullest potential, no matter who they are or whom they love.

That is why I am so deeply disappointed that Uganda will shortly enact legislation that would criminalize homosexuality. The Anti-Homosexuality Bill in Uganda, once law, will be more than an affront and a danger to the gay community in Uganda. It will be a step backward for all Ugandans and reflect poorly on Uganda's commitment to protecting the human rights of its people. It also will mark a serious setback for all those around the world who share a commitment to freedom, justice and equal rights.

As we have conveyed to President Museveni, enacting this legislation will complicate our valued relationship with Uganda. At a time when, tragically, we are seeing an increase in reports of violence and harassment targeting members of the LGBT community from Russia to Nigeria, I salute all those in Uganda and around the world who remain committed to respecting the human rights and fundamental human dignity of all persons.
Ugandan Pro-Government Newspaper: "Uganda Scientists Turn Homosexuality Debate Around"
Jim Burroway
February 15th, 2014
New Vision, the government-owned newspaper, has weighed in on President Yoweri Museveni's announcement that he will sign the Anti-Homosexuality Bill into law by posting on its web site the press release from the NRM ruling party caucus spokesperson:
PRESENTATION BY A TEAM OF SCIENTISTS FROM MOH AND MAKERERE UNIVERSITY ON HOMOSEXUALITY AND GENETICS IN HUMANS

A Ministerial Committee comprising of scientists from MOH and Makerere University was set up to study homosexuality and genetics in human beings and advise the President and the NRM Caucus on the subject of homosexuality.

The committee comprised of;

- Dr. Jane Ruth Aceng – Director General of Health Services

- Dr. Isaac Ezati – Director Planning and Development at MOH

- Dr. Jacinto Amandua – Commissioner Clinical Services

- Dr. Sheila Ndyanabangi – Head, Mental Health Desk

- Prof. Seggane Musisi – Professor of Psychiatry at Makerere

- Assoc. Prof. Eugene Kinyanda – Senior Research Scientist, Medical Research Council

- Dr. David Basangwa – Director, Butabika Hospital

- Dr. Sylvester Onzivua – Senior Pathologist, Mulago Hospital

- Dr. Misaki Wayengera – Geneticist, Makerere

- Dr. Paul Bangirana – Clinical Psychologist, Makerere

- Prof. Wilson Byarugaba – Rtd. Professor and former Head of Human and Molecular Genetics, Dept of Pathology, Makerere

Two medical Parliamentarians names; Dr. Chris Baryomunsi and Dr. Medard Bitekerezo also presented a report whose findings and conclusions concurred with that of the Ministerial Committee.

The following were their observations;

1. There is no definitive gene responsible for homosexuality.

2. Homosexuality is not a disease but merely an abnormal behavior which may be learned through experiences in life.

3. In every society, there is a small number of people with homosexuality tendencies.

4. Homosexuality can be influenced by environmental factors e.g. culture, religion and peer pressure among others.

5. The practice needs regulation like any other human behavior especially to protect the vulnerable.

6. There is need for further studies to address sexuality in the African context.

Presidential Advisor on Science Dr. Richard Tushemereirwe stated that homosexuality has serious Public Health consequences and should therefore not be tolerated.

H.E. the President then made it clear that his work was done and that all he needed was for the Scientists to sign the paper they presented since it would be a historical document forming basis for the signing of the Bill.

H.E. also declared that he would sign the Bill since the question of whether one can be born a homosexual or not had been answered.

The President emphasized that Promoters, exhibitionists and those who practice homosexuality for Mercenary reasons will not be tolerated and will therefore be dealt with harshly.

Hon. Anite Evelyn

NRM Caucus Spokes person

[All emphases in the original]
You can read the full report here.
Uganda TV Airs MPs' Reactions to Museveni's Promise to Sign Anti-Homosexuality Bill
Jim Burroway
February 15th, 2014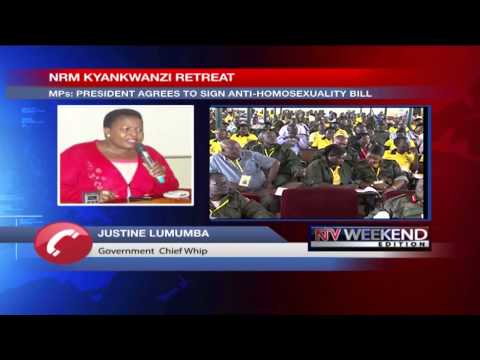 Reactions include that from M.P. David Bahati, who sponsored the legislation in Parliament.
Well, the scientists' conclusion is very clear that homosexuality is not a disease, that it is not an abnormality, there is no definitive … gene that is responsible for homosexuality.
You can read the "scientists' conclusion" here.
Ugandan "Scientific Statement on Homosexuality" Surfaces
Jim Burroway
February 15th, 2014
Warren Throckmorton has obtained a copy of the Ugandan Ministry of Health's "Scientific Statement on Homosexuality." He has also posted a Uganda State House press release announcing President Yoweri Museveni's intention of giving his assent to the Anti-Homosexuality Bill that was passed by Parliament last December without a proper quorum.
Soon after Parliament acted, Museveni scolded Speaker Rebecca Kadaga in a letter for rushing to pass the bill, saying that it was important to find a "scientifically correct solution." He then ordered a local team of doctors to report back to him on whether homosexuality was genetic. This question appears to be the sole factor in Museveni's mind on the question of whether people are "born gay," to the exclusion of very broad range of identified biological, non-genetic factors which have surfaced in the scientific literature over the past three decades. The "Scientific Statement" provided by local doctors barely scratches the surface of the genetic question before dismissing it. It does not explore the many studies addressing laterality, brain structures, pre-natal hormones, maternal immunological responses, etc., which suggest multiple and varying biological foundations for homosexuality later in life. The report however states:
Ultimately, all sexual functions are determined by genes and their interactions with the environment. Thus the causes of homosexuality can be traced to biological, social, environmental, psychological or a combination of them. These influence each other. Reparative therapies to change people's sexual practices have not proven successful and their scientific validity has remained questionable.
The report then goes on to dedicate more than two pages to the question of whether homosexuality can be "learned or unlearned." That section again reiterates, "The conclusion from the current body of scientific evidence is that there is no single gene responsible for homosexuality and there is no anatomical or physiological data that can fully explain its occurrence."
This is true, if one were to expect there to be a single point explanation to explain every individual's sexuality. In fact, researchers are studying the question from the basis of multiple potential factors, and they uniformly dismiss that fallacy outright. What the hundreds of studies identifying multiple biological foundations for homosexuality suggest is that there are multiple pathways to different expressions of sexuality, and some of those pathways or combinations of pathways may be present in some individuals, while other individuals may be the product of other factors, including different biological factors. In other words, there appears to be multiple biological foundations, rather than a single, clean explanation for homosexuality for every individual. This report fails to recognize the complexity of the question that is recognized in virtually every piece of published research on the subject.
Instead, the report dismisses known biological and physiological data and devotes considerable space in identifying what it contends to be environmental factors in the development of homosexuality:
Psychosocial causes of homosexuality imply that it may be learned through experiences in life. Previous disastrous heterosexual encounters (e.g. erectile dysfunction, premature ejaculation) may lead to aversion towards homosexual intercourse. A chance homosexual encounter in early life may be associated with sexual pleasure leading to homosexual relationships being associated with pleasure. The increasing influence of Western culture provides homosexuality as a choice one can make, it's therefore seen as a socially acceptable option for a few. In conclusion, homosexual tendencies can be taken up based on the person's judgement on what is pleasurable for them. Why this happens to some people is  not clear, Whereas some homosexuals may take up the behaviour as an open choice, for others it may be due to indoctrination, In summary, homosexuality has no clear cut cause, several factors are involved which differ from individual to individual. It is not a disease that has a treatment. [Emphasis in the original]
The report states that "the essence of homosexuality would be an antithesis for the Darwinian evolution of sex in species largely because homosexuality does not offer an opportunity for the self-propagation of the species," a common argument posed by anti-gay activists. It continues:
This has been a critical and fundamental argument by some scholars against the non-genetic basis of homosexuality, However, the counterargument has been for group survival, that some individuals in a group not overburdened by reproduction responsibilities would be available to give a hand to weak members of the group (e.g, the elderly and children) as happens in social animals. In our view, at least from existing knowledge and literature, there is no basis for a single, definitive structural genetic basis of homosexuality.

That said, the influence of the largely unstudied processes of epigenetics — which involves non-structural modifications of the genetic code, and represent one of the ways by which we learn many of our acquired traits that we can even pass on to our off-springs, cannot be ruled out.
The report then concludes with an argument for "the need to regulate sexualities":
Throughout the world, human activity is regulated to 'safeguard citizens, especially the weak and vulnerable, against the dangers inherent in human activities. Thus human sexuality also needs to be regulated especially as it is the core of the family and hence the nation. At anyone time rules and regulations are based on the current prevailing knowledge and understanding of what is to be regulated. This knowledge and understanding may change depending on the times and circumstances. Today the world has come to the realization that indeed homosexuality is a minority sexual expression practiced by some few members of the community. But, like heterosexuality, it needs to be regulated. No country, in the world today, has come up with a successful way to regulate human sexuality, hence the daily scandals and rapes of this world including sexual and gender based violence or human trafficking for sex. That vulnerable populations (including children, minorities, refugees, the poor, the elderly, mentally ill etc) need to be protected against sexual (and other) exploitations is not in question. African cultures had contained sexual vices. May be we need to revisit them to contain the present explosion of overt and coercive homosexual activity with the exploitation of our young children.
This report appears to have given Museveni the justification he feels he needs to give his assent to the Anti-Homosexuality Bill.  According to the press release from State House, Museveni spoke on the decision before the ruling National Resistance Movement (NRM) caucus "amidst ululations and clapping by NRM members of parliament":
The President emphasized that this is a job for the scientists before reading out a letter from USA scientist about the same debate. (Letter from US scientists to be sent to the media ASAP) "The authorities are these ones, the University Medical School and medical authorities. And since they have put this in writing…me my job is finished. The most important thing is on the three where there is no debate. On the promotion/recruitment of homosexuals no debate; mercenary homosexuals no debate and exhibitionism not debate. Leadership is not a joke. Don't just sit there because somebody is calling you Your Excellency, Honourable and you think you are a God. You are just a servant and a servant does his best to do the right thing. That is why I want a scientific answer not a political answer. Let the scientists answer this. And according to the way they have answered it, if they mislead us they are the ones who are responsible," he said.
A final draft of the Anti-Homosexuality Bill has not been publicly released. According to multiple reports when the bill was passed by Parliament last December, it will impose a life sentence on anyone who is found to be in a gay relationship or who is a "repeat offender" of any other portion of the Anti-Homosexuality Bill. Other provisions include criminal penalties for providing lodgings or services to gay people, officiating a same-sex wedding ceremony, or advocated for or on behalf of LGBT people. Museveni has also reportedly told his caucus that he supports a constitutional revision to prevent suspects charged under the nation's sodomy laws from being released on bail before trial.
Update: You can read the NRM's press release about the report here.
Uganda President Supports Changing the Constitution to Scrap Bail for Sodomy
Jim Burroway
February 14th, 2014
On the heels of reports that Uganda President Yoweri Museveni intends to sign the Anti-Homosexuality Bill into law comes more distressing news that Museveni also supports a change to the Uganda Constitution to allow holding people suspected of breaking that nation's antiquated anti-sodomy laws in jail without bail:
The ruling party majority yesterday resolved to back President Museveni's proposal to deny bail for sodomy suspects, defilers and rapists and tasked Ministry of Justice to expedite the process of amending the Constitution to that effect.

Mr Museveni, in a renewed call for the scrapping of the bail window for suspects in capital offences, told the NRM Caucus retreat in Kyankwanzi that the status-quo is encouraging crime in the country.

While corruption is not part of President's list of targeted offences, sources told the Daily Monitor that "sodomy" was included at the behest of MPs who told their party leader that it has become such an "insidious" problem in the country.

…Caucus spokesperson Evelyn Anite confirmed the latest developments to the Daily Monitor that the Ministry of Justice was tasked to kick-start the process amid cheers from the ruling party members. "The President had proposed that bail must be denied to those who rape and defile others and MPs amended it to include those that sodomise others. The proposal was overwhelmingly supported," said Ms Anite.
It would appear that Museveni is angling to out-populist the populist Parliament Speaker Rebecca Kadagga, an early supporter of the Anti-Homosexuality Bill who shepherded it through Parliament last December. She is reported to have ambitions for Museveni's job in 2016.
Spokesman: Uganda President to Sign Anti-Homosexuality Bill into Law
Jim Burroway
February 14th, 2014
This news comes by way of J. Lester Feder at Buzzfeed:
Ugandan President Yoweri Museveni has decided to sign a law imposing up to a lifetime jail sentence for homosexuality, announced government spokesman Ofwono Opondo via Twitter on Friday. NRM caucus spokeswoman Evelyn Anite confirmed Opondo's announcement to BuzzFeed.

This is a reversal for Museveni, who had written to members of parliament after the legislation passed in December that he had come to believe that homosexuality was a biological "abnormality" and not something that should be criminalized. He had also told Western human rights activists that he would reject the bill during a meeting last month.
Throughout the years since the Anti-Homosexuality Bill was first introduced in Uganda's Parliament, Museveni has made several attempts to sidetrack the bill. In 2010, four months after the bill's introduction, Museveni told his ruling party caucus that the government should "go slow" with the bill, citing foreign policy concerns. Later that year, Museveni's cabinet reported that they had "rejected" the private member's bill sponsored by M.P. David Bahati. His cabinet tried to repeat that assertion again in 2011, only to be told that because it is a private member's bill, it was not the cabinet's to reject. After Parliament passed the bill last December despite not having a proper quorum as required by the constitution, Museveni denounced the bill in a letter to Parliament Speaker Rebecca Kadaga and vowed to find a "scientifically correct solution." He also told representatives from the Robert F. Kennedy Center for Justice and Human Rights that he would not give his assent to what he called a "fascist" bill.
One possible development in Museveni's reconsideration of the bill may be political. Speaker Kadaga, who is among the bill's earliest supporters, reportedly has presidential aspirations and sees pushing Anti-Homosexuality Bill as a convenient populist move. Her pushing the bill through Parliament set up an interesting dynamic ahead of the annual NRM Caucus in January where Museveni had planned to line up support for his bid for re-election in 2016 to add another 5-year term to what will be thirty years in office. At least one of his ministers had threatened to resign if Museveni were to return the bill to Parliament, a development that would complicate his party's coronation. Another turning point may have occurred two weeks ago when, according to a report in Uganda's Observer, he "surprised his ruling NRM MPs on Friday when he said he would only sign the Anti-Homosexuality Bill into law, if he gets scientific proof that homosexuals are made and not born." Daily Monitor, Uganda's largest independent newspaper, also reported on that development, adding:
A source who attended the Friday meeting said MPs urged the President to sign the Bill. Dr Medard Bitekyerezo, MP for Mbarara Municipality, informed the President that nobody is born a homosexual but the behaviour is only acquired through training. "Homosexuality is not genetically transmitted. It is a behavioural deviation but on the negative side," Dr Betekyerezo reportedly said.

Dr Chris Baryomunsi (Kinkizi East) said: "The President wanted the science which we gave him and he agreed with us that recruiters and promoters should be dealt with accordingly. We told him that homosexuality started as a result of adventurism."
This development comes despite the American Psychiatric Association's recent statement denouncing the bill and calling into question "the quality of the scientific pronouncements about homosexuality by Ugandan mental health organizations." It also comes on the heels of today's news that researchers in Chicago have identified a possible genetic link between homosexuality and the Xq28 chromosome and homosexuality in at least some gay men.
If Museveni signs the Anti-Homosexuality Bill into law, it will impose a life sentence on anyone who is found to be in a gay relationship or who is a "repeat offender" of any other portion of the Anti-Homosexuality Bill. Other provisions include criminal penalties for providing lodgings or services to gay people, conducting a same-sex wedding ceremony, or advocated for or on behalf of LGBT people.
Google Doodles the Rainbow for Sochi
Jim Burroway
February 6th, 2014
If you go to the Google search page, you'll see this Google Doodle in place of Google's logo in honor of the Sochi Olympics, which officially opens tomorrow. In case anyone somehow misses Google's message in the graphic, they helpfully quote from the Olympi charter:
 The practice of sport is a human right. Every individual must have the possibility of practicing sport, without discrimination of any kind and in the Olympic spirit, which requires mutual understanding with a spirit of friendship, solidarity and fair play." –Olympic Charter
This appears to be going on Google's pages worldwide, including such anti-gay hot spots as Uganda, Nigeria, Cameroon, Ghana, Jamaica, Iran, Saudi Arabia, and, most importantly right now, Russia, where Google is likely violating that country's "anti-propaganda" law.
Meanwhile, Britain's Channel 4 is rebranding its during the duration of the Olympics by dressing its logo in Rainbow colors. And tomorrow, just as the opening ceremonies air on BBC2, Channel 4 will counter with the television debut of its "Gay Mountain" ad campaign:
The tongue-in-cheek ad, which will run for a week, features a "bear" cabaret act singing a song which features lyrics including "good luck gays, on gay mountain". Using a play on the term "out", denoting when a person declares publicly that they are gay, the TV ad runs with the strapline "good luck to everyone out in Sochi".

"This is a typically Channel 4 way of celebrating the start of the Winter Games and showing our support to all of the athletes out in Sochi, gay or straight," said the Channel 4 chief marketing and communications officer, Dan Brooke.
Something tells me you're not gonna see anything like this on NBC: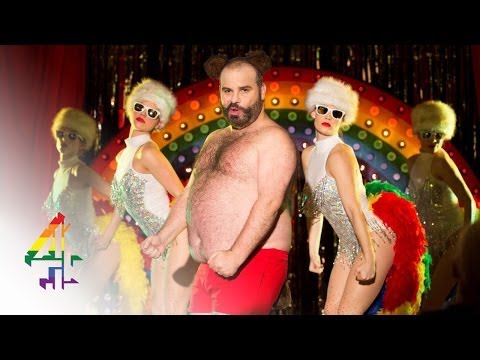 Human Rights Activists: Ugandan President Pledges to Reject "Fascist" Anti-Homosexuality Bill
Jim Burroway
January 18th, 2014
The Robert F. Kennedy Center for Justice and Human Rights issued a press release saying that a delegation met with Uganda President Yoweri Museveni to discuss the Anti-Homosexuality Bill. This meeting follows a letter written by the center's president Kerry Kennedy and retired South African Archbishop Desmund Tutu asking for a meeting. The meeting happened today in Entebbe:
The delegation – comprised of Ms. Kennedy, Santiago A. Canton, Director of RFK Partners for Human Rights, and Wade McMullen, Staff Attorney for the RFK Center – expressed their grave concern over the legislation that would further criminalize homosexual conduct, censor freedom of expression, and ban civil society organizations working on LGBTI issues in Uganda. Archbishop Desmond Tutu who joined the conversation via telephone similarly expressed his concern, stating the Anti-Homosexuality Bill was reminiscent of oppressive laws passed under apartheid in South Africa.

President Museveni pledged to reject the bill as currently drafted, calling the legislation "fascist." The President stated that he will consult with his party and plans to introduce a new piece of legislation aimed at protecting minors from being coerced into sexual activity.

The RFK Center reiterated that the government should focus on enforcing the Ugandan Penal Code provisions that already outlaw both opposite-sex and same-sex sexual abuse of minors. Should new legislation be introduced along the lines of the President's suggestion, the RFK Center strongly advised that any bill should only focus on strengthening current child protection measures, may not discriminate against individuals based on their sexual orientation or gender identity, and must fully respect the rights to freedom of expression and freedom of association.

"I welcome President Museveni's decision to reject this hateful bill," said Archbishop Tutu. "It is time for our African brothers and sisters to move past the antiquated notion that someone could be a criminal for who they love."
If Museveni holds to his promise, this would be welcome news. A news report yesterday erroneously suggested that Museveni had already pledged in a letter dated December 28to refuse to assent to the Anti-Homosexuality bill passed by Parliament a week earlier. Once the full contents of that letter became available, it became clear that Museveni had not made any such pledge at that time.
The letter also dwelled extensively on fears that individuals were being "recruited" into homosexuality by economic incentives. That concern, rather than child sexual abuse specifically, may be behind his motivation for new legislation, as pedophilia is often conflated with homosexuality in Uganda, as it is elsewhere in anti-gay circles. Museveni's desire for new legislation bears watching, and it's good that the RFK Center reminded him that the Uganda Penal Code's provisions against child sexual abuse are already gender neutral.
Museveni has said that he will bring the Anti-Homosexuality Bill up before his ruling party's caucus for further discussion. There's no word yet on when those discussions will take place.
In 2011, the RFK Center honored Ugandan LGBT advocate Frank Mugisha with the Robert F. Kennedy Human Rights Award.
Uganda President Denounces — But Does Not Block — the Anti-Homosexuality Bill
Jim Burroway
January 17th, 2014
My suspicions were confirmed. Buzzfeed's J. Lester Feder has obtained a copy of the December 28 letter that Uganda President Yoweri Museveni sent to Parliament Speaker Rebecca Kadaga which an article in this morning's Daily Monitor charactrized as "blocking" the Anti-Homosexuality Bill. As Daily Monitor pointed out, Museveni criticized Kadaga and Parliament for rushing to pass the bill without the proper quorum, an act that violates the Uganda Constitution. However, there is nothing in the letter to indicate that Museveni will send the bill back to Parliament as provided in the Constitution. Nor does he indicate whether he considers the bill to be legitimately sitting on his desk awaiting action. As Feder notes, this provides little comfort to Uganda LGBT activists:
Though Museveni argues the bill was not duly passed, under the Ugandan constitution, a bill sent by parliament to the president becomes law with in 30 days if he does not block it.

"The danger is he has the bill, and 30 days may end" without him taking formal action, (Sexual Minorities Uganda executive director Frank) Mugisha said. The letter is dated December 28, which means Museveni has under two weeks at most to reject the bill. But the deadline could be as soon as Monday or Tuesday if he received the bill immediately after its passage on December 20.

Additionally, Mugisha said, Museveni's long discussion of how homosexuality is "abnormal," he added, could "increase hatred."
Feder has posted the entire letter on Scribd. Certainly, the excerpts quoted in Daily Monitor represent some of the more inflammatory remarks, and those selective quotes certainly pose a danger of stoking readers' homophobia. But reading the entire letter — once you get past the first two pages where Museveni discusses other matters — provides a great deal of insight into Museveni's thinking which, at least in the Uganda context, is somewhat more "balanced," relatively speaking, than the Daily Monitor article suggests.
On the whole, Museveni sees two kinds of gay people: people who are really gay (who he calls the "abnormals"), and those who, according to popular lore in Uganda, are "recruited" into homosexuality for economic reasons. What's interesting is that in the second to last paragraph, he expresses his doubts that the second camp could be, as he put it "'hooked' into homosexuality." As for the former group (the "abnormals"), he suggests, in his own way, that they are more or less born that way (to borrow a phrase that he does not use), and have the same right to exist as albinos, people with epilepsy, infertile women, and other "abnormals" who were also created by God.
Museveni also describes famous Ugandans from the pre-colonial era who were gay and who "did outstanding and really unique service to the respective communities, their private problems notwithstanding." He also noted the British mathematician and cryptologist Alan Turing, "the genius mathematician that cracked the German Enigma code for the anti-Hitler alliance. … Only the other day, the Queen had to apologize to this sexually abnormal person but much more useful to society than the millions of sexually normal people."
The entire letter, which I have transcribed below, is something everyone should read in full, as it shows a man who is struggling to come to grips with something that he does not quite understand, and is taking the time to try to think it out in writing.
…Recently, we had the anti-homosexuality Bill. This is, again, something we advised to shelve until we had studied it in depth. Some elements, however, insisted and, even without quorum of Parliament, "passed" it. How can you "pass" law without the quorum of Parliament after it has been pointed out? What sort of Parliament is this? How can Parliament be the one to break the Constitution and the Law repeatedly?

Coming to the substance of the homosexual debate, I would like to ask: "Who is a Homosexual?" My answer is that a homosexual is somebody who is abnormal because the normal person was created to be attracted to the opposite sex in order to procreate and perpetuate the human race. The same goes for other species — cattle, pigs, etc. Indeed, my Bishop of North Ankole, Rt. Rev. Muhanguzi, was partially right in one of his sermons when he asked the following question: "Ruhanga nabaasa okwehakanisa? — How can God contradict himself by saying in the Book of Genesis that Adam should be given a wife, Eve, and then also create homosexuals?"

Since I have not concentrated my mind on this subject, Bishop Muhanguzi's question sounded logical. However, now that I have been forced to concentrate my mind on this issue by the actions of a small group of our MPs, led by the Rt. Hon. Kadaga, I can see the fallacy in Bishop Muhanguzi's position. Who creates albinos? Is it not the same God that creates other people — Black Africans and Europeans? Do albinos create themselves? No. Simply, nature goes wrong in a minority of cases. Fortunately, our indigenous science has since millennia detected and described these abnormalities. Albinos are called nyamagoye. Homosexuals are called ebitiingwa or ebisiyiyagyi (Luganda). Epilepsy is called entsiimbo. A barren women [sic] is called enguumba (in the past it was not widely known that men could also be enguumba ). There is another abnormality known as "epa" — where a woman does not achieve puberty by not developing breasts (amabeere), pubic hair (enza), hairs in the arm-pit (ebyakyeeri)  or menstruate (okuzira). There are Mongols (ebigoori-goori), etc., etc. In Runyankore some of these are called amahano. In the pre-colonial times, I think, some of these were killed, especially epa. So were even lighter cases of, for instances, pre-marital pregnancy, ebinyandaalo. These abnormalities are different from disability, obumuga or oburema. The other is eihano (abnormal) and the other is ekimuga or ekirema (disabled). The difference is that a disabled person is a normal person but who got disabled in some aspect. Eihano is abnormal fundamentally mainly because the hormones malfunctioned.

The question at the core of the debate of the homosexuals is: "What do we do with an abnormal person? Do we kill him/her? Do we imprison him/her? Or do we contain him/her?"

In the traditional society, it is not very clear whether they would kill these abnormal people. What is clear is that they would try to contain these abnormalities by being particular about the person they married (okushweera) or got married to (kushweerwa). They used to kutaasha (report on the qualities of the intended bride). Unfortunately, this has been interfered with by the concept of "falling in love at first sight" grabbed by our "modern" women and men. This is a big mistake. What do you know about problems (blemishes — emizze) of the person you have fallen in love with at first sight?

I suspect this has been the problem in Europe and the West. Even there, they had the same principles in the past — of careful selection. They, however, abandoned these in preference for money initially and, eventually, for just, freelance bonding. It may be this that has increased the phenomena of the abnormal sexual conduct. The abnormal people have increased.

Apart from the people who are born abnormal, it seems there is a larger group of those that become homosexual for mercenary reasons — they get recruited on account of financial inducements. This is the group that can be rescued. Possibly many of our youth fall in his [sic] category. How about the women lesbians? Apart from the ones that are abnormal and the ones that may become lesbian for mercenary reasons, there may be those that go into that practice because of sexual starvation when they fail to get married. Women are normally more than men for reasons I do not know. In the past, this imbalance could have been addressed by polygamy. Some of the religions de-campaign this traditional practice. What happens, then, to these surplus women? I normally separate spiritual matters from social issues, ever since the 1960s. Some confuse the two: If socially you behave in a given manner, then you are not spiritual, they seem to say. My private view, which I never seek to impose on anybody, is that people can have different social arrangements but be very spiritual. Can't a Moslem who is polygamous be as spiritual, as godly, as a Christian who is monogamous?

The groups that can be rescued, therefore, are those who are homosexual or lesbian for mercenary reasons or on account of frustration — failure to get legal partners. The rescue for these mercenary deviants is, first and foremost, economic — rapidly industrialize Uganda, modernize agriculture, etc. Do not delay any project of factory, services or infrastructure. By so doing you are exposing those unemployed youth or impecunious students to these risks and temptations. If you do not do this and you only talk about legislation, you are a quack social doctor. Even with legislation, they will simply go underground and continue practicing homosexuality or lesbianism for mercenary reasons. By providing for UPE, USE, Government scholarship, the student loan scheme, etc. we are trying to rescue our youth from extreme need. However, these do not cover their other financial needs — pocket money, necessities like videos, poor parents, unemployed siblings, etc., etc. Do we not have legislation against prostitution? Why has it not stopped prostitution?

In addition to working on the social-economic issues of our youth with great vigour (instead of behaving as if we are doing a favour to the investors who bring projects here), yes, we should legislate harshly against these people with money, from within and without, who take advantage of the desperation of our youth to lure them into these abnormal and deviant behaviors. I would support a life sentence for the one who lures normal youth into these disgusting behaviours — especially homosexuality. On this one I would agree with the Bill passed by Parliament.

The unanswered question, however, is: What do you do with the really abnormal people? In the Ankole-Kigezi-Buganda-Tooro-Bunyoro-Karagwe area, in the last 200 years, I am aware, through rumours, that there have been, at least, three very prominent persons who were homosexuals. Two were kings and one was a prominent chief. Some of these did outstanding and really unique service to the respective communities, their private problems notwithstanding. Only the other day, I saw on television that Dr. Allan Turing, the genius mathematician that cracked the German Enigma code for the anti-Hitler alliance, at Bletchely Park in the UK, was a homosexual. This man, along with the discovery of radar, gave an unfair advantage to the anti-Hitler group and enabled them to win the war. Yet, the British chemically castrated him in 1952, where-upon he committed suicide, apparently. Were the British correct in handling that issue like that? The British no longer think so. Only the other day, the Queen had to apologize to this sexually abnormal person but much more useful to society than the millions of sexually normal people.

Therefore, the challenge is how to correctly handle the sexually abnormal on the one hand and those who use money or any other influence to recruit sexually normal people into this abnormal and disgusting behaviour. When we meet in the NRM caucus, we shall, I am sure, find a scientifically correct position.

Three final points. One is the reason given for the hurry in rushing some of these legislations: "There is a lot of homosexuality in schools, etc." Yes, that may be so. What, then, does it mean? Does it mean that homosexuality is more attractive? OR is it because of the bad economic conditions for the families of these children that drive them into homosexuality for mercenary reasons? Is it not the same economic conditions for the rural families that I have been talking about since 1995 when I made a countrywide tour after successfully experimenting with socio-economic transformation in the Nyabushozi area? Who do we not, all of us, put more vigour in the struggle for homestead incomes using the resource the Government has been sending to the rural areas? With the Army officers and Hon. Kataike, we have been able to distribute more than 5 million seedlings of coffee since September, 1 million seedlings of tea, 235,000 seedlings of fruits, etc. If we all supervised NAADS in our respective areas of representation, we would have gone much further in putting incomes into the homesteads so that we eliminate the poverty that makes our youths vulnerable.

The second point is that people who become homosexuals for mercenary reasons will get "hooked" to homosexuality. I doubt very much. What is there in homosexuality that would attract a normal human being? A man to fail to be attracted by the beauties of a female body and is attracted to the anus (I now understand) of another man can only represent terrible sickness. Let us cure the economic conditions so that we can rescuer our youth and, then, see how to deal with the few abnormals that may be there among us.

Finally, I do not agree with the position of the Western countries that homosexuality is an alternative sexual orientation to heterosexuality. You cannot call an abnormality an alternative orientation. It could be that the Western societies, on account of random breeding, have generated many abnormal people. Nevertheless, you cannot say that because the abnormals are many, they constitute an alternative way of life. My acid test for rejecting that position is that nature is purposeful. One of the main purposes of man is to perpetuate life. You cannot perpetuate human life without copulation of opposite sexes for the majority of animal species. Even many plants rely on cross-pollination. It is only a few that rely on self-pollination. Therefore, homosexuality and lesbianisn, if not mercenary or out of social frustration (for sexually starved women), is an abnormality and must be treated as such.
Status of Uganda's Anti-Homosexuality Bill Is Completely Up in the Air … Including, Possibly, Its Death Penalty
Jim Burroway
January 17th, 2014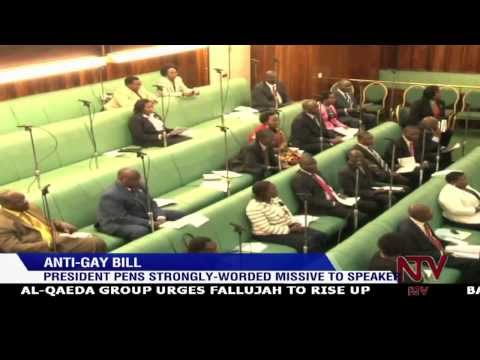 The above NTV report comes from the same media company that owns Daily Monitor, Uganda's largest independent newspaper. Earlier this morning Kampala time, Daily Monitor reported that President Yoweri Museveni had "blocked" the Anti-Homosexuality Bill which had been passed in Parliament in December with an apparent lack of quorum. (The pro-government New Vision makes no mention of Museveni's letter, at least not on its online edition. The Uganda Media Centre, the government's official press office, is similarly silent this morning.) Most other major media outlets reporting on this development are citing the Daily Monitor story.
Museveni's letter to Parliament Speaker Rebecca Kadaga criticizing Parliament's vote on December 20 was dated December 28 but only made public today. All of this leaves up in the air the bill's precise status. Does Museveni's letter represent a formal rejection of the legislation under the Constitution's Article 91 (3) (b)? That seems to be the assumption most media outlets are making. It's certainly what the Daily Monitor story implies, although it doesn't say so explicitly.
But if that's the case, why is this being made public only today? If this were a formal rejection of the Anti-Homosexuality Bill, that news would have come in handy last week at a meeting of Uganda's foreign ambassadors in Kampala, many of them posted in Western countries where the Anti-Homosexuality Bill is deeply controversial. Instead, Ugandan envoys were told by Prime Minister Amama Mbabazi, according to the Daily Monitor report at that time, that "Before (the President) assenting to it, this matter (the legislation) will be taken to the Movement caucus which will advise accordingly before the Presidents signs it." That caucus is expected to take place by the end of the month.
The other possibility is that this December 28 letter isn't a formal rejection of the letter under the Constitution, but instead is a refusal to recognize that Parliament acted lawfully in passing the legislation without a quorum in the first place. This has been the consistent line that Prime Minister Mbabazi has repeated since the day Parliament acted. This may be the more likely possibility. But the uncertainty leaves the precise status — and more critically, the content — of the bill in doubt. After all, if Parliament acted illegally in passing the bill without a quorum, then that means that Parliament also acted illegally in holding its "Committee of the Whole House" where the proposed amendments to the Anti-Homosexuality Bill were debated and adopted. And if Parliament acted illegally in holding its Committee of the Whole House without a quorum, then that means that the death penalty has still not been formally removed from the Anti-Homosexuality Bill and it reverts back to its original state when it was first introduced in Parliament.
All of this leaves the precise status of the Anti-Homosexuality Bill completely up in the air. Hopefully we'll have more clarity in the next few weeks when the ruling party caucus meets.
LGBT Ugandans Celebrate
Jim Burroway
January 17th, 2014
In case you missed it, there was a report out late last night that Uganda President Yoweri Museveni has sent the Anti-Homosexuality Bill back to Parliament.
Report: Uganda President Sends Anti-Homosexuality Bill Back to Parliament (UPDATED)
Jim Burroway
January 16th, 2014
Daily Monitor, Uganda's largest independent newspaper, has these developments under the headline, "Museveni Blocks Anti-Homosexuality Bill."
President Museveni has confronted Speaker Rebecca Kadaga for passing the controversial Anti-gays Bill without quorum and described homosexuals as "abnormal" beings who can be "rescued" through economic empowerment.

In an eight-page letter to Speaker and MPs dated December 28, 2013, the President said he was forced to contrite on the issue by "a small group of our MPs, led by Hon Kadaga" who forced through the Bill even after he had advised to shelve it until the government had studied it in depth.

"Some elements, however, insisted and even without quorum of Parliament, passed it," the President said. "How can you pass law without the quorum of Parliament after it has been pointed out? What sort of Parliament is this? How can Parliament be the one to break the Constitution and the Law repeatedly?"
The rest of the Daily Monitor article is loaded with Museveni's peculiar theories about homosexuality:
While in the Bill passed by Parliament there is no provision for killing homosexuals; the President said, "The question at the core of the debate of homosexuality is; what do we do with an abnormal person? Do we kill him/her? Do we imprison him/her? Or we do contain him/her?"

While the President said homosexuality is an abnormal condition that can be cured, he disagreed with the position of Western countries that homosexuality is an "alternative sexual orientation". "You cannot call an abnormality an alternative orientation. It could be that the Western societies, on account of random breeding, have generated many abnormal people," he said, adding that his acid test for rejecting Western position is that nature is purposeful.

The President said apart from the people who are abnormal, it seems there is a group of those that become homosexual for "mercenary reasons"—they get recruited on account of financial inducements. He said this is a group that can be rescued and that many of the youth fall in this category.
But the important point is this: If Daily Monitor has it right, it would appear that the ball is now back in Parliament's court, where Speaker Rebecca Kadaga, who reportedly harbors Presidential ambitions herself, has been an outspoken supporter of the Anti-Homosexuality Bill. According to Uganda's Constitution, the President can send the bill back to Parliament twice before Parliament must muster a two-thirds majority to force the bill into law. What remains unclear is whether this constitutes the bill's first return trip to Parliament under the constitution if Parliament didn't have the proper quorum to pass the bill in the first place.