Scotland to Offer Asylum to LGBT Ugandans
Jim Burroway
March 1st, 2014
Glasgow is set to host the Commonwealth Games this summer, which several athletes and members of the Ugandan government are expected to attend:
Humza Yousaf, Minister For External Affairs, has written to UK Foreign Secretary William Hague detailing the Scottish Government's gesture to welcome "any Ugandan" persecuted by the new laws.

…With prominent members of the Ugandan government due in Glasgow this summer, the Scottish Government will also meet representatives of LGBT (lesbian, gay, bisexual, and transgender) groups to discuss proposals on handling human rights issues during the event.

…In his letter Mr Yousaf has urged Mr Hague "to offer asylum to any Ugandans who feels threatened or persecuted by the legis­lation", adding that "Scotland will play her part in providing asylum for those seeking refuge from this draconian legislation".

He adds that during the Games "no one from any part of the Commonwealth who visits Scotland will be under any doubt about our values as a welcoming, open and tolerant society".

A senior source said: "The issue is now so high profile it is hardly something the Scottish Government or anyone involved in the Games can now shy away from."
Report: Sweden Reconsiders Foreign Aid to Uganda
Jim Burroway
March 1st, 2014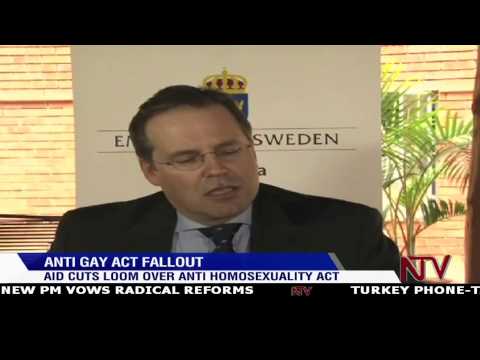 According to this report from NTV Uganda, Sweden's Finance Minister Andes Borg was in Uganda on a visit to highlight Swedish investment oportunities in East Africa. While there, he addressed the problems that Uganda's Anti-Homosexuality Act posed for Sweden's foreign aid and investment in Uganda:
We are reviewing our own aid program with Uganda, and obviously this is a factor that has to be taken in to account. It is not a posative factor but a major problem that we will have to deal with. But there is also in the Swedish aid to Uganda very important areas supporting the civil society, improving health care and the research and development that are important. So we see this as a Swedish long term commitment to a partnership with Uganda. But this is a political issue that is quite problemantic in the medium and short term, I must say.

…The problems that we have from a Swedish human right perspective on this issue, and the legislation is very problematic from our perspective. And I do think that there are also some broader economic risks, not only when it comes to aid cooperation but also when it comes to tourism and investment where this is a reputation risk for Uganda.
Sweden provides about US$10 million in aid to Uganda. Shortly after the Anti-Homosexuality Bill was proposed in 2009, Sweden warned Uganda that the bill was placing Sweden's foreign aid at risk. In 2012 Sweden suspended a portion of its aid to Uganda, as did Ireland, Norway, Denmark and Britain, following revelations that  $15 million in aid from those countries had been diverted to private bank accounts of officials in Prime Minister Patrick Amama Mbabazi's office. Britian's cut in foreign aid was later extended to the entire Ugandan government. On Thursday, Uganda's Parliament cleared Mbabazi of wrongdoing despite lingering questions about the scandal.
Norway, Demark and the Netherlands, which collectively had provided $27 million in aid to Uganda, have announced that they are cutting aid to the Ugandan government. On Friday, the  World Bank announced that it was putting on hold a $90 million loan to Uganda's health service. U.S. Secretary of State John Kerry has said that the State Department is reviewing its relationship with Uganda. The U.S. currently gives more that $486 million in bilateral aid. On Wednesday, the U.S. Ambassador to Kampala said that the U.S. would deny visas to Ugandans who "incite violence, people who propagate hate, (and) who have used political violence."
World Bank Delays $90 Million Loan to Uganda
Jim Burroway
February 28th, 2014
The World Bank yesterday announced that it was delaying a US$90 million loan to Uganda's health system, citing the country's draconian new Anti-Homosexuality Act that President Yoweri Museveni signed into law on Monday.
"We have postponed the project for further review to ensure that the development objectives would not be adversely affected by the enactment of this new law," World Bank spokesman David Theis said in an email.

…The World Bank, a poverty-fighting institution based in Washington, usually refrains from getting involved in countries' internal politics or in issues such as gay rights to avoid antagonising any of its 188 member countries.

World Bank president Jim Yong Kim, however, sent an email to bank staff saying the bank opposes discrimination, and would protect the safety of all employees.

He said passage of the Ugandan law was not an isolated incident, as 83 countries outlaw homosexuality and more than 100 discriminate against women.

"In the coming months, we will have a broad discussion about discrimination with staff, management, and our board on these issues," Kim said in the email. "Now is the right moment for this conversation."
The bank's executive board was set to approve the loan today. The $90 million loan is part of a larger $1.56 billion portfolio the bank has with Uganda. World Bank President Jim Yong Kim wrote an op-ed discussing the broader problems of discrimination of all kinds around the world and how that played into his decision:
These recent anti-gay laws, and many others that have been on the books for years, are acutely ironic. Just 15 years ago, a small band of gay men and women — largely in the United States but also in Europe and parts of Africa — fought with all their intellect, energy and creativity to expand access to treatment for all people with HIV/AIDS. In 2000, just 50,000 people in the developing world received AIDS treatment. Today, largely thanks to the work of these gay activists and others, more than 10 million people are being treated with AIDS drugs — most of them African.

At the World Bank Group, we will have a full internal discussion over the coming months about discrimination more broadly and how it would affect our projects and our gay and lesbian staff members. My view is that the fight to eliminate all institutionalized discrimination is an urgent task.
Norway, Demark and the Netherlands announced this week that they are cutting a combined US$27 million in aid to the Ugandan government. U.S. Secretary of State John Kerry said that the State Department is currently reviewing its relationship with Uganda. The U.S. currently gives more that $486 million in bilateral aid.
Meanwhile, Museveni is seeking alternative benefactors. He may find one in Russia:
President Museveni has said he will work with Russians because they don't meddle in the internal affairs of other countries. …[W]hile commissioning a new flight simulator at the air force headquarters in Entebbe on Friday, Mr Museveni told Obama to stop interfering in the affairs of Uganda, adding he will work with Russia instead of America. "Russia has worked in Africa since 1917, meaning they have been here for more than 100 years. I want to work with Russia because they don't mix up their politics with other country's politics," Mr Museveni said.
Kerry: Uganda's Anti-Gay Law Similar to Apartheid and Nazism
Jim Burroway
February 27th, 2014
U.S. Secretary of State John Kerry, speaking to a group of reporters yesterday, called Uganda's Anti-Homosexuality Act "atrocious" and likened it to the Nazi-era Nuremberg and South Africa's Apartheid laws:
"You could change the focus of this legislation to black or Jewish and you could be in 1930s Germany or you could be in 1950s-1960s apartheid South Africa," Kerry told a group of reporters. "It was wrong there egregiously in both places and it is wrong here," he added.

…"What is happening in Uganda is atrocious and it presents all of us with an enormous challenge because LGBT rights are human rights and the signing of this anti-homosexuality law is flat out morally wrong," Kerry said.

"This anti-gay movement is obviously bubbling up in various places around the world; it is not just an African problem, it's a global problem, and we are wrestling with it and we are going to as we go forward.
Kerry said that the State Department is currently reviewing its relationship with Uganda. The U.S. currently gives more that $486 million in bilateral aid. Norway, Demark and the Netherlands have announced that they are cutting their aid to the Ugandan government. Those three countries collectively had been spending $27 million in aid to Uganda. The value of the Ugandan Shilling has slid more than 2% since President Yoweri Museveni signed the legislation on Monday.
US Ambassador to Uganda: We Will Block Visas for Ugandans Who "Propagate Hate"
Jim Burroway
February 26th, 2014
Scott DeLisi, U.S. Ambassador to Uganda, reacted to yesterday's vigilante campaign launched by the tabloid Red Pepper. In an interview with the BBC World Service, DeLisi said that the U.S. is looking into denying visas to Ugandans who incite violence and hatred:
"We as a government … are appalled by the course that the Red Pepper has chosen," DeLisi said. "What they do within their society I may not be able to control, but I can tell you they will not be welcome in the United States of America…. Visas can be denied for people who incite violence, people who propagate hate, who have used political violence. There are many bases on which we can deny a visa. And I can tell you that we will be examining all of these issues as we move forward."
Meanwhile, the Red Pepper campaign continues for a second day.
Uganda starts to feel cost of anti-homosexuality bill
Timothy Kincaid
February 26th, 2014
President Yawari Museveni has barely signed the 2014 Anti-Homosexuality Bill and already the nation's economy is experiencing the consequence. (Bloomberg)
Uganda's shilling fell the most since March 2012 against the dollar after donors started cutting aid after President Yoweri Museveni signed a law that imposes life sentences on some homosexual acts.
…
Museveni signed the law on Feb. 24 after scientists in Uganda found no genetic link to homosexuality. Uganda's shilling has dropped for three straight days, paring gains in Africa's third-best performing currency this year. The currency of East Africa's third-biggest economy fell 2.2 percent to 2,513 per dollar by 6:57 pm. in Kampala, the capital.
As nations cut off foreign aid to Uganda, the bite is immediate. But perhaps more concerning for political stability is the impact the legislation can have on future investment.
Global companies which do business in the West rely on a gay friendly image and investment in Uganda can be perceived as social irresponsibility. Additionally, they increasingly accept and promote gay employees and can be reluctant to be involved in nations where their employees may be at risk or whose policies complicate personnel strategies.
"In the long run, foreign-direct investment could be withdrawn, which will have a bigger impact than the donor aid," Jacques Nel, an economist at NKC Independent Economists in Paarl, South Africa, said by phone. The law "creates increased risk that companies may no longer invest in the country or invest less," he said.
Norway, Denmark, Netherlands Cut Aid to Uganda
Jim Burroway
February 25th, 2014
Three European nations moved swiftly after Uganda president Yoweri Museveni signed the Anti-Homosexuality Bill into law:
Norwegian Foreign Minister Borge Brende said his country would withhold about $8 million in aid, saying the law violates "fundamental human rights," TheLocal.no reported Tuesday.

"Norway deeply regrets that Uganda's president today signed a new and stricter law against homosexuality," Brende said in a statement Monday. "It will worsen the situation of an already vulnerable group, and criminalize individuals and organizations working for the rights of sexual minorities."

…Danish Aid Minister Mogens Jensen indicated his country would divert about $9 million in aid earmarked for Uganda, TheLocal.no said.

Dutch Foreign Trade and Aid Minister Lilianne Ploumen and Foreign Affairs Minister Frans Timmermans said the $9.6 million aid money sent annually to the Ugandan government to improve its judicial system will be stopped, DutchNews.nl reported. Justice Ministry official Teeven said the Netherlands would be flexible on granting asylum to homosexuals from Uganda now that the "draconian" measures were in effect.
Sweden has announced that they are considering redirecting its planned $10.7 million in aid to Uganda. Britain had already suspended all direct aid to Uganda in 2012 following a massive embezzlement scandal in the Ugandan Prime Minister's office.
The U.S. and Canada say they are reviewing their options. Sen. Patrick Leahy earlier today issued a statement saying he "cannot support providing further funding to the Government of Uganda" until the State Department's review is complete.
Sen. Leahy Calls For Review of All Ugandan Assistance
Jim Burroway
February 25th, 2014
Sen. Patrick Leahy (D-VT) issues this statement earlier today:
I am deeply concerned by the decision of President Museveni of Uganda to sign into law the anti-homosexuality bill.  I support Secretary of State Kerry and others in calling for its immediate repeal.  Much of U.S. assistance to Uganda is for the people of Uganda, including those in the Ugandan LGBT community whose human rights are being so tragically violated.  But we need to closely review all U.S. assistance to Uganda, including through the World Bank and other multilateral organizations.  I cannot support providing further funding to the Government of Uganda until the United States has undergone a review of our relationship.
Sen. Leahy is Chairman of the State Department and Foreigh Operations Appropriations Subcommittee and is a senior member of the Appropriations Committee.
Scott Lively: Uganda's New Law Won't Be So Bad
Jim Burroway
February 25th, 2014
Scott Lively, whose "nuclear bomb against the gay agenda" he set off in Kampala in 2009 set the stage for the Anti-Homosexuality Bill becoming law, has issued a statement in response to the bill's signing. Lively now says that he believes that Uganda has taken the "wrong approach in dealing with simple homosexuality" and offers Russia's so-called "gay propaganda" law as "a better model for other nations of the world." Besides, he says, the effects of Uganda's new law won't be so bad:
As a final point I think it is important for people to recognize that the Ugandan law is typical of African criminal law across the continent. Poor countries with limited criminal justice systems tend to rely on the harshness of the letter of the law to be a deterrent to offenders. In practice, the sentencing is usually pretty lenient and I expect that will be the case under this new law as well.
He should try telling that to the 200 or so people who woke this morning to see their names, addresses and occupations published in Red Pepper.
VIDEO: Ugandan TV Covers the Five Year History of the Anti-Homosexuality Bill
Jim Burroway
February 25th, 2014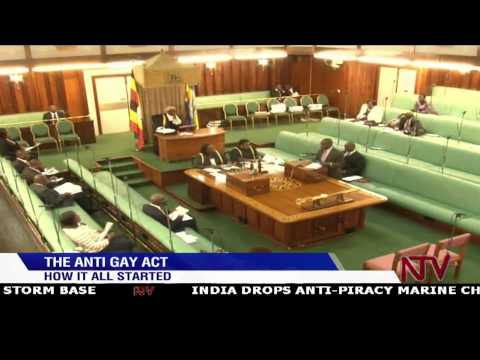 VIDEO: Ssempa, Kyazze Celebrate Anti-Homosexuality Bill
Jim Burroway
February 25th, 2014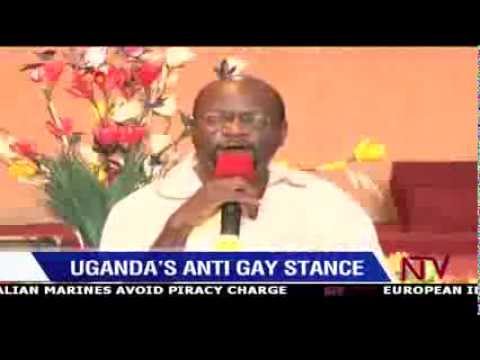 Pastor Michael Kyazze of the Omega Healing Center, a Kampala church, celebrates President Yoweri Museveni's signing of the Anti-Homosexuality Bill into law:
"A law of love, a law of order has been signed, and your future since will be better than what other perpetrators were trying to promote. There is no one who is going to kill homosexuals. No one is going to kill the homosexuals, the law doesn't say so, but the law says the habit itself is unnatural and the habit itself, if it is promoted by anyone, that person is liable for punishment.
Pastor Martin "Eat Da Poo-Poo" Ssempa also celebrates:
"The biggest problem here is confusion. Homosexuals are boys who think they are girls, and girls who think they are boys. So the issue is they want to confuse us, but Africa said, "No confusion!"
In October of 2012, Ssempa, Kyazze, and three others were convicted by a Uganda court of conspiring to tarnish a rival pastor's reputation by accusing him of homosexuality.
NTV also interviews other Ugandan officials and reviews reactions from retired South African Desmund TuTu and and the UN High Commissioner on Human Rights Navi Pillay.
VIDEO: Ugandan Morning TV Devotes Segment to Anti-Homosexuality Bill Debate
Jim Burroway
February 25th, 2014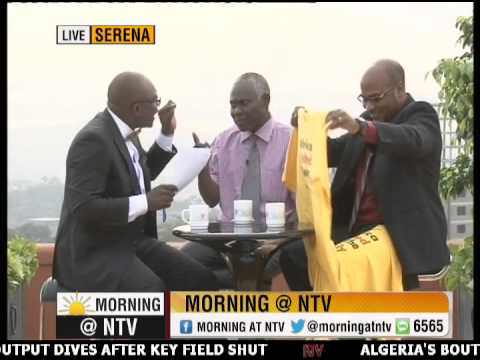 In this video, Morning @NTVhost Simon Kasyate dues his best to referee a debate between and Anti-Homosexuality Act support and virulently anti-gay pentecostal pastor Martin "Eat Da Poo-Poo" Ssempa, and virulently anti-gay pentecostal pastor but Anti-Homosexuality Act opponent Solomon Male, who calls it "a populist bill, it is opportunistic, it is based on nepotism, and it is based on lies." Male's still as anti-gay as ever though. One of his objection now seems centered on an incorrect reading of Uganda's gener-neutral law against pedophilia which madates the death penalty for anyone convicted of child sexual abuse. Male contends that with the removal of the death penalty from the Anti-Homosexuality Bill, that homosexual child abusers (as though they are the only kind of homosexuals in existence) will now have a lesser penalty than heterosexual child abusers. In 2012, Solomon voiced his opposition to the Anti-Homosexuality Bill, accusing security agencies of covering up for prominent people who were supposedly "luring" children in to homosexuality and calling it "a waste of precious time, financial and other resources that should have been applied more productively elsewhere."
Ssempa counters that Uganda "has joined the group of superpower nations such as Russia, Nigeria, Saudi Arabia, in taking a strong stand against sodomy." Ssempa has designs to take the bill to the parliament of the East African Community and then to the African Union.
Male is a former Ssempa ally. In October of 2012, Male and Ssempa were convicted by a Uganda court of conspiring to tarnish a rival pastor's reputation by accusing him of homosexuality.
VIDEO: Ugandan TV Coverage of Signing of Anti-Gay Bill, Reactions from Supporters
Jim Burroway
February 25th, 2014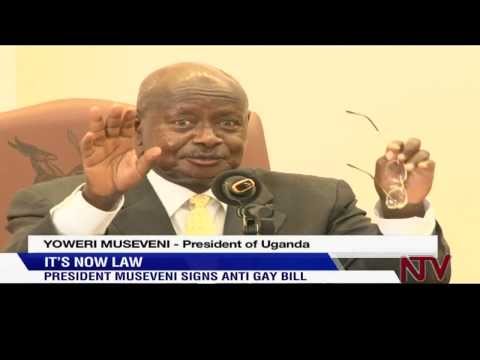 MP David Bahati, who introduced the private member's bill into Parliament, reacted to the signing:
This is a victory for the family of Uganda, the future of our children and certainly a triumph of our sovereignty as a country that got independence fifty years ago.
Ethics and Integrity Minister Simon Lokodo (a defrocked Catholic priest) dismissed the potential international fallout from the bill:
Because I know any sensible person will take this positively and say, oh, this bill as asserted their position, they've asserted their mind, and let's respect them as they are and we'll continue relating.
The NTV report erroneously states that first-time offenders against the new Anti-Homosexuality Act "would face up to fourteen years in jail." In fact, the final act as signed into law sets a penalty of lifetime imprisonment regardless if whether it is a first conviction or not.
Ugandan Tabloid Sparks Vigilante Campaign
Jim Burroway
February 25th, 2014

Just one day after Ugandan president Yoweri Museveni signed the Anti-Homosexuality Act, the tabloid Red Pepper has launched a massive vigilante campaign on the front page of its latest edition. Four photos appear on the front page, with additional photos on the inside pages along with names, addresses and other identifying information on 200 people that the paper says is gay.
Two of the four front-page photos are of well-known LGBT rights activists. Sam Ganafa, executive director of Spectrum Uganda Initiatives and board chair for the Sexual Minorities Uganda coalition, had been arrested with four others by police last November and spent two weeks in jail and charged with "unnatural offenses," which carried a potential lifetime imprisonment even without the Anti-Homosexuality act being in place. The five were finally released on bail, awaiting trial. Transgender rights activist Victor Musaka who won an important High Court case in 2008 which stemmed from his arrest and personal body examination by police seeking to determine his so-called "real" gender. The High Court issued a landmark ruling stating that police had violated his right to privacy and that the principles of equality and non-discrimination are applicable to the LGBT community.
The other two photos are of popular cultural figures in Uganda, Fr. Anthony Musaala and a hip-hop performer who goes by the stage name of Keko. Fr. Anthony Musaala is a recording artist known as "the singing priest." In 2009, in the anti-gay hysteria stirred up by the infamous conference conducted by Scott Lively and two other American Evangelicals, Musaala was named by the Ugandan organization that sponsored Lively's talk, and later by a lacky by a lacky of rival pastor Martin Ssempa. Musaala is a well-known figure and the Catholic church is seen as a rival to Uganda's evangelical churches. Musaala's name appeared in another tabloid's outing campaign in 2010 when Sunday Onion (no relation to the satirical U.S. publication with a similar name) published his name and photo. Musaala has never publicly discussed his sexuality.
Keko experienced Red Pepper's retaliation last week when Keko took to social media saying, "If Sevo signs the anti-homosexuality bill, we are always going to be third world. Development is tolerance."
Red Pepper's outing campaign this time takes up three interior pages with more names and photos of LGBT Ugandans. Some of the names and photos are well-known: Sexual Minorities Uganda executive director Frank Mugisha, transgender rights activist Pepe Julian Onziema, and Freedom and Roam Uganda executive director Jacqueline Kasha. Onziema told the Associated Press that he knew of six arrests since Museveni signed the Anti-Homosexuality Act yesterday. Police have confirmed two.
But the overwhelming number of those named by Red Pepper are private citizens and not well-known activists or celebrities. The names listed are often those of ordinary salespeople, shopkeepers, and ordinary employees of larger firms. The evidence for their alleged homosexuality is not given, and many, in fact, may not be gay or transgender.
Red Pepper's web site is currently off-line as of this writing.
In 2011, the tabloid Rolling Stone (no relation to the U.S. publication by the same name) published a list of names and photos of LGBT Ugandans under the headline "Hang Them!" One of the photos to appear on the front page was that of LGBT rights activist David Kato, who was a spokesperson for Sexual Minorities Uganda. Kato and others sued the tabloid and won a court order barring the tabloid from publishing any more names and photos as part of an outing campaign. The tabloid's publisher, Giles Muhame and advertising manager Cliff Abenaitwe both attended Martin Ssempa's Makerere Community Church. Just three weeks after that court victory, Kato was found bludgeoned to death in his home.
Red Pepper has has a long history of stoking anti-gay vigilante campaigns. In April 2009, just one month after Scott Lively's conference in Kampala, Red Pepper published a list of names, photos, occupations and other identifying information — their "killer dossier," as they put it — of more than fifty Ugandans accused of homosexuality. Red Pepper followed in December with another so-called "exposé" of "city tycoons who bankroll Ugandan homos."
VIDEO: Museveni Speaks To Reporters After Signing Anti-Homosexuality Bill
Jim Burroway
February 24th, 2014
You can see the live signing beginning at about the 53:00 minute mark. You can read President Yoweri Museveni's prepared remarks here, although he made several significant departures from his prepared remarks from time to time. At one point, he asked his scientists to introduce themselves individually.