U.S. Announces Sanctions Against Uganda As Human Rights Violations Surge
Jim Burroway
June 24th, 2014
After Uganda's President Yoweri Museveni signed the Anti-Homosexuality Act into law, Norway, Denmark, Sweden and the Netherlands to immediately announce a combined $37 million in aid cuts, and the World Bank announced that it would delay a $90 million loan to Uganda's health service. Four months later, the Obama Administration finally came forward with a package of sanctions against the Ugandan government:
The United States will halt $2.4 million in funding for a Ugandan community policing programme in light of a police raid on a US-funded health programme at Makerere University and reports of people detained and abused while in police custody.

In addition, Washington will shift some funding for salaries and travel expenses of Ugandan health ministry employees to non-governmental agencies involved in health programmes.

It will also reallocate $3 million in funding for a planned national public health institute in Uganda to another African country, which it did not name. A National Institutes of Health genomics meeting would be moved from Uganda to South Africa, the White House said.

It also cancelled plans for a US-sponsored military exercise in Uganda that was meant to include other East African countries.
The U.S. will also deny visas to a targeted list of Ugandan citizens, including those "involved in serious human rights abuses, including against LGBT individuals." But it won't end its humanitarian support for Uganda or its cooperation with the Uganda Military in its fight against the Joseph Kony-led Lord's Resistance Army. The U.S. total bilateral aid package to Uganda across several U.S. agencies is estimated to be at about $486 million, including about $36 million in military aid to assist in the fight against the LRA and Uganda's peacekeeping mission in Somalia. Uganda warns that the latest round of cuts will hurt the nation's "most vulnerable":
"Uganda considers this announcement by the US regrettable as some of the halted funding and programmes in Uganda are those that will affect the most vulnerable people that the US government purports to support and aims to protect," the foreign affairs ministry said in statement.

…Uganda's foreign ministry insisted relations would not be harmed.

"There are more areas of cooperation between the Uganda and the US, as the two countries continue to share a lot in common on both regional and international issues," the statement added.
Since the Anti-Homosexuality Act became law, international observers have reported a "surge" in human rights violations in the country, including forced closures of NGO's, raids, arrests and at least one murder of a transgender person. Immediately after the bill was signed, it unleashed another wave of anti-gay vigilantism in the Uganda media. Last month, Sexual Minorities Uganda issued a report (PDF: 1.1MB/28 pages) cataloguing "162 reported incidences of persecution perpetrated against Ugandan LGBTI people," including violence, kidnapping, torture, arrests, blackmail, evictions, firings from jobs, being disowned by families, and suicide. Seventeen people were arrested between February 25 and May 1, compared to just one in all of 2013 and none in 2012.
Meanwhile, the combined weight of previously announced AID cuts is starting to take its toll on the Uganda economy. The Uganda Shilling has fallen nearly 6% since the law was signed in February:
Foreign aid makes up about 4% of Uganda's gross national income, and is equal to more than a third of government revenues. If its volume continues to decrease significantly, that's going to be noticeable—already, local traders are predicting dollar shortages.
Uganda's opposition Forum for Democratic Change (FDC), which has long suffered brutal repression by Museveni's government, sees a small silver lining in the aid cuts:
During the FDC weekly press conference at the party headquarters in Najjanankumbi, the FDC spokesperson, Mr John Kikonyogo said the negative implications of the sanctions will call for financial discipline and morality among government institutions.

He also said the travel bans will reduce government expenditure on meaningless travel by officials thus ensuring transparency and accountability in government expenditure.
Ugandan LGBT Activist Seeks Asylum in U.S.
Jim Burroway
May 7th, 2014
John Abdallah Wambere, who goes by the nickname "Long Jones," filed for asylum in the U.S. yesterday, saying that if he were to return to Uganda, he would face persecution and potential prosecution under the country's Anti-Homosexuality Act which President Yoweri Museveni signed into law in February. He is a longtime gay activist who cof-founded Spectrum Uganda fourteen years ago. He appeared at a press conference in Boston with attorneys from Gay and Lesbian Advocates and Defenders (GLAD) to discuss his decision:
"This has been a very, very difficult decision for me," said Wambere in a statement to the media. "I have devoted my life to working for LGBTI people in Uganda, and it gives me great pain not to be with my community, allies, and friends while they are under increasing attack. But in my heart, I know it is my only option, and that I would be of no use to my community in jail."
Just a week after the Anti-Homosexuality Act was signed into law, the Ugandan tabloid Red Pepper launched yet another anti-gay vigilante campaign. Wambere's photo appeared in the tabloid's March 1 edition under a headline touting "Ugandan Homos Cabinet List Leaks." GLAD explains what has happened to him since February:
As a co-founder of the LGBTI rights group Spectrum Uganda Initiatives, John knew he was in danger. His photo and name had been plastered on the front page of Ugandan newspapers, outing him as gay under headlines like "Men of Shame Exposed". Clients had been fleeing his travel agency till his business dropped off to nothing.  He had been questioned by relatives and shunned by neighbors.  He endured the murder of his friend David Kato.  He had been evicted, repeatedly arrested, harassed on the street by strangers, and received threatening anonymous phone calls.
Wambere appeared in the documentary Call Me Kuchu, which portrays the hardships experienced by LGBT Ugandans, including the brutal murder of LGBT activist David Kato in January 2011. He also appeared in the 2010 Current TV documentary Missionaries of Hate.
Uganda Considers Another Round of Anti-Gay/Human Rights Laws Targeting NGOs
Jim Burroway
April 30th, 2014
It's hard to fathom that a country that enacted one of the world's more restrictive anti-gay laws just a little over two months ago, and with it earned international condemnation, would go back to that well again. But it looks like that is exactly what they are about to do:
Uganda has drafted a new law that would bar non-governmental organizations (NGOs) from promoting homosexuality, tightening rules further after anti-gay legislation in February was widely condemned as draconian.

The draft, now being studied by the cabinet before being introduced in parliament, would also ban foreign NGOs from meddling in the east African country's politics, junior internal affairs minister James Baba told Reuters on Monday.
The government has already raided at least one HIV/AIDS research and service NGO, this one operated by the U.S. military, over allegations that it has violated the Anti-Homosexualty Act's clauses against "aiding and abetting" and "promoting" homosexuality. The U.S. responded by suspending that project, but it has been reluctant to suspend major portions of the U.S.'s estimated $723 million aid package while Ugandan troops continue peacekeeping operations in Somalia while also battling insurgents from the Lord's Resistance Army. Norway, Sweden, Netherlands, Denmark and Britain have already announced direct aid suspensions to the Ugandan government, but the European Union ambassador to Uganda has downplayed talk of wider aid cuts.
The draft NGO law appears to be much broader than the reported sexuality aspects. Uganda's President Yoweri Museveni, who has been in power since 1986, will stand again for yet another five year term in the 2016 elections. His government has come under increasing fire over rampant corruption, the government's repression of press freedoms and its harassment and detention of opposition figures:
Local and international rights groups have been especially vocal in highlighting mounting violence against members of opposition and the impunity enjoyed by corrupt officials loyal to Museveni, who they say is eager to close all key platforms that give a voice to civil society.

Last year parliament, which is heavily dominated by the ruling party, passed a public order management law that requires any group of more than three people meeting to discuss politics to first seek permission from the police chief.

A Kampala-based human rights lawyer, Nicholas Opiyo, said the law was aimed at blunting NGOs' criticism of government corruption.
Uganda Police Raid Another HIV Service Provider
Jim Burroway
April 9th, 2014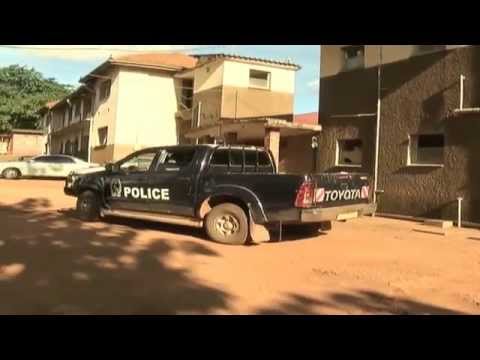 Last week, police in Kampala raided and shut down an HIV/AIDS Service provider funded by the U.S. military's Walter Reed Project. This morning, NTV Uganda reports on another raid taking place in the Nakasero district in downtown Kampala where most of the government and diplomatic buildings are located.
Kampala police yesterday released this statement concerning the raid at the Walter Reed Project. It appears that they had been sending undercover officers to the project. Note the depiction of materials describing safe sex practices as a "same-sex pornographic film."
Police received a report that an NGO based in Nakasero area of Kampala was carrying out recruitment and training of young males in unnatural sexual acts.
Police deployed crime intelligence officers to verify the claims, by infiltrating the project. Two officers undertook the assignment.

The officers were registered for training by the NGO, and given identification numbers. The training targeted youth between the ages of 18 and 25.The trainees were shown videos of men engaging in homosexual activity, and they were encouraged to bring along their sexual partners.

The trainees were further given literature describing safe sexual practice between males, as well as condoms and lubricant. They were each paid between UGX. 10,000 to UGX. 100,000, as transport refund, at the end of each training session. On 4th of April, 2014, crime intelligence officers observed a large number of participants being shown a same-sex pornographic film. The officers identified themselves to the facilitators, and asked for an explanation on what was happening.

On learning of the presence of the Police, the participants fled. One of the facilitators accompanied the officers to Jinja Road Police Station to assist in investigation, and was later released.

The NGO later complained to the Inspector-General of Police of harassment and unprofessional conduct by the officers involved, and the IGP has directed the Professional Standards Unit to investigate.

In the meantime, we appeal to all persons who may have participated in this training, or have information that could assist the Police in the investigation, to volunteer such information to the Police.

Fred Enanga

Police Spokesman
Uganda Police Force
U.S. Suspends Ugandan HIV Research Project
Jim Burroway
April 8th, 2014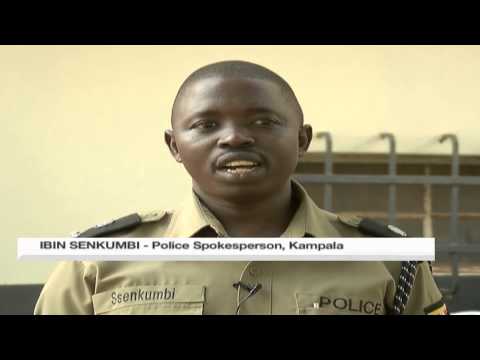 Last week, we briefly mentioned reports coming out of Uganda that police had raided the Makerere University Walter Reed Project, a U.S.-funded joint project with the university and the U.S. military's HIV research program. NTVUganda reports more on the raid above, which comes as a direct consequence of the enactment of the Anti-Homosexuality Act. One of the provisions of the act criminalizes "promotion" of homosexuality and another provision criminalizes "aiding and abetting" homosexuality. The U.S. State Department has responded by suspending the program:
We are deeply concerned that a U.S.-funded health clinic and medical research facility, the Makerere University Walter Reed Project (MUWRP), was raided by Ugandan authorities on April 3, leading to the arrest of one of the facility's employees, allegedly for conducting "unethical research" and "recruiting homosexuals." While that individual was subsequently released, this incident significantly heightens our concerns about respect for civil society and the rule of law in Uganda, and for the safety of LGBT individuals.

The MUWRP is engaged in efforts to improve public health and save lives. The Ugandan government is responsible for protecting all of its people, and attacks and intimidation of health care workers are unacceptable. The safety of health workers must be respected. We have temporarily suspended the operations of MUWRP to ensure the safety of staff and beneficiaries, and the integrity of the program.
This suspension comes just three weeks after the Obama Administration announced an increase in military advisers, special forces and aircraft to Uganda to aid in its battle against the insurgency led by Joseph Kony and his Lord's Liberation Army.
EU Downplays Ugandan Sanctions Over Anti-Homosexuality Act
Jim Burroway
April 3rd, 2014
LGBT advocates in Uganda are split over the question of foreign aid cuts in response to the country's adoption of the draconian Anti-Homosexuality Act. Many have argued that any actions taken against Uganda should be aimed at addressing the much larger human rights problems in what is increasingly becoming a one-party kleptocracy. Sexual Minorities Uganda executive director Frank Mugisha and others have cautioned against aid cuts:
"We can't afford to create new victims," (Mugisha) said on Twitter this week. "We should go after the crazy politicians! Not innocent Ugandans."

…Edwin Sesange, director of the African LGBTI Out and Proud Diamond Group, said in a Gay Star News comment piece: 'Aid in various forms helps all ordinary Ugandans, including LGBTI people who we are campaigning for. "Therefore the consequences of not being able to access those services financed by foreign aid will directly impact gay, lesbian, trans and bi Ugandans wellbeing. Our parents, sisters, brothers, friends and other relatives will also become victims. By contrast, most proponents of homophobia in Uganda can afford luxurious lives without depending on some foreign aid funded projects."

He added: Politicians and the anti-gay vigilantes are using this threat from developed countries as a way of convincing people the west is using foreign aid and its influence to spread homosexuality to Uganda. We need to change this argument such people can understand the role of the western countries has is fighting homophobia, not making people gay. Western leaders need to assess the risks of their strategies before LGBTI people pay the consequences."
Meanwhile, Ugandan critics question why the West is ignoring the protracted government-sponsored violence against opposition leaders and their supporters and focusing all of their attention on the LGBT population.  This is the best way to understand the situation on the ground that the European Union Ambassador to Uganda Kristian Schmidt is trying to address in this interview with NTV Uganda yesterday.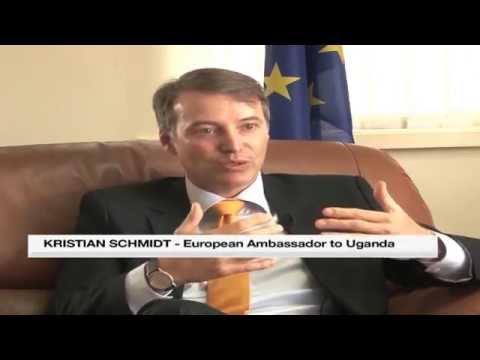 Europe is not here to exchange money for African values. This is not the nature of our partnership. Our partnership is one of equal partners where what we do in the area of development cooperation is discussed and agreed with our Ugandan partners.

The discussion that we have on human rights are not conditional, and that's why it's important to note that we are not threatening. We didn't threaten with aid cuts during the process of legislative adoption of the bill. This is not how Europe operates.
J. Lester Feder at Buzzfeed has more on the assurances Ambassador Schmidt says that he is seeking from the Uganda Government:
During an interview in his office in the Ugandan capital on Wednesday, Schmidt would not specify what assurances the E.U. sought from the five cabinet officials he met with behind closed doors last week. But, he said, he was "very" satisfied with the conversation and expected to resume the discussion after Ugandan officials returned from a summit between E.U. leaders and African leaders being held this week in Brussels.

"I am satisfied with the fact that … there were five ministers [in the meeting] … ready to give us assurances, that the law wouldn't mean violations of privacy, freedom of expression, freedom of assembly, [and] the way medical care will be extended in facilities that are already caring for men who have sex with men," Schmidt said. And while the E.U. believes the "law is discriminatory from A to Z and it has to be repealed," he said, "there are ways to limit the damage. I want to keep working on that [through dialogue]."

…"We do not try to buy African acceptance for European or universal values through our development cooperation," he said. "Because what happens when you try to do that, you get the [backlash] that we're seeing…. It's not productive to present it as a trade off."
It's hard to see what meaningful assurances government could offer when arrests like these are continuing across Uganda and suspects are being paraded before TV cameras: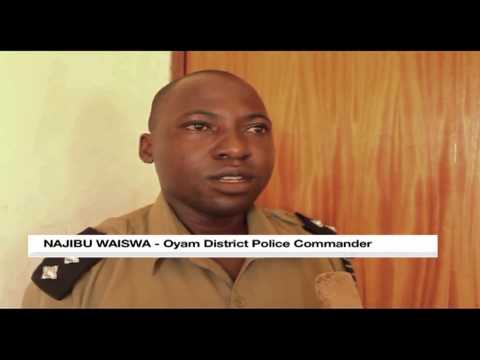 Two men suspected of engaging in homosexuality acts have been arrested in Oyam. Oyam District Police Commander, Najibu Waiswa says 22-year-old Maurice Okello and his alleged partner, 18-year-old Anthony Oluku were caught red handed. Police claims the two admitted to having been involved in acts of homosexuality.
Meanwhile, Frank Mugisha is tweeting this morning that police have raided an NGO at Makarere University which receives PEPFAR funds from the US over services it provides to LGBT people:
Ugandans Celebrate Anti-Homosexuality Act
Jim Burroway
April 1st, 2014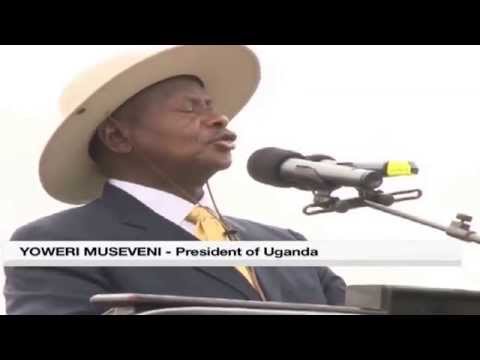 Uganda's Inter-Religious Council, a coalition of religious denominations, organized a ceremony of prayer and thanksgiving yesterday at the Kololo Independence Grounds, the nationally-revered site where Uganda's independence was declared in 1962. Religious and political leaders gathered to honor President Yoweri Museveni for signing the Anti-Homosexuality Act into law despite widespread international condemnation. Buzzfeed's J. Lester Feder was there and described the carnival atmosphere at Kololo:
Fire jugglers, acrobats, and schoolchildren performed at a five-hour ceremony in the Ugandan capital on Monday called to celebrate the country's new Anti-Homosexuality Act.

Speakers paid tribute to President Yoweri Museveni, the official guest of honor, and linked Uganda's fight against homosexuality with shedding its colonial past in an event that had the feeling of a campaign rally.

"Today, we come here again [to celebrate] sovereignty and freedom … [and] to take charge of our destiny," said David Bahati, the lawmaker who sponsored the bill, noting that the event was taking place at the Kololo Independence Grounds, the parade grounds where Ugandan independence was granted in 1962. "The citizens of Uganda are with you, Mr. President. The religious and cultural leaders are with you, Mr. President. The members of parliament and the nation is behind you."
Sheik Shaban Mubajje, Mufti of Uganda, spoke on behalf of the Inter-Religious Council in offering prayers of thanksgiving for the Anti-Homosexuality Act, while complaining that foreign donors have cut US$3.5 million in aid to the group that had been earmarked its HIV/AIDS programs. HIV/AIDS providers and legal experts have warned that the overly broad wording of the Anti-Homosexuality Act's "aiding and abetting" clause would, at best, have a chilling effect on the delivery HIV/AIDS services to LGBT people, and, at worst, could be interpreted as criminalizing it. Other religious leaders offering thanksgiving prayers included Roman Catholic Archbishop Cyprian Lwanga, Anglican Archbishop Stanley Ntagali, and evangelical pastor Simon Peter Emiau. Ahead of the celebration, Pastor Martin Ssempa, of "eat-da-poo-poo" fame and staunch supporter of the new law, led a march of supporters from Makarere University to Kololo.
Museveni charged that Western countries were "attacking our culture, which is the bedrock of our survival," and promised to support a domestic fund to replace lost foreign dollars for HIV/AIDS.
U.S. To Announce Sanctions Against Uganda
Jim Burroway
March 24th, 2014
Key members of Congress were reportedly briefed yesterday on the Obama Administrations plans to curtail or redirect U.S. aid to Uganda in response to Yoweri Museveni's signing the Anti-Homosexuality Act into law. According to Buzzfeed, the Administration has settled on four specific steps:
Money will be shifted away from the Inter-Religious Council of Uganda, a group that has publicly come out in support of the anti-gay law and has received millions of dollars in grants from the United States to help fight the HIV/AIDS epidemic. Some $2.3 million will continue to go to the IRCU to continue treatment for some 50,000 current patients, but an additional $6.4 million intended for the IRCU will go to other organizations.
The Inter-Religious Council is a coalition of Ugandan Roman Catholic, Anglican, Muslim, Christian Orthodox and Seventh-Day Adventist faith leaders. When the Anti-Homosexuality Bill was first proposed in Parliament in 2009, the Inter-Religious Council debated the bill and many of its members gave it their full backing, although many questioned the death penalty provision in the original bill. But by the following spring, the Inter-Religious Council softened its support somewhat. Two weeks ago, the Inter-Religious Council defended the aims of the Anti-Homosexuality Act, while also calling on the government to revisit the legislation and asked that for a dialogue "with the donor community on the looming suspension of aid to our country."
The remaining three steps the Obama Administration will take include:
Second, because the law makes "promoting homosexuality" illegal, a U.S. funded study to help identify populations at risk of contracting HIV/AIDS has been suspended. The study, which was going to be conducted by a Ugandan university and the Center for Disease Control, has been suspended out of fear that both staff and survey respondents could be put in danger.

Third, because any LGBT person or LGBT ally who now enters Uganda is at risk, money intended for tourism programs will be redirected. "Therefore, approximately $3 million in funding designated for tourism and biodiversity promotion will be redirected to NGOs working on biodiversity protection," (National Security Council spokesman Jonathan) Lalley said.

And finally, the Department of Defense had several events scheduled in the country later this spring and those will be moved to other locations. "Certain near-term invitational travel" for Ugandan military and police personnel has also been suspended or canceled.
Norway, Demark, the Netherlands, which collectively had provided $27 million in aid to Uganda, have already announced their aid cuts aid to the Ugandan government. Sweden has cut just a little over $1 million in direct government-to-government aid, but was continuing to provide aid to non-governmental programs. Last month, the World Bank said it was delaying a $90 million loan to Uganda's health service.
The Anti-Homosexuality Act provides for a lifetime sentence for those who are convicted of homosexuality. It also imposes a lifetime sentence for those who are convicted of "aggravated homosexuality," which include "serial offenders"  of  homosexuality "or related offences." Related offenses include lifetime imprisonment for entering into a same-sex marriage, seven years for conducting one, five to seven years for advocacy by or on behalf of LGBT people, five years for providing housing to LGBT people, and seven years for providing services to LGBT people. The Act also provides for the extradition of any "person charged with an offence under this Act."
A coalition of Ugandan human rights activists are currently challenging the Anti-Homosexuality Act before the country's Constitutional Court.
Uganda's Inter-Religious Council Calls On Government to Revisit Anti-Homosexuality Act
Jim Burroway
March 14th, 2014
While the rest is outraged over Uganda's passage of the Anti-Homosexuality Act which imposes lifetime imprisonment for LGBT people and lengthy prison sentences for their supporters, the controversy inside Uganda is being augmented over a recently passed Anti-Pornography Act, which, according to reports (caveat: I haven't seen the text of the Act itself), allegedly bans women from wearing miniskirts. This has led to a number of mob assaults on women throughout the country who are seen wearing clothing that others perceive to be in violation of the law. In many of these cases, the women have been forcibly stripped of their clothing in public.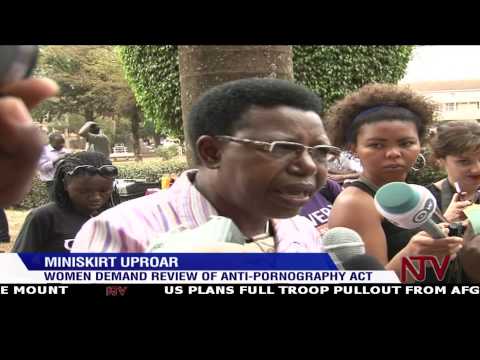 This is just part of the background behind a letter from the Inter-Religious Council of Uganda that appeared in yesterday's Daily Monitor, Uganda's largest independent newspaper. The letter from the Council's General Secretary calls on the government to revisit the Anti-Pornography Act somewhat in passing while arguing for major changes to the Anti-Homosexuality Act.
The Inter-religious Council of Uganda would like to comment on the homosexuality and pornography debate particularly the anti-homosexuality and anti-pornography laws.

Having studied the two laws in detail, we have come to the conclusion that the laws actually seek to protect the moral fibre of our society by stopping recruitment and promotion of homosexual acts, and indecent behaviour.

In our earlier statements on the Anti-Homosexuality Bill, we demonstrated availability of evidence to prove that recruitment into and promotion of homosexuality was indeed taking place in some of our schools and society as a whole, and this was targeting mainly young people.

However, we discovered that a number of clauses in the laws could be subject of abuse. For example: Section 2 of the Anti-Homosexuality Act is too broad as it talks about incriminating someone on the basis of "touching a person of the same sex with the motive of having sex with them". The interpretation of "touch" is subjective, and may imply that anyone can be accused of homosexuality and fail to defend himself.

Section 13 of the same Act stipulates that it is an offence for "any person to use electronic devices (internet, films and mobile phones) for purposes of abetting or promoting homosexuality. The problem here is that if a person/media house writes an article trying to show homosexuality as 'natural' then he/she commits an offence earning a stiff penalty to either the individual or the media house.

In light of the above, we propose the following:

Parliament revisits certain provisions in the Act, especially those relating to punishment of offenders. Our view, which is informed by pastoral considerations and our earlier position in which we advised government to drop certain provisions in the then Bill, is that the sentences prescribed for homosexual acts must be proportional to the gravity of such acts.

Government stops the media from publishing names of persons it purports to be homosexuals, or promoting homosexuality in Uganda. Politicians and sections of religious leaders also stop using inflammatory language in the debate on homosexuality. Government also revisits the Anti-Pornography law in light of recent attacks of women.

Government provides clear frameworks for implementation of both laws.

Government dialogues with the donor community on the looming suspension of aid to our country.
Report: U.S. Suspends Portion of Governmental Aid to Uganda
Jim Burroway
March 13th, 2014
Reuters, which is the only outlet so far reporting the story, quotes " a senior U.S. government official":
"As a result of this review process, a portion of the U.S. Centre for Disease Control's (CDC) cooperative agreement with the Ministry of Health has been put on hold pending this review," a senior U.S. government official told Reuters on Thursday.

The U.S. official did not say how much aid was withheld but added the CDC had spent $3.9 million on a ministry of health program last year.

Uganda's health ministry said it had been told it would no longer be able to access money from a fund used to buy antiretroviral drugs and HIV testing kits.
There has been a great deal of concern that with the passage of the Anti-Homosexuality Act, LGBT people in Uganda would either face discrimination when trying to access health care or would fear their exposure and arrest if they were to try to go to a government-run health care clinic or health care facility. Given that the Anti-Homosexuality Act threatens imprisonment to anyone who "aids, abets, (or) counsels …another to engage in acts of homosexuality " — which can easily be interpreted as banning safer-sex counseling, or providing information or health care related to the sexual health to gay people — these are not unreasonable fears.
Total U.S. aid to Uganda is estimated at $723 million for 2013. As far as I can tell, this figure includes aid to the Ugandan government as well as non-governmental grants.
Norway, Demark and the Netherlands, which collectively had provided $27 million in aid to Uganda, announced that they are cutting aid to the Ugandan government. Two weeks ago, the World Bank announced that it was putting on hold a $90 million loan to Uganda's health service. Last week, Sweden announced that they were cutting just a little over $1 million in direct government-to-goverment aid, but was continuing to provide aid to non-govermental programs.
Former Ugandan VP Denounces Anti-Homosexuality Act
Jim Burroway
March 12th, 2014
Uganda's opposition-leaning weekly Observer reports that former Vice President Specioza Wandira-Kazibwe has called for repeal of the Anti-Homosexuality Act, saying that the law would have a negative impact on public health and Uganda's international reputation:
Kazibwe, a special envoy of the UN Secretary General for HIV/Aids in Africa, said in a Monday statement that she had told President Museveni that the criminalization of homosexuality only serves to fuel stigma and discrimination against lesbian, gay, bisexual and transgender (LGBT) persons and risks undermining the national Aids response, which is otherwise making significant progress.

She wrote: "I am in full solidarity with the LGBT community and I will continue to defend their rights in Uganda and across Africa. Rest assured of my unwavering support and action for the realization of the rights for every human being, which has been my struggle since childhood.

I will not reverse my path. I will continue to engage with the government of Uganda and civil society organizations on this important matter, and I continue to urge the Government of Uganda to revise or repeal the Anti-Homosexuality Act at the earliest opportunity."
Wandira-Kazibwe was training as a surgeon before turning to public health policy and serving as Vice President from 1994 to 2003.
Mother Jones on "American Pastor Behind Uganda's Anti-Gay Crackdown"
Jim Burroway
March 10th, 2014
Longtime BTB readers will recognize much of what Mother Jones' Mariah Blake covers, but the value of this article is in pulling together Lively's career over the past decade into one place for a much wider audience.
Lively, a 56-year-old Massachusetts native, specializes in stirring up anti-gay feeling around the globe. In Uganda, which he first visited in 2002, he has cultivated ties to influential politicians and religious leaders at the forefront of the nation's anti-gay crusade. Just before the first draft of Uganda's anti-gay bill began circulating in April 2009, Lively traveled to Kampala and gave lengthy presentations to members of Uganda's parliament and cabinet, which laid out the argument that the nation's president and lawmakers would later use to justify Uganda's draconian anti-gay crackdown—namely that Western agitators were trying to unravel Uganda's social fabric by spreading "the disease" of homosexuality to children. "They're looking for other people to be able to prey upon," Lively said, according to video footage. "When they see a child that's from a broken home it's like they have a flashing neon sign over their head.

Lively is not the only US evangelical who has fanned the flames of anti-gay sentiment in Uganda. As they lose ground at home, where public opinion and law are rapidly shifting in favor of gay equality, religious conservatives have increasingly turned their attention to Africa. And Uganda, with its large Christian population, has been particularly fertile ground for their crusade. Journalist (a past Mother Jones contributor) Jeff Sharlet has reported at length on the Family, a politically connected US-based ministry, which promotes hard-line social policies in the East African nation.

But, according to Ugandan gay-rights activists, Lively has played an unparalleled role in fostering the climate of hate that gave rise to Uganda's anti-gay law. "The bill is essentially his creation," says Frank Mugisha, director of Sexual Minorities Uganda, a coalition of gay-rights organizations. Mugisha's group has filed a first-of-its-kind lawsuit in US federal court, accusing Lively of international crimes against humanity on the grounds that he and his Ugandan allies allegedly conspired to deprive gay Ugandans of basic human rights.
The piece also includes additional video from Lively's 2009 conference in Kampala.
Vatican Cardinal Criticizes Criminalization of Homosexuality
Jim Burroway
March 5th, 2014
Cardinal Peter Turkson of Ghana has called on Uganda to repeal its Anti-Homosexuality Act:
Cardinal Peter Turkson of Ghana, president of the Pontifical Council for Justice and Peace, said Tuesday that "homosexuals are not criminals" and shouldn't be sentenced for up to life in prison. Speaking to reporters in Bratislava where he attended a conference on the Catholic Church and human rights, Turkson said the Vatican also calls on the international community to keep providing aid.
Cardinal Turkson's comments are considered significant in Catholic circles for two reasons: he's a member of the Roman Curia, and he's sometimes mentioned as being among the "papabile" or potential candidates to be elected pope in a future conclave.
Uganda's Anglican Archbishop "Ready To Break Away"
Jim Burroway
March 3rd, 2014
Uganda's Anglican Archbishop Stanley Ntagali made the threat during a sermon yesterday:
The Archbishop of Church of Uganda (CoU) has responded to the Archbishop of Canterbury, Justin Welby, saying Uganda is ready to break away from the Church of England if its views on homosexuality are not respected.

Addressing Christians at St Andrews Church, Bukoto yesterday, Archbishop Stanley Ntangali [sic] said the Ugandan-born Archbishop of York John Sentamu recently wrote to him, saying the Church of England was concerned about the CoU's anti-homosexuality stand.

"I have written back to Archbishop Sentamu. I told him it does not matter even if we do not work with them because the Church of England is a product of repentance and USA is founded on Christian values but they seem to have become spiritually blind," Bishop Ntangali [sic] said.
Shortly after Parliament passed the Anti-Homosexuality Bill, Ntagali thanked Parliament during a Christmas message.
Ugandan Tabloids Continue Outing Campaigns
Jim Burroway
March 1st, 2014
The ink was barely dry on Uganda's Anti-Homosexuality Act when Uganda's notorious tabloid Red Pepper launched a massive outing campaign on Tuesday, revealing the names, addresses and places of employment for as many as two hundred LGBT Ugandans, many of whom were private citizens who had never disclosed their sexuality publicly, and some of whom, undoubtedly, may have been falsely identified. Red Pepper followed that on Wednesday with more front-page headlines promising "new pictures of gays inside" along with an alleged threat that "homos vow to shed blood over M7 law." ("M7" is a common shorthand for President Yoweri Museveni's last name.). That same day, a rival tabloid, Hello, featured a front page screaming, "Defiant! Top City Homos Throw Mega Bash."

Red Pepper's reign of terror has continued unabated all week, with some issues coming out as much as a full day earlier than usual, and each with more salacious stories reputedly "exposing" Uganda's gay underground. Thursday's Red Pepper included a cover story warning that "Homos go to court over anti-gay law."  That same day, Red Pepper rushed out its Friday edition, which twisted earlier interviews and statements from Ugandan LGBT advocates and turned them into potentially violence-inciting anti-gay propaganda. The same issue also claimed to have stories of Ugandan celebrities "spill(ing) gay secrets."

Saturday's edition, which was out by 2:00 p.m. Friday, included a spread featuring photos, names and addresses of LGBT Ugandans were allegedly part of a "homo cabinet." The same issue boasted another feature titled, "How to prevent your child from becoming a homo."

Sunday's edition of Red Pepper was rushed out Saturday afternoon, which included more outing allegations by anti-gay pastor Solomon Male. You may recall that Male, while deeply anti-gay, opposed the Anti-Homosexuality Bill, charging that it was providing cover for prominent people in Uganda's government who were supposedly "luring" children in to homosexuality. I don't have many details of Male's charges in this edition, except that it includes more "outing" allegations of private and public individuals. The same edition also included an extensive section alleging that foreign non-nongovernemntal organizations (NGOs), as well as allegations concerning gay students in schools.
Red Pepper is an old hat at these anti-gay vigilante campaigns. In April 2009, just one month after Scott Lively's highly influential anti-gay conference in Kampala, Red Pepper published a list of names, photos, occupations and other identifying information — their "killer dossier," as they put it – of more than fifty Ugandans they accused of homosexuality. Red Pepper followed in December, two months after the introduction of the Anti-Homosexuality Bill into Parliament, with another so-called "exposé" of "city tycoons who bankroll Ugandan homos."
There are currently unconfirmed reports of arrests, beatings, and hospitalizations of LGBT Ugandans and their relatives. Getting conformation about these reports is proving extremely difficult, as virtually all LGBT Ugandans are hunkered down and remaining out of sight:
"The community is very scared, very worried," said Dickson Mujuni of the RPL AIDS Foundation during a telephone interview from Kampala, the Ugandan capital. "They're underground."

…This reporter initially asked Mujuni to speak with him on Skype, but he said those in the Internet café would have potentially assaulted him if they heard him talking about LGBT-specific issues.

"That's how bad the situation is," Mujuni told the Blade. "Even when you're receiving a phone call, you have to talk in such a way that the person next to you does not understand exactly what you're talking about because if you're very open in your conversation, it's very unpredictable. Anything can happen because here we have mob justice… if you're Skyping and you're talking about that, you could get beaten up."