OutFront Colorado urging participation in tomorrow's civil union rally
Daniel Gonzales
May 2nd, 2012
UPDATE: Location of the rally has been changed to the front of Denver City & County Building at 1437 Bannock Street (still at noon).
.
As I mentioned in yesterday's post the Colorado civil unions bill is headed to a crucial showdown in the House Judiciary Committee tomorrow afternoon (Thursday).
State equality org One Colorado is holding a rally before the hearing. The rally will be at noon on the east steps of the Capitol in the front of Denver City & County Building at 1437 Bannock Street. (facebook event page)
Colorado's oldest and most respected LGBT publication OutFront editorialized today urging Coloradans to attend the rally and committee hearing in support of the bill. Quoting OutFront:
Once again your community needs you.

Yes. You.
OutFront continues:
A little more than a year ago, we asked you to join hundreds of your brothers and sisters at a similar rally to make your desire for equal rights known through the hollowed halls of the Colorado Capitol. More than 300 supporters showed up. And despite the community's best effort, a Republican controlled committee killed the legislation that would have granted more than a dozen rights and responsibilities to hard working, tax paying, Coloradans — both gay and straight.

So, you might think there's no point in showing up again. They've already told us "no."

But that is exactly why we must stand taller, fight harder, scream louder.

The Colorado Civil Union Act has a real chance of becoming a reality.
OutFront continues:
"Is there hope?" one of our Twitter followers asked us.

There's always hope. And this time hope's name is Rep. Brian DelGrosso of Loveland. DelGrosso, unlike other Republicans on the committee, has vocalized the possibility his 'nay' can become an 'yea.'
Again, please consider contacting the members of the House Judiciary Committee to show your support for civil unions. I've posted their contact information here.
CO civil union bill going to committee Thursday, here are the Reps that need to hear from you
Daniel Gonzales
May 1st, 2012
SB-2 the civil union bill here in Colorado has been scheduled for a hearing by the House Judiciary Committee this Thursday (May 3).  This committee is generally regarded as the most important hurdle in the process because if the bill makes it to a floor vote in the House it will likely pass.
So Thursday's Judiciary Committee hearing is a bit of a showdown.  It's where the bill died last year after hours of passionate testimony failed to overcome a one vote Republican majority on the committee.
Here's a list of the Republicans who sit on Thursday's committee.  I would encourage you to contact them and speak compassionately, persuasively, and respectfully about the need to protect committed gay and lesbian families here in Colorado.
Rep. Brian Delgrosso, HD-51 Loveland
brian@briandelgrosso.com
303-866-2947
Facebook profile

Rep. BJ Nikkel, HD-49 Loveland
rep.nikkel@gmail.com
303-866-2907

Rep. Mark Waller, HD-15 Colorado Springs
mark.waller.house@state.co.us
303-866-5525
Facebook profile
Rep. Jerry Sonnenberg, HD-65 Sterling
jerry.sonnenberg.house@state.co.us and Jerry@RepSonnenberg.com
303-866-3706
Facebook profile
Rep. Mark Barker, HD-17 Colorado Springs
mark.barker.house@state.co.us and mark@markbarker.org
719-339-8265 and 303-866-3069
Facebook profile
Rep. Bob Gardner, HD-21 Colorado Springs
bob.gardner.house@state.co.us
303-866-2191

Civil unions bill clears Colorado Senate despite theocratic opposition
Daniel Gonzales
April 27th, 2012
Thursday SB-2 (civil unions) passed out of the Colorado Senate with a vote of 20-12 with 3 Republicans joining Dems in support.
In last year's campaign video I shot of a grandmother who provided graphic testimony about the human anus came to represent the bill's opposition.
This year two particularly religious Republican Senators have provided some amusing debate.  Here's a clip of highlights I assembled from today's floor debate.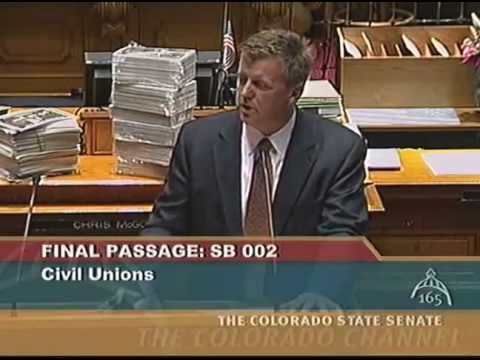 The bill now moves on to the House, which is controlled by Republicans by a single vote.  Although openly gay sponsor Mark Ferrendino has enough votes in the House to pass the bill, it's generally believed the House Judiciary Committee where the bill died last year will again be the largest challenge.
Focus launches "religious liberty" ballot amendment in Colorado
Daniel Gonzales
March 16th, 2012
Somehow both OutFront Colorado and I missed not one but two articles last week announcing Focus On The Family with the help of Alliance Defense Fund, intends on creating a coalition to pass a ballot amendment in 2012 to "protect" the religious freedoms of individuals and religious groups.
Here's the proposed wording: (source withheld)
(1) The right to act or refuse to act in a manner motivated by a sincerely held religious belief may not be burdened unless the government proves it has a compelling governmental interest in infringing the specific act or refusal to act and has used the least restrictive means to further that interest.

(2) A burden includes indirect burdens such as a withholding of one or more benefits, assessing one or more penalties, exclusion from one or more government programs, and/or exclusion from one or more government facility.
This is a seemingly new strategy and we don't have any other states to look to for precedent where such things have been enacted. However North Dakota will vote on a similar amendment in June of this year. (The proposed Colorado amendment would be voted on in November).
As of recently Focus' CitizenLink has had a bee in their bonnet about so called religious liberty as it pertains to reproductive freedom and health care reform here, here, here, here, here, here, and here, this week alone. In my opinion contraception mandates is merely the political flavor of the month, animus towards LGBT people is in season year round with Focus and friends. Joe.My.God has an eloquent take on the proposed amendment:
Focus On The Family has launched a ballot petition drive that, if successful, will ask Colorado voters to make it legal to deny housing, employment, and services to any person on the basis of religious objections. (Gosh, who COULD they be talking about?)
State equality org One Colorado is already responding by forming a coalition with Planned Parenthood of the Rocky Mountains and Interfaith Alliance of Colorado. One Colorado posted an official statement this morning which reads in part:
The initiative's language, which focuses on "religious liberty" is incredibly deceptive. It doesn't make clear the widespread implications of enacting this law. Implications that don"t just impact LGBT people, but all Coloradans.

Imagine a law that allows a pharmacist to refuse to fill a birth control prescription. A law that permits an employer to refuse to hire people on the basis of sexual orientation or gender identity and expression. A law that gives protection to teachers who refuse to teach sex education or evolution. All for the sake of so-called religious freedom.

At One Colorado, we believe that everyone has a right to their own religious beliefs. But no one should be above the law. And we shouldn't create a two-tiered society where the law applies only to some and not others.
One Colorado also announced they will be mounting a legal challenge to the proposed amendment, that will occur when the final wording comes before the Secretary of State's Title Board which has the power to reject proposed ballot items. If you wish to donate to the legal fund click here, One Colorado has set a goal of collecting the $5,000 needed by Monday.
Nobody has much to say from a legal perspective yet. OutFront's article included comment from the GLBT Community Center of Colorado's legal director:
Mindy Barton also noted text of the measure is very broad and the potential applications are unclear.

"We are unsure of what the proposed ballot initiative means, and we are interested to hear if Focus on the Family, whose Senior Vice President is listed as one of the proponents, will explain the intent behind it," Barton said.
As a lay-person let's have a look at the amendment's wording. If allowed to actually take effect, it seems the amendment would allow someone with a "sincerely held religious belief" to disobey any law they see fit based on those beliefs.  Sometimes a person breaks the law by doing something, an example of this would be a Rastafari using marijana (a Schedule I narcotic) in a religious ceremony. Other times a person would break the law by not doing something, an example of this would be "sovereign citizens" who sincerely believe they are exempt from paying taxes. Virtually any law it appears could be challenged, and the government would be obligated to justify they have a "compelling governmental interest" in enforcing it. It could be decades of legal chaos as our courts subject thousand of laws to the compelling interest test to determine if they are trumped by "religious liberty."
But ultimately that could work to our advantage. When the public views ballot measures as vague or creating chaos, voters tend to error on the side of rejecting them.
The Friendly Atheist blogged about the proposed North Dakota amendment back in 2010 noting how blatantly unconstitutional its implications are, citing the federal Religious Freedom Restoration Act (RFRA) which was stuck down in Boerne v. Flores. He also has a fabulous quote from an opinion by Antonin Scalia in Employment Division v. Smith in which a Oregon man was denied unemployment benefits after using peyote in a religious ritual  Wrote Scalia:
We rejected the claim (in Reynolds v. United States) that criminal laws against polygamy could not be constitutionally applied to those whose religion commanded the practice. "Laws," we said,

are made for the government of actions, and while they cannot interfere with mere religious belief and opinions, they may with practices. . . . Can a man excuse his practices to the contrary because of his religious belief? To permit this would be to make the professed doctrines of religious belief superior to the law of the land, and in effect to permit every citizen to become a law unto himself.
That sums it up perfectly, Focus' "religious liberty" amendment would allow "every citizen to become a law unto himself."
Rick Rolls Romney
Jim Burroway
February 8th, 2012
It was a huge night for Sen. Rick Santorum, whose triple-play win last night seems to show that Republican primary voters and caucus voters are still looking for that anybody-but-Mitt candidate. And it was that dissatisfaction with the presumptive nominee that allowed Santorum to dominate the field like a man on a dog.
In Missouri's primary, Santorum captured his biggest win with 55% of the vote, more than twice as much as Gov. Mitt Romney's 25% showing. Rep. Ron Paul came in at 12%, and 4% selected "uncommitted," which can be read either as a Newt Gingrich vote (Gingrich failed to qualify for Missouri's ballot) or as "none of the above." Santorum scored a total shutout in Missouri, winning every single county in the state.
Missouri's primary election is an oddity. There are no delegates up for grabs. In fact, the voting there is largely meaningless because the delegates won't be selected until the state party convention on April 21, and there is no relationship between last nights votes and how the party's state delegates are ultimately chosen. Missouri GOP leaders are free to heed or ignore last night's vote altogether. So how well last night's results will translate into delegates remains an open question.
But in the Minnesota and Colorado caucuses, the fight for delegates was real, and Santorum had a similarly spectacular night there as well. In Minnesota, Santorum pulled in 45% of the vote and six delegates. Paul came in second with 27% of the vote (3 delegates), followed by Romney at 17% (2 delegates) and Gingrich at 11% (1 delegate). Yes, you read that right: Paul beat Romney in Minnesota. And like in Missouri, Romney didn't win a single county in Minnesota either.
But the real surprise was Colorado, where Romney was expected to do well. Instead, Santorum took the state with 40% of caucus voters (earning 5 delegates) against Romney's 35% (4 delegates), followed by Gingrich's 13% (2 delegates) and Paul's 12% (1 delegate).
The worst loser of the night would have to be Gingrich. He had a terrible showing, which is bound to have an impact to his already troubled fundraising. Santorum, on the other hand, may be able to use these wins to convince Republican voters to give him another look — and GOP anybody-but-Mitt donors somewhere else to put their money.
But speaking of money, Romney's drubbing shows that there are limits to how far nearly-unlimited financial resources can go. Romney's win last week in Florida had pundits believing that it was now his election to lose. It now looks like Midwesterners are thinking maybe he should. Lose, that is.
Campaign for civil unions gets underway in Colorado
Daniel Gonzales
January 15th, 2012
Colorado's legislative session began last Wednesday and while most of the excitement was in Denver, equality org One Colorado held their civil union campaign kickoff in Colorado Springs that evening.  It was a low profile event, not designed for the media but rather for community members who's excitement and passion is an absolute must in the effort to get civil unions passed into law.
.
Since last year's effort Public Policy Polling has reported support for civil unions has grown from 71% to 76%.  That makes civil unions more popular than even Tim Tebow who polls at 59% favorability.  And that support for civil unions is not confined to urban centers like Denver, in advance of Wednesday's legislative kickoff the Durango Herald editorialized in support. Also attracting positive media attention is a new group of Republicans for civil unions called Coloradans for Freedom which approaches the issue from traditional GOP philosophies of individual liberty and fiscal responsibility.
But back to One Colorado's kickoff – speakers included:
.
.
.
.
.
.
After the event attendees enjoyed light refreshments and lingered to chat — I was able to reconnect with several people I hadn't seen since last year's campaign.  One Colorado is setting a decidedly different tone in this year's push for civil unions.
Oh I should add that the following day in his state-of-the-state address, Governor John Hickenlooper endorsed civil unions, saying:
"We don't believe we should legislate what happens inside a church or place of worship, but government should treat all people equally," Hickenlooper said. "It's time to pass civil unions."
If you're interested in adding your voice to call for civil unions feel free to sign One Colorado's petition here.
Colorado Republicans start pro-civil unions group
Timothy Kincaid
January 9th, 2012
With very high support for civil unions in Colorado – including from one in five Republicans – a new group has formed to give voice to that support. (Colorado Statesman)
"Coloradans for Freedom" enters the scene less than one year after a bill to legalize civil unions was voted down by Republicans on party lines in the state's House Judiciary Committee last March.

Coloradans for Freedom spokesman Mario Nicolais, a Jefferson County attorney who served as a Commissioner on the Colorado Reapportionment Commission, said the group exists primarily to serve as a resource for Republicans and anyone else interested in a conservative argument for civil unions.
I wish them well.
What Coloradans support couple rights?
Timothy Kincaid
December 13th, 2011
Quick answer: almost all of them.
The Public Policy Polling firm has released its latest polling of Colorado residents. Granted they are a Democratic polling firm, but the questions seem to be presented without obvious bias or leading so this poll is probably is a pretty fair reflection of actual views and can't be dismissed as partisan push-polling.
And the best way to describe the views would be to say that the residents of Colorado are fairly evenly divided about whether "same-sex marriage should be legal or illegal", but they very much believe that gay couples should either be allowed to legally marry or form civil unions.
So, which Coloradans support marriage equality? Not much surprise there.
Asking the "should be legal" yes or no question:
80% of very liberal
78% of liberal
55% of moderate
49% of women (as oppose to 41% illegal)
46% of men (as oppose to 45% illegal)
70% of Democrats
51% of Independents
48% of Hispanics (as oppose to 43% illegal)
47% of Whites (as oppose to 43% illegal)
60% of 18-29 years old
52% of 30-45
49% of 46-65 (as oppose to 41% illegal)
But that doesn't necessarily say that those outside these groups were all for banning rights. Actually, healthy minorities support full equality:
24% of Conservatives (but only 8% of "very conservative")
20% of Republicans
44% of "Other" (not White or Hispanic)
32% of older than 65 (with an additional 12% not sure)
All of which is very good news. But when you ask the three part question (marriage, civil unions, or nothing) the support for couple recognition is much stronger. The "marriage" response is slightly lower than in the legal v. illegal response, but a good many of those who did not support legal marriage do support civil unions.
So who supports some form of couple recognition? Three quarters of them. Every single category other than "very conservative": 68% of Conservatives and 60% of Republicans and 59% of racial "other" and 65% of the older folk. Even 46% of "very conservative" Coloradans agree.
Last year the legislature played a political game to kill the Civil Unions bill in a committee. Let's hope this poll gives them a bit more courage to do their actual job this year and vote in this very popular option.
Gay Soldiers Attacked, Fear Coming Forward Because of DADT
Jim Burroway
July 5th, 2011
Two gay Ft. Carson soldiers south of Colorado Springs were beaten Saturday at a fast food restaurant while their attackers shouted anti-gay and racial slurs. Police are investigating the attack as a possible hate crime, but the two soldiers have to remain anonymous because "Don't Ask, Don't Tell" has not yet been officially dismantled.
This attack comes almost exactly twelve years after Pfc Barry Winchell was murdered because he was gay. That murder occurred in July, 1999, and highlighted the physical dangers that LGBT servicemembers are exposed to under DADT. After twelve years and with DADT's promised imminent demise, some things still haven't changed. The soldiers, who remain unidentified in KRDO's story, say that most people in their unit know that they are gay. But, says one, "I don't need people higher up knowing. I still have to protect myself as far as on the military side." One of the soldiers is being treated for facial fractures and his jaw has been wired shut. The other had been repeatedly kicked in the head and ribs, and he said his right eye had swollen closed. With injuries like those, it will be impossible for them to hide now.
William Tapley Sees Penises at the Denver International Airport
Jim Burroway
June 1st, 2011
He calls himself The Third Eagle of the Apocalypse and "the co-prophet of the End Times." I wonder if the sight of church steeples thrusting over the skyline gives him the vapors?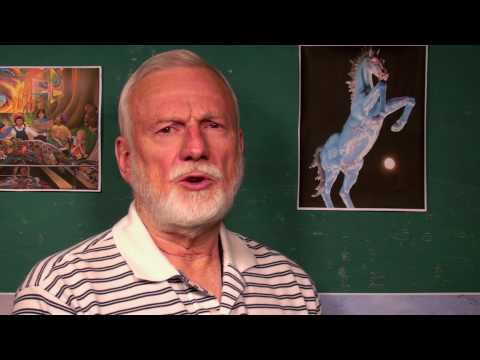 CO Civil Unions Defeated In House Committee
Jim Burroway
April 1st, 2011
The crazies came out again in Colorado last night to defeat the Senate Bill 172, which would have provided Civil Unions and other protections for LGBT Coloradans. The bill died in the committee on a 6-5 strict party-line vote. All Republicans voted no, including Rep. Brian DelGrosso (R-Loveland) whose uncle is gay. "It was tough," said DelGrosso. As tough as it is for his uncle?
Rep. B.J. Nikkel (also R-Loveland), after voting no herself, thanked members of the committee and the bill's sponsor for "a very thoughtful, civil dialogue about the issue of civil unions." That "civil dialogue" not only included the "anus lady," but last night featured the testimony of Paul Cameron.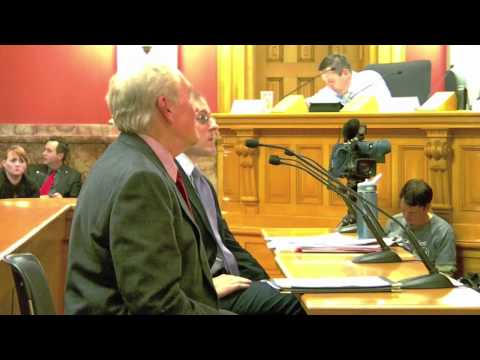 To give you some perspective about where Cameron gets these crazy ideas, as recently as five years ago, the head of the Eastern Psychological Association publicly denounced Cameron for fraudulently passing off a paper he wrote as having been presented before the assembled association at a meeting in Philadelphia. Cameron has been removed from the rolls of the American Psychological Association for ethical violations in his fraudulent "research", and his he has also been denounced by the Nebraska Psychological Association, the American Sociological Association (twice), and the Canadian Psychological Association, all for consistently misinterpreting and misrepresenting research on sexuality, sexual orientation, and the gay community.
You would think that were bad enough, but it gets worse. In a March 1999 edition of his newsletter, Cameron wrote glowingly of how the Nazis "handled" homosexuality. Specifically singling out the policies of Rudolf Höss, the mastermind behind Auschwitz. This echoes what Cameron said in 1985 at a CPAC conference, in which he proclaimed, "Unless we get medically lucky, in three or four years, one of the options discussed will be the extermination of homosexuals." Cameron's manifesto calls for the recriminalization of homosexuality and the denial of private domestic partner benefits to anyone who is HIV-positive. He would ban LGBT people from teaching or working at schools or day care centers, and mandate that all course material present homosexuality as "a public health hazard."
To the shame of Coloradans everywhere, arguments like Cameron's carried the day.
Update: ThinkProgress has more audio.
CO Senate Republicans split on gender lines
Timothy Kincaid
March 24th, 2011
Colorado Independent:
Senate Republicans delivered Pat Steadman's same-sex civil unions bill to the Republican-controlled House Thursday with momentum and a message. Although the twelve Republican men in the Senate voted against it, the three Republican women in the Senate voted in favor of the bill, making the case to leaders of the Republican-controlled House to take up the bill with good faith and allow it to move beyond committees and onto the floor of the House for a vote.
Is anyone besides me starting to notice a trend?
Sen Lundberg cites discredited myth in civil unions floor debate
Daniel Gonzales
March 23rd, 2011
Today the Colorado Senate held a floor debate on SB 172, civil unions.  The main opposition came from Senator Kevin Lundberg who we have video of thanks to The Colorado Channel.
We've all heard this myth, recognition of gay relationships in Europe (France & Scandinavia) has caused a breakdown in marriage and "the family unit."
Here's a video excerpt of Sen Lundberg saying it:
Of course no statistics were cited because there's no evidence to support it.  In fact this very blog has previously done posts addressing the Scandinavian myth here and here, and Slate.com has a fabulous piece here.
The real data tells a very different story, in most Scandinavian countries marriage has been in decline for up to half a century, long before we pesky gays started publicly demanding equality.
In more recent times those countries have started offering various forms of gay relationship recognition and things have changed in a dramatic way, quoting Slate:
Danish heterosexual marriage rates are now the highest they've been since the early 1970's. And the most recent marriage rates in Sweden, Norway, and Iceland are all higher than the rates for the years before the partner laws were passed. Furthermore, in the 1990s, divorce rates in Scandinavia remained basically unchanged.
Now let's take a look at births outside of marriage in Norway (source).  The date civil unions were enacted is shown with a red triangle:
.
How about marriage and divorce rates in the Netherlands? (source) Sorry there's no red triangle in this one but registered partnerships were enacted in 1998 and full marriage in 2001:
If Senator Lundberg has other data to prove his claim hopefully he'll present it when the civil unions bill goes for a 3rd reading on the Senate floor tomorrow.
Sen Lundberg (inadvertently?) demonstrates how his family enjoys heterosexual privilege
Daniel Gonzales
March 23rd, 2011
Today the Colorado Senate held a floor debate on SB 172, civil unions.  The main opposition came from Senator Kevin Lundberg who we have video of thanks to The Colorado Channel.
One of the main ideas of heterosexual privilege is never having your family questioned.
Follow the logic if you can (paraphrased)
I, Kevin Lundberg, had my wife hospitalized last week and nobody questioned our family, for I am just a simple man in a position of power… and heterosexual… and white…
If there are gays in my district or elsewhere in the state, I haven't heard any stories of them having trouble in medical situations.  Surely nobody would ever question the validity of a non-traditional family!  And certainly not in the rural areas I represent.
By extension there is no problem with gays making medical decisions and this bill is unnecessary.
Here's the video excerpt:
CO College Republican chairman endorses civil unions bill
Timothy Kincaid
March 22nd, 2011
In the early 80's, it was not at all unusual for the leadership of the College Republicans to be gay, in that "everyone knows but no one says" kinda way. In fact, I'd say it was pretty common (there's that story about the three leading candidates for national chairman and a hot tub). But in the years since then, the organization had become in many schools little more than the local college voice of social conservatism and religious rigidity.
But young folks just don't have the appetite for anti-gay malice anymore. They've grown up in a post Will and Grace world where Glee rules the airways, and Lady Gaga can influence votes. Now half of Americans support marriage equality and being anti-gay is seen as so distasteful that it can hurt you politically.
And no where is gay support stronger than in younger voters. So it should not be at all surprising that the chairman of the Colorado College Republicans has come out in support of the Colorado's civil unions bill. Nor should it surprise us much that he's openly gay and believes that Republican ideals, if followed, would favor gay rights.
But it is a little bit surprising that Troy Ard was elected to the chairmanship unanimously last year. And it is but one tiny sign among many that the war is almost over. Maggie can say whatever she likes about marriage not being an inevitability, but if you can't get one single College Republican in Focus on the Family's home state to object to electing the gay guy, then I think we can see where things are going.