Less than 0.5% of Houston Show Up For Rick Perry's Rally
Jim Burroway
August 6th, 2011
Houston's Reliant Stadium hold 71,000 people, but according to officials with Texas Gov. Rick Perry's "The Response" prayer rally, about 30,000 people showed up. That should mean that the stadium would be half full. Doesn't look like it to me. Failure #1.
Perry also sent invitations to every governor in the nation to attend his rally. The only one to show up was Kansas Gov. Sam Brownback. Gov. Rick Scott of Florida made a video that was played in the stadium. Only two others out of at least forty-nine — that's failure #2.
The American Family Association's Tim Wildmon addressed criticisms of the wholesale obliteration of the lines between church and state as represented by a religious revival organized by a political executive by saying "no political candidates will be speaking." Candidate, perhaps not — although please, does anyone not believe Perry is running for president — but the criticism stems from two current, elected governors speaking from the stage with another one phoning it in. These aren't just candidates. They are current office-holders sworn to uphold the Constitution. Failure #3.
The Daily Agenda for Saturday, August 6
Jim Burroway
August 6th, 2011
TODAY'S AGENDA:
"The Response" Rally: Houston, TX. Texas Gov. Rick Perry's is hosting a massive Day of Prayer called "The Response" at Reliant Stadium in Houston. The rally, which is being sponsored by the SPLC-certified anti-gay hate group American Family Association, will bring out a veritable who's who of anti-gay extremists, including Family "Research" Council's Tony Perkins, Rev. John Hagee (he said that the anti-Christ would be "a blasphemer and a homosexual") five senior staff members of the dominionist International House of Prayer (members of which have endorsed Uganda's "Kill-The-Gays" Bill), and "prophet" Cindy Jacobs (she said that birds were dying in Arkansas because of DADT repeal). And that's just barely scratching the surface; Right Wing Watch has a good round-up of the players here. Perry organized the rally because, he said, Americans have "turned away from God." He said that they rally would be apolitical, even though he invited every governor in the nation to attend. The only one to accepted was Kansas Gov. Sam Brownback, although right now it is unclear whether he will actually attend. His office said only that he is "on vacation." The rally is today from 10:00 a.m. to 5:00 p.m. CDT.
Pride Celebrations This Weekend: Amsterdam, Netherlands; Hamburg, Germany; Leeds, UK; Oakland, CA (Black Pride); Reykjavik, Iceland; Salem, OR; Stockholm, Sweden; and Windsor, ON;
Also This Weekend: Summer Diversity, Eureka Springs, AK; and Louisville LGBT Film Festival, Louisville, KY.
TODAY IN HISTORY:
Plymouth Colony Convicts Two Men Of "Lewd Behavior and Unclean Carriage": 1637. The crime wasn't sodomy — that required proof of penetration — but it was shocking nevertheless. From the official record:
John Allexander & Thomas Roberts were both examined and found guilty of lewd behavior and unclean carriage one with another, by often spending their seed one upon another, which was proved both by witness & their own confession; the said Allexander [was] found to have been formerly notoriously guilty that way, and seeking to allure others thereunto. The said John Allexander was therefore censured [sentenced] by the Court to be severely whipped, and burnt in the shoulder with a hot iron, and to be perpetually banished [from] the government [territory] of New Plymouth, and if he be at any time found within the same, to be whipped out again by the appointment [order] of the next justice, etc., and so as oft as he shall be found within this government. Which penalty was accordingly inflicted.

Thomas Roberts was censured to be severley whipped, and to return to his master, Mr. Atwood, and serve out his time with him, but to be disabled hereby to enjoy any lands within this government, except he manifest better desert.
A Reported Case of "Adhesiveness": 1836.The word "homosexuality" wasn't coined until 1868, and it wouldn't enter the English language until 1895. Without it, medical professionals struggled to find a scientific-sounding word to describe gay people that wasn't among the usual pejoratives. One British doctor, known only as "Dr. Macnish," wrote this very brief account in the August 6, 1836 issue of The Lancet:
ADHESIVENESS. — I knew two gentlemen whose attachment to each other was so excessive, as to amount to a disease. When the one visited the other, they slept in the same bed, sat constantly alongside of each other at table, spoke in affectionate whispers, and were, in short, miserable when separated. The strength of their attachment was shown, by the uneasiness, amounting to jealousy, with which the one surveyed any thing approaching to tenderness and kindness, which the other might show to a third party. This violent excitement of adhesiveness continued for some years, but gradually exhausted itself, or at least abated to something like a natural or healthy feeling. Such attachments are, however, much more common among females than among the other sex. — Dr. Macnish.
Ex-Gay Leader Experiences "Moral Fall": 2003. Michael Johnston was literally the poster boy of the ex-gay movement. Five years earlier, he was the star of a high profile national print and television ad campaign claiming that gays could change their sexual orientation. Johnston, who is HIV-positive, appeared with his mother in a controversial print ad under the headline "From innocence to AIDS." He and his mother also appeared in a television commercial, in which she said, "My son Michael found out the truth — he could walk away from homosexuality. But he found out too late — he has AIDS." Johnston founded Kerusso Ministries in Newport News, Virginia, he began a program called the National Coming Out of Homosexuality Day, and he was featured in the widely-distributed ex-gay propaganda video, "It's Not Gay."
But all that ended when it was revealed that while Johnston was the public face of the ex-gay movement, privately he was engaging in anonymous sex with men without disclosing his HIV status. One man said that he had met Johnston, who called himself Sean, in a gay chat room in 2001 and had a six month relationship with him. "What we did was unsafe," the man said, "I brought it up all the time, but [Johnston] didn't seem to think it mattered. He would have these parties, get a hotel room, get online and invite tons of people — he just wouldn't care." Johnston quickly shuttered his ministry and fled to Pure Life Ministries, an ex-gay residential program in rural Kentucky. He is now Director of Donor and Media Relations at that very same ministry today where he is also a member of the "speaking team." And his propaganda video is still for sale at the American Family Association web site.
TODAY'S BIRTHDAYS:
Andy Warhol: 1928.He didn't invent pop art, but it is more his brand than anyone else's. He was born to working class Ukrainian immigrants in Pittsburgh, and attended an Eastern Rite Byzantine Catholic Church. Maybe it was the religious icons that filled the church which inspired him to make icons of ordinary things and extraordinary people. Brillo pads and soup cans were more than their mere packages after his treatment, electric chairs became sculptures of transcendent mystery, and Marylin Monroe and Jacqui Onassis became the Madonnas and St. Catherines of the modern era. Even the white-haired wig he wore later in life became an icon of his personality. "I love Los Angeles," he once said. "I love Hollywood. They're so beautiful. Everything's plastic, but I love plastic. I want to be plastic."
Warhol's personal life was as scandalous as his films and artwork. In 1968, he was shot by Valerie Solanas, a minor artist working off and on at Wahol's studio The Factory, and very nearly died. But he would go on to live two more decades, and he remained a devout Catholic, attending Mass nearly daily. When he died after complications from gallbladder surgery, he was buried in Pittsburgh following a traditional Eastern Rite funeral with Yoko Ono making an appearance. His will left virtually his entire estate for the establishment of the Andy Warhol Foundation for the Visual Arts, which is one of the the largest grant-making foundations for visual arts in the U.S.
Angie Zapata: 1989.She died too young at only eighteen when she was savagely beaten to death by Allen Andrade, first with his fists and then with a fire extinguisher to the head. They had met through a social networking site and spent three days together, including one sexual encounter, before Andrade found out that Angie was transgender. In his murder trial, Andrade's lawyer posed the trans-panic defense, saying that Andrade beat Angie after she smiled at him and said, "I'm all woman". That, according to Andrade's lawyer, was a "highly provoking act." The jury didn't buy it fortunately, and Andrade was found guilty of first degree murder with hate crime enhancements, and sentenced to life imprisonment without the possibility of parole.
If you know of something that belongs on the agenda, please send it here. PLEASE, don't forget to include the basics: who, what, when, where, and URL (if available).
Maggie Gallagher Pines for Pawlenty
Jim Burroway
August 5th, 2011
She also has designs on Perry. National Organization for Marriage's Maggie Gallagher appeared on CBN to discuss NOM's marriage pledge which has already been signed by Minnesota Rep. Michelle Bachman, former Massachusetts Gov. Mitt Romney, and former Pennsylvania Sen. Rick Santorum. The wide-ranging pledge (CBN's interviewer strangely called it "narrowly-written") calls on GOP presidential candidates to:
Support the Federal Marriage Amendment defining marriage as one man and one woman,
Defend the Defense of Marriage Act in court,
Apply a marriage litmus test for judges and the attorney general,
Appoint a presidential commission to investigate so-called "harassment" of traditional marriage supporters,
Demand that marriage be put to a vote in the District of Columbia.
Gallagher expects Texas gov. Rick Perry to sign the pledge one he officially announces his candidacy. But one major holdout,  Minnesota gov. Tim Pawlenty, has Gallagher pleading for his support: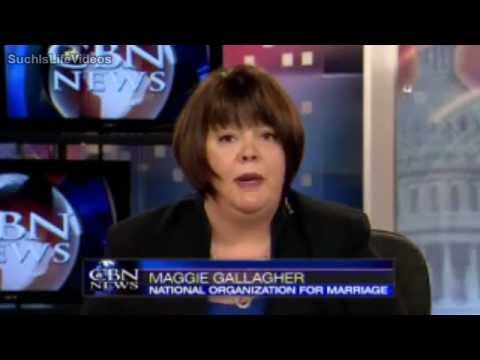 Well we will certainly offer the opportunity to Governor Rick Perry and any other major candidates who step into the race. We understand that before you're declared candidate it would probably not be appropriate to start signing pledges. The big question is what's going to happen with Governor Tim Pawlenty, who explicitly declined to sign NOM's marriage pledge this week. We're hoping the governor changes his mind because we think it's pretty peculiar for governor Pawlenty, who has been a champion for marriage in Minnesota, to refuse to do the same for the people of America.
Gallagher is counting on victories in passing anti-marriage amendments in Minnesota and North Carolina, and expects a rollback on marriage in New Hampshire in January.
Click here to read the full transcript.
The Daily Agenda for Friday, August 5
Jim Burroway
August 5th, 2011
TODAY'S AGENDA:
Response to "The Response": Houston, TX. Tomorrow, Houston's Reliant Stadium will be the site for Texas Gov. Rick Perry's Day of Prayer he's calling  "The Response." The rally, which is being sponsored by the SPLC-certified anti-gay hate group American Family Association, will feature virtually every anti-gay extremist this side of Westboro Baptist, including Family "Research" Council's Tony Perkins, Rev. John Hagee (he declared that the anti-Christ would be "a blasphemer and a homosexual") five senior staff members of the dominionist International House of Prayer (members of which have endorsed Uganda's "Kill-The-Gays" Bill), and "prophet" Cindy Jacobs (she declared that birds were dying in Arkansas because of DADT repeal). A coalition of groups, including GetEqual and other LGBT organizations and affirming churches will hold two rallies tonight. The first one is from 7:00 p.m. to 9:00 p.m. at Mount Ararat Baptist Church, 5801 West Montgomery Rd., Houston, TX. The second rally this evening is from 7:00 p.m. to 8:00 p.m. at Tranquility Park in downtown Houston. There will also be an all-day rally at Reliant Stadium tomorrow, beginning at 8:00 a.m.
TransOhio Trangender & Ally Conference: Columbus, Ohio. TransOhio will host it's fourth annual conference beginning today and through the weekend. Over 250 participants are expected to attend and participate in more than seventy workshops on such issues as health and safety, sex and sexuality, legal issues, family issues, religion and spirituality, education and culture. The conference takes place through Sunday at The Ohio State University's Multicultural Center and Student Union.
Sweat for Equality: Arizona. Most communities in the lower elevations of Arizona have had solid triple-digit temperatures now for a couple of months. It's the time of year when we carefully plan our movements, from an air-conditioned home to an air-conditioned car to an air-conditioned mall. But beginning today, seventeen Equality Walkers will walk 99 miles, representing the 99 years since Arizona's statehood, in a state without marriage quality. The walkers will walk through eighteen cities and nine counties, and will follow the following route:
Friday, August 5th — Parker
Saturday, August 6th — Yuma
Sunday, August 7th — Casa Grande, Eloy, and Arizona City
Monday, August 8th — Tucson
Tuesday, August 9th — Nogales and Sierra Vista
Wednesday, August 10th– Bisbee and Tombstone
Thursday, August 11th — Safford, Thatcher, and Pima
Friday, August 12th — Clifton and Duncan
Saturday, August 13th — Florence and Queen Creek
Sunday, August 14th — Phoenix
Pride Celebrations This Weekend: Amsterdam, Netherlands; Hamburg, Germany; Leeds, UK; Oakland, CA (Black Pride); Reykjavik, Iceland; Salem, OR; Stockholm, Sweden; and Windsor, ON;
Also This Weekend: Summer Diversity, Eureka Springs, AK; and Louisville LGBT Film Festival, Louisville, KY.
TODAY IN HISTORY:

Clinton Forbids Denying Security Clearances To Gays: 1995. President Bill Clinton signed an Executive Order officially banning discrimination based on sexual orientation in granting security clearances. For decades, federal agencies routinely denied security clearances to gay people on the assumption that all gay people were subject to blackmail. But a GAO study found that eight government agencies had already stopped using homosexuality as a reason for denying clearances, including the Defense Department, State Department, the FBI and the Secret Service. A 1953 Executive Order signed by President Dwight D. Eisenhower included "sexual perversion" as a basis for firing from the federal workforce. That ban was lifted in 1975, but policies regarded security clearances remained vague. Clinton's Order established uniform standards for granting security clearances, and it added sexual orientation to the non-discrimination clause. This Executive Order came two years after "Don't Ask, Don't Tell" was passed by Congress.
The Family "Research" Council's Robert Maginnis denounced the move, saying that "in all healthy societies, homosexuality is recognized as a pathology with very serious implications for a person's behavior. … Even more importantly for security concerns, this is a behavior that is associated with a lot of anti-security markers such as drug and alcohol abuse, promiscuity and violence." FRC hasn't changed much since then. Rep. Bob Dornan (R-CA), who was never at a loss for words when it came to outrageous statements, called gay people "promiscuous by definition," and said that Clinton's action was "something else he didn't have to do that's gotten in our face. I wouldn't trust them with a $5 loan, let alone the nation's secrets."
Rev. Gene Robinson Elected Episcopal Bishop: 2003. Overcoming eleventh-hour charges that he had sexually harassed a parishioner — charges which were withdrawn with regrets from the person making them – senior bishops at the Episcopal Church's General Convention voted 62 to 43 with two abstentions to approve Rev. Gene Robinson's election as bishop of New Hampshire. The election ended months of emotional debate, threats, and bizarre charges. One charge was that a web site run by a youth advocacy group that he supported had links to porn sites. The Boston Globe investigated, and found, that, yes, it was possible to find explicit photos from that web site, but it would take seven clicks outside of it to get there.
At issue was the fact that Robinson was not celibate and had been living with his life partner since 1988. During committee hearings leading up to his confirmation, Robinson said that his relationship with his partner was an essential element in his own spiritual life. "'What I can tell you is that in my relationship with my partner, I am able to express the deep love that's in my heart," he explained. "And in his unfailing and unquestioning love of me, I experience just a little bit of the kind of never-ending, never-failing love that God has for me. So it's sacramental."
When Robinson's election was finally confirmed, about thirty delegates walked out, and opponents called the election "a step toward moral disintegration in America. Anglican leaders in Asia and Africa immediately denounced the decision and threatened schism.
If you know of something that belongs on the agenda, please send it here. PLEASE, don't forget to include the basics: who, what, when, where, and URL (if available).
The Perry approach to the Constitution
Timothy Kincaid
August 1st, 2011
Texas Governor and Republican gubernatorial candidate Rick Perry supports the Constitution. But his support appears to be based not on principle or conceptual idea but on legality. He endorses what it says, but seems at a loss as to what it means.
Perry invokes the Tenth Amendment when he says that he supports the right of New York to define marriage as they wish. This fits well with the 'don't mess with Texas' independent streak that has been a part of that state since it gave up its separate nation status. This individualist desire for self-determination, though bipartisan, fits nicely with Republican rhetoric about smaller more localized government.
But Texas, Perry, and the Republican Party are also very socially conservative. And this combination results in policy and positions that often could best be paraphrased as "give me the freedom to chart my own destiny, but you must do as I say". And it is the second half that Perry invokes when he endorses a constitutional amendment to overrule New York's right to its own marriage criteria.
His thinking is revealed in an interview with Family Research Council's Tony Perkins. Gov. Perry leaped at a peculiar notion that allowed him to support Texas' individuality while denying New York's self determination (FRC Blog):
TONY PERKINS: Governor, we are about out of time but I don't want to put words in your mouth, but I think I hear what you are saying. The support given what's happening across the nation, the fear of the courts, the administration's failure to defend the defense of marriage act.

The only and thin line of protection for those states that have defined marriage, that have been historically been defined between a man and a woman. The support of a marriage amendment is a pro-state's rights position, because it will defend the rights of states to define marriage as it has been.

GOV. PERRY: Yes sir, and I have long supported the appointment of judges who respect the constitution and the passage of a federal marriage amendment. That amendment defines marriage between one man and one woman, and it protects the states from being told otherwise. It respects the rights of the state by requiring three quarters of a states vote to ratify. It's really strong medicine but is again our founding fathers had such great wisdom and their wisdom is just as clear and profound today as it was back in the late eighteenth century.
Perry has some small connection with principle in this statement, but it is based on false premises, perverted self interest, and results-driven thinking.
There are marriage-related issues which, one could argue, threaten a state's right to self government. Divorce is a prime example. There is a pretty decent argument that having united two people for life, a state's authority is challenged when another state undoes this act. But states have long since come to all provide for divorce and Perry is not challenging divorce laws.
And, using a real-case example, should Virginia refuse to recognize the custody decisions of Vermont, one could find a threat to the underlying function of federalism. But Perry is not coming down on the side of recognition.
And it must be noted that Perry is not predicating his support for a Federal Marriage Amendment on the repeal of DOMA, nor does his support extend only to protecting Texas' autonomy. While I would oppose a constitutional amendment that was limited to giving states the right to refuse to recognize marriages conducted in other states as being deliberately discriminatory and a nightmare to negotiate or administer, I could respect those who supported such a "solution" as having some measure of consistency and logic to their position. But this is not Perry's goal.
And it also must be clarified that Perkin's assertions about the Defense of Marriage Act, upon which Perry leaped, are flat out distortions. The legal challenges and the government's determinations have been limited in all instances to "Section Three: Definition of Marriage" of DOMA – that which deals with the Federal Government's recognition of a state's laws – and does not challenge "Section 2. Powers reserved to the states".
Should Governor Perry truly respect a state's right to define marriage within its borders (even over another state's right to expect recognition of its acts by other states) then he would not be troubled by challenges to DOMA3 at all. Rather, he would support efforts to throw out this federal disrespect of states' autonomy.
But Perry has a results-driven agenda. He wants marriage to be restricted according to his religion's doctrines and is willing to impose those restrictions on others with no regard to self determination or personal freedoms. But to do so without contradicting his admiration for the Tenth Amendment, he spills out a justification that lacks any basis in principle.
The Tenth Amendment was not handed to Moses on Mount Sinai. It is, rather, language written to formalize and give structure to a principle. The notion underlying the words is that individuals should be governed according to shared community values and that such restrictions as are imposed on the individual should not be the result of some other community's goals or dreams.
Interestingly, this notion is also seen in the provisions laid out for constitutional amendment. Recognizing that states would seek advantage, the authors set the rules of change to be so strict as to make imposition of unfair local or regional values on the entire nation very difficult.
And it is to these provisions that Perry appeals when he says that the rights of New York and its citizens are respected "by requiring three quarters of a states vote to ratify." Perry argues that New York has the ability to convince just a quarter of other states to protect their autonomy. And yes, is just such an attack that the founders sought to avoid.
However, while Perry praises the language of the Constitution, he fails to see his role.
Yes, New York can appeal; but to whom? And with what argument? When the state of New York comes calling, asking for those who champion a state's autonomy, what will Perry say?
And that is where Gov. Perry reveals his support for states' rights to be a sham. He doesn't really support the rights of a community of individuals to self-determination. Rather, he supports such rights such rights for him and his state, but others have this right only so long as they determine what he want them to determine.
Rick Santorum: "States Do Not Have The Right To Destroy The American Family"
Jim Burroway
July 30th, 2011
No one can accuse former Pennsylvania Senator and GOP presidential hopeful Rick Santorum of "tenther" tenancies. On Friday, evening Santorum spoke at the Western Summit outside of Denver and delivered this attack on Texas Governor Rick Perry, who had earlier cited the Tenth Amendment and said that New York's granting of marriage equality to same-sex couples was "their business, and that's fine with me."
Santorum lashed out at that remark, and in the process tried to deny that he had ever compared gay relationships to sex with dogs or your sister.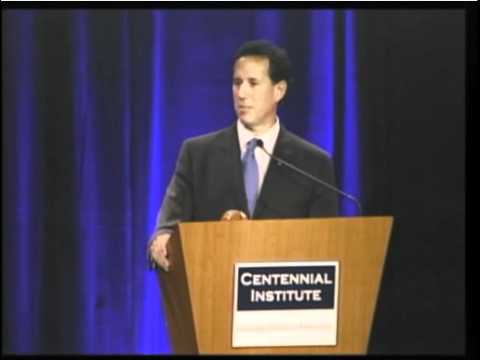 I think it was the year of my election, in the Atlantic Monthly there was a profile on Tim Gill and what he had accomplished here in Colorado, the Colorado Plan. And in the first paragraph of that article, he said, "Our plan is to make sure there is never another Rick Santorum elected to a national office." My opponent spoke at the Human Rights Campaign. My opponent was a pro-life Democrat, son of Bob Casey, one of the great social conservative leaders, maybe last social conservative leader of the Democratic Party. And he had wrapped himself in his father, but he embraced the gay and lesbian community like no other candidate had. He went out and spoke and did fundraisers, estimates… millions, and certainly millions in direct contribution, and I believe over ten million in indirect contributions starting, in my race, eighteen months. Why?

Because I had the temerity to stand up in 2003 before any of this started to roll. Before Lawrence versus Texas was even decided, and I fired across the bow of the United States Supreme Court and said, "Supreme Court you can decide this case the right way and say the sodomy statute is voilate [sic] of equal protection and everything will be fine. But if you say there is a constitutional right to consensual sexual activity, Katie bar the door."

And that's what they did. And when I said that, I compared… I said… I didn't compare anything… I said if the Supreme Court gives the right of individuals.. the constitutional right to consensual sexual activity, then you have the right to incest, you have the right to all sorts… polygamy, you name it. You have the right to anything if it's consent.

When I said that, the gay community went ballistic and they came after me. Mainstream media called for me to resign because I was comparing homosexuality with incest and other things. No I wasn't. I was saying if the standard was consent, then how do you rationally draw the line? You can't. And they aren't. And subsequent to that, the Massachusetts decisions and others came down, and I stood for marriage. I was the one, with Wayne Allard, Marilyn Muscgrave, two great warriors here in Colorado (applause) who stood… and we forced a vote on the Federal Marriage Amendment.

But ladies and gentlemen, we have this issue before us again today, and it's within our party. And we need to talk about it. There's some in our party who say, well if New York wants to pass same-sex marriage, that's fine with me. Some who say, well I'm not going to get involved in what states do. It's their business. Abraham Lincoln said it best: we do not have the right to do wrong. (applause) States do not have the right to destroy the American family. It is your business. It is not and should not… It is not fine with me that New York has destroyed marriage. It is not fine with me that New York is setting the template that will cause great division in this country. There is not fifty definitions of marriage.
And in the process, he denied that he ever compared gay relationships with incest and bestiality. In his clarification, he said that he didn't make a comparison, but just said that they met the same standard. As if that were a big difference. Also, as if that were true. What he actually said in 2003 was this:
In every society, the definition of marriage has not ever to my knowledge included homosexuality. That's not to pick on homosexuality. It's not, you know, man on child, man on dog, or whatever the case may be.
It looks like a duck to me.
Gov. Perry, who had to backtrack somewhat from his earlier support of New York's Tenth Amendment right to enact marriage equality, also gave a keynote address at the Western Conservative Summit. Speaking after Santurom's address, Perry sought once again to burnish his social conservative credentials, saying, "The traditional definition of marriage suits Texas and this Governor just fine." But, he added, "Washington needs a refresher course on the Tenth Amendment."
Perry, who is expected to announce his own presidential bid soon, today reiterated his support for a constitutional amendment which would rescind the Tenth Amendment when it comes to marriage. "Yes, sir, I would. I am for the federal marriage amendment," he told reporters. "And that's about as sharp a point as I could put on it."
The Daily Agenda for Friday, July 29
Jim Burroway
July 29th, 2011
TODAY'S AGENDA (OURS):
Pride Celebrations This Weekend: Belfast, Northern Ireland; Braunschweig, Germany; Frankfurt, Germany; Harrisburg, PA; Norwich, UK; Nottingham, UK; Pittsburgh, PA (Black Pride); Raleigh/Durham, NC (Black Pride); Vancouver, BC.
Also This Weekend: Diverse/Cité, Montréal, QC; Up Your Alley, San Francisco, CA.
TODAY'S AGENDA (THEIRS):
Western Conservative Summit: Denver CO. Presidential candidates Sen. Rick Santorum, Godfather Pizza magnate Herman Cain, and potential GOP presidential candidate and Texas governor Rick Perry are slated to speak at the Centennial Institute at Colorado Christian University in Lakewood, Colorado as part of a weekend-long Western Conservative Summit. Santorum and Perry share keynote speaking duties this evening at 5:45 MDT. They will be streaming it live here.
TODAY'S BIRTHDAY:

Tim Gunn: 1953. He was on the faculty of Parson The New School for Design, and he served as the fashion design chair until 2007 before moving to Liz Claiborne to work as their chief creative officer. But you know him from the Bravo reality series Project Runway, which just started its ninth season this past week. He is an animal rights spokesperson, having opposed the use of fur in fashion. He also made an "It Gets Better" video, motivated by his own suicide attempt when he was seventeen. Those good works aside, he really stepped in it this past week when he criticized Secretary of State Hillary Clinton's fashion sense. "Why must she dress that way?" he asked. "I think she's confused about her gender. All these big, baggy menswear-tailored pantsuits. No, I'm really serious. She wears pantsuits that are really unflattering." Really? I don't remember anyone slamming Lawrence Eagleberger's baggy suits.
If you know of something that belongs on the agenda, please send it here. PLEASE, don't forget to include the basics: who, what, when, where, and URL (if available).