Hate Group Co-Founder Says Dobson Was Pushed Out of Focus
Jim Burroway
March 9th, 2010
Seattle-area pastor Ken Hutcherson, a co-founder of Watchmen On the Walls which is one of about a dozen anti-gay hate groups monitored by the Southern Poverty Law Center, mourns the retirement of James Dobson from Focus On the Family. Not only that, but Hutcherson sees a conspiracy — Dobson didn't retire; he was pushed out:
I am not very happy with the new, progressive, "loving" leadership at Focus on the Family. However, it is God's ministry, and He will do with it what He pleases.

While I don't work for Focus, I definitely have an opinion. God used Dr. James Dobson as its founder to change the world's view of the family. Taking him off the air effective this month was not Dr. Dobson's decision but a board decision. Why was that decision made? What prayerful consideration did the board engage in that ended with their choice to remove Dr. Dobson from the air? Evidently, he didn't want to stop his voice from being heard over the airways after turning over leadership to the new team. The new radio program he is launching tells me that.
Hutcherson also complains that he wasn't offered the leadership post at Focus On the Family. Then he says he would have turned it down because he already has a ministry. Then he says he has no ego. Self-awareness is definitely not his strong suit.
CPAC Overboard on DADT
Jim Burroway
February 19th, 2010
Die-hard supporters of "Don't Ask, Don't Tell," the military's ban on LGBT people serving openly, held a news conference at the Conservative Political Action Conference on February 18 in Washington, DC. It was a truly priceless exercise in surrealism that has to be seen to believe.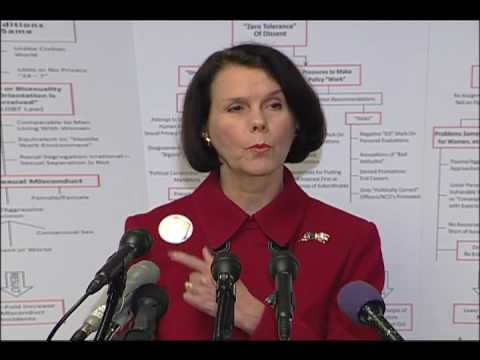 Here are my favorites. Tom Minnery of Focus On the Family thinks repealing DADT is a bad idea, but not because he dislikes gay people. In fact, he's worried all to pieces over what repealing DADT would do to gay men:
There are going to be a number of young gay men who have been shoved in the middle of this social engineering debacle and told that it is their right to serve. In the confines of barracks life, the sexual tension that will result when you try to develop a warrior culture and put these two very different ideas of sexuality in the middle of that culture, it's going to produce a lot of abuse, a lot of angry, a lot of severely disappointed young gay men.
Tony Perkins, of the Family "Research" Council has a hard time with polling data:
When you look at the polling data of the sixty percent of Americans or whatever saying they thing that homosexuals should be open, should be able to serve openly in the military, well do they really understand the conditions under which their sons and daughters and their neighbor's kids would have to serve in.
People understand the conditions of war very well, and nobody understands it better than those who are in the military currently. The Military Times finds that there has been a sharp decline in the percentage of men and women currently in uniform supporting DADT. Fewer still who personally know a gay person serving are willing to report them to their command.
But the most surreal statement comes from Retired Admiral James "Ace" Lyons:
You know in the Navy in the late nineteen hundreds, homosexuality was rampant in the United States Navy. It was so bad that mothers would not let their sons enlist in the Navy until the Navy cleaned its act up, and fortunately they did. …On board ship the Navy found that there are three things unacceptable to good order and discipline and its impact on readiness. You cannot have a thief aboard, you cannot have a drug-user or a drug-pusher, and we found out you could not have a homosexual.
And as anyone who has ever been to Fleet Week in San Francisco, New York, San Diego and Ft. Lauderdale can tell you, they don't have any homosexuals in the Navy anymore.
Where The Money To Overturn Same-Sex Marriage in DC Coming From?
Jim Burroway
February 2nd, 2010
Hint: None of it is coming from within Washington, D.C.. Rev. Harry Jackson's three groups to wage three different ballot fights against DC's new marriage equality law have raised a total of $199,000 so far. Of that, $102,192 came from Rev. Jackson's MAryland-based High Impact Leadership Coalition. That sum is followed by $40,000 from Focus On the Family, $32,130 from the National Organization for Marriage, and $25,000 from the Family Research Council. None of the donations are from DC residents.
Focus On the Family Denounces Uganda's Anti-Gay Bill
Jim Burroway
December 26th, 2009
Focus On the Family is famous for adamantly opposing virtually every LGBT-friendly initiative — from domestic partner and survivors benefits, hate crimes legislation or employment non-discrimination measures. They also steadfastly supported Colorado's Amendment 2 of 1996 (which would have disenfranchised LGBT people from the legislative process) and they opposed the repeal of anti-sodomy laws in the U.S.
But there's one piece of anti-gay legislation that Focus On the Family doesn't support:
"The purpose of laws is to make societies safer, and there is legitimate concern that the legislation being debated in Uganda will incite violence against homosexuals," Jim Daly, president and CEO of Focus on the Family, said last week of the Ugandan bill."
The Colorado Springs Gazette softpedals the role of American right-wing evangelicals in supporting Uganda's homophobic culture:
Ralph Blair, president of Evangelicals Concerned in New York, believes the bill was influenced more by African culture and politics than Christian rhetoric against homosexuality. African nations, including Uganda, have had anti-gay laws on the books for decades, he said.

Moreover, it\'s unfair to single out American evangelical leaders and organizations for not condemning the bill when many world leaders, including President Barack Obama, and human rights groups have also been silent on it.
This is blatantly false and extremely poor reporting on the Gazette's part. President Barack Obama did speak out against the bill long before Focus belatedly jumped on the bandwagon. The President's statement was not reported by Uganda's news media, but it outraged Ugandan pastor Martin Ssempa.  The White House statement accompanied similar condemnations from Canada, Britain, Sweden, the European Union, and Australia. I guess the Gazette needs to somehow keep its hometown industry feeling happy and protected from, you know, actual reporting.
But back to Daly, Gazette reporter Mark Barna has more of Daly's statement on the Gazette's religion blog:
"As a Christian organization, Focus on the Family Action (the political arm of the family group) encourages pro-family policies. As such, we respect the desire of the Ugandan people to shield their nation from the promotion of homosexuality as a lifestyle morally equivalent to one-man, one-woman marriage. But it is not morally acceptable to enact the death penalty for homosexuals, as some versions of the bill are reported to require."

"My reaction is to denounce this. It sets a horrible precedent and has a potential for developing hatred."
It's good that Focus has now spoken out against Uganda's anti-gay bill, although I wonder what their position would be if the death penalty were dropped. At least Saddleback pastor Rick Warren is now on record as opposing all criminalization of homosexuality.
Click here to see BTB\'s complete coverage of recent anti-gay developments in Uganda.
Focus On the Family Issues A Sexy Santa Alert
Jim Burroway
December 3rd, 2009
GLSEN\'s fundraiser invitation says the play depicts "Santa in his heartfelt struggle to reconcile his romantic relationship with Italian toy maker Giovanni Geppetto." Pictures on a Web site promoting the production depict Santa in not-so-subtle sexually suggestive situations. The play also mocks those who support traditional values.

It\'s sad that GLSEN, which claims that it wants to protect kids, has chosen to use a fundraising tool that perverts the innocence of Christmas and sexualizes the longtime, child-revered icon of Santa Claus.
Goodness, no! We can't have the gays sexualizing a fictional character. That's the catwoman's job!
My Prayer
Timothy Kincaid
November 6th, 2009
This weekend Focus on the Family will host their final Love Won Out ex-gay dog and pony show before washing their hands of the movement and turning it over to Exodus International. And, knowing that there will be the usual protest, Exodus Youth Director Randy Thomas is calling for prayer.
I (Randy) won\'t personally be at this particular event but having been to about 20 of them, every single one had some sort of protest and every single time the LWO team responds lovingly. Would you add praying for Wayne and his friends to your prayers for the conference? We\'d greatly appreciate it.
I've been around long enough to know exactly what sort of prayers that will elicit. They will either be of the "smite the heathen" variety, or, more likely, of the sanctimonious "convict the heathen" stripe:
Jesus, show Wayne your love. Convict him of his sin. Deliver him from the bonds of darkness and the confusion of homosexuality that Satan has wrapped him in. He's so devoted to his sinful cause; oh how he could be a warrior for You. Jesus, tug at his heart. Bring him into a relationship with You and show him that he's wrong and we're right!!
Well, that last part is never really prayed out loud, but it is the unsaid message behind the rest of the prayer. Praying for someone else's conviction just makes you feel so good. Not only does it confirm your own certainties, but you get to be all "loving" while you are being self-affirming.
And as an extra-special bonus, you get to tell others, "Oh, that poor young man. It's so sad. I prayed for him today."
Which got me thinking.
At times I find myself telling anti-gay activists that I will pray for them. And I'm sure that they assume that if I really do pray for them that my prayers are a mirror image of those above.
But I don't pray for God to smite them or for God to change their minds. In fact, some time ago I worked out a very different prayer, one that works for me.
It goes something like this:
God, please bless Anti-gay Activist Joe.

Give Joe happiness. Bring him peace and prosperity. Take away any hurt or unhappiness or dissatisfaction with his life. In fact, fill Joe with so much joy that he has no room left over for hatred and anger and bitterness towards my community.

Fill his days with interesting things. Bring delight into his family and merriment into his friends. Make his day meaningful and fulfilling. Fill his life with so much interest and purpose that he has no time left over to spend trying to make the lives of those in my community unpleasant.

And finally, God, bring Joe close to you. Give him a complete understanding of who you are. Startle and shock him with the degree to which you love him. Fill him completely with your love, so full that he only can spill love over to all who come in contact with him. And let him know that whether I'm right, or he's right, or neither of us is right, it just doesn't matter. Because it all comes down to love.
Now I know that many of our readers don't believe in any deities or value any prayers. Many, many, many times that has been made abundantly clear. And some of you are always on the lookout for an opportunity to mock the faith of others. I'm really hoping that you'll give this one a pass and decide that this thread really isn't for you, so much.
But for those readers who do believe in God and prayer, I offer you my prayer for consideration. It may not work for you. But if it does, please consider praying for the organizers and participants at this weekend's Love Won Out Conference. I think they could use some joy, love, peace, and satisfaction.
Dobson To Quit Radio Broadcast
Jim Burroway
November 2nd, 2009
Focus On the Family founder James Dobson has announced that he will be leaving his radio program at the end of February. Last February, Dobson stepped down as chairman of Focus On the Family last February. Dobson will also stop writing his monthly newsletter and turn it over to Focus President Jim Daly. Daly insists however that Dobson is not moving into retirement and "will continue to make his voice heard in the public square."
[Hat tip: Ex-Gay Watch]
Maine's "Yes" Side Claims LGBT Groups Contributed $5 Million to Defeat Question 1
Jim Burroway
October 25th, 2009
This is amazing. Stand for Marriage Maine's web page says this:
Your support will help us stand up to the vast network of wealthy homosexuals with seemingly unlimited resources from places like Hollywood, New York and Massachusetts. Washington, D.C.'s largest national lesbian, gay, bisexual and transgender civil rights organization has already pledged to spend as much as $5 million to try to defeat us.
Five million dollars from the Human Rights Campaign? Let's review. According to campaign filings by both sides, Protect Maine Equality's three largest donors are:
Portland resident Donald Sussman, $500,000.
The Human Rights Campaign, $220,000.
The National Gay and Lesbian Task Force, $140,000.
These three contributions altogether make up only 22% of Protect Maine Equality's total budget. The rest has come from ordinary contributors like you.
Now let's look at Stand for Marriage Maine. Their top three contributors are:
National Organization for Marriage: $1.5 million.
Roman Catholic Diocese of Portland: $550,000.
Focus On the Family: $114,500.
Altogether, these three organizations alone have provided 83% of Stand for Marriage Maine\'s total budget.
Who's trying to buy an election while pulling the wool over the eyes of Maine voters?
NOM Doubles Its Maine War Chest, Claims Special Rights
Jim Burroway
October 24th, 2009
The Bangor Daily News reports that Stand for Marriage Maine, the group pushing to strip LGBT Mainers of their right to marry, has almost doubled its war chest in the past three weeks. They raised $1.4 million in October, bringing their total amount raised to $2.6 million, according to reports filed Friday with the Maine Ethics Commission. Guess where the money came from:
But $1.1 million of the $1.4 million raised by Stand for Marriage Maine in October came from a single source: the National Organization for Marriage. In fact, the Washington, D.C., organization has bankrolled more than 60 percent of the campaign to ban same-sex marriages in Maine.

The No on 1 campaign, meanwhile, claims to have received contributions from more than 22,000 donors, compared to slightly more than 700 donors to the opposing camp.
This brings NOM's total investment to $1.5 million, according to the Associated Press. By my calculations, that's actually 58% of the total. But still, that's pretty amazing. One out-of-state special interest group is trying to purchase an election, lock, stock and barrel.  The Roman Catholic Diocese of Portland has contributed a total of $550,000 to the "yes" campaign. Another $114,500 came from Focus On the Family. Together, these three groups alone account for 83% of Stand for Marriage Maine's total budget.
And yet, despite the fact that the National Organization for Marriage is paying the lion's share of the bill, they are in court demanding that they be held above Maine's financial disclosure laws:
NOM\'s financial role in the Maine campaign will be discussed in federal court in Portland on Monday when a judge hears arguments in a complaint the group filed against the state.

Earlier this month, the Maine Ethics Commission voted 3-2 to investigate whether NOM was skirting campaign finance laws in order to avoid disclosing the identities of contributors. A complaint against NOM alleges the organization, which played a key role in overturning California\'s gay marriage law last November, funnels money to Stand for Marriage Maine while promising donors confidentiality.

NOM responded earlier this week by challenging the constitutionality of Maine\'s law requiring "ballot question committees" to file detailed campaign finance reports.
Meanwhile, campaign finance reports also show that Protect Maine Equality has raised more than $4 million so far. This includes $1.4 million raised in October, matching Stand for Marriage Maine's fundraising from the same period. While the nearly 80% of the Yes side's money during that period came from NOM, most of Protect Maine Equality's fundraising came from individual donors during the same period.
Protect Maine Equality also reports some large donors, but nothing like the outright attempted purchase of an entire campaign by NOM. According to the Bangor Daily News, Portland resident Donald Sussman has contributed more than $500,000. The Human Rights Campaign kicked in $220,000 in donations and in-kind goods and services, and the National Gay and Lesbian Task Force has contributed about $140,000 in funds, goods, and services.
Altogether, these three major donors make up only 22% of Protect Maine Equality's total take. The rest, as they say, comes from people like you. Please donate today.
"Love Won Out" Scales Back
Jim Burroway
October 24th, 2009
Yesterday's installment of CitizenLink gives a little more insight into the recent announcement that the Exodus International will take over the lead role from Focus On the Family for planning, producing and promoting the "Love Won Out" ex-gay conferences. That transfer of responsibilities also appears to signal a significant cutback in the scale and frequency of these conferences. According to Melissa Fryrear, who had served as director of the events:
Exodus will scale down the event and not offer as many sessions or include as many speakers.  They will, however, add sessions designed to more fully equip churches generally and pastors specifically.
She also said that the next Love Won Out event will be March 6 in San Diego, and another one will be announced in the Fall. This pace is down sharply from years past, when they normally would schedule about six Love Won Out conferences in various cities per year. Fryrear will continue to be a part of the conferences, serving as the keynote speaker.
See also:
Prologue: Why I Went To "Love Won Out"
Part 1: What's Love Got To Do With It?
Part 2: Parents Struggle With "No Exceptions"
Part 3: A Whole New Dialect
Part 4: It Depends On How The Meaning of the Word "Change" Changes
Part 5: A Candid Explanation For "Change"
Love Won Out Taken Over by Exodus
Timothy Kincaid
August 11th, 2009
The Washington Blade is reporting:
Facing a $6 million budget shortfall, Focus on the Family is shifting control of its Love Won Out conference to an outside organization.

Exodus International, a group that claims people can overcome unwanted same-sex attractions with the help of its ministry, announced Tuesday it will take control of the program starting in November.

"Exodus is the ideal organization to transition Love Won Out to," said Melissa Fryrear, director of Love Won Out. She noted that Focus on the Family and Exodus have been closely aligned for years.
Funny. I'd noticed that also.
Harvey Milk, Billie Jean King To Receive Presidential Medal of Freedom
Jim Burroway
July 31st, 2009
The White House yesterday announced "sixteen agents of change" to recieve the Presidential Medal of Freedom, the nation's highest civilian honor. Among the sixteen are Harvey Milk and Billie Jean King. Focus On the Family, predictably, is having a complete meltdown over it.
Focus President Jim Daly Misrepresents Anthropology
Daniel Gonzales
July 29th, 2009
This isn't the first time Focus has misrepresented the entire field of anthropology. Last year Focus staffer Glenn Stanton and Citizenlink claimed:
Glenn Stanton, director of global family formation studies at Focus on the Family, said there\'s a clear consensus among anthropologists.

"A family is a unit that draws from the two types of humanity, male and female," he said. "Those two parts of humanity join together, create new life and they both cooperate in the legitimization of the child, if you will, and the development of the child."
Stanton's claim prompted rebukes from actual anthropologists including Bill Maurer, the anthropology department chair at UC Irvine and Damon Dozier, the American Anthropological Association (AAA) Director of Public Affairs. Dozier reminded us in 2004 the AAA Executive Board issued the following statement in response to President Bush\'s proposal for a constitutional amendment banning gay marriage:
The results of more than a century of anthropological research on households, kinship relationships, and families, across cultures and through time, provide no support whatsoever for the view that either civilization or viable social orders depend upon marriage as an exclusively heterosexual institution. Rather, anthropological research supports the conclusion that a vast array of family types, including families built upon same-sex partnerships, can contribute to stable and humane societies.
But Focus apparently didn't learn anything about anthropology in the last year since Stanton's bone-headed remarks. Yesterday, Focus president Jim Daly wrote in the Washington Post's "On Faith" blog:
And that is why marriage is universally and fundamentally about male and female. Examine how leading anthropologists over the last 80 years – from the Royal Anthropological Institution's Notes and Queries, to Edward Westermarck, George Murdock, A.R. Radcliffe-Brown, Bronislaw Malinowski, Kathleen Gough, Ward Goodenough and Pierre van den Berghe – define marriage across all cultures – religious and secular – and see how constantly you encounter references to male and female, procreation and off-spring legitimization as the universal and primary qualities of this sacred institution.
It should be noted according to Daly's bio on Focus' website, his only degree is a BS in business administration.
But most of all I find it disappointing Daly and Focus are again misrepresenting an entire field of science in their war against gay families.
Focus President Jim Daly may be contacted at: jim.daly@fotf.org
And the Washington Post's "On Faith" editor can be reached at: onfaith@washingtonpost.com
Focus On the Family Has A Blog
Jim Burroway
July 21st, 2009
The hip folks at Focus On the Family has discovered this new thing called a "blog" and decided they needed one. They named it <a href="http://citizenlinkblog.com/drivethru/">Drive Thru</a>. I think they missed the boat on the name. A more appropriate one myght be Drive By.
But hey, welcome to the Blogosphere, Focus dudes and dudettes.  (And please everyone, don't tell them about Twitter.)
A Translator For FocusSpeak
Jim Burroway
July 21st, 2009
Google has a nifty tool called the Google Translator. It allows you to read web sites written in other languages — albeit with some difficulty since no translator is able to render the intricacies of one language into another with consistent accuracy. But it does represent some great strides in the very difficult task of automated language translation.
Maybe we can leverage some of that technology to create a translator to render FocusOnTheFamilySpeak and other similar dialects into real, everyday English. If we were able to come up with a translator, we'd want to be able to test it against some actual phrases and sentences. These, I think, would make excellent test cases:
Christians don't have a thorough knowledge of the Fairness Doctrine, hate-crimes legislation or the Employment Non-Discrimination Act (ENDA), according to recent research by Wilson Research Strategies.

CEO Chris Wilson said the data examined suggest that Christians don't fully understand the negative impact of these policy proposals on the ministries they support.

…"There is a clear need for a widespread and coordinated education campaign to ensure that Christians have the information they need to make an informed decision on all of these issues when action on them in Washington becomes imminent," Wilson said.
Whip it through our nifty translator, and the results should come out like this:
Christians aren't buying the Religious Right's false claims about the Fairness Doctrine, hate-crimes legislation or the Employment Non-Discrimination Act (ENDA), according to recent research by Wilson Research Strategies.
CEO Chris Wilson said the data examined suggest that Christians haven't been misled into thinking there would be negative impact of these policy proposals on the ministries they support.
… "There is a clear need for a widespread and coordinated propaganda campaign to ensure that Christians are fully indoctrinated to uncritically parrot our talking points on all of these issues when action on them in Washington becomes imminent," Wilson said.