Co Senate Candidate: "You Have A Choice" To Be Gay; Focus Agrees
Jim Burroway
October 19th, 2010
The Colorado Republican Candidate for U.S. Senate, Ken Buck, said in an interview on Meet the Press Sunday that he thought being gay was a "choice":
"You can choose who your partner is. You don't think it's something that's determined at birth?" host David Gregory asked. "I think that birth has an influence on it like alcoholism and some other things but I think that basically you have a choice."
Focus On the Family's Jeff Johnston defended Buck's comment:
Jeff Johnston, Focus on the Family social policy analyst, said Monday, "Alcohol affects your whole body, and so does sexual behavior. The highly addictive (aspect of both) is an apt comparison."
Focus on the Family discusses bullying with Anderson Cooper
Timothy Kincaid
September 2nd, 2010
Focus on the Family's Candi Cushman thinks that Safe Schools is about homosexuality lessons in kindergarten. Yes, she truly does look like an idiot.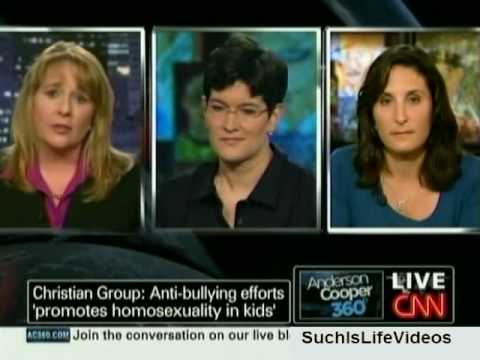 When Does Opposition to Suicide Prevention Equal Murder?
Jim Burroway
September 1st, 2010
Three teens at a Minnesota school district have committed suicide over the past year after enduring anti-gay bullying. The Anoka-Hennepin School Board claims that they take bullying seriously, but they've refused to implement anti-bullying education programs aimed specifically at anti-gay bullying — which is precisely the issue that has led to three deaths this year. A group of anti-gay parents have formed a pressure group to support the board's anti-gay stance, and they have the full backing of Focus On the Family:
Focus supports bullying prevention,[Focus On the Family education "expert"Candi] Cushman said. "But this issue is being hijacked by activists. They shouldn't be politicizing or sexualizing the issue of bully prevention."

Cushman founded TrueTolerance.org, which says it helps Christian parents "confront the gay agenda," which she said includes homosexual-themed curricula, books with sexually graphic content and anti-religion stereotypes, assemblies and celebrations.
Nobody is "sexualizing" bullying prevention — there won't be skimpy outfits or go-go dancers or suggestive poses involved with talking about anti-gay violence — and if anyone is politicizing bullying prevention, it's people who, for some strange reason, don't appear interested in ending anti-gay bullying which led to these three deaths.
The best way not to solve a problem is not to talk about the problem. And since Focus' position is that we should not talk about the problem, at some point you have to wonder if, in some unspoken dark corner of their collective souls, they see these suicides as serving their purposes. Focus consistently portrays the "homosexual lifestyle" as synonymous with abject misery — rampant drug abuse, STDs, depression and suicide. And, coincidentally or not, they consistently oppose efforts to constructively address drug abuse, STDs, depression and suicide among gay youth. After all, if we really were to address drug abuse, STDs, depression and suicide among gay youth by actually talking about drug abuse, STDs, depression and suicide among gay youth with an eye toward identifying solutions to these problems instead of using those problems as a hammer, then drug abuse, ST's, depression and suicide among gay youth might actually go down. And the "homosexual lifestyle" won't seem so full of misery, will it?
Prop 8 Supporters React
Jim Burroway
August 4th, 2010
First, we go to Andy Pugno, general counsel for the Alliance Defense Fund, which represented the losing side in today's decision:
"Today's ruling is clearly a disappointment. The judge's invalidation of the votes of over seven million Californians violates binding legal precedent and short-circuits the democratic process. But this is not the end of our fight to uphold the will of the people for traditional marriage, as we now begin an appeal to the Ninth Circuit Court of Appeals.

"It is disturbing that the trial court, in order to strike down Prop 8, has literally accused the majority of California voters of having ill and discriminatory intent when casting their votes for Prop 8.

"But the reality is that Prop 8 was simply about restoring and strengthening the traditional definition of marriage as the unique relationship of a man and a woman, for the benefit of children, families and society.

"At trial we built a solid record to show that marriage has served as the foundation of the family and society as a whole, has universal functions and features attributable only to unions between a man and woman, has been defined in both law and language as a union between a man and a woman, and acts as the predominate relationship in which to create and support children.

"We are confident that the trial court record we built will help us ultimately prevail on appeal and reverse today's ruling.
Newt Gingrich, who believes in the sanctity of marriage between on man and three consecutive women, warns that this should be another knock against confirming Elena Kagan to the Supreme Court:
"Judge Walker's ruling overturning Prop 8 is an outrageous disrespect for our Constitution and for the majority of people of the United States who believe marriage is the union of husband and wife. In every state of the union from California to Maine to Georgia, where the people have had a chance to vote they've affirmed that marriage is the union of one man and one woman. Congress now has the responsibility to act immediately to reaffirm marriage as a union of one man and one woman as our national policy. Today's notorious decision also underscores the importance of the Senate vote tomorrow on the nomination of Elena Kagan to the Supreme Court because judges who oppose the American people are a growing threat to our society."
Wendy Wright, Concerned Women for America stomps her foot and demands that the decision be overturned immediately:
Judge Walker's decision goes far beyond homosexual 'marriage' to strike at the heart of our representative democracy. Judge Walker has declared, in effect, that his opinion is supreme and 'We the People' are no longer free to govern ourselves. The ruling should be appealed and overturned immediately.

"Marriage is not a political toy. It is too important to treat as a means for already powerful people to gain preferred status or acceptance. Marriage between one man and one woman undergirds a stable society and cannot be replaced by any other living arrangement.
Robert George of the American Principles Project, sees this as ensuring "additional decades fo social dissension and polarization":
Another flagrant and inexcusable exercise of 'raw judicial power' threatens to enflame and prolong the culture war ignited by the courts in the 1973 case of Roe v. Wade," said Dr. Robert P. George, Founder of the American Principles Project. "In striking down California's conjugal marriage law, Judge Walker has arrogated to himself a decision of profound social importance—the definition and meaning of marriage itself—that is left by the Constitution to the people and their elected representatives."

"As a decision lacking any warrant in the text, logic, structure, or original understanding of the Constitution, it abuses and dishonors the very charter in whose name Judge Walker declares to be acting. This usurpation of democratic authority must not be permitted to stand."

…"The claim that this case is about equal protection or discrimination is simply false," George said. "It is about the nature of marriage as an institution that serves the interests of children—and society as a whole—by uniting men and women in a relationship whose meaning is shaped by its wonderful and, indeed, unique aptness for the begetting and rearing of children.

…"Judge Walker has abandoned his role as an impartial umpire and jumped into the competition between those who believe in marriage as the union of husband and wife and those who seek to advance still further the ideology of the sexual revolution. Were his decision to stand, it would ensure additional decades of social dissension and polarization. Pro-marriage Americans are not going to yield to sexual revolutionary ideology or to judges who abandon their impartiality to advance it. We will work as hard as we can for as long as it takes to defend the institution of marriage and to restore the principle of democratic self-government," concluded Dr. George.
Focus On the Family's Judicial Analyst Bruce Hasknecht (he apparently didn't get layed off last week) warns that this could have repurcussions for the other 49 states in the union:
"Judge Walker's ruling raises a shocking notion that a single federal judge can nullify the votes of more than 7 million California voters, binding Supreme Court precedent, and several millennia-worth of evidence that children need both a mom and a dad.

"During these legal proceedings, the millions of California residents who supported Prop 8 have been wrongfully accused of being bigots and haters. Nothing could be further from the truth. Rather, they are concerned citizens, moms and dads who simply wanted to restore to California the long-standing understanding that marriage is between one woman and one man – a common-sense position that was taken away by the actions of another out-of-control state court in May 2008.

"Fortunately for them, who make up the majority of Californians, this disturbing decision is not the last word.

…"We do want Americans to understand the seriousness of this decision, however. If this judge's decision is not overturned, it will most likely force all 50 states to recognize same-sex marriage. This would be a profound and fundamental change to the social and legal fabric of this country.
Tony Perkins at the Family Research COuncil anticipates that the decisionwill be upheld by the Ninth Circuit Court of Appeals ("the most liberal appeals court in America"), and will only make the anti-gay rhetoric "more volatile":
"This lawsuit, should it be upheld on appeal and in the Supreme Court, would become the 'Roe v. Wade' of same-sex 'marriage,' overturning the marriage laws of 45 states. As with abortion, the Supreme Court's involvement would only make the issue more volatile. It's time for the far Left to stop insisting that judges redefine our most fundamental social institution and using liberal courts to obtain a political goal they cannot obtain at the ballot box.

"Marriage is recognized as a public institution, rather than a purely private one, because of its role in bringing together men and women for the reproduction of the human race and keeping them together to raise the children produced by their union. The fact that homosexuals prefer not to enter into marriages as historically defined does not give them a right to change the definition of what a 'marriage' is.

"Marriage as the union between one man and one woman has been the universally-recognized understanding of marriage not only since America's founding but for millennia. To hold that the Founders created a constitutional right that none of them could even have conceived of is, quite simply, wrong.

"FRC has always fought to protect marriage in America and will continue to do so by working with our allies to appeal this dangerous decision. Even if this decision is upheld by the Ninth Circuit Court of Appeals-the most liberal appeals court in America-Family Research Council is confident that we can help win this case before the U.S. Supreme Court."
Randy Thomasson, of Save California thinks the oath of office should be updated to force judges to only issue conservative rulings:
"Natural marriage, voter rights, the Constitution, and our republic called the United States of America have all been dealt a terrible blow. Judge Walker has ignored the written words of the Constitution, which he swore to support and defend and be impartially faithful to, and has instead imposed his own homosexual agenda upon the voters, the parents, and the children of California. This is a blatantly unconstitutional ruling because marriage isn't in the U.S. Constitution. The Constitution guarantees that state policies be by the people, not by the judges, and also supports states' rights, thus making marriage a state jurisdiction. It is high time for the oath of office to be updated to require judicial nominees to swear to judge only according to the written words of the Constitution and the original, documented intent of its framers. As a Californian and an American, I am angry that this biased homosexual judge, in step with other judicial activists, has trampled the written Constitution, grossly misused his authority, and imposed his own agenda, which the Constitution does not allow and which both the people of California and California state authorities should by no means respect."
Tim Wildmon of the American Family Association goes further, and calls for Judge Walker's impeachement:
"This is a tyrannical, abusive and utterly unconstitutional display of judicial arrogance. Judge Walker has turned 'We the People' into 'I the Judge.'

"It's inexcusable for him to deprive the citizens of California of their right to govern themselves, and cavalierly trash the will of over seven million voters. This case never should even have entered his courtroom. The federal constitution nowhere establishes marriage policy, which means under the 10th Amendment that issue is reserved for the states.

"It's also extremely problematic that Judge Walker is a practicing homosexual himself. He should have recused himself from this case, because his judgment is clearly compromised by his own sexual proclivity. The fundamental issue here is whether homosexual conduct, with all its physical and psychological risks, should be promoted and endorsed by society. That's why the people and elected officials accountable to the people should be setting marriage policy, not a black-robed tyrant whose own lifestyle choices make it impossible to believe he could be impartial.

"His situation is no different than a judge who owns a porn studio being asked to rule on an anti-pornography statute. He'd have to recuse himself on conflict of interest grounds, and Judge Walker should have done that.

"The Constitution says judges hold office 'during good Behavior.' Well, this ruling is bad behavior – in fact, it's very, very bad behavior – and we call on all members of the House of Representatives who respect the Constitution to launch impeachment proceedings against this judge."
Richard Land demands the revival of the Federal Marriagae Amendment
"This is a grievously serious crisis in how the American people will choose to be governed. The people of our most populous state—a state broadly indicative of the nation at large demographically—voted to define marriage as being between one man and one woman, thus excluding same-sex and polygamous relationships from being defined as marriage.

"Now, an unelected federal judge has chosen to override the will of the people of California and to redefine an institution the federal government did not create and that predates the founding of America. Indeed, 'marriage' goes back to the Garden of Eden, where God defined His institution of marriage as being between one man and one woman.

"This case will clearly make its way to the 9th Circuit Court of Appeals and then to the Supreme Court of the United States, where unfortunately, the outcome is far from certain. There are clearly four votes who will disagree with this judge—Roberts, Thomas, Scalia, and Alito. The supreme question is: Will there be a fifth? Having surveyed Justice Kennedy's record on this issue, I have no confidence that he will uphold the will of the people of California.

"If and when the Supreme Court agrees with the lower court, then the American people will have to decide whether they will insist on continuing to have a government of the people, by the people and for the people, or whether they're going to live under the serfdom of government by the judges, of the judges and for the judges. Our forefathers have given us a method to express our ultimate will. It's called an amendment to the Constitution. If the Supreme Court fails to uphold the will of the people of California—if we are going to have our form of government altered by judicial fiat—then the only alternative left to us is to pass a constitutional amendment defining marriage as being between one man and one woman.

"Many senators who voted against the federal marriage amendment the last time it came up said publicly if a federal court interfered with a state's right to determine this issue, they would then be willing to vote for a federal marriage amendment. Ladies and gentlemen, prepare to vote.
Lou Sheldon of the Traditional Values Coalition is losing his creativity. In fact, his statement is rather boring. I won't bother posting it. But TVC state lobbyist Benjamin Lopez thinks this will motivate the Tea Party Movement even more:
"If folks think that the Tea Party movement is a force to be reckoned with now, wait until the silent majority of pro-family voters flex their political muscle once again. Judges beware, you will go the way of Rose Bird, stripped of their robes and kicked off the bench," Lopez added.
Oops! Lopez's statement appears to have been deleted, which just leaves Sheldon's uncreative outrage.
Layoffs Rumored at Focus On the Family
Jim Burroway
July 30th, 2010
The Colorado Springs-based organization has been faring poorly over the past several years. Today the Colorado Springs Gazette reports that Focus On the Family is likely to incur yet another round of downsizing in order to fit its operations within declining revenues. Rumors have it that another 100 people may lose their jobs.
Focus currently employs about 850 people, which is significantly down from its peak of about 1,500 in 2000.
Ex-Gays Celebrating Misery And Tragedy In Lives Of Gay People Is Hardly New
Daniel Gonzales
May 19th, 2010
Earlier today Ex-Gay Watch posted on a statement made by Exodus president Alan Chambers on his Facebook fan page:
Heard from a couple this morning who have been praying for their daughter and her partner to come to Christ for 22 years. Both accepted Jesus, broke off their relationship and are pursuing a life in Christ. God is faithful and answers prayers. Be encouraged no matter your circumstances!
Unfortunately celebrating misery and tragedy in the lives of gay and lesbian people is nothing new for leaders in the ex-gay movement.  A while back I found, but didn't post about, a passage from Mike Haley's 2004 book "101 Frequently Asked Questions About Homosexuality." Appearing on pages 46 & 47:
[Question #] 12. My son just told me he's gay.  He says he's finally accepted who he is and that he's never been happier.  Can this really be true?
Mike Haley starts off his response with explaining how gay people often feel elated at coming out so let's jump to the end of his response where he issues actual advise:
The key for your son in the weeks and months to come is for him to realize it's not too late to turn back.  This is where the church and loved ones like you come in.  If he hears that change is possible, that he was not "made" this way, and that he is loved within godly boudaries even if his lifestyle choices don't change immediately, there is hope that when the feeling of relief wears off and the emptiness sets in, he will try to live his life in line with God's will.

In the meantime, I advise you to pray that he becomes as miserable as possible, as soon as possible, and that God will protect him through it. [emphasis added]
As I said before, I discovered that passage years ago when I first read the book and in all that time have been unable to formulate a response to something so wicked and ugly.  However with Ex-Gay Watch bringing light to Alan's celebration I realized this sadly is not a unique case and that attention needed to be brought to it.
I should add the first page of Haley's book is filled with endorsements by Alan Chambers, Jeff Konrad, Joe Dallas, and Dr. Joseph Nicolosi.  I'm curious if they too wish for misery and tragedy to fall upon the lives of gay and lesbian people.
Why Did Melissa Fryrear Leave Focus On The Family?
Jim Burroway
May 12th, 2010
The Colorado Springs Gazette's "The Pulpet" blog makes note of the news that Melissa Fryrear, the longtime "senior analyist on gender issues" at Focus On the Family, is no longer with the organization. Neither Fryrear nor Focus will comment on her leaving, although Carrie Gordon Earll, Focus' senior director of issues analysis, told The Pulpet's Mark Barna that Fryrear resigned to pursue speaking opportunities.
Fryrear, you may recall, has been an integral part of the Love Won Out ex-gay roadshow, in which she consistently asserts that she has never met a gay man or woman who has not been molested or sexually abused.
Fryrear's departure comes after it was announced the Focus On the Family would no longer co-sponsor and produce the Love Won Out conferences with Exodus International. Fryrear not only directed those conferences when they were under the Focus umbrella, but she was also a keynote speaker and conducted several breakout sessions as well. Fryrear did give her keynote speech at the first all-Exodus LWO conference held in San Diego on March 6 of this year, but it appears that she did not give any of her usual workshops. Sometime after that, Fryrear was either separated, or she separated herself, from Focus On the Family. Circumstances and timing remains murkey. Fryrear is also no longer speaking at upcoming Love Won Out conference scheduled for June in Irvine, California. This led Barna to try to learn why:
Attempts to reach Fryrear at her east Colorado Springs home have been unsuccessful. Having learned of my attempts to contact Fryrear, [Focus spokesman Gary] Schneeberger told me Saturday that she won't speak to me.

Has Fryrear had a change of heart toward faith-based reparative therapy, leading to her resignation?

A ministry colleague of Fryrears doesn't believe that is the case.

Karen Keen, who operates an online site called Pursue God, writes on her blog that in conversations with Fryrear over the years she's expressed a desire to "pursue other ministry opportunities not related to homosexuality."
Porno Pete Calls Focus On The Family A Bunch Of Sissies
Jim Burroway
April 29th, 2010
Jim Daly, Focus On the Family's new CEO who replaced James Dobson, has been trying to move the organization into a more kinder, gentler sort of an anti-gay organizations. Of course, none of their policies or tactics have actually changed and it would seem that the contributors to the Drive-By… err, Drive Thru blog don't seem to have gotten the memo on the niceness thing. But there are reports that Daly wants to make Focus's mean policies magically appear somehow, I dunno, softer in their meanness, all to attract more "millennials" who hold a distinctly dim view of Focus' anti-gay politics.
The mere hint that Focus might put on a veneer of civility has Peter "Porno Pete" LaBarbera in a tizzy. His latest headline: Is Jim Daly Emasculating Focus on the Family?
Matt Barber adds names to Hate Group list
Timothy Kincaid
March 24th, 2010
As we told you, Peter Labarbera's amusingly misnamed website, Americans for Truth About Homosexuality, has been named a hate website by the Southern Poverty Law Center. And while I see this as a reasonable classification for a man whose "religious objection to homosexuality" always seems to be expressed in the vilest terms of contempt for gay individuals, fellow anti-gay activist Matt Barber (who sits on AFTAH's board) has leapt to the Peter's defense.
Writing in third person, he declares that this addition to the hate list entirely discredits the SPLC. And besides, AFTAH is no different from a number of other groups.
"It's a 'hate group,' mudslinging good time!" joked Barber. " Let's try it on for size. In exercise of the SPLC's trademark 'I-know-you-are-but-what-am-I' criteria for determining 'hate group' status, I hereby declare the Southern Pov Law Center an officeal 'anti-Christian, anti-conservative hate group.' Try it, it's fun.

"But seriously," continued Barber, "If AFTAH is a 'hate group,' then so is Liberty Counsel, Focus on the Family, Family Research Council, American Family Association, the Southern Baptist Convention and the Roman Catholic Church."
Well now, Matt, those are interesting nominations. You've given us something to think about.
Hate Group Co-Founder Says Dobson Was Pushed Out of Focus
Jim Burroway
March 9th, 2010
Seattle-area pastor Ken Hutcherson, a co-founder of Watchmen On the Walls which is one of about a dozen anti-gay hate groups monitored by the Southern Poverty Law Center, mourns the retirement of James Dobson from Focus On the Family. Not only that, but Hutcherson sees a conspiracy — Dobson didn't retire; he was pushed out:
I am not very happy with the new, progressive, "loving" leadership at Focus on the Family. However, it is God's ministry, and He will do with it what He pleases.

While I don't work for Focus, I definitely have an opinion. God used Dr. James Dobson as its founder to change the world's view of the family. Taking him off the air effective this month was not Dr. Dobson's decision but a board decision. Why was that decision made? What prayerful consideration did the board engage in that ended with their choice to remove Dr. Dobson from the air? Evidently, he didn't want to stop his voice from being heard over the airways after turning over leadership to the new team. The new radio program he is launching tells me that.
Hutcherson also complains that he wasn't offered the leadership post at Focus On the Family. Then he says he would have turned it down because he already has a ministry. Then he says he has no ego. Self-awareness is definitely not his strong suit.
CPAC Overboard on DADT
Jim Burroway
February 19th, 2010
Die-hard supporters of "Don't Ask, Don't Tell," the military's ban on LGBT people serving openly, held a news conference at the Conservative Political Action Conference on February 18 in Washington, DC. It was a truly priceless exercise in surrealism that has to be seen to believe.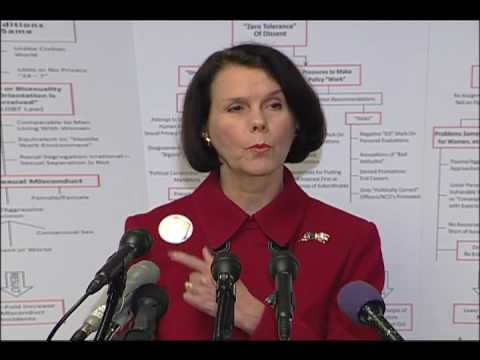 Here are my favorites. Tom Minnery of Focus On the Family thinks repealing DADT is a bad idea, but not because he dislikes gay people. In fact, he's worried all to pieces over what repealing DADT would do to gay men:
There are going to be a number of young gay men who have been shoved in the middle of this social engineering debacle and told that it is their right to serve. In the confines of barracks life, the sexual tension that will result when you try to develop a warrior culture and put these two very different ideas of sexuality in the middle of that culture, it's going to produce a lot of abuse, a lot of angry, a lot of severely disappointed young gay men.
Tony Perkins, of the Family "Research" Council has a hard time with polling data:
When you look at the polling data of the sixty percent of Americans or whatever saying they thing that homosexuals should be open, should be able to serve openly in the military, well do they really understand the conditions under which their sons and daughters and their neighbor's kids would have to serve in.
People understand the conditions of war very well, and nobody understands it better than those who are in the military currently. The Military Times finds that there has been a sharp decline in the percentage of men and women currently in uniform supporting DADT. Fewer still who personally know a gay person serving are willing to report them to their command.
But the most surreal statement comes from Retired Admiral James "Ace" Lyons:
You know in the Navy in the late nineteen hundreds, homosexuality was rampant in the United States Navy. It was so bad that mothers would not let their sons enlist in the Navy until the Navy cleaned its act up, and fortunately they did. …On board ship the Navy found that there are three things unacceptable to good order and discipline and its impact on readiness. You cannot have a thief aboard, you cannot have a drug-user or a drug-pusher, and we found out you could not have a homosexual.
And as anyone who has ever been to Fleet Week in San Francisco, New York, San Diego and Ft. Lauderdale can tell you, they don't have any homosexuals in the Navy anymore.
Where The Money To Overturn Same-Sex Marriage in DC Coming From?
Jim Burroway
February 2nd, 2010
Hint: None of it is coming from within Washington, D.C.. Rev. Harry Jackson's three groups to wage three different ballot fights against DC's new marriage equality law have raised a total of $199,000 so far. Of that, $102,192 came from Rev. Jackson's MAryland-based High Impact Leadership Coalition. That sum is followed by $40,000 from Focus On the Family, $32,130 from the National Organization for Marriage, and $25,000 from the Family Research Council. None of the donations are from DC residents.
Focus On the Family Denounces Uganda's Anti-Gay Bill
Jim Burroway
December 26th, 2009
Focus On the Family is famous for adamantly opposing virtually every LGBT-friendly initiative — from domestic partner and survivors benefits, hate crimes legislation or employment non-discrimination measures. They also steadfastly supported Colorado's Amendment 2 of 1996 (which would have disenfranchised LGBT people from the legislative process) and they opposed the repeal of anti-sodomy laws in the U.S.
But there's one piece of anti-gay legislation that Focus On the Family doesn't support:
"The purpose of laws is to make societies safer, and there is legitimate concern that the legislation being debated in Uganda will incite violence against homosexuals," Jim Daly, president and CEO of Focus on the Family, said last week of the Ugandan bill."
The Colorado Springs Gazette softpedals the role of American right-wing evangelicals in supporting Uganda's homophobic culture:
Ralph Blair, president of Evangelicals Concerned in New York, believes the bill was influenced more by African culture and politics than Christian rhetoric against homosexuality. African nations, including Uganda, have had anti-gay laws on the books for decades, he said.

Moreover, it's unfair to single out American evangelical leaders and organizations for not condemning the bill when many world leaders, including President Barack Obama, and human rights groups have also been silent on it.
This is blatantly false and extremely poor reporting on the Gazette's part. President Barack Obama did speak out against the bill long before Focus belatedly jumped on the bandwagon. The President's statement was not reported by Uganda's news media, but it outraged Ugandan pastor Martin Ssempa.  The White House statement accompanied similar condemnations from Canada, Britain, Sweden, the European Union, and Australia. I guess the Gazette needs to somehow keep its hometown industry feeling happy and protected from, you know, actual reporting.
But back to Daly, Gazette reporter Mark Barna has more of Daly's statement on the Gazette's religion blog:
"As a Christian organization, Focus on the Family Action (the political arm of the family group) encourages pro-family policies. As such, we respect the desire of the Ugandan people to shield their nation from the promotion of homosexuality as a lifestyle morally equivalent to one-man, one-woman marriage. But it is not morally acceptable to enact the death penalty for homosexuals, as some versions of the bill are reported to require."

"My reaction is to denounce this. It sets a horrible precedent and has a potential for developing hatred."
It's good that Focus has now spoken out against Uganda's anti-gay bill, although I wonder what their position would be if the death penalty were dropped. At least Saddleback pastor Rick Warren is now on record as opposing all criminalization of homosexuality.
Click here to see BTB's complete coverage of recent anti-gay developments in Uganda.
Focus On the Family Issues A Sexy Santa Alert
Jim Burroway
December 3rd, 2009
GLSEN's fundraiser invitation says the play depicts "Santa in his heartfelt struggle to reconcile his romantic relationship with Italian toy maker Giovanni Geppetto." Pictures on a Web site promoting the production depict Santa in not-so-subtle sexually suggestive situations. The play also mocks those who support traditional values.

It's sad that GLSEN, which claims that it wants to protect kids, has chosen to use a fundraising tool that perverts the innocence of Christmas and sexualizes the longtime, child-revered icon of Santa Claus.
Goodness, no! We can't have the gays sexualizing a fictional character. That's the catwoman's job!
My Prayer
Timothy Kincaid
November 6th, 2009
This weekend Focus on the Family will host their final Love Won Out ex-gay dog and pony show before washing their hands of the movement and turning it over to Exodus International. And, knowing that there will be the usual protest, Exodus Youth Director Randy Thomas is calling for prayer.
I (Randy) won't personally be at this particular event but having been to about 20 of them, every single one had some sort of protest and every single time the LWO team responds lovingly. Would you add praying for Wayne and his friends to your prayers for the conference? We'd greatly appreciate it.
I've been around long enough to know exactly what sort of prayers that will elicit. They will either be of the "smite the heathen" variety, or, more likely, of the sanctimonious "convict the heathen" stripe:
Jesus, show Wayne your love. Convict him of his sin. Deliver him from the bonds of darkness and the confusion of homosexuality that Satan has wrapped him in. He's so devoted to his sinful cause; oh how he could be a warrior for You. Jesus, tug at his heart. Bring him into a relationship with You and show him that he's wrong and we're right!!
Well, that last part is never really prayed out loud, but it is the unsaid message behind the rest of the prayer. Praying for someone else's conviction just makes you feel so good. Not only does it confirm your own certainties, but you get to be all "loving" while you are being self-affirming.
And as an extra-special bonus, you get to tell others, "Oh, that poor young man. It's so sad. I prayed for him today."
Which got me thinking.
At times I find myself telling anti-gay activists that I will pray for them. And I'm sure that they assume that if I really do pray for them that my prayers are a mirror image of those above.
But I don't pray for God to smite them or for God to change their minds. In fact, some time ago I worked out a very different prayer, one that works for me.
It goes something like this:
God, please bless Anti-gay Activist Joe.

Give Joe happiness. Bring him peace and prosperity. Take away any hurt or unhappiness or dissatisfaction with his life. In fact, fill Joe with so much joy that he has no room left over for hatred and anger and bitterness towards my community.

Fill his days with interesting things. Bring delight into his family and merriment into his friends. Make his day meaningful and fulfilling. Fill his life with so much interest and purpose that he has no time left over to spend trying to make the lives of those in my community unpleasant.

And finally, God, bring Joe close to you. Give him a complete understanding of who you are. Startle and shock him with the degree to which you love him. Fill him completely with your love, so full that he only can spill love over to all who come in contact with him. And let him know that whether I'm right, or he's right, or neither of us is right, it just doesn't matter. Because it all comes down to love.
Now I know that many of our readers don't believe in any deities or value any prayers. Many, many, many times that has been made abundantly clear. And some of you are always on the lookout for an opportunity to mock the faith of others. I'm really hoping that you'll give this one a pass and decide that this thread really isn't for you, so much.
But for those readers who do believe in God and prayer, I offer you my prayer for consideration. It may not work for you. But if it does, please consider praying for the organizers and participants at this weekend's Love Won Out Conference. I think they could use some joy, love, peace, and satisfaction.
Dobson To Quit Radio Broadcast
Jim Burroway
November 2nd, 2009
Focus On the Family founder James Dobson has announced that he will be leaving his radio program at the end of February. Last February, Dobson stepped down as chairman of Focus On the Family last February. Dobson will also stop writing his monthly newsletter and turn it over to Focus President Jim Daly. Daly insists however that Dobson is not moving into retirement and "will continue to make his voice heard in the public square."
[Hat tip: Ex-Gay Watch]
Maine's "Yes" Side Claims LGBT Groups Contributed $5 Million to Defeat Question 1
Jim Burroway
October 25th, 2009
This is amazing. Stand for Marriage Maine's web page says this:
Your support will help us stand up to the vast network of wealthy homosexuals with seemingly unlimited resources from places like Hollywood, New York and Massachusetts. Washington, D.C.'s largest national lesbian, gay, bisexual and transgender civil rights organization has already pledged to spend as much as $5 million to try to defeat us.
Five million dollars from the Human Rights Campaign? Let's review. According to campaign filings by both sides, Protect Maine Equality's three largest donors are:
Portland resident Donald Sussman, $500,000.
The Human Rights Campaign, $220,000.
The National Gay and Lesbian Task Force, $140,000.
These three contributions altogether make up only 22% of Protect Maine Equality's total budget. The rest has come from ordinary contributors like you.
Now let's look at Stand for Marriage Maine. Their top three contributors are:
National Organization for Marriage: $1.5 million.
Roman Catholic Diocese of Portland: $550,000.
Focus On the Family: $114,500.
Altogether, these three organizations alone have provided 83% of Stand for Marriage Maine's total budget.
Who's trying to buy an election while pulling the wool over the eyes of Maine voters?
NOM Doubles Its Maine War Chest, Claims Special Rights
Jim Burroway
October 24th, 2009
The Bangor Daily News reports that Stand for Marriage Maine, the group pushing to strip LGBT Mainers of their right to marry, has almost doubled its war chest in the past three weeks. They raised $1.4 million in October, bringing their total amount raised to $2.6 million, according to reports filed Friday with the Maine Ethics Commission. Guess where the money came from:
But $1.1 million of the $1.4 million raised by Stand for Marriage Maine in October came from a single source: the National Organization for Marriage. In fact, the Washington, D.C., organization has bankrolled more than 60 percent of the campaign to ban same-sex marriages in Maine.

The No on 1 campaign, meanwhile, claims to have received contributions from more than 22,000 donors, compared to slightly more than 700 donors to the opposing camp.
This brings NOM's total investment to $1.5 million, according to the Associated Press. By my calculations, that's actually 58% of the total. But still, that's pretty amazing. One out-of-state special interest group is trying to purchase an election, lock, stock and barrel.  The Roman Catholic Diocese of Portland has contributed a total of $550,000 to the "yes" campaign. Another $114,500 came from Focus On the Family. Together, these three groups alone account for 83% of Stand for Marriage Maine's total budget.
And yet, despite the fact that the National Organization for Marriage is paying the lion's share of the bill, they are in court demanding that they be held above Maine's financial disclosure laws:
NOM's financial role in the Maine campaign will be discussed in federal court in Portland on Monday when a judge hears arguments in a complaint the group filed against the state.

Earlier this month, the Maine Ethics Commission voted 3-2 to investigate whether NOM was skirting campaign finance laws in order to avoid disclosing the identities of contributors. A complaint against NOM alleges the organization, which played a key role in overturning California's gay marriage law last November, funnels money to Stand for Marriage Maine while promising donors confidentiality.

NOM responded earlier this week by challenging the constitutionality of Maine's law requiring "ballot question committees" to file detailed campaign finance reports.
Meanwhile, campaign finance reports also show that Protect Maine Equality has raised more than $4 million so far. This includes $1.4 million raised in October, matching Stand for Marriage Maine's fundraising from the same period. While the nearly 80% of the Yes side's money during that period came from NOM, most of Protect Maine Equality's fundraising came from individual donors during the same period.
Protect Maine Equality also reports some large donors, but nothing like the outright attempted purchase of an entire campaign by NOM. According to the Bangor Daily News, Portland resident Donald Sussman has contributed more than $500,000. The Human Rights Campaign kicked in $220,000 in donations and in-kind goods and services, and the National Gay and Lesbian Task Force has contributed about $140,000 in funds, goods, and services.
Altogether, these three major donors make up only 22% of Protect Maine Equality's total take. The rest, as they say, comes from people like you. Please donate today.
"Love Won Out" Scales Back
Jim Burroway
October 24th, 2009
Yesterday's installment of CitizenLink gives a little more insight into the recent announcement that the Exodus International will take over the lead role from Focus On the Family for planning, producing and promoting the "Love Won Out" ex-gay conferences. That transfer of responsibilities also appears to signal a significant cutback in the scale and frequency of these conferences. According to Melissa Fryrear, who had served as director of the events:
Exodus will scale down the event and not offer as many sessions or include as many speakers.  They will, however, add sessions designed to more fully equip churches generally and pastors specifically.
She also said that the next Love Won Out event will be March 6 in San Diego, and another one will be announced in the Fall. This pace is down sharply from years past, when they normally would schedule about six Love Won Out conferences in various cities per year. Fryrear will continue to be a part of the conferences, serving as the keynote speaker.
See also:
Prologue: Why I Went To "Love Won Out"
Part 1: What's Love Got To Do With It?
Part 2: Parents Struggle With "No Exceptions"
Part 3: A Whole New Dialect
Part 4: It Depends On How The Meaning of the Word "Change" Changes
Part 5: A Candid Explanation For "Change"
Love Won Out Taken Over by Exodus
Timothy Kincaid
August 11th, 2009
The Washington Blade is reporting:
Facing a $6 million budget shortfall, Focus on the Family is shifting control of its Love Won Out conference to an outside organization.

Exodus International, a group that claims people can overcome unwanted same-sex attractions with the help of its ministry, announced Tuesday it will take control of the program starting in November.

"Exodus is the ideal organization to transition Love Won Out to," said Melissa Fryrear, director of Love Won Out. She noted that Focus on the Family and Exodus have been closely aligned for years.
Funny. I'd noticed that also.