Equality Texas Offices Vandalized
Jim Burroway
September 28th, 2009
Equality Texas' offices in Austin were vandalized last weekend. A large pane glass window at the front of the building was broken out, but nothing inside the building was taken. There are  no other reports of vandalism in the neighborhood, despite the fact that other businesses in the area are physically easier targets. The Equality Texas office window is several feet above ground. Executive Director Paul Scott suspects that EQTX may have been singled out, although he concedes that there's no proof of that.
Gay Good Samaritan Acquitted of Kidnapping
Timothy Kincaid
September 27th, 2009
About 6:30 in the morning of July 4, 2008, David James "D.J." Bell took his neighbors' children, ages 2 and 4, into his South Salt Lake home. The neighbors were having an all night party and the children were wandering about unattended.
When Lulu Latu finally noticed her kids were missing, she went to Bell's home. Finding the kids there, she become hysterical, screaming and slapping Bell. Minutes after she returned to her drinkfest, her fellow partiers broke down Bell's door and assaulted Bell and Daniel Fair, his partner. (Salt Lake Tribune)
Bell was dragged from his home by his then-shoulder length hair and his head was repeatedly smashed against the pavement, [defense attorney Susanne] Gustin said. Blood was oozing from his right ear and he still suffers hearing loss, she said.

Someone used a piece of broken glass to cut Bell's throat, chest and one of his toes.

Bell's partner, Fair, also was beaten, and a large TV was thrown onto his head.
The District Attorney opted not to bring any assault charges in the case but instead charged Bell with kidnapping. Defense argued that this was an anti-gay hate crime and that had any other neighbor taken the children in they would have been thanked instead of beaten. (SLT)
[Defense attorney Roger] Kraft accused police of conducting a shoddy investigation, noting that 10 people who attended Latu's party were never interviewed. Neither were four people at Bell's home, even though they wanted to talk and provided police with their contact information.

Juror Jorgensen agreed that if the police investigation had been "handled properly, [they] would have come to a different conclusion on that day."
In cases like these, it can be difficult to know whether there were extenuating circumstances, whether Lulu had reason to fear for her children's safety with Bell, whether other neighborhood history was involved. Although I was tempted to see this as yet another illustration of how police assume that gay men are guilty until proven innocent in Utah, I hesitated at that time to form judgment.
But it seems the jury had far less difficulty, After acquitting Bell, the jurors told the Tribune that they were appalled at the lack of evidence and the waste in pressing charges.
Perhaps, after being rebuked by the jury, the district attorney may be willing to possibly consider caring whether it's free-beating season on gay men in Salt Lake County.
College Student Receives Death Threats
Jim Burroway
September 22nd, 2009
It's back to school time on college campuses across America. You know what that means — getting settled back into the dorm, spending more money on books than you ever thought possible, taking stock of your new professors, and of course, death threats:
Guilford College students will hold a meeting on Monday after someone sent a student two letters threatening his life and calling him derogatory names based on his sexual orientation.

The hate crimes happened in the Bryan Hall dormitory last week. On Monday, a student found a note on his door that had a death threat and called him a derogatory name. The note also said "nobody wants your kind on campus."

On Thursday, someone dropped a rock with a letter attached in the same student's window. The note used the same derogatory name and also said: "You don't deserve life like the rest of the world. It's bad enough with out all the gay crap pulling people down. It's sick, unnatural, and death is almost too good for you. Almost."
A vigil is planned at the Greensboro, N.C.-based college Wednesday evening.
Jamaican Police Deny Murder was Gay Hate Crime
Timothy Kincaid
September 14th, 2009
When Honorary British Consul in Jamaica John Terry was murdered in Montego Bay, his naked body was accompanied by a note that said, "This is what will happen to ALL gays." But this was not reported in the Jamaican media.
Now Jamaican police, responding to the word getting out from British and other media sources, have "ruled out" homophobia as a cause for Terry's murder.
local police say nothing in their investigation is consistent with that theory and have asked the media to desist from reporting this misleading information.
Somehow it seems to me as though the police are far more concerned with the reputation of their country than they are about the crimes committed against gay residents.
Meanwhile Jamaican media are still downplaying the possibility of anti-gay animus as the cause of the crime. I've not found any reference to the note, and the Jamaica Gleaner is serving up additional bias by misstating British coverage:
Questions have swirled in British media that Terry, 65, was a homosexual who was probably killed by a lover.
Perhaps time will reveal that this is not an anti-gay murder. But it appears at this time as though Jamaican police and media are seeking to cover up facts rather than solve this crime.
PLEASE TAKE NOTICE: If you are gay or if someone may mistakenly guess that you are gay, you are not safe to visit Jamaica. You may be subjected to violence – or even murdered – and the Jamaican police probably will not come to your aid.
If you know of anyone who is planning on visiting this cauldron of hatred and violence, please give them warning. Jamaica is not safe for tourism.
Matthew Shepard: a gay Everyman?
This commentary is the opinion of the author and may not necessarily reflect those of other authors at Box Turtle Bulletin.
Gabriel Arana
September 4th, 2009
I have a piece in the American Prospect today that questions whether the gay rights movement should be elevating Matthew Shepard to the status of gay Everyman:
Over 1,400 members of the LGBT community are victims of a hate crime every year, which includes violent attacks as well as harassment. Why, then, is Shepard the "face" of gay rights? The implication is that all the other candidates weren't quite right: not urban New Yorkers dying of AIDS in the 1980s, not inner-city black adolescents whose parents kicked them out of the house, not leather daddies marching on Washington. The pictures of other gays, lesbians, and transgender people did not prove sufficiently salable to make it onto rally placards.
I guess what I think is problematic is that Matthew Shepard — the person — has very little to do with Matthew Shepard, the icon. I know Shepard has become a religion to many gay rights supporters, but how we've deified him says a lot about the politics of the gay rights movement. And should we really be fighting for hate-crimes legislation? I think it would be better to fight for the federal nondiscrimination act; hate-crimes legislation can't bring back the dead, but nondiscrimination laws do a lot to protect gay people who are living.
I'd be interested to hear what BTB readers think.
Military Response to Hazing and Abuse: Promote the Perpetrator and Kick Out the Victim
Timothy Kincaid
September 3rd, 2009
One of the most egregious injustices of Don't Ask – Don't Tell is that it invites bullies and bigots to wreak havoc on the lives of gay servicemen without allowing any recourse.
We learned last week of how Air Force Lt. Col Victor Fehrenbach's 18 year career was destroyed by the false accusation of a mentally damaged citizen. Now we learn that Petty Officer 3rd Class Joseph Rocha was put through hell only to be thrown out like the trash and his tormentor rewarded as a result of investigations. (Stars and Stripes)
According to documents released by Youth Radio this week, Navy investigators found dozens of hazing incidents over a two-year span at the Military Working Dog unit in Naval Support Activity-Bahrain. At one point, the documents show, Rocha was hog-tied, fed dog food and tossed into a dog kennel full of feces. Commanders also openly questioned his sexuality and forced him to simulate oral sex on other men.

Following the investigation, Rocha sought treatment for PTSD and later admitted he is gay, the news outlet reported. Shortly thereafter, he was discharged under the military's "don't ask, don't tell" policy, which prohibits homosexual troops from serving openly in the ranks.

However, the commander in charge of the unit at the time of the hazing did not lose his job, and was recently promoted to senior chief, documents show.
This is unconscionable. And if the Commander in Chief has any sense of outrage that a voting block which supported him in huge numbers and whom he courted is so mistreated, this will not be swept under the rug.
President Obama may not be able singlehandedly reverse DADT. But he certainly can see to it that rewards for bigots and bullies are revoked and that punishment is meted out. And failure to act only feeds fuel to the growing suspicion that his promises were hollow and his concern about our community is insincere.
I hope he proves such suspicions false.
None of the alleged abusers was punished, according to the report.
Thousands Defy Threats To Rally In Tel Aviv
Jim Burroway
August 9th, 2009
About 25,000 people rallied in Tel Aviv's Rabin Square Saturday night to remember the victims of last week's shooting spree at an LGBT youth center that left two people dead and injured about a dozen others. The rally took place despite threats of more violence:
The rally was preceded by a number of threats against the gay community. Earlier Saturday, a soldier in the Israel Defense Forces' Nahal Haredi unit was arrested on suspicion that he had threatened rally organizers on an online forum.

While in custody, the soldier confessed to making the threats.

Meanwhile, operators of transportation to the Tel Aviv rally received telephone threats from an anonymous caller who warned that grenades will be hurled at attendants of the rally.

Barak Atar, the head of the Gay, Lesbian, Bisexual and Transgender (GLBT) chapter in Be'er Sheva, who organized transportation from the southern city to Tel Aviv for the rally, said that "at 2 P.M. we got a call from someone asking where the pickup for the ride to the rally was. We answered him and asked if he was coming, and he said 'I'll be there – with grenades.'"
Another bus organizer in Be'er Sheva as well as one in Haifa reported similar threats of grenade attacks. Police are investigating the source of the calls.
The threats didn't appear to dampen the rally. Tel Aviv Mayor Ron Huldai opened the rally with a speech that paraphrased Harvey Milk's famous quote, "If a bullet should enter my brain, let that bullet destroy every closet door." Mayor Huldai called for a wider impact of those bullets in Tel Aviv, saying, "We must legislate and call out loudly: No more incitement. We would like today for the bullets that pierced Liz and Nir to be the bullets that break through the walls of hatred and ignorance in our society."
Israel President Shimon Peres also spoke at the rally. He called Israel "the nation of 'Thou shalt not kill'" and added "Those shots hurt us all, as Jews and as Israelis." Other speakers included two who were injured during the attack:
Uri Gil, who was injured during the attack on the center, took the stage at the rally together with his friend Chen Langer and said, "That place was a warm and loving home for them and they met wonderful people there."

"This past week I have been haunted by nightly fear, especially when I think that the murderer is walking around out there," he added. "No murderer will keep us in the closet."

Chen Langer, a youth counselor at the center who was also injured in the attack, arrived in a wheelchair and spoke after Gil. "This is the day in which we cease to be silent, to hide, and to alter the appearance of reality."

Langer tearfully added, "The home that was a place of security for youths became a slaughterhouse of youths."
Also attending the event were Education Minister Gideon Sa'ar, Culture and Sport Minister Limor Livnat, and openly gay Knesset member Nitzan Horowitz. Several musicians performed at the rally, including Rita, Dana International, Ninet Tayeb, Amir Fay Guttman, Keren Peles, Corinne Alal and Ivri Lider. The rally was organized by Gal Uchovsky, a gay film producer and TV personality.
On Thursday, Israel's Prime Minister Benjamin Netanyaho visited the re-opened LGBT center, where he said the attack "bears the mark of terrorism":
The idea of someone entering a youth club and beginning to commit serial murder – it bears the markings of a terror attack," he said.

The premier said he believed stereotyping and denigrating people was wrong and unacceptable.

"We are all created in God's image. We all have fundamental rights, the first of which is to be treated with respect by others and give [them] the same respect," he said.

"Anyone who has suffered from baseless hatred, as an individual or in a group, knows how painful and unacceptable it is. This is something we must uproot from society as much as possible," he added. "I think Israeli society has made progress toward tolerance, and I hope and feel certain that we can make further progress."
Two were killed in last weekend's attack on the Tel Aviv LGBT center, which was conducting a support meeting for gay youth. The dead were identified as 26-year-old Nir Katz from Givatayim, who was a counselor at the center, and 17-year-old Liz Trubeshi from Holom, who was attending the LGBT youth support meeting as a straight ally. They were killed when a lone gunman dressed in black and wearing a black mask entered the center and sprayed the meeting room with bullets from an automatic weapon. The gunman then fled on foot. Despite a city-wide manhunt, he has not been found.
Linda Harvey's Non-Condemnation of Tel Aviv Anti-Gay Violence
Timothy Kincaid
August 3rd, 2009
Linda Harvey of Mission America is one of those anti-gay activists that live at the extreme end of bias and animus. There are few things which Harvey would find too vile or outrageous to say. Nor would she ever let basic decency stay her hand or common sense slow down her all-encompasing need to spew bile and venom on gay people.
Today decent people in Israel and around the world are mourning a horrible crime, a mass murder that seems at this time to likely be based on hatred towards gay people. While the world seeks to discover whether this attack on gay youth was a terror message based on the murderer's homophobic religious zeal, Linda thinks this is a good opportunity to spout her own religious anti-gay rhetoric.
Now Linda knows that she can't exactly say, "They deserved what they got." That wouldn't sit well with even her most ardent supporters, none of whom like to think of themselves as motivated by hatred. So Linda starts her press release saying, "We are deeply saddened by this violent act and the deaths of these young people, and pray for the perpetrator to be found and brought to justice."
Now I'm sure she thinks no one will notice that she didn't exactly condemn the action. She's "saddened" and prays for justice, but doesn't quite say that what was done was deplorable. What she does find deplorable, however, she's not slow to state:
At the same time, it is deplorable this incident is already being used by the homosexual community to blame this act on those holding a traditional moral viewpoint.
These are Linda's values: machine gun attack on gay youth, "saddening"; condemnation of homophobia, "deplorable".
She also defends "those who bravely stand up against the deviance of homosexuality" and considers it bigotry to blame them for crimes like the one in Tel Aviv. And her sadness for the two who died extends only to the fact that they will now have no chance to be ex-gay (though one wasn't even gay).
She doesn't mention those who were wounded. She speaks of not wanting harm to come in the lives of the young people, but a closer look reveals that to Linda "harm" is not bullets, but homosexuality.
I will not call Linda's statement an "endorsement." She does not commend the shooter – specifically – or call for more violence. But the consistent message in Linda's press release is that the kids at the center shouldn't have been there, they were engaging in deviancy, and that those who oppose such deviancy are brave and moral.
It doesn't take much imagination to know where Linda's sympathies lie.
Police Say They Have A Lead in Tel Aviv Killings
Jim Burroway
August 2nd, 2009
Ha'aretz says police believe they have a lead in the manhunt for the Tel Aviv killer, and in the process are trying to downplay the possibility of a hate crime:
This tip has to be examined very carefully. We are still at an early stage in the investigation, and it's too soon to say if this supposition is going to materialize," police sources said. Besides homophobia, another direction under investigation is that of a personal feud, they added.

Some of the sources criticized the reaction of the leaders of the gay, lesbian, bisexual and transgender community, who police say rushed to make declarations about incitement being the cause of the murders of the two victims.

"They were too quick with the rallies and the slogans. It's not at all clear – the motive for the attack may have been personal, rather than a general targeting of the community," a senior Tel Aviv police source told Haaretz.
Meanwhile, friends and relatives gathered for the funeral of Nir Katz, the 26-year-old youth counselor at the LGBT center. The other victim, 16-year-old Liz Trubeshi was also laid to rest today. Liz's friends say that she was active in the gay youth organization as a supportive ally, even though she was not a lesbian herself.
Meanwhile, hundreds turned out for a rally in Tel Aviv Sunday afternoon to protest the shooting. Opposition leader Tzipi Livnie told the mourners, "We need to give strength to the child who comes to his parents and says: 'I am gay,' or 'I am a lesbian;' and this day needs to give the strength to everyone in the gay community to live their lives."
The Knesset will hold a special plenum debate on the attack Monday.
"Not Terrorism"
Jim Burroway
August 2nd, 2009
That's what this Associated Press video says: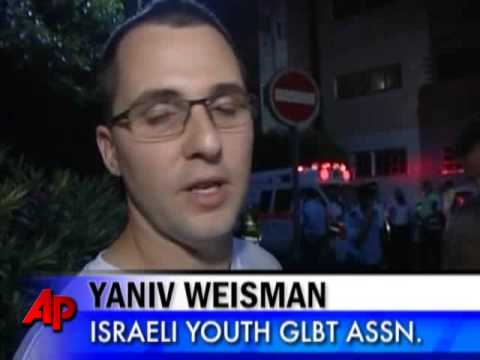 Other outlets earlier made the same claim, although many have gone back and re-edited their stories so that they now say that it appears to be criminal and not nationalistic, although I don't know how they can claim that since we don't know who the attacker was. He may still turn out to be an Israeli nationalist.
Okay, I get the police's trying to distinguish this act from a terrorist act by Hamas or Hezbollah or another Palestinian/Muslim radical group. But come on. Are Arabs and Muslims the only ones we're allowed to call terrorists? Is saying that it's "not terrorism" supposed to reassure Israeli citizens that this was a targeted attack on gays and not Jews? What about the Jews who were targeted and died in this attack? What about the Jews who marched in the streets last night to mourn their deaths? And what about the Jewish families this morning who now have to bury their children? Don't they count?
This exercise of trying to say that this was not terrorism cheapens the lives of Nir Katz and Liz Trubeshi, who died in the spray of automatic gunfire at an LGBT community center in Tel Aviv. It insults their families trying to grapple with the reasons their too-young loved ones were singled out for this attack. And it denies the impact that this is having in the LGBT community around the world, let alone the grieving community in Tel Aviv.
We don't know the attacker's identity. But we do know that a gunman — dressed in black, wearing a black ski mask and carrying an assault weapon — targeted a place of refuge for LGBT youth who were peacefully gathering for mutual camaraderie and support in the face of discrimination and prejudice. The attacker found them in that refuge and pumped them full of bullets. Yaniv Weisman, chairman of the Israeli Gay Youth organization, said, "Today, someone sent a message that gays in Tel Aviv and Israel are not safe." That is terrorism. If it isn't then the word needs to be stricken from the English language, for it will have lost all meaning.
Video From Last Night's Tel Aviv Protest
Jim Burroway
August 2nd, 2009
JoeMyGod found this amateur video of last night's spontaneous protest against the Tel Aviv LGBT center massacre. That protest took place just hours after the shooting. Another protest has been called for 5:00 p.m. local time in Rabin Square.
Manhunt In Tel Aviv; President and Prime Minister Condemn Massacre of LGBT Youth
Jim Burroway
August 2nd, 2009
Hundreds of police are swarming the streets of Tel Aviv and surrounding areas, searching for the gunman who shot and killed two youths meeting at an LGBT center Saturday night in what is being described as the worst attack against the LGBT community in Israel. The attack was condemned from Prime Minister Benjamin Netanyahu, President Shimon Peres, opposition leader Tzipi Livni, Tel Aviv mayor Ron Huldai and several others.
The dead were identified as 26-year-old Nir Katz from Givatayim, who was a counselor at the center, and 17-year-old Liz Trubeshi from Holom, who was attending the LGBT youth support meeting. About a dozen more were injured, five  seriously. Ten were still hospitalized Sunday morning. The attack shocked the residents of Tel Aviv, a seaside city that is well-known for its more liberal, tolerant attitudes, and is regarded as a safe-haven for the country's LGBT community. The Jerusalem Post quoted the chairman of the youth organization:
These were teenagers," Yaniv Weisman, chairman of the Israeli Gay Youth organization, told The Jerusalem Post.

With tears in his eyes, Weisman added, "They came to this center from across the country to talk to one another and receive help. This was supposed to be a safe place for them. Someone knew what they were doing when they came here. This is not a pub or a club."

"Today, someone sent a message that gays in Tel Aviv and Israel are not safe," Weisman said.
One 16-year-old victim of the shooting noted that many of the teens at the community center were not out to their families:
"I'm horrified to think that this is the way the parents of some of my friends will find out," Or Gil, who was taken to Ichilov Hospital following a knee and chest injury, told Haaretz.

"At about 10.40 P.M. someone came over, all dressed in black and wearing a black mask," he recounted. "I thought it was a joke at first, but he immediately opened fire. People took cover under the bed and tables, but there were no screams. I hid under a table with someone else. It's a small place; there's just one terrace. Once you're inside, there's nowhere to run."

Gil came to the center every week to take part in activities for teenagers.

"It's for 14- to 21-year-olds," he said. "Teenagers just hang out there, talking and listening to music."

"I love this place," Gil concluded, "but I don't know if I will ever go back there. I want to, but it's too soon to say."
Prime Minister Benjamin Netanyaho, speaking at the Israeli Cabinet's weekly meeting, offered his condolences to the families and condemned the attack:
"I unequivocally condemn the shocking murder," Netanyahu said at the start of the weekly cabinet meeting. "I have spoken with Public Security Minister Yitzhak Aharonovitch and stand by the police in searching for and finding the killer. We will bring him to justice and will prosecute him to the fullest extent of the law."

…"I say to the Israeli people: We are a democratic country, we are a country of tolerance, a country of laws, and we must respect every person, whoever and wherever he is," he said.
President Shimon Peres also condemned what he called "a despicable murder":
President Shimon Peres said in a statement that "the dreadful murder that was committed yesterday in Tel Aviv against teenagers and young people is a murder that a cultured and enlightened people cannot accept."

"Murder and hate are the two most terrible crimes in society," Peres said in a statement. "Police must make a supreme effort to capture the loathsome murderer and the people must join together in condemning this despicable act."
Opposition leader Tzipi Livni also expressed her "sadness and shock" over the murders, adding, "This difficult event must bring society to shake off prejudice, and to accept and recognize the right of every person to live in respect and safety." Tel Aviv mayor Ron Huldai promised that the city would continue to uphold its pluralistic values:
"Tel Aviv has always been a bastion of pluralism, tolerance and openness, and no one will succeed in hurting the city's character," he said. "Our city will continue to be a home for the gay community, and we will fight for the right of every person to live his life in the city according to his beliefs and conscience."
Hundreds of Israelis Protest Attack
Jim Burroway
August 1st, 2009
The night is not yet over, and already Israelis are gathering to remember the victims of this evening's attack on a teen support group at the Tel Aviv Gay and Lesbian Association.
Earlier this evening shortly before 11:00 p.m., two LGBT youth were killed by a lone gunman as they met for a support group an an LGBT community center in Tel Aviv. According to The Jerusalem Post, fifteen others were injured in the attack. Two are in critical condition, and three more are in moderate condition. Army Radio says that one of the dead was a 24-year-old male counselor at the center, and a second victim was a 17-year-old girl. The victims' names have not yet been released. Eyewitness describe the scene at the LGBT community center as "like a slaughterhouse." Despite the shock and horror, people are turning out for a spontaneous rally to protest the violence and commemorate the victims.

One of the marchers identified as Revital told Ynet:
"The feeling is terrifying. We live in a bubble, believing that everything is fine. This is an act of pure unfounded hatred, which leads to the murder of children for being gays and lesbians. It's very sad knowing that it's still so."

The Shas faction condemned the attack, but Revital had harsh things to say against the ultra-Orthodox party. "People like (Shas Chairman) Eli Yishai and (former Knesset Member) Shlomo Benizri openly hared gays and lesbians," she said.
The gunman has not been identified. According to the nationalist Arutz Sheva, the Shas party condemned the attack:
The Shas religious party condemned Saturday night's attack on a club of homosexuals. "Murder, understandably, is against the Torah way. Any attack is against the religion of Israel," the Shas party said in a statement.
Apparently, Israel's religious right can be as shameless as many in the American religious right. In an attempt to deflect criticism over Shas' violent anti-gay rhetoric, Shas Knesset Member Nissim Zeev suggested that the gunman may have been gay:
"I am really shocked, but I'm not certain it's because of this population's affiliation. It's possible that the person who fired the shots belongs to the same population."
2 Killed, 15 Wounded In Tel Aviv LGBT Teen Center Shooting Spree
Jim Burroway
August 1st, 2009
Update: The Jerusalem Post has updated its report to indicate that two were killed and fifteen wounded, and not three killed and fourteen wounded as they reported earlier.
The Jerusalem Post has the developing news:
Three people were killed and 14 people were wounded – two seriously, three moderately and the rest lightly – in a shooting at the Bar Noir, a center for youth run by the Tel Aviv gay community, on Saturday night.

According to eyewitnesses, an unidentified assailant dressed in black opened fire from an automatic weapon inside the building, located at the corner of Nahmani and Ahad Ha'am streets, at approximately 10:40 p.m.
Ha'aretz reports:
Witnesses told Israeli television that the black-clad, masked gunman stormed into the Tel Aviv Gay and Lesbian Association building and opened fire in a basement room where gay teenagers were holding a weekly support group. Most of the casualties were minors, a police spokesman said, adding that the assailant was believed to have used an automatic weapon such as an M-16 rifle.
An earlier Ha'aretz report says that the teen meeting typically draws 30 participants. That report continued:
Itzik Dror, a spokesman for the gay and lesbian community, said he was "shocked and shaken" by the event. Another community leader said that all activities for gay and lesbian groups had been suspended. "We thought we were living in a modern country where hate is not the standard," he said.

Gay and lesbian organizations said they will hold an emergency meeting early today to develop policy on community events following the incident.

MK Nitzan Horowitz (Meretz), who is also a gay rights activist, said after arriving at the shooting scene: "This is the most severe event to have hit the gay and lesbian community in the history of the State of Israel. I hope the shooter is caught. I do not want to come out with a statement, but this is a shocking thing."

There were signs that this was a hate crime, he said.
Police have closed all gay bars in the area as a precaution.
Britain's ITN has this coverage:
Police say there were no prior threats directed toward the community center, although the center has experienced anti-gay grafitti including swastikas painted at its entrance.  Ynet reports:
One eyewitness to the shooting said, "The place looked like a slaughterhouse." Another witness said the shooter had worn a mask. Civilians were warned to stay away from the area.

Eyal Amit, a member of the GLBT organization, told Ynet that many of the teens who met at the clubhouse had not yet informed their loved ones of their sexual orientation. "It's a very sensitive situation. What we know is that in order to get here one must come here especially. This was not some random shooting," he said.
Sailor Accused of Killing August Provost Commits Suicide
Jim Burroway
August 1st, 2009
The murder case of August Provost, the bisexual sailor who was found dead and burned at his guard post at Camp Pendleton, has taken a surprising turn. The suspect in the case was found dead in his cell yesterday afternoon:
Jonathan Campos, 32, of Lancaster, was found unresponsive in his cell at about 12:20 p.m., taken to the base hospital and declared dead about 1:15 p.m.,the Los Angeles Times reported.

Campos, a petty officer 2nd class, apparently asphyxiated himself with toilet paper. He had been on suicide watch in the brig and was last checked at 11:45 a.m., according to a Navy written statement.
A full statement from the Navy can be found here. Campos was charged with murder, drug possession, burglary and several other crimes. According to Navy investigators, Campos shot Provost, who was standing guard duty at the time, as Campos was trying to get onto the base to destroy property and attack other sailors. Navy investigators say there is no evidence that Provost's death was the result of a hate crime.
Four Lesbians Arrested For Assault on Anti-Gay Activists
Jim Burroway
July 31st, 2009
There are idiots on both sides:
The salsa and eggs stopped flying, but the police continued to investigate. Now four young women face charges of assault and disorderly conduct. They're accused of hurling food and drinks and spraying pepper spray at a group of men who stood in the median on Bald Hill Road and East Avenue Tuesday afternoon carrying signs supporting traditional marriage, Capt. Robert Nelson said Thursday morning. The men all gave the police an address in Spring Grove, Penn. — 1358 Jefferson Rd. — that's the location for the Foundation for a Christian Civilization Inc., a group that's in the midst of a caravan along the East Coast. The group states on its Web site that they make themselves "visible to motorists by engaging them to support traditional marriage."

…Thursday evening, the police arrested four women: Melissa Migliaccio, 22, Amanda L. Zangrilli, 23, Kristen A. Scungio, 19, and a 17-year-old female from Pontiac Street in Warwick, whom the police have not named because she is a juvenile. All are charged with at least one charge of battery or simple assault, and with disorderly conduct. The 17-year-old faces a more serious charge as well — felony assault with a dangerous weapon or substance, according to the police.
The Providence Journal updated that story early this morning:
Amanda L. Zangrilli, 23, of West Warwick, said she and her girlfriend had seen the men in the same spot for a few days, and had "every intention" of bringing opposing signs of their own. Then, Tuesday afternoon, Zangrilli said, she and her girlfriend, Kristen A. Scungio, 19, also of West Warwick, saw the men again. She says they were pointing at the women, in a way that told her they realized the two were gay. Her girlfriend threw the soda bottle out the window –– missing the man she threw it toward, just as she had intended. "We heard him yell, 'Ha ha, you missed,' " Zangrilli said.

The two drove to a friend's house, gathered whatever they could get their hands on and returned with the friend. Zangrilli and Scungio said the men yelled at them when they returned, calling them the Antichrist, homosexuals and sinners. The men shouted anti-gay slurs at them, the women said, and one pushed his camera into Scungio's face; she "pushed it away on instinct." "And then the flagpole guy raised his pole to me, and I turned around and punched him because I wasn't sure what he was going to do," Scungio said. "I was wicked scared. It turned into, like, a riot." Another woman driving by, an acquaintance of the women, jumped into the fray.
Members of the Catholic group deny using anti-gay epithets. But whether they did or not, these women acted like idiots. Getting into a physical brawl over words and signs is never justified, not under any circumstances. Committing assault is wrong no matter how anyone tries to justify it, and beyond that it is immensely stupid.
This incident will now become a huge part of the anti-gay arsenal: see how violent they all are? For months, anti-gay activists have characterized the Prop-8 protests as "violent" even though no one has been able to demonstrate that a single violent act was perpetrated by LGBT protesters or their allies. But now they have this, handed to them on a silver platter.
Morons.
By the way, Rhode Island appears to have a very robust hate crime law that protects on the basis of religion as well as sexual orientation. This might quality. After all, these people were assaulted for legally expressing their religious belief.
Anti-Gay Attacks Rock World OutGames in Copenhagen
Jim Burroway
July 29th, 2009
According to the Copenhagen Post, a man was arrested for throwing two bombs at track and field event"
Copenhagen police have charged a 31-year-old man with committing a hate crime after he threw powerful explosives at participants in the city's World Outgames event, public broadcaster DR has indicated in a report.

A 31-year-old city man was arrested yesterday at St. Jakobs Church in Østerbro, where he allegedly threw the explosives at the games' track and field participants at Østerbro Stadium. He managed to throw two bombs before police arrived on the scene and took him into custody.
One injury was reported. Dean Koga, 58, of the Seattle Frontrunners, was treated for shrapnel in his right hand. He returned to compete againt the following day. OutSports has more coverage:
The 55-59 age group was in the starting area in the men's 4×200-meter relay about 2 p.m. when a loud explosion was heard. Rob Lyons, a member of the New York Frontrunners, was taking photos and standing just feet from the blast, and said that the race starter looked at his gun, thinking it had misfired. "My ears were totally ringing," Lyons said.

After a brief delay and with everyone assuming the first blast was some one-off prank, the race was set to resume. That's when a second bomb was tossed.

"It lit up the whole area" near the relay start, said Stephen Stuehling, a member of the Seattle Frontrunners, who was on the other side of the track warming up for his relay when the second bomb hit.

"The [bomb] container hit the ground and everyone yelled to run," said Koga, who was in his running lane and then headed for the infield area. "That's when I felt the impact" from the shrapnel that ricocheted off the ground and into the top part of his right hand.
OutSports reports that after police arrived, the attacker threw a third bomb that rolled under the van of a film crew. That's when police were able to chase down and arrest the suspect.
This bomb-throwing attack follows an earlier hate crime incident during last Friday night's opening ceremonies. Two men, aged 28 and 33, were arrested after attacking three visitors from England, Sweden and Norway. The three victims were treated at a hospital for their injuries and released.
McInerney Can Be Tried as Adult
Timothy Kincaid
July 22nd, 2009
Today a judge decided that Brandon McInerney can be held to trial and special circumstances apply, allowing him to tried as an adult for the first degree murder of Larry King. (Ventura Star)
The judge noted that McInerney didn't confront King in the hallway or on the playground, but waited for class to begin before shooting him.

The judge described the shooting as "the cold-blooded precision of an executioner." He said it was premeditated, and he also found true the special circumstance that McInerney was lying in wait.

Prosecutors have yet to determine whether they will file the special circumstance against the teen. Such a step would not lengthen the juvenile's sentence, but it would keep the case out of the juvenile court.
Testimony to date has included evidence of pre-medititation, neo-Nazi association, and cold-blooded enactment of the crime. If convicted, McInerney may be sentenced up to 53 years to life in prison. Prosecutors have offered him a plea deal of 25 years to life.
The defense continues to use "gay panic" as their defense, more or less implying that King deserved what he got. (Ventura Star)
Defense lawyers are trying to portray King as a troubled boy and a sexual aggressor who would taunt and tease boys with flirtatious remarks and gestures such as blowing kisses at them.

They have argued in court that King was also a schoolyard bully toward McInerney and other boys. An autopsy showed that King was small in stature, standing 5 feet 4 inches tall and weighing 111 pounds, according to testimony on Monday.
Lawrence King's Killer Motivated By Neo-Nazi Beliefs
Jim Burroway
July 22nd, 2009
On the second day of preliminary hearings in Ventura County (California) Superior Court, a Simi Valley detective and gang specialist testified that Brandon McInerney was at least partly motivated by neo-Nazi beliefs when he gunned down 15-year-old Lawrence King in an eight grade classroom. Detective Dan Swanson took the stand and offered this testimony yesterday:
A search of McInerney's bedroom and backpack yielded the notebook, seven of Hitler's speeches translated into English and a book about SS troopers who had been former members of the Hitler Youth. The collection reflected an interest in the Nazis that was far more profound than the World War II book report McInerney had been assigned, the investigator testified.

Swanson said the teenager's family was friendly with a white supremacist in Oxnard's Silver Strand area. The man told Swanson that he and his girlfriend allowed McInerney to sleep in their apartment a night or two before the shooting.
McInerney's lawyers continue to push the "gay panic" defense, charging McInerney "cracked" when King blew kisses at him and declared his love.
On the first day of preliminary hearings, Oxnard police Sgt. Kevin Baysinger testified that McInerney bragged to fellow classmates that he had guns at home if he ever wanted to kill someone. "Brandon said if he ever wanted to kill anybody, his dad had a bunch of guns and he had the capability," Baysinger told the court.
Follow Up on Brett Vanasdlen
Timothy Kincaid
July 16th, 2009
During the attention given to the debate in Congress over the Matthew Sheppard Hate Crimes Bill, I was reminded of the story of Brett Vanasdlen, the young man in Champaign, Illinois, who was charged with a hate crime in 2008.
We reported the story, but we didn't fully follow up. Here's where we left it:
Stephen Velasquez was walking with friends at 1:00 am. Another young man, Brett Vanasdlen, saw him and made a bigoted remark.
According to Velasquez, he responded, "How ignorant was that?" and kept walking. According to Vanasdlen, Velasquez grabbed him and started screaming, "What did you say" in his face.
In both stories, Vanasdlen threw Velasquez to the ground where he was knocked out, suffered head trauma, and was taken to the hospital.
Vanasdlen was arrested and charged with a hate crime.
Vanasdlen's mother appealed to Anti-Semite Ted Pike and former KKK leader David Dukes for support and they ran her version of events on Dukes' white supremacist website. Peter LaBarbera picked up the story from them (changing Pike to a "pro-family activist") and sold it to conservative circles. The story spread as an example of how a conservative Christian "strapping, clean-cut, All-American looking young man" was victimized by a homosexual with brown skin through the use of hate crimes legislation.
White supremacists and anti-Semites throughout the country began including Vanasdlen as an example of the current indignities suffered by the "white race". Anti-gay religious groups used it as an example of why gay people should not be protected by hate crimes.
Peter LaBarbera was probably most vocal about this story. And he was quite critical of the skepticism expressed by those of us who doubted Vanasdlen's saintliness.
We'll see how this story plays out as Tim, ExGayWatch, BTB, Pam and the rest of the "queer" spin machine so eagerly paint a false picture of young Brett as a violent "gay basher" to further their misguided crusade.
Peter pledged to one and all that "AFTAH will be following this case closely."
So today I turned to LaBarbera's site to see whatever happened to Brett Vanasdlen and his campaign to clear his name. But I found nothing. No mention at all of the outcome.
So what happened? Did the courts clear him? Did witnesses come forward to declare that the "strapping, clean-cut, All-American looking young man" had actually been the victim and brown homosexual Velasquez was the "the real aggressor"?
Well, no.
On September 9, 2008 Brett Vanasdlen pled guilty to battery and the hate crime charge was dropped.
Defendant ordered to pay restitution in the amount to be determined at a later date.
Sentence: 09/08/2008
Sentence: Fines and/or Cost/Penalties and Fees
Sentence: Court Supervision 24Mos Supervised Court Service
Sentence: Anti-Crime Assessment Fee
Sentence: Public Service 200Hrs Supervised Court Service
Sentence: Substance Abuse Treatment/Evaluation 60Days
Sentence: Partner Abuse Intervention Program 60Days
Sentence: Count(s) dismissed.
I guess it's no wonder that LaBarbera kept silent about the resolution to this case. Martyrs are much less effective when they plead guilty.