NOM's Lesson in Irony
Timothy Kincaid
April 30th, 2009
After National Organization for Marriage's "Gathering Storm" ad aired – and was subjected to much mockery – the Human Rights Campaign got their hands on the audition tapes for the ad and put them on youtube. This was an embarrassment that was covered by Rachel Maddow on MSNBC.
NOM responded by claiming copyright infringement and even insisted that youtube pull the Maddow segment because of the tiny snippet she showed.
Now NOM has discovered that karma can be a b-tch (as Christian press might spell it). Perez Hilton (aka Mario Lavandiera) has caused the new Carrie Prejean ad to be pulled because they used a tiny snippet of his video.
Now I think that both video bits are probably perfectly legal under the Fair Use doctrine. And it's petty of Perez. But it certainly is delicious irony.
And Maggie Gallagher must be furious. She hates being treated the same as gay folk.
NOM's New Ad is Unimpressive
Timothy Kincaid
April 30th, 2009
The National Organization for Marriage has released their new ad starring Carrie Prejean, Miss California. Let's take a look at it: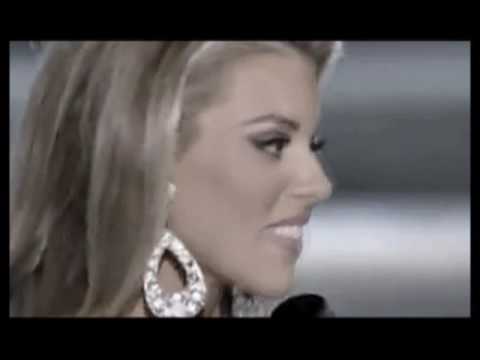 When asked a question about same-sex marriage, a young contestant answers honestly.

Carrie Prejean: "I believe that a marriage should be between a man and a woman, no offense to anybody out there. That's how I was raised and that's how I think that it should be between a man and a woman."

She is immediately attacked.

Perez Hilton: "She's a dumb BEEP, OK?"

When a pro-marriage group expresses concerns about how same-sex marriage will impact religious groups, they are called liars and bigots.

Joe Solmonese: "It is no longer palatable in this country, OK, to be an outright bigot. If you want to deny us these rights you need to do it by lying and misrepresenting"

Gay marriage activists attack people for supporting marriage because they don't want to debate the consequences of same-sex marriage. They want to silence opposition.

Some of the nation's foremost scholars warn that gay marriage can create widespread legal conflicts for individuals, small businesses and religious organizations.

Please help support marriage with your donation.
Here are the problems I see with this ad:
1. It relies on old and trivial news. By now everyone has seen the little tiff between Carrie Prejean and Perez Hilton. And while some may sympathize with Carrie, it's hardly the sort of incident upon which to base a significant political position.
2. It gives voice to NOM's opposition. When your dear friend indignantly says, "she called me FAT!!", it may not be admirable but the very first thing you automatically do is look to her waist to see if it's true. So it isn't wise to remind viewers that some consider NOM to be bigoted and untruthful; it places the association in their minds.
3. It has no point. The theme is "gay marriage supporters are bad because they called me names". And seeking to demonize your opponent may not be the wisest choice when you've just reminded your viewer that you are being called a bigot.
4. It has no audience. The thought of "widespread legal conflicts" hardly seems threatening when compared to the Swine Flu or the economy. And most viewers won't consider themselves or anyone they know to be likely impacted by "widespread legal conflicts", whatever that may mean.
5. It has no authority. Most viewers have never heard of Douglas Laycock and while he may be a legal scholar, an uncredited allusion to a virtually nameless law professor is not likely to win the support of those waivering.
6. It is dishonest. Douglas Laycock actually supports marriage equality. His concern, as written, was that adequate religious protections be incorporated into Connecticut's law to stop people like NOM from playing the victim. It doesn't get much more deceptive than to quote your opponent's mockery of you as though it were praise.
UPDATE:
Though NOM's ad was pulled by Youtube, it has been reposted by Paul VillaReal at
http://www.youtube.com/watch?v=wA2yC8VAhzU
Carrie Prejean's New Career: Anti-Gay Activist
Timothy Kincaid
April 29th, 2009
When Carrie Prejean, Miss California, bumblingly told the Miss USA audience that she chooses "opposite marriage" and believes that "a marriage should be between a man and a woman", I mostly ignored the situation. We tend to pay less attention to the ignorance of the misinformed and focus more on the deliberate deceptions of anti-gay activists.
However, as the story lingered way beyond its freshness date I wrote a commentary noting that Prejean was startlingly ignorant on a number of issues surrounding sexual orientation. Yet still I thought the story was but momentary and not particularly relevant to our efforts.
But now it seems that Prejean may be taking steps to turn her moment of foolishness into a career of hostility and bigotry.
And that brings her into our spotlight.
What Carrie Prejean believes
To understand Prejean's motivations, we have to understand what she believes.
We know that she opposes marriage equality and believes that homosexuality is "a behavior that develops over time". But her opinions have been developed in a stew of bigotry that goes far beyond misinformation about the bases of orientation.


Carrie Prejean attends a church that has strong opinions on the subject of sexuality and marriage. Miles McPherson, a football player turned pastor, was one of the driving forces behind the evangelical support for Proposition 8. In addition to anti-gay rallies at his church, McPherson was a proponent of the notoriously untruthful website for youth, iProtectMarriage.com.
Miles McPherson, one of Prop 8′s proponents and senior pastor of the Rock Church in San Diego, says the site aims to reach out to all young voters, especially those who support same-sex marriage for the wrong reasons.

"Right now they're driven by the wrong information and a lot of emotion," said McPherson, a former NFL player with the San Diego Chargers. "They'll say, 'I don't want to be called a bigot. I don't want to discriminate,'" said McPherson.
It seems that McPherson falls into the camp of Christians that believe that honesty and truth are optional and far subsidiary to "fighting the homosexual agenda". In a message in February 2008, he said,
The homosexual agenda is being pushed upon this nation, to the point where it may become illegal for pastors to preach against homosexuality from the pulpit, that is where even such preaching is deemed a crime. In some countries this is already the case. Keep in mind this battle is not about gay people, rather it is a spiritual battle in which we are fighting the devil!
And it was in this imagery of spiritual battle against evil that Prejean formed her "biblical correctness". And it is among his youthful warriors (the average attendant's age is under 30), that Carrie takes her place.
And McPherson is not hesitant to equip his warriors with the tools of political victory, with unvarnished lies a chief weapon. In addition to the blatant falsehoods on the Prop 8 website, McPherson's church, The Rock in San Diego, says the following about gays in a piece written by McPherson entitled Sodom and Gomorrah, A City Inflamed
Consequences of a Homosexual Lifestyle

God's Word tells us differently and He provides us of the evidence that homosexuality is not natural or normal. There are physiological repercussions from homosexual behavior; male homosexuals are 430 times more likely to contract HIV than a heterosexual, while heterosexuals have a 1-in-750,000 chance of contracting the virus responsible for HIV, a male homosexual has a 1-in-165 chance of getting HIV. A 20 year old gay male has a 30% chance of either dying or contracting AIDS before the age of 30. They are also 23 times more likely to get other sexually transmitted diseases than a heterosexual.

There are also moral repercussions stemming from homosexual behavior as evidenced by the fact that one third of all sexual crimes against children are committed by homosexuals even though they are representative of only one percent of the population. Pedophilia has even been called central to the gay lifestyle. The agenda of the North American Man Boy Love Association (NAMBLA) is to lower the age of consent so that sex with children will be legal.
I wrote to several pastors at the church earlier in the week to inform them that their claims about AIDS were mathematically impossible and in conflict with the literature and statistics provided by health organizations. I also corrected their false claims about child molestation and informed them that equating the gay community to NAMBLA is comparable to equating all of Christianity to the Phelps family.
I've not received a reply.
The website is unchanged.
The Cultivation of a Victim Image
Since losing the crown on the 19th, Prejean has been seeking every opportunity to discuss her story in the media and to craft an image as a Christian victim of vile homosexual activists.
The essential premise of this image is that Carrie was the front-runner and that her dream of being Miss USA was stolen from her when she bravely stood up for her faith. Prejean set up that premise in an interview with Matt Lauer on NBC Today,
Ms. PREJEAN: … You know what, Matt, I was on that stage that night and I was so excited to be there. I was competing for Miss USA, and I was called into the top 10 and to the top five. And I was standing there and, you know, I was ready for my question. And when I heard it from him, I knew at that moment after I had answered the question, I knew that I was not going to win because of my answer.

LAUER: Because you had spoken from your heart.

Ms. PREJEAN: Because I had spoken from my heart, from my beliefs and for my God.
Prejean further fed that perception in an interview with FOXNews
FOXNews.com: Before "the question," did you think you would win Miss USA?

Carrie Prejean: There was a lot of talk about me, people saying I was the frontrunner. During the whole two-week experience leading up to the pageant, I was very confident and relaxed. Not too nervous.
However, that premise does not appear to fit the facts. In viewing the final competition scores, it appears that Prejean was not the front-runner going into the question. In fact, unless Kristen Dalton, Miss North Carolina, flubbed badly and Prejean was brilliant there was no way that she could win.
As Brook Lee, a former Miss Universe who was at the event and spoke to the judges, put it, "for her to go in the press and say she lost the crown because of her answer is playing with the truth."
She has also been pushing the story that the Miss California franchise tried to manipulate her into recanting her testimony.
Prejean said Sunday that her state sponsors urged her to apologize afterward but she rejected the advice and says officials from the Miss California USA pageant were worried that her comments would cost their contest financial backing and tried to prepare her for a string of post-pageant media interviews by discouraging her from discussing her religious beliefs.

"You need to apologize to the gay community. You need to not talk about your faith. This has everything to do with you representing California and saving the brand,'" Prejean recalled being told. "I was representing California. I was representing the majority of people in California."
This accusation was soundly denounced by the Miss California pageant officials.
[P]ublic relations representative Roger Neal today called those claims lies. Neal says he was one of the people who attempted to advise the Prejean. According to him, Prejean was urged to reiterate she didn't mean to offend anyone, and to use the national spotlight "to heal some wounds."
Even Prejean's claim that her sister is "a gay rights activist" who "supports gay marriage" appears to be a fiction.
McPherson's Influence
But perhaps we should not be surprised that truth has played so small a part in the establishment of her martyr myth. She is being coached and guided by her religious mentor, Mile McPherson.
The Rock's site claimed that the Rock's Senior Pastor Miles McPherson "spent time with Prejean in the critical hours following the pageant". This coaching was further confirmed when Rex Wockner asked if she'd be willing to have coffee with Perez Hilton, the gay blogger who asked her the question in the pageant.
Carrie: Um, I'm not sure if I would have coffee with him. If I did, I'd bring Miles with me.
And McPherson's influence may be directing Prejean in a new and troubling direction.
If anything, Prejean has solidified her stance in the last week. McPherson, who preaches against homosexuality, has been acting as her adviser and encouraging her to use her newfound fame to persuade other evangelical Christians to share their views, even if they are unpopular.

"I learned that God has a bigger crown than any man can give you," she said.
Prejean Joins the Anti-Gay Activists
I'm not sure why conservative Christians would be so anxious to align their movement with a young woman whose sole claim to fame is to walk her fake breasts down a runway hoping that her appeal to vanity and lust will result in adoration and personal gain. But the political operatives of that movement often leave me shaking my head in wonder.
Nevertheless, they have welcomed Prejean with open arms, and she has leapt at the opportunity to turn her beauty queen status into the face of anti-gay activism.
Prejean has been lauded by some mainstream conservative leaders for standing for her beliefs. She was commended by the Alabama state legislature and today she made a special appearance at Liberty University's convocation.
But it is troubling that Prejean has decided to align herself with the most extremist and demonizing of professional anti-gay activists. Later today she will be join Mat Staver and Matt Barber in a radio interview, both of whom are known for their virulent homophobic positions.
And Prejean is willing to go further than give interviews. Yesterday Maggie Gallagher, the head of National Organization for Marriage (of Gathering Storm fame) had breakfast with Miss California. Maggie had plans for the meeting.
And I would like to nominate Miss California as the new face of the marriage movement. Much better than mine! "Truth and love will prevail over lies and hate."

But beauty never hurt.
And, indeed, Gallager's nomination was accepted. The National Organization for Marriage has announced that a new NOM ad will feature Prejean. And a source close to the group says the campaign includes ads that "will focus on how standing up for marriage elicits attacks from the left and homosexual rights activists."
My Predictions
The Miss California pageant almost certainly will remove Carrie Prejean's title and take her crown. They cannot afford to have Miss California headlining political ads that seek to criticize "the left and homosexual activists". Indeed, the negative publicity she's already generated – along with demonizing the organization – probably has the administration thinking ahead for the best time to let her go.
Surely this ad seals the deal.
And Prejean will get another round of playing the martyr when that happens.
However, her expected attempt to exploit the removal of her title will likely not elicit the same sympathy. While folks can feel badly for a girl who just "spoke her opinion", they aren't as inclined to think that running anti-gay advertising is in line with her duties as Miss California. In fact, any attempt to play the victim may well turn against her those who currently see her as such.
Which is ironic, because Carrie Prejean truly is a victim. She's the pawn of those who want to use her 15 minutes of fame to advance their own anti-gay agenda.
The whirl of controversy – coupled with anti-gay activism – has killed any sponsorship or modeling career she may have been seeking. No one will want their product associated with a woman who is reviled by half the population.
And, unlike Matt Barber who lost his job for tying his employer's name to his anti-gay screeds, Prejean does not appear to have the qualifications required to become a full time paid anti-gay activist. She's not articulate and she isn't passionate.
At most, she can for a brief while show up at anti-gay functions as a token of 'homosexual intolerance'.
In the long run, Carrie Prejean's decision to join anti-gay ranks is not to her benefit.
McPherson will go on with his church and Maggie Gallagher will go on with her activism. But when Carrie's usefulness has run out, she'll find herself without a title, a crown, a career, or the respect of her peers.
I Agree with the National Organization for Marriage
This commentary is the opinion of the author and does not necessarily reflect that of any other author at Box Turtle Bulletin
Timothy Kincaid
April 23rd, 2009
The State of Connecticut has enacted law to formalize the State Supreme Court's decision which legalized same-sex marriage. At the last minute they accepted amendments which would codify the constitutional rights of religions to reserve recognition to those marriages of which they approve.
In response, the National Organization for Marriage, that wacky group of storm-fearers, released the following press release.
The National Organization for Marriage (NOM) applauds the Connecticut legislature which, in a surprise move today, adopted substantive religious liberty protections as part of what was expected to be a routine bill implementing the Connecticut court decision ordering same-sex marriage.
I agree with this paragraph. *
The language adopted by the State of Connecticut seems reasonable to me. It exempts churches, religious societies and other religious non-profits from "services, accommodations, advantages, facilities, goods or privileges" if the refusal is based on their objection to a marriage which is "in violation of their religious beliefs and faith". It also exempts religious fraternal benefit societies (eg. the Knights of Columbus) to deny membership and insurance benefits. The third provision would exempt religious organizations from recognizing marriages for purposes of adoption, foster care and other social services provided that they don't receive public funds for those services.
I have no objection to these provisions and I dare say that most gay folk are just fine with them as well. In fact, I don't see them as any additional protection than was already guaranteed by the US Constitution.
If anti-gays wanted to drop all of their campaigns against marriage equality, in exchange I'd happily support language that redundantly gives their churches and religious organizations the same protections that they've always had. I'd make that deal in a second.
But I wonder why Maggie and crowd are so excited. This language, if adopted, would entirely neuter some of her scare stories. She can't wail about church groups in New Jersey or Catholic Charities in Massachusetts if the proposed laws exempt these organizations. **
Were all states considering marriage to use this language, Maggie would no longer be able to claim that religious freedoms are impacted and would instead be forced to argue her real objections to civil equality: religious arrogance and personal animus.
- – -
* Of course the rest of the release is full of nonsense including the notion that there is "serious potential implications of same-sex marriage for traditional faith communities" and implying that supporters of marriage equality had previously lacked "willingness to accept broad conscience protections." But we don't really expect Maggie to be truthful, now do we?
** Ironically, Catholic Charities would not be exempted because they took state money for their adoption program.
The text of the amendment is below the break
There's Something About Those NOM Commercials
Jim Burroway
April 10th, 2009
… which reminded Swedish blogger Tor Billgren of "The Shining". The dialog also "brought to mind "2001: A Space Odyssey". Maybe Maggie Gallagher is a Stanley Kubrick fan.
Maggie Gallagher's PR Advisor Must Hate Her
Timothy Kincaid
April 9th, 2009
"Ah," you're thinking, "How tacky. Box Turtle Bulletin is now trolling for three-way hook-ups".
But no. We haven't turned into a sex site and actually 2M4M isn't "two men for men" at all. It's the name of the new initiative by the National Organization for Marriage: Two Million for Marriage.
Right on the heels of their much-mocked zombie ad sponsoring their Opus Dei buddy, NOM brings us their latest:
In just a few minutes, NOM President Maggie Gallagher and I will hold a press conference in Trenton, NJ, announcing an ambitious new nationwide "2 Million for Marriage" (2M4M) initiative.
C'mon. You've got to be kidding.
Surely her PR people are having a laugh at her expense. Can anyone really be in PR and not have at least done a quick google to see if your new acronym is going to engender giggles?
Although…. if I saw, "Hi, we're 2M4M and we are against marriage", it might make some weird sense.
But seriously, how is this even an accident. It's not like M4M is new. They were using it in the personals columns before the first chat room ever lit up a green blinking curser on a solid black screen.
Delightfully Crazy Dingbat Insane Ookie Spookie Ad from National Organization for Marriage
Timothy Kincaid
April 8th, 2009
Well, it's happened. Maggie Gallagher's head has now exploded. That's the only thing that could possibly explain the decision by National Organization for Marriage to produce and run their latest ad.
It's called A Gathering Storm and its purpose is described as:
The centerpiece of the new initiative is a $1.5 million nationwide ad campaign launched today highlighting the threat that same-sex marriage poses to the core civil rights of all Americans who believe in marriage as the union of a husband and wife.
What it really is, of course, is an over-the-top cheesy horror flick reminiscent of what one might see late at night on the Chiller Network.
The "threat" is identified by three speakers with three scare "stories":
"I'm a California doctor who must choose between my faith and my job."
"I'm part of a New Jersey church group punished by the government because we can't support same-sex marriage."
"I am a Massachusetts parent helplessly watching public schools teach my son that gay marriage is OK."
Ooooooooh. Scary!!!
I so very much wish I had the funds to run an identical ad with only a slight change. After warning about gay marriage coming, I'd have my B-movie horror victims say
"I'm a California doctor who has learned how to reanimate dead flesh. Now the zombies are out to get me."
"I'm part of a New Jersey church group punished by the government because we won't give up the secret to the mummy's curse."
"I am a Massachusetts parent helplessly watching public schools turn my son into a blood-sucking vampire."
and end the whole thing with a maniacal laugh, "It's all because of gay marriage. Mwaaa-haaa-haaaaaaa"
But that may not be necessary. This Halloween night fright is nearly a parody of itself.
And to add even more comedy to the story, Gallahger and her buddies were so careless that they allowed the audition tapes for this nut-job ad to get onto the internet.
Hop on over to Good-As-You and watch one bad wanna-be actor after another blunder their way through this wacky script. But you'll have to provide your own lightning, screeching doors, howling wolves, and other eerie effects.
Anti-Gay Activist Maggie Gallagher Defends El Coyote's Margie Christoffersen
Timothy Kincaid
December 12th, 2008
Maggie Gallagher, President of the Institute for Marriage and Public Policy, is one of the leaders in the effort to deny gay citizens equal access to marriage laws. Her statements in the past have shown that Maggie finds efforts to sway public opinion to be more important than telling the truth. In an National Review Online article this week she continues that trend.
Gallagher seeks to demonize the gay community and uses the example of Margie Christoffersen and the response by El Coyote patrons as an example of the "McCarthyite" spirit of supporters of marriage equality. And facts certainly weren't going to stand in her way.
Take her initial claim:
Marjorie is just one of 89 people who work for El Coyote.
Is she? Really?
There are absolutely zero regular customers, restaurant critics, or local color writers who would have described Margie in this manner – prior to the Prop 8 situation. Marjorie is just one of 89 people who work for El Coyote in the same way that the Pope is just one of a billion Catholics.
Yet to make her case about the evil of the pro-marriage crowd, Maggie said it anyway. Because that lie supports the point she really wants:
This is a totally new tactic by the way. Boycotts against businesses who donate to a cause or mistreat their customers have long been an accepted part of the American democratic practice. But targeting an entire business because one person associated with it made (in their personal capacity) a donation to a cause is brand new. It's essentially McCarthyite in spirit. Gay-marriage activists hope to make you unemployable if you publicly disagree with them.
But there is no truth in Maggie's assertion that individual-related boycotts are somehow "new" or outside the "accepted part of the American democratic practice".
Yes, some successful boycotts, such as that against the Mongomery Bus system, were due to institutional policies. But there certain have been many boycotts over history because of the actions of one person, often outside of their capacity as an "employee". For example here are two that have been conducted by the community:
In the late '70′s, gays led a boycott against Florida Orange Juice because of their spokesman, Anita Bryant, and her anti-gay activism. Bryant was dropped in 1979.
Also in the late 70′s and through the 80′s Coors Beer was boycotted by gay bars because of the political contributions of some members of the Coors Family. The Coors Brewing Company is now one of the companies most supportive of their gay and lesbian employees and the gay community at large (though some family members remain politically conservative).
And gays are not alone in individual-based boycotts. There have been wallet-voting efforts made against a whole host of other companies ranging from Carl's Jr. to Ben and Jerry's Ice Cream because various subsets of the population did not like the political views of individuals associated with the company.
Conservatives even went so far as to talk about boycotting Starbucks because of a gay individual was quoted on a cup. And it is not uncommon for viewers of various stripes to refuse to see movies which feature actors with whom they disagree politically; I'm willing to bet that even Maggie Gallagher watches her expenditures in just that manner.
Maggie Gallagher has absolutely no basis for claiming that targeting El Coyote and Marjorie Christoffersen is something new. She just thinks that saying so will stir ill will towards gay people and others who support marriage equality. She wants to accuse us of trying to make those who disagree with us unemployable. She wants to demonize us and continue feeding Proposition 8′s campaign of fear.
Those who read Maggie casually may not see immediate evidences of her contempt and disdain for those to whom she wants dictate. Maggie loves to wrap her calls for discrimination in cloaks labeled generous, kind, and ordinary. But at the basis of every self-righteous and indignant statement lies a willingness to say anything – no matter how far divorced from the truth – to advance her moral crusade. And that she writes skillfully does not make her articles any more benign or less dishonest.
She would never say it; she's far too clever. But her writing makes clear: Maggie Gallagher wants her readers to hate you. And she's willing to lie to acheive that goal.
Separating Religious and Secular Marriage?
Timothy Kincaid
June 20th, 2008
One doesn't expect that Baptists in Texas would be particularly balanced in their discussion of same-sex marriage. But this article in the Baptist Standard, the Texas Baptist news journal, was surprisingly informative.
If featured a the viewpoints of Barry Lynn, a minister in the United Church of Christ and the head of Americans United for Separation of Church and State and Maggie Gallagher, an orthodox Catholic and the president of the Institute for Marriage and Public Policy.
Gallagher argues that the government should recognize only such marriages are are determined by religions:
"A real alternative would be for government to recognize and enforce religiously distinctive marriage contracts so long as they serve the government's interest—say, permanent ones for Catholics," she continued. "But what people who talk about 'separating marriage and state' really propose to do is simply to refuse to recognize religious marriage contracts at all. This is not neutrality; it is a powerful intervention by the government into the lives of religious people."
Oddly, I could be persuaded to support this idea. If the government were to allow churches to define marriage and then recognized and enforced those religiously distinctive marriage contracts, gay people could marry in every state of the union and in any nearly every city that had a Unitarian Universalist fellowship, a Quaker meeting, or a United Church of Christ congregation.
Of course, Gallagher really means that the government should recognize and enforce the contracts of her denomination and not those who disagree with her.
Lynn believes that the government should be out of the marriage granting business and instead should offer civil unions to all and let the churches provide marriages to whom they wish.
"Everybody recognizes that you don't have to have a religious marriage. State legislatures write out the rules of marriage, the rights and responsibilities of this civil institution," he said.

"If people have to sign documents or register before an official, it in no way impugns the integrity of the religious promises that are made during a sectarian or religious ceremony
Kudos to the Baptist Standard for providing a clear presentation of two differing views on this subject.
Maggie Gallagher is Untruthful About CA Marriage Ruling
Timothy Kincaid
May 15th, 2008
Maggie Gallagher, President of the Institute for Marriage and Public Policy and Board Member of the Marriage Law Foundation, likes to present herself as thoughtful and reasoned. She likes to dance along the edge of deception, implying rather than declaring that which is not accurate.
But the decision of the California Supreme Court seems to have thrown her enough that her innate dishonesty has shown through. Gallagher released a statement saying the following:
"California's supreme court has just ruled that the 62 percent of Californians who voted for marriage as the union of husband and wife are just bigots. But thanks to the 1.1 million Californians who signed petitions to get a constitutional amendment on the ballot this November, activist judges will not have the last word in California, California voters will," said Maggie Gallagher, President of the Institute for Marriage and Public Policy.
The problem is that the court said nothing of the sort.
Many of those Californians who voted in favor of Proposition 22 did not do so out of anti-gay animus. We have long acknowledged that there are reasons other than bigotry for persons to be uncomfortable with marriage equality. All the court said was that such reasons are not a compelling state interest for purposes of the equal protection clause.
Further, Gallagher knows full well that the California Supreme Court is not a collection of "activist judges". The court would be best described as cautiously conservative.
Why then would Gallagher say these untruthful things?
I believe it is because she has invested so much time and energy in opposing equal rights for gay citizens that she would rather try and sway public opinion than tell the truth. It is sad that many of those, including Gallaher, who most loudly claim the authority of morality, have so little personal integrity.
Is Maggie Gallagher a Marriage Protector or Obsessively Anti-Gay?
Timothy Kincaid
May 2nd, 2008
Maggie Gallagher, President of the Institute for Marriage and Public Policy and Board Member of the Marriage Law Foundation, is always careful to present her arguments against marriage equality in terms of what is best for families and children. She does not rail against the evil sodomites or make bizarre claims about mortality statistics or invented diseases.
And because of her demeanor and her scholarly presentation, Maggie is regularly relied upon as a source for logical sounding soundbites and quotes in opposition to civil equality. She was even secretly paid to promote George Bush's "marriage initiative".
In fact, if one were not careful, one might think that Maggie's objection to same-sex marriage is not based in an obsessive animus towards gay persons at all but rather in her devotion to children and family. One might think that this marriage champion was not seeking just to thwart gay couples, but was interested in all matters that could improve the family.
Thank God we're careful.
Maggie has just distributed the Marriage Law Digest (edited by Bill Duncan of the Marriage Law Foundation) for April 2008.
Three of the eight cases discussed relate to issues about non-married same-sex couples:
A German case in which a pension institution refused to provide pension to the survivor in a same-sex couple.
An inmate in a state mental hospital who demanded that same-sex couples be grated the same conjugal visitation rights as opposite-sex couples.
A New Jersey couple sought dissolution of their domestic partnership on grounds of irreconcilable difference.
Four of the cases dealt with other sexual orientation issues.
Only one case discussed in the digest, a public nudity issue, was not specifically gay related. And not one single case was directly about marriage.
A quick review of other recent editions of the Marriage Review illustrate that this focus on 'all things gay' with only token attention to other marriage matters is a consistent pattern for the Marriage Law Foundation's digest.
Maggie Gallagher may present herself as an advocate for the protection of marriage. But a closer look reveals her association with an institute only tangentially interested in marriage but instead obsessed with gay people and how to deny them equality.
The Pope's Anti-Marriage Record
Timothy Kincaid
April 15th, 2008
In conjunction with the visit of Pope Benedict XVI, anti-gay marriage activist Maggie Gallagher has compiled a listing of the Pope's rants in opposition to any efforts to provide civil protections to same-sex families.
A new analysis entitled "Pope Benedict XVI on Marriage: A Compendium" [pdf] and published by the Institute for Marriage and Public Policy on the eve of Benedict's historic U.S. visit, finds that in less than three years of his pontificate, Pope Benedict XVI has spoken publicly about marriage on 111 occasions, connecting marriage to such overarching themes as human rights, world peace, and the conversation between faith and reason.
Sadly, rather than revealing an obsession that places opposition to gay equality as more important than scandals within the church, Gallagher sees this as validation of her quest for civil discrimination.
The short pontificate of Benedict XVI is thus already a standing rebuke to those voices of our time who attempt to make us embarrassed about our concern for, and battles over, marriage, family and sexual issues – to those who see in the contemporary marriage debate merely a distraction from more important issues.
But Gallagher is a bright woman. And even she can recognize that Benedict is a bit extreme.
Marriage essential to world peace? This may strike American ears as an oddity.
Ummm, yeah. Ya think?
CitizenLink's Lack of Transparency
Jim Burroway
March 14th, 2008
Update: I've changed the title of this post based on Glenn Stanton's explanation.
Last week, we reported on Focus On the Family's Glenn Stanton's Citizenlink article in which he claimed that "anthropologists agree" that there is only one definition of what constitutes marriage and family. That article, when it first appeared on March 3, looked like this:
Anthropologists Agree on Traditional Definition of Marriage

'A family is a unit that draws from the two types of humanity, male and female.'

There are two definitions of marriage in today's culture — one of them has been around for centuries; the other is brand new.

Glenn Stanton, director of global family formation studies at Focus on the Family, said there's a clear consensus among anthropologists.

"A family is a unit that draws from the two types of humanity, male and female," he said. "Those two parts of humanity join together, create new life and they both cooperate in the legitimization of the child, if you will, and the development of the child."

Maggie Gallagher, co-founder and president of the National Organization for Marriage, said gay activists want to change the definition of marriage because they say the traditional definition is irrational and bigoted.

"What does that mean down the road, if the idea that our ideas about marriage and about sexual morality generally make us the exact equivalent of bigots?" she asked.

"You can't have a professional license in this country — you can't be a physician, a social worker, a teacher, a lawyer, a psychotherapist, a marriage counselor — if you're openly racist."
That article prompted three sharp rebukes from real anthropologists, including the American Anthropological Association itself. Now it looks like Glenn Stanton has responded by re-writing the article and giving it a new title. This is how that same article appears now:
Classic Anthropology at Odds with New Same-Sex Definitions of Marriage and Family

'A family is a unit that draws from the two types of humanity, male and female.'

There are two understandings of marriage in today's culture — one of them has been around for centuries; the other is brand new.

According to a new research report, Glenn Stanton, director of global family formation studies at Focus on the Family, said, "if you look at the work of leading anthropologists through the past century, one is struck by the consistent understanding of marriage and family as a social unit that brings together male and female. The comparison between this diverse and learned understanding with the paper-thin, ahistorical and acultural definitions offered by leading same-sex proponents is stark. The former show great understanding and complexity, while the latter shows immense creativity."

Stanton cited anthropologist Suzanne Frayser's definition of marriage in her 1985 book, Varieties of Sexual Experience :

"Marriage is a relationship within which a group socially approves and encourages sexual intercourse and the birth of children… Marriage is not usually a transaction confined to the bride and groom. It extends beyond them, to include members of their own families or kin group."

Stanton also cited same-sex "marriage" activist Evan Wolfson's definition:

"Marriage is what we use to describe a specific relationship of love and dedication to another person."

"The ways leading anthropologists and the brightest same-sex marriage advocates define marriage are breathtaking." Stanton said. "This comparison should show us that the gay 'marriage' experiment is exactly that, without any rootedness in human experience."
This new article retains its original publication date and URL, leading the casual reader to believe that this is how the article originally appeared. There is no notice anywhere that there were ever any changes or corrections. CitizenLink has often tried to portray themselves as "professional journalists" without actually behaving as professionals or as journalists.
When Box Turtle Bulletin makes a correction or an update, you'll know it. There will be strikeouts, apologies, explanations, maybe even a poor excuse here or there. But regardless of the circumstances, we have nothing to hide. I believe that this level of transparency is indispensable to the task of keeping ourselves honest. Unlike CitizenLink, we don't try to promote the delusion of infallibility. When we need to revise something, we make sure we do it in a way that everyone can know about it. That is what ethical discourse is all about.
CitizenLink however operates under their own set of rules. Their lack of transparency is more evidence that as far as Focus is concerned, the message is more important than honesty or the truth.