Ohio's Petro to endorse marriage initiate
Timothy Kincaid
July 5th, 2013
From the Columbus Dispatch
Republican Jim Petro, Ohio's former attorney general and state auditor, is expected to endorse a 2014 Ohio ballot measure that would permit same-sex marriages in the state.
GOP Sen. Portman supports equality
Timothy Kincaid
March 15th, 2013
I knew it had to happen at some point. Some Republican US Senator had to be the first to endorse marriage equality, but I was thinking maybe Sue Collins or Mark Kirk. I certainly wasn't guessing Ohio's freshman Senator, Rob Portman.
But then again I didn't know that Portman has a gay son. (Cleveland.com)
WASHINGTON, D.C. – Republican U.S. Sen. Rob Portman on Thursday announced he has reversed his longtime opposition to same-sex marriage after reconsidering the issue because his 21-year-old son, Will, is gay.

Portman said his son, a junior at Yale University, told him and his wife, Jane, that he's gay and "it was not a choice, it was who he is and that he had been that way since he could remember."

"It allowed me to think of this issue from a new perspective, and that's of a Dad who loves his son a lot and wants him to have the same opportunities that his brother and sister would have — to have a relationship like Jane and I have had for over 26 years," Portman told reporters in an interview at his office.
This is a bit risky. Ohio Republicans are a different breed from the New Hampshire strain.
But I'm going to hazard a guess that this wont much hurt Portman. It might even help him. Times have changed and even the wing-nuts can accept a father acting out of love for his kid.
(CNN has a fuller story )
UPDATE: Sen. Portman has written an op-ed in the Columbus Dispatch expressing his views on marriage. Some I disagree with (I hope for an expansive court decision on marriage equality), but as an appeal to other conservatives and Republicans, I welcome this step. It's far stronger to have Portman assert in his own words his support for equality than simply to tell the press.
Of Kith and Kin in Pomeroy, Ohio
Jim Burroway
February 9th, 2013
Pomeroy, Ohio is located on the Ohio River, in the Appalachian southeast part of the state, about midway between Huntington, WV and Marrieta, OH. It's the part of the state that is as red and conservative as they come. It's also not far from where I grew up, and the familiar name in the headlines caught my notice:
Pomeroy Mayor Resigns Over Comments About Gay Officer
The mayor of a small southeastern Ohio town is resigning over accusations she made derogatory comments about a gay police officer.

The president of council for the village of Pomeroy said Mayor Mary McAngus submitted a letter of resignation on Saturday. The police chief told village council McAngus repeatedly used slurs about a gay officer in front of other officers and dispatchers. The chief warned council any such comments could expose the village to a lawsuit.
This certainly caught me by surprise. I know the culture there, and a story about a small village rallying around a gay part-time police officer seemed very uncharacteristic of the area. But it turns out the Gallapolis Daily Tribune has been on this story for several days, and reported these details:
"Unfortunately, allegations have been made by several officers and dispatchers in reference to Mayor Mary McAngus's continued behavior and vulgar language used against a gay officer in our department," (Police chief Mark) Proffitt stated.

"Officers have provided me with statements that they were made uncomfortable during interviews with the use of [the term] 'queer' by the Mayor," said Proffitt. "She also called an officer into her office and informed him that another officer was 'queer' and used the word many times. She then asked if [the officer called in] was gay, and he became uncomfortable and left. Another officer responded to the mayor that he has a family member who is gay and did not feel someone of her stature (mayor) should talk like that about an employee."
Now it all makes sense. This wasn't just a story about a village rallying around a gay police officer, nor was it just a story about employment discrimination and the threat of a lawsuit. It was about both of those two things, but also about something else which might have been just enough to push this thing over the edge.
Appalachia is an area that doesn't deal well in abstracts. Everything is literal, especially the Bible,  and attitudes are as hard as concrete. You can talk about abstract ideas like fairness and equality until you're blue in the face, and it won't mean much to someone who is confronted daily with a host of cold, hard realities.
But one of those realities is family, and kith- and kinship take on a much greater importance in Appalachia than in most other areas of the country. And since the calendar reads 2013 in this tiny river town (Population: 1,852) just like everywhere else, it now appears that you can't swing a dead slur without hitting a gay person. And in Appalachia, when someone says something that comes across as an attack on family, well, those are fighting words. Coming out is a powerful thing everywhere, but the particular dynamics of Appalachian culture can have a way of amplifying that power. And so its not much of a surprise to me that McAngus lost that fight. She was fighting against an apparently well-liked police officer, a well-liked police officer's partner, and other people who had gay family members who were, naturally, going to stand by them. She didn't stand a chance.
That's not to say that Appalachia is quickly becoming all warm and accepting. West Virginia isn't going to be gay-marrying anytime soon. Turning abstractions into realities is a person-to-person, one-person-at-a-time thing there. But when it does happen, watch out.
Marriage in the non-battle states
Timothy Kincaid
October 17th, 2012
Back in September, the Washington Post polled swing states Ohio, Florida, and Virginia about the upcoming presidential election. A number of other issues were polled, including this question:
31. (AMONG REGISTERED VOTERS) Do you think it should be LEGAL or ILLEGAL for gay and lesbian couples to get married?
Florida
Legal (strongly) 35%
Legal (somewhat) 19%
Illegal (somewhat) 7%
Illegal (strongly) 26%
No Opinion 13%

Ohio
Legal (strongly) 36%
Legal (somewhat) 17%
Illegal (somewhat) 7%
Illegal (strongly) 30%
No Opinion 10%
Virginia
Legal (strongly) 33%
Legal (somewhat) 16%
Illegal (somewhat) 8%
Illegal (strongly) 32%
No Opinion 12%
Because these (and other) states already have anti-gay marriage bans in their constitution, they can shift away from the center of our attention. But with numbers like these, it will not be long before we will again be looking at Florida and Ohio and even Virginia. But (assuming the Supreme Court doesn't beat us to it) the next time will be our own efforts to have those constitutional blights removed.

[NOTE: revised to correct for formatting restrictions]
Arrest made in gay church arson; Sheriff sides with arsonist
Timothy Kincaid
August 28th, 2012
From 10TV.com
They caught the guy who burned the historic South Bloomingville Christian Church to the ground. And when confronted by the Sheriff's department he told them that it wasn't a hate crime against the gay-friendly church, but in response to his being sexually assaulted by one of them there homos "connected with" the church.
And that was good enough for the Sheriff:
"I believe it brings some closure to the area that wasn't, per se, a hate crime, as the bishop portrayed it to be," North said. "It was more a revenge crime for what the suspect had endured in 2011.
Now if the arsonist was assaulted last year then I support prosecution against whomever assaulted him. After all, if true then "what the suspect had endured in 2011" should be punished. And the Sheriff didn't mention whether there was going to be an arrest for sexual assault.
But somehow I very much doubt it. There's just something in his voice that suggests to me that any accusation against one of them there homos was proof enough – not enough for arrest, of course, but enough to justify arson.
Arsonist Destroys Ohio Church
Jim Burroway
August 21st, 2012
A fire destroyed a historic 158-year-old church in scenic Hocking County, Ohio at 3:00 a.m. Friday morning. Nineteen firefighters responded to the scene, but the church was almost completely destroyed. All that remains are the front steps and a wall. After ruling out all accidental causes, state fire investigators ruled the fire an act of arson. A $5,000 reward has been posted for anyone with information leading to the arrest of those responsible.
Last Wednesday, Liberty Institute and the Family Research Council issued a report documenting what they call "more than 600 alarming attacks on religious faith. This arson fire happened too late to make it into the report, but I wouldn't hold my breath waiting for it to appear in a future update:
The Rev. Scott Davis bought the church in 2010 and opened it to the community for services in 2011. Davis said he suspects arson because he has received many death threats in the past. "It's because this is a gay, lesbian, bisexual, transgender church, and people around here don't agree with it." Davis said he welcomes all people to the church, regardless of faith, sexual orientation or race. There are approximately 30 locals who attend on a regular basis.

Davis said the residents of the small, quaint town are very upset with the orientation of the church, but doesn't understand why someone would destroy the last historic building other than for revenge.
No, you won't see this an any reports listing attacks on religious faith put out by FRC or Liberty Institute. Nor will you see a coalition of 41 anti-gay organizations rally to issue a statement condemning the attack. The only sound you will hear will be FRC loudly complaining that it's the SPLC who is responsible for all the problems.
Pro-Gay Lobbyist Named Ohio GOP Director
Jim Burroway
May 23rd, 2012
Sometimes you learn the coolest things on Twitter. The Ohio Republican Party has named Matt Borges their new executive director. Borges had served as the executive director for Gov. John Kasich's inauguration committee. In 2004, he was convicted of a misdemeanor for soliciting illicit campaign contributions and questions surfaced again over his fundraising for Kasich's inauguration, which means that his GOP creds are totally solid. He's also a registered lobbyist at the statehouse. His many clients include Equality Ohio, for whom he is trying to shepherd a non-discrimination bill through a House committee. Borges, being a lobbyist, is simply a hired gun. I have no idea whether he is gay or even pro-gay. Nevertheless, Columbus resident Linda Harvey is "outraged," and Ohio's tea party factions aren't too thrilled either:
"It's why we're so detached from regular operations of the Republican party," said Tom Zawistowski, president of the Ohio Liberty Coalition of tea party groups. "We have some shared goals and work on some of those shared goals, but we certainly don't have shared values."
Lambda Legal Sues Ohio School
Jim Burroway
April 3rd, 2012
Lamda Legal has filed a lawsuit against Waynesville High School in Waynesville, Ohio, about 20 miles south of Dayton, on behalf of Maverich Couch, an openly gay junior who was threatened with suspension for wearing a T-shirt reading "Jesus is not a homophobe" last April for the National Day of Silence. According to Lambda Legal:
The school principle (sic), Mr. Randy Gebhardt, called Maverick into his office and instructed him to turn the T-shirt inside out; Maverick complied. Over the summer, Maverick further researched his First Amendment rights, and when school resumed in the fall of 2011, he approached the school principal seeking permission to wear the T-shirt. Mr. Gebhardt restated that he would be suspended if he wore the shirt.

In January 2012, Lambda Legal sent a letter to Mr. Gebhardt outlining the legal precedent supporting Maverick's right to wear the shirt, to which the school district issued the response, "the message communicated by the student's T-shirt is sexual in nature and therefore indecent and inappropriate in a school setting." [Emphasis mine[
You see, that's the problem with dealing with people like him. His imagination is far more sexually charged than mine could ever hope to be.
You can sign a petition supporting Maverick Couch here.
Battered and Bruised
Jim Burroway
March 7th, 2012
Romney hangs in there again like a punch-drunk fighter staggering toward the finish of the sixth round (ooh look at me, I'm using a sports metaphor), picking up wins in six of the states up for grabs yesterday including a very hotly contested Ohio, where Santorum very nearly pulled off an upset. Romney did best in his home state of Massachusetts, and he did well in neighboring Vermont. He also did very well in the Idaho caucuses, where 23% of spudsters are fellow Mormons. There were no exit polls in Idaho, but in Arizona where Mormons made up 14% of the vote, they broke 96-4 for Romney on Feb 28.
Romney also did very well where he had very little actual competitors (Virginia, where Santorum and Gingrich weren't on the ballot). Which is to say that he has done very well where he had the home field advantage (as did Gingrich) or where his most potent opponent was missing. Or Alaska.
| | AK | GA | ID | MA | ND |
| --- | --- | --- | --- | --- | --- |
| Romney | 32% | 26% | 62% | 72% | 24% |
| Santorum | 29% | 20% | 18% | 12% | 40% |
| Gingrich | 24% | 47% | 2% | 5% | 8% |
| Paul | 14% | 6% | 18% | 10% | 28% |
| | OH | OK | TN | VT | VA |
| --- | --- | --- | --- | --- | --- |
| Romney | 38% | 28% | 28% | 40% | 60% |
| Santorum | 37% | 34% | 37% | 24% | — |
| Gingrich | 15% | 27% | 24% | 8% | — |
| Paul | 9% | 10% | 9% | 25% | 40% |
Which goes to day that Romney is still having trouble closing the deal with Santorum racking up rack up wins in the more conservative middle bits of the continent. In Oklahoma, Santorum's first place finish came in spite of Sen. Tom Coburn's endorsement of Romney, while Romney actually came in third in North Dakota and just barely avoided that same fate in Oklahoma. And in Ohio, where Romney poured massive amounts of dollars into the race, he only managed to pull out a 1% win over Santorum in the bellwether state. But even there, he he lost among Evangelical, blue collar and rural voters, but won among those who were 50 and older.
But here's the stat I find most telling: When Ohio voters were asked whether they'd support Romney in the general election regardless of who they voted for in the primary, 36% said they would not be satisfied with a Romney candidacy, versus 33% who said they'd reject a Santorum candidacy. In other words, Ohio Republicans are less willing to settle for Romney than Santorum.
| | Delegates |
| --- | --- |
| Romney | 404 |
| Santorum | 165 |
| Gingrich | 106 |
| Paul | 66 |
But this is a race for delegates, not popular votes. And whatever weaknesses that exist in Romney's popular support within the GOP, he's still by far the frontrunner in the delegate race according to CNN's count, with more delegates than his opponents combined. But at only about half way through the primaries, Romney's still a long way from the 1,144 needed to secure the nomination. Kansas, US Virgin Islands and Guam hold caucuses next week, followed by primaries in Alabama, Mississippi and Hawaii the week after that. Which means that for Romney, the long slog continues. But for the other candidates in the field, the slog is even longer.
The idea behind Super Tuesday was to bring the nomination process into clearer focus. The only thing made clear yesterday is that GOP voters would still prefer another candidates. But that's not the choice available to them. Which means that Romney will almost certainly be the nominee when all is said and done, but what is said and done before then will continue to be the story. As Ezra Klein at the Washington Post put it, "For three guys who profess to not like the media very much, Mitt Romney, Rick Santorum, and Newt Gingrich are really making all our dreams of a long, unpredictable primary come true."
Marriage Advocates to Challenge Ohio Marriage Ban
Jim Burroway
March 1st, 2012
From the Columbus Dispatch comes a report that the Freedom the Marry Coalition is expected to file more than 1,700 signatures today to Attorney General Mike DeWine which would change the Ohio Constitution to broaden marriage to "a union of two consenting adults, regardless of gender." It would also add a clause stipulating that "no religious institution shall be required to perform or recognize a marriage."
In 2004, Ohioans passed a very broad ban on same-sex unions of all kinds by a vote of 62% to 38%. That vote, coming at the same time as the 2004 presidential election, is widely credited with motivating the socially conservative base to turn out on election day and provide President George W. Bush the margin of that he needed to carry Ohio and win a second term.
If DeWine approves the ballot measure, then it goes to the Ohio Ballot Board, which will decide whether it can be placed on the ballot as one or two separate issues. This would only be the first steps. After those decisions are made, an additional 387,000 signatures will need to be collected, including a significant number in at least 44 of Ohio's 88 counties. This requires a significant effort in more rural counties in order to make the ballot. Equality Ohio estimates that it wold take and estimated $2.25 million just to get on the ballot. And with recent polling (PDF: 156KB/18 pages) showing that only 32% of Ohioans support marriage equality while 55% believe it should remain illegal, I'm really not sure whether this expenditure is wise in the face of other marriage battles in Maine, North Carolina, Maryland, Minnesota and Washington already.
Ohio Teen Speaks About Bullying
Jim Burroway
February 3rd, 2012
We reported last October about fourteen-year-old student Zach Huston's vicious beating at Scioto-Union High School in Chillicothe, Ohio. The attack occurred two days after the attacker, Levi Sever, 15, posted anti-gay comments on Zach's Facebook page. He also posted video of the attack itself on Facebook. Zach was left with a chipped tooth and possible concussion. The attacker was suspended from school for three days. After public outcry over the slap on the wrist, local prosecutors intervened. Sever was arrested, tried and sentenced to serve 90 days in a juvenile detention center.
Zach and his mother, Becky Collins, have appeared on a video released by the ACLU:
Zach and Becky describe years of unending discrimination and harassment that Zach experienced at school based on his perceived sexual orientation. As the years went on, the abuse only escalated. Becky's pleas to school officials to protect her son were ignored.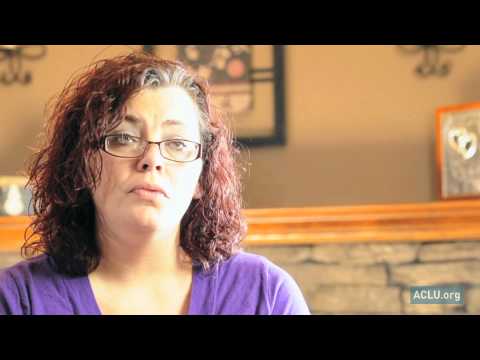 According to the release from the ACLU, they are working with the high school to implement anti-bullying policies to address problems like this in the future
Gay, Pro-Gay Candidates Win Big
Jim Burroway
November 9th, 2011
Yesterday was a very good day for gay and -pro-gay candidates throughout the country. Here is a wrap-up. Please let me know what else is out there in the comments.
NOM Loses Big: Same-sex marriage remains secure in Iowa as Liz Mathis won big, 56-44%, over her NOM-backed opponent, Cindy Golding, in a special election for the Iowa state Senate. The National Organization for Marriage threw about $40,000 toward their failed attempt to elect Golding by making same-sex marriage an issue in the race. But soon after it was clear Golding lost, NOM's cultural director Thomas Peters tweeted: "That's what happens when a state GOP nominates a weak candidate." Wow. Talk about your fair weather friends.
Virginia's First: Adam Ebbin became the first openly gay state senator in Virginia after defeating his Republican challenger by a margin of 64-35%. His district, which is solidly Democratic, includes parts of Alexandria, Arlington, and Fairfax counties.
First Openly Gay, African-American Republican Mayor: At least that's what we think happened when Bruce Harris was elected mayor of Chatham Borough, New Jersey.
Charlotte's First: LaWana Mayfield became the first openly gay city council member as part of a Democratic landslide in North Carolina's largest city. North Carolina, which will see a marriage amendment on the ballot next year, saw a number of other LGBT victories:
Chapel Hill Mayor Mark Kleinschmidt won re-election with 78% of the vote.
Lee Storrow, a gay 22-year-old UNC grad won his race for a seat on the Chapel Hill city council.
Carrboro incumbent Alderwoman Lydia Lavelle was re-elected to another term for city council.
Cincinnati's First: Chis Seelbach became the first openly gay city council member. He worked in 2004 to help defeat Article XII in the city charter which banned anti-discrimination ordinances for gay people.
Indianapolis's First: Zach Adamson became the first openly gay city council member. S
Missoula's First: Caitlin Copple became the first openly gay city council member. She defeated one of only two city council members who voted against the city's anti-discrimination ordinance in 2010, which made Missoula the first city in Montana to provide discrimination protections in housing and employment regardless of sexual orientation or gender identity.
Youngest Mayor: Alex Morse, 22, beat incumbent mayor Mary Pluta in Holyoke, Massachusetts, to become the nation's youngest mayor.
Houston Re-elects: Mayor Annise Parker was re-elected with more than 50% of the vote, a margin which allows her to avoid a run-off. Mike Laster also became the first openly gay member of Houston's city council.
Traverse City Supports Anti-Discrimination Ordinance: Voters in Traverse City, Michigan voted by a 2-to-1 margin to keep an anti-discrimination ordinance.  The vote came more than a year after Traverse City adopted the ordinance to prevent discrimination against gays in employment, housing and other areas. Opponents of the measure collected signatures to place a referendum for repeal on the ballot.
And on a final note, there were a number of gains in school board elections around the country which I didn't cover, but I would like to point one out anyway: Daniel Hernandez, Jr., Rep. Gabrielle Gifford's openly gay intern, was elected to as seat on the board of the Sunnyside Unified School District in Tuscon's south side. Hernandez was one of the recognized heros during the January shooting at a Northwest side Safeway which killed  six and critically injured Rep. Giffords. And on a more personal note, I couldn't be happier about the stunning news that Arizona Senate President Russell Pearce, architect of infamous anti-immigrant S.B. 1070 which was later found unconstitutional, was ousted by voters in favor of a political newcomer in Mesa.
Teen Attacked, Video Posted On Facebook. Why Wasn't His Attacker Arrested?
Jim Burroway
October 27th, 2011
You will have to go to WSYX's web site to see the video, but a fifteen-year-old student at Chillicothe, Ohio's Union-Scioto High School was attacked because he was gay, and the attacker posted the video on Facebook. This was two days after the attacker left anti-gay comments on the victim's Facebook page. The teen has a chipped tooth and possible concussion, and the attacker was suspended from school for three days.
There are two things wrong with this. Number one: a "possible concussion"? Let's get him to a doctor and find out.
And number two: suspension for three days? Of course that's not enough, but what can a school do but suspend a student? The mother is considering pressing a criminal complaint. That is exactly what neesd to happen, and it should have been the first response, not a backup plan. We have video evidence of a crime taking place. We have a Facebook account. We have a victim with injuries. We have witnesses who can be identified and possibly investigated as accessories to the crime. We have everything we need for someone to call 911 and launch a criminal investigation. This should not have been brought to the school's attention first. The first step should have been to call the police.
Apropos of this post yesterday, if we really want for things to get better, then we need to start treating crimes as crimes. It's not the school's job to enforce the law. All they can do is suspend students, and sometimes expel them under extreme circumstances. But it's law enforcement's job to, you know, enforce the law. And it's everyone's job to call the police first when a crime takes place.
Being Gay Is a Gift From God
Jim Burroway
May 6th, 2011
That is the message from the Central United Methodist Church in Toledo, Ohio. It's part of a larger campaign which the church calls "a prophetic call to the Church to get out of the business of marginalizing gay and lesbian persons from the Church, and to welcome them as full members. The electronic billboard lit up with the message on April 25, and the church has secured the billboard for one month. They'd like to extend it if they can raise enough money.
[Hat tip: Lez Get Real]
In Ohio, Fiscal Conservatism Means Slamming The Gays
Jim Burroway
March 2nd, 2011
The Ohio Senate just passed a bill that Republican supporters claim is essential to balancing the state's budget. The bill, which now goes on to the House, limits collective bargaining rights for unions of state and local employees, including police and firefighters. It also includes this indispensable and essential component for balancing the state's budget:
Sec. 3101.01 of S.B. 5: … A marriage may only be entered into by one man and one woman. Any marriage between persons of the same sex is against the strong public policy of this state. Any marriage between persons of the same sex shall have no legal force or effect in this state and, if attempted to be entered into in this state, is void ab initio and shall not be recognized by this state. The recognition or extension by the state of the specific statutory benefits of a legal marriage to non-marital relationships between persons of the same sex or different sexes is against the strong public policy of this state. Any public act, record or judicial proceeding of this state, as defined in section 9.82 of the Revised Code, that extends the specific statutory benefits of legal marriage to non-marital relationships between persons of the same sex or different sexes is void.
Ohio already passed one of the nation's most draconian constitutional amendments prohibiting marriage equality in 2004. This bill goes further by stripping LGBT workers (mostly of state universities and a handful of municipalities) of their domestic partnership benefits. It's a good thing the Tea Party only cares about fiscal matters.