Marriage Advocates to Challenge Ohio Marriage Ban
Jim Burroway
March 1st, 2012
From the Columbus Dispatch comes a report that the Freedom the Marry Coalition is expected to file more than 1,700 signatures today to Attorney General Mike DeWine which would change the Ohio Constitution to broaden marriage to "a union of two consenting adults, regardless of gender." It would also add a clause stipulating that "no religious institution shall be required to perform or recognize a marriage."
In 2004, Ohioans passed a very broad ban on same-sex unions of all kinds by a vote of 62% to 38%. That vote, coming at the same time as the 2004 presidential election, is widely credited with motivating the socially conservative base to turn out on election day and provide President George W. Bush the margin of that he needed to carry Ohio and win a second term.
If DeWine approves the ballot measure, then it goes to the Ohio Ballot Board, which will decide whether it can be placed on the ballot as one or two separate issues. This would only be the first steps. After those decisions are made, an additional 387,000 signatures will need to be collected, including a significant number in at least 44 of Ohio's 88 counties. This requires a significant effort in more rural counties in order to make the ballot. Equality Ohio estimates that it wold take and estimated $2.25 million just to get on the ballot. And with recent polling (PDF: 156KB/18 pages) showing that only 32% of Ohioans support marriage equality while 55% believe it should remain illegal, I'm really not sure whether this expenditure is wise in the face of other marriage battles in Maine, North Carolina, Maryland, Minnesota and Washington already.
Ohio Teen Speaks About Bullying
Jim Burroway
February 3rd, 2012
We reported last October about fourteen-year-old student Zach Huston's vicious beating at Scioto-Union High School in Chillicothe, Ohio. The attack occurred two days after the attacker, Levi Sever, 15, posted anti-gay comments on Zach's Facebook page. He also posted video of the attack itself on Facebook. Zach was left with a chipped tooth and possible concussion. The attacker was suspended from school for three days. After public outcry over the slap on the wrist, local prosecutors intervened. Sever was arrested, tried and sentenced to serve 90 days in a juvenile detention center.
Zach and his mother, Becky Collins, have appeared on a video released by the ACLU:
Zach and Becky describe years of unending discrimination and harassment that Zach experienced at school based on his perceived sexual orientation. As the years went on, the abuse only escalated. Becky's pleas to school officials to protect her son were ignored.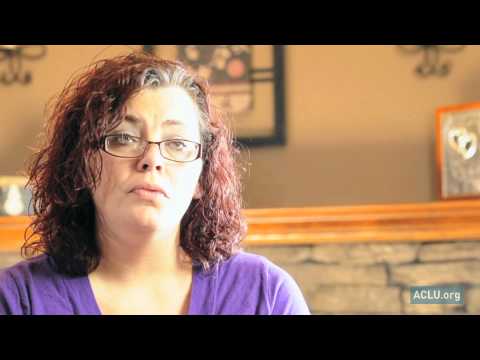 According to the release from the ACLU, they are working with the high school to implement anti-bullying policies to address problems like this in the future
Gay, Pro-Gay Candidates Win Big
Jim Burroway
November 9th, 2011
Yesterday was a very good day for gay and -pro-gay candidates throughout the country. Here is a wrap-up. Please let me know what else is out there in the comments.
NOM Loses Big: Same-sex marriage remains secure in Iowa as Liz Mathis won big, 56-44%, over her NOM-backed opponent, Cindy Golding, in a special election for the Iowa state Senate. The National Organization for Marriage threw about $40,000 toward their failed attempt to elect Golding by making same-sex marriage an issue in the race. But soon after it was clear Golding lost, NOM's cultural director Thomas Peters tweeted: "That's what happens when a state GOP nominates a weak candidate." Wow. Talk about your fair weather friends.
Virginia's First: Adam Ebbin became the first openly gay state senator in Virginia after defeating his Republican challenger by a margin of 64-35%. His district, which is solidly Democratic, includes parts of Alexandria, Arlington, and Fairfax counties.
First Openly Gay, African-American Republican Mayor: At least that's what we think happened when Bruce Harris was elected mayor of Chatham Borough, New Jersey.
Charlotte's First: LaWana Mayfield became the first openly gay city council member as part of a Democratic landslide in North Carolina's largest city. North Carolina, which will see a marriage amendment on the ballot next year, saw a number of other LGBT victories:
Chapel Hill Mayor Mark Kleinschmidt won re-election with 78% of the vote.
Lee Storrow, a gay 22-year-old UNC grad won his race for a seat on the Chapel Hill city council.
Carrboro incumbent Alderwoman Lydia Lavelle was re-elected to another term for city council.
Cincinnati's First: Chis Seelbach became the first openly gay city council member. He worked in 2004 to help defeat Article XII in the city charter which banned anti-discrimination ordinances for gay people.
Indianapolis's First: Zach Adamson became the first openly gay city council member. S
Missoula's First: Caitlin Copple became the first openly gay city council member. She defeated one of only two city council members who voted against the city's anti-discrimination ordinance in 2010, which made Missoula the first city in Montana to provide discrimination protections in housing and employment regardless of sexual orientation or gender identity.
Youngest Mayor: Alex Morse, 22, beat incumbent mayor Mary Pluta in Holyoke, Massachusetts, to become the nation's youngest mayor.
Houston Re-elects: Mayor Annise Parker was re-elected with more than 50% of the vote, a margin which allows her to avoid a run-off. Mike Laster also became the first openly gay member of Houston's city council.
Traverse City Supports Anti-Discrimination Ordinance: Voters in Traverse City, Michigan voted by a 2-to-1 margin to keep an anti-discrimination ordinance.  The vote came more than a year after Traverse City adopted the ordinance to prevent discrimination against gays in employment, housing and other areas. Opponents of the measure collected signatures to place a referendum for repeal on the ballot.
And on a final note, there were a number of gains in school board elections around the country which I didn't cover, but I would like to point one out anyway: Daniel Hernandez, Jr., Rep. Gabrielle Gifford's openly gay intern, was elected to as seat on the board of the Sunnyside Unified School District in Tuscon's south side. Hernandez was one of the recognized heros during the January shooting at a Northwest side Safeway which killed  six and critically injured Rep. Giffords. And on a more personal note, I couldn't be happier about the stunning news that Arizona Senate President Russell Pearce, architect of infamous anti-immigrant S.B. 1070 which was later found unconstitutional, was ousted by voters in favor of a political newcomer in Mesa.
Teen Attacked, Video Posted On Facebook. Why Wasn't His Attacker Arrested?
Jim Burroway
October 27th, 2011
You will have to go to WSYX's web site to see the video, but a fifteen-year-old student at Chillicothe, Ohio's Union-Scioto High School was attacked because he was gay, and the attacker posted the video on Facebook. This was two days after the attacker left anti-gay comments on the victim's Facebook page. The teen has a chipped tooth and possible concussion, and the attacker was suspended from school for three days.
There are two things wrong with this. Number one: a "possible concussion"? Let's get him to a doctor and find out.
And number two: suspension for three days? Of course that's not enough, but what can a school do but suspend a student? The mother is considering pressing a criminal complaint. That is exactly what neesd to happen, and it should have been the first response, not a backup plan. We have video evidence of a crime taking place. We have a Facebook account. We have a victim with injuries. We have witnesses who can be identified and possibly investigated as accessories to the crime. We have everything we need for someone to call 911 and launch a criminal investigation. This should not have been brought to the school's attention first. The first step should have been to call the police.
Apropos of this post yesterday, if we really want for things to get better, then we need to start treating crimes as crimes. It's not the school's job to enforce the law. All they can do is suspend students, and sometimes expel them under extreme circumstances. But it's law enforcement's job to, you know, enforce the law. And it's everyone's job to call the police first when a crime takes place.
Being Gay Is a Gift From God
Jim Burroway
May 6th, 2011
That is the message from the Central United Methodist Church in Toledo, Ohio. It's part of a larger campaign which the church calls "a prophetic call to the Church to get out of the business of marginalizing gay and lesbian persons from the Church, and to welcome them as full members. The electronic billboard lit up with the message on April 25, and the church has secured the billboard for one month. They'd like to extend it if they can raise enough money.
[Hat tip: Lez Get Real]
In Ohio, Fiscal Conservatism Means Slamming The Gays
Jim Burroway
March 2nd, 2011
The Ohio Senate just passed a bill that Republican supporters claim is essential to balancing the state's budget. The bill, which now goes on to the House, limits collective bargaining rights for unions of state and local employees, including police and firefighters. It also includes this indispensable and essential component for balancing the state's budget:
Sec. 3101.01 of S.B. 5: … A marriage may only be entered into by one man and one woman. Any marriage between persons of the same sex is against the strong public policy of this state. Any marriage between persons of the same sex shall have no legal force or effect in this state and, if attempted to be entered into in this state, is void ab initio and shall not be recognized by this state. The recognition or extension by the state of the specific statutory benefits of a legal marriage to non-marital relationships between persons of the same sex or different sexes is against the strong public policy of this state. Any public act, record or judicial proceeding of this state, as defined in section 9.82 of the Revised Code, that extends the specific statutory benefits of legal marriage to non-marital relationships between persons of the same sex or different sexes is void.
Ohio already passed one of the nation's most draconian constitutional amendments prohibiting marriage equality in 2004. This bill goes further by stripping LGBT workers (mostly of state universities and a handful of municipalities) of their domestic partnership benefits. It's a good thing the Tea Party only cares about fiscal matters.
Ohio Boy Cheerleader's Arm Broken; Still Getting Threats, Still Cheerleading
Jim Burroway
September 29th, 2010
Eleven-year-old Tyler Wilson of Findlay, Ohio, loves gymnastics and tumbling, which is why he decided to join a youth football cheerleading squad over the summer. He's been catching hell over it since then. It started with teasing, but it quickly escalated:
According to the mother and the police report filed on the incident, Tyler was walking home from school when two of his alleged tormentors approached him and punched him. As Tyler continued his walk home from school, the two boys continued to follow him, the police report said. Several small skirmishes broke out between Tyler and the two boys, according to the police report, and eventually one of the boys allegedly picked Tyler up and slammed him on the ground, breaking his arm.
Kristy Wilson filed a police report and went to Glenwood Middle School. That's when she was shocked to learn that school officials already knew about the harassment but hadn't called her to discuss it:
When I went to the school, about two days after it happened to discuss Tyler's story, the principal said there was an incident Monday and the Friday before, that the boy who started the fight had jumped on Tyler's back and tried to start a fight," she said.

Kristy Wilson said if she had known that Tyler was being physically targeted said she would have certainly stepped in to stop the situation, going as far as removing him from the school.

"I really wish the school would have let me know a lot sooner, so I could have dealt with it sooner," she said.
Meanwhile, Findlay police have arrested the two attackers and have charged them in youth court. The lead attacker was charged with felonious assault, and the other was charged with simple assault. Their names are being withheld because they are juveniles.
Meanwhile, Tyler continues to receive threats:
It's been bumpy," Ohio 11-year-old Tyler Wilson said of his return to school in a morning television exclusive interview with "Good Morning America." "People are threatening me to break my other arm because I told on them."

…But neither the injury nor the threats is stopping Tyler from pursuing his passion for cheering, the boy said.

"It feels horrible that they can't accept me for who I am," Tyler told ABC News' Ohio affiliate WTVG. "It's my choice. If I want to be a cheerleader, I'm going to be a cheerleader."
Heterosexual Agenda: Passing Traditions Down Through The Generations
Jim Burroway
August 16th, 2010
From Springfield, Ohio:
Richard Stephson, 55, is in jail and facing multiple charges after what investigators describe as years of abuse. Authorities said the incident started in the mid 80s when Stephson began sexually assaulting a 14-year-old girl who was staying with him at his Springfield home. Soon, police learned that the teen was pregnant with his child. Now, 10 years after his daughter was born, authorities said Stephson offered her money to have sex with him and molested her during family visits.
Turnabout
Jim Burroway
August 10th, 2010
Every weekend for the last four years, Dunfee and members of his ministry have stood watch over George's (strip club), taking up residence in the right of way with signs, video cameras and bullhorns in hand. They videotape customers' license plates and post them online, and they try to save the souls of anyone who comes and goes.

Now, the dancers have turned the tables, so to speak. Fed up with the tactics of Dunfee and his flock, they say they have finally accepted his constant invitation to come to church. It's just that they've come wearing see-through shorts and toting Super Soakers. They bring lawn chairs and – yesterday, anyway – grilled hamburgers, Monster energy drinks and corn on the cob.
Last June, a Minnesota Judge ruled that anti-gay activist must be allowed to distribute anti-gay literature within a park which gay pride organizers had rented from the city of Minneapolis. So it seems to me that turnabout is fair play. What's good for the goose…
Prop 8 Rallies Planned
Jim Burroway
August 4th, 2010
As Timothy mentioned yesterday afternoon, we received word that a decision in Perry v. Schwarzenegger is expected this afternoon between 1:00 and 3:00 pm (PDT). Already, Prop 8 supporters have already filed a request for stay of judgment pending appeal, in case Judge Walker strikes down Prop 8. If granted, this would prevent any marriages taking until the Court of Appeals hears the case.
Meanwhile, a large number of rallies are planned in California and across the U.S., forty so far and counting. Rex Wockner is keeping up to date with the latest additions.
Did God Smite Jesus Statue In Blatant Act of Ex-Gay Discrimination?
Jim Burroway
June 15th, 2010
That might be one explanation for last night's Act of God, who destroyed a statue of His Only Begotten Son at Solid Rock Church in Monroe, Ohio. Church members were already trying to discern what it was that God was trying to tell them. Our own commenters have been helping out in that thread. BTB's Timothy Kincaid and I wonder if maybe this might be a clue:
Then, in 1998 I founded Pro-Family Network, which is a Christian Family Advocacy organization…Also during this time I started, with the help of my pastor's wife, a ministry at Solid Rock Church in Monroe, Ohio. Living Free Ministries helps those who want to leave the homosexual lifestyle deal with the issues that brought them to gender identity confusion. We have helped scores of people to follow the Manufacturer's guidelines for successful living. [Emphasis added]
"I" in the above quote is Greg Quinlan, speaking before an Ohio committee considering a marriage discrimination bill. Quinlan knows a little bit about discrimination rhetoric, even if he doesn't understand what discrimination really looks like. He is now head of PFOX, where he regularly tries to claim that "ex-gays" — otherwise known as straight people, if you believe their propaganda — are being discriminated against by the LGBT community and society. That's a claim that is too bizarre even for Exodus International vice president Randy Thomas. But it may not be too bizarre for God. Apparently.
Also, it looks like God has also smote Solid Rock Church's web site.
Jesus Torched In Act of God
Jim Burroway
June 15th, 2010
There was a huge, rather startling statue on I-75 between Cincinnati and Dayton just north of the Monroe interchange on the grounds of Solid Rock Church that locals have dubbed "Touchdown Jesus." The statue, a part of a music theater complex, was built in 2004 and depicted Jesus swooping up from out of a pond by the side of a busy freeway. I love American kitsch, and I have to tell you that the first time I drove by the massive 8-ton, 62-foot steel, styrofoam, wood and resin monstrosity bathed in massive floodlights, I did a full-on gay-gasp. It's the last thing you would expect to see on a suburban interstate, and for me it was the perfect nightcap to a day spent at the Creation Museum outside of Cincinnati. Too bad traffic was so heavy or I would have stopped to take a picture. These two photos give you some idea of the effect the statue has in the daytime. Multiply the drama by a factor of ten to get an idea of what it looked like at night.
Last  night, the "King of Kings" statue was struck down by lightning. Witnesses traveling on I-75 first reported seeing the Right Hand of God on fire, and then the rest of the statue was quickly engulfed in flames. Firefighters say that the styrofoam/wood/resin combination was extremely flammable, and that the fire was too hot for firefighters to approach. It was, church members agree, an act of God. One church member said, "It's a sign from God that we need to learn something as Christians as whole that we're not doing something right." Another agreed: "It scares me, like, it really does. I just think about what that symbolizes and to me that's a sign, and not a good one."
I'm the last person to read current events as signs from God, but I would like to point out that the giant Hustler Hollywood adult bookstore sign across the freeway is still standing tall.
Update: I guess it will be a while before travelers can pull over to have their picture taken:
These Ohio State fans are also undoubtedly in mourning:
Ohio Episcopalians to Bless Same-Sex Unions
Timothy Kincaid
November 11th, 2009
From Cincinnati.com
The Rev. Thomas Breidenthal, in an address Friday to the 135th convention of the Episcopal Diocese of Southern Ohio, made the announcement that he said should surprise no one.

He said his position on his support for the blessing of "same-sex unions" was clear in his writings prior to his election as bishop of the 80-church, 25,000-member diocese in 2006,

He said he was lifting the "prohibition on the blessing of same-sex unions, effective Easter 2010."
Recognizing the risk of empowering anti-gay activists through incautious or flippant actions designed more for political grandstanding rather than the pastoral needs of the community, the Bishop is stepping carefully.
No individual ministers will be forced to bless unions against their will. Further, at least one half of the couple to be blessed had to be Episcopalian, it must be "the union of the two persons who have vowed lifelong fidelity to one another, and accept accountability to the faith community as a faithful household", and the Bishop will review each application for blessing personally.
Ohio House Passes Non-Discrimination Bill
Jim Burroway
September 15th, 2009
Five years after Ohio voters passed one of the most draconian anti-marriage constitutional amendments in the nation, the Ohio House of Representatives passed the Equal Housing and Employment Act by a vote of 56-38. Four Republicans voted for the measure, and no Democrats voted against (one did not vote however). This fully inclusive bill marks the first time a pro-LGBT bill has passed either house of the General Assembly.  The Senate is firmly in Republican hands, making the bill's prognosis uncertain.
CNN on Anti-Gay Bullying
Jim Burroway
April 15th, 2009
CNN's Anderson Cooper did a marvelous story last night on Carl Joseph Walker-Hoover and Eric Mohat, and the daily anti-gay bullying which drove these boys to kill themselves. He was buried on Friday. Meanwhile, Focus On the Family, Exodus, and the Alliance defense, among many others, continue to defend the current status quo which leads to more deaths of young people — including straight kids as well as gay.
The Consequences of Anti-Gay Bullying
Timothy Kincaid
April 13th, 2009
Carl Joseph Walker-Hoover was so mercilessly bullied with gay taunts that on Monday he tied an electrical cord around his neck and hung himself. He was eleven.
Carl is not alone. Anti-gay bullying is a serious problem in public schools. It is rampant, it is pervasive, and often times it is ignored by those responsible for preventing it.


In Mentor, Ohio, the high school doesn't think it has a problem with bullying. So they are being sued by the parents of Eric Mohat with a lawsuit that doesn't ask for money but instead that the administration implement an age-appropriate anti-bullying program. The Mohats feel that the school has ignored the reasons why Eric, who suffered from persistent anti-gay bullying, killed himself in 2007. He was one of four bullied Mentor High School students who committed suicide that year.
Considering that children are dying and that the cause is obvious, you'd think that everyone would support programs to stop the bullying. You'd think wrong.
Anti-gay activists consistently oppose any effort to target and prevent anti-gay bullying. They say that programs which identify specific targets, including those tormented for being perceived as gay, are really "indoctrination of homosexuality under the pretext of anti-bullying curriculum."
And they would much rather let children die than muffle those "students and school officials who object to homosexuality."
Incidentally, neither Carl nor Eric identified as gay. That didn't protect them.
Cincinnati NAACP appoints anti-gay activist to board
Gabriel Arana
March 26th, 2009
Cincinnati's NAACP chapter is concerned with equal rights — but just for some. The chapter's NAACP board president Christopher Smitherman recently appointed anti-gay legal activist Chris Finney to its board, a decision the president, who has a gay brother, vigorously defended in CityBeat:
Chris Finney has done a fabulous job for the NAACP over the last two years … I cannot be concerned with the interests of any other constituency group. I must look out for the interests of our membership.
Finney is perhaps best known as the author of "Article 12," a 1993 amendment to the city's charter that prohibited passing anti-discrimination legislation that included sexual minorities. The amendment, which cost the city $45 million in lost convention revenues, was repealed in 2004.
During an Article 12-related court hearing in 1994, Finney was asked why sexual orientation should figure into employment decisions or public accommodations, like who gets to eat at a restaurant. According to CityBeat, he responded:
Because there may be some who don't want their family dining next to a homosexual couple whose actions they find offensive.
Finney has also stated that he believes landlords should be able to deny housing to gays and lesbians.
Besides being hypocritical, the actions of local NAACP activists are strikingly out of step with the organization's national leadership, which has strongly condemned anti-gay legislation like Prop. 8 in California. Smitherman appears to think that the actions of Cincinnati's NAACP should only concern themselves with the plight of African Americans and not "any other constituency group."
As a response, I would turn to an oft-quoted passage in Martin Luther King, Jr.'s letter from Birmingham jail:
Injustice anywhere is a threat to justice everywhere. We are caught in an inescapable network of mutuality, tied in a single garment of destiny. Whatever affects one directly, affects all indirectly.
Thanks to Will Kohler at back2stonewall.com for alerting us to the story. The contact information for Cincinnati's chapter of the NAACP is available here if you want to express your concern over their hiring of Chris Finney.
Heterosexual Menace: Forced Conversions
Jim Burroway
February 17th, 2009
This just in from Toledo:
A Toledo man accused of kidnapping, handcuffing and holding captive in an adult diaper a 22-year-old woman he picked up off the streets in Detroit may have been trying to save her, authorities say.

Troy Brisport, 34, also read the Bible to Shykea Boykin, the Detroit woman who told investigators Brisport handcuffed her by the wrists and ankles in his West Toledo apartment. He also took off her clothes and dressed her in an adult diaper, and gave her little to eat and drink, she told investigators.

Three days later, Boykin sneaked out of the apartment, still handcuffed by the wrists, in a diaper and a t-shirt, banging on neighboring apartment doors and finally on doors outside, police said.
Now who exactly is trying to "force" others to accept their lifestyle choices?
There's more heterosexual outrage here and in our report, "The Heterosexual Agenda: Exposing the Myths."
Porno Pete Brings Deliverance To Ohio
Jim Burroway
February 10th, 2009
Peter LaBarbera called out his minions to protest an S&M conference taking place in the Columbus, Ohio suburb of Worthington. Here's who turned out:
"Is it a homo paper?" asked a scruffy 50+ man who spoke broken English with an Appalachian twang. In one hand he waved a large sign with the anagram "Gross Anus Yearning Sodomists" (whatever in the world that means) and in the other, he had two naked Ken dolls taped together in the position commonly referred to as "doggy style".

(Imagine, a grown man buying two Ken dolls, stripping them down, brainstorming the most pornographic position for them, then taping them together. They were taped pretty tightly, too, with clear tape, so you know he spent a lot of time on it. This image would be hilarious if they weren't so adamant about attributing their opinions to God himself.)
Now for the record, I grew up in Appalachia and I do still enjoy going home whenever I can. I'm not a fan of the stereotypes, and I always thought the movie Deliverance was little more than a 109-minute running cheap shot. But even though I still have something of an Appalachian twang left in me (at least, what hasn't been corrupted by my fifteen years in Dallas), I'll let that go this time. Go ahead and cue the banjos. He deserves it. He's got less sense than God gave fleas.
The reporter continues:
…The two women picketing alongside him swarmed me. "If you hate this then you hate god!" said the first woman, brandishing her sign towards me. She preached the loudest of them all. As she also refused to give her name, and owning to her frazzled grey hair and pious hatred, we'll call her Carrie's Mom. (Seriously, her resemblance to the Stephen King character was uncanny.)

The second woman, who looked like your grandma only with a heart full of hate, was more diplomatic in her explanation of the protest. "We don't hate homos," she explained, her voice full of pity. "We just don't like them having a conference here."
Because The Peter was coy with the facts, his faithful readership had their own facts completely screwed up. The S&M conference full of "homos" they were all upset about? It's actually being put on and attended mostly by heterosexuals. In other words, it's mostly straight people who are doing god-knows-what in a closed off wing of the hotel with three layers of security so no wandering innocents could accidentally stumble in  — yet it's "the homos" who are getting the blame.
Yes, I know. Buried in there somewhere, The Peter belatedly acknowledged that this isn't "a homo" event. But when all you talk about is homosexuals and you name your keyboard "Americans For Truth About Homosexuality" with no apparent ironic intent, and you talk about this event without actually describing who is putting it on and who is attending it, then you can't be too surprised if some of your readers draw their own conclusions.
Which may be why "Carrie's Mom" sees this event as more evidence of the end of days:
"There's other people who are going to use those conference rooms!" she said, her hysteria almost tangible. "This kind of behavior will bring a civilization to its knees–with the baby killing and the sodomy!" she said, quoting scripture verses and shaking her head at me. She cited the current economic crises as proof that "the homos" were single-handedly responsible for the near-collapse of Capitalism and the global economic system.
Good Lord! As my great-great aunt used to say, these people don't have one particle bit of sense. From now on, whenever I see The Peter use the word "Deliverance" in connection with homosexuality, it will always have a completely new meaning.
Smart crowd you draw there, Pete. You made 'em madder'n a wet hen. I'd think you'd be proud of yourself for being so influential. So why are you suddenly acting so embarrassed?
Heterosexual Menace: Shock Collars, Shootings, Incest — But No Gay Adoption
Jim Burroway
February 2nd, 2009
From Xenia, Ohio, we have a father who disciplined his children by using shock collars:
The Caesarscreek Twp. man who used a shock collar and water torture to discipline three of his four children was sentenced to 16 years in prison by Greene County Common Pleas Court Judge J. Timothy Campbell Monday. David O. Liskany, 39, of Hussey Road, was sentenced to six years each for two counts of second-degree felonious assault and to four years for one count of third-degree attempted felonious assault.

"The only thing you didn't do was wrap their faces in cheesecloth. They basically were waterboarded," Campbell said before handing down his sentence, which was far harsher than the 4 years in prison recommended by state probation authorities. According to Campbell, Liskany abused three of his four children — who were 13, 11 and four at the time of the abuse — by using a dog's shock collar on them, holding them underwater, subjecting them to cold showers and spraying water up their noses.
Authorities found out when the older boy ran away from home, walking fifteen miles to a relative. Liskany's ex-wife Wendy Liskany pleaded for the court to not jail her ex-husband. "I don't feel that incarcerating him will help," she said.
Maybe Liskany had to use such creative measures because they spoiled their children when they were younger. These parents from New York were determined not to make that mistake:
A 5-month-old child is in critical condition Saturday in what police suspect is a child abuse case. Police say they have charged the girl's father, Scott Archbold, 41, with causing the injuries including multiple bone fractures, internal bleeding and signs of prior abuse. Christina Benjamin, (above right) the infant's mother, has been charged with child endangerment for allegedly failing to get the child medical attention after the infant's grandmother suspected the abuse.
But at least Liskany and the Archbold-Benjamins didn't just kill their entire families outright.
Armed with a handgun, [Ervin Antonio] Lupoe evidently roamed room to room starting as early as Monday evening, fatally shooting his wife and five young children — including two sets of twins.

Early Tuesday, Lupoe faxed a bitter, rambling two-page letter to a local television station blaming his employer for his actions. Though his wife and children were already dead, he also called the station threatening to kill his family, investigators believe. He followed this up with an incongruous call to police saying that he had returned home and that "my whole family has been shot."
Fortunately, not all heterosexuals are so violent. This father loved his daughter so much, he had four children by her. He didn't care much for his grandchildren-children though:
The father, Danial Rinehart, 47, is scheduled to appear in court Thursday. Authorities say three of the four babies he fathered by the second-oldest daughter, who is now 19, are dead. A 3-year-old boy is alive and in state custody. Rinehart is charged with second-degree felony murder, child endangerment, two counts of incest and two counts of abandonment of a corpse. The remains of two infants were found in chest-type coolers.

His wife, Linda Rinehart, is charged with child endangerment. Authorities say she was jealous of the relationship between her husband and daughter but helped with the babies' deliveries.
Obviously, we need to put a stop to this sort of abusive family dynamics. That's why a Tennessee state legislator is introducing legislation to ban adoption by same-sex parents. It's also why a West Virginia judge thinks a 2-year-old girl would be much better off if she were ripped from the only parents she has ever known. Her lesbian fostor parents have cared for her since birth and now want to adopt her.
You can read more about the misery and emptiness of the heterosexual lifestyle here and in our report, "The Heterosexual Agenda: Exposing the Myths."