Newsweek Essay Draws Howls of Protest
Jim Burroway
December 9th, 2008
Anti-gay activists are pulling their hair out over Lisa Miller's essay in Newsweek, in which she lays out a religious case for same-sex marriage. She opens her essay by saying, "Opponents of gay marriage often cite Scripture. But what the Bible teaches about love argues for the other side."
As you can imagine, that didn't go over well with one particular segment of Christianity. Albert Mohler, president of The Southern Baptist Theological Seminary and a member of the Focus on the Family Board of Directors, wrote:
Many observers believe that the main obstacle to this agenda [of allowing same-sex marriage] is a resolute opposition grounded in Christian conviction. Newsweek clearly intends to reduce that opposition."
That was one of the calmer reactions. Tony Perkins of the Family "Research" Council denounced it as "yet another attack on orthodox Christianity." The Donald Wildmon of the American Family Association called it "one of the most biased and distorted pieces concerning homosexual marriage ever published by any major news organization." Not surprisingly, he also is calling on his followers to inundate Newsweek with emails.
And Peter LaBarbera, not one to be outdone, called the essay a "scandalous hit piece" and an "embarrassing attempt to make a Biblical case for sodomy-based 'marriage.'" (See why we have an award named in his honor?) And Peter's pal, Matt Barber responded, "You know, scripture says woe to those who call evil good and good evil, and I say woe to Newsweek for even printing this drivel."
Part of the outrage stems from the fact that anti-gay activists have tried for years to couch their opposition to same-sex marriage on sociological research to make their point — research that, as we have pointed out many times, they have distorted with amazing consistency. But by calling on science instead of the Bible, they seek to inoculate themselves from charges of trying to impose their religious views on others. "See? We're not religious zealots. Science supports us," they like to say. Richard Land, of the Southern Baptist Convention's Ethics and Religious Liberty Commission, repeated this line in saying, "The arguments that are used are often not biblical arguments. They are secular arguments, arguing about marriage as being a civic and a social institution, and that societies have a right to define marriage." And Ralph Reed, former head of the Christian Coalition, claimed, "We're not trying to take the Bible and put a bill number on it and legislate it."
But when they are talking among themselves, religious arguments are firmly at the fore, whether it's LDS Elder M. Russell Ballard speaking of the "central doctrine of eternal marriage" or Richard Land himself explaining with an apparently straight face that what he calls the global warning "hoax" is simply due to "cycles of nature that God has allowed in the cosmos." Neither of these positions sound very scientific to me.
But the religious face is not the public face that these religiously-motivated leaders want to present. And by having to respond to Lisa Miller's essay, they are forced to publicly defend the religious basis for their beliefs, which annoys a few of them to no end.  Watch how Concerned Women for America's Janice Shaw Crouse pivots when asked about the Newsweek essay:
"Beyond the Scriptural distortion, the article distorts the pro-marriage and pro-family movement that is solidly grounded on sociological research about family structures that contribute to the well-being of women and children."
She then goes on to mischaracterize what "experts agree."
But the other part of the outrage also seems clearly aimed at someone who really did intrude onto their home turf. After all, in the same-sex marriage debates, only one small group of Christians are presumed to be allowed to use the Bible — when they think nobody else is looking. Anti-gay activists behave as though the Bible is solely their possession and no one else's — including other Christians who read the same Bible and come to different conclusions. It's okay for anti-gay opponents to turn outside their own sphere of authority — science — to make their point. But now that Lisa Miller has taken them on in their own home turf, they've let loose with their persecution complex and complained that they– and by extension all of Christianity, since they presume to speak for all Christians – have been "attacked." 
Which reminds me of a great and appropriate graphic making its way around the Internet:
Frothing Lunacy
Timothy Kincaid
July 28th, 2008
Sometimes the anti-gays come out with something so ludicrous, so froth-at-the-mouth insane, so raving lunatic that it's worthy of Lewis Carroll. Except, of course, they believe themselves… or the less sane among them do.
And one such trader in fantasy is J. Matt "Bam Bam" Barber, formerly the voice of Concerned Women for America. Barber always manages to amuse and, in his critique of McDonalds and the AFA boycott, Barber delivers in spades.
You can almost see the spittle and hear his rapid breathing as he writes:
Unfortunately, the radical San Francisco-style policies both the NGLCC and McDonald's advocate run directly counter to the best interests of the vast majority of Americans outside California's "Sodom on the Bay." For example, under communist-tested, McDonald's-approved "hate speech" legislation, such as the so-called Employment Non-Discrimination Act, Christians and other business owners with traditional values would be forced – under penalty of law – to abandon sincerely held religious beliefs and adopt McDonald's own secular-humanist, moral-relativist view of right and wrong.
It's not often that you can get "communist", "Sodom", and "McDonalds" in the same paragraph. You've got to hand it to him. When it comes to nutbaggery, it just doesn't get much more bat-poopish than Barber.
Oh but he doesn't stop there
Yet McDonald's has now thrown its full weight, brand name and presently tarnished reputation behind the push for "gay marriage" in all 50 states.
All because they contributed a $20,000 pittance to the National Gay and Lesbian Chamber of Commerce, an organization that doesn't even mention marriage in their mission or programs. Ah, but if we were looking for logic and sanity we wouldn't look to Barber, now would we?
But it is this doozie that I really love. Barber sarcastically proclaims
If you happen to support the historical definition of marriage – which is, and has always been male-female – then you're a drooling, inbred hatemonger.
Well, Matt… not everyone who supports the historical definition…
Some day the anti-gays may realize that lunatic ranting doesn't win hearts, minds, or Culture Wars. Let's hope it's too late by then. And in the mean time, someone give Bam Bam a word processor.
Most Pathetic Protest Ever
Jim Burroway
July 17th, 2008
The AFA's McDonalds boycott has started off with a resounding thud. Have you ever seen anything more sad?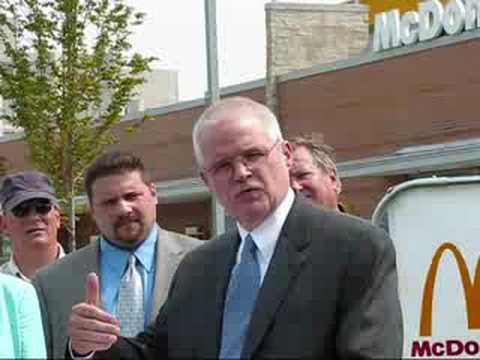 Peter LaBarbera Celebrates Memorial Weekend at Leather Event
Timothy Kincaid
May 30th, 2008
This past weekend I went to Disneyland. It was a little rainy so the lines were short and we had a wonderful time. The next day we went to The Magic Castle for a great meal and to be amazed by prestidigitation. Throw in dinner at Saddleranch (so my friends could ride the mechanical bull), a walk on Venice Beach, and a showing of Indiana Jones and it was quite the gay weekend.
Meanwhile, Peter LaBarbera was living up to his nickname and having quite another type of gay weekend. He spent his Memorial Day celebration at the International Mr. Leather competition in Chicago. IML is an event, mostly for gay men, that celebrates the leather community. It also appeals to fetishists including those whose sexual tastes run to the unconventional or peculiar.
IML really isn't my cup of tea – I tend to think leather is best when made into a belt or a pair of shoes. So it would never cross my mind to trek out to Chicago and spend my time in a hotel ballroom gawking at fetish porn.
But LaBarbera never misses a year.
And, yet again, Memorial Weekend found him oogling men in leather regalia and taking pictures of every bare butt cheek or risque poster he could find. Pete could hardly wait to get back to tell his buddy Matt "Bam Bam" Barber about all of the pig sex and watersports and "sodomy on steroids" that he found. Just think, gasp, of all the raunchy sex that was going on right in the very hotel where he was standing! Pete and Bam Bam almost worked themselves into a froth going on about anal sex and fetishes and all sorts of "satanic, depraved sodomitic orgies involving feces and urine".
Now I'm a tolerant guy. If you'd rather check out the Pecs and Personality contest than sail with the Pirates of the Caribbean, it's no business of mine. If your idea of fun is a boot shining contest rather than watching a really impressive card trick, who am I to complain?
But if you go, I have a word of advice: avoid getting your picture taken by LaBarbera. I don't even want to think about how Pete uses those pictures. Ick.
See also:
LaBarbera Blames Gays for Heterosexual Beastiality Porn
Racists Gain More Allies from the Anti-Gay Movement
Timothy Kincaid
May 12th, 2008
The defense of homophobic violence that started with an article by Ted Pike on David Duke's virulently racist and anti-Semitic website has now been taken by Peter LaBarbera to his fellow anti-gays: Concerned Women for America (CWA)'s Matt Barber, and Bob Knight of the Culture and Media Institute.
Bob Knight and Peter LaBarbera are old friends from when they were part of Concerned Women, but I really don't know if either Barber or Knight also share Pike and Duke's racist and anti-Semitic agenda. They may just have been brought into the alliance by LaBarbera.
Pot, Meet Kettle
Jim Burroway
May 8th, 2008
Those so-called "professional journalists" at Focus On the Family's CitizenLink are repeating that tired old theme again — that the "homosexual lobby" is so incredibly well-funded that its a miracle that anti-gay activists can get a word in edgewise. If only it were true.
This time, they're upset over the Human Rights Campaign's "Year to Win" initiative, specifically HRC's plan to train 1,500 advocates in thirteen cities to participate in the upcoming elections.
Wow. Thirteen cities. Imagine that.
CitizenLink then enlisted Matt Barber to complain:
"Their main purpose for existence is to influence public policy and politics, and to get people elected to office who are going to push their militant homosexual agenda," said Matt Barber, policy director for cultural issues at Concerned Women for America.
Of course, nobody at Focus and none of the Concerned Women are at all interested in public policy, politics or getting people elected.
Oh, wait a minute. Wasn't it just a few months ago that the world held its collective breath wondering who Dobson would endorse for the GOP primaries?
And isn't Focus On the Family in its third year of flogging its own so-called "Truth Project", a series of regional and local training sessions they've been putting on across the country? And what about Dobson's radio program and Focus' own "Family News In Focus" program, both going out daily to hundreds of radio stations across the country — all of it to push their militant anti-gay agenda?
But then, HRC does have a weekly radio program on XM Satellite, or so I hear. I don't get satellite radio.
But that's not the only thing that CitizenLink is worried about. They're terribly upset over HRC's massive bankroll:
Brad Miller, director of the Family Policy Council department at Focus on the Family Action, said family advocates could face an uphill battle. HRC has an annual budget of more than $50 million.
True, when you add up the revenues of the Human Rights Campaign, Inc and the Human Rights Campaign Foundation, you end up with a figure of about $50 million.
But go to GuideStar and look up the financial statements from Focus On the Family and Focus On the Family Action. Add those figures together and you'll end up with revenues in 2006 of some $157 million.
That's more than three times the size of HRC's combined budget.
If a picture is worth a thousand words, maybe two will help.
I think Focus On the Family should spend some of their money on math lessons.
Hutcherson and Barber Talk About the Day of Silence and Reveal Hutch's Paranoia
Timothy Kincaid
April 24th, 2008
Rev. Ken Hutcherson spoke with Matt Barber on a Concerned Women for America podcast about Hutcherson's protest of the Day of Silence. Barber and Hutcherson both make some claims that do not seem to be fact based and, in Hutcherson's case, appear to demonstrate paranoia:
Audio clip: Adobe Flash Player (version 9 or above) is required to play this audio clip. Download the latest version here. You also need to have JavaScript enabled in your browser.
Barber claims
GLSEN is an "adult homosexual activist group" that uses children as "pawns to futher their very deceptive agenda".
some Christians are taking a "very soft approach" to the Day of Silence rather than "challenge it head on" because they want "the path of least resistance". [I assume this refers to the Golden Rule pledge]
Hutcherson claims
kids who are kept out of school on the DOS may make up an excuse rather than "stand up".
he was invited to speak at Mt. Si because it was "a great time to ambush the Christian".
he's been labeled the "number one homophobe in the United States". He told "them" that as long as Dr. James Dobson is alive then Dobson's number one and he's is number two. [I can't find any reference anywhere to Hutcherson being labeled as the number one homophobe, much less that he responded in any way to "them"]
there is a million dollar award out for information that would destroy his ministry.
the minute his daughter introduced him on MLK day, white teachers booed [although news reports indicate that one teacher booed, Hutcherson repeated referred to "white teachers", plural]
the school promised him that there would be nothing controversially done about his appearance
four or five teachers run the whole school, along with the principal and assistant principal and they are all afraid of the homosexual agenda
if you look through the Bible you cannot find one word in the Bible that relates to tolerance
the reason Jesus didn't condemn the woman at the well was because was "set up to sin" and the man she committed adultery with wasn't also brought. He implied that otherwise Jesus would have condemned both of them.
Barber also seems to imply that Hutcherson should engage in violence against the school authorities. Hutcherson said, "now you've got an angry dad", to which Barber replies, "I don't blame you and I seem to recall that you played a little football". [Hutcherson played in the NFL in the 70's].
All in all, I have to conclude that Hutcherson is either paranoid or not particularly concerned about the accuracy of his statements.
(hat tip to Good-As-You)
Uppity Gays
Jim Burroway
March 11th, 2008
Earlier this week, we awarded Oklahoma Rep. Sally Kern the LaBarbara Award for her ludicrously malevolent statements recorded at a meeting when she thought nobody was listening. Since then, she's been trying to explain how what she said wasn't hateful, but were edited and taken out of context. While her remarks may well have been edited, it's hard to imagine any "context" which could render them innocuous.
Kern also tried to explain that she aimed her remarks to the "homosexual activists" — you know, the ones with the agenda — and not the ordinary gays and lesbians who are just minding their own business:
I have made clear my opposition to the agenda of homosexual activists, but I have never endorsed or supported any hateful action targeting individuals on the other side of this debate and never will.
You can almost hear the word "uppity" there, can't you?
But what about that "agenda"? Well this is where Kern refers local television reporters to the madcap duo of Matt Barber and Peter LaBarbera who are appalled — appalled! — that gays would dare to exercise their constitutional rights. That "gay agenda" they're all worried about? It ain't nuttin' but the First Amendment:
Amendment I: Congress shall make no law respecting an establishment of religion, or prohibiting the free exercise thereof; or abridging the freedom of speech, or of the press; or the right of the people peaceably to assemble, and to petition the government for a redress of grievances.
Hat tip: Alvin McEwen for the Barber and LaBarbera cites.
Why Does Matt Barber Hate the Bill Of Rights?
Jim Burroway
February 29th, 2008
Concerned Woman Matt Barber is outraged that homosexual activists are engaged in the political process:
The Gay and Lesbian Leadership Institute is teaming up with homosexual groups such as the Human Rights Campaign, the Stonewall Democrats, and the National Gay and Lesbian Task Force for an initiative called the "Presidential Appointments Project." It is being billed as a "talent bank" for openly homosexual professionals who want to "set or influence" policies of a potential Obama, McCain, or Clinton administration. …

Matt Barber, policy director for cultural issues at Washington, DC-based Concerned Women for America, says the project puts to rest the notion that there is no "gay agenda." He says the homosexual lobby is committed to infiltrating the executive branch with people who define their identity based on changeable, sexually deviant behavior.

"The ultimate goal, of course, being to have people who engage in these aberrant sexual behaviors in a position of power to influence public policy in such a way that they gain more power," he explains.
Shocking indeed. Because there's certainly no evidence that Exodus, Focus on the Family or even Concerned Women like himself would ever do anything to influence public policy and "gain more power," is there? But I suspect that real problem Barber has is that gay Americans are participating in a fundamental American right:
Amendment I: Congress shall make no law respecting an establishment of religion, or prohibiting the free exercise thereof; or abridging the freedom of speech, or of the press; or the right of the people peaceably to assemble, and to petition the government for a redress of grievances.
Why does Matt Barber hate freedom?
Close the San Francisco and Boston Bathhouses!!!
Timothy Kincaid
January 23rd, 2008
Update for Peter LaBarbera's readers: The post you're really looking for is here: Is MRSA The New Gay Plague? It's the post he doesn't want you to see.
As we reported earlier, the usual crowd of anti-gay activists jumped all over the faulty stories about outbreaks of MRSA in San Francisco and Boston. Although subsequent reporting (and our indepth analysis) clearly shows that the anti-gays were completely wrong in their accusations, rather than repent of their false accusations, they simply changed directions.
Concerned Women for America issued a press release quoting their own Matt Barber "inviting" the gay community to join his campaign against bathhouses
Therefore, these groups should publicly condemn those specific 'high-risk behaviors' which this study has concluded are responsible for spreading MRSA among homosexuals.

"In light of this behaviorally related MRSA outbreak," said Barber, "we additionally ask HRC and other groups to call on local health agencies to shut down the many bathhouses and sex clubs around the country where men meet for anonymous sex with other men, often multiple partners, on a daily basis. These places create the 'perfect storm' for infectious disease, including MRSA.
Peter LaBarbera printed Concerned Woman Barber's press release with the heading
CWA Invites Homosexual Groups to Work to Curb Spread of MRSA
and put in his own support for the effort
Well, folks, I'm not exactly expecting Human Rights Campaign and the rest of the "gay" lobby to hop on this request for cooperation from my good friend Matt Barber of CWA, but it sure would be progress if they did.
So will Box Turtle Bulletin join the cry to close down those bathhouses in San Francisco and Boston that were so integral to the spread of MRSA? Well, we might consider the question, if they existed!
What the anti-gays failed to notice is that neither San Francisco nor Boston has a single public gay bathhouse. San Francisco closed down bathhouses in 1984 at the outbreak of the AIDS epidemic and the closest bathhouses to San Francisco are in Berkeley and San Jose. Bostonites can head down to Providence.
So yet again we see that the claims of anti-gays have no basis in reality.
Concerned Woman Matt Barber's Invitation
Jim Burroway
January 22nd, 2008
Reasonable heads are starting to prevail in the latest MRSA "gay plague" scare. The Centers for Disease Control and Prevention issued a statement saying that MRSA isn't a gay disease, UCSF has backed away from their misleading statements, and some members of the media is starting to follow suit.
But while reasonable heads are coming forward, the unreasonable ones are still hacking away. Concerned Woman Matt Barber has issued a cynical and shameless press release calling on the homosexuals to "join him" to "help curb the spread of a potentially deadly strain of Staph infection."
The gay community doesn't really need an invitation from Barber. Given the neglect and open hostility that too many so-called Christians demonstrated during the HIV/AIDS crisis, the gay community has had to learn how to draw on their own resources. But if Barber were to actually consider the overwhelming weight of medical evidence concerning MRSA, he might consider issuing a call to the "straight community" to help curb the spread of MRSA into the gay community. After all, if one were to really look for someone to blame, that's the first place one should look. 
But don't count on it. People like Barber have no qualms about exploiting the suffering of others to score cheap political points. If there was any doubt about that, Barber's latest stunt is just another example.
Mainstream Media Retreats From MRSA Hysteria
Where are LaBarbera's and Barber's apologies?
Jim Burroway
January 20th, 2008
The mainstream media is now beginning to recognize that the MRSA hype was overblown:
Peter LaBarbera and Matt Barber couldn't conceal their glee when the lead researcher's ill-conceived statements landed on their lap. Now that UCSF has apologized and denounced LaBarbera's and Barber's statements and major news outlets are correcting initial reports, will we see a similar apology from LaBarbera and Barber? After all it would be the Christian thing to do. I somehow doubt it. They've built a career by exploiting the suffering of others to score cheap political points. "With love," of course, as they like to say when they remember it's what they're supposed to say. But in the end, this is just another day at the office for them.
You can read more about the overblown hype in our latest report, Testing the Premise: Is MRSA The New Gay Plague?